(Feature Image:- Explainer: What is the Mekedatu dispute between Tamil Nadu & Karnataka? The News Minute)
A very dangerous competitive populism in Karnataka is going on in the name of Mekedatu dam on Cauvery River in the name providing drinking water to Bangalore and other surrounding areas. BJP, the party in power as well as the opposition parties like Congress and JD (U) are indulging in activities to outdo each other in showing their support for the project. Unfortunately, we see very little informed debate on the need, optimality, justification or possible alternatives to the project or the hydrologic, legal, environmental justification or any discussion if such a project is at all appropriate in the context of changing climate. Unfortunately, even media has not painted itself in glory on this issue. The following article is like a whiff of fresh air in such a situation. Hope the civil society friends will take up an informed debate on this issue.
Mekedatu Project Contentions, concerns & politics Instead of constructing Dam, the government can prepare extensive plans for rain harvesting which will meet the requirement. It will also save forest and ecology. https://gaurilankeshnews.com/karnataka-mekedatu-project-contentions-concerns-and-politics/ (17 Nov. 2021)
HYDRO POWER PROJECTS
Podcast SANDRP Coordinator on Hydropower Sector in India. https://player.captivate.fm/episode/76282546-b794-4567-b8a1-a9481c3ae11f
Arunachal Pradesh PPA demands review of hydro projects The People's Party of Arunachal (PPA) has slammed the BJP Government in the State for not taking any action against power developers who failed to commission hydroelectric projects despite deadlines set in the memoranda of agreements. The PPA, the only regional party in Arunachal Pradesh, has asked the Pema Khandu-led government to review the status of these power projects and take action accordingly. "Not even one of the 143 power projects for which deals were signed has taken off, in total disregard of the terms and conditions that specified their date of start, date of completion and date of commissioning. The deadlines have exceeded many years but there has been no follow-up action from the government," Kaling Jerang, the party's secretary, said. The PPA said the State Government collected a huge revenue as "upfront money" from the power developers during the signing of the agreements.
– The party also alleged that the hydropower developers used the pact documents to borrow money from the banks in India and abroad and augmented their own businesses with the money collected without investing a single paisa in hydropower development in the State. He said all the hydropower agreements were carried out in total violation of the Forest Rights Act, which clearly states that valid clearances should to be mandatorily obtained from the competent district authorities, legislators, panchayat leaders at the grassroots level and all the primary stakeholders. But no such consent was taken. https://www.thehindu.com/news/national/other-states/peoples-party-of-arunachal-demands-review-of-hydro-projects-in-state/article37592404.ece (20 Nov. 2021)
MoEF Minutes of the meeting of EAC on River Valley Projects held on Oct 18, 2021, the minutes are only now available, over a month after the meeting. Key decisions:
1. Kurukutti Pumped Storage Hydro-electric Project (1200MW), in an area of 638 Acres located at village Chemidipatipolam and Kurukutti, Tehsil Salur, District Vizianagaram, Andhra Pradesh by M/s New and Renewable Energy Development Corporation of Andhra Pradesh Ltd. (NREDCAP) – Terms of Reference: APPROVED
2. Karrivalasa Pumped Storage Hydroelectric Project (1000MW), in an area of 593 Acres located at village Ganjaibhadra and Kurukutti, Tehsil Salur, District Vizianagaram, Andhra Pradesh by M/s New and Renewable Energy Development Corporation of Andhra Pradesh Ltd. (NREDCAP) – Terms of Reference: APPROVED
3. Somasila Pumped Storage Hydroelectric Project (900MW), in an area of 183 ha located at village Racheyapeta and Ramapuram, Tehsil Gopovaram Mandal, District Kadapa, Andhra Pradesh by M/s New and Renewable Energy Development Corporation of Andhra Pradesh Ltd. (NREDCAP) – Terms of Reference: Deferred: More info sought.
4. Cumulative Impact Assessment and Carrying Capacity Study (CIA & CCS) of Tirap Basin. Inclusion of Chinglum Hydroelectric Project in Subansiri Basin – Recommendation of the Study: More Info sought. http://environmentclearance.nic.in/writereaddata/Form-1A/Minutes/2011202199203519UpdatedMoM_of_18th_EAC_RVHEP_15-11-2021.pdf
DAMS
Hirakud Dam Hundreds of oustees stage dharna over land distribution The agitators, under the aegis of Hirakud Budi Anchal Sangram Samiti, said that the State government should expedite the process for distribution of 10 decimal homestead land to 14,934 displaced families in Jharsuguda, Sundargarh, Sambalpur and Bargarh districts. General secretary of the Samiti Gopinath Majhi said on November 15 that CM Naveen Patnaik announced that 10 decimal homestead land will be provided to each of the 2,000 Hirakud Dam oustees of Jharsuguda district. "We are grateful to him for the decision. However, there are many affected people who have applied for land over the years but are still waiting to get the same," he claimed.
As many as 16,934 applications for homestead land have been submitted by the displaced families, including 10,465 in Jharsuguda, 2,719 in Sambalpur, 3,100 in Sundargarh and 650 in Bargarh. "The government must distribute 10 decimal homestead land to each of the remaining 14,934 families at the earliest," he said. Majhi further said, "We have also come to know that applicants of homestead land are being asked to produce documentary proof of displacement. How is it possible for all applicants to produce proof after 65 years of displacement?" "We urge the government to consider the decision of gram sabha or gramya committee as proof of displacement," he added. On the day, the land oustees submitted a memorandum addressed to the RDC in this regard. https://www.newindianexpress.com/states/odisha/2021/nov/19/hirakud-dam-project-hundreds-of-oustees-stage-dharna-over-land-distribution-2385505.html (19 Nov. 2021)
10 decimals of homestead land to 2000 PAFs Odisha government on Monday (Nov 15, 2021) announced to provide homestead land (upto max of 10 decimals) to 2000 families in western Odisha district of Jharsuguda who were ousted from their homes for the multipurpose Hirakud dam project which was inaugurated by PM Nehru over six decades ago in Jan 1957. "The decision will resolve the long-standing issue of these families," said Odisha CM Naveen Patnaik. "The rest 700 families (besides these 2000 families) would get the land in the coming few months as the process to establish their genealogy is taking time," the collector said.
– 26,561 families of Sambalpur, Bargarh and Jharsuguda, Sundargarh and Sonepur districts were displaced from their homes in 1955-56 during construction of the dam.
– Secretary of Hirakud Budi Anchal Sangram Samiti, an outfit fighting for the rights of the displaced people of Hirakud project, Gopinath Majhi said the government's decision has come very late. "Even those who received compensation for losing their homes did not receive compensation towards loss of trees, wells, temples and other damages. Farming was a major source of livelihood for the people prior to their displacement. In the present situation, the next generation doesn't even possess the ownership of even a marginal piece of land for a sustainable source of livelihood. The dam oustees have been grossly neglected and deprived of their legitimate rights by the state government," alleged Majhi. https://www.hindustantimes.com/cities/others/odisha-to-give-10-decimals-of-homestead-land-to-2000-families-displaced-by-hirakud-dam-101637000785835.html (19 Nov. 2021)
Pong Dam 15 Oustees without power, water for 55 years About fifteen families of Pong Dam oustees residing at Beyal village in Dehra subdivision of Kangra district have been living without power and water connections for the past 55 years. These persons were landless labourers residing at Beyal village when the village land was acquired for the Pong Dam. Since they did not have any land in their names, they were not awarded any compensation. After their houses located on the village common land got submerged, they moved uphill and again settled on village common land that was later transferred in the name of BBMB.
Sources said most of the Pong Dam oustees who were landless or lived in Lal Dora areas of various villages did not get any compensation. The state floated schemes for allotting plots to Bhakra and Pong Dam oustees, but most of the poor Pong Dam oustees residing in hinterlands failed to pursue their cases. https://www.tribuneindia.com/news/himachal/pong-dam-oustees-in-himachal-pradesh-without-power-water-for-55-years-338226 (15 Nov. 2021)
Mullaperiyar Dam Kerala has spent over Rs 6 crore for cases in SC As per the RTI reply, Rs 6,34,39,549 has been spent on Mullaperiyar-related pleas at the SC. Of this, Rs 5,03,08,253 was paid to 10 lawyers alone. https://www.newindianexpress.com/states/kerala/2021/nov/13/kerala-has-spent-over-rs-6-crore-for-mullaperiyar-dam-cases-in-sc-2382920.html (13 Nov. 2021)
Telangana Plan to build check dams on Hyderabad's Musi river to be scrapped The plans of the State government to construct check dams across Musi river near to the existing bridges in the core city such as Chaderghat, Moosarambagh, Attapur, Puranapul, Nayapul, Langar Houz and other such spots is likely to be scrapped, sources say.
The construction of check dams along the existing bridges of Musi river for the retention of water within were planned few metres away from the bridges as per the suggestions of experts with an idea to develop recreational facilities like boating, landscaping, cafeterias, sidewalks and parks with a potential to attract visitors and tourists, in line with the Musi River Development Project by Musi Riverfront Development Corporation Limited (MRDCL).
But, the plans don't look feasible at the existing bridges due to technical reasons. However, there are possibilities of having a few check dams at the 14 new bridges that have been proposed by the State government through Hyderabad Road Development Corporation Limited (HRDCL). https://www.newindianexpress.com/states/telangana/2021/nov/20/plan-to-build-check-dams-on-musi-to-be-scrapped-2385872.html (20 Nov. 2021)
Maharashtra Irrigation Scam 'BJP didn't give Ajit Pawar clean chit' Strange statement by BJP MLA, considering as the TOI report says, BJP and Ajit Pawar got together to form a short lived Maharashtra govt in 2019: "BJP has not given Ajit Pawar a clean chit in the irrigation scam. The issue is sub-judice and is also being investigated by CBI." Also considering so little that BJP did while it was in power during 2014-19 after winning the 2014 elections on this issue. https://timesofindia.indiatimes.com/city/mumbai/mumbai-bjp-didnt-give-ajit-pawar-clean-chit-in-dam-scam/articleshow/87746745.cms (17 Nov. 2021)
INTERLINKING OF RIVERS
Ken Betwa Link A new petition in SC praying for review the DPR of the Project.
PM Modi during his visit to Mahoba PM dedicated various developmental projects, including the Arjun Sahayak Project, Ratauli Weir Project, Bhaoni Dam Project and Majhgaon-Chilli Sprinkler Project. The cumulative cost of these projects is more than ₹ 3250 crore and these will help in irrigation of around 65,000 hectares of land in Mahoba, Hamirpur, Banda and Lalitpur districts. These projects will also provide potable drinking water to the region. He also claimed that his govt has removed the obstacles in the way of Ken Betwa Project. https://hwnews.in/news/national-news/pm-modi-slams-opposition-on-farmers-issue-says-politics-of-problems/173720 (20 Nov. 2021)
Many BJP leaders, including former MP Hari Om Pandey, shared an image on Twitter of a dam, praising CM for building projects to facilitate better irrigation in Bundelkhand. The claim came shortly before PM Modi addressed a gathering in Mahoba, a district in UP's Bundelkhand region. However, we found that the photo was of the Srisailam dam built on top of the Krishna river, which flows from Maharashtra and empties out into the Bay of Bengal in Andhra Pradesh. Many news reports carried the image, with some dating back to 2014. https://www.thequint.com/news/webqoof/dam-from-telangana-and-andhra-pradesh-shared-as-bundelkhand-by-bjp-leaders-fact-check#read-more (20 Nov. 2021)
बुंदेलखंड की सबसे महत्वपूर्ण पचनदा परियोजना को शासन की मुहर लग चुकी है। प्रदेश सरकार द्वारा जिले के जालौन-औरैया सीमा में पांच नदियों को जोड़ने वाले पचनदा में तीन हजार करोड़ की लागत से भूमिगत नहर एवं डैम बनाने की स्वीकृत दे दी गई है। अगले महीने प्रधानमंत्री नरेंद्र मोदी स्वयं इस बड़े प्रोजेक्ट का लोकार्पण कर सकते है। इसके साथ ही यहां डैम बनाने की कार्ययोजना का श्रीगणेश होगा। इस बड़ी उपलब्धि को स्थानीय लोग जिले के दूरगामी विकास से जोड़कर देख रहे हैं। जिले के किसानों को इस परियोजना से पर्याप्त पानी सिचाई के लिए मिल सकेगा। अगले महीने के प्रथम सप्ताह में इस प्रोजेक्ट को वित्तीय मंजूरी मिलने की उम्मीद है। https://m.jagran.com/uttar-pradesh/jalaun-pachnada-will-become-the-water-stream-of-bundelkhand-22024874.html (15 Sept. 2021)
IRRIGATION
Opinion SOS call from the Indian micro-irrigation industry Sudhir Mehta Price controls and bureaucratic delays in scheme enrolment, field reviews and the reimbursement of subsidies, etc, have pushed this industry to the brink of collapse despite its importance. Despite these demonstrated benefits and widespread acknowledgement of the critical role of micro irrigation in the sustainability of Indian agriculture, the industry that provides the wherewithal for it is currently struggling to survive.
There are 200 entities operating in this field and the industry's size is placed at about ₹6,000 crore. The top 10 companies command a market share of 70%. Barring a few firms (2-3%), all others are micro, small and medium enterprises. It is difficult for this industry to sustain itself if governments continue to dishonour their commitments of support. https://www.livemint.com/opinion/online-views/an-sos-call-from-the-indian-micro-irrigation-industry-11637252128521.html (19 Nov. 2021)
Tamil Nadu Only 37 tanks in Ramanathapuram are brimming with water As on Tuesday, only 37 of the 500 tanks under Lower Vaigai Basin – mostly in R.S. Mangalam, Tiruvadanai and Keelakarai taluks – have water to their full capacity. Storage is above 75 per cent in 105 tanks and 171 other tanks have got storage above 50 per cent of their capacity.
While low storage in tanks in Ramanathapuram district under Lower Vaigai Basin has given a cushion for the district administration to absorb more rainwater during the monsoon, farmers want the officials to seek release of water from Vaigai dam to fill the tanks to ensure uninterrupted agricultural operation. https://www.thehindu.com/news/cities/Madurai/only-37-tanks-in-ramanathapuram-are-brimming-with-water/article37545261.ece (17 Nov. 2021)
URBAN RIVERS
Cooum; Chennai Heavy rainfall clean polluted stretch Abundant rainfall this month has brought heavy flow in Cooum river and also filled check dams across its unpolluted portion. Considerable flow in the river has also helped flush out stagnant sewage in the urban stretches. https://www.thehindu.com/news/national/tamil-nadu/heavy-rainfall-fills-check-dams-across-cooum-helps-clean-polluted-stretch/article37528976.ece (16 Nov. 2021)
RIVERS
IRW 2021 – Video recording of India Rivers Forum' third webinar on Healthy Rivers, Fish and Fishers Fish focusing Science, Data & Advocacy organized on 17th November. https://www.youtube.com/watch?v=Ef8gFr0HBx4&feature=youtu.be
Facebook recording of India Rivers Week's fourth webinar on Healthy Rivers, Fish and Fishers: Changing Political Economy held on Nov. 20. https://www.facebook.com/watch/live/?ref=watch_permalink&v=975830169673947
Himachal Pradesh Forest Dept issues notice to NHAI for dumping debris along Beas Taking a stern note of dumping of debris by the National Highways Authority of India (NHAI) along the Beas, the HP Forest Department has directed it to take corrective measures.
Earlier in August 2021, the department had imposed a fine of Rs 1.15 crore on the NHAI for violations during the construction of the 40-km-long two-lane highway between Ramshila (Kullu) and Manali and 10-km-long four-lane highway between Jia (Bhuntar) and Ramshila. Angel Chauhan, Divisional Forest Officer (DFO), Kullu, said to protect the sites where debris had been dumped illegally from landslides and subsidence, the department had sent a notice to the NHAI directing it to plant saplings using jute matting technology. He said rolls of jute mats would be laid by anchors on steep slopes having holes at uniform distance for plantation. The process would help prevent landslides, he said. The construction of the Ramshila-Manali road was completed 18 months ago, while 95 per cent of work on the Jia-Ramshila road is finished.
– Chauhan said dumping sites provided to the National Highways Authority of India were largely found vacant and it was found that its contractors had dumped the debris at many places along the Beas, ruining the ecology of the region. The DFO said despite several notices and fines worth lakhs of rupees, the National Highways Authority of India failed to take corrective action. He said due to repeated offences, an undertaking had been sought from the NHAI to revamp the damaged area. https://www.tribuneindia.com/news/himachal/himachal-pradesh-notice-to-nhai-for-dumping-debris-along-beas-338460 (16 Nov. 2021)
GANGA Study Climate change altering Ganga's flow, more floods predicted A new study from the Indian Institute of Science (IISc) and the Indian Institute of Technology-Kanpur hints at more floods from the Ganga basin as human activities and climate change alter its water flow. Increasing human activities have already had disastrous impacts on the river, from severe pollution to changing its course.
The study published in the journal Scientific Reports provides insights into how climate change and human activities like building dams affect the region. It analyses the effects of past human activity on the mountainous regions, focusing on two significant tributaries, Bhagirathi and Alaknanda, which merge at Devprayag to form the Ganga. The Alaknanda basin has experienced a doubling of water flow from 1995 to 2005 with an increase in the rate of flow of water, termed extreme flow. Researchers predict an increase in the magnitude of these extreme flows and the occurrence of floods in the Ganga basin.
Researchers further suggest that the building of dams in the Alaknanda region coupled with climate change have modified the water activity as dams and reservoirs have influenced the sediment transported by the rivers. The lack of sedimentation in the downstream Ganga basin has altered the river's morphology. The Himalayan regions are one of the worst affected by climate change in India, meanwhile increasing numbers of dams and reservoirs on these freshwater sources has severely impacted the ecological processes in the Himalayan River basins.
The study reports that the Tehri dam plays a crucial role in the upper Ganga basin region. Being a large reservoir and flow control structure, it blocks sediment flow from upstream and controls the volume of water that flows downstream. https://www.indiatoday.in/science/story/climate-change-ganga-river-water-flow-alkananda-dams-1878231-2021-11-18 (18 Nov. 2021)
Uttarakhand Landslides & road network To assert that highway construction is not causing landslides is demonstrably false.  There are numerous images online of landslides on the Char Dham highways. In the fragile conditions of this area many landslides are inevitable during road construction unless high quality road engineering is adopted.  To deny that the highway construction is causing landslides flies in the face of the evidence. https://blogs.agu.org/landslideblog/2021/11/18/landslides-and-the-road-network-in-uttarakhand-india/  (18 Nov. 2021)
Reality of Char Dham Road Project.
Suvrat Kher a Sedimentary Geologist on Rapid Uplift blog:- The Geological Survey of India has published a report of landslide susceptibility along the Char Dham routes focuses on the damage done to the hill slopes due to the deluge and floods in June 2013 where intense runoff and river erosion caused massive landslides. But it also states that road building at places has resulted in the development of new landslide loci. That road building is triggering landslides along these routes is obvious judging by the regular reports of new landslides all across Gharwal. This is a well compiled report, but I despair that the advice of geologists and ecologists on the impact this road expansion is having on this part of the Himalaya is being ignored.
Instead, the GSI has this reassuring tip for travellers: "This Coffee Table book will be of immense use for pilgrims passing through the landslide vulnerable tracts leading to the Char Dhams in Uttarakhand". http://suvratk.blogspot.com/2021/11/char-dham-route-landslide-hazard-maps.html?m=1
Jay Mazoomdaar:- Why deciding the width for mountain highways does not warrant a defence-vs-environment debate, and how destabilisation of the hills undermines concerns and the very idea of a reliable all-weather road.
'No rule of law'- HPC chairman Chopra wrote to the Environment Ministry in August 2020, underlining how the project was being implemented in brazen violation of statutory norms "as if the Rule of Law does not exist". These include:
-WORK WITHOUT VALID PERMISSION: Project work and felling of trees on different stretches, adding up to over 250 km, has been continuing illegally since 2017-18. A work order issued by the state Forest Department in September 2018 was not only post facto but also legally untenable. In fact, the department had written to the developer back in February 2018: "Char Dham project is related to the ambitious plan of the Honourable PM… considering the importance of the project… tree felling in the stretches quoted above is almost complete even though doing so without complying with the conditions of the in-principle approval is a clear violation."
-MISUSING OLD CLEARANCES: Work started on stretches adding up to over 200 km on the basis of old forest clearances issued to the Border Roads Organisation during 2002-2012. This is illegal and defeats the regulatory purpose since the scope of work has changed drastically with "enormous hill cutting" undertaken. Muck has just been pushed down the slope along NH-125, posing a serious threat to the environment and local habitat.
-FALSE DECLARATION: Tree felling, hill cutting and muck dumping on stretches adding up to over 200 km commenced by falsely declaring that these stretches did not fall in the Eco Sensitive Zones of Kedarnath Wildlife Sanctuary, Rajaji National Park, Valley of Flowers National Park etc.
-WORK WITHOUT SEEKING CLEARANCE: Work began on various stretches, adding up to at least 60 km, after withdrawing applications for forest clearance without furnishing reasons.
-VIOLATION OF SC DIRECTIVE: Work started on stretches adding up to at least 50 km, even though the state government said in an affidavit in April 2019 that stretches where work had not already begun would be subject to the direction of the SC.
-Both parties concluded their arguments on Thursday (Nov. 11). While the NGO underlined the government's disregard for the September 2020 court order when MoRTH unilaterally relaxed its guideline for hill roads last December, the government furnished a two-page report on the steps taken for landslide mitigation. The judgment is likely to serve as a benchmark for "balancing both concerns" within the legal framework, and draw a not-so-fine line between vanity projects and strategic imperative. https://indianexpress.com/article/explained/char-dham-road-debate-supreme-court-army-7618880/ (12 Nov. 2021)
But as environmentalists and NGOs have pointed out, unthinkingly widening the road in such an eco-sensitive zone will have severe consequences for a state that has been grappling with major landslides and environmental degradation. Just in February this year the Tapovan Hydro-Electric Power Dam was completely washed off following a massive landslide in Uttarakhand's Chamoli district. Keeping this in mind the SC in September 2020 had upheld the recommendations in the minority report of a high-powered committee to limit the flagship project's carriageway to 5.5m. But the majority report of the same committee had agreed to a 12m widening. The latter would involve additional deforestation, slope cutting and tunneling. Needless to say this would further impact the ecological sensitivity of the area.
The best solution here would be for government and environmentalists to work with each other instead of at cross-purpose. However, the government had previously indicated that it may exempt defence projects from green requirements. In the Char Dham project, the ministry of road transport and highways actually amended its previous guidelines for mountainous roads to support the government's widening plans. Such dilution of environmental policy can be problematic. Hence, a fresh approach for all border infrastructure that looks at environmental impact transparently should be the SOP. https://timesofindia.indiatimes.com/blogs/toi-editorials/green-and-secure-char-dham-highway-project-must-see-government-and-environmentalists-work-together/ (15 Nov. 2021)
How did Char Dham Pariyojana, a tourism-oriented project, suddenly become the focus of defence needs? https://timesofindia.indiatimes.com/blogs/voices/how-did-char-dham-pariyojana-a-tourism-oriented-project-suddenly-become-the-focus-of-defence-needs/ (22 Nov. 2021)
The cable car plan announced by the PM and the ongoing Char Dham road project don't align with the state's ecology writes Hridayesh Joshi. https://www.thequint.com/voices/opinion/narendra-modis-development-plans-for-uttarakhand-can-wreck-its-ecology (16 Nov. 2021)
Uttar Pradesh Lack of coordination causing confusion on Ganga pollution: HC Hearing a PIL over pollution in the Ganga river, the Allahabad HC observed the lack of cooperation in different departments of the UP government is resulting in confusion before it. The court directed the chief secretary to issue directions to remove the confusion as different departments and agencies are being represented through different counsels. https://economictimes.indiatimes.com/news/politics-and-nation/allahabad-hc-lack-of-coordination-causing-confusion-on-ganga-pollution/articleshow/87745304.cms (17 Nov. 2021)
Varanasi As the flood water starts receding in Varanasi, sewage drains are again visible after 4 months. This is one of the biggest sewage drains in Varanasi which discharges more than 100 MLD sewage per day.
Varanasi bagged number one position in the 'best Ganga town' category for the second successive year in the Swachh Bharat Survey of the Union ministry of housing and urban affairs (MoHUA) released on Saturday (Nov. 20). https://timesofindia.indiatimes.com/city/lucknow/varanasi-declared-best-ganga-town-for-2nd-successive-year/articleshow/87824555.cms (21 Nov. 2021)
EC given for Ganga e-way project The Ganga Expressway project in Uttar Pradesh has received the environmental clearance, paving the way for the construction of what is being touted as the longest expressway in the country. According to a government spokesperson, the State Level Environment Impact Authority issued environmental clearance for the 594-km Ganga Expressway project, for which the tendering process has already started.
The estimated cost of the project is Rs 36,230 crore. It will be built on PPP mode and tenders have been invited for design, build, finance, operate and transfer. The expressway will start at Bijauli village in Meerut district from the Meerut-Bulandshahr highway and end at the Prayagraj bypass near the Joodapur Dandu village in Prayagraj district. It will cover 12 districts, including Meerut, Hapur, Bulandshahr, Amroha, Sambhal, Badaun, Shahjahanpur, Hardoi, Unnao, Rae Bareli, Pratapgarh and Prayagraj.
"It will be a six-lane expressway, expandable to eight lanes. Work on land acquisition for the project is on and so far, we have acquired about 94 per cent land. It is estimated that nearly 12,000 people will get temporary employment during the construction of the project while another 1,000 people will get employment during the construction of toll plazas on this stretch," said a government spokesperson. https://www.thehansindia.com/news/national/uttar-pradesh-gets-environmental-clearance-for-ganga-e-way-project-716291 (21 Nov. 2021)
YAMUNA Delhi Once upon a time when the Yamuna was a river Its beauty and rich aquatic life find mention in the works of poet Akbar Allahabadi, the late RV Smith, often referred to as the chronicler of Delhi, and the Delhi Gazetteer (1912) that talked about the presence of fish, turtles and crocodiles in the river, said Manoj Misra, convenor of Yamuna Jiye Abhiyan, a consortium of NGOs and individuals working to save for the Yamuna.
The Wazirabad barrage, built in 1957, was another turning point, dealing one more blow to the river's natural flow, which diluted pollutants, Misra said. "Barrages and dams obstruct the natural flow of rivers and should be done away with," he said. At the Hathnikund barrage in neighbouring Haryana's Yamunanagar, the Western Yamuna Canal and Eastern Yamuna Canal divert the river waters to Haryana and Uttar Pradesh, respectively.
Misra stressed "understanding the real need of the river", as he recalled a clean Yamuna during the lockdown in 2020. As industrial activity stopped, there was no discharge of effluents and catchment areas got good rain, increasing the water flow, he said. "So the river itself spoke what it needed. A flowing river can take care of whatever flows into it. That was the message. Is it so difficult to replicate?" Misra asked. https://www.moneycontrol.com/news/business/once-upon-a-time-when-the-yamuna-was-a-river-7744441.html (21 Nov. 2021)
Ghats along Yamuna to be restored to their original design The Delhi Development Authority (DDA) has prepared a detailed plan to redevelop a 7km-long stretch of historical importance along the Yamuna. The plan is to restore the ghats on the lines of their original design, and also put in place facilities such as cycling tracks, pedestrian pathways. The stretch, located between Old Iron Bridge and Signature Bridge, has been divided into four zones: Surghat, Majnu Ka Tila and forest area, Qudsia Ghat and Yamuna Bazaar.
The INTACH has prepared the redevelopment plan for the entire stretch, and is at work on a pilot revamp at Qudsia Ghat. A senior DDA official said, "We decided to rope Intach in keeping the historical and cultural significance of this area in mind. The idea is to make the riverfront more accessible to people."
DDA approved a proposal to restore and redevelop Qudsia Ghat in December last year. The restoration of Qudsia Ghat, which started in mid-October and will around ₹16 crore, will be completed within nine months, said Gupta. The DDA plans to develop a 3km-long cycling track, a pedestrian walkway, toilets and parking spaces at the ghat. Located along Ring Road, the area has 32 contiguous ghats, which are used for religious activities till this day.
Manoj Misra, convenor of Yamuna Jiye Abhiyan, said, "The NGT has not prohibited redevelopment or restoration of historic ghats. The proposed redevelopment should be able to take inundation during the flood period and shouldn't prevent spread of floodwater. There are specific orders for Sur Ghat that it should be demolished and redone in a natural manner." https://www.hindustantimes.com/cities/delhi-news/ghats-along-yamuna-to-be-restored-to-their-original-design-101636309190829.html (08 Nov. 2021)
RIVERS BIODIVERSITY
Gujarat Freshwater otter clicked at Wadhwana He was watching migratory birds with his binoculars at the sprawling Wadhwana wetland on Sunday (Nov. 14) when he spotted something in the water. At first, Ajay Parmar thought that it was a baby crocodile but soon he realised that it was something else. Parmar was thrilled as what he had spotted turned out to be an otter in the middle of the lake.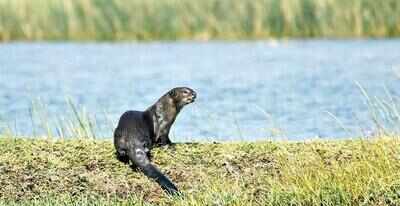 "I have been visiting this wetland for the last two decades to watch and click birds. This is for the first time that an otter has been spotted at Wadhwana. It was a delight to watch a freshwater otter swim in the lake," Parmar, who photographed the otter along with Ankit Shah, told TOI. "Otters have been spotted in Mahi and even Narmada but never has this mammal been spotted at this lake," he said. https://timesofindia.indiatimes.com/city/vadodara/freshwater-otter-clicked-at-wadhwana-birders-claim-first-sighting-at-wetland/articleshow/87766375.cms (18 Nov. 2021)
FISH, FISHERIES, FISHERFOLKS
SANDRP Blog WFD 2021: Incidents of MASS FISH DEATH in India November 21, marks World Fisheries Day (WFD) to address the sustainability issue in fisheries sector. The day also signifies the critical contribution of largely neglected indigenous fisherfolk communities facing range of threats over their livelihoods. On this occasion; SANDRP has been presenting detailed yearend roundups covering important developments concerning fish diversity, fishery industry and fisherfolks wellbeing through media reports compilation.
This first part in three part series focuses on mass fish death incidents in India over past on year. The next part will cover successful efforts by fisher communities to protect fish diversity and their livelihoods apart from relevant positive developments. The final part will present the overall status of fish species, fisheries industry and fisherfolks struggle during past one year. https://sandrp.in/2021/11/20/wfd-2021-incidents-of-mass-fish-death-in-india/ (20 Nov. 2021)
WFD 2021: Ten Positive Stories of Fish, Fisheries & Fisherfolks On occasion of World Fisheries Day (WFD) 2021, SANDRP presents account of a few successful stories of fisher folks collective efforts for sustainable fishing, resistance against existing and looming threats. This also highlights some positive initiatives documenting neglected fishing communities and threatened fish diversity. The first part of the WFD 2021 series has put together most of mass fish kill incidents in India during past one year. This second part begins first with top ten success stories and then moves on to other important positive reports and developments. https://sandrp.in/2021/11/21/wfd-2021-ten-positive-stories-of-fish-fisheries-fisherfolks/ (21 Nov. 2021)
A fish rush in IT heartland Following last week's depression, Thalambur residents send out rainwater into the lake and receive fish as return gift. https://www.thehindu.com/news/cities/chennai/a-fish-rush-in-it-heartland/article37606971.ece (21 Nov. 2021)
Bihar VIP Chief Mukesh Sahani releases 71,000 fishes into the Ganges to mark PM Modi's 71st birthday https://www.newindianexpress.com/nation/2021/sep/18/bihar-vip-chief-mukesh-sahani-releases-71000-fishes-into-the-ganges-to-mark-pm-modis-71st-birthda-2360508.html (18 Sept. 2021)
SAND MINING
Jammu & Kashmir Riverbed mining woes for fishes The aquatic life in the freshwater streams of Kashmir faces threats from riverbed mining and rising pollution. Increasing mechanised riverbed mining in the river Jhelum and its tributaries, to extract gravel, boulders, and sand for construction purposes, has threatened fish habitats. https://india.mongabay.com/2021/11/video-riverbed-mining-woes-for-kashmirs-fishes/ (11 Nov. 2021)
Tamil Nadu Illegal mining went on till 2016 in southern districts: Amicus Curiae Illegal mining of minerals, worth several thousand crores of Rupees, went on unnoticed till 2016 in the three southern end coastal districts of Tamil Nadu, the Amicus-Curiae informed the Madras High Court on Friday (Nov. 12). Tirunelveli, Tuticorin and Kanniakumari are the three districts where the AC's report alleged that illegal mining of valuable minerals was being carried unabated. The report stated that raw sand, garnet, ilmenite, rutile, zircon, sillimanite and leucoxene had been extracted in large quantities by the mining operators and a substantial part thereof in a clandestine or unlawful manner, without reporting the same. The bench also noted that though some of the appearing mining operators objected to the report, it appears that the activity had gone unnoticed over a long period of time and might not have received adequate attention from the State government.
Advocate-General R Shanmugasundaram sought time to deal with the report as filed by Suresh. The counsel for V V Minerals also prayed for time to object to the report. The bench said that any individual mining operator seeking to take exception to the report should file his individual counter-affidavit within a week. "The State will deal with the report, along with the counter-affidavits filed by the individual mining operators, by way of a status report to be filed within three weeks. It will indicate, in particular, the extent of vigilance now exercised in the three southernmost coastal districts, where, according to Suresh, such illegal mining operations continued unabated till the end of 2016. The Pollution Control Board may also file an independent report if it has taken any action in respect of such perceived illegal mining," the bench added and posted the matter for further hearing on December 3. https://www.newindianexpress.com/states/tamil-nadu/2021/nov/13/illegal-mining-went-on-till-2016-in-tamil-nadus-southern-districts-amicus-curiae-2383234.html (13 Nov. 2021)
Bihar SC gives conditional go-ahead to start sand mining The Supreme Court passed interim orders November 10, 2021 permitting the state of Bihar to carry on mining activities through Bihar State Mining Corporation considering no damage is caused to the environment. Illegal extraction becomes rampant when mining is banned, the apex court noted, resulting in clashes between sand mafias and even loss of lives. Sand is used for constructing public infrastructure and other construction activities, and there is the need to ensure the public exchequer is not deprived of its share in legalised mining, the Supreme Court mentioned.
Until the District Survey Reports (DSR) are finalised and granted approval by State Level Expert Appraisal Committee (SEAC) and State Environment Impact Assessment Authority (SEIAA), it is appropriate that certain necessary arrangements are permitted, so that the state can continue with legal mining activities, the bench of Justices L Nageswara Rao, Sanjiv Khanna and BR Gavai said. https://www.downtoearth.org.in/news/governance/supreme-court-gives-conditional-go-ahead-to-bihar-to-start-sand-mining-80207 (15 Nov. 2021)
Bihar government's Mines and Geology Department has given responsibility to a "tainted officer" to issue tender of sand mining in eight districts of the state. The notification was issued by Harjot Kaur Banhara, Principal Secretary of the Mines and Geology Ministry and the responsibility was given to Surendra Prasad Sinha. Sinha, along with four other officials were removed from their respective posts in July this year after the Economic Offence Wing (EOW) found them guilty of earning disproportionate assets. https://www.daijiworld.com/news/newsDisplay?newsID=895914 (21 Nov. 2021)
Rajasthan Sand mining activities on farm land near riverbeds stopped After the Supreme Court's order paving the way for legal mining of riverbed sand in Rajasthan, the Mines Department has launched action to stop the mining activities within the 5-km radius of rivers. As many as 173 sand mining leases on agricultural land in the demarcated areas have been cancelled. https://www.thehindu.com/news/national/other-states/sand-mining-activities-on-farm-land-near-riverbeds-stopped-in-rajasthan/article37475572.ece (13 Nov. 2021)
Andhra Pradesh Mining dept violated norms in sand mining: NGT panel A NGT joint committee found that AP mining department has violated environmental rules while doing sand mining in Araniar river. The APMDC levied a fine of Rs 1 lakh on contractor PMR Infra India Private Ltd for violating the terms of the contract. The joint committee said the APMDC carried out sand excavation in river Araniar at Sururupalli in Chittoor district to extract sand for local needs.
The NGT issued orders on September 21, appointing the joint committee and to inspect the area and file a report after Dasu Manikantaiah filed a petition in NGT southern bench. The petitioner alleged that sand mining was done in Chittoor district without environmental clearances. Chittoor district officials said: "As per the new sand policy of AP government, environment clearance is required for four and above order streams but not for one to three order streams. It is only for local consumption needs and not for commercial mining."
The irrigation department has classified Araniyar river, which flows through Sururupalli, as a third-order stream. "Environment clearance and consent for establishment are not warranted for sand excavation in the Sururupalli sand reach," the officials said. NGT panel said the APMDC carried out sand excavation river Araniar at Sururupalli in Chittoor district to extract sand for local needs. The APMDC levied a fine of Rs 1 lakh on contractor for violating the terms of the contract. https://timesofindia.indiatimes.com/city/hyderabad/ap-mining-dept-violated-norms-in-sand-mining-ngt-panel/articleshow/87545186.cms (06 Nov. 2021)
Himachal Pradesh Now, mining mafia active in Palampur, Jaisinghpur forests The mining mafia is carrying out illegal activity relentlessly. It has not even spared forestland in Jaisinghpur and Palampur of Kangra district. As little material is left in the leased areas of rivers and rivulets, the mafia is now extracting sand and stones from the reserved forests in board daylight.
The Forest Department is aware of the situation but has not acted against the culprits. Green forests, as a result, are under threat in these two subdivisions. A number of tractor-trailers transporting mined material can be seen often. In Bandhau and Bairghatta villages, deep trenches have been dug to extract sand, stones and gravel from forests adjoining Mol Khud.
Villagers say that they have been opposing illegal mining, but there has been no decline in the activity. They had also approached the mining, police, and forest departments but no action had been taken against the mafia.As a result, a number of natural water resources are drying up, the water level in local rivulets has gone down, rivers are facing the problem of soil erosion leading to floods and fertile land has gone barren.
Mol Khud passing through these villages has emerged as the biggest centre of illegal mining where several tippers and tractors can be seen extracting material from riverbed and the forestland. The mining mafia has also constructed roads through forest and government land to reach the sites. The state forest, police and mining departments have failed to enforce the directions of the NGT and the government to earmark the areas allotted for mining with flags so that illegal activity could be curbed. https://www.tribuneindia.com/news/himachal/now-mining-mafia-active-in-palampur-jaisinghpur-forests-340505 (20 Nov. 2021)
Uttarakhand Illegal mining going on in Kotdwar area. https://brightpost.in/2021/11/17/fourteenth-of-the-mining-mafia-in-kotdwar/ (17 Nov. 2021)
Kerala Kanyakumari hills being plundered to feed a port project The work continues, despite a recent High Court order passed by the Madurai Bench to stop the quarrying.
Years ago, a small road, under the shadow of giant banyans, twisted its way from Aralvaimozhi in Tamil Nadu's Kanyakumari district to Kerala's Thiruvananthapuram. It wound its way through the Western Ghats, the route dotted with ponds filled with water lilies, bright green paddy fields, and swaying coconut trees. With time, this road became NH 7, and the paddy fields were slowly edged out by concrete houses. Now, this road is part of NH 44 and NH 66 and the banyans are entirely gone, as are the paddy fields, and the hillocks you see from the highway bear ugly scars: huge chunks of rocks have been sliced away and all you see is the naked face of a disfigured mountain. On the ledges created by quarrying sit rows and rows of houses.
Part of the Gondwana landmass, the Western Ghats were created by a domal uplift and the underlying rocks are said to be around 2,000 million years old. Today, these rocks are being carved out of the Ghats in Kanyakumari to be used as building material. The work continues, despite a recent High Court order passed by the Madurai Bench to stop the quarrying. At every turn on our way to Verkilambi village in Kanyakumari, we see trucks carrying huge consignments — comprising bits and pieces of the Western Ghats. We pass what we think are ponds shimmering with green algae, and find they are in fact defunct quarry pits. https://www.thehindu.com/sci-tech/energy-and-environment/the-western-ghats-range-in-kanyakumari-is-being-plundered-to-feed-a-port-project-in-kerala/article37593906.ece   (20 Nov. 2021)
Centre Minerals Concession Rules, 2021 Notified:- Extensive amendments have been made in the Mines and Minerals (Development and Amendment) Act, 1957 ('MMDR Act') by the MMDR Amendment Act, 2021 w.e.f. 28.03.2021 with the objectives of increasing employment and investment in the mining sector, increase revenue to the States, increase the production and time bound operationalisation of mines, increase the pace of exploration and auction of mineral resources, etc. In order to implement the amendments made in the MMDR Act, the MCR, 2016 has been amended. The highlights of amendments in the Rules are as follows:
(i) New rules inserted to provide manner of sale of 50% of mineral produced from the captive leases. With this amendment, the Government has paved the way for releasing of additional minerals in the market by greater utilization of mining capacities of captive mines.
(ii) Provision added to allow disposal of overburden/ waste rock/ mineral below the threshold value, which is generated during the course of mining or beneficiation of the mineral. This will enable ease of doing business for the miners.
(iii) Minimum area for grant of mining lease has been revised from 5 ha. to 4 ha. For certain specific deposits, minimum 2 ha. is provided.
(iv) Part surrender of mining lease area allowed in all cases. Presently, part surrender was allowed only in case of non-grant of forest clearance.
(v) Rules amended to allow transfer of composite licence or mining lease of all types of mine.
(vi) New rules inserted to provide for mutation of ML/ CL in favour legal heirs on death of the lessee or licencee.
(vii) Interest on delayed payments revised from existing 24% to 12%.
(viii) Rules regarding period of mining lease granted to Government companies and their payments incorporated in the MCR, 2016.
(ix) Penalty provisions in the rules have been rationalized. Previously, the rules provided for penalty of imprisonment upto 2 years or fine upto 5 lakh rupees or both for violation of each and every rule irrespective of the severity of the violation.
In addition to the above amendments, the Ministry has notified rescission of two rules, namely, Minerals (Transfer of Mining Leases Granted Otherwise than through Auction for Captive Purpose) Rules, 2016 and Mineral (Mining by Government Company), Rules, 2015. These rules had become obsolete in view the above amendment in the MMDR Act and the MCR, 2016. Notification of the Amendment Rule is available on the website of Ministry of Mines (www.mines.gov.in). https://pib.gov.in/PressReleasePage.aspx?PRID=1770242 (09 Nov. 2021)
According to minutes of a FAC meeting dated October 28, which was uploaded on the ministry's Parivesh website earlier this month and seen by HT, the committee approved commencing of mining in non-forest land but also imposed certain conditions. https://www.hindustantimes.com/india-news/government-panel-approves-mining-on-non-forest-land-without-lease-clearance-101637346853929-amp.html (20 Nov. 2021)
Pralhad Joshi, the Union minister for coal, mines and parliamentary affairs, will address the national conclave on mines and minerals on 23 November. https://www.livemint.com/companies/news/minister-pralhad-joshi-to-address-national-conclave-on-mines-and-minerals-11637394925990.html (20 Nov. 2021)
WETLANDS, LAKES, WATER BODIES
Maharashtra Mangroves killed, tar road laid and no one has a clue who did it! A mangrove patch in Andheri (west) has been destroyed and a tar road laid at that spot recently. None of the public agencies in charge of infrastructure has any clue as to how the road sprang up at SVP Nagar. At the same time, the BMC passed the buck to the collector's office while they, in turn, laid the blame at the forest department's door.
An environmental group, ShivTej Foundation, which has lodged a complaint alleged that an educational institute, National Education Society's (NES), got the road laid for a building at the site. The institute has denied the claim. Environmentalists alleged that the road was laid to get approval for floor space index (FSI) for an under-construction project of an educational institute. Its management refuted the allegation, saying it has nothing to do with destruction of the mangroves or the road.
President of the green group, Sumit Ashok Dhuri, said, "Between October 21 and 25, a large number of healthy mangroves were destroyed after evicting slum-dwellers who lived in this eco-sensitive zone. We assert that National Education Society's (NES) management has a role to play in the mangrove destruction because their upcoming educational institute building in this area requires a 30-foot road to get certain FSI approvals. Hence, we have complained that mangroves were illegally razed in a CRZ-1 area, to make a road there." Environmentalist and member of the high court-appointed mangroves panel, D Stalin, said, "It appears suspicious as to how the mangroves in the CRZ-1 area can be razed and a tar road laid there." https://timesofindia.indiatimes.com/mangroves-killed-tar-road-laid-and-no-one-has-a-clue-who-did-it/articleshow/87696123.cms (14 Nov. 2021)
Declare Panje wetland as 'bird sanctuary': Bombay HC issues notice Bombay high court on Monday (Nov. 15) issued a notice to the Maharashtra coastal zone management, national and state wildlife boards and others on a PIL filed to declare Panje as a bird sanctuary under the Wildlife Act.
The PIL filed by environmental NGO Vanashakti and its Project director Stalin Dayanand, argued by advocate Zaman Ali, sought directions from the high court to declare "Panje-Dongri Wetlands" as a bird sanctuary under the Wildlife Protection Act, 1972 "on account of a scientifically conclusive fact that Panje wetlands is a unique bird habitat that supports a quarter of a million birds that belong to more than a hundred distinct migratory species and provides important ecosystem services, as recommended by internationally renowned scientific organisations…" The PIL said, "If Panje-Dongri wetlands are not protected, migratory birds will pose an extreme high-security risk to the upcoming Navi Mumbai International Airport. The PIL also made the central government, through the MoEF, additional principal chief conservator of forests as parties. The matter is slated to be heard on Monday (Nov. 22). https://timesofindia.indiatimes.com/city/mumbai/panje-wetland-as-bird-sanctuary-bombay-hc-issues-notice/articleshow/87725265.cms (16 Nov. 2021)
Study First-of-its-kind study finds storks prefer canals over wetlands They found a rather large breeding population in Jhajjar and Rohtak districts of Haryana. These districts have witnessed agriculture for over a century, with the Western Yamuna canal network established before the era of the Mughals. Along with densely populated villages and towns, most of the areas in these two districts are crop fields, watered both by rainfall and the incredibly high network of irrigation canals.
The latest findings of the paper – 'Of irrigation canals and multifunctional agroforestry: Traditional agriculture facilitates woolly-necked stork breeding in a north Indian agricultural landscape' — published in the open access journal 'Global Ecology and Conservation' are completely contradictory to assumptions that these birds survive only inside nature reserves and that they are declining due to the ill-effects of agriculture. Farmers in south Asia have belief systems that are very useful for the conservation of wildlife. For one, unlike in many developed countries, farmers do not always shoot down large birds. https://www.tribuneindia.com/news/schools/first-of-its-kind-study-finds-storks-prefer-canals-over-wetlands-313336 (19 Sept. 2021)
Tamil Nadu Collector bans non-agricultural activity on wetlands This comes in the wake of a number of paddy fields and wetlands being converted into housing plots; Kanniyakumari Collector says a survey has been started to assess this. https://www.thehindu.com/news/national/tamil-nadu/collector-bans-non-agricultural-activity-on-wetlands-of-kanniyakumari/article35403745.ece (19 July 2021)
Kerala High Court has declared that Rule 12(9) of the Kerala Conservation of Paddy Land and Wetland Rules (Rules) is prima facie ultra vires its parent Act, the Kerala Conservation of Paddy Land and Wetland Act, 2008 (Act) in so far as it charges a fee depending on the area of buildings exceeding 3000 square feet proposed in 'un-notified' lands. https://www.livelaw.in/news-updates/kerala-high-court-rule-129-kerala-wetland-rules-prima-facie-ultra-vires-charges-fee-area-proposed-building-174517  (22 May 2021)
GROUNDWATER
Ahmedabad Bopal, Vatva sinking along with groundwater levels A recent study by the Institute of Seismological Research has found a strong correlation between land subsidence (sinking) and depletion of groundwater. Areas surrounding Bopal-Ghuma in the west and the industrial area of Vatva in the east are sinking 25 mm per year.
"The water wells of Bopal, Arbudanagar, Hazipur garden and Ghuma indicate subsidence of about 2.0 mm/yr. Large ground subsidence of 9.8 mm/year is also estimated at Sola well, followed by a subsidence rate of 8.2 mm/year at Shilaj," stated the study published in the Geocarto International journal, a reputed scientific journal published by Taylor & Francis.
Experts say land subsidence is a cause of concern as it leads to micro-level topographic changes, cracks and fissures in the surface and ultimately causes heavy damage to city infrastructure like newly laid underground civic lines and even concrete structures on the surface.
The scientists had relied on groundwater level data from the central groundwater board between 1996 and 2020. They painstakingly used Sentinel satellite's Interferometric Synthetic Aperture Radar data between 2017 and 2020, which measures ground deformation with an accuracy of sub-centimetre level, and the latest Global Navigation Satellite System-based precise technique to measure land subsidence.
The scientists have appealed for greater public participation to arrest this phenomenon, including implementation of groundwater recharge in town planning schemes and its insistence in municipal governance. https://timesofindia.indiatimes.com/city/ahmedabad/bopal-vatva-sinking-along-with-groundwater-levels-in-abad/articleshow/87766940.cms (18 Nov. 2021)
Goa Mapping of state's groundwater on for better mgmt The Central Ground Water Board (CGWB), South Western Region, Bengaluru is in the process of mapping Goa's aquifers to prepare taluka-wise management plans. Once ready, these will give an accurate idea of the state's water availability and quality at the micro-level.
Regional director of CGWB, V Kunhambu told TOI that the data will help Goa better plan utilisation of its groundwater for domestic, industrial and commercial use. "Aquifer planning and management reports for five talukas of North Goa are ready and the same work needs to be carried out for seven talukas in South Goa. The report will provide status of water availability, quality, impact of rain water recharge, etc. The information will be useful to farmers, industries and state departments in planning," he said.
Kunhambu said that the central government has brought in revised rules to be able to better manage groundwater resources in the country. The data, he said, will help in gradually implementing these new groundwater extraction guidelines. Once all the 12 taluka-wise reports are ready, an advisory will be issued based on the reports to help judiciously utilise water resources as per availability in a particular area. https://timesofindia.indiatimes.com/city/goa/mapping-of-states-groundwater-on-for-better-mgmt/articleshow/87573838.cms (08 Nov. 2021)
URBAN WATER
Gurugram Road built over waterbodies, NHAI 'taking remedial steps' In fact, two key waterbodies (each of two acres) and their water channels used for irrigation and flood prevention purposes by the farmers of Kiranj and Hajipur villages as well for groundwater recharge have been destroyed and their catchment areas are being used for the construction of the DND-Delhi-Vadodara Expressway link road by the National Highways Authority of India (NHAI).
TOI visited the site on Thursday and found that the link road — part of NH 148NA — is coming up on the waterbodies. Villagers claimed that around 200 trees were also felled but no compulsory afforestation has been carried out in the area by the NHAI to date. The villagers also pointed out that they were not consulted by the highways authority before the destruction of the crucial waterbodies. According to environmentalists, it's high time that the NHAI woke up to the problem of Gurgaon's depleting groundwater table. https://timesofindia.indiatimes.com/city/gurgaon/road-built-over-waterbodies-nhai-taking-remedial-steps/articleshow/87789060.cms (19 Nov. 2021)
Noida Wetland, park on landfill in Sec 54 to be ready by August The Noida authority on Monday said that the 'wasteland to wetland' project in Sector 54, which includes the development of a park with an open air theatre, will be ready by the end of August this year. The work that was started in January this year was supposed to be completed by June, but it got affected due to the Covid-19 pandemic, said officials.
The authority is spending ₹4.86 crore on the development of wetland and park on an area spanning around 22 acres of land. Once developed, it will be a beautiful attraction for nature lovers right in the heart of the city, said the officials. https://www.hindustantimes.com/cities/noida-news/noida-wetland-park-on-landfill-in-sec-54-to-be-ready-by-august-101623695385726.html (14 June 2021)
Bhopal Lake conservation shows results but work remains As Bhopal grew and used up water resources more quickly than it regenerated, leading planners reached out beyond the city for new supplies. The Bhopal Municipal Corporation dealt with the increased demand for water by diversifying sources to include local reservoirs (mainly Bhojtal), groundwater and more distant resources, according to a recent study. https://www.moneycontrol.com/news/india/two-decades-of-a-city-lake-conservation-shows-results-but-work-remains-7742661.html (20 Nov. 2021)
Mangaluru Alappuzha waste disposal model better suited for city: Citizens Presently, the MCC collects waste in bulk and dumps it at a centralised collection centre at Pacchanady. The landfill, in addition to being a source of stench for locals, has allegedly contaminated local groundwater and become a major health hazard. Further, it has rendered the land unusable. Terming the MCC's existing waste management facility an "environmental disaster", the MCG proposed the Alappuzha Model.
The Alappuzha Model is a method of waste management implemented in Alappuzha (Alleppey) town of Kerala. Under this model, waste generated in a locality is treated in the locality itself, avoiding logistical issues involved in bulk garbage collection. The plan enables each household to go green and treat domestic biodegradable waste in their own backyards or at composting units set up within the ward, the delegation said. https://www.deccanherald.com/state/mangaluru/environmentally-sound-cost-effective-alappuzha-waste-disposal-model-better-suited-for-mangaluru-citizens-body-tells-mcc-1052707.html (20 Nov. 2021)
Bengaluru The residents of Fortuna Icon Apartments in north Bengaluru have lamented that despite paying the amount for the allocation of Bangalore Water Supply and Sewerage Board (BWSSB) connection when the apartment complex's construction was completed and was made ready for occupancy in 2009, it has not been given till now. They have also been alarmed by the apartment association — Fortuna Icon Apartments Resident Welfare Association — which stated that the BWSSB has levied a penalty and interest arrears of Rs 1.75 crore, to be paid jointly by the occupants. https://indianexpress.com/article/cities/bangalore/north-bengaluru-apartment-complex-water-connection-bwssb-7623684/ (15 Nov. 2021)
WATER POLLUTION
Study Extensive water pollution around 2 thermal power plants in Nagpur A new study has revealed extensive and rampant water pollution in the areas around two thermal power plants in Nagpur. The study was jointly conducted by the Centre for Sustainable Development (CFSD) in Nagpur, Manthan Adhyayan Kendra in Pune, and ASAR Social Impact Advisors Pvt Ltd. The study collected water samples from 25 locations and found surface and groundwater contaminated with toxic metals.
The report, 'Polluted Power: How Koradi And Khaperkheda Thermal Power Stations Are Impacting the Environment', has sought an immediate halt to the discharge of pollutants from power plants and ash ponds. Fly ash is a byproduct of coal combustion, which generates more than 70 per cent of India's electricity.
This ash is typically mixed with water and stored in large ash ponds lined with dykes to hold the slurry in place. The wet disposal of ash into ash ponds is the most common method widely used in all power stations. These dykes frequent collapse, flooding nearby farms, fields and even homes with toxic ash, which is known to pollute soil, air and water, damage crops and cause cardiopulmonary illnesses.
The report stated, "Almost every water sample in every season, including monsoon, failed to pass the standards set for drinking water by the Bureau of Indian Standards, the IS 10500: 2012 (acceptable limits) and other relevant standards with the sole exception of samples from Water ATM output (an automatic water dispensation system)."
This contaminated ground and surface water is being used by local communities extensively for all purposes, including drinking (with and without treatment), other domestic use, bathing, washing clothes, fishing, irrigation and water for cattle. https://indianexpress.com/article/cities/mumbai/nagpur-thermal-power-plants-water-pollution-7630039/ (18 Nov. 2021)
WATER
CWC As per reservoir storage bulletin dated 18.11.2021, live storage available in these reservoirs is 136.342 BCM, which is 79% of total live storage capacity of these reservoirs. However, last year the live storage available in these reservoirs for the corresponding period was 144.166 BCM and the average of last 10 years live storage was 123.401 BCM. Thus, the live storage available in 133 reservoirs as per 18.11.2021 Bulletin is 95% of the live storage of corresponding period of last year and 110% of storage of average of last ten years. http://cwc.gov.in/sites/default/files/18112021-fb-pdf.pdf
Arunachal Pradesh Water crisis is real In Arunachal, there are a number of major rivers like Kameng, Siang, Tirap, etc, but the main sources of our potable water are the various small rivulets and springs. These small rivulets and springs are our perennial sources of water, which are now gradually drying up, owing to the prevalence of large-scale deforestation, mining and crash and burn system of farming, especially in the hilly terrains of the state. Although our government has put many laws and regulations in place to check and streamline these activities in the state, all of these laws and regulations remain ineffective at the ground level.
Changlang district, for instance, has been facing the brunt of these logging and mining activities for many years. Apart from the problem of unregulated logging, another concerning issue the district had faced earlier was coal mining activities, which have now been halted by the government. The activities had, however, severely destroyed the forests and water resources in Changlang's Rangrinkan village near the Assam boundary. The destruction caused by such activities to the forest, land and water bodies there is irreversible. The land is completely barren, devoid of any tree, while the nearby small streams have all dried up. In a few years from now, the villagers will have to shift to another location and resettle there because they will not have any source of water left.
The environmental impact of unhindered logging, mining and destruction of forests is severe and will not stop if we continue to destroy our pristine forests and water sources. If people and our government do not wake up and take action soon, the water crisis will only worsen with each year. https://arunachaltimes.in/index.php/2021/11/22/water-crisis-is-real/ (22 Nov. 2021)
Jammu & Kashmir Water crisis cuts short education for girls in Bhadarwah hamlet With no piped water supply, daily chores to fetch potable water making female students give up studies. https://www.greaterkashmir.com/todays-paper/front-page/water-crisis-cuts-short-education-for-girls-in-bhadarwah-hamlet (22 Nov. 2021)
AGRICULTURE
NITI AYOG INVITES INPUTS FOR TASK FORCE ON ORGANIC FERTILISERS: In pursuance of the decision taken in a meeting held on 9th July 2021 in NITI Aayog, a task force has been constituted under the chairpersonship of Prof. Ramesh Chand, Member, NITI Aayog with following ToRs:
1. To assess the status of biofertilizer and organic fertilizer production and consumption in the country and briefly present its implications
2. Assessment of the existing standards of biofertilizers through the Organic Fertiliser Control order of the Government of India for organic fertilizer and suggest changes to expand its scope and the existing testing facilities including recommendations thereof
3. To devise innovative ways and policy to promote cattle economy and use of cow manure as biofertilizer and bio-energy especially for gaushalas to convert cattle into economic assets
4. To devise measures/ Policy initiatives for encouraging the commercial production, packaging, marketing and distribution of biofertilizers including development of brand and address challenges in marketing and certification of biofertilizers
5. To explore Public Private Partnership model with various stakeholders including goshalas, Dairy cooperatives and Farmer Producer Organization for production of enriched soild and liquid biofertilizer
6. Suggest mechanism and policy support for encouraging the commercial production, packaging, marketing and distribution and use of biofertilizers to create level playing field with inorganic fertilizers
In this regard, stakeholder views on the background (English < https://www.niti.gov.in/sites/default/files/2021-11/AnnIII.pdf>/Hindi) < http://www.niti.gov.in/sites/default/files/2021-11/Background_note.pdf> and the Terms of Reference (English https://www.niti.gov.in/sites/default/files/2021-11/ToR.pdf ) (Hindi http://www.niti.gov.in/sites/default/files/2021-11/Terms_of_Reference_HINDI.pdf) or any other suggestions are highly solicited for bringing policy recommendations pertinent for transforming this sector.
Also, all stakeholders can share success stories/experiences, etc., whereby livestock by-products have been utilized in product development, along with the socio-economic impacts achieved. All suggestions/comments may kindly be emailed to Dr. Neelam Patel, Senior Advisor (Agriculture) and Member Secretary at: neelam.patel@gov.in before December 25, 2021. https://www.niti.gov.in/task-force-production-and-promotion-biofertilizers-and-organic-fertilizers
NORTH EAST MONSOON 2021
Chennai 62% more rains this year compared to previous years Chennai has received an average of nearly 224 cm since last November; there has been 44% increase in the number of rainy days between June and November this year, the study found. https://www.thehindu.com/news/cities/chennai/chennai-has-received-62-more-rains-this-year-compared-to-previous-years-study-finds/article37594189.ece (20 Nov. 2021) When boats from Nainarkuppam in ECR proved a lifeline for these OMR residents. https://www.thehindu.com/news/cities/chennai/is-this-the-monsoonal-normal-for-them/article37606987.ece (21 Nov. 2021)
The erratic progress of monsoon this year is predicted to impact crop yields via, inter alia: 3 Ds (drought, delay and dry spell): that is likely to affect acreage and the yields; and Excess rains- which are likely to have damaged crops in the field and those kept in the storage. However, the higher soil moisture from good rains is predicted to boost rabi production next season.
As per the sowing data from the Ministry of Agriculture and Farmers Welfare (MoA) (Table 1), there has been no significant impact on area sown under the major kharif crops of rice, pulses, oilseeds, coarse cereals, sugarcane, cotton, jute and mesta, except in the case of cotton and coarse cereals where the acreage fell by about 6% and 2.5% respectively, compared to the area in 2020. But this fall may not be linked exclusively to the monsoon variations. https://theprint.in/opinion/2021-monsoon-shows-impact-of-climate-change-heres-what-its-doing-to-kharif-crops/767231/ (17 Nov. 2021)
FLOOD 2021
Dam Flood Andhra Pradesh The dam that became the sorrow The Annamayya project on Cheyyeru river has turned out to be the sorrow of many a village in Rajampet Assembly constituency in Kadapa district of Andhra Pradesh. Togurupeta, Mandapalli, Pulapathur and Gundlur presented a picture of haunted villages in the wake of the devastation. The flash flood caused due to a breach of the project's earthen bund caught at least 18 people in a watery grave and left many others missing in these villages.
A sudden gush of about two lakh cusecs of floodwater on Friday (Nov. 19), with the level reaching up to 10 feet height, caught the villagers unawares and scampering for their lives. Tens of houses in these villages downstream the project were reduced to rubble. The villagers literally lost everything, except the clothes on their person. Agricultural crops in hundreds of acres stood destroyed. Tens of cattle heads were washed away. Nothing of the household items was left as the deluge gulped them. In Pulapathur village, 12 people were swept away in the swirling flood in Cheyyeru, nine in Mandapalli and five in Gundlur. So far, only 18 bodies have been recovered, with no trace of the rest.
Annamayya is a medium irrigation project with a gross capacity of only 2.24 tmc ft on Cheyyeru, a tributary of Penna river, in Rajampet constituency. It caters to an ayacut of 22,500 acres, besides fulfilling the drinking water needs of 140 habitations. The Pincha project upstream breached, letting out all floodwater into Annamayya while water from Seshachalam too came gushing in because of very heavy rainfall, resulting in an overall discharge of over two lakh cusecs. That pushed Cheyyeru river into spate, inundating at least 10 villages downstream in Rajampet and Nandaluru mandals, and leaving widespread destruction in its wake.
"It was nothing but gross mismanagement on the part of the administration. Didn't they know about the flood when there was such heavy rain? Why were we not even alerted about the coming danger before it destroyed us?" angry villagers of Mandapalli and Togurupeta que. Except some kind-hearted volunteers, the administration did not come to their help in any way, they lamented. Kadapa district Collector Vijaya Rama Raju told PTI that the dam breach was the major factor that caused such a major calamity.
"The river course changed but the dam breach was what caused the real destruction. We still moved some 600 people to safety," he said. "Yes, it was a major calamity, the scale of which could not be imagined," Raju added. https://indianexpress.com/article/cities/hyderabad/andhra-pradesh-deluge-annamayya-dam-cheyyeru-river-7634151/ (21 Nov. 2021)
The swelling Chitravathi, Papagni and Penna rivers continue to pose a threat at various places in the Rayalaseema region. https://www.thehindu.com/news/national/andhra-pradesh/flood-situation-remains-grave-in-ap/article37619718.ece (22 Nov. 2021)
Heavy rains and flash floods have caused massive destruction in Chittoor, Kadapa, Anantapur and Nellore districts, destroying crops worth over Rs 3,000 crore. The actual loss, however, is likely to be even higher by the time the district administrations take up the field level enumeration. Officials are also worried that crop damage could be very high as the chances of survival of the standing crop looks remote. Normally, crops recover from the damage caused by heavy rains in a few days. https://timesofindia.indiatimes.com/city/vijayawada/farmers-hopes-sink-as-crops-worth-crores-go-under-water/articleshow/87836519.cms (22 Nov. 2021)
Flood Fears After Water Leaks From Cracks in Biggest Reservoir At Ramachandrapuram in Tirupati, some cracks developed in the bunds around Rayala Cheruvu, one of the oldest and biggest reservoirs in the state, and it started leaking leading to fears there could be a sudden deluge into the surrounding villages. Public warnings have been issued asking people to carry essential items, documents, and move to higher locations. "The bund is in danger of breaking. Please leave as soon as possible. Please leave the village. Please co-operate. Take your valuables and documents and leave. Inform your relatives. The bund is in danger of breaking. Please leave," an official was heard announcing in the area. https://www.ndtv.com/india-news/flood-fears-after-water-leaks-from-cracks-in-andhras-biggest-reservoir-2619275 (21 Nov. 2021)
Based on the advice of the irrigation department officials, measures to plug the leakages using cement and sand were undertaken at the spot by roping in the local villagers. According to PS Pradyumna, Rayalacheruvu now has 0.9 tmc ft of water stored which is well above its holding capacity. "After leakages were noticed and since there is a possibility of breach, we have asked villagers of 18 nearby villages to shift to shelter zones immediately. NDRF and SDRF teams have been placed on standby", added PS Pradyumna. Locals feared that if the Rayalacheruvu breaches more than 100 villages will be submerged and the damage could be very severe. https://timesofindia.indiatimes.com/city/amaravati/andhra-pradesh-rains-rayalacheruvu-on-the-verge-of-a-breach-prompts-officials-to-evacuate-18-villages/articleshow/87835559.cms (21 Nov. 2021)
Special Officer PS Pradyumna, Chittoor district Collector M Harinarayanan, Tirupati Superintendent of Police Ch Venkata Appala Naidu along with revenue and irrigation officials visited the tank and efforts were being taken to avert any danger. As of now, there is no immediate danger for the tank, they said adding, however, the villagers as a precautionary measure should vacate the villages immediately for three days with their valuables to higher areas or nearby engineering colleges kept ready for them. https://timesofindia.indiatimes.com/city/amaravati/andhra-pradesh-500-year-old-massive-reservoir-develops-breaks-villagers-asked-to-vacate-near-tirupati/articleshow/87835418.cms (21 Nov. 2021)
Penna river in spate, major road and rail routes cut off The State Disaster Management Authority said more than two lakh cusecs of flood water flowed out of the Somasila reservoir in Nellore district, leading to the deluge. This caused a breach of the National Highway-16 at Kovuru as well. Consequently, traffic on the NH-16 between Nellore and Vijayawada has been suspended, leaving hundreds of vehicles stranded for kilometers on either side. Hundreds of passengers were stuck in the Nellore RTC bus station as bus services were disrupted. In Kadapa district, a bridge on the river Papagni collapsed at Kamalapuram, cutting off road communication between Kadapa and Anantapur districts. Floodwater gushing out from the Veligallu reservoir led to the bridge collapse, officials said. https://www.thenewsminute.com/article/andhra-floods-penna-river-spate-major-road-and-rail-routes-cut-157869 (21 Nov. 2021)
Heavy flooding due to a breach and excess release of water from the Annamayya project claimed at least 26 lives. Many flood victims from 12 villages in areas surrounding Nandalur were reportedly missing from Kadapa district. The Rajampet area witnessed heart rending scenes with dead bodies of people being washed away in the floods due to lack of advance alerts. Rescue teams, mostly police, were seen rescuing victims and collecting dead bodies from the flood waters.
– Apart from this, there is threat to Mylavaram project. A metal bund was washed away 300 metres from crest gates of the project due to heavy inflows from upstream parts for the past three days. Executive engineer Sudhakar said restoration of damaged parts of the project were taken up and there is no fear of the Mylavaram dam and water being discharged into Pennar river. About 19 rehabilitation centres were set up in Jammalamadugu area under low-lying areas of Mylavaram project.
– Penna and Papagni rivers were flowing at dangerous levels inundating thousands of acres of crops. Thousands of acres of crops were badly damaged and they are not even in a position for further cultivation in Kadapa district. Kadapa headquarters was still under threat of floods following heavy flows from Buggavanka reservoir. https://www.deccanchronicle.com/nation/in-other-news/211121/26-died-in-floods-many-missing-mylavaram-project-under-threat.html (21 Nov. 2021)
The floods fury continued for the fourth consecutive day on a trot across Chittoor, Kadapa, Anantapur and Nellore districts throwing life completely out of gear on Sunday. The road bridge connecting Kadapa-Tadipatri towns along the Papagni river collapsed due to the impact of floods in the early hours on Sunday (Nov. 20). Road connectivity to several villages along the route remained suspended. Meanwhile, a three storey building came crashing down at Kadapa town in the early hours on Sunday (Nov. 20) due to floods and inclement weather. Police and fire fighting personnel rescued two persons including that of a woman in the building crash incident.
Traffic along the national highway – 16 connecting Kolkata to Chennai via Andhra Pradesh was brought to a grinding halt after the national highway caved in at two places near Nellore on Sunday (Nov. 20). Thousands of people were seen walking along the railway tracks to reach Nellore or the nearest road point. Meanwhile, rail and road connectivity to the temple city of Tirupati remains cut off with the Kadapa-Tirupati highway closed, Nellore-Tirupati highway closed, Bengaluru-Tirupati highway partially closed with diversions everywhere, Tiruttani-Tirupati highway closed.
South central railways cancelled 42 trains, partially cancelled one train and diverted 3 trains along the Nellore-Padugupadu section of Vijayawada division and Rajampet-Nandalur of Guntakal division on Sunday (Nov. 20). Nearly 2,000 devotees who boarded the Tirumala express to reach Tirupati were dropped off at the Kadapa railway station, sparking off protests by the passengers who were later accommodated in special buses and transported to Tirupati. Several low lying colonies in the city remained inundated with floodwaters which did not recede at all as the check-dams at Tirumala continued to overflow into the numerous waterbodies in Tirupati. https://timesofindia.indiatimes.com/city/amaravati/andhra-pradesh-death-toll-in-rayalaseema-and-nellore-districts-goes-up-as-floods-fury-continues/articleshow/87834445.cms (21 Nov. 2021)
The Tirumala Tirupati Devasthanam (TTD), which manages the affairs of the Tirumala Venkateswara temple in Tirupati, said that it has suffered losses of over Rs 4 crore due to the heavy rains that lashed parts of Andhra Pradesh over the past few days. The hill shrine had witnessed the worst rains in thirty years between November 17 and 19, TTD Chairman YV Subba Reddy said. As a result of the heavy rains, dams and check dams in the Seshachalam Hills overflowed through the Kapila Theertham falls and led to inundation in Tirupati, he said.
As the Venkateswara temple atop Tirumala hills was flooded due to the heavy rains, it was briefly closed to devotees. The ghat roads leading to the temple were also closed due to landslides. With the barricade wall near the Akkagarla temple on the first ghat road being damaged, boulders fell onto the street in four places, Subba Reddy said. TTD staff and other officials have removed these obstructions, and traffic has now resumed on the first ghat road, he added.
On the second ghat road, landslides occurred in 13 places, with the retaining wall being damaged in five places, he said. Traffic has been restored on this road as well. Three rooms of the Tirumala Narayanagiri guest house were damaged due to the collapse of a wall. The Srivari Metlu path was also damaged due to the rains. The back wall of the TTD administration building in Tirupati, as well as the compound walls of TTD rest houses in Ramnagar, Vinayakanagar, GMB quarters and Srinivasam, were also damaged. An atrium of the Kapila Theertham temple was also damaged, and repairs are estimated to cost around Rs 70 lakh. https://www.thenewsminute.com/article/andhra-rains-ttd-estimates-losses-rs-4-crore-worst-rains-30-years-157864 (21 Nov. 2021)
Peninsular rivers remain a worry The last week's rainfall episode triggered a flooding event across many parts of Peninsular India which was not seen in many decades. Rivers like Palar saw inflows cross 1.5 lakh cusecs which has possibly never happened in living memory for most people living on its bank. Similarly Then Pennai saw nearly 75000 cusecs which once again has not happened in many decades while further North the Penna river saw inflows exceeding 4 lakhs destroying everything in its path.
One of the key reasons for such a high inflows when the interior areas recorded heavy rains under the influence of the west moving Depression that crossed near Chennai is extremely high soil moisture. Shimsha a tributary of Cauvery is normally a poor cousin to the more famous Kabini, Hemavathi etc. But Shimsha has possibly been contributing a bulk of the nearly 75000 cusecs which Mettur saw last week. The GLOFAS, an initiative from ECMWF show nearly 100% moisture over parts of the Cauvery Basin which indicates the trouble ahead for us with most parts of Peninsular India seeing extremely high soil moisture due to the active thunderstorm season during Southwest Monsoon and the subsequent rains in interior areas due to the frequent movement of East to west pulses since the onset of Northeast Monsoon late in October. https://www.chennairains.com/peninsular-rivers-remain-a-worry/ (22 Nov. 2021)
Dam Flood Karnataka Massive outflow from Tungabhadra dam triggers flood Showers have subsided a bit on Sunday, but the untimely rain has left behind a trail of destruction in many parts of the state, more so in Kolar and Chikkaballapur districts in the south Karnataka, and Davangere, Haveri and undivided Ballari districts up north. Acres of standing crops in many districts are still flooded. The authorities are yet to come up with an assessment of crop loss and damage to houses.
Heavy discharge of water from the Tungabhadra reservoir has triggered flood situations in downstream areas. On Sunday (Nov. 21), more than 1 lakh cusec of water let out from all 32 crest gates of TB Dam. Massive outflow cut-off the road connectivity between Gangavathi and Kampli after the bridge went under water. The overflowing Tungabhadra river has meandered its way into several monuments in the Unesco world heritage centre Hampi. Purandara Mantap, Vijayanagara-era footbridge, Chakrathirtha, bath ghat and Rama-Laxmana temple are flooded. Krishnadevaraya Samadhi (tomb) in Anegondi is partially submerged.
Nava Brindavana in Anegondi, the resting place of nine saints belonging to Uttaradi Mutt, has completely gone under floodwaters. The farmers in Gangavthi, Kampli and Siraguppa taluks suffered a double whammy. Vast tracts of paddy, sugarcane crops and banana plantation suffered damage in the untimely rain before losing the crops completely due to the flooding of Tungabhadra river.
Meanwhile, acres of onion, chilli, maize, jowar and groundnut have been lost in the unseasonal rain in the Koppal district. The situation is no different in the undivided Ballari district, where paddy on thousands of acres has been laid waste in the untimely rain. In Huvinahadagali taluk alone, crops on 1,200 hectares has been damaged. The weather department has predicted heavy showers for all three coastal districts in the state for Monday (Nov. 22). The Meteorological department has sounded a yellow alert for Uttara Kannada, Udupi and Dakshina Kannada. Rain will start subsiding from the state from Nov 23, IMD sources said. https://www.deccanherald.com/state/massive-outflow-from-tungabhadra-dam-triggers-flood-in-karnataka-districts-1053197.html (21 Nov. 2021)
Farmers of Mundargi are worried that Shivamogga and the surrounding areas will receive more rainfall. If water is released from Bhadravathi dam to Hammigi barrage near Mundargi, the gates of the barrage will have to be opened, and a large quantity of water will gush out into the farmlands.
Hammigi barrage opened seven gates as 43.366 cusecs of water flowed out on Sunday morning. Farmers are struggling to save their crops due to rain. If the river swells again, they will lose all their crops. Bidaralli, Vithalapur, Singatalur, Gummagola, Shiranahalli, Irannanagudda, Gangapur, Kakkur, Korlahalli and other villages are at the river basins. https://www.newindianexpress.com/states/karnataka/2021/nov/22/mundargi-farmers-worry-about-water-release-from-dams-2386545.html (22 Nov. 2021)
Prof. A.S.R. Rao, Kuvempunagar:- Excessive Rain Brings Misery, Does Not Replenish Ground-Water
Of late, the heavy rains in Mysuru have devastated the Chamundi Hill and caused misery to people living in low-lying residential areas through inundation. Sadly, despite the heavy rains, the ground-water table is unlikely to have risen much. The grandiose plans of converting Chamundi Hill into a tourist attraction by disturbing the fragile stability of the hill-slopes, are not only ill-advised but also destructive in concept.
The citizens of our heritage city must raise their voice against this madness and must not allow this to happen. Instead, we must strengthen the stability of the hill-slopes through plantations and sound engineering practices that do not allow rain water to accumulate behind retaining structures. As to the reasons why there is no replenishment of ground-water even when we have adequate rainfall, natural tanks or lakes which would have acted as receptacles for the water to flow into, have all but disappeared.
Civic authorities have allowed building construction on the natural flow channels or Raja Kaluves, thus blocking the passage of water into the tanks. This has led to the natural death of lakes and the excess water has nowhere to go and naturally enough, inundates the low-lying areas. We must claim the lost natural Kaluves and allow rejuvenation of lakes. This will help bring down the rising temperatures too. https://starofmysore.com/excessive-rain-brings-misery-does-not-replenish-ground-water/ (17 Nov. 2021)
Unusual after 23 days river Shimsa at Thoreshettahalli level monitoring site in Mandya district has breached HFL 624.05 m attained on 23.10.2021. The previous HFL at this site was 622.88 m set on 25.11.2018. Current water level 624.37 m at 22:00 hrs on 16.11.2021 with rising trend.
River Uduthorehalla in Cauvery basin at Pudunagara level monitoring site in Chamarajanagar district has breached previous HFL 587.71 m dated 06.12.2017 by 0.09 m setting new HFL 587.8 m at 07:00hrs on 15.11.2021.
Tamil Nadu Newly built Rs 25cr check dam demolished A checkdam constructed across the river Thenpennaiyar at Thalavanur in Villupuram district at a cost of Rs 25 crore just a year ago was demolished on Monday (Nov. 15) using explosives after portions of the structure were damaged in floods. The 400-metre-checkdam was inaugurated in September last year by the previous AIADMK government.
Within four months, portions of the pillars supporting the shutters broke off triggering widespread protests by villagers complaining about the quality of the construction. On Nov 9, another portion of the check dam was damaged. The riverbank near the damaged portions started eroding fast after water was released from Sathanur dam on Saturday forcing the revenue officials to demolish the checkdam to prevent any eventualities. The efforts to demolish the check dam on Sunday (Nov. 14) failed as the explosives used were too less to destroy the structure. https://timesofindia.indiatimes.com/city/chennai/newly-built-rs-25crore-check-dam-demolished-in-tamil-nadu/articleshow/87720865.cms (17 Nov. 2021)
Maharashtra Neglect, apathy, destructive train route floods villages every year Locals in Mahad taluka of Maharashtra's Raigad district would perhaps agree that Konkan Railway has changed their lives, but in a very different way. The environmental impact of this project has been devastating for the region. "The Konkan Railway is 85 percent responsible for the floods," said Prakash Bhawakpol, who retired last year after working as a junior engineer in the Raigad's irrigation department for 25 years.
Experts agree that Konkan Railway's decision to build a bridge at Dasgaon village has made Mahad vulnerable to floods and Bhawakpol has the statistics to prove this. In 1989, when there was heavy flooding following 732 millimetres rainfall in Mahabaleshwar, water levels in Mahad rose to 8.25 metres above sea level. In 1994, a year after the Konkan Railway was constructed, there was 400 mm of rain in Mahabaleshwar and water levels rose to 8.40 metres above sea level in Mahad. In 2005, Mahabaleshwar got 500 mm of rain and the water level in Mahad rose to 9.75 metres. In 2021, 596 mm of rain in Mahabaleshwar led to the water level in Mahad to rise to 11.75 metres. "Now, if it rains like 1989 again," Bhawakpol said, "nothing will be left."
Ecologist Gurudas Nulkar said that after the floods subsided this year, a thick layer of silt (measuring approximately 1.5 feet) was found in houses in Mahad. "According to the estimates of Dr. Himanshu Kukarni, [founder-director of the think tank Advanced Centre for Water Resources Development and Management], there have been at least 5,000-10,000 landslides in the entire Sahyadri. These have significantly added to the siltation in the river," said Nulkar. https://www.newslaundry.com/2021/11/15/neglect-apathy-and-a-destructive-train-route-why-maharashtras-villages-flood-every-year (15 Nov. 2021)
Kerala Pampa dam opened Pampa dam which is a part of the Sabarigiri hydroelectric project has been opened here on Saturday. 25 to 100 cubic metres of water is being released per second through two shutters of the dam. District collector informed that the water will be discharged to the Pampa river without raising the water level above 10 cm in the human settlement areas. https://english.mathrubhumi.com/news/kerala/pampa-dam-opened-public-including-sabarimala-devotees-warned-to-stay-on-guard-kerala-dams-rainfall-1.6196246 (20 Nov. 2021)
URBAN FLOODS
Chennai Tryst with seasonal flooding Climate Action Collective gathers young enthusiasts to deliberate over the causes and cures for Chennai's climate crisis, and lay down an action plan.
Now, after TANGEDCO's many violations, CPCL's side effects and the doings of several ports that have changed its landscapes, its people are still fighting to fend off newer destructions. "Imagine how rich and resourceful a place must have been if both fishing and agriculture flourished there. Even in the late 90s, we used to get good water just 20 feet from the shore. Now, the water quality has dropped drastically. In the eight old villages of Ennore, even in low-lying areas, we never had flooding problems. For the fisherfolk knew where water collects and built their houses accordingly. It's only now that we are seeing more of this flooding problem," narrated Ravimaran. It's with the arrival of industries, added Sreenivasan, came a whole host of problems like saltwater intrusion, contamination by fly ash, coal and crude oil, a drastic change to the biodiversity of the waterbodies. https://www.newindianexpress.com/cities/chennai/2021/nov/15/how-to-save-that-sinking-feeling-chennaistryst-with-seasonal-flooding-2383611.html (15 Nov. 2021)
Bengaluru Excess rainfall, floods in North Bengaluru: A man-made creation? Watch the Digital Exclusive discussion with Revathi Rajeevan and Leo Saldanha, Environment Support Group on CNN News18. https://youtu.be/owo-CH8Vjsg
LANDSLIDES
Uttarakhand HC asks state DMC Sec. to appear on Nov 24 over lack of action to arrest landslides in Baliyanala The High Court on Wednesday (Nov. 17) observed that cosmetic decisions taken by the Chief Secretary in the meeting held on November 12, 2021, would not solve the problem of landslides in Nainital's Baliyanala area. The Division Bench of Chief Justice Raghvendra Singh Chauhan and Justice Alok Kumar Verma said this while hearing a PIL filed in 2018 seeking directions to the respondents to take urgent steps for preservation and conservation of the Hill Area adjacent to Baliyanala leading to the Jeolikote.
In compliance with the order dated 27.10.2021, a compliance report dated 13.11.2021 has been filed by S.A. Murugesan, the Secretary, Department of Disaster Management, Government of Uttarakhand. However, on a bare perusal of the compliance report, the Court said that it that "it is nothing, but an eyewash." On a bare perusal of these decisions the Bench noted that despite the fact that the report was submitted by the High Powered Committee (HPC) in 2018, even the minimum of the short-term measures have not been implemented in spite of the lapse of three years. https://www.indialegallive.com/constitutional-law-news/courts-news/nainital-baliyanala-landslide/ (19 Nov. 2021)
नैनीताल में भूस्खलन (Nainital Landslide) का खतरा साल दर साल बढ़ता जा रहा है। इस साल भूस्खलन के चलते बलियानाला क्षेत्र से दर्जनों परिवारों को शिफ्ट करना पड़ा। प्राकृतिक जलस्त्रोत भी सूखने लगे हैं। https://www.rajyasameeksha.com/uttarakhand/20250-danger-of-landslide-in-nainital (19 Nov. 2021)
नैनीताल में भूस्खलन के कारण लोगों की मुसीबतें बढ़ती जा रही हैं। शहर के कृष्णापुर कालोनी की पांच हजार की आबादी दो साल पहले बलियानाला पहाड़ी पर हुए भूस्खलन के कारण अलग-थलग पड़ गई। कालोनी का संपर्क जिला मुख्यालय से पूरी तरह भंग है। लोग लंबे समय से मार्ग को दुरुस्त करने की मांग कर रहे हैं। लेकिल अब तक उन्हें सिर्फ आश्वासन मिला है। ऐसे में कॉलाेनी के लोगों ने आंदोलन का मन बना लिया है। चुनाव से पहले इलाके के लोगों ने सड़क के लिए जेल भरो आंदोलन शुरू करने की घोषणा की है।
नैनीताल की भूगर्भीय संवेदनशीलता स्थानीय निवासियों के लिए मुसीबत बन गई है। बलियानाला के मुहाने पर 2018 में भारी भूस्खलन में कृष्णापुर को जाने वाली सड़क का बैंड जमींदोज हो गया। तब से करीब तीन किलोमीटर पहुंच मार्ग पर वाहनों की आवाजाही ठप है। पैदल आवाजाही भी पगडंडियों से होकर हो रही है। यहां रास्ते के बगल में भी कई स्थानों पर बोल्डर खतरा बने हैं। ऐसे में लोग अपनी जान जोखिम में डालकर आवागमन कर रहे हैं। https://www.jagran.com/uttarakhand/nainital-people-of-krishnapur-colony-in-nainital-will-start-jail-bharo-andolan-for-road-22207888.html (15 Nov. 2021)
Two-lane tunnel project announced for Mussoorie Union road transport and highways minister Nitin Gadkari announced a two-lane tunnel project worth Rs 700 crore which has a stated objective of reducing the traffic congestion in the hill town. The tunnel, he announced, would be "2.74-km long and would provide easier and congestion-free connectivity to Mussoorie town, Mall Road and LBSNAA (IAS Academy)."
Meanwhile,veteran Mussoorie resident and noted travel writer Hugh Gantzer expressed concern at the move. "This is a dangerous step taken in haste, considering the fact that we are in a seismically-active zone and the tunnel could pose grave risks to our hills. Also, what was the pressing need to announce such a project in the midst of a pandemic without due consultations? I urge the government to conduct proper geological survey before proceeding further with the project." https://timesofindia.indiatimes.com/city/dehradun/two-lane-tunnel-project-announced-for-mussoorie/articleshow/83347766.cms (09 June 2021)
CLOUD BURSTS
Uttarakhand Experts blame unscientific, unplanned development for deaths, destruction Even though experts have noted an increase in extreme weather events in the state, the discrepancies in data collection make the DMMC data on extreme rainfall and cloudbursts unreliable. A highly placed source in the DMMC says, "We don't always have the required data to decide if an event is a cloudburst or an extreme rainfall-related event. If our district units (or, control rooms) tell us that an event is a cloudburst, we record it as one." District disaster management control rooms do not always have the means to measure rains and record them as cloudbursts, or extreme rainfall events.
If a short spell of heavy rainfall that causes damage is observed, the district control rooms often record it as a cloudburst, even when there is no means to measure whether the amount of rainfall was over 100 mm per hour for the event to qualify as a cloudburst. One of the reasons behind lack of rigorous data collection is the lack of a good network of weather stations to record rainfall instances that can help differentiate between various types of rainfall events. Anand Sharma, former Additional Director General, IMD, and former head for North India, says, "The network of observatories has to be improved in Uttarakhand to enhance data collection. Also, regular maintenance and calibration of existing equipment in various weather stations is needed for quality data to be recorded." https://www.news9live.com/india/uttarakhand-rains-nainital-experts-blame-unscientific-unplanned-development-for-deaths-destruction-131218 (07 Nov. 2021)
CLIMATE CHANGE
Saving Raini Short Story For 4 To 7 Year Olds On Climate Crisis eBook by Jayashree Nandi. https://surl.li/assdt 
Global Forest Watch India lost 14% tree cover amid Covid, rainforest destruction up 12% in 2020. The resulting carbon emissions from this primary forest loss (2.64 Gt CO2) are equivalent to the annual emissions of 570 million cars. https://www.business-standard.com/article/current-affairs/india-lost-14-tree-cover-amid-covid-rainforest-destruction-up-12-in-2020-121040200371_1.html (02 April 2021)
SOUTH ASIA
Bangladesh Floating farms help adapt to climate change To cope with climate change impacts, Bangladesh farms have adopted an innovative method of cultivation known as 'Dhap' or 'Baira'. Here, floating beds are created with bamboo, water hyacinth, coir and wood chippings. Atop these, crops like Spinach and Bitter gourd are grown. These raft like farms range between two and four feet long and can weather volatile waters or inundation. The UN-FAO declared Bangladesh's floating farms method as a globally important agricultural heritage system in December 2015. https://www.thehindu.com/sci-tech/energy-and-environment/watch-floating-farms-help-bangladesh-adapt-to-climate-change/article37485241.ece (14 Nov. 2021)
Avalanche in Kowang, Mustang leaves six injured A huge avalanche that occurred in the Kowang area in Mustang on Sunday left six students studying at a local school injured.
Prakash Subedi, a teacher at Jana Amar Singh Secondary School, said that six students were injured as they ran away in panic after the area witnessed the biggest avalanche ever. Preparations are being made to bring them to the district headquarters- Jomsom– for treatment.
The students had tried to flee away the area after the avalanche. "Students were scared because of the wind and ice shrapnel coming out of the avalanche," he said. https://myrepublica.nagariknetwork.com/news/avalanche-in-kowang-mustang-leaves-six-injured/ (14 Nov. 2021)
As many as 120 yaks or chauri gai have gone missing in an avalanche that occurred in the forest of Thasang Rural Municipality-2 of Mustang.The avalanche occurred above the Manapathi Mountain that lies in the top hill of Kowang, Larjung, Boksikhola and Naurikot. Ward chairperson Nar Prasad Hirachan shared the avalanche also blew away home roof of Ratna Kumari Sherchan, a local of Naurikot."Some 11 teachers and students of Janaadarsha Amarsingh Secondary School of Kobang who sustained minor injuries in stampede during avalanche have returned home after treatment in Jomsom", he further informed. https://thehimalayantimes.com/nepal/around-120-yaks-go-missing-in-avalanche-in-mustang (14 Nov. 2021)
ASIA
MEKONG Thailand Untold impact on wildlife from dams Otters, fish, and birds along the Ing and Ruak rivers face threats from hydropower dams on the Mekong, but understanding is lacking of the true impacts on the ecology of these Mekong tributaries. https://bkktribune.com/untold-impact-on-northern-thailands-wildlife-from-mekong-dams/ (02 Oct. 2021)
Iran Thousands protest in Iran's Isfahan to demand revival of river Protesters gather on the dried up riverbed of the Zayandeh Rud River, demanding action to return water to the river. Thousands of protesters have gathered in Isfahan in central Iran to demand the revival of a major river that has dried up. Footage broadcast by state television and dozens of videos circulating on social media on Friday (Nov 19, 2021) showed a sea of farmers and other people standing on a huge barren strip of dirt where the major Zayandeh Rud River used to flow, near the iconic Khaju Bridge in Isfahan province.
The river's dryness is thought to directly affect the livelihoods of hundreds of thousands of farmers in the province, state TV said, in addition to adversely affecting the environment. Former administrations had promised to come up with solutions, and the country's Supreme Council of Water approved a nine-point plan involving reviving a major wetland that it said was a sustainable solution eight years ago, but it was never fully implemented. Farmers have been protesting at the site for more than a week, but Friday's demonstration attracted the largest number of people and drew the attention of the government. https://www.aljazeera.com/news/2021/11/19/thousands-protest-in-irans-isfahan-to-demand-revival-of-river (19 Nov. 2021)
THE REST OF THE WORLD
AUSTRALIA DAM FLOODS: People in low-lying parts of the New South Wales central western town of Forbes in Australia have been ordered to evacuate ahead of major flooding that was predicted to inundate the district within hours. The evacuation order was issued by the State Emergency Service at 11.15am on Tuesday (Nov 16, 2021), warning residents to evacuate before 9.30pm. The Lachlan River was expected to peak at 10.65 metres in Forbes on Wednesday. The SES warned locals in up to 800 homes to prepare to leave before they hit. Downstream from Forbes, major flooding was also expected at Cottons Weir and Jemalong. https://www.theguardian.com/australia-news/2021/nov/16/nsw-floods-forbes-residents-ordered-to-evacuate-before-water-closes-roads (16 Nov. 2021)
The mayor of a New South Wales town facing a a major flood has taken aim at the state government over its management of Wyangala Dam. Ms Miller said floodwater levels could eclipse the 2016 catastrophe by more than one metre. There are four times the number of people being asked to evacuate in 2021 than there were in 2016. https://www.skynews.com.au/australia-news/politics/forbes-mayor-blames-massive-floods-on-state-government-failure-to-raise-the-wyangala-dam-wall/news-story/ae2077fb4cfa8d4b5237031ede550252 (16 Nov. 2021)
USA Inside the Local Movement to Recover Colombia's River Turtles The turtles are a critically endangered species endemic only to a few river basins in northern Colombia—and Romero is their self-appointed guardian. Born in a fishing hut on an island of the Magdalena not far from here, she came to this small tributary town of Estación Cocorná as a child. Estación Cocorná is where she's lived ever since—where, at age 35, she learned to read and write; where she went on to earn a vocational degree in environmental management from SENA, Colombia's public technical institution; and where, as part of her studies, in 2010 she created a community sanctuary for the species that has come to mark her life's work. Romero has become another of Colombia's many intrepid local environmental activists working in the world's most perilous country to advocate for nature. She's an enthusiastic, independent conservationist who, with hardly any financial resources, regularly leads groups of locals and visitors on grassroots educational riverboat trips to raise awareness about the turtles and release hatchlings back into the wild.
And in recent years, along the Río Sinú, the river turtles' nests have also become threatened by a hydroelectric dam constructed further upstream: When water is released and river levels rise, their nests on the sand have been flooded and hatchlings can die. "Now the most critical threat in the Sinú River are those changes in the natural flow," Dr. Forero said. https://www.smithsonianmag.com/science-nature/inside-the-local-movement-to-recover-colombias-river-turtles-180978887/  (15 Nov. 2021)
Documentary Illegal Sand Mining Is Ruining These Countries' Ecosystems  'Bad Goods' is a documentary series for Vice News looking at the worldwide illicit trade market, from wildlife trafficking, counterfeit item selling and sand mining. It will follow key people, from enforcement to traffickers, at the heart of the trade and explore what is behind the demand for illicit products. This episode explores the business of sand mining. https://www.youtube.com/watch?v=H4d6LT87pMo   (11 Sept. 2021)
Compiled by SANDRP (ht.sandrp@gmail.com)
Also see: DRP News Bulletin 15 Nov 2021 & DRP News Bulletin 08 Nov 2021
Follow us on: www.facebook.com/sandrp.in; https://twitter.com/Indian_Rivers