(Feature image source: Onmanorama.com)
It would be very useful and educative to look at the water storage levels of some of the major reservoirs of India even as India awaits the annual bounty of water from the South West Monsoon that normally officially starts on June 1, but this year may start on June 3 as the latest India Meteorological Department forecast yesterday, that is on May 30, 2021. While high storages at this point in time creates a possible Dam Flood hazard that India has been experiencing with increasing frequency with changing monsoon rainfall patterns and unaccountable reservoir operations, it also indicates the gross inefficiency of our use of water stored in these reservoirs if there is a lot of water there in the beginning of the annual filling period. It indicates that the storages created with such massive economic, social and environmental costs have not been optimally utilised in the just ending water year on May 31. Unfortunately, no agency is monitoring the water storages in these major reservoirs and asking as to why there is non optimal use of water and then addressing the reasons wherever they see such non optimal storages at the end of water year. SANDRP has been raising this issue for many years.
Now if we see the latest issue of CWC's reservoir bulletin dated May 27, 2021, it provides us a glimpse of the situation at 130 major reservoirs of India that CWC monitors. From this, we can see that in case of Kerala, all four major reservoirs with storage capacity of close to or over 500 Million Cubic Meters (MCM or 0.5 BCM), namely Kallada, Idamalyar, Idukki and Kakki, the storage level this year is much higher than average of last ten years and the highest in last five years in almost all cases, going by the Malyalam Manorama news report. It is important to be careful here since Kerala reservoirs have hugely contributed to the flood disaster there in 2018 and 2019 monsoons. While Kerala government has indirectly acknowledged this by making a number of changes in the operating procedures and decision making processes, the problem is far from fully addressed.
But Kerala is not the only state that needs to worry about this. Even the India's most celebrated dam, Sardar Sarovar Dam on Narmada in Gujarat had more than 2 BCM water in live storage on May 27 and seems to be on rising trend since then, going by the Narmada Control Authority bulletin on May 29. Ukai dam in Gujarat, which has also been held responsible for dam floods in the past has more than 2.6 BCM water in live storage capacity. In Maharashtra, Jayakwadi, Koyana and Pench, all with capacity over 1000 BCM have higher than average storages. In Madhya Pradesh, Bansagar (over 2 BCM in live storage), Gandhi Sagar (over 3 BCM in live storage) Bargi (almost 1.5 BCM in live storage) and Indirasagar (almost 2 BCM in live storage), all of whom have been in the news about dam floods should be matter of concern. In Chhattisgarh, Minimata Bango is more than half full even at the beginning of the monsoon! In Andhra Pradesh, Somsila (68%) and Kandaleru (65%) should be reasons for concern. Even relatively dry Srisailam and Nagarjunsagar have collectively over 2 BCM water in live storage. In Karnataka, Supa and Linganmakki have more than 1.5 BCM each in live storage! With such profligacy, who can claim India faces water scarcity? One only hopes that none of these reservoirs become reasons for avoidable dam floods even as we whole heartedly welcome the annual bounty that monsoon brings in so many different ways.
Kerala Govt issues directive to KSEB to avoid monsoon floods The State government has initiated precautionary measures to avoid overflowing of dams that may trigger floods during the monsoon.
In a directive issued to the Kerala State Electricity Board (KSEB) and Department of Irrigation, the government ordered the authorities to maintain water levels in major dams scientifically based on the rule curve.
The rule curve, or rule level, specifies the empty space to be maintained in a reservoir during different periods of the year. Most dams in Kerala are under KSEB or the Irrigation Department.
It has also been decided to evaluate and review the water levels every three and 10 days, respectively.
A meeting Chief Secretary C P Joy convened in the backdrop of Tauktae and Yaas cyclones made the decision.
A study by the Indian Institute of Science (IISc) in Bengaluru had blamed the unscientific and faulty management of dam water levels for aggravating the 2018 floods.
The findings of the Comptroller and Auditor General-assigned study had sparked a controversy during the run-up to the recent Assembly polls.
It has been estimated that despite the reservoirs having water above average in May, major dams could hold more even if June received rainfall in excess.
The meeting directed the authorities concerned not to release water in huge quantities if the months of July and August received very heavy rains within a short period. Water levels should be kept under control for such an eventuality, the government instructed.
KSEB officials, meanwhile, pointed out the opposition from people living downstream rivers when the board tried to ramp up power generation to keep the water level low. The residents protested after the torrential rains had flooded their houses.
Meanwhile, the KSEB issued the second phase orange-code alert ahead of releasing water from the Peringalkuthu dam. The alert was issued after the water level touched 418.8 metres.
The first phase, blue alert was issued for those living downstream the Ponmudy dam in Idukki, after the water level rose to 704.95 metres.
Though the water levels in Idukki, Edamalayar, Kakki and Banasura dams have been above the levels recorded during the summer of 2018, their shutters need not be raised now.
The Irrigation Department has issued a yellow alert ahead of releasing water as a precautionary measure from 13 of its dams. https://www.onmanorama.com/news/kerala/2021/05/21/kerala-dam-water-levels-scientific-kseb-directive-monsoon-flooding.amp.html (21 May 2021)
Water levels in the State's dams have touched a five-year high with the reservoirs' catchment areas receiving torrential rain over the past few days.
The dams have been filled 35.40 per cent, up seven per cent from the corresponding day a year ago, a rarity before the monsoon.
The reservoirs have almost double the water compared with the year-ago corresponding date. The water level at Idukki dam was at 23.88 per cent when it was opened during the 2018 floods. The water level now at Idukki is at 2338.02 feet.
The Kerala State Electricity Board has water to produce 1465.421 million units of power in its dams. Kerala has stepped up power generation ahead of the monsoon, but the State's consumption of electricity has been less due to heavy rains and lockdown.
The power consumption has come down to a per-day average of 66.45 million units in May, from the above 70 million units recorded during the corresponding year-ago period. The average daily power generation now is 24.29 million units.
Kerala has received summer rains in excess this year, which bypassed the showers received in 2018. All districts south of Thrissur received more rains after 2018, while in the north, only Kannur got excess rain than in 2018. https://www.onmanorama.com/news/kerala/2021/05/28/water-level-in-kerala-dams-touches-five-year-high.amp.html (28 May 2021)
HYDRO POWER PROJECTS
Arunachal Pradesh HEP projects under development in Arunachal by the Vulcan Holdings Include the 145 MW Pauk HEP and 426 MW Heo-Tato Tandem I HEP, both are unviable and face huge uncertainties. https://www.velcan.lu/power-concessions/
Meghalaya Govt defends plan to dam river Umngot "We understand that many people downstream are dependent on the tourism that the river Umngot generates. But there will be no impact because the dam site is at a considerable distance from the area," said State Power Minister James Sangma.
He vouched for the viability of the Umngot project and said the State will take all stakeholders on board. "We will hold consultations with all the stakeholders not just to allay their fears but also to motivate them to support such a project as we are facing an acute shortage of power," Mr. Sangma said.
The MeECL, meanwhile, has been battling is financial issues. The corporation has instructed all officials in its power distribution wing to recover dues from defaulting consumers within two months or pay for alleged inefficiency. The officials have also been asked to start cutting off power to defaulters of all categories from April 16. https://www.thehindu.com/news/national/other-states/meghalaya-govt-defends-plan-to-dam-river-umngot/article34331095.ece (13 April 2021)
Uttarakhand Rishiganga glaciers not yet in critical state Rishiganga glacier in Chamoli district is not yet in critical condition, confirmed the Uttarakhand Director General of Police (DGP) Ashok Kumar on May 30, 2021. Kumar made the observation after a team of scientists conducted an aerial survey of glaciers at the origin of Rishiganga in Chamoli district yesterday. The survey was conducted following information by villagers that there were cracks developing in the glaciers. While talking to media after the survey, the Uttarakhand DGP said, "According to information received from SDRF, the Rishiganga glacier is not yet in critical condition." https://www.timesnownews.com/india/article/rishiganga-glacier-not-yet-in-critical-condition-uttarakhand-dgp/763636 (30 May 2021)
Villagers claim cracks in glacier The residents of Raini village in Niti valley of Uttarakhand's Chamoli district have claimed that cracks have developed in the glaciers situated on top of the source of Rishiganga river where flash floods had occurred on February 7. They have also urged the district administration to take immediate action and conduct a detailed study. A group of villagers who visited the upstream area ahead of the mouth of Rishiganga river claimed that the cracks in the glaciers are "posing a threat of an avalanche or glacier burst", which can cause a repeat of the February 7-like flash floods in the downstream areas of the Niti valley.
– According to the villagers, they surveyed the glaciers from the Rothi meadow situated just opposite, and have now demanded regular monitoring of the glaciers. Nand Kishore Joshi, disaster management officer of Chamoli district, told TOI, "Some locals have reported the matter to the district administration. We are going to request Indo-Tibetan Border Force (ITBP) to survey the area and verify the claims made by the villagers." https://timesofindia.indiatimes.com/city/dehradun/raini-villagers-claim-cracks-in-glaciers-upstream-of-rishiganga/articleshow/83044968.cms (29 May 2021)
Nearly 29 labourers from Uttar Pradesh, who were working at Tapovan-Vishnugad hydropower project in Chamoli and went missing when a glacier burst triggered a massive flash flood on February 7, have finally been declared "dead". https://www.business-standard.com/article/current-affairs/29-missing-after-uttarakhand-glacier-burst-tragedy-declared-dead-121053000143_1.html (30 May 2021)
MoEF Minutes of the EAC on River Valley Projects, held on May 6, 2021, minutes uploaded AFTER the meeting on May 26, 2021:
1. 240 MW Kutehr HEP in an area of 85.36ha by JSW Energy Ltd in Village Machhettar, Tehsil Bharmour, Chamba Dist (Himachal Pradesh) – Amendment/Extension in validity of Env Clearance: RECOMMENDED
2. Enhancement of Capacity of Karcham Wangtoo Hydro Electric Project from 1000 MW to 1091 MW at village Karcham, Tehsil Nichar, Dist Kinnaur, (Himachal Pradesh) by JSW Hydro Energy Ltd – Amendment in Env Clearance: More Info Sought
3. Niare Hydro Electric Project (870 MW), in an area of 429.585 ha by Andra Power Private Ltd near Village Orak Dist Upper Subansiri, Arunachal Pradesh – Reconsideration for Terms of Reference: RECOMMENDED http://environmentclearance.nic.in/writereaddata/Form-1A/Minutes/26052021V2JDCZNMApprovedMOM_11th_EAC_RiverValley_20-05-2021.pdf
On May 25, 2021, the day of the MoEF's Expert Appraisal Committee meeting on River Valley Projects, they added two more agenda:
1. Third Unit of 50 MW (Phase-II) For Tidong-I Hydroelectric Project (100MW+50MW) VPO & Tehsil – Moorang, Distt. – Kinnaur, Himachal Pradesh by M/s Tidong Power Generation Private Limited – Environment Clearance
2. Basaveshwara Lift Irrigation Scheme in Belgaun District of Karnataka by Karnataka Neeravari Nigam Ltd. – Environmental Clearance http://environmentclearance.nic.in/DownloadPfdFile.aspx
DAMS
Mekedatu Dam NGT forms committee to inspect construction violation The direction came after taking suo motu (on its own) cognisance of a newspaper report that Karnataka proposes to construct a dam across the Cauvery river in the area and that the proposal was deferred by the Cauvery Water Management Authority twice in the past following strong opposition from the Tamil Nadu government citing the pendency of the case before the Supreme Court. "Considering the allegations made in the newspaper report, we are satisfied that there arises a substantial question of environment, which requires the interference of this Tribunal. So, the matter is admitted. Issue notice to the respondents along with a copy of the newspaper report and gist of the Suo Motu proceeding with full cause title so as to enable them to comply with the direction," the bench said.
The bench further directed the committee to check whether any construction activity as alleged in the newspaper report has been started without obtaining necessary clearance from the Forest Department, the MoEF under the Forest Conservation Act as well as the EIA Notification, 2006. "If there is any construction made and if any damage has been caused to the environment, they are directed to assess the damage caused to the environment and environmental compensation payable by the respective authorities who are responsible for the same," the bench said. https://www.thenewsminute.com/article/ngt-forms-committee-inspect-mekedatu-dam-construction-violation-149491 (25 May 2021)
The committee holds the responsibility to ascertain whether any construction activity as alleged in the newspaper report has been started without obtaining necessary clearance from authorities. https://www.indialegallive.com/top-news-of-the-day/news/cauvery-river-dam-construction-national-green-tribunal-ministry-of-environment-and-forests/ (26 May 2021)
Tamil Nadu Water Resources Minister S Durai Murugan on Wednesday (May 26) said that the state will not allow Karnataka to build a dam across River Cauvery at Mekedatu, which is near the inter-state border. Recalling that the state government has approached the Supreme Court, the Minister said, the state government would consult legal counsels on this matter and take appropriate action. https://www.thenewsminute.com/article/tn-will-not-allow-karnataka-build-dam-across-cauvery-mekedatu-minister-149587 (27 May 2021)
INTERLINKING OF RIVERS
Madhya Pradesh Bharat Dogra: on massive tree-felling in water scarce Bundelkhand region. https://countercurrents.org/2021/05/massive-tree-felling-in-water-scarce-bundelkhand-raises-serious-concerns/ (30 May 2021)
PIL filed in Supreme Court Seeks to stop cutting of 2.5 lakh trees in the Bakaswaha Region. https://lawtrend.in/pil-in-supreme-court-seeks-to-stop-cutting-of-2-5-lakh-trees-in-the-bakaswaha-region-mp/ (18 May 2021)
IRRIGATION
Madhya Pradesh Lower Goi project not benefiting farmers Farmers are not getting benefit from the Shaheed Bhima Nayak (Lower Goi) project set up for the upliftment of farming in the region. In the current kharif season, farmers need water during sowing, then the water collected in the dam in the name of repair by the new contracting company is being pumped into the Narmada. In such a situation, a big crisis has arisen for the farmers who sow the fields by taking loans, hoping for irrigation from the dam. On Saturday, the Bharatiya Kisan Sangh submitted a memorandum to the SDM in Rajpur to the Chief Minister regarding the matter.
– Presently the Indira Sagar Canal in the district is dry. After the sowing of the Kharif season, farmers have lived up to the water in the canals. Please tell that in March this year, the canals were closed for repair of canals in the Okri area. https://aboutgyan.com/news/india/madhya-pradesh/needs-in-the-fields-but-lower-goi-water-is-flowing-in-the-narmada/ (29 May 2021)
Banda irrigation scheme stuck in files Thousands of farmers living in 340 villages of water-starved regions in Sagar district continue to face dry days as major irrigation and drinking water projects are stuck in pending files. The biggest of them is the Rs 1,500-crore-worth Banda irrigation project. It was approved by CM Shivraj Singh Chouhan in 2018, but even the drawing of the canal system is yet to see light of the day. State water resources dept officials blame forest clearances as one of the reasons behind the delay in implementing the project. https://timesofindia.indiatimes.com/city/bhopal/madhya-pradesh-banda-irrigation-scheme-stuck-in-files-340-villages-left-high-dry/articleshow/83027103.cms (28 May 2021)
URBAN RIVERS
PRESS RELEASE from Rohit Prajapati, Paryavaran, Suraksha Samiti, Vadodara, Saturday, 29.05.2021
* Demarcation of the entire flood plain zone of the river needs to be undertaken. Further, steps are required for plantation and maintaining the integrity of the river in totality. – National Green Tribunal
*Implementation of the "Vishwamitri River Action Plan" including the steps for removal of unauthorised structures, demarcation and protection of flood plain zone and other action points as per the river restoration plan. – National Green Tribunal
* We, the concerned citizens and experts, as a team are willing to work collaboratively with the concerned authorities toward the implementation, in letter and spirit, of the Hon'ble NGT Order of 25.05.2021.
We are reproducing some of the crucial statements, key observations, and further directions in the Hon'ble National Green Tribunal, Principal Bench, Delhi's judgement on the issue of the Vishwamitri River. These are:
1. River consists of catchments, floodplains, tributaries, ponds, river-bed and adjoining ravines which, along with the soils and vegetation on both sides, is the river's natural mechanism to retain the additional water, prevent floods and provide habitat for various species. It is a natural, living organic part of a larger ecological system.
2. Vishwamitri River Action Plan to include demarcating, protecting, and restoring the river, and for maintaining minimum environment flow in a time bound manner.
3. Demarcation of the entire flood plain zone of the Vishwamitri River needs to be undertaken.
4. Steps are required for plantation and maintaining the integrity of the Vishwamitri River in totality.
5. Steps for removal of unauthorised structures, demarcation and protection of flood plain zone and other action points as per the river restoration plan.
Original Application No. 228/2020 (Earlier O.A. No. 49/2016 (WZ)); WITH Execution Application No. 45/2016(WZ)
Rohit Prajapati & Anr. Applicant(s) Versus Secretary, MoEF & CC & Ors. Respondent(s)
Date of hearing: 25.05.2021
CORAM: HON'BLE MR. JUSTICE ADARSH KUMAR GOEL, CHAIRPERSON, HON'BLE MR. JUSTICE SUDHIR AGARWAL, JUDICIAL MEMBER, HON'BLE MR. JUSTICE M. SATHYANARAYANAN, JUDICIAL MEMBER, HON'BLE MR. JUSTICE BRIJESH SETHI, JUDICIAL MEMBER, HON'BLE DR. NAGIN NANDA, EXPERT MEMBER
Applicant: Mr. Rohit Prajapati, Applicant in person
Respondent: Mr. Maulik Nanavati, Advocate for the State of Gujarat
ORDER:- The project in question adversely impacted the environment, particularly the Vishwamitri River wetlands, ravines, inter-connectivity with other water bodies, floodplains, flora and fauna, biodiversity, etc. The River consists of catchments, floodplains, tributaries, ponds, river-bed and adjoining ravines which, along with the soils and vegetation on both sides, is the river's natural mechanism to retain the additional water, prevent floods and provide habitat for various species. River harbors and interacts with innumerable organisms like microbes, plants and animals. It is a natural, living organic part of a larger ecological system. River is also a network of tributaries, floodplains and ponds spread over its basin and the estuary.
Of paramount importance in its ecology is the presence of the highly protected species, the Indian crocodile (Crocodylus palustries- Mugger Crocodile) and Turtles. The crocodiles, turtles and other species have been inhabiting and breeding in stretches of the Vishwamitri River for many years. This species is categorized as nationally 'vulnerable', subsequent to an assessment following IUCN criteria for threatened species (Molur and Walker 1998) and has the highest legal protection in India. It is listed in Schedule I to the Indian Wildlife (Protection) Act, 1972.
The crocodile and Turtle have been included in Appendix-I of Convention of International Trade in Endangered Species (CITES) and brought under Schedule-I of The Wildlife (Protection) Act, 1972. Any activity against the survival of the highly protected species, without approval by the State Wildlife Board/National Wildlife Board and the Government of India is illegal.
Vide order dated 25.05.2016, this Tribunal restrained the Vadodara Municipal Corporation (VMC), from proceeding with the development activities within the area of VRDP project.
Admittedly, the project in question against which the applicant had the grievance has been given up. Other issues illegal constructions affecting the riverine ecology of Vishwamitri River, according to the VMC are independent of the said project. However, Shri Maulik Nanavati, learned counsel appearing for the VMC as well as other Authorities of the State of Gujarat states that all grievances of the applicant will be duly addressed and if any particular grievance remains, the applicant can take remedies independently, in accordance with law.
The applicant however submits that all constructions and other issues are incidental to the VRDP and once VRDP given up status quo ante needs to be restored.
Vishwamitri River is one of 351 identified polluted river stretches, identified as such by the Central Pollution Control Board. The issue of rejuvenation of the said polluted river stretches has been exhaustively considered by this Tribunal in OA 673/2018. The Tribunal directed constitution of a River Rejuvenation Committee in each State/UT to prepare and execute an action plan for restoration of each of such polluted stretches to give effect to the rule of law in a time bound manner. Such action plans have been prepared and approved by the CPCB and their execution is to be overseen by the Chief Secretary in the State and Central Monitoring Committee headed by the Secretary, Ministry of Jalshakti at the National level.
The action plan is to address the issues relating to demarcation, protection of flood plain zone and maintaining minimum environment flow. The other consequential and incidental issues like sewage treatment, management of waste, preventing encroachment, etc. are also covered by the action plan.
Demarcation of the entire flood plain zone of the river needs to be undertaken. Further, steps are required for plantation and maintaining the integrity of the river in totality. While directing consideration of all the issues by the applicants, we reiterate the direction for implementation of the "Vishwamitri River Action Plan" including the steps for removal of unauthorised structures, demarcation and protection of flood plain zone and other action points as per the river restoration plan. They may give a consolidated representation within two weeks listing all pending issues on which consideration and action be completed by the concerned authorities within three months. The applicants will be at liberty to take appropriate remedy if any further grievance survives.…
This Order should be put in the larger context of the kind of city, state, and nation we want to make, live and work in, and bestow to the future generations, an opportunity to integrate Nature and Culture together. This includes climate, landforms, water, soil, flora, fauna and people, across space and time. This is not a question of any "us" or any "they". This is for our better quality of landscape and life for all species, now and in the future.
We all need to work together earnestly. We are willing to collaborate and work with the governments' departments and agencies as well as the larger civil society for ecologically sound development and the greater good. We are willing to do the same for ensuring the implementation, in letter and spirit, of the NGT Order, dated 25.05.2021, and related matters.
Rohit Prajapati, Krishnakant, Neha Sarwate, Deepa Gavali, Hitarth Pandya, For the Concerned Citizens of Vadodara
Vishwamitri, Vadodara River project gets NGT nod The Principal Bench of the NGT in its order dated May 25 directed the Vadodara Municipal Corporation (VMC) and other state government authorities to prepare a plan of "demarcation of the entire flood plain zone of Vishwamitri river" as well as "plantation and maintaining the integrity of the river in totality", which would include removal of all unauthorised structures, as per the river restoration plan.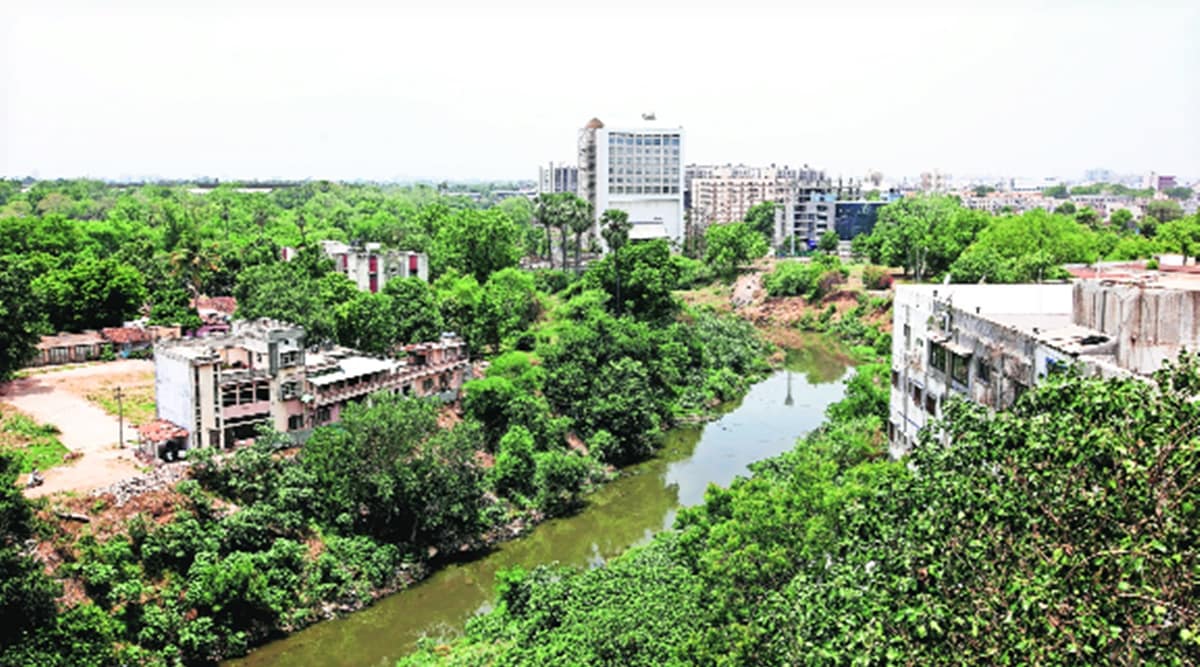 In its order, the NGT has observed that the river consists of catchments, floodplains, tributaries, ponds, river-bed and adjoining ravines which, along with the soils and vegetation on both sides, is the river's natural mechanism to retain the additional water, prevent floods and provide habitat for various species.
The Vishwamitri River Action Plan should include demarcating, protecting, and restoring the river, and maintaining minimum environment flow in a time-bound manner. https://indianexpress.com/article/cities/baroda/gujarat-vishwamitri-river-project-gets-green-tribunals-go-ahead-7336041/ (30 May 2021)
The tribunal was hearing a plea filed by Rohit Prajapati and others against the project at Vadodara in Gujarat, in violation of environmental norms. The plea alleged that the project violated the Environmental Impact Assessment Notification, 2006, requiring prior environmental clearance, after assessment of the impact of the project on environment.
The project in question adversely impacted the environment, particularly the Vishwamitri river wetlands, ravines, inter-connectivity with other water bodies, floodplains, flora and fauna and biodiversity, the plea said.
The VMC, however, told the NGT that the project has not yet been finalised and it was only at conceptual stage. The project was to beautify and rejuvenate the river for the benefit of the general public. It will increase the flood carrying capacity, clean the river and protect the habitat of the wildlife, the VMC said. https://science.thewire.in/environment/implement-vishwamitri-river-action-plan-in-three-months-ngt-tells-authorities/ (29 May 2021)
Mula-Mutha; Pune River anti-encroachment action only on paper: activists Despite the NGT order and letters send by the Pune irrigation division since the past decade, the Mula-Mutha river anti-encroachment action is still on paper. On one side, the Pune Municipal Corporation (PMC) has claimed that there is regular action against encroachments, however, environment activists and the Pune irrigation division is not satisfied and demands a proper action plan rather than limited pre-monsoon activity.
In 2019, Yadwadkar had filed a petition in the NGT and mentioned the 12 dumping spots in PMC, Pimpri-Chinchwad Municipal Corporation (PCMC) and Pune Metropolitan Region Development Authority (PMRDA). The NGT had taken serious note of the issue and appointed a five-member committee with the MPCB as the nodal agency.
Yadwadkar, said, "All agencies are carrying out cosmetic work on the issue of removal of encroachments along the river side and bed. There should be proper planning and a time bound program. In 2019, we had handed over 12 spot lists of encroachment in the riverside and bed. Most of the encroachments still exist like the Sangamwadi area, Shivane, Deccan Gymkhana area."
He further stated, "The state government had issued an order to carry out high resolution satellite images on a regular basis of corporation areas with the help of Maharashtra Remote Sensing Application Centre (MRSAC), Nagpur and identify encroachments, remove it and stop it. But nothing substantial happened from any of the agencies." https://www.hindustantimes.com/cities/pune-news/mulamutha-river-anti-encroachment-action-only-on-paper-activists-101622390921568.html (30 May 2021)
RIVERS
Kerala Urgently Needs a Roadmap to Ecological Security by Pulapre Balakrishnan, Srikumar Chattopadhyay In Kerala, the soil has been rendered vulnerable already due to the high intensity rainfall that has accompanied climate change. In addition, land use, in particular gross human interventions on the hill slopes, has further accelerated soil loss and triggered landslides during the monsoon. The Western Ghats, identified as the 'water tower' of Peninsular India for its influence on rainfall and being a source of perennial rivers, and a biodiversity hotspot of global acclaim, is under severe stress due to deforestation, uncontrolled settlement and unregulated mining. Diminishing natural vegetation, soil erosion affecting more than 45% of net sown area and change in land use and cropping pattern have adversely impacted the productivity of land, with a consequent increase in the use of fertilisers. High fertiliser use results in soil and water pollution.
While incoming rainfall is more or less constant, the availability of fresh water is decreasing due to shrinkage or malfunctioning of traditional water-containment structures. Encroachment on river banks and wetlands, flood plain occupancy, river bed mining, destruction of riparian vegetation, deterioration of ponds, tanks and lakes all together reduce water retention capacity. Around 44% of wetlands in Kerala have been diverted, including for construction purposes. This not only affects fresh water availability but also endangers life.
The consequences of the environmental damage we have outlined do not figure in the standard discourse on development in Kerala. However, the assault on its natural resource base poses a threat to the life and livelihood chances of its people. Kerala urgently requires a roadmap to ecological security. https://science.thewire.in/environment/why-kerala-urgently-needs-a-roadmap-to-ecological-security/ (27 May 2021)
Tamil Nadu A tiger reserve can rejuvenate Vaigai The Srivilliputhur-Megamalai Tiger Reserve will provide protection to Megamalai, the Vaigai's primary catchment, in turn helping water levels to rise in the river. The Vaigai was the river that flowed through the fabled city of Madurai, the capital of the ancient and prosperous Pandya kingdom located in southern Tamil Nadu. The river finds a mention in Sangam literature dated to 300 before Common Era.
– The river originates in the Western Ghats. It travels through the Pandya Nadu region of Tamil Nadu. Its main tributaries are Suruliyaru, Mullaiyaru, Varaganadhi, Manjalaru, Kottagudi, Kridhumaal and Upparu. The Vaigai is 258 kilometres long and finally empties into the Palk Strait near the Pamban Bridge in Ramanathapuram district. https://www.downtoearth.org.in/blog/environment/a-tiger-reserve-declared-this-year-can-rejuvenate-vaigai-india-s-heritage-river-77165 (28 May 2021)
GANGA Centre Not much variation in Ganga water quality due to dead body discharge During a review meeting of the situation, Pankaj Kumar, Secretary, Ministry of Jal Shakti, emphasized to get in touch with Central Pollution Control Board (CPCB) and State Pollution Control Boards (SPCBs) to get the water samples analysed by the National Chemical Laboratory (NCL), Pune that has recently established protocol for testing Covid 19 virus in the sewage and has started testing.
According to the minutes of the meeting, attended by Chief Secretaries of Uttar Pradesh and Bihar, accessed by The New Indian Express, Prashant Gargava, Member Secretary, CPCB informed that as per the real time water quality monitoring data not much variation is observed in the river water quality due to dead body discharge as far as biological parameters are concerned.
He also informed that as per the report of WHO, water spread of virus is not expected and chances of survival of virus in river water are ruled out. He further informed that the CPCB has written to the SPCB to monitor the water quality and have to look out at bacteriological parameters in addition to the conventional parameters. He opined that for Covid virus analysis, samples can be sent to the National Institute of Virology (NIV), Pune. https://www.newindianexpress.com/nation/2021/may/29/not-much-variation-in-ganga-water-quality-due-to-dead-body-discharge-centre-2309226.html (29 May 2021)
Satish Tare, professor at IIT-Kanpur, said dumping of dead bodies in the Ganga or its tributaries or sub-tributaries is a serious matter, particularly at a time when the country is grappling with the Covid-19 crisis. The professor, however, stressed that dumping of bodies will not have a significant effect on transmission. https://www.outlookindia.com/website/story/india-news-experts-rule-out-transmission-of-covid-through-water-after-bodies-found-dumped-in-ganga-yamuna/382651 (13 May 2021)
NMCG work for Kumbh Rajiv Ranjan Mishra, DG of National Mission for Clean Ganga said, "We added lots of new projects, in Sarai (14 MLS STP) and in Jagjeetpur (68 MLD STP costing 230 crores) and now 145 MLD capacities very much there in Haridwar, and 115 MLDs have actually been used. So we are fully geared up in Haridwar to meet any kind of sewage pollution, not even for the present load but even for the future". "Similarly, any flow coming from the Rishikesh side or Muni ki Reti, so all those projects have been completed", he said.
The key projects in Haridwar have included intercepting major drains falling into the river and diverting them to STPs. Kassawan Nullah, one of the biggest drains that would contaminate the river severely has been tapped entirely and diverted to the STP.
RK Jain, Project Manager, Uttarakhand Pey Jal in Haridwar said, "… we have also tapped five polluted wastewater and 17 others. We usually witness Kumba Mela and other holy festivals in Haridwar, so to cater a huge population we have 145 MLD capacities to meet any kind of pollution". https://www.business-standard.com/article/current-affairs/kumbh-2021-nmcg-develops-infra-to-stop-sewage-water-flowing-into-ganga-121040100474_1.html (01 April 2021)
NMCG work in Bihar Of the 2,525 kilometre stretch of the river, 445 km flows through Bihar. Patna alone generates 250 MLD of wastewater. 92 per cent or Rs 5,487.75 crore of the Rs 6,017.37 crore of the Namami Gange funding for the state is for sewerage infrastructure projects.
Urban development body BUIDCO (Bihar Urban Infrastructure Development Corporation) is handling the 30 sewage treatment and drainage projects. Three of the 15 STPs are already operational, nine others are at various stages of completion while three others that are to be set up at Munger, Buxar and Hajipur are going through the tender process. BUIDCO has also been assigned 15 interceptions and diversion projects, of which 12 are under construction and three in the middle of a tender process.
Patna has a maximum of 11 STP and drainage projects; the currently approved projects together will facilitate the treatment of 651.5 MLD of sewage across the state. While two of these projects have been completed, 22 are under progress and six under implementation.
Tata Group company Voltas was awarded two projects worth Rs 150 crore, Karmalichak, with the capacity to treat 37 MLD, and Beur (43 MLD) in Patna. The Beur STP has been operational since September 2020. https://www.indiatoday.in/magazine/nation/story/20210329-a-river-breathes-again-1781842-2021-03-21 (21 May 2021)
Uttarakhand Huge rockslide blocks Gangotri NH near Gangnani Sunsar in Uttarkashi around 4 am today. https://www.abplive.com/tv-show/abp-ganga-pahad-prabhat/gangotri-national-highway-closed-due-to-landslides-in-uttarakhand-1919764 (28 May 2021)
Char Dham Rail Project Union Minister of Railways Piyush Goyal on Thursday (May 27) took a survey of last-mile connectivity plans for Char Dham projects. The Final Location Survey (FLS) for new BG rail connectivity to Char Dham is near completion. The minister directed officials that options of all last leg connectivity be examined along with detailed cost implications for the entire project up to completion. https://www.livemint.com/news/india/char-dham-project-piyush-goyal-reviews-bg-rail-last-mile-connectivity-plan-11622122547517.html (27 May 2021)
Submit response on violation of foothill policy: HC Abhijay Negi, counsel for the petitioner social activist Reenu Paul, said, "The division bench of the Uttarakhand High Court, lead by Chief Justice Raghvendra Singh Chauhan and Justice Alok Kumar Verma, had directed the vice-vhairman of Mussorie-Dehradun development authority and Municipal Commissioner Dehradun to personally inspect the foothills between Dehradun and Mussorie region, and primarily in Rajpur area and forthwith seal any kind of construction that is in contravention to the building by-laws 2015 amendment, which clearly mandates that no construction can be carried out where the angle of slope is over 30 degrees."
According to the petitioner, the said policy, also known as the foothills policy mandates that the small hillocks that define the early features of the Shivallik range are preserved. "Moreover, the Hon'ble Supreme Court has in the case of Hinch Lal Tiwari v. Leela Devi, held that foothills are a natural resource that merits protection," state the petitioner in her PIL.
The petitioner requested the court that all throughout the Rajpur region between Dehradun and Mussorie, the foothills have been systematically destroyed, in as much as hillocks after hillocks have completely been removed producing photographs before the court showing the kind of disaster that had been caused to the local ecology.
On May 3, 2021, the court had directed Nagar Nigam Dehradun and Mussoorie Dehradun Development authority to prepare a report and submit to the court till May 26, 2021 which has not been yet submitted. The court took serious view of the matter and the respondents were given another opportunity to file a proper report and affidavit till June 9, 2021. The Uttarakhand Biodiversity Board was also directed to file reply by June 9. Next hearing of the matter has been scheduled on June 16, 2021. https://www.newindianexpress.com/nation/2021/may/28/submit-response-on-violation-of-foothill-policy-uttarakhand-high-court-tells-state-government-2308662.html (28 May 2021)
Uttar Pradesh Ganga turns green in Varanasi turned green. The change in the colour of the water has become a major cause of concern for the local people.
– The local residents, meanwhile, claim that this is the first time that the Ganga has turned 'so green'. "Almost the entire river has changed colour and a foul smell is emanating from the water. Samples of water must be thoroughly tested before scientists come to a general conclusion," said Ajay Shankar, an octogenarian. https://www.indiatoday.in/india/story/ganga-turns-green-in-varanasi-during-covid-19-second-wave-scientists-explain-why-and-how-1807631-2021-05-27 (27 May 2021)
Unusual, disastrous phenomena: Ganga water in Varanasi turning green, possibly due to Algae. https://agnialok.com/scientists-expressed-concern-about-the-sudden-changing-color-of-the-ganges-water-in-kashi/ (26 May 2021)
Shrouds removed from bodies buried in sand on Ganga ghats: probe ordered Prayagraj district administration has ordered a probe into the removal of shrouds from the bodies buried in the sand on the ghats of the Ganga, days after it was reported that the bodies could be of suspected COVID-19 victims.
Visuals widely shared on social media had shown cleaners, allegedly deployed by the administration, removing the shrouds, many of them bearing the name of Lord Ram, and the wooden stubs from the mounds of sand at Shringverpur Ghat.
A senior official, however, claimed that only shrouds that were scattered on the ghat were being removed while those on mounds of sand where the bodies were buried were not touched. https://www.thehindu.com/news/national/other-states/shrouds-removed-from-graves-along-ganga-in-prayagraj/article34645290.ece (26 May 2021)
Bihar अब सोन के अस्तित्‍व पर मंडरा रहा है खतरा, दो से तीन किलोमीटर आगे खिसक गई नदी की धारा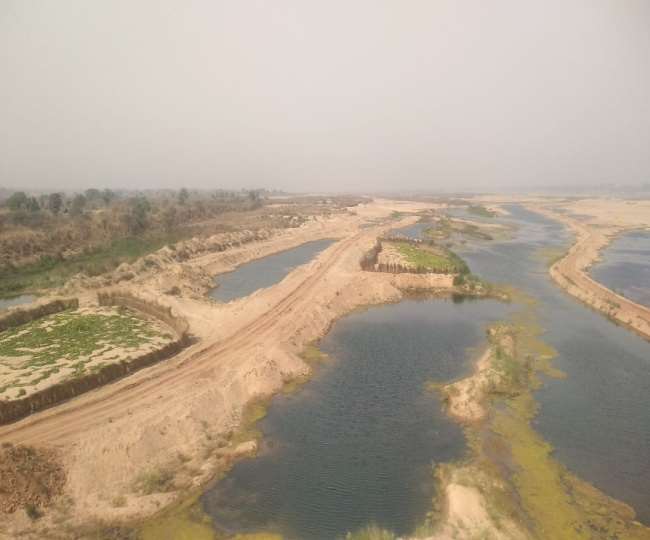 बीते 15 वर्ष से सुबह सोन जाने वाले मृत्युंजय कुमार का कहना है कि बालू की निकासी से काफी तरह की परेशानी आई है। डिल्ला के साथ-साथ सोन का प्राकृतिक सौंदर्य भी खत्म हो गया और जलधारा सिमटती चली गयी। आज स्थिति यह है कि सोन में पानी की तलाश के लिए 2 से 3 किलोमीटर की अधिक यात्रा करनी पड़ती है। बाढ़ देखे कई दशक बीत गए। अब सोन को बचाने की जरूरत है अन्यथा आने वाले वक्त में न पानी मिलेगा, न बालू। आज ही जलस्तर कम होता जा रहा है। https://m.jagran.com/lite/bihar/gaya-now-there-is-danger-on-the-existence-of-son-river-the-stream-of-the-river-went-two-to-three-kilometers-further-21560495.html (15 April 2021)
YAMUNA Uttar Pradesh NGT directs govt to check untreated sewage discharge "We direct Chief Secretary, Uttar Pradesh, with the assistance of concerned officers, to look into the issue mentioned above and review the remedial action in pursuance of direction in the order of the tribunal as well as judgement of the Supreme Court," a bench headed by NGT Chairperson Justice Adarsh Kumar Goel stated.
"We also request the Monitoring Committee constituted by this Tribunal for monitoring compliance of environmental norms in the State of UP, headed by Justice SVS Rathore, former Judge of the Allahabad High Court at Lucknow, to look into the matter and give its independent report of the compliance status as on September 30, 2021 before the next date by e-mail," the bench added. https://en.gaonconnection.com/yamuna-river-pollution-national-green-tribunal-ngt-petition-uttar-pradesh/ (24 May 2021)
RIVER BIODIVERSITY
Odisha Gharial hatchlings seen in natural habitats after years Now, after almost 15 years, gharials mated in the Satkosia gorge and 28 hatchlings were seen surrounding an adult gharial. "We have been regularly releasing crocodiles into the natural waters of Satkosia gorge. But no remarkable improvement in the population of gharials was observed in Satkosia," said Harsha Bardhan Udgata, Divisional Forest Officer, Mahanadi Wildlife Division.
According to the wildlife wing of the State Forest Department, gharials, large reptiles which were abundant in the main rivers and tributaries of the Indus, Ganges, Brahmaputra and Mahanadi-Brahmani river system, are now limited to only 14 widely spaced and restricted localities of India and Nepal. The Satkosia gorge in the Mahanadi is the southernmost limit of their home range and the last home of gharials. https://www.thehindu.com/news/national/other-states/gharial-hatchlings-seen-in-natural-habitats-after-years-in-odisha/article34629342.ece (23 May 2021)
Blog Global Warming: Another Threat to the Endangered Gharials! For the past about a decade, Global warming has disturbed the Gharial's breeding cycle. There was a time when they would lay eggs in March end when the day temperature starts going up. But now Gharial lays eggs about 15 days in advance. It has an incubation period of about 60 to 65 days, so the moments of mother- call have also advanced for about 15 days. The mother Gharial makes a nest close to the river bank on the top of the sand mound so that when the hatchlings come out, they can easily roll down to the river to reach the waters.
Due to the higher day temperature and uncertainty of rainfall, the river shrinks early and shifts away from the nesting site, Dandotiya said. There is always a risk of predators while the lizard –sized hatchlings travel a longer distance after coming out from eggs and reaching the river, the conservationist said. Besides, the sand bed is too hot for the hatchling that is barely a few moments old and it succumbs to high temperatures even before reaching the river. However, a comprehensive study on the possible impact of climate change is yet to take off, perhaps, anywhere in the world, claims Jailabdeen, a research scholar from Madras Crocodile Bank Trust and Centre for Herpetology (MCBTCH). He is studying the reptile in Chambal. https://www.thewildlifeindia.com/2021/05/global-warming-another-threat-to.html (28 May 2021)
FISH, FISHERIES, FISHERFOLKS
Report Aquaculture Has an Antibiotics Problem A new report has issued an urgent warning on the spread of drug resistance (anti-microbial resistance, AMR) from animal to human pathogens. It identifies aquaculture as a major source worldwide. Aquaculture (fish farming) is an under-appreciated source of AMR, and as global citizens, we can no longer neglect its ecological and human impacts. The challenge for the scientific and political community is to find a sustainable solution to the spread of AMR without compromising the economic security of fishing societies. https://science.thewire.in/environment/antibiotics-resistance-aquaculture-fish-farming/ (29 May 2021)
SAND MINING
Jharkhand Probe sought in bridge collapse Haradih-Budhadih bridge connecting Tamar, Bundu and Sonahatu areas of Ranchi district was constructed after spending crores of rupees during the previous NDA regime in the State. However, the linking roads of the bridge were yet to be completed, and the bridge was not even formally inaugurated. https://www.thehindu.com/news/national/other-states/parties-demand-probe-after-bridge-collapses-in-bihar-during-cyclone-yaas/article34663647.ece (28 May 2021)
Corruption, mining reasons Local villagers say that sand was constantly being illegally excavated in the Kanchi river, which weakened the bridge. If there was administrative action in time, this bridge could have survived. Local villagers said that the Harain bridge of Sonahatu on the Kanchi River and the Balamdih bridge of Tamar had already been damaged and now the Haradih bridge was also demolished. As soon as the information about the bridge was demolished, a huge crowd gathered there.
One reason behind the collapse of the bridge is also being told that there is illegal mining of sand daily from the river. The sand was continuously being mined just below the bridge. Despite the constant demand from the villagers, no one took any step towards stopping the illegal mining of sand. https://www.chandravanshi.org/haradih-budhadih-bridge-over-the-kanchi-river-in-ranchi-was-demolished/ (27 May 2021)
अवैध बालू खनन की भेंट चढ़ा पुल रांची के तमाड़ थाना क्षेत्र में कांची नदी पर करोड़ों की लागत से बना हाराडीह-बुढ़ाडीह पुल गुरुवार को भारी बारिश में ध्वस्त हो गया। यह पुल रांची जिले के तमाड़, बुंडू और सोनाहातु को जोड़ता था। तीन साल पहले ही करोड़ों की लागत से पुल बनाया गया था, लेकिन करोड़ों रुपये की लागत से बना यह पुल बालू तस्करों की भेंट चढ़ गया। https://navbharattimes.indiatimes.com/state/jharkhand/ranchi/haradih-budhadih-bridge-over-kanchi-river-in-ranchi-district-collapsed-in-rain/videoshow/83010052.cms (27 May 2021)
अवैध बालू खनन से खोखला हाे रहा बड़का पुल इटखोरी मुहाने पुल का बालू अवैध तरीके से खनन किया जा रहा है। पुल के नीचे पिलर के बुनियाद के पास एकत्र बालू पर खनन माफिया की नजर लग गई है। रविवार (May 23) को पुल के नीचे पिलर के पास एकत्र ट्रैक्टर में भरे जा रहे थे। इस पूरे प्रकरण में इटखोरी प्रशासन मौन है। जबकि अवैध बालू खनन की सारी जानकारी स्थानीय प्रशासन के पास है। बता दें कि पूरे लॉकडाउन में बालू माफिया मुहाने नदी में एकत्र बालू का खनन कर रहे हैं। यहां का बालू हजारीबाग, बरही, चौपारण, रामगढ़ और अन्य कई शहरों तक ले जाया गया है। जहां इन्हें मोटी रकम की कमाई हुई है। https://www.bhaskar.com/local/jharkhand/ranchi/itkhori/news/illegal-sand-mining-continues-to-make-hollow-bridge-128519875.html (24 May 2021)
Karnataka DMF funds for pandemic treatment The Mines and Geology Department has allowed Dakshina Kannada district administration to utilise funds available under the District Mineral Foundation (DMF) for purchase of oxygen tankers, medicines and other health related items needed to tackle the COVID-19 pandemic. The department has decided to consider similar demands from other districts.
The decision was taken after BJP State President Nalin Kumar Kateel appealed to Mines and Geology Minister Murugesh Nirani seeking utilisation of funds under DMF owing to fund crunch faced by the authorities. Mr. Kateel recently spoke to Mr. Nirani and requested him to allow the district to use funds under DMF for purchase of emergency medical needs such as oxygen tankers which are essential to stock oxygen and transport it to hospitals treating COVID patients. https://www.thehindu.com/news/national/karnataka/dmf-funds-for-pandemic-treatment/article34550234.ece (13 May 2021)
Rajasthan A bit strange proposal before the Forest Advisory Committee meeting to be held on May 31, 2021: DIVERSION OF 398.0085 HA OF FOREST LAND IN FAVOUR OF DMG, RAJASTHAN IN PAHADPUR BLOCK A & B FOR MINING AND GENERATION OF EMPLOYMENT AND EARNING OF REVENUE FOR GOVT IN BHARATPUR. http://forestsclearance.nic.in/AgendaDetail.aspx
Govt gives nod to three leaseholders The state government on Wednesday ( May 26) allowed three large leaseholders to mine sand from the riverbeds of Luni and Banas. The move will boost availability of sand in the state and check illegal mining.
After nearly three-and-a-half-years, three leaseholders have been allowed to excavate sand in Kotadi (Bhilwara), Jalore and Syala (Jalore). There 82 large lease holders for sand mining in the state. "After the completion of the replenishment study, the lease holders had received EC on October 16, 2020. So, it was decided to allow these large operators to mine sand," an official with the mining department said.
According to officials, the demand of the remaining 79 large leaseholders is pending in the Supreme court. After the central empowered committee (CEC) had recommended issuing EC to valid lease holders, the hearing was scheduled on April 15. However, it has been postponed after the second Covid-19 wave hit the nation, a source said. https://timesofindia.indiatimes.com/city/jaipur/sand-mining-raj-gives-nod-to-3-leaseholders/articleshow/82987999.cms (27 May 2021)
Himachal Pradesh Row over 'goonda tax' Himachal blames Punjab Stone crusher owners in Himachal have alleged harassment at the hands of authorities in Punjab. They claim miscreants indulging in illegal mining in connivance with the officials concerned are not allowing the transport of their material to Punjab without paying 'goonda tax'.
Industries Minister Bikram Thakur, who also holds the mining portfolio, alleged goons controlling mining operations in Punjab were harassing crusher owners based in Himachal. "It appears that such unscrupulous persons enjoy support of the Punjab Government. Many HP crusher owners have moved the Punjab and Haryana High Court against 'goonda tax' being collected from them in Punjab," he said.
RN Dhoke, ADGP, who heads the first Enforcement Directorate formed to check illegal mining in Punjab, said only those transporters were stopped who did not have valid documents. https://www.tribuneindia.com/news/himachal/row-over-goonda-tax-himachal-blames-punjab-261131 (31 May 2021)
Uttar Pradesh जलधारा को रोककर मौरंग कारोबारियों ने बनाया अवैध पुल भीषण गर्मी के बीच बुंदेलखंड की प्रमुख नदियों में शामिल चंद्रायल की जलधारा को रोकर मौरंग कारोबारियों ने अवैध पुल बना डाला। किसी को कानों-कान भनक तक नहीं लगी। कारोबारी मौरंग का खनन व निकासी धड़ल्ले से कर रहे हैं। प्रशासन मामले से अंजान बना है। एनजीटी के नियमों की धज्जियां उड़ रही हैं। जलीय जीव मर रहे हैं। आलोना पंप कैनाल ठप पड़ा है। केन नदी के तटवर्ती हिस्सों में जल संकट बढ़ा रहा है। प
ड़ोहरा में बालू खनन से चंद्रायल व केन नदी का अस्तित्व खतरे में पड़ गया है। नदी की जलधारा पर किए जा रहे नियंत्रण के कारण नदी सूखने की कगार पर है। स्थिति यह है कि लीज सीमा को धता बताते हुए नदी की धारा को कई जगहों पर रोककर ट्रकों को बीच नदी में ले जाने के लिए अस्थाई पुल बनाया गया है। बालू खदान चंद्रायल नदी के पश्चिमी तट के पास है लेकिन वर्तमान में खादान सीमा से काफी दूर नदी के पूर्वी तट तक नदी के बीच में खनन किया जा रहा है। https://www.jagran.com/uttar-pradesh/banda-the-illegal-businessmen-built-an-illegal-bridge-by-stopping-the-water-stream-21620316.html (06 May 2021)
Gujarat Illegal sand mining 'destroying' environment in Bhavnagar despite Green Tribunal order. https://www.counterview.net/2021/05/illegal-sand-mining-destroying.html (28 May 2021)
Odisha Panel to probe illegal sand mining from Mahanadi river bed NGT on Friday (April 16) constituted a joint committee to probe into allegations of illegal extraction of sand allegedly by using excavators from Mahanadi river bed at Nuapatana under Tangi-Choudwar tehsil of Cuttack district.
The bench of Justice B Amit Sthalekar (Judicial Member) and Saibal Dasgupta (Expert Member) said, "The committee shall examine the site and submit its report stating therein specifically as to whether excess sand has been excavated beyond the licence granted and whether heavy machines have been used for excavation of sand which is contrary to the rules. The committee shall also enumerate any violation of the environmental clearance certificate or consent to operate".
Srikant Pakal and another resident of the area had filed an application. The bench ordered for the joint inquiry after hearing the arguments of their counsel Sankar Prasad Pani. The petition alleged that remote sensing satellite pictures show extensive degradation of the river bed and extraction of sand illegally through mechanized means. https://www.newindianexpress.com/states/odisha/2021/apr/18/panel-to-probe-illegal-sand-miningfrom-mahanadi-river-bed-in-odisha-2291485.html (18 April 2021)
Andhra Pradesh NGT imposes over Rs 1.17 cr penalty on 21 stone crushers NGT has slapped over Rs 1.17 crore penalty on 21 stone crushing and quarrying units for causing pollution and damage to the environment. A bench comprising Justice K Ramakrishnan and expert member Saibal Dasgupta directed the violators to pay the compensation of Rs 1,17,40,800 within three months.
It warned that if the amount is not paid, then the Andhra Pradesh Pollution Control Board (APPCB) is directed to take appropriate steps to realise the amount with the aid of concerned District Collector by initiating necessary proceedings in accordance with law.
The tribunal's judgement came on a plea filed by farmer K Hiroji Rao regarding the operation of the stone crusher units and the pollution caused in adjoining village of Nemakal, Untekal in Bommanahal Mandal, Ananthpur District of Andhra Pradesh. According to the plea, filed through advocate Sravan Kumar, these units are situated adjacent to each other and nearby villages as well as agricultural lands and old Anjaneya Swami Temple. https://www.deccanchronicle.com/nation/current-affairs/280521/ngt-imposes-over-rs-117-cr-penalty-on-21-stone-crushers-in-ap-for-cau.html (28 May 2021)
West Bengal Mining pollution pushes indigenous people to brink The entire population of one of the world's smallest indigenous groups, the Toto, live in a village on the India-Bhutan border. They are threatened by mining, water scarcity, soil erosion and a blood disorder. https://www.thethirdpole.net/en/pollution/pollution-pushes-indigenous-toto-people-to-extinction-india/ (25 May 2021)
Mongabay Sand mining and how it erodes lives and the environment Sand, a natural resource that seems abundant and often ignored is the second most extracted one, just after water.
Excess extraction of sand from lakes, riverbeds, deltas and shores has destroyed habitats, changed the course of rivers, eroded banks, and swallowed up villages in India and worldwide. https://india.mongabay.com/2021/05/video-sand-mining-and-how-it-erodes-lives-and-the-environment/ (26 May 2021)
Bharat Dogra on Sand Mining even during lock down and impacts of the same. https://countercurrents.org/2021/05/rivers-ravaged-by-sand-mining-mafias/ (26 May 2021)
WETLANDS, LAKES, WATER BODIES
Maharashtra Photo essay: Threats to Wetlands of Kharghar The biodiversity of Kharghar is constantly under threat. Illegal activities in the area are destroying the natural habitats of the animal life in the ecosystems. https://mumbai.citizenmatters.in/threats-to-the-ecosystem-of-the-wetlands-of-kharghar-24095 (26 May 2021)
Eye in the sky to watch mangroves The Maharashtra Mangrove Cell has planned to acquire a drone and set up a CCTV camera network across the Mumbai Metropolitan Region (MMR) to keep an eye on mangrove destruction by debris and land mafia. https://www.thehindu.com/news/cities/mumbai/eye-in-the-sky-to-watch-maharashtra-mangroves/article34645382.ece (26 May 2021)
Rajasthan Illegal salt mining is threatening Sambhar Lake eco system As Sambhar Lake came under the international spotlight for this mass die-off, another phenomenon drew attention to the lake: rampant illegal salt mining and a shrinking wetland. Salt pans were proliferating and illegal borewells dotted the area, causing a massive degradation of the famous lake.
"Sambhar Lake's future is totally dependent on the seasonal rivers that flow into it during the monsoon. But now this water is being sucked away before it reaches the lake, causing it to dry up," says ecologist Harsh Vardhan. Mendha, Rupangarh, Kharain, Khandel and several such streams and rivulets used to recharge the lake. But the farmers in the 7,560 sq.km. catchment area of the lake have built surface embankments across the rivers, obstructing their downstream flow into the lake. They have sunk tubewells along the rivers and laid pipelines to transport water to their fields, choking the rivers and ultimately threatening the wetland ecosystem. https://www.thehindu.com/society/dying-slowly-illegal-salt-mining-is-threatening-the-wetland-ecosystem-of-sambhar-lake/article34167696.ece (27 March 2021)
Goa Wetlands need to be protected for ecological security: Expert To ensure Goa's ecological security, there is an urgent need to protect and conserve wetlands of Goa, said T V Ramchandra of the Centre for Ecological Sciences, Indian Institute of Science, Bangalore. He was speaking at the state level function on the International Day for Biological Diversity organised by Goa State Biodiversity Board and Goa State Wetland Board recently.
Delivering a presentation on the importance of wetlands, he took the participants on a virtual tour through the wetlands of Bangalore, their management, troubleshooting measures adopted to counter the various problems faced by the wetlands, conservation of terrestrial and aquatic ecosystems and their linkages. https://timesofindia.indiatimes.com/city/goa/wetlands-need-to-be-protected-for-goas-ecological-security-expert/articleshow/82988125.cms (27 May 2021)
WATER OPTIONS
Rajasthan KRAPAVIS wins India Biodiversity Awards Krishi Avam Paristhitiki Vikas Sansthan (KRAPAVIS) has won the prestigious India Biodiversity Awards 2021 under the category 'Sustainable Use of Biological Resources.' The award was announced on the occasion of 'International Biodiversity Day' by the Union environment minister of in a virtual celebration. The India Biodiversity Awards is a joint initiative by the ministry of environment, forest and climate change, National Biodiversity Authority (NBA) and the United Nations Development Programme (UNDP).
On receiving the award, KRAPAVIS founder Aman Singh said, "Our two-and-a-half decades work has involved restoring hundreds of Orans, which are the 'natural commonlands' where one can find water, medicinal plants, wild foods, wildlife but also solace and spiritual comfort. In our work, we use the 'citizen science' research & documentation; policy analysis and advocacy; and above all the community awareness." KRAPAVIS has supported communities to restore water harvesting structures, recharge wells & water tables and plant half a million trees of local varieties in Orans. https://timesofindia.indiatimes.com/city/jaipur/krapavis-wins-india-biodiversity-awards/articleshow/82922714.cms (25 May 2021)
Gujarat Wastewater As A Resource: Some Learnings This report talks about Surat model of sewage treatment and recycle that is claimed to have developed over several years. The "Surat Model" was borne out of necessities as well as proactive collaboration and decision-making between the government and industry. Several social and cultural barriers around wastewater reuse remain still, but the stark necessity may soon force governments and municipalities around the world to seriously consider more uses of sewage as well as industrial wastewater. "Next time you visit us, we might as well greet you with a glass of recycled sewage, treated and tested to the highest standards", adds Mr Pathan with a chuckle, raising his eyes briefly from the steady flow of paperwork in front of him. https://thelogicalindian.com/environment/wastewater-as-resource-learnings-from-gujarat-28491 (23 May 2021)
Assam New varieties of rice help farmers in flood-prone areas Flood-tolerant rice developed by Assam Agricultural University is a lifeline for farmers struggling to adapt to climate change. https://www.thethirdpole.net/en/livelihoods/flood-tolerant-rice-helps-farmers-in-assam/ (31 May 2021)
Kerala Farmer bags India Biodiversity Award 2021 Shaji .N.M., fondly called as 'Tuber Man' of Kerala has been awarded the India Biodiversity Award 2021 in the individual category of 'Conservation of domesticated species'.
Mr. Shaji, who conserves a wide array of around 200 tuber crops has received State awards seven times for his efforts. He has also received the Plant Genome Savior Reward 2015. His farm has 40-odd varieties of turmeric and 30 varieties of ginger. He is also conserving many paddy varieties, which are on the verge of extinction.
Many of his varieties are documented in the Peoples' biodiversity register of Edavaka Grama Panchayath. His efforts are very useful to conserve and increase the tuber cultivation in the State, and is significant in terms of food security. https://www.thehindu.com/news/national/kerala/kerala-farmer-bags-india-biodiversity-award-2021/article34626547.ece (23 May 2021)
Delhi Lake Revived in Ashoka Park The revival of this water body is helping to replenish the groundwater table and providing a good habitat for many local and migratory birds. Fish have been released into the water body to maintain aquatic life. Horticulture around the periphery is the next goal.
The residents living nearby enjoy the park with their morning walks and runs, practicing yoga and as an escape from digital screens. Daily visitors have increased over time and people love the beautiful landscape around the lake. https://www.ndns.in/lake-revived-in-ashoka-park/ (29 April 2021)
Floodwater harvesting method helps raise GW level Its very general report and sans any relevant info. The Palla project started by the Delhi government to increase groundwater level by way of floodwater harvesting has yielded a good result leading to improvement of groundwater up to 2 meters in the area. The development was recently announced by the DJB chairperson Satyendar Jain.
The Palla project was started in 2019. Under the project, small ponds have been created in the floodplains that will collect water from overflowing Yamuna during the monsoon season. It aims to create a reservoir between Palla and Wazirabad in Delhi to deal with water shortage in the capital. https://www.newindianexpress.com/cities/delhi/2021/feb/14/delhi-governments-floodwater-harvesting-method-helps-raise-groundwater-level-2263703.html (14 Feb. 2021)
GROUNDWATER
Study Toxic groundwater poses health risk to people of Malwa Heavy contamination of groundwater by toxic chemicals in Malwa region of Punjab is putting the health of its inhabitants at great risk, shows new research. What is more worrying is that the polluted groundwater used for drinking, domestic and irrigation purposes is making children vulnerable to both carcinogenic and non-carcinogenic risks, more than adults residing in Bathinda and Faridkot, according to a study by a team of experts from Guru Nanak Dev University, Amritsar.
The findings of the study conducted by Tanu Sharma, Bikramjit Singh Bajwa, and Inderpreet Kaur have been published in the international journal Environmental Earth Sciences. The study concluded: "A health risk assessment also indicated that several potentially toxic elements including arsenic, mercury and uranium were present in groundwater at levels that were of health concern to groundwater users in the study area with the most significant health risks associated with As. The results obtained also abolished the myth that uranium is the only root cause for the large number of cancer patients in the study area." https://timesofindia.indiatimes.com/city/chandigarh/toxic-groundwater-poses-health-risk-to-people-of-malwa-study/articleshow/82055769.cms (14 April 2021)
Telangana Groundwater level rises due to lockdown in 27 districts There has been a net rise in groundwater level of 2.03 m in April as compared to the same month last year, say officials of the state ground water department. The rise, they say, is observed in 27 districts. Six other districts, however, saw a fall in groundwater levels.
Pandith Madhanure, director of the department, told Deccan Chronicle, "The water levels have not dipped since the extraction was limited to drinking water purposes. There was no commercial extraction of water." While the number of people staying back at home increased, commercial activities like construction came to a halt or slowed down for long periods. This helped in the rise in groundwater levels. https://www.deccanchronicle.com/lifestyle/environment/240521/ground-water-level-rises-due-to-lockdown-in-27-telangana-districts.html (24 May 2021)
Blog Groundwater or aquifers? Since the 1970s, 'groundwater management policies' were mainly attempted through (unsuccessfully) regulating well owner behaviour with regard to water abstraction. We argue this has inadvertently led to many, though not all, past groundwater policy frameworks to be unsuitable for purpose, an observation also supported by the OECD (2015).
The evidence today for failure of the outmoded regulatory approaches is clear from the many aquifers being depleted, degraded, or affected by subsidence, for example in the Indo-Gangetic basin, Mexico, North China Plains, and US High Plains, with the coincident breakdown of their dependent aquatic ecosystems and socio-ecologies. https://www.water-alternatives.org/index.php/blog/aquifer (15 May 2021)
URBAN WATER
Chennai IIT-M, ICCW plan studies to forecast groundwater quality The quality of groundwater in localities closer to the beach in Chennai like Injambakkam and Besant Nagar is poor, while the quality in core areas like Adyar, Choolaimedu and suburbs like Ramapuram was found to be excellent. This was revealed by an IIT-Madras team that has started collecting data as part of a pilot project to map the quality of Chennai's groundwater in association with the state government.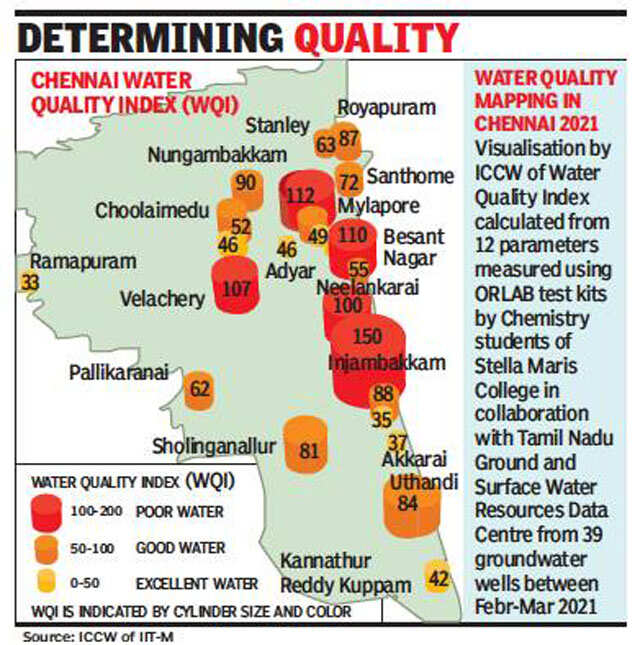 The International Centre for Clean Water (ICCW) has developed a device to assess various water quality parameters on the spot and upload the details into a cloud server. It plans to collect enough data that can help in the forecast in the city at any time of the year at the click of a button. The team has already collected samples and tested them from 39 locations and plans to expand it to 60 more locations.
The researchers said several factors influence the city's groundwater quality including the rate of withdrawal, proximity to the sea shore, contamination from sewer lines, amount of rainwater recharge and industrial effluents. "Typically groundwater levels will go down between March and June and continue to go down till monsoons start in October. So compared to March the quality would have deteriorated in June," said E Nandakumar, ceo, ICCW-IIT-M. https://timesofindia.indiatimes.com/city/chennai/iit-m-iccw-plan-studies-to-forecast-groundwater-quality/articleshow/83096487.cms (31 May 2021)
Bengaluru Sewage to be tested for traces of coronavirus variants Karnataka is introducing a sewage surveillance system across 45 wards of the 198 wards on a pilot basis to track the deadly mutant virus at an early stage, even among asymptomatic individuals. Additional Chief Secretary, Urban Development and BBMP administrator, Rakesh Singh said that the system will cover over 75 percent of the city's nine million population by generating over 90 data points per week signalling the emerging COVID-19 clusters or signalling a COVID-19 cluster's exit from an area.
The Precision Health Platform in Bengaluru, the first of its kind in Asia, will test sewage from both sewerage and non-sewerage waste water to identify clusters of new infections. https://www.thenewsminute.com/article/bengaluru-s-sewage-be-tested-traces-coronavirus-variants-149766 (30 May 2021)
Lucknow No Covid trace in Khadra sewage In an official statement, head of microbiology department, Sanjay Gandhi Postgraduate Institute of Medical Sciences (SGPGIMS) on Tuesday (May 25), Prof Ujalla Ghoshal said the presence of SARS COV-2 RNA (ribonucleic acid) in sewage samples has "not been proven and require further studies". Reports claimed samples were collected from three sites – Khadra, Ghantaghar and Machchli Mohaal – in the state capital on May 19 and the one from Khadra showed traces of pandemic virus.
However, presence of coronavirus has been confirmed in sewage water in Hyderabad and Mumbai. This has raised questions like 'whether it is a threat to public health or not' or 'if presence of coronavirus in sewage water can play a role on spreading infection in any way'. Experts are of the view that even if the virus is found in sewage water, the possibility of it being a public health issue is negligible unless proven otherwise.
According to reports, SGPGI was a part of an initiative by the ICMR and the WHO that aimed to find out the presence of coronavirus in sewage water in eight cities of the country including Lucknow, Hyderabad, Pune and Mumbai, among others. https://timesofindia.indiatimes.com/city/lucknow/no-covid-trace-in-khadra-sewage/articleshow/82957314.cms (26 May 2021)
Pune Ahead of monsoon, dams hold surplus reserves In comparison with the 2020 reserves, all dams supplying water to Pune city – Khadakwasla, Panshet, Varasgaon and Temghar – have additional stocks, ranging up to 13 percent more this year. The collective available water reserves this May is 11.32 thousand million cubic (TMC) feet with 1 TMC feet surplus stocks for the same period from last year. This trend was observed in April when the current year's total water stock was 18.91 TMC feet against 14.69 TMC feet available in 2020.
However, the water reserves in Pavana dam, the drinking water lifeline of the twin towns Pimpri Chinchwad, is slightly lesser than that of the same period, which was available in 2020. "The dams never dried up as there would be rain from time to time in the catchment areas," said an officer at the irrigation department, Khadakwasla, Pune. Another reason experts suggest could be the absence of hot or extreme heat conditions over Pune this summer, particularly in May, which could have led to limited evaporation of the surface water. https://indianexpress.com/article/cities/pune/ahead-of-monsoon-pune-dams-hold-surplus-reserves-7336819/ (31 May 2021)
WRD agrees to lease canal land to PMC The Maharashtra water resource department has given a green signal to lease the land of the Khadakwasla left canal to the PMC to ease the traffic problem of the proposed village of Kondhawe-Dhawade, Shivane, Uttamnagar.
At present, the PMC is using 20 kilometres of canal land and paying rent to the Khadakwasla irrigation division. Now, the PMC will get another 7 kilometres of canal land for developing roads to connect nearby villages. The PMC has allocated ₹3 crore to develop the road. https://www.hindustantimes.com/cities/pune-news/state-water-resource-department-agrees-to-lease-canal-land-to-pmc-101622218583168.html (28 May 2021)
Govt forms committee to study water distribution from dams in Bhima basin On Thursday (May 20), the government issued the order to form a four-member committee under the chairmanship of retired secretary of the water resource department. The committee will include chief engineer of the Jal Vidnyan Prakalp (Nashik), chief engineer of the water resource division, Pune, and superintendent engineer of the Pune Irrigation division. The government has as asked for a report in three months.
There are 25 dams in the Bhima basin, spread across three sub-basins – the Bhima sub-basin, the Neera sun-basin and the Mula-Mutha sub-basi – with 17 reservoirs. The need for the panel comes against the background of Pune city increasing its demand for water from the dams, to serve an expanding population. Given Pune city's increasing water usage, the rural areas of Pune district are complaining of a water shortage. A decision on increasing the water quota for Pune city is pending.
Pune's annual water usage has increased from 11.50 thousand million litres per cubic feet (TMC) to 18.50 thousand million TMC, annually. As per statistics released by the water resource department, the population in the rural areas of Pune district is forecast to reach 4.520 million; and the urban population, 9.265 million, by 2030. Meanwhile, the PMC is accessing the Bhama-Askhed dam for water, which is 45km away from the city. Twenty-three villages have also been cleared to merge with the PMC limits. https://www.hindustantimes.com/cities/others/state-forms-committee-to-study-water-distribution-from-dams-in-bhima-basin-101621521103795.html (20 May 2021)
Delhi Water levels drop in major dams, likely to hit power generation A drop in water levels in the reservoirs of Bhakra, Pong and Thein dams is likely impact power generation and release of water for irrigation to the beneficiary states of Punjab, Haryana, Rajasthan and Delhi. While Bhakra reservoir currently holds just 8 per cent of its capacity, reservoirs of Pong and Thein have only 14 per cent and 34 per cent of their respective capacities filled. https://www.newindianexpress.com/cities/delhi/2021/may/30/water-levels-drop-in-major-dams-likely-to-hit-power-generation-for-delhi-2309298.html (30 May 2021)
Trichy Corporation to build aerator to improve water quality With drinking water sourced from Kollidam river having high iron content, thus causing water discolouration at times, Trichy Corporation has proposed to build an oxidisation plant to remove the surplus iron. A multiple-tray aerator is proposed to be built at a cost of Rs 5 crores which will ensure that the chemical parameters of the drinking water supplied to the city are balanced.
It was found during a study that the water collector well III situated on the Kollidam river bed had iron content higher than the permissible level, thus creating residues and stains in the potable water supplied through pipelines. The multiple-tray aerator, akin to the one in Srirangam, will bring the water sourced in contact with open air. A fountain-like structure with 11.5 metres diameter and 3.5 metres height from the ground is proposed at the vacant space available on Ayyalamman ghat on Karur road.
The 19MLD water drawn from Kollidam through collector well III will flow through the fountain-like structure during which the oxygen in the air will oxidise its high iron content. https://timesofindia.indiatimes.com/city/trichy/trichy-corpn-to-build-aerator-to-improve-water-quality/articleshow/83074171.cms (30 May 2021)
Chandigarh Water woes for Baltana residents
Residents of Shagun Enclave, Ward No. 7, and nearby areas in Baltana complained that they are facing acute water shortage for the past one week. They alleged that the MC disconnected the water supply after Neha Sharma, Congress councillor from Ward No. 5, intervened to ensure uninterrupted supply to her ward as the pipeline for Ward No. 7 was "illegally" drawing water from their share. https://www.tribuneindia.com/news/chandigarh/water-woes-for-baltana-residents-260779  (31 May 2021)
WATER POLLUTION
Telangana NGT stops NTPC plant expansion The National Thermal Power Corporation (NTPC) suffered a setback when the National Green Tribunal south zone bench in Chennai on May 27, 2021 kept the environment clearance (EC), issued to NTPC for its new thermal power plant in Ramagundam, in abeyance for seven months. The NGT bench said in its orders, "After getting the impact assessment report, the MoEF should forward the same to the expert appraisal committee (EAC) for further appraisal. The EAC has to give recommendations. All this exercise will have to be completed within seven months." The NTPC was also directed to conduct do a hydro-geological impact assessment on account of the ash pond due to storage of ash slurry, besides study the impact on water quality.
The NGT bench wanted a re-appraisal done as per the additional terms and conditions of the Union ministry of environment and forest. It announced this verdict in a petition filed by a local from Karimnagar district identified as Uma Maheshwar Dahagama, who alleged that the NTPC had initially applied for 2X600 MW thermal power plant and later enhanced it to 2X800 MW capacity in violation of the terms. https://timesofindia.indiatimes.com/city/hyderabad/ngt-stops-ntpc-plant-expansion/articleshow/83017260.cms (28 May 2021)
JJM/ RURAL WATER SUPPLY
Rs 1,605 cr grant released to 8 northeastern states The Centre has released a grant of Rs 1,605 crore to the northeastern states under the Jal Jeevan Mission (JJM) to provide 11 lakh tap water connections in 2021-22, the Jal Shakti ministry said on Tuesday (May 25). This is the first tranche of the four to be released in this financial year.
During the financial year 2021-22, Rs 9,262 crore have been allocated as central grant for NE states under the Jal Jeevan Mission. Out of the central fund allocated under the JJM, 93 per cent is to be utilised on developing water supply infrastructure, 5 per cent on support activities and 2 per cent on water quality monitoring and surveillance activities.
The states have to transfer the central fund released along with a matching state share to the single nodal account within 15 days of release of the central fund. There are about 90 lakh rural households in all the northeastern states, with a maximum 63.35 lakh in Assam. "As of today, 16.27 lakh households (18 per cent) in the region are getting tap water supply in these states in comparison to 3.2 lakh (3 per cent) households on 15 August, 2019, when the prime minister announced the Jal Jeevan Mission," it said. https://timesofindia.indiatimes.com/india/jal-jeevan-mission-centre-releases-rs-1605-crore-grant-to-8-northeastern-states/articleshow/82946437.cms (25 May 2021)
Given their terrain and challenges, the Centre has provided the North-eastern states of Arunachal Pradesh, Manipur, Meghalaya, Mizoram, Sikkim, a performance incentive grant of ₹465 crore for 2020-21 under JJM. https://www.hindustantimes.com/analysis/how-india-s-water-mission-is-overcoming-the-challenge-in-the-northeast-101622118539428.html (27 May 2021)
WATER
Rajasthan Nutri gardens fail to meet food needs for water shortage The gardens were set up as a pilot project to supply nutritious food to Sahariya tribals in Shahabad and Kishangaj area of Baran. At least 55 such gardens, including 30 in anganwadi kendras of Kishanganj and 25 in Shahabad, were set up in July last year as part of Poshan Abhiyaan Jan Andolan by women and child development department, to supply overall nutrition to Sahariya kids and women suffering from malnutrition.
But only 10 gardens in Kishanganj and 13 in Shahabad are currently sustaining as others have suffered badly due to scarcity of water in the area leading to withering of plantation. Further, the lockdown has worsened the condition of these gardens as the anganwadi centres are closed and the staff in engaged in Covid duties.https://timesofindia.indiatimes.com/city/jaipur/nutri-gardens-fail-to-meet-food-needs-for-water-shortage/articleshow/83074037.cms (30 May 2021)
Maharashtra NGT asks MoEF to provide SOPs for EC NGT has directed the State Level Environment Impact Assessment Authority (SEIAA) of Maharashtra to review its workings and asked the Ministry of Environment to provide standard operating procedures (SOPS) to be adopted for dealing with clearances without hurting the environment.
A bench headed by NGT's Chairperson Justice Adarsh Kumar Goel gave the directions while hearing an appeal by one Tanaji B. Gambhire, preferred against the order of SEIAA, Maharashtra dated March 31, 2020, granting environmental clearance (EC) for the construction project "Ganga Altus" in Kharadi, Pune, to project proponent (PP) Goel Ganga India Private Limited.
The Green Court observed that there have been several cases resting in Pune Bench of NGT (now being heard regularly virtually by the Bench of Chairperson, Justice Goel) referring to construction projects having either no ECs or post-facto clearance with no environmental compensation imposed on such blatantly violating projects.
The NGT also directed to concerned authorities to constitute a joint committee of the MoEF, CPCB, and State Pollution Control Board to look into the present matter and suggest a remedial action plan for the present case, including the quantum of compensation to be recovered, as far as possible within three months. https://www.newindianexpress.com/nation/2021/may/26/ngt-asks-environment-ministry-to-provide-sops-to-maharashtra-for-providing-environmental-clearance-2307804.html (26 May 2021)
Though NGT's orders do not specify the total number of such violations that have come to its notice in Maharashtra, the court observed, "We are coming across the grievance of continuous violation of environment norms in construction projects being completed without prior EC and SEIAA Maharashtra is neither requiring demolition nor payment of assessed compensation."
As such, "it will be appropriate to require SEIAA, Maharashtra, to review its working in the light of violations frequently being alleged, including the present case," NGT noted.
Experts were reluctant to back NGT's move. "It may seem like the tribunal has taken the right step, but really it is shrugging off its own responsibility. If there is a violation, the court can easily decide on either demolition or levying environmental compensation. It can also serve a notice to SEIAA for dereliction of duty. Instead, it has instated a committee, which includes members of SEIAA, to review the authority's functioning. This is against the principle of natural justice," said Mumbai-based independent environmental lawyer Zaman Ali.
"Post-facto clearances make a mockery of the law. It seems that statutory bodies meant to protect the environment are more interested in facilitating ease of doing business for developers, and violators are in fact encouraged to go ahead without environment clearances in such a scenario. This farce of processing applications without application of mind has been brought to light by NGT," said Stalin D, director of non-governmental organisation Vanashakti. https://www.hindustantimes.com/cities/others/ngt-raps-maharashtra-eia-authority-over-violations-during-infra-works-101622230645620.html (29 May 2021)
NGT forms panel to probe violation of environmental norms by JSW in Raigarh NGT has formed a five-member committee to probe into a plea alleging violation of environmental norms in running the industrial operations by Jindal Steel Works Limited at some villages in Raigarh district.
If the violations are found, the committee may also suggest the amount of compensation to be recovered apart from other restoration measures, the tribunal said while directing it to submit a report within four months via e-mail. The state pollution control board had earlier told the tribunal that there are non-compliances by the unit which was denied by the project proponent.
The tribunal was hearing a plea filed by Raigarh native Samita Rajendra Patil against violation of environmental norms by Jindal Steel Works Dolwi, Karawi, Gadab, KharKaravi, Kharmachela and Jui Bapuji villages and their surrounding areas. The case set out in the application is that the location of the plant in question adjoins the creek up to Dolvi village. Kharmachela and other villages are covered by mangroves which protect the environment in the area. https://www.livemint.com/companies/news/ngt-forms-5-member-panel-to-probe-violation-of-environmental-norms-by-jsw-in-raigarh-11622276027299.html (29 May 2021)
Lakshadweep Administrator Courts Ecological Mayhem In the case of Lakshadweep, the archipelago produces little that can be used to erect a high-end tourism resort. Everything will have to be shipped in from the mainland. That will drive up costs. For freshwater supplies, resorts will need their own desalination plants. The ones already set up in Lakshadweep for the local community, said a scientist at the National Institute of Ocean Technology, cost anywhere between Rs 6 crore to Rs 11 crore. Installing such a system – and then maintaining it – will add to the costs. https://thewire.in/rights/lakshadweep-praful-patel-ecological-mayhem-tourism (27 May 2021)
Experts fear biodiversity loss in Andaman, Nicobar Islands A slew of infrastructure projects have been proposed in the Andaman and Nicobar Islands to give a major boost to tourism and business there, according to information released by the central government. While these will transform the islands substantially, experts are worried that this would cause loss of biodiversity and have a negative impact on the indigenous people in the ecologically sensitive islands.
Information uploaded on the Union environment ministry's Parivesh website suggests that multiple infrastructure projects are being considered by an expert appraisal committee (EAC) and a coastal regulation zone (CRZ) committee. Some of these projects include luxury tents and resorts on some islands; two water aerodrome projects in Shaheed and Swaraj islands (formerly Neil and Havelock islands, respectively); two major township and area development projects on the Great Nicobar Island and Little Andaman, one of which is also likely to involve denotification of a tribal reserve.
All of this will involve massive land use change in the islands. On May 28, the CRZ committee considered an application by Andaman and Nicobar Islands Integrated Development Corporation (ANIIDCO) to waive off a condition under the CRZ clearance granted to them for developing luxury tents in Aves Island on a public-private partnership mode. One of the CRZ conditions was that all large, medium, and small trees will be counted and geo-referenced and not felled. But now ANIIDCO is seeking an amendment to this clause so that trees may be felled if required. https://www.hindustantimes.com/india-news/experts-fear-biodiversity-loss-in-andaman-nicobar-islands-101622415141217.html (31 May 2021)
Assam Silent water crisis The recent spread of Covid-19 in Assam's tea plantations highlights long-running chronic water shortages, with workers lacking access to safe water for drinking or washing. https://www.thethirdpole.net/en/pollution/tea-gardens-assam-silent-water-crisis/ (21 May 2021)
DTE asks an important question. The more appropriate question may be, how can RWH be done even in extreme weather. https://www.downtoearth.org.in/blog/water/lessons-from-taukte-can-extreme-weather-help-with-rainwater-harvesting–77080 (24 May 2021)
AGRICULTURE
Haryana Govt moves to wean farmers away from paddy on 2 lakh acres Agriculture and Farmers Welfare Minister JP Dalal told The Indian Express that the government will provide an incentive of Rs 7,000 per acre to farmers who opt for pulses, cotton, maize and horticulture crops in place of paddy under the 'mera pani-meri virasat' scheme.
The state government will also offer an insurance cover ranging from Rs 30,000 to Rs 40,000 per acre to farmers who choose to replace paddy with vegetables and fruits for a small premium. Farmers, however, said the incentive was not attractive enough to make them move away from the lucrative paddy.
Launched in 2020 to save water, the scheme has received a lukewarm response from paddy farmers who are faced with depleting water levels. Dalal blamed it partly on the contract system prevalent in the state wherein the cultivator, who takes the land on rent for only a year, wants to squeeze the maximum profit out of it by using fertilizers and pesticides.
More than half of the land in the state is cultivated under contract system under which landless labourers or farmers with small parcels of land take more land on cultivation for an annual rent (theka) ranging from Rs 10,000 to Rs 70,000 for an acre depending on its location and irrigation facilities. https://indianexpress.com/article/cities/chandigarh/haryana-moves-to-wean-farmers-away-from-paddy-on-2-lakh-acres-7334951/ (29 May 2021)
Need to cut incentives for paddy cultivation: Siraj Hussain, former agriculture secretary https://www.financialexpress.com/economy/need-to-cut-incentives-for-paddy-cultivation-siraj-hussain-former-agriculture-secretary/2258208/ (26 May 2021)
MONSOON 2021
Kerala Flood prediction in Meenachil goes hi-tech With just a few days for the monsoon to set in over Kerala, a group of conservationists have joined hands to come up with a unique, hi-tech flood alert system for the Meenachil — a river that has ploughed past its banks every rainy season since 2018.
Thanks to the Meenachil River Protection Council (MRPC), a mobile app that will update the public on the real-time water level, rain fall data and flood risk predictions will become operational on June 5. The app, developed by a team of technical experts led by Jubilant Job, an engineering college teacher, will start off by providing real-time reports of the water level in the water body and move to an Artificial Intelligence-based model to show where flooding may occur over a range of water levels and the extend of the predicted flood.
"To begin with, we have developed algorithms by combining the data sets on rainfall and water level recorded across the Meenachil basin in different periods over the past one year. The accuracy of the predictions , however, can be improved overtime with more data", noted Mr Job.
As part of the initiative, the MRPC has already installed rain gauges in 40 different locations across the river basin from Vagamon to Kumarakom, besides scales to measure the depth of the river at Bharananganam, Erattupetta, and Kidangoor. The volunteer group is now awaiting the State-wide lockdown to ease for installing another set of 42 rainfall gauges and a few more river-depth scales to improve the data collection process.
The MRPC has also engaged a three-tier system of citizen reporters for collecting the real-time data. "The first is a group of 27 rain gauge-monitors, who operate from specific sub-water sheds and enter the data from their respective rain gauges directly to an online form. They are assisted by a second group of citizen reporters who provide real-time reports on the rainfall and flood level at different locations while the third group of volunteers are those who have joined us through an online invitation", said Eby Immanuel, General Secretary of the organisation,
The data and reports collected from different locations are currently collated and analysed by a core-committee of experts comprising scientists, environmentalists and government officials and then released to the public through the social media. Meanwhile, scientists with the Central Water Resources Development and Management (CWRDM) have now expressed their interest in collaborating with the project. https://www.thehindu.com/news/national/kerala/ahead-of-monsoon-flood-prediction-in-meenachil-goes-hi-tech/article34682162.ece (30 may 2021)
FLOOD 2021
Dam Floods Jharkhand Tenughat dam releases excess water Tenughat dam authorities on May 28, 2021 opened two radial gates to release excess water. The flood control cell of the dam informed the administrations of Bokaro, Dhanbad and West Bengal alerting a rise in the water levels of the Damodar river due to the opening of the gates. Tenughat dam has 18 gates, of which 10 are radial and eight are sluice gates. On Wednesday (May 26), a sluice gate was opened to maintain the water level at the reservoir. The dam authorities said they released 4,800 cusecs of water.https://timesofindia.indiatimes.com/city/ranchi/tenughat-dam-releases-excess-water/articleshow/83045516.cms (29 May 2021)
Tamil Nadu Thamiraparani overflowing Heavy rain lashed Kanyakumari on May 25-26, 2021 as the good spell over the southernmost district continued for more than two weeks. The unexpected rain has led to heavy flow into Pechiparai dam. The outflow, at more than 10,000 cusecs, and the downpour downstream left the Thamiraparani flowing into the Arabian Sea through Kanyakumari district brimming. Water level was beyond the danger mark at Thiruparappu Falls and flowed several feet above the foot over bridge and check dam at Kuzhithurai. https://timesofindia.indiatimes.com/city/madurai/rain-lashes-kanyakumari-thamiraparani-overflowing/articleshow/82994490.cms (27 May 2021)
River Kodaiyar at Thiruvarambu in Kanyakumari District has crossed previous HFL 14.58 m attained on 15.08.2018 by 0.10 m on May 26 at 14.00 hours. It remained above previous HFL for three hours from 13:00 hours to 15 hours on May 26. The new HFL is 14.68 m.
Bihar Farmers, near Bagmati river, pick fertility of land over safety from floods Villagers from 109 villages across Darbhanga and Muzaffarpur have been opposing the government's decision to embank the river Bagmati since 2012. Bihar government is considering embankment as a flood prevention measure, but the farmers fear it will cause loss of fertility as Bagmati brings fertile soil with its flood water which is essential for the crops of this region. Considering the opposition of the local people, the government had formed a committee in 2018 to reconsider its decision. But the government has again started the construction, without any consultation with the committee. https://india.mongabay.com/2021/04/farmers-near-bagmati-river-in-bihar-pick-fertility-of-land-over-safety-from-floods/ (20 April 2021)
DISASTERS
Report Tauktae a warning; future of western coast is at stake. https://www.hindustantimes.com/analysis/cyclone-tauktae-is-a-warning-the-future-of-india-s-western-coast-is-at-stake-101621946052135-amp.html (26 May 2021)
CLOUD BURSTS
Uttarakhand पौड़ी में फटा बादल पौड़ी जिले के बैंग्वाड़ी गांव के समीप आमसेरा तोक में रविवार (May 30) तड़के करीब साढे तीने बजे बादल फटने से अफरा-तफरी मच गई। इस घटनाक्रम में गांव के कई संपर्क मार्ग ध्वस्त हो गए। इसके अलावा दो गोशालाएं भी क्षतिग्रस्त हो गए। भारी मलबा आने से पौड़ी-श्रीनगर मोटर मार्ग करीब छह घंटे बंद रहा।
इस दौरान गदेरे में भारी मलबा आने से पौड़ी-श्रीनगर राजमार्ग के समीप पार्क दो दुपहिया वाहन लापता हो गए थे, जिनमें रेस्क्यू के दौरान एक बाइक बरामद कर ली गई। पर, स्कूटी अभी भी लापता है। कुछ कृषि योग्य भूमि भी मलबे की चपेट में आई है। इसके अलावा नजदीकी गांवों के संपर्क मार्ग भी ध्वस्त हुए है। गनीमत यह रही कि घटना आबादी क्षेत्र से कुछ दूरी पर हुई अन्यथा बड़ी घटना घट सकती थी। https://www.jagran.com/uttarakhand/pauri-garhwal-cloud-burst-in-amasera-of-bangwadi-village-pauri-srinagar-motorway-closed-21690760.html (30 May 2021)
ENVIRONMENT GOVERNANCE
Report CAGed? Reports on Centre's money management down by 75% The number of reports brought out by the country's top audit body, the Comptroller and Auditor General of India, has come down sharply in the past five years, raising concerns that the government's financial accountability is not coming under the CAG's gaze very closely. The total number of CAG reports relating to central government ministries and departments came down from 55 in 2015 to just 14 in 2020, a fall of nearly 75%, a reply to an RTI application filed by this newspaper said.
The RTI reply revealed that defence audit reports prepared and tabled in Parliament have also come down during the last few years. While eight audit reports were tabled in Parliament in 2017, it was zero last year. The story is repeated in railway audit reports. In 2017, five reports were prepared but it was only there in 2020. Former IAS officer Jawahar Sircar said the trend was bad as the CAG's primary duty was to audit the expenditure of public money. https://www.newindianexpress.com/thesundaystandard/2021/mar/07/caged-top-audit-bodys-reports-on-centres-money-management-down-by-75-per-cent-2273200.html (7 March 2021)
CLIMATE CHANGE
Climate change is slowing the hum of India's windmills Typically, the monsoon brings along with it wind speeds that range between 23 kms and 29 kms per hour, fuelling the turbines that harness the whimsical force of nature in order to generate electricity. Last monsoon, the average wind speed was 20-27kmph, the slowest on record. Around two-thirds of wind energy in India is generated during the four months ending September. At the end of the financial year in March 2021, CUF was 17% compared with 20% in the previous two years.
– Wind speeds were below normal across most areas, particularly in July and September, resulting in widespread deficits in CUF across much of India during the monsoon months, according to consultant UL. "Wind speed was one of the lowest last year in a 100 years," said Praveer Sinha, chief executive officer and managing director of Tata Power Ltd, quickly adding: "These are aberrations, and one has to look at weather patterns on a longer term. It can't be predicted based on short-term occurrences." https://www.energyinfrapost.com/how-climate-change-is-slowing-the-hum-of-indias-windmills/
Uttarakhand Climate change is already forcing farmers to migrate A new study on the state in the middle of the Himalayan range by the Germany-based Potsdam Institute for Climate Impact Research and The Energy and Resources Institute in New Delhi has forecast the worst impacts will be in higher elevations. This may accelerate the trend of people migrating and leaving land fallow.
-The majority of people in Uttarakhand live in rural areas and 71% depend on rainfed agriculture, practised through terrace farming on hill slopes. The TERI-PIK study found that districts at higher elevations, including Uttarkashi, Chamoli, Rudraprayag and Pithoragarh, are warming fastest.
-A vulnerability and risk assessment done for the state government's action plan on climate change identified three ways climate change may impact agriculture: increased water stress, increased risk of floods and changes in crop yields. Almora, Champawat, Pauri Garhwal and Tehri Garhwal are the districts likely to experience high water stress, it said.
-The study indicates that increased water stress could further reduce crop yields under both representative concentration pathway 4.5 and representative concentration pathway 8.5 scenarios, adding to existing outmigration pressures. There will be more frequent droughts, fewer rainy days but heavier rainfall on those days, and less rain or snow in winters. https://scroll.in/article/995283/climate-change-is-already-forcing-farmers-in-uttarakhand-to-migrate (23 May 2021)
Report Geotubes Lie In Tatters In January 2021, Rishika Pardikar visited Geo Tubes in Odisha and Andhra Pradesh – to check their effectiveness in mitigating coastal erosion owing to climate change. Given an increasingly turbulent Bay of Bengal, can Geotubes protect lives, livelihood & houses? If yes, for how long? How do storm protection functions of these engineered structures compare to those provided by mangroves? https://www.indiaspend.com/earthcheck/meant-to-ward-off-coastal-erosion-geotubes-in-andhra-odisha-lie-in-tatters-751165 (26 May 2021)
SANDRP reported about use of Geo-Tubes in Brahmaputra seven years ago: Incidentally, this was reported seven years ago: https://sandrp.in/2014/05/06/matmora-assam-geo-tube-embankment-on-brahmaputra/
8 Indian states highly vulnerable to climate change Eight Indian states — Jharkhand, Mizoram, Odisha, Chhattisgarh, Assam, Bihar, Arunachal Pradesh and West Bengal — are highly vulnerable to climate change, according to a national climate vulnerability assessment report. https://www.hindustantimes.com/india-news/8-indian-states-highly-vulnerable-to-climate-change-report-101618678564084.html (17 April 2021)
SOUTH ASIA
India-China Plan to build mega dams "This is the world's most riskiest project. It's technically the most difficult to build, ever, and it's the most expensive project ever undertaken on any river anywhere in the world. So in that context, I have always seen announcements like this with a bit of scepticism," said Himanshu Thakkar, a water expert from the South Asia Network on Dams, Rivers and People.
– The likelihood of landslides along the Yarlung Tsangpo would only increase, Himanshu Thakkar says, as a result of major land clearing that would be required to construct this mega-project. "So the disaster potential in the downstream area goes up many fold," he said. https://home.nzcity.co.nz/news/article.aspx (25 May 2021)
India-Pakistan Indus basin management demands political cooperation A new policy brief produced by the International Institute for Applied Systems Analysis (IIASA) argues for joint investments to meet the basin's sustainable development agenda by 2050. By this time the population will likely exceed 360 million. The paper identifies most current planning and investment as isolated and 'siloed'. Assessing a series of scenarios of future demand, the paper identifies stress areas. These include a doubling in freshwater 'prices' and food costs. It forecasts water withdrawals from the basin increasing by 18% by 2050 in a business-as-usual scenario. https://www.thethirdpole.net/en/regional-cooperation/indus-basin-management-demands-political-cooperation/ (24 May 2021)
India-Nepal Likhu-4 HEP witnesses serious damage The Likhu-4 Hydropower Project has witnessed some serious damage in its structure at a time when the project is all set to start a production test, raising questions on the quality of work in the engineering of the hydropower projects being constructed by some private companies. According to the project, it has almost completed the entire construction of the 52.4 MW hydroelectricity project. "A wall of the desanding basin fell off suddenly on Thursday (20 May) night," said an official of the project. The official blamed the poor quality work by the SSNR, an Indian contractor awarded the civil works of the project. The damaged portion is reported to take another one and a half months for maintenance. Initially, Bhilwara Energy Limited of India had initiated Likhu-4 in 2008. It was supposed to be an export-based project targeted to supply the generated electricity to India. The Indian promoter was provided a license to generate 120 MW of electricity. https://myrepublica.nagariknetwork.com/news/likhu-4-hydropower-project-witnesses-serious-damage-in-its-structure-just-before-starting-production/ (23 May 2021)
Probing the Indo-Nepal Dispute in the Kali River through international Law. Written by Prof. Dr. Yubaraj Sangroula and published by BiLD Law Journal, Bangladesh. http://bildbd.com/wp-content/uploads/2021/04/BiLD-Law-Journal-61-9-67.pdf
Bangladesh Flood damages in Bangladesh as embankments breach in heavy rainfall due to Yaas Very Severe Cyclone. https://www.thedailystar.net/frontpage/news/over-200-villages-under-water-levees-break-2098809 (26 May 2021)
CHINA
Coal Burning Impact on Yangtze River, Comparable to Natural Processes Significance: Coal combustion releases CO2 but also leaves behind solid waste, or fly ash, which contains considerable amounts of carbon. The organic carbon sourced from fly ash resists chemical breakdown, and we find that it now contributes nearly half of the fossil organic carbon exported by the Chang Jiang—the largest river in Asia. The fly ash flux in this basin is similar to the natural sediment flux to the oceans because dam building has reduced sediment transport, while increased coal consumption generates abundant fly ash. Our results show that fly ash is an important component of the present-day carbon load in rivers and illustrates that human-driven carbon cycling can match the pace of the geological carbon cycle at decadal timescales.
Abstract: Fly ash—the residuum of coal burning—contains a considerable amount of fossilized particulate organic carbon (FOCash) that remains after high-temperature combustion. Fly ash leaks into natural environments and participates in the contemporary carbon cycle, but its reactivity and flux remained poorly understood. We characterized FOCash in the Chang Jiang (Yangtze River) basin, China, and quantified the riverine FOCash fluxes. Using Raman spectral analysis, ramped pyrolysis oxidation, and chemical oxidation, we found that FOCash is highly recalcitrant and unreactive, whereas shale-derived FOC (FOCrock) was much more labile and easily oxidized. By combining mass balance calculations and other estimates of fly ash input to rivers, we estimated that the flux of FOCash carried by the Chang Jiang was 0.21 to 0.42 Mt C⋅y−1 in 2007 to 2008—an amount equivalent to 37 to 72% of the total riverine FOC export. We attributed such high flux to the combination of increasing coal combustion that enhances FOCash production and the massive construction of dams in the basin that reduces the flux of FOCrock eroded from upstream mountainous areas. Using global ash data, a first-order estimate suggests that FOCash makes up to 16% of the present-day global riverine FOC flux to the oceans. This reflects a substantial impact of anthropogenic activities on the fluxes and burial of fossil organic carbon that has been made less reactive than the rocks from which it was derived. https://www.caltech.edu/about/news/impact-of-coal-burning-on-yangtze-river-is-comparable-to-natural-processes (25 May 2021) Coal fly ash is a major carbon flux in the Chang Jiang https://www.pnas.org/content/118/21/e1921544118.short
THE REST OF THE WORLD
USA Giant river otter feared extinct reappeared The cause of the excitement was the sighting, last week, of a wild giant river otter – an animal feared extinct in the country due to habitat loss and hunting – on the Bermejo River in Impenetrable national park, in north-east Argentina's Chaco province. The last sighting of a giant otter in the wild in Argentina was in the 1980s. On the Bermejo, none have been seen for more than a century. https://www.theguardian.com/environment/2021/may/25/a-huge-surprise-as-giant-river-otter-feared-extinct-in-argentina-pops-up-aoe (25 May 2021)
GERD Ethiopia has doubtful capacity to complete GERD's 2nd filling as planned: Egyptian Expert "It is possible that Ethiopia will not be able to achieve the second storage in its full capacity (13.5 billion cbm)," he said, "The ramp may be less than 10 metres instead of 30 metres, and storing several billion cubic metres instead of 13.5 billion cbm, is the expected situation." According to Sharaky, the expected amount of water that will be stored is capable of operating the dam's two low turbines for some time, should they be ready to operate. This will then achieve the Ethiopian Govt's political objective for its people. https://dailynewsegypt.com/2021/05/23/ethiopia-has-doubtful-capacity-to-complete-gerds-2nd-filling-as-planned-egyptian-expert/ (23 May 2021)
Report Rivers Are Key to Restoring the World's Biodiversity "Most policymakers and decision-makers—and even some conservation organizations—don't fully understand how freshwater ecosystems and the hydrological cycle function, and how intimately tied they are to the health of the terrestrial ecosystems they want to protect. Rivers and freshwater ecosystems urgently need robust protections, including policies that permanently protect freshwater and the rights of communities that depend on them. In some places, this may go as far as granting rivers the rights of personhood. A growing global Rights of Nature and Rights of Rivers movement is beginning to tackle just this." https://www.theleaflet.in/rivers-are-key-to-restoring-the-worlds-biodiversity/ (24 May 2021)
How Ocean Cleanup Mapped World's Rivers Very useful research. Plz Watch, Share: https://www.youtube.com/watch?v=yVW-FZls4RA (01 May 2021)
Compiled by SANDRP (ht.sandrp@gmail.com)
Also see: DRP News Bulletin 24 May 2021 & DRP News Bulletin 17 May 2021
Follow us on: www.facebook.com/sandrp.in; https://twitter.com/Indian_Rivers