Aquifers in 16 States in the country are contaminated by uranium, whose presence in drinking water has been linked to chronic kidney disease by several studies, a recent study has shown. More importantly, uranium doesn't figure on the list of contaminants monitored under the Bureau of Indian Standards' drinking water specifications. The main source of this contamination is natural, but groundwater depletion by extensive withdrawal of water for irrigation and nitrite pollution due to the excessive use of nitrogenous fertilisers may be exacerbating the problem, said the study.
– The study was carried out by a team of researchers led by Avner Vengosh, professor of geochemistry and water quality at the Nicholas School of the Environment at Duke University in the US. The team, which also included experts from the Central Ground Water Board, the Rajasthan government's Ground Water Department and Gujarat Water Resources Development Corporation, analysed groundwater samples from 226 locations in Rajasthan and 98 in Gujarat.
– "Nearly a third of all water wells we tested in Rajasthan contained uranium levels that exceed the World Health Organization's safe drinking water standards," said Vengosh, in a statement. The WHO has set 30 parts per billion as the provisional safe drinking water standard for uranium. The study appeared in a recent issue of the journal Environmental Science and Technology Letters. The scientists, who analysed data from 68 previous studies of groundwater geochemistry in Rajasthan, Gujarat and 14 other states, also found the problem is widespread in many aquifers in 26 districts in northern States such as Punjab and Haryana as well as some districts in southern and eastern States. "When over-pumping of these aquifers' groundwater occurs and the water levels decline, it induces oxidation conditions that, in turn, enhance uranium enrichment in the shallow groundwater that remains," Rachel Coyte said. https://www.thehindubusinessline.com/economy/groundwater-in-16-states-found-to-be-contaminated-by-uranium/article24116833.ece (8 June 2018)
Maharashtra City's groundwater not suitable for drinking: Report The Environment Status Report (ESR) of the Aurangabad Municipal Corporation for 2017-18 has concluded that the groundwater in the city is polluted and would impact human health.The study also found higher values of chemical oxygen demand on account of organic pollution arising out of industrial and human activities, where the contaminants and waste discharged on earth surface gradually pass into groundwater.
This is informative:- According to the municipal legislations, the urban local bodies in Class I cities are required to publish an annual environmental status report which will indicate the status of environment management in the city and identify the areas where mitigation measures are required. The environment status reports are submitted to the ministry of urban development and follow the Mumbai Metropolitan Region Development Authority guidelines for preparation. https://timesofindia.indiatimes.com/city/aurangabad/citys-groundwater-not-suitable-for-drinking-says-environment-report/articleshow/64466609.cms (5 June 2018)
Experts link tree falling to drop in groundwater level The number of mature trees falling due to winds and heavy rains has only increased over the years. Experts cite depletion of groundwater table, increasing concretisation and plantation of exotic species as the main reasons for untimely fall of trees that cause damage to life and property.
In a unique initiative to curb falling of trees, Sahakarnagar-based Aadar Pratishthan, under the leadership of Rahul Mane, has excavated the concrete around 650 trees between Sahakarnagar and Tulshibaugwale Colony to ensure that water seeps in through the ground and the root system is maintained. Suggesting remedies, Punekar said that native species must be encouraged in future plantation drives while Patwardhan recommended leaving breathing space for trees to avert any tragedies in the future.  https://timesofindia.indiatimes.com/city/pune/experts-link-tree-falling-to-drop-in-groundwater-level/articleshow/64524840.cms (The Times of India, 10 June 2018)
Haryana Gurugram's groundwater quality worsening every year The quality of Gurugram's groundwater is deteriorating with each passing year, according to data for three financial years — 2015-16, 2016-17 and 2017-18 — submitted by the public health engineering department (PHED), in response to an RTI plea filed by  Aseem Takyar.Experts expressed concerns over rising levels of nitrate, lead and cadmium, and said major causes of rising nitrate content in groundwater is untreated sewage and landfill sites. The city doesn't have enough sewage treatment plants (STP) to treat the sewage it produces.
According to a report by CSE, the capacity of STPs to treat sewage is only 255 million litres per day (MLD), while sewage generated by the city is likelyt to be around 533 MLD by 2021. A 32-acre landfill site in Bandhwari, which is located on an aquifer as per a report released by CGWB in 2017, is also a major concern.https://timesofindia.indiatimes.com/city/gurgaon/gurgaons-groundwater-quality-worsening-every-year/articleshow/64471112.cms (6 June 2018)
Punjab Groundwater falling by 7 feet every year in Mohali According to a Central Ground Water Board report, groundwater level in Mohali is depleting by 5-7 feet every year. The report was tabled in a meeting chaired by deputy commissioner Gurpeet Kaur Sapra recently. The rate at which the groundwater is falling, according to the board, is alarming and steps should be taken to arrest it.
The report pointed out water wastage had increased over the years. As a result, the department was considering to fix meters at houses where water supply is free, so that the minimum water requirement of 155 litres litres person in a house can be monitored. If the consumption turns out to be more than the permissible limit, the consumer may have to face penalty. This will put pressure on the consumer. DC has also told of plan to install rooftop rain water harvesting systems in 100 government schools across the district. https://timesofindia.indiatimes.com/city/chandigarh/groundwater-falling-by-7-feet-every-year-in-mohali/articleshow/64470157.cms (6 June 2018)
Delhi Groundwater in parts of Delhi has arsenic, fluorides: Report A recent Lok Sabha secretariat report reveals that east and northeast districts of Delhi suffer from arsenic contamination of groundwater while other districts have recorded nitrate and fluoride pollution.The report also quantifies how much the city is overdrawing its groundwater. The overexploitation was to the extent of 27%. It's based on analysis of groundwater use between 2011 and 2013, the latest year for which data is available.Shashank Shekhar, assistant professor of geology at Delhi University said nitrate pollution in Delhi may be linked to sewage seepage, runoff from landfills into groundwater aquifers in different parts of the city. Shekhar said one of the reasons for high groundwater depletion is large scale concretisation.The arsenic contamination is not widespread, but it may point to unacceptable situation. Arsenic, Fluoride, Nitrate, all three pollutants have severe health impacts. While arsenic is carcinogenic, high nitrate levels are known to cause methemo-globinemia, or "blue baby" disease.
In its recent report Hydrogeological Framework and Groundwater Management Plan of NCT Delhi, the Central Ground Water Board had recommended zone wise groundwater extraction criteria.Out of the four zones it had made, CGWB recommended stopping extraction of groundwater in a 1km-zone on either side of the Najafgarh drain and from landfill and industrial sites because of the water there being highly polluted.https://timesofindia.indiatimes.com/city/delhi/groundwater-in-parts-of-delhi-has-arsenic-fluorides-report/articleshow/64514905.cms (9 June 2018)
Some other relevant news on India's ground water: 
World Bank nod for Rs. 6,000 cr. groundwater recharge plan The government has joined hands with the World Bank to execute a Rs. 6,000-crore scheme called the Atal Bhujal Yojana (ABHY).The scheme is to be implemented over a period of five years from 2018-19 to 2022-23, according to a statement from the Union water Ministry. It is yet to be cleared by the Cabinet.The priority areas identified under the scheme fall in Gujarat, Haryana, Karnataka, Madhya Pradesh, Maharashtra, Rajasthan and Uttar Pradesh, which represent about 25% of the total number of over-exploited, critical and semi-critical blocks in terms of ground water in India.
According to a sample assessment in 2011, groundwater in 19 of India's 71 districts — about 26% — were critical or exploited, meaning that nearly as much or more water was being pulled out than their reservoirs' natural recharge ability. In another assessment in 2013, they included groundwater blocks in districts that had gone saline, and this percentage was up to 31%. http://www.thehindu.com/todays-paper/tp-national/world-bank-nod-for-rs-6000-cr-groundwater-recharge-plan/article24099649.ece (7 June 2018)
India extracts more groundwater than China-US India accounts for one-fourth of the total groundwater extracted globally, more than that of China and U.S combined and cities and villages in the northern and central parts of India are among regions facing a water crisis, says an analysis by WaterAid. Because of climate change, India has experienced extreme weather events in the past few years – excessive rainfall, increased incidence of floods and drought. https://economictimes.indiatimes.com/news/politics-and-nation/india-extracts-more-groundwater-than-china-us-says-study/articleshow/64466336.cms (5 June 2018)
See the report in Hindi: चीनऔरअमेरिकासेअधिकभूजलइस्तेमालकरताहैभारत https://navbharattimes.indiatimes.com/india/india-extracts-more-groundwater-in-comparison-to-china-and-us/articleshow/64471088.cms (6 June 2018)
Also see, The world's highest, and most reckless, user of groundwater Experts now predict that Indian cities, too, are likely to face land subsidence if overexploitation of groundwater continues unchecked. https://timesofindia.indiatimes.com/india/the-worlds-highest-and-most-reckless-user-of-groundwater/articleshow/64515989.cms (9 June 2018)
HYDRO POWER
SANDRP Analysis India's hydro generation again below 10% in 2017-18 In 2016-17, for the first time in independent India's history, hydropower generation from large hydropower projects in India fell below 10% of total electricity generation. In 2017-18, for which the Central Electricity Authority figures have just became available, the trend has continued, with proportion of electricity produced by large hydropower projects going further down. This percentage is in terms of actual generation (measured as Million or Billion Units[i]) and not installed capacity (measured in Mega Watts). https://counterview.org/2018/06/08/indias-hydro-generation-again-below-10-in-2017-18-things-unlikely-to-change-in-coming-years/ (Counter View, 8 June 2018)
Himachal Pradesh Hydro projects, dams damaging environment irreversiblyOp-Ed by Manshi Asher & Prakash Bhandari: Ten years ago, Himachal Pradesh had half of the current installed capacity – 6,228 MW – and made Rs 1,300 crore in revenue. In 2017, the installed capacity was 10,519 MW and the revenue was Rs 1,000 crores.The 'Himachal' development model is often cited as one worth replicating in states like Uttarakhand, for example. However, as its situation worsens, the only two choices in front of the Himachali people will be mass agitation or mass exodus.https://thewire.in/environment/there-are-ecological-limits-to-growth-just-look-at-himachal-pradesh (The Wire, 5 June 2018)
Power generation declining, state plans river modellingIt is perhaps for the first time that power generation which is maximum in summers due to accelerated glacial and snow melting, was reduced to even less than half in May. The reason behind this was less snow and rain in the winter months. "The generation in the month of May in big projects like Nathpa Jhakri, Karcham Wangtoo and Larji was reduced to half while in case of projects on smaller tributaries like Giri project was reduced even more," said Himachal Pradesh additional Chief Secretary Tarun Kapoor. http://www.tribuneindia.com/news/himachal/power-generation-declining-state-plans-river-modelling/602320.html (The Tribune, 9 June 2018)
Jammu & Kashmir Govt to host first-ever 'global investor meet' on hydro-power in July The Mehbooba Mufti-led government is all set to host in July-end its first ever "global investors meet", aimed at harnessing hydro power potential of 20,000 MW in the state. Some of the world's top most hydro-power generation companies are expected to take part in the global investor meet in Srinagar.
– "This comprises 11,283 MW in Chenab basin, 3,084 MW in Jhelum basin, 500 MW in Ravi Basin and 1,608 MW in Indus basin. 3,263.46 MW, about 20 per cent of the identified potential of 16,475 MW and about 16 per cent of the estimated potential of 20,000 MW has been exploited until now which comprises 1,211.96 MW in the state sector, 2,009 MW in central sector and 42.5 MW in private sector," the report said.
– the AT-C losses, which were estimated at 61.30 per cent in 2014-15 were reduced to 58.82 per cent in 2015-16. This has been posing a major challenge to the fiscal health of the state.https://energy.economictimes.indiatimes.com/news/power/jk-to-host-first-ever-global-investor-meet-on-hydro-power-in-july/64457159 (ET Energy World, 5 June 2018)
DAMS
Koyna Dam 'Rejuvenation of Krishna should start with Koyna' INTERESTING: The rejuvenation of Krishna river, an initiative by the India Water Council (IWC), should start with routing of the Koyna water back to the basin, said V Prakash, Chairman, Telangana Water Resources Development Corporation. The IWC members, at the national meet on Krishna rejuvenation held in Hyderabad recently, voiced concern over use of over 100 TMC of water of Koyna only for power generation at the hydel unit before it was let off to the Arabian Sea. If Maharashtra gives Koyna water to lower basin States, they can give power in return, he added.https://telanganatoday.com/rejuvenation-of-krishna-should-start-with-koyna (Telangana Today, 8 June 2018)
SANDRP Blog CWC's Weekly Reservoir Bulletin: Closer look warns of impending disasterOne of the key source of information about India's water availability that the government provides and media and everyone else quotes is Central Water Commission's weekly (updated every Thursday) "Reservoir Storage Bulletin". The Reservoir Storage Bulletin (RSB) currently tells about water storage position of 91 storage dams across India with total live storage capacity of 161.993 BCM (Billion Cubic Meters), spread over 18 states and 12 river basins.Media regularly uses these bulletins, but mostly uncritically, without raising questions. This article provides some questions that can be raised about the CWC's weekly Reservoir Storage Bulletins. https://sandrp.in/2018/06/09/cwcs-weekly-reservoir-bulletin-closer-look-warns-of-impending-disaster/ (SANDRP, 9 June 208) The blog has been republished by Green Watch. (Green Watch, 10 June 2018)
Telangana CWC approves Kaleshwaram project costing Rs 80190 crThe Centre has accepted two major irrigation/multi-purpose projects and four flood management schemes, with a cumulative cost of Rs 84,748 crore, from six states/UT after assessing their techno-economic viability.The projects include the Kaleshwaram Project with an estimated cost of over Rs 80,190 crore."The techno-economic viability of these projects were assessed by an advisory committee of the Union ministry of water resources. The ministry will now move to the Cabinet for approval of these projects," said an official. https://timesofindia.indiatimes.com/india/irrigation-projects-worth-rs-85000-crore-okayed/articleshow/64501475.cms (The Times of India, 8 June 2018)
At a meeting of CWC on June 7 the technical advisory committee granted the techno-economic clearance.The biggest lift irrigation project in the country envisages to store 148 TMC of water and utilize 180 TMC of flood water by lifting two TMC every day during the 90 flood days. The project will irrigate 18.47 lakh acres of land in the north Telangana districts of Karimnagar, Nizamabad, Warangal, Medak, Nalgonda and Ranga Reddy district. The project will have the longest tunnel in Asia of 81 kms between Yellampally and Mallannasagar dams.http://www.dailypioneer.com/nation/centre-approves-kaleshwaram-lift-irrigation-project.html (The Daily Pioneer, 7 June 2018) 
Sardar Sarovar Dam 'Dredging can save Narmada, our livelihoods'Another dimension of problem in Sardar Sarovar Downstream:
– At the 'triveni sangam', the Orsang River and 'gupt' (hidden) Saraswati meet the Narmada. The Orsang reaches its heights in the monsoon with fresh water, but it also brings thousands of tonnes of sand that gets deposited in the Narmada riverbed.
-"When the Sardar Sarovar dam's height was low and it did not have gates, water flowed with a lot of force when it overflowed. This force carried away the sand deposited in the river. Now, as the gates have come up, enough water is not released and this causes the sand to remain in the riverbed at the 'triveni sangam' and Chandod," said a boatman Jay Machhi.
-The boatmen feel that if the river is not dredged, the sand will keep accumulating and the river will be reduced to a small stream in the summer. Only last year the Navik Shramjivi Mandal spent Rs 7 lakh to get the riverbed dredged, to protect their livelihoods.https://timesofindia.indiatimes.com/city/vadodara/dredging-can-save-narmada-our-livelihoods/articleshow/64470643.cms (The Times of India, 6 June 2018)
Narmada water: Gain for industries, loss for farmers Use of Narmada water by industry was feared even in the mid-1980s and is actually a reality now, said sociologist Ghanshyam Shah while delivering a lecture on transformational social movements at Indian Institute of Management, Ahmedabad (IIM —A).He also said rising public protests in Indian society is a failure of political leadership in a democracy like India. He termed Narmada dam project as the first one, where the outstees were able to make a bargain from the government while all the previous dam projects made them suffer. [This is clearly highly partial picture. The speaker firstly did not seem to give credit for this to Narmada Movement. More importantly, he does not seem to have said or seem to know that lakhs of affected people did not get what first few thousands got. Replying to a question, Shah said that the fact that people's issues are being raised by non-political leaders, while their representatives in state legislatures and the Parliament turned a blind eye to the plights of the people. He considered the quality of leadership as paramount to the success of transformational social movements.
This is what NBA said over 25 years ago: "Today, amidst water crisis there is no shortage of water for industry even as people and farmers, in particular, are facing shortage".http://www.dnaindia.com/ahmedabad/report-narmada-water-gain-for-industries-loss-for-farmers-2623476 (DNA, 9 June 2018)
The ambitious Sardar Sarovar Dam project in Gujarat has gone wrong at several levels. Despite being seen as the solution to the state's water crisis, the movement that started in the early 1980s has not reduced the water crisis, said Shah at IIMA on June 8, 2018. https://ahmedabadmirror.indiatimes.com/ahmedabad/others/narmada-dam-project-has-done-little-for-guj/articleshow/64513940.cms (Ahmadabad Mirror, 9 June 2018) 
Tamil Nadu & Kerala Mullaperiyar dam gets disaster mgmt panel Following a directive from the Supreme Court in January, the Modi government has set up a ten-member panel led by Union water resources secretary U P Singh to exclusively monitor the measures for ensuring high-level of preparedness to face any disaster in relation to Mullaperiyar dam, located in Idukki district of Kerala. The committee, notified by the home ministry recently, held its first meeting in New Delhi on June 4, 2018. "The meet discussed the preparation of an emergency action plan such as specifying role of agencies in providing specific inputs and inundation maps. The emergency plan is meant for situation like high floods in the dam," said a senior ministry official.
The disaster management committee has representatives from the National Disaster Management Authority, ministries of environment and forest, power, agriculture and farmers' welfare, department of telecommunication, besides representatives from Tamil Nadu and Kerala governments. It has no independent, non government members. Joint secretary of ministry of water resources is the convener of the committee, which will function under the National Executive Committee for disaster management. Tamil Nadu PWD secretary S K Prabhakar represented the state government in meeting on June 4, 2018. The latest order of the apex court wants the governments of Kerala and Tamil Nadu set up separate sub-committees to monitor high-level of preparedness to face any disaster occurring at the dam. TN is yet to set up one.https://timesofindia.indiatimes.com/city/chennai/mullaperiyar-dam-gets-disaster-mgmt-panel/articleshow/64458745.cms (The Times of India, 5 June 2018)
Pancheshwar Dam Emmanuel Theophilus talks about upcoming Pancheswar Dam, Goriganga basin and river interlinking. https://www.youtube.com/watch?v=QvgxpKRopUU(8 June 2018)
Op-Ed India can't  demolish dam at will M. Gopalkrishnan This is not a very honest piece. It says: "Many practices in water management in India are centuries old. This demonstrates the rich experience of a monsoon-fed country. Because of the erratic pattern of rainfall and natural availability of water, temporal as well as spatial, numerous traditional solutions have emerged over centuries." But we all know how little respect the water resources establishment that the author is part, has for the traditional technology and management systems.
– Again, "When farmers commit suicide owing to crop loss or unremunerative prices, dismantling dams to restore lakes and rivers to their pristine status, comprising natural terrestrial and high-value aquatic ecosystems, is a luxury. It entails a heavy cost." is misleading. Maximum Farmers are committing suicides in the land of highest number of big dams, where irrigated area % is the lowest. This seems to argue that aquatic systems have no value, another blatant falsehood. http://www.asianage.com/discourse/110618/europe-can-demolish-at-will.html (Asian Age, 11 June 2018)
INTERLINKING OF RIVERS
Cabinet gets report on interlinking of rivers The Union Cabinet on June 6, 2018 was apprised of the status and progress report of Special Committee for Inter-Linking of Rivers between July 1, 2016 and March 31, 2018. This was done in compliance of a 2012 Supreme Court judgement directing constitution of a Special Committee and need for a periodical report on the progress.https://www.business-standard.com/article/news-ians/cabinet-gets-report-on-interlinking-of-rivers-118060601393_1.html (Business Standard, 6 June 2018)
INTER STATE WATER DISPUTES
YAMUNA Delhi DJB withdraws plea in NGT alleging high ammonia level in YamunaThe Delhi Jal Board (DJB) has withdrawn its plea in the NGT that sought directions to the Haryana government to check the "dangerous level of ammonia" in the Yamuna, saying the issues raised in it have been amicably settled. NGT also directed all the stakeholders to file a brief statement of compliance of the directions on Yamuna cleaning by July 25, the next date of hearing.Asking the DJB what it has done to clean the river water, the bench had made it clear to the body that it was only concerned with the pollution in the river and would not go into the issue of water sharing dispute between the two states.https://timesofindia.indiatimes.com/city/delhi/djb-withdraws-plea-in-ngt-alleging-high-ammonia-level-in-yamuna/articleshow/64451631.cms (The Times of India, 4 June 2018)
RIVERS
"The study of rivers require far more attention than has generally been given by historians or social scientists" Great to see this much attention on rivers: Rivers, for example, are seen as valuable in connecting communities, for hydropower, and for fish. What environmental studies has done is to reveal the importance of rivers and other forms of water to the earth and to humans. By studying the complexity of these natural elements, the environmentalists have encouraged those in the humanities and social sciences to look more closely at water. They have shown, for example, how a drop in the level of a river could have a severe impact on organisms and biota that depend on the river's equilibrium. The reason is that the "river" is more than just the surface flow of water but incorporates the subterranean layers of water, as well as all the organisms that are part of the river system." https://pangsau.com/2018/06/05/talking-water/ (PANGSAU, 5 June 2018)
India Rivers Week 2018 Call for nominations – BPS & Shri Anupam Mishra Memorial Medal Organizers of India Rivers Week 2018 inviting applications for Bhagirath Prayas Samman & Shri Anupam Mishra Memorial Medal, for India Rivers Week 2018. Please share & help us identify unsung river heroes. https://indiariversforum.org/2018/06/05/call-for-nominations/ (India Rivers Forum, 9 June 2018)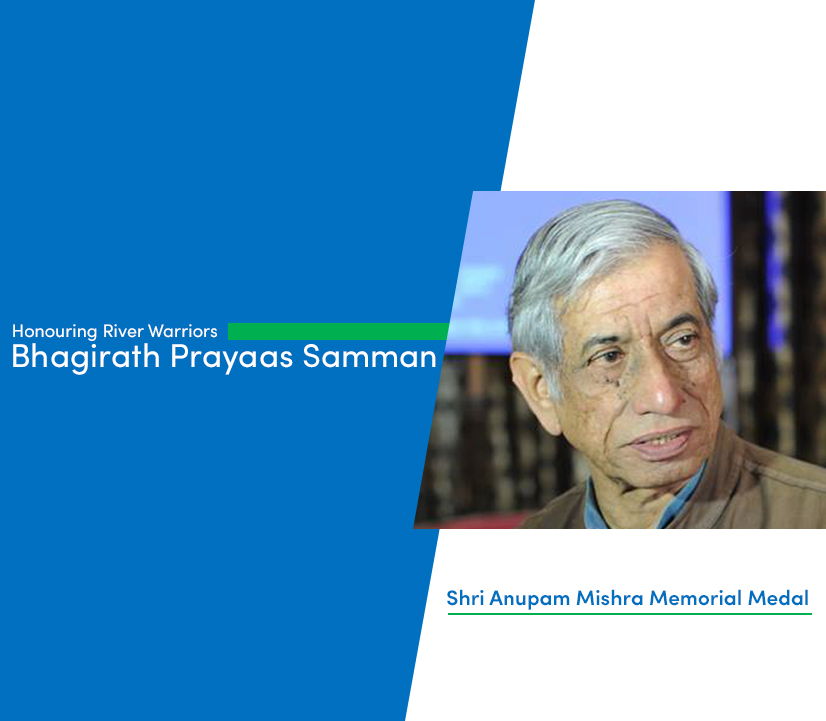 Op-Ed Before beating plastic, India must save its rivers To begin with, some bad news. The stream of water in the Yamuna has become so feeble in Haryana and areas adjoining Uttar Pradesh (UP), that people are unable to even immerse the remains of their loved ones. As a result, instead of cremating them, nearby villagers have begun burying the remains. They are now waiting for the rains. After it rains, the Yamuna's stream will once again get stronger and the souls of their ancestors can rest in peace.
– This isn't happening for the first time. The trend has only strengthened over the past three decades. The conditions have worsened so much so that the devout, who gather for the Ganga Dussehra in the border areas of Uttar Pradesh and Haryana, don't have enough water to carry out the aachman (a customary sip of holy water before the religious prayers).
– The Ganga is also drifting into a similar situation. In Varanasi, right in between the main flow of the river, some islands of sand have emerged. These are so big and solid that some daredevil youth have been carrying out stunts on their bikes on these. In its latest study, the Central Pollution Control Board discovered that the number of polluted rivers in India has risen from 121 to 275 over the past five years.https://www.livemint.com/Home-Page/Wj2xYCr4BYao5q6jLt5heJ/Before-beating-plastic-India-must-save-its-rivers.html (Live Mint, 3 June 2018)
Alarming Video Report: Glimpses of dried up Ganga, Yamuna and Narmada:https://www.youtube.com/watch?v=9dFetFgRLO4  (ABP News, 5 June 2018)
'नमामिगंगेपरभारीपड़रहाहैनदियोंमेंसीधेडंपहोतामलबा अवैधकचरेकेनिपटानकीवजहसेपहाड़ियोंमेंकईप्राकृतिकजलस्रोतसूखगएहैं।मंदाकिनीहोयाअलकनंदा, गंगाकीधारपरगंदगीबहानेकाकामबेरोक-टोकजारीहै।जिसगंगाकोनिर्मलबनानेकेलिएकर्णप्रियबातेंकहीजातीहै.. उसेडंपिंगजोनकीतरहइस्तेमालहोनेसेसरकाररोकपानेमेंनाकामदिखरहीहै।हदतोतबहोरहीहैजबकेन्द्रसरकारकीओरसेऑलवेदररोडपरियोजनाकेनिर्माणकार्यकेदौराननदियोंऔरपहाड़ोंमेंसीधेमलबागिराएजानेकीबातसामनेआरहीहै।इसप्रोजेक्टकोलेकरआशंकाएंऔरविवादभीउभरआएहैं।इसपरपर्यावरणविदोंसेलेकरनेशनलग्रीनट्रिब्यूनलतककईसवालउठारहेहैं। https://www.outlookhindi.com/country/issues/video-chardham-road-muck-dumping-straight-into-ganga-river-27826 (Out Look, 4 June 2018)
Madhya Pradesh मैली होती पन्नाकी ​किलकिला नदी पन्नाजिलेकेबहेराकेसमीपछापरटेकपहाड़ीसेनिकलनेवालीयहकिलकिलानदीपन्नाटाइगररिजर्वसेहोतीहुईसलैयाभापतपुरकेमध्यकेननदीमेंविलीनहोजातीहै।जिलेमें४५किमीबहनेवालीयहनदीकेननदीपहले (5 किमीपूर्व ) यहअपनानामभीबदललेतीहै।वहांलोगइसेमाहौरनदीनामसेजानतेहैं।सदियोंसेबहरहीइसनदीकोलेकरतरहतरहकीकिवदंतियाँभीयहांखूबप्रचलितहैं। https://bundelkhand.in/maili-hoti-panna-ki-kilkila-nadi
Uttar Pradesh Construction Of Rs. 1928 Cr, 6 Lane Bridge Over Ganga approved The Cabinet Committee on Economic Affairs on June 6 approved construction of a six lane, 9.9 km-long bridge across river Ganga on National Highway 96 at Phaphamau in Allahabad at a cost of Rs. 1,948.25 crore.An official release said the construction period for the project would be three years and it was likely to be completed by December 2021. The current traffic on the old bridge is about 40,000 passenger cars, which is a lot more than its designed capacity of 15,000 cars.It said an additional 20 bridges were planned, out of which 5 have been opened to traffic and 7 were under construction on this stretch, bringing the total number of bridges to 33.https://www.ndtv.com/india-news/cabinet-committee-approves-construction-of-rs-1928-crore-six-lane-bridge-over-ganga-in-allahabad-1863424 (NDTV, 6 June 2018)
RIVER BIODIVERSITY
GANGA Study Indian scientist establishes Ganga dolphin is older than blue whalesSenior Scientist at Centre for Cellular and Molecular Biology, Hyderabad Dr SK Verma has proved that Ganga dolphins are living fossils from the Jurassic era and even older than blue whales. Having the acclaim of discovering universal primal technology also known as DNA barcoding along with another renowned scientist Dr Lalji Singh, Verma has been working on the dolphins of Ganga over a long period of time.
In course of his hour-long presentation, Verma said that way back in 2007 he and Dr Singh together had claimed that Ganga dolphins are living fossils and should be preserved. "A recent publication in the 'Science' journal has claimed that ancestors of blue whales had teeth and the fossil of such a whale has been found by the scientists in an island of New Zealand," he said. Verma argued that dolphins and whale belong to the same order Cetacea but while dolphins are toothed whales don't have teeth. "We can say that ancestors of blue whale and dolphin of today were contemporary," he said.https://timesofindia.indiatimes.com/india/indian-scientist-establishes-ganga-dolphin-is-older-than-blue-whales/articleshow/64440451.cms (The Times of India, 3 June 2018)
Tamil Nadu Faunal diversity up in Adyar creek after eco-restoration Following eco-restoration, the faunal diversity in the Adyar creek has increased considerably, from 273 in 2016-2017 to 331 in 2017-2018. The species of insects — including butterflies and dragonflies — has increased from 98 to 155 in the creek, according to a policy note tabled in the Assembly by Municipal Administration and Water Supplies Minister S.P. Velumani. eight species of molluscs, 13 crabs, 155 insects, 10 fishes, 10 amphibians, 19 reptiles, 105 birds and 16 animals have been recorded in the Adyar eco park.http://www.thehindu.com/news/national/tamil-nadu/faunal-diversity-up-in-adyar-creek-after-eco-restoration/article24084709.ece (The Hindu, 5 June 2018)
URBAN RIVERS
Gomati Dipping Gomti level pushes Lucknow towards a water crisisThe Gomti shrinks during May and June when summer is at its peak.Every year, the crisis was resolved by drawing about 100 cusecs of water every day from Sharda Canal through irrigation department.But this year, despite Jal Sansthan sending repeated reminders, irrigation department has not opened Sharda supply to Gomti.
Jal Sansthan's general manager S K Verma said, "Gomti's level has never gone down so much in the recent past. We need 346.7 feet water in Gomti to sustain healthy supply to Gaughat, but the level has reached 346.3 feet. Because of less water, pollution in the river has also increased which is impacting Gaughat's supply. The pollution is so high that despite our best treatment, the supply is pale yellow in colour."
Expressing its inability to do anything, Jal Sansthan claimed that if irrigation department doesn't release water from Sharda canal, they have no option but to wait for monsoon rains to rejuvenate the shrinking river.https://timesofindia.indiatimes.com/city/lucknow/dipping-gomti-level-pushes-lucknow-towards-a-water-crisis/articleshow/64525641.cms (The Times of India, 10 June 2018)
For Kumbh, flags of 192 nations to line up by Yamuna Ambassadors and representatives from 192 countries would visit Allahabad to see how the district administration and the state government are preparing for the forthcoming Kumbh 2019, which is likely to attract crores of devotees to the banks of Sangam.https://timesofindia.indiatimes.com/city/lucknow/for-kumbh-flags-of-192-nations-to-line-up-by-yamuna/articleshow/64433496.cms (The Times of India, 3 Jue 2018)
Yamuna dredging and beautification drive upstream Palla:"केंद्रीयराज्यमंत्रीडा. सत्यपाल ¨सहनेसिसानागांवमेंकहाकियमुनासूखनेकोगंभीरतासेलेरहेहैं।उनकीकेंद्रीयजलसंसाधनमंत्रीनितिनगड़करीसेयमुनाकीखुदाईकराकरगहरीकरानेऔरपानीउपलब्धकरानेकीबातहोचुकीहै।यमुनागहरीकरानेकेसाथसुंदरीकरणभीहोगा।https://www.jagran.com/uttar-pradesh/bagpat-yamuna-river-water-satyapal-singh-18065150.html (Dainik Jagran, 10 June 2018) 
यमुनाकीरेतमेंअस्थिविसर्जनकोमजबूरहुएलोगहरियाणासेदिल्लीकीतरफबहनेवालीयमुनानदीपरतकरीबन 500 गांवनिर्भरहैं. अबनदीकेसूखजानेसेगांवोंकीलम्बेसमयसेचलीआरहींपरम्पराएंलुप्तहोरहीहैं. पानीनामिलनेसेफसलोंकोनुकसानहुआहै, औरपशु-पक्षियोंकीजिंदगीदूभरहोगईहै. यमुनासेसटेकईइलाकोंमेंपानीएकदमसूखचुकाहैऔरइसकीवजहसेवहांलोगअपनेपरिजनोंकीअस्थियोंकोरेतमेंदबारहेहैं. जबकभीयमुनामेंपानीआएतोउनकेअपनोंकीआत्माकोशान्तिमिलसके. हरियाणाकेकरनाल, सोनीपतऔरपानीपतमेंयमुनाकिनारेबसेगांवोंमेंएकनईपरम्पराजन्मलेरहीहै. https://hindi.news18.com/news/haryana/panipat-people-forced-to-submerging-the-remains-after-a-funeral-in-sand-due-to-drying-yamuna-river-1410094.html (News 18, 11 June 2018)
FISH, FISHERIES, FISHERMEN
West Bengal Over-exploitation is threatening to take the prized hilsa away from West Bengal's waters "At present, the number of boats operating in the northern Bay of Bengal has gone beyond the sustainable limit resulting in over-exploitation of the hilsa population," said Isha Das of Jadavpur University, lead researcher of the study. "We need to draw a line. Hilsa fishery is being significantly over-exploited in the West Bengal waters. Strict regulations are needed to curb overfishing." Overfishing happens when more fish are caught than the population can replace through reproduction.
– Using available data, sample collection and computer modelling, the team estimated 25,440 tonnes as the sustainable yield limit for hilsa fishery annually in northern Bay of Bengal region of West Bengal, while the maximum number of boats that may be deployed to achieve this catch is 3,987. Currently, the study states, fishing pressure from the number of boats legally deployed is almost three times as much.
– Tajen Das also rued the disappearing breeding grounds for the hilsa. "There is no breeding ground for the fish in India," he said. "Earlier it used to breed in Uttar Pradesh also. Tajen Das batted for better management of hilsa fishery on the lines of Bangladesh's policies, thanks to which the country has seen an increase in hilsa production at a rate of eight to ten percent every year. This is in contrast to the wane in production in India and other countries. https://scroll.in/article/878181/over-exploitation-is-threatening-to-take-the-prized-hilsa-away-from-west-bengals-waters (Scroll.in, 6 June 2018)
Haryana Govt imposes ban on catching fishes in notified waters Haryana govt has imposed ban on catching fishes in notified waters under the Punjab Fisheries Act 1914 and the Haryana Fisheries Rules 1996 framed there under, from July 1 to August 31, 2018. If anyone catches fishes in notified waters during this period, action would be initiated against him as per the sections mentioned in the Rules, a Fisheries department spokesman said here on June 6, 2018. The spokesman said people have been urged to cooperate with the Department in increasing the number of fishes in natural waters in the state and not to catch fishes in notified waters during fish breeding period, that is, July and August.http://www.uniindia.com/~/haryana-imposes-ban-on-catching-fishes-in-notified-waters/States/news/1253446.html (UNI India, 6 June 2018)
SAND MINING
Rajasthan BJP MLA supports river sand mining in Chambal gharial sanctuary Bhawani Singh Rajawat, the MLA from Ladpura in Bhilwara district has come out in support of villagers who illegally mine sand from River Chambal saying it doesn't matter if "fish-eating crocodiles die" but no human should be allowed to die by putting a ban on mining.This is not the first time that Rajawat has espoused killing crocodiles and gharials. Terming the reptiles a menace, the MLA had in 2016 recommended shooting the ones that stray into human habitats.
As per officials, River Chambal is the only remaining water reservoir for dolphins, crocodiles and ghariyals — all endangered species — in central India. These are Schedule I animals and their killing entails up to 7 years in jail and a fine of Rs 5 lakh under the Wildlife Protection Act, 1972.
The Supreme Court had imposed a ban on river sand mining in November last year. In a report tabled in Rajasthan assembly on March 31, the Comptroller and Auditor General had said about 98.87 lakh tonnes of minerals worth Rs 204.5 crore were illegally excavated in five districts of Rajasthan between 2011-12 and 2016-17. The mining not only violated rules and regulations but also flouted the Supreme Court's direction to stop degradation of environment in the State's Aravalli hills." https://www.hindustantimes.com/jaipur/bjp-mla-supports-river-sand-mining-in-chambal-gharial-sanctuary/story-sITGyeZRkovAdK5IJIhxmO.html (Hindustan Times, 8 June 2018)
Tamil Nadu Villagers oppose sand mining in Tiruvallur People of Lakshmivilasapuram and nearby villages in Tiruvalangadu union in Tiruvallur district are up in arms against sand mining in Kosasthalayar river. The villagers, most of them dependent on agriculture for their livelihood, have been on a hunger strike for the past three days demanding stopping of sand mining in the river.
The villagers want the government to cancel the licence given to mine sand in the area. "Nearly 300 women with children went to the MLA's office and brought Rajendran to the mining spot on June 9. Subsequently, heavy machinery used for mining was removed from the river bed," said T Charumathi of Pennankulam.https://timesofindia.indiatimes.com/city/chennai/villagers-oppose-sand-mining-in-tiruvallur/articleshow/64526467.cms (The Times of India, 10 June 2018)
Maharashtra Illegal sand mining activity at Hingangaon busted The revenue officials and the Pune rural police impounded three trucks, a heavy earth moving machine and two tractors which were being used for illegally digging out sand and silt from the Mula-Mutha riverbed at Hingangaon near the famous temple town of Theur off the Pune-Solapur road.The First Information Report (FIR) states that the revenue authorities never issued any tender for the sand digging at Hingangaon village, which is located about 40km from Pune. Police said that the suspects behind the sand racket might have taken tender at some other place for sand digging and in order to extract more sand, they may have shifted their machinery to the Hingangaon to save royalty money.https://timesofindia.indiatimes.com/city/pune/pune-rural-cops-revenue-authorities-bust-illegal-sand-mining-activity-at-hingangaon/articleshow/64451509.cms (The Times of India, 4 June 2018)
उत्तरप्रदेश अवैधखननरोकनेगईपुलिसटीमपरजानलेवाहमला
उत्तरप्रदेशमेंखननमाफियाकेइरादेइतनेबुलंदहैंकिउन्हेंरोकनेवालेअधिकारियोंपरजानलेवाहमलेहोरहेहैं।ताजामामलाउत्तरप्रदेशकेरामपुरकाहै।यहांकोसीनदीपरअवैधखननरोकनेगईपूरीपुलिसटीमपरकारचढ़ानेकाप्रयासकिया।समयरहतेपुलिसवालोंनेकूदकरअपनीजानबचाई।https://navbharattimes.indiatimes.com/state/uttar-pradesh/others/sand-mafia-tried-to-kill-police-team-in-uttar-pradesh/articleshow/64502356.cms (The Nav Bharat Times, 8 June 2018)
WETLANDS
Haryana Plastic bomb at Gurugram wetland The dumping of thousands of used bottles has created a giant mound of plastic waste on the fringes of the Basai wetland in Gurugram, not far from the controversial plant to treat construction and demolition waste that has drawn strong protests from environmental activists.This plastic waste mound, say local residents, is a recent development. Next to it is a privately run plastic compressing and recycling unit that has also come up at the site recently.
Barely 200 metres from this spot is the Basai wetland where a birder spotted a black-necked stork with the ring that holds the cap of a plastic bottle around its beak. The stork, as a result, is unable to part its beak. As word spread and the forest and wildlife department on June 8, 2018 began a search for the bird, environmental activists and birders sought an immediate ban on dumping of all kinds of waste near Basai.
Mixed waste is being dumped at the site both by official agencies and private players, activists and local residents said. Over 300 species of birds – including the black-necked stork, painted stork, ruddy shelduck, common pochard, bar-headed goose, greylag goose, northern pintail, plovers, isabelline shrike, tickell's blue flycatcher, green-winged teal, yellow-legged quail and grasshopper warbler — are spotted at the Basai wetland every year.
An NGT stay on the construction of the C&D plant was vacated in January 2018. The court, however, directed MCG to ensure construction work starts only after requisite permissions are obtained from all departments in line with the Construction and Demolition Waste Management Rules, 2016. The plant is expected to treat over 500 tonnes of C&D waste a day.https://timesofindia.indiatimes.com/city/gurgaon/plastic-bomb-at-gurgaon-wetland/articleshow/64514402.cms (The Times of India, 9 June 2018)
Gujarat Thousands of lakes now flow only in govt files In 2005, the state government had notified 44,138 lakes, almost two and half times the number of lakes that are claimed to be desilted under the Sujalam Sufalam Jal Sanchay Abhiyan. Almost 1,939 are within urban areas. A whopping 625 are within the urban limits of Vadodara, the highest in the state, followed by 330 in Surat while Ahmedabad has 61 and Rajkot 9 notified lakes. But sadly, most of these face the danger of disappearing with agencies hardly moved to save them over the past 13 years. Ahmedabad's Lakhudi talav became a classic example how a urban local body turned a lake area into a reserved garden and then built EWS housing for slums on it.
In Vadodara's Bapod area alone, 38 lakes are completely silted, 26 have turned into dry pits, 11 lakes disappeared to build roads, three lakes have been reserved for police housing, district panchayat housing and Sardar industrial estate. Recently, despite the 2005 notification, the high court had to issue a stay to the state government's decision to de-notify a lake in Tandalja area paving way for a private developer to construct houses for people of economically weaker section.
"Today Narmada and Tapi, two biggest sources of water are regulated by MP and Maharashtra. Had we managed our lakes and ponds we would have revived the Saurashtra, Kutch streams as these ground aquifers feed the base flow of these rivers. But here we refuse to acknowledge our traditional water sources," says environmental activist Mahesh Pandya
According to a central ground water board study, a few Gujarat districts have seen more groundwater withdrawal than recharge. In these terms, Gandhinagar has the most exploitation with 145%, where Mansa reports exploitation of 189%. Banaskantha has rate of 122% followed by Mehsana (121.5%) and Patan (106%). Ahmedabad district is semi-critical with rate of 76.89%. Ironically, most of these groundwater-deficient districts had the highest number of lakes, many of which are bone dry today. https://timesofindia.indiatimes.com/city/ahmedabad/thousands-of-lakes-now-flow-only-in-govt-files/articleshow/64533959.cms (The Times of India, 11 June 2018)
WATER POLLUTION
Rajasthan Chambal became more polluted despite spending 200 cr SHOCKING details of how corruption by Pollution Control Board and STPs contractor for last 8 years led to more pollution in Chambal river despite spending Rs. 200 crores. https://www.patrika.com/kota-news/kota-uit-and-nagar-nigam-killed-chambal-river-murder-case-registered-2911347/ (Patrika News, 6 June 2018)
WATER OPTIONS
Andhra Pradesh 'Toilet to tap' to meet capital's water needs The AP Capital Region Development Authority (CRDA) is adopting the toilet to tap concept in new capital Amaravati. While in other countries the recycled water is supplied directly for human consumption, the CRDA is planning to supply it for irrigation and other domestic purposes.CRDA officials said that Amaravati would be the first city in India to use the mechanism.
The CRDA is already in the process of establishing necessary infrastructure for recycling the wastewater. Thirteen sewage treatment plants will be installed. The CRDA has already invited tenders for the same as the recycle and reuse infrastructure is a part of the tier-II infrastructure being developed in Amaravati. "A total of 1,150 km pipeline network is being laid for the purpose. The locations of STPs have also been identified closer to canals so that it would be easier to discharge the treated water into them," an official explained. http://www.newindianexpress.com/cities/vijayawada/2018/jun/10/toilet-to-tap-to-meet-capitals-water-needs-in-andhra-pradesh-1826114.html (10 June 2018) 
Andhra Pradesh Rain recharges groundwater In June last year, the average groundwater level registered in the State was 14.14 metres below ground level where as it is 12.60 metres now — an improvement of 1.54 metres. In Rayalaseema region, it was 20.43 metres below ground level in June last year and it stood at 15.24 metres this year — a marked improvement by 5.19 metres. However, in case of coastal Andhra Pradesh, the average groundwater level stood at 11.43 metres below ground level now, which is 0.09 metres deeper than water table in June last year when it was 11.34 metres below ground level.Water Resources Minister Devineni Umamaheswara Rao attributed it to the various measures taken up under the Neeru-Chettu and Neeru-Pragathi schemes. http://www.newindianexpress.com/cities/vijayawada/2018/jun/11/rain-recharges-groundwater-levels-in-andhra-pradesh-1826451.html (11 June 2018)
URBAN WATER SECTOR
SANDRP Blog Shimla water crisis: How smart are we getting? Given the lack of policies, any crisis like the one facing Shimla will automatically lead to proposals for new "mega projects". For example, a massive, centralized, high-cost and high-impact World Bank-funded project to source water from Kol Dam on Sutlej River is being pushed to solve Shimla's water problem. But it will likely create more problems for the city, instead of providing a sustainable solution.
The sector operates in a complete policy vacuum. There is no urban water policy in India. There is also the need to assess Shimla's capacity to absorb tourists and construction, to ensure that the influx of both remains within certain limits. We may have a lot to learn from Bhutan in this context.https://sandrp.in/2018/06/10/shimla-water-crisis-how-smart-are-we-getting/ (SANDRP Blog, 10 June 2018)
An edited version of this was published at: http://www.atimes.com/going-with-the-flow-policy-gaps-behind-shimla-water-crisis/ (Alt News, 4 June 2018)
Op-Ed India's water-unsmart cities operate in policy vacuum by Himanshu Thakkar The Indian government runs a "smart cities" program, which involves some massive investments. One would expect this program to define what a water-smart city is and also come up with a National Urban Water Policy. But the program has no such norms or policy. In fact, the cities included in this program are unlikely to qualify as water-smart cities. Amid rapid urbanization and increasing per capita demand, India's urban water footprint is rapidly increasing. To meet the need, city water managers are looking at big storages for a dependable source of water. But such big storages are far off from the cities, created behind costly dams that have social and environmental impacts, and increase risks of disasters. http://www.atimes.com/indias-water-unsmart-cities-operate-in-policy-vacuum/ (Asia Times, 11 June 2018)
Also explore link on Shimla Water Crisis, based on quotes from SANDRP: https://www.huffingtonpost.in/2018/06/05/shimla-water-crisis-explained-sewage-contaminated-a-stream-a-jaundice-outbreak-followed-then-a-high-court-order-left-the-city-high-and-dry_a_23451060/ (Huffington Post, 5 June 2018)
Interview Why Himalayan towns are on the brink of a Shimla-type water crisishttps://www.hindustantimes.com/analysis/why-himalayan-towns-are-on-the-brink-of-a-shimla-type-water-crisis/story-4out03d1xblEJJ0BQ1HlfK.html (Hindustan Times, 5 June 2018)
Reckless felling of trees, unplanned and illegal constructions have reduced the 'queen of hills' to a concrete jungle and drying up of water sources has plunged Shimla into this deep crisis. The town has faced water woes during the summer for past many years. But the crisis this year was unprecedented and experts attribute it to the degradation of environment. https://www.moneycontrol.com/news/india/shimla-in-throes-of-worst-ever-water-crisis-as-world-observes-environment-day-2583301.html (Money Control, 5 June 2018)
Also see, Like Shimla, threat of water crisis looms over many hill stations, metro cities More than 70% of the ground water in the country is currently in 'overdraft', which means we have taken more water than the recharge. At least 54% of the country being recognised as highly or extremely water stressed, according to a 2015-World Resources Institute report. https://www.hindustantimes.com/india-news/like-shimla-threat-of-water-crisis-looms-over-many-hill-stations-metro-cities/story-PYb4B6KLbzdtXEGBMjJYfI.html (5 June 2018)
Uttar Pradesh Agra faces water crisis for 8 days Most parts of Agra went without water for the eighth day on June 5. Officials said the cause was the dry Yamuna river and a series of technical snags. The main pipeline from the two water works burst at several points leading to wastage of water.Against a demand for 400 mld, the two water works can only supply around 200 mld. Officials of the Jal Sansthan said the biggest problem was shortage of raw water in river Yamuna, as upstream barrages at Gokul and Okhla, were not releasing water.Agra District Magistrate, Gaurav Dayal has now written to the Gokul barrage management to release water for the city.
Local MLAs of the BJP say the water supply situation in Agra will improve drastically once the Rs. 3000 crore Gangajal pipeline project becomes operational in August. The work on laying the last few km of the pipeline has been held up for want of permission from the Supreme Court to chop 234 trees that come in the way.Officials said the permission has now been received and work would resume shortly.https://www.ndtv.com/india-news/agra-faces-water-crisis-for-eight-day-amid-technical-snag-in-waterworks-1863002 (5 June 2018)
Gujarat "Failure" to monitor solid waste discharged into canal, despite HC orders, CAG reports An Ahmedabad-based environmental group, Paryavaran Mitra, has alleged that despite "efforts" of the Gujarat to clean up Ahmedabad's highly polluted 20 km city stretch of the 80-km long Kharicut Canal — constructed by the Britishers more than 100 years ago in order to provide irrigation support to 10,200 ha in Daskroi taluka of Ahmedabad district and Mahemdavad taluka of Kheda district — things are unlikely to improve.Pointing out that government is giving "airy hopes" that the Kharicut canal would be turned into a six-lane road, it said, way back in August 2010 also the state govt decided to cover the canal by planning to invest Rs 65 crore to strengthen the canal lining, even as covering the canal by having eight major parks and gardens atop, but none of this happened.
Suggesting that the problem is linked with the way the Gujarat government approaches pollution, the presentation quoted a Comptroller and Auditor General (CAG) report, of 2011, which stated that none of the Central Effluent Treatment Plants (CETPs) discharged treated effluent as per norms of the Gujarat Pollution Control Board (GPCB).The CAG report of 2015 again observed that CETPs were not adhering to outlet norms in discharging effluents, non-disposal of hazardous waste, leading to the pollution of natural water bodies, into which these effluents were being discharged, polluting the ground water as well as soil of the surrounding areas. The monitoring mechanism of GPCB was ineffective, it added.
The CAG report of 2017 said that out of 159 in Gujarat, 96 municipalities did not have any proper sewage system, thus solid waste gets accumulated in pits and holes and further spoils crops and contaminates ground water as well as surface water sources. None of the municipalities of the state has technology to purify the contaminated water, it added. https://www.counterview.net/2018/06/failure-to-monitor-solid-waste.html (5 June 2018)
Row over treated water supply to IOC There is controversy about Gujarat Refinery near Vadodara planning to lift 21 MLD treated sewage from Chhani STP near the city. "If claims of the sewage treatment plant (STP) at Chhani not functioning up to its optimal level are true, it could end up causing a major embarrassment for the Vadodara Municipal Corporation. While the plant may be upgraded as per the needs of the Indian Oil Corporation, the upgradation may let those responsible for the existing STP off the hook. The treated waste water supply is a showcase project not only of the civic body, but also the state government and the civic body needs to tread cautiously."https://timesofindia.indiatimes.com/city/vadodara/row-over-treated-water-supply-to-ioc/articleshow/64514284.cms (9 June 2018)
Rajasthan Alwar homes, farms and factories fight for water Another way to kill a water body. The village is parched now and is reeling under acute water problem. "The bandh filled up to its brim in 1996 (27 feet). That was over 20 years ago. Since then, its waters have been diminishing. Besides this, 16 borewells in the bandh's bed are extracting the water to cater to the Jayanti group's factory nearby," says Gopal. Gopal says that where groundwater could be reached at just 30 ft in the early 1990s, there is no water even up to 500-600 ft today. People are investing about Rs 2.5-3 lakh to deepen their wells every three to four years as the water tables recede.
– Groundwater table in the town stands at 40 m today (as per PHED) down from 9.4 m in 1996 (CGWB data). "Private suppliers also provide groundwater for drinking in the form of tanker loads. Water gets sold at Rs 25 for 18 litres and Rs 20 for 15 litres. The tanker companies outsource this water from the irrigation wells in the rural areas nearby," says Rakesh Yadav of Jaisreesai RO Water Supplier. There is an insidious growth of retail private tanker suppliers.
– Alwar's planners and civic authorities have been looking at two options to meet its drinking water needs of 36.5 MLD (102 litres per capita a day). First, get water from Siliserh lake for which infrastructure in the form of pipes, pumping stations and elevated surface reservoirs have been laid. But farmers around the lake have put their foot down and are not allowing the water diversion. The second idea is to draw water from exogenous sources like Chambal river for both rural and urban needs. But there is interstate (MP Vs Rajasthan) dispute in sharing Chambal waters. http://www.indiawaterportal.org/articles/alwar-homes-farms-and-factories-fight-water (7 June 2018)
रोज 18 करोड़ लीटर पानी पी जाते हैं शहर के छह लाख कूलर एकओरजहांकोटाशहरमेंपानीकीसमस्याकोलेकरलोगसड़कोंपरप्रदर्शनकरकेमटकेफोड़रहेहैंवहींशहरमेंलोगोंकेघरोंमेंलगेछहलाखकूलर 18 करोड़लीटरपानीरोजानापीरहेहैं।विभागकेमानकोंकेअनुसारइतनेपानीसे 13 लाखलोगोंकीप्यासबुझसकतीहै।इसकेबावजूदविभागकोलगातारपानीनहींमिलनेकेलिएलोगोंकेगुस्सेकासामनाकरनापड़रहाहै। http://epaper.bhaskar.com/detail/94880/06060231350997/0/map/tabs-1/2018-06-06%2000:00:00/16/2/image/ (6 June 2018)
Madhaya Pradesh Bhopal's drinking water found to be more toxic than human urine Bhopal, the capital city of Madhya Pradesh, was listed on the second spot for the second year in a row on PM Narendra Modi's ambitious Swachh Survekshan 2018 list of the cleanest cities in India last month. But, is this practice of bestowing awards on the cities merely a formality or is it done after a thorough analysis of basic civic facilities in these states along with the overall cleanliness? A survey conducted by a Bhopal-based environmentalist has revealed some startling observations about the city's government-run water facilities. The survey, conducted by Dr Subhash C Pandey, revealed Bhopal's drinking water is polluted to the level that it contains more harmful bacteria than those present in human urine. https://www.businesstoday.in/current/economy-politics/cleanest-city-bhopals-drinking-water-more-toxic-than-human-urine-swachh-survekshan-2018/story/278521.html (5 June 2018)
Video Report Vegetables irrigated with polluted water can cause Cancer https://www.youtube.com/watch?v=VPysAgKNHtw (ABP News, 5 June 2018)
UP to give extra 15 MGD Ganga water to Delhi  DJB vice-chairman Dinesh Mohania said the extra water would come from the Muradnagar canal and would be transferred towards Wazirabad. "Delhiites suffer due to whims of the Haryana administration. An agreement will be signed with the UP administration to get another 100MGD for long-term needs."
Normally, Delhi receives around 240 MGD water from Uttar Pradesh through the upper Ganga canal, out of which the Sonia Vihar water treatment plant (WTP) gets 140 MGD and the Bhagirathi WTP 100MGD.
This additional water will be used to provide relief to the areas being covered by the Wazirabad plant and the Dwarka region will also get 5MGD, Mohania said.  Delhi has the installed capacity of supplying 913MGD water. Each MGD unit translates into around 44 lakh litres of water, a DJB official said. The demand of Delhi is estimated to be around 1,113 MGD. https://timesofindia.indiatimes.com/city/delhi/delhi-still-thirsty-up-to-give-extra-15mgd-ganga-water-from-today/articleshow/64525222.cms (The Times of India, 10 June 2018)  
WATER
Odisha Plan to hike water tariff At present, the state govt is charging nominal rent for water at 30 paise and 24 paise per cubic metre (cum) of water for bulk supply. "We supply the treated water. As there is a cost of water treatment, it is pertinent to enhance the tariff. It will also help to augment revenue," said Directorate head B.B. Dhal, in his proposal. He said: "The proposal is to enhance the water tariff from 24 paise per cum to Rs 2.73 per cum and from 30 paise per cum to Rs 3.41 per cum for irrigation works, and from 24 paise per cum to Rs 5.46 per cum for ground water, which generally does not require any treatment."
– The state government will also charge for granting permission for release of waste into rivers. "The charges shall be assessed and recovered from the users at the rates prescribed for respective purposes for which water is drawn," said an official. https://www.telegraphindia.com/states/odisha/plan-to-hike-water-tariff-236739 (The Telegraph India, 10 June 2018)
FLOOD MANAGEMENT
Bihar Farmers along Kosi embankment demand end of all taxation, levy on sand, silt, any produce An 11-day-long march along the villages of Kosi river in Bihar, under the banner of Lagan Mukti Kosi Samvaad Yatra, which concluded on the World Environment Day, June 5, highlighted how the natural flow of the river has been "obstructed" because of the embankments on both the sides the river, supposedly as a flood control measure, pointing towards how it has caused havoc to the farmers.The historic Kosi embankment breach at Kusaha in 2008 hit five districts, 35 blocks, 231 Panchayats, 1067 villages, 33.97 lakh people and 8.32 lakh animals. Floodwater had spread over 4.153 lakh ha of which 1.76 lakh hawas cropped. It destroyed 2,44,128 houses, engulfed 736 villages, killed 540 people and 31,995 animals.
There are 380 Indian villages within the Kosi embankments, apart from 34 Nepali villages. They were given rehabilitation on the country side of the embankments but no 'land for land' principle was adopted for them. They were supposed to live in the rehabilitation sites and cultivate their land located within the embankments. https://www.counterview.net/2018/06/bihar-farmers-along-kosi-embankment-up.html (9 June 2018)
MONSOON 2018
Study Decline in low-intensity rainfall reduces groundwater recharge in north India Based on data collected between 1996 and 2016 from over 5,800 groundwater wells spread across India, researchers from Indian Institute of Technology (IIT) Gandhinagar have been able to find that rainfall intensity is "strongly" linked to groundwater recharge. While low-intensity rainfall during summer monsoon is responsible for groundwater recharge in the case of India, particularly north-west and north-central India, high-intensity rainfall is a major driver for recharging groundwater in south India. The size of aquifers and the yield are much larger in north India compared with south India. The results were published in the journal Geophysical Research Letters. Rainfall is classified as low-intensity if the amount is between 1-35 mm per day. High-intensity rainfall is rainfall in excess of 35 mm per day.
– "Low-intensity rainfall provides maximum time for water to percolate and recharge the aquifer and so is favourable for groundwater in north India," says Prof. Mishra. "High-intensity rainfall mostly leads to surface run-off and doesn't contribute much to groundwater recharge in north India. In contrast, hard-rock and basaltic aquifers are seen in south India. Here, high-intensity rainfall contributes more to groundwater recharge than low-intensity rainfall," he says.
– "Our study suggests that north India must make additional efforts (in the form of artificial groundwater recharge) to check the decline in groundwater table while also reducing groundwater withdrawal for irrigation. Both these measures have to be adopted simultaneously," he adds. http://www.thehindu.com/sci-tech/science/decline-in-low-intensity-rainfall-reduces-groundwater-recharge-in-north-india/article24068652.ece  (2 June 2018)
As monsoon advances, key reservoirs reach alarming water levels Based on inputs from SANDRP, this explains how reservoirs with huge water storage just before monsoon signal non optimal use and possible risk of flood disaster during the monsoon.http://www.tribuneindia.com/news/nation/as-monsoon-advances-key-reservoirs-reach-alarming-water-levels/600477.html (The Tribune 5 June 2018)
AGRICULTURE
Punjab Rice cultivation becomes environmentally sustainable The title is misleading, Rice Cultivation in Punjab is certainly not environmentally sustainable, but this article from Prof Mangat of PAU says that the short duration varieties have helped achieve "an all-time-high paddy productivity of 6,488 kg per hectare (4,325 kg of milled rice) during kharif 2017. The state also achieved a record paddy production of 198.87 lt (132.58 lt in terms of rice) last year."http://indianexpress.com/article/india/how-rice-cultivation-in-punjab-has-become-environmentally-sustainable-5207119/ (The Indian Express, 7 June 2018)
ENERGY OPTIONS
Kusum scheme promoting solar energy to be implemented from next month The big-ticket Rs 1.4 lakh crore KUSUM (Kisan Urja Suraksha Evam Utthaan Mahaabhiyan) scheme to promote the use of solar power among farmers will be implemented from next month, renewable energy minister R K Singh said on June 5, 2018. Under the scheme, the government has planned to provide 27.5 lakh solar pumps (17.50 lakh standalone + 10 Lakh Grid-connected) to farmers. It will help farmers install total 10 GW of Solar Power Plants of an intermediate capacity of 0.5 to 2 MW each. It also envisages 50,000 Grid-connected tube-wells/lift irrigation and drinking water projects.A senior official said that both (KUSUM and Rs 16000 Cr worth of subsidy under new Hydro Policy) big-ticket programmes are at advanced stages of approval by the Union Cabinet and may get go ahead in July this year.
– India' renewable energy capacity, he said, has been doubled to 70 GW in last four years and it is poised to over-achieve the target of 175 GW of renewable capacity by 2022, at 225 GW. The Secretary of Ministry of NRES informed 0.5GW of small hydro (up 25 MW) energy capacities would also be auctioned in the current fiscal. https://www.devdiscourse.com/Article/11492-kusum-scheme-promoting-solar-energy-to-be-implemented-from-next-month-says-minister (5 June 2018)
SOUTH ASIA
To be an environmental world power Kanak Mani Dixit, founding editor of the magazine, 'Himal Southasian'.  Excellent piece on Environmental concerns in South Asia and how India is not only not taking leadership in environmental protection, it is possibly leading in environmental destruction.http://www.thehindu.com/opinion/lead/to-be-an-environmental-world-power/article24082152.ece (The Hindu, 5 June 2018)
WB asks disagreeing Pak to accept option of a 'neutral expert on Kishanganga project The World Bank has asked Pakistan that it should accept India's offer of appointing a "neutral expert" on the Kishanganga dam dispute instead of instead of insisting to refer it to the International Court of Arbitration, according to a media report on June 5. The WB President Jim Yong Kim in a fresh communication last week advised the Pakistan govt to withdraw from its stand of taking the matter to the ICA, Dawn reported.http://indianexpress.com/article/pakistan/world-bank-asks-pak-to-accept-indias-offer-of-appointing-a-neutral-expert-on-kishanganga-project-5205408/ (5 June 2018)
However, Pakistan disagrees. "Pakistan doesn't want to set a precedent by accepting the offer of a neutral expert as this could later be used to settle all other water disputes with India," Syed Javed Ali Shah, the former federal Minister for Water Resources said.http://www.arabnews.com/node/1316126/world (5 June 2018)
Pakistan 'Only want to address the water crisis': SC takes a step back on Kalabagh The Supreme Court of Pakistan on June 9, 2018 clarified that it is not pushing for the construction of Kalabagh Dam, but is rather looking into how the water crisis in the country can be tackled.The Chief Justice said that the court had decided to focus on the water crisis and the Law and Justice Commission would hold a seminar on the issue.https://www.dawn.com/news/1413067 (9 June 2018)
CHINA
Chinese provincial govts along Yangtze ask to stop small hydro On May 30 2018, the Development and Reform Commission bureaus of ten provinces (Jiangsu, Zhejiang, Anhui, Jiangxi, Hubei, Hunan, Chongqing, Sichuan, Guizhou and Yunnan) jointly announced a ban on all small hydro projects along the Yangtze River Economic Belt. An announcement on the National Development and Reform Commission website explains that the provinces oppose the "adverse impact of the disorderly development of small hydro" that have encroached on nature reserves. Currently, the Yangtze River and its tributaries contribute 73% of the total hydropower generated in China. According to the announcement, local govts along the Yangtze river must survey the environmental damage from the "uncontrolled" development of small hydropower, warning that existing plants may be required to shut.
– The announcement follows the March 2016 initiative of Yunnan provincial government which banned all small hydropower projects along the Nu River, one of China's last major free-flowing rivers. https://www.internationalrivers.org/resources/chinese-provincial-governments-along-the-yangtze-river-unite-to-stop-the-%E2%80%9Cdisorderly%E2%80%9D (4 June 2018)
THE REST OF WORLD
Study Groundwater pumping can increase arsenic levels in irrigation & drinking water New research published in the journal Nature Communications suggests that pumping makes the ground sink and allows arsenic to move into groundwater aquifers that supply drinking water for 1 million people and irrigation for crops in California's San Joaquin Valley. The group found that satellite-derived measurements of ground sinking could predict arsenic concentrations in groundwater. This technique could be an early warning system to prevent dangerous levels of arsenic contamination in aquifers with certain characteristics worldwide.
Importantly, the group found signs that aquifers contaminated as a result of overpumping can recover if withdrawals stop. Areas that showed slower sinking compared to 15 years earlier also had lower arsenic levels. However, study co-author Rosemary Knight, a professor of geophysics and affiliated faculty at the Woods Institute, warns against banking too much on a predictable recovery from overpumping. "How long it takes to recover is going to be highly variable and dependent upon so many factors," she said.
The researchers said overpumping in other aquifers could produce the same contamination issues seen in the San Joaquin Valley if they have three attributes: alternating layers of clay and sand; a source of arsenic; and relatively low oxygen content, which is common in aquifers located beneath thick clays.The revelation that remote sensing can raise an alarm before contamination threatens human health offers hope for better water monitoring. "Instead of having to drill wells and take water samples back to the lab, we have a satellite getting the data we need," said Knight.
As in the San Joaquin Valley, areas of the Mekong Delta where land was sinking more showed higher arsenic concentrations. "Now we have two sites in totally different geographic regions where the same mechanisms appear to be operating," said Fendorf. "That sends a trigger that we need to be thinking about managing groundwater and making sure that we're not overdrafting the aquifers."https://phys.org/news/2018-06-groundwater-arsenic-irrigation.html (5 June 2018)
USA Ituango Hydroelectric Project: Drowning Transitional Justice in Colombia Hidroituango dam in Colombia AFFECTED PEOPLE FILE COMPLAINT BEFORE the Inter-American Development Bank (IDB)'s accountability mechanism to investigate whether the financial entity violated its environmental and social standards when investing in the project. The hydroelectric plant will be the largest in Colombia, with a 79 km reservoir that will flood an area of 4,500 hawithout having removed the topsoil, relocated the communities, or compensated the loss of livelihoods.
Despite the fact that the work is unfinished and prior notice was not provided, the area has already been dammed. In 2012, it approved $2 million for technical cooperation for the Colombian State and, in 2016, $550 million in direct investments to the company in charge of the project, Empresas Públicas de Medellín (EPM).
"After cement clogged two of the three diversion tunnels, the excessive pressure on the remaining tunnel resulted in first a blockage and then an avalanche, leaving hundreds of families homeless and thousands of people displaced and at permanent risk both up- and down-stream of the dam wall. All this has exposed the inadequate evaluation of project impacts and the poor environmental regulation under which the project was authorized on every front. The state of emergency in the area is still in effect, and neither the Colombian government nor the company has ruled out the risk of the dam collapsing."http://www.ciel.org/project-update/ituango-hydroelectric-project-drowning-transitional-justice-in-colombia/ (June 2018)
10 Rivers Contribute Most of the Plastic in the Oceans A recent study estimates that more than a quarter of all plastic waste could be pouring into sea from just 10 rivers, eight of them in Asia. The 10 rivers that carry 93 percent of that trash are the Yangtze, Yellow, Hai, Pearl, Amur, Mekong, Indus and Ganges Delta in Asia, and the Niger and Nile in Africa. The Yangtze alone dumps up to an estimated 1.5 million metric tons of plastic waste into the Yellow Sea. https://www.scientificamerican.com/article/stemming-the-plastic-tide-10-rivers-contribute-most-of-the-plastic-in-the-oceans/ (1 Feb. 2018)
ENVIRONMENT
Jharkhand Anti-Coal Mine Activist Suresh Oraon Shot Dead Suresh Oraon (27) of Purnadih Chatra Jharkhand was shot dead by unidentified persons on June 7. Suresh and his people were the owners of the land on which the state owned Central Coalfields Limited (CCL) built their Purnadih coal mines. Suresh kept fighting CCL against land grabbing. It is reported that when CCL bulldozed the resistance Suresh and community started fighting for jobs and compensation. When CCL started to dump mine waste into the Damodar river they took the management to court and won.Suresh was a people's leader always helping his people. After he got a job he kept helping other activists with their court cases bails and during medical difficulties. Till the end he kept fighting CCL.He is survived by wife Sangita and two children, son Deepu 6 and daughter Depanshu (4). https://countercurrents.org/2018/06/07/anti-coal-mine-activist-suresh-oraon-shot-dead-in-jharkhand/ (7 June 2018)
Op-Ed To be an environmental world power Kanak Mani Dixit, founding editor of the magazine, 'Himal Southasian'.  Excellent piece on Environmental concerns in South Asia and how India is not only not taking leadership in environmental protection, it is possibly leading in environmental destruction.  http://www.thehindu.com/opinion/lead/to-be-an-environmental-world-power/article24082152.ece (The Hindu, 5 June 2018)
Environment Under Threat Good to see Congress talking about environment being under threat under current Union Govt. There are big gaps in this narrative, but good to see they are raising these issues. https://www.inc.in/en/in-focus/environment-under-threat (INC, 5 June 2018)
Report Environmental degradation causing rise in cancer cases by Nidhi JamwalRecently, on May 26-27, the 'First Conference on Environmental and Occupational Determinants of Cancer' was held at AIIMS, New Delhi, in partnership with the Union Ministry of Environment, Forest and Climate Change. The conference, which was attended by hundreds of medical doctors, health practitioners, bureaucrats, civil society groups and media representatives from across the country, was the first formal conference where both the medical  community and the government agencies officially acknowledged and discussed the impacts environmental factors have on various cancers.
While inaugurating the conference, Dr GK Rath, chief of Dr BR Ambedkar Institute Rotary Cancer Hospital at AIIMS, minced no words in saying that about 5-10 per cent cancers are due to genetic factors. The rest are practically caused due to environmental factors such as pollution, diet, lifestyle, tobacco, etc., and, these environmental factors are preventable.
An international study, published in multidisciplinary scientific journal Nature, had also recently reported that at least 70-90 % of the cancers are due to external risk factors. This means that by creating a healthy environment, and making lifestyle and dietary changes, a large number of cancer cases could be prevented.http://www.dnaindia.com/analysis/column-struck-by-emperor-of-maladies-2622411 (6 June 2018)
National Discoms' AT&C losses come down at 19.1%The aggregate technical and commercial (AT&C) losses of discoms in 24 states came down to 19.1% at the end of 2017-18, from 20.3% a year ago. AT&C losses in Uttar Pradesh was 27.9%, while Bihar's losses were at 33.2%. Jharkhand's AT&C losses were at 31.8%, even higher than 29.9% loss in FY17. Madhya Pradesh's AT&C loss was 29.7% in FY18, compared with 25.2% in FY17. At 8.7%, Andhra Pradesh recorded the lowest AT&C losses for the the financial year.https://www.financialexpress.com/economy/power-pack-discoms-atc-losses-come-down-at-19-1/1197993/ (The Financial Express, 8 June 2018)
Delhi South Delhi to lose 3748 trees The city's forest department has cleared the National Buildings Construction Corporation Ltd. (NBCC's) proposal to fell 3,748 fully-grown and healthy mango, neem, banyan, pilkhan, guava, etc. species of trees at Netaji Nagar and Nauroji Nagar. The estimates for Sarojini Nagar, which is next in queue, are yet to be given. The central Public Sector Undertaking (PSU) is currently demolishing British-era Type I-IV dilapidated government quarters here to build modern multi-storeys. It is a Ministry of Urban Development project worth Rs 32,835 crore and will need five years to complete.
Trees will soon be chopped for redevelopment of government quarters at Kasturba Nagar, Thyagraj Nagar, Srinivaspuri and Mohammadpur by the Central Public Works Department (CPWD) as well.
Going by an NGT order of 2017, NBCC has been asked to transplant or relocate 186 trees from these two areas. The company will also deposit a cumulative security deposit of Rs 22.54 crores for compensatory afforestation. The forest department notification says that afforestation, to the tune of 39,550 saplings, will take place at Yamuna floodplains on three spots –near Garhi Mandu village between the under construction Signature Bridge and Wazirabad barrage, near railway line adjacent to CWG village complex and ITO barrage.
The State of the Forest Report 2017, released in February this year, said Delhi's forest cover has increased by 0.3 per cent, or 3.6 sq km, compared to the assessments conducted in 2015.However, it is little to cheer about as the rise is only in the open and scrub forest categories whereas both "very dense" and "moderately dense forests" have recorded a decline. https://www.covaipost.com/whatshot/south-delhi-to-lose-3748-trees-even-as-city-battles-air-pollution/ (Covai Post, 9 June 2018)
Kerala Fishermen is bringing back PLASTIC from the sea A fisherman community from Kerala brings back tonnes of plastic waste from the water every time they go to get their fresh catch. Since the last 10 months, members of the community are doing their best to keep the water plastic free.Under the campaign of Suchitwa Sagaram which translates to Clean Sea, in English, plastic waste from the waterbodies are collected. So far, 10 tonnes of plastic bags and plastic bottles and 15 tonnes of discarded nets, plastic ropes and other items from the sea have been removed. http://indianexpress.com/article/lifestyle/life-style/world-environment-day-kerala-fishing-community-bring-back-plastic-wastes-and-recycle-it-5201601/ (5 June 2018)
You may also like to see DRP News Bulletin 4 June 2018 & DRP News Bulletin 28 May 2018
Follow us on www.facebook.com/sandrp.in; https://twitter.com/Indian_Rivers