In a remarkable protest echoing urgent need for protection of rivers, fisherfolk of Kosasthalai River on 03 January 2018, launched a 'Jal Satyagraha' against Kamarajar Port project. The proposal would divert 1000 acres of creek area. It mainly comprises of river, wetlands, marshy areas on which fisher community depend for livelihood.
Raising their voices against the project with holding play cards that read "This is River, Not Land" they stood in waist-deep in waters to save Ennore Creek. Joining the protest, hundreds of residents also demanded the withdrawal of alleged fraudulent maps denying the existence of the Ennore Creek. The community has been fighting a lonely battle against the Tamil Nadu government accusing it of turning wetlands illegally into industrial real estate corridors.
– "Fishing economy has been hit massively. Shrinking of water body means less space for fish. Shrinking has happened in terms of surface spread as well as depth thanks to the dumping of dredged sand from the sea, silting the waterbody. The larger concern is fly ash and heavy metals from the industries polluting the environment causing health hazards," said Nityanand Jayaraman, Environmental activist and researcher who was part of the protest. https://www.oneindia.com/india/chennai-fisherfolk-stage-jal-satyagraha-to-save-ennore-creek-2613088.html (One India, 04 January 2018)
As per another news report
– EAC had planned a site visit and fisherfolks and other stakeholders on 05-06 Jan. 2018 to verify legality & environmental acceptability of Kamarajar Port's proposal to divert 1000 acres of the Ennore Creek for port infrastructure.
-More than 1100 acres of the Ennore Creek consisting of salt pans and Mangroves have already been converted into industrial infrastructure by various govt & private industries leading to an intense pollution of Kosasthalaiyar River.
-Encroachments of Ennore Creek have drastically altered hydrology, leading to flooding in upstream areas. Further encroachments will severely increase the risk of disastrous flooding for nearly 10 lakh people residing in Chennai & Tiruvallur districts: Warns fisherfolk. 
Map Source: The Ennore Story 
-Save Ennore Creek is a fight against corruption in high places & lack of accountability in govt. If Govt refuses to protect 6500 acres of Ennore Creek that is getting exploited, we will escalate protest to protect our river: D Selvaraj, elderly fisherman leader from Kattukuppam
-"Govt must remove fly ash & dredged material dumped by the Kamarajar Port & TANGEDCO immediately & must stop further expansion of power stations that keep polluting our waterbodies," said RL Srinivasan, a fisherman from Kattukuppam near Ennore creek.
-In July 2017, State Coastal Zone Management Authority claimed that the originally approved CRZ map declaring entire region as a "No Development Zone" was replaced by an updated map in which entire Ennore Creek is shown as a petrochem park with no approval from the Central Govt. " http://www.newindianexpress.com/states/tamil-nadu/2018/jan/04/tamil-nadu-fishermen-protest-as-kosasthalaiyar-pollution-put-them-in-waist-deep-trouble-1744077.html (The News Indian Express, 04 January 2018)
In a similar positive initiative for rivers from West Bengal that too by fishing community, their representatives from 12 villages of Krishnaganj Block of the District of Nadia assembled at Majdiya Bazar on 29th December 2017. The meeting was convened to consider possibilities of protecting the livelihood of fishing communities through their own organisation. 'Save Mathabhanga and Churni River Committee' and 'Chakdaha Science and Cultural Organisation' took the main initiative in convening the meeting as well as in organising the participation of fishing community representatives. DMF supported the initiative.
River Churni is a stream in the Nadia district of West Bengal. It is a distributary of the Mathabhanga River, itself a distributary of the Padma River at Munshiganj in the Kushtia District of Bangladesh. The Mathabanga divides into two rivers, the Ichamati and the Churni near Majhdia in Nadia district. The Churni flows through Shibnivas, Hanskhali, Birnagar, Aranghata, and Ranaghat, and finally joins River Bhagirathi-Hooghly near Chakdaha. Its length is almost 56 kilometres (35 mi). The river's origin is at 23.40 North, 88.70 East and its confluence is at 23.13 North, 88.50 East. Swapan Bhoumik of 'Save Mathabhanga and Churni River Committee' presided over the meeting and Bibartan Bhattacherjee of 'Chakdaha Science and Cultural Organisation' coordinated the proceedings."
"Bibartan Bhattacherjee said that the survival of fishing communities of the area depended on the survival of Churni and Mathabhanga rivers." https://dc.icsf.net/en/component/dcnews/articledetail/10459.html (Documentation Center 03 January 2018)
HYDRO POWER
Jammu & Kashmir Hydro project cleared without site visit A major hydropower project, with a very large storage area, has been recommended for environmental clearance without even a site visit that the Environment Ministry had itself recommended. Questions about how the EAC has cleared the 800 MW Bursar HEP in J&K in undue hurry. https://www.thethirdpole.net/2018/01/02/jk-hydro-project-cleared-without-site-visit/ (The Third Pole, 02 January 2018)
DAMS
PIB Release CWC Receives CBIP Award for Excellence in Health & Safety of Large Dams One wonders, how they decide who is to be awarded and what is the criteria and who are on the jury and what is the nomination process and if any of it in public domain? Without these, this sounds like a close need club scratching each others' backs. Particularly seeing far from confidence inspiring performance of CWC in dam safety issues. http://pib.nic.in/newsite/PrintRelease.aspx?relid=175357 (PIB 05 January 2018)
Pancheshwar Dam PMP: A FACT SHEET This site provides comprehensive information about Pancheshwar Project. https://savemahakali.wordpress.com/2018/01/04/the-pancheshwar-multipurpose-project-pmp-a-fact-sheet/ (Save Mahakali Word Press, 04 January 2018)
Here is a report from Hindi Daily that seems to suggest that the rocks at current dam location for the proposed Pancheshwar dam are not suitable for dam construction and WAPCOS have been given work to drill/ blast two more test tunnels to finalise the location of dam. If the location of the dam is to be changed, than clearly the dam impacts will change and will need fresh EIA and public hearings and appraisal. https://www.amarujala.com/uttarakhand/champawat/construction-of-the-dam-will-start-after-the-results-of-rock-testing (Amar Ujala, 03 January 2018)
Meanwhile there are protests in Jhulaghat against tree marking for Pancheshwar Project. http://epaper.livehindustan.com/story.aspx?id=2470950&boxid=95227624&ed_date=2018-01-08&ed_code=303&ed_page=5 (Hindustan Hindi, 08 January 2018)
Before this people of Jhulaghat have opposed marking of trees for felling for dam.  https://timesofindia.indiatimes.com/city/dehradun/pancheshwar-dam-locals-protest-counting-of-trees/articleshow/62356578.cms (The Times of India, 03 January 2018)
Polavaram Dam No main dam sans cofferdam, says panel SLAP for NHPC? The Dam Design Review Panel of Polavaram have rejected the NHPC proposals for Polavaram and have decided:
– As per normal practice, two coffer dams, one upstream and one downstream will be built before the main dam construction can start.
– The upstream coffer dam will have 42.5 m height and capacity to withstand flood of 28 lakh cusecs.
– The Polavaram dam has two components — one Earth Cum Rock Filled dam across the main river and a concrete spillway across a diversion in the river. After passing the spillway the diversion rejoins the river.
– Meanwhile representatives of Dena Bank, which provided credit to the prime contractor Transstroy, got a court order to seize excavators mortgaged to it at the dam site on Friday. Bank sources said the principal advanced to the contractor was ₹84 crore, interest ₹36 crore putting the total dues at ₹120 crore. http://www.thehindu.com/news/national/andhra-pradesh/no-main-dam-sans-cofferdam-says-panel/article22379303.ece (The Hindu 06 January 2018)
Meanwhile in a shocking statement, Union Tribal Affairs Minister has said that no tribals (in Odisha?) will be affected by Polavaram project.
– As many as 25 revenue villages and 10 hamlets will be submerged due to the Polavaram project, Dasburma said and added 6818 persons including 5916 tribals will be displaced. Besides, 7656 hectares agriculture and forest land will be submerged, he said. Alleging that Motu area of Malkangiri district will be affected due to the dam project, Majhi said that the Centre should find out ways to protect the interest of tribals. Patra alleged that the Centre has violated laws by not taking approval of the Gram Sabha, the environment and tribal welfare ministries for the project. http://www.newindianexpress.com/states/odisha/2018/jan/06/bjd-criticises-oram-for-polavaram-statement-1745925.html (The New Indian Express, 06 January 2018)
WHO WILL SAVE THE RIVERS? Great to see this question being asked, here in context of Krishna and Godavari. http://www.firstpost.com/india/andhra-pradesh-telangana-fight-over-godavari-krishna-waters-but-who-will-save-the-rivers-4283999.html (First Post, 03 January 2018)
Sardar Sarovar Dam Water supply to Dahej, Vilayat industries stopped High Salinity in Narmada water due to low river flows and high tide has lead to contamination of borewells of GNFC, Dahej and Vilayat industrial estates near Bharuch, already in January 2018.
-As per Dahej Industries Association president M A Hania, more water discharge from Sardar Sarovar Dam during high tide days is the only solution to ensure smooth water flow. Dahej and Vilayat GIDC industries associations will also make representations to the state government to permit more water be released from Sardar Sarovar Dam for industries, particularly during the days when there is high tide in the sea" https://timesofindia.indiatimes.com/city/surat/water-supply-to-dahej-vilayat-industries-stopped/articleshow/62372033.cms (The Times of India, 05 January 2018)
Meanwhile, North Gujarat MLAs demand rightful irrigation water from Narmada canals for farmers and allege political discrimination. http://www.dnaindia.com/ahmedabad/report-north-gujarat-congress-mlas-demand-narmada-water-2573039 (DNA 05 January 2018)
Bhakra Dam CM promises to look into grievances of oustees These news reports just prove that people displaced by Bhakra dam are yet to be rehabilitated. https://timesofindia.indiatimes.com/city/shimla/cm-will-look-into-grievances-of-bhakra-dam-oustees/articleshow/62362448.cms (The Times of India 04 January 2018)
Meanwhile Himachal Pradesh govt cabinet decides to settle the issue of benefits from Bhakra with BBMB, Punjab and Haryana. https://www.newkerala.com/news/fullnews-309100.html (New Kerala, 05 January 2018)
Tehri Dam 30 people rescued from drowning Sudden release of water probably from Tehri dam caught 30 tourists unprepared at Trivani Ghat, Rishikesh on 01 Jan 2018. Though they all were rescued however such incidences are on the increase there. http://epaper.jagran.com/ePaperArticle/02-jan-2018-edition-rishikesh-page_6-8427-9013-109.html (Dainik Jagran 02 January 2018)
Also see, COMPLETELY MISLEADING, MISGUIDING EDIT in Economic Times. What about the underground Storage option and its capacity and potential, sirs? https://blogs.economictimes.indiatimes.com/et-editorials/india-must-build-more-dams-to-store-water/ (The Economic Times, 05 January 2018)
INTERLINKING OF RIVERS
Ken Betwa Link The Tiger, The River and The Bureaucrat The Ken-Betwa river interlinking project is an experiment riddled with problems. Everything from the Environmental Impact Assessment reports to the public hearings and expert appraisal committee reports have been rushed, and are extremely dodgy. The apparent truth of the matter is far from obvious, and the consequences are here to stay; the project will spell danger for a tiger reserve and all its inhabitants. This is EXCELLENT report analysing the disastrous Ken Betwa River Linking Project. Plz read, share and send comments. https://thebastion.co.in/politics-and/environment/the-tiger-the-river-and-the-bureaucrat-analysing-the-ken-betwa-river-linking-project/ (The Bastion, 01 January 2018)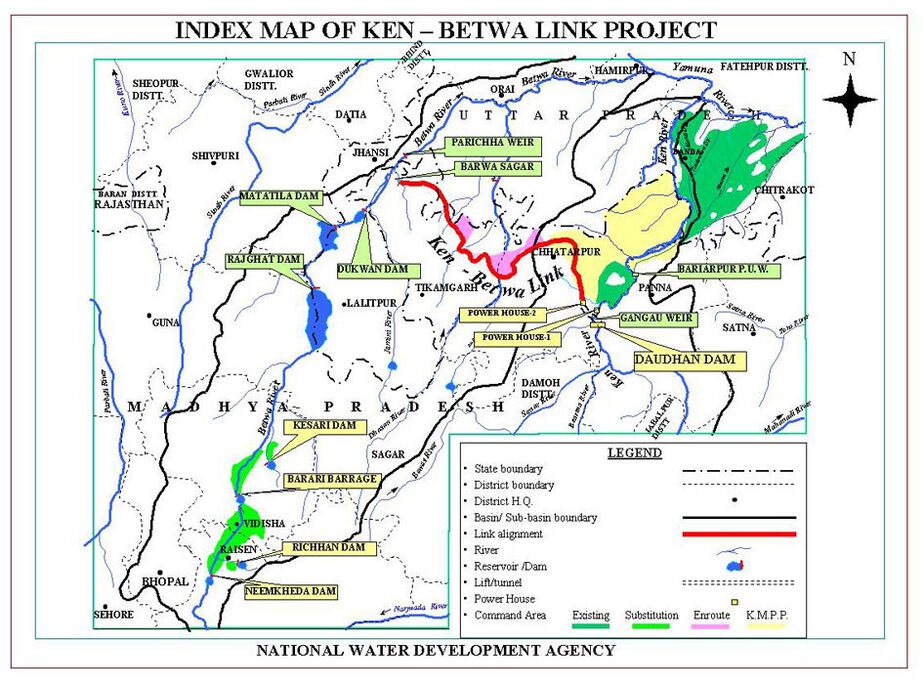 Also it is so amazing how uncritically media writes about these issues.  https://timesofindia.indiatimes.com/india/govt-looks-for-creating-a-separate-fund-for-inter-linking-of-rivers/articleshow/62378291.cms (The Times of India, 05 January 2018)
INTER STATE WATER DISPUTES
Mahanadi Water Dispute BJD rejects Gadkari's proposal for joint control board MANY important facts and issues here: As the Mahanadi river water dispute between Odisha and Chhattisgarh intensified, the Biju Janata Dal (BJD) today rejected union minister for water resources, river development and Ganga rejuvenation Nitin Gadkari's proposal for formation of a Joint Control Board (JCB) for early resolution of the issue.
The Ministry of Environment, Forest and Climate Change had pulled up the Chhattisgarh government for not informing it or the Odisha government about construction of six barrages over Mahanadi river, Lok Sabha member Pinaki Mishra said while referring to a letter written by a director of the ministry to principal secretary in the Chhattisgarh water resources department. All the six barrages were constructed by the Chhattisgarh government in gross contravention of the environment impact assessment notification, 2006 and its subsequent amendments, he said.
"It is requested to inform the reason for not informing the ministry and the Odisha government, a riparian state about construction of the six barrages on Mahanadi which is an inter-state river," the letter written on September 20, 2017 said.
Quoting from the letter, Mishra said a report submitted by the regional office of ministry of environment, forest and climate change, Nagpur said Chhattisgarh government constructed six barrages over a stretch of 120 kilometer. Out of the six barrages, one has been constructed in Raipur district while the remaining five have been constructed in Janggir Chapra district. Kalma barrage has been constructed at a distance of approximately 15 kilometers away from the inter-state boundary between Odisha and Chhattisgarh, he said.
The report maintained that the Chhattisgarh government had not commissioned any studies through an institute of repute on the minimum flow to be maintained in the downstream and impact on flora and fauna in the large area to be submerged over 120 kilometers stretch of the Mahanadi river.
Besides, the report said the CWC should also have studied the cumulative impact assessment and carrying capacity of the river including the multi-purpose Hirakud dam and flow in the 300 kilometers long river upto the estuary. http://www.newindianexpress.com/states/odisha/2018/jan/06/bjd-rejects-gadkaris-proposal-for-joint-control-board-to-resolve-mahanadi-river-water-dispute-1746463.html (The New Indian Express, 06 January 2018)
Mahadayi Water Sharing Row Big issue in Karnataka elections  BJP president Amit Shah is learnt to have asked the state leaders to aggressively take up Goa CM Manohar Parrikar's controversial offer to share Mahadayi river water for drinking purposes and put the Congress government on the mat over the issue. http://indianexpress.com/article/india/take-up-mahadayi-water-issue-aggressively-amit-shah-karnataka-bjp-election-meet-5008049/  (The Indian Express, 02 January 2018)
Meanwhile, Goa CM Parrikar says here that he stands by his letter to Yedurappa, says offered only drinking water within the basin and not for transfer to another basin. http://www.thehindu.com/news/national/other-states/mahadayi-row-objection-only-to-transfer-from-deficit-basin-says-parrikar/article22364951.ece (The Hindu, 04 January 2018)
RIVERS
SANDRP Blog Chennai Rivers Story This story of Adyar and Kosasthalaiyar Rivers from Chennai is fifth in the series of online stories of urban rivers from across India. Please share your feedback and provide us with suggestions (read more in appendix). If you have any urban river stories or images that you might want to share, please send them to ht.sandrp@gmail.com and asid@veditum.org. https://sandrp.wordpress.com/2018/01/03/chennai-playing-with-water/ (SANDRP, Word Press, 03 January 2018)
BRAHMAPUTRA Govt to set up Centre on Brahmaputra studies at IIT-Guwahati A good decision: "The Centre for Brahmaputra studies will cover multi-disciplinary aspects of hydrology, environment, inland waterways, agriculture and sociology. The central government will support establishment of the Centre at IIT Guwahati." https://timesofindia.indiatimes.com/india/govt-to-set-up-centre-on-brahmaputra-studies-at-iit-guwahati/articleshow/62327422.cms (The Times of India, 01 January 2018)
As per another report "The meeting, held at Borgos, Kaziranga in Assam on December 30, was chaired by Union Minister for Water Resources Nitin Gadkari who also launched 'Brahma-ID', a Mathematical Model Study prepared by IIT, Guwahati. The Rs 3 crore project is sponsored by the Brahmaputra Board, an official press release said." http://netindian.in/news/2018/01/01/00044718/brahmaputra-board-ratifies-rs-237-crore-project-protect-majuli-flood-erosio (The Net Indian, 01 January 2018)
Also video trying exploring if Majuli in Assam, the world's largest river island will disappear in the Brahmaputra one day?
https://video.scroll.in/864044/watch-will-majuli-in-assam-the-worlds-largest-river-island-disappear-in-the-brahmaputra-one-day (The Scroll, 07 January 2018) 
Uttarakhand Govt to look at Gujarat for 'inspiration' on reviving rivers Tragedy to strike Uttarakhand. Hope someone from the state can tell the CM and Chief Secretary, that Gujarat has revived NO rivers and the Sabarmati rejuvenation is a FAKE NEWS. This is totally wrong statement: "Chief secretary Utpal Kumar Singh said, "The first step that the Gujarat government did was to revive the river " to do something similar at RISPANA would only bring disaster there. https://timesofindia.indiatimes.com/city/dehradun/ukhand-govt-to-look-at-gujarat-for-inspiration-on-reviving-rivers/articleshow/62342278.cms (The Times of India, 02 January 2018)
SAND MINING
SANDRP Blog Judicial Interventions fail to restore damage This is third and concluding part on unsustaible riverbed mining review, highlighting judicial interventions on the issue. https://sandrp.wordpress.com/2018/01/02/sand-mining-review-2017-3-judicial-interventions-fail-to-restore-damage/ (SANDRP Word Press, 02 January 2018)
Uttar Pradesh Disturbed by illegal mining, Sonebhadra man jumps in front of CM convoy
One can just imagine the distress and anguish building against State Govt inactions over illegal sand mining in common people. The man identified as Shyamji Mishra wanted to draw the UP Govt's attention towards the illegal river bed being done in Sonebhadra "under the patronage of BJP's Sardar legislator and BJP's district president." He had earlier tried to meet the CM Yogi Adityanath a couple of times, but unable to convey his message the man was compelled to take this step. http://indianexpress.com/article/india/watch-video-man-jumps-in-front-of-uttar-pradesh-cm-yogi-adityanath-convoy-in-lok-bhawan-lucknow-5005359/ (The Indian Express, 30 December, 2017)
Haryana Govt inaction over dadam stone mining Stone mining at Dadam (Bhiwani district in Haryana) that started in 2015 extended to forbidden Arawali range, including water stream and involved dismantling of water pipeline for plants. A Member of Parliament from ruling party writes to MoEF, and Haryana govt ruled by his party, and also NGT, without any effective action. Now case is in High Court, says the report. http://www.tribuneindia.com/news/haryana/dadam-mining-mp-got-whiff-of-it-but-no-one-took-action/522682.html (The Tribune 03 January 2018)
Uttarakhand Ganga Mining Seer moved HC against DM Haridwar SEEMS Nigmanand like episode unfolding in Haridwar as another saint on 5 week agitation against illegal mining forcefully hospitalized alleges poisoning attempt. Section 144 imposed on Matri Sadan stayed by Court.  Nonviolence, Tapasya main weapon to protect GangaRiver says Swami Shivanand. http://www.hindustantimes.com/dehradun/matri-sadan-moves-court-against-haridwar-district-magistrate/story-hGYFu8EZkZEBVX7pqOynsJ.html (The Hindustan Times, 03 January 2018)
WATER OPTIONS
Bihar Ancient Mauryan technology brings water, hope to dry Magadh
Inspired by a college professor, villagers in the south-central part of Bihar donated money, built traditional channels and embankments to irrigate fields and ease farm woes. GREAT success story from Gaya, Magadh in South Central Bihar, revival of Ahar and Pynes help improve irrigation and agriculture. http://www.hindustantimes.com/india-news/ancient-mauryan-technology-brings-water-hope-to-dry-magadh-in-bihar/story-aMtlAukgnrYEFR4vjB1DrL.html (The Hindustan Times, 04 January 2018)
GROUND WATER
Interview 'We lack a system to monitor groundwater usage,' says Parineeta Interview of Parineeta Dandekar of SANDRP on the occasion of her getting the Vasundhara award. http://www.hindustantimes.com/pune-news/we-lack-a-system-to-monitor-groundwater-usage-says-activist-parineeta-dandekar/story-1clPjXhuXqKPY5D7oONmTP.html (The Hindustan Times, 07 January 2018)
National High ground water dip observed in South India in 2017 CGWB survey finds decline in water level in 87%, 75%, 70%, 50%, 49% of wells in Tamil Nadu, Andhra Pradesh, Kerala, Karnataka, Telangana respectively. The national average was decline is 61%. In states like Madhya Pradesh, Tripura, Rajasthan and Gujarat, the ground water level has risen fairly better than the southern states. http://www.newindianexpress.com/states/karnataka/2018/jan/04/karnataka-sees-drastic-dip-in-ground-water-levels-1744084.html (The New Indian Express, 04 January 2018)
ENERGY OPTIONS
National Clean energy crosses 62 GW mark; solar over 16W, wind 32.7GW  As per New & Renewable Energy Minister R K Singh, a total of 62.05 GW of renewable energy capacity has been installed as on November 30, 2017 which includes 32.75 GW from wind, 16.61 GW from solar, 8.29 GW from bio-power and 4.40 GW from small hydro power (up to 25 MW).
– The minister also told the House that the peak power supply deficit in April-November this fiscal was 2 per cent in the country as 160.75 billion units (BU) was supplied against the peak demand of 164.06 BU.
– Similarly, he informed the house that energy deficit was recorded at 0.7 per cent in April-November this fiscal as 809.49 BU was supplied against the demand of 815.34 BU. https://economictimes.indiatimes.com/industry/energy/power/clean-energy-crosses-62-gw-mark-solar-over-16w-wind-32-7gw/articleshow/62337842.cms (The Economic Times 02 January 2018)
On the contrary, Wind Energy Sector seems facing a slow down? As per the report, major wind power companies are staring at thinning financials and dry order books. Capacity addition 435 MW during first six months of 2017-18 compared to 5000 MW in 2016-17 (full year). The tariff has dropped this year to Rs 2.43 per unit from Rs 3.46 a year ago. http://www.business-standard.com/article/companies/as-capacity-addition-tapers-off-wind-power-sector-loses-steam-118010500057_1.html (Business Standard, 05 January 2018)
SOUTH ASIA
Nepal Alternatives for Budhi Gandaki The report shows massive impacts of 1200 MW Budhi Gandaki project, and proposes two alternatives, reducing dam height from current proposal of 263 m to 225 m or 185 m. http://www.myrepublica.com/news/33725/?categoryId=81 (My Republica, 04 January 2018) 
On similar lines, another report seems to suggest that the West Seti Project is clearly economically unviable with such high electricity prices. http://kathmandupost.ekantipur.com/news/2018-01-04/ctgc-threatens-to-pull-out-from-west-seti-project.html (Kathmandu Post 04 January 2018)
POK Protests in POK against hydro power project – Recently, the Awami Action Forum, political parties and people of Muzaffarabad staged a protest demonstration against the Kohala Hydropower project in PoK. They blocked the Muzaffarabad-Rawalpindi highway and raised slogans against the government.
– The protesters demanded that the project should not commence without taking people into confidence.
– Raza Mumtaz Khan of the Awami Action Committee said, "The Chinese company has not done any agreement with the Awami Action Forum and has not worked out to remove people's apprehensions over the project. The water resources of the area including Durbangarh and Narolla have dried up." https://www.outlookindia.com/newsscroll/antipakistan-protests-in-pok-over-exploitation-of-water-resources/1223503 (Outlook, 05 January 2018)
CHINA
Muddy Siang Experts call for joint India, China action on release of water from quake-hit Siang river It would indeed be great as suggested here if India and China were to work together in diffusing this possible crisis created by landslide dams along Tsangpo-Siang. http://en.tibetol.cn/html/News/Tibet/Opinions/2017/1229/2170_2.html (Tibetol.cn News 29 December 2017)
Here is David Petley blog about the Tsangpo earthquake and landslides in Nov 2017, and provides Planet Lab Images as additional useful resource. https://blogs.agu.org/landslideblog/2018/01/02/yarlung-tsangpo-1/ (AGU Blogsphere, 02 January 2018)
THE REST OF WORLD
International Rivers Brazil Announces the End of Mega-Dams in the Amazon
The Brazilian government has announced it will stop building mega-dams in the Amazon, according to reports in the Brazilian newspaper O Globo and in an article published today in Mongabay. This is great news indeed. Congratulations to everyone in Brazil Campaign and everyone at International Rivers  https://www.internationalrivers.org/resources/brazil-announces-the-end-of-mega-dams-in-the-amazon-international-rivers-statement-16587 (International Rivers, 03 January 2018)
US Important messages from multiple spillway failure of USA's the tallest dam in Feb 2017
– Citing a "long-term systemic failure" at the California Department of Water Resources, independent forensic investigators released their final report Friday on the nearly-catastrophic emergency last February at Oroville Dam.
– In a 584-page dissection of the disaster at America's tallest dam, the investigative team said Oroville Dam was designed and built with flaws from the beginning, which were exacerbated by inadequate repairs in the years that followed.
– The panel also said the Department of Water Resources, which runs the dam, has been "somewhat overconfident and complacent" and gave "inadequate priority for dam safety." At the same time, the investigators said the entire dam industry, including federal regulators who oversee the facility's operations, needs to heed the lessons learned at Oroville. http://www.sacbee.com/news/state/california/water-and-drought/article193151499.html (Sacbee, 05 January 2018)
Study Amazonian fish need tropical forests to survive A large study by fisheries ecologists at Virginia Tech have found a link between tropical forest loss in the Amazon and declines in freshwater fish populations. Their work could inspire new policy protections for tropical forests on the Amazon river floodplain, where fishing is a major source of income and food. https://www.pbs.org/newshour/science/amazonian-fish-need-tropical-forests-to-survive (PBS News Hour, 13 December 2017)
CLIMATE CHANGE
Maharashtra Govt climate action plan comes up short Despite taking almost a decade to prepare a state action plan for climate change, government has missed out on including issues related to thunderstorms, lightning and air pollution. Some shortcomings of the State Action Plan on Climate Change highlighted here: http://indiaclimatedialogue.net/2018/01/01/maharashtras-climate-action-plan-comes-short/  (India Climate Dialogue 01 January 2018)
Also see some useful links on Climate resilient agriculture:
Haryana DPR: Scaling-up Climate Resilient Agriculture Practices towardshttp://www.moef.gov.in/sites/default/files/Updated_proposal_NAFCC_Haryana_DPR_revised%20%282%29.pdf  
MP DPR:  http://www.moef.gov.in/sites/default/files/M.P.Detail%20Project%20Report_CSV%20V-6.pdf  
Telangana DPR: http://www.moef.gov.in/sites/default/files/Telangana_0.pdf  
Also, please see the following links for CGIAR's climate smart agriculture concept:
https://ccafs.cgiar.org/fr/blog/crafting-climate-smart-villages-%E2%80%98heart-india%E2%80%99#.WkTxMNKWYdU  
https://csa.guide/csa/climate-smart-villages
https://ccafs.cgiar.org/climate-smart-villages#.WkTw_dKWYdW
http://www.cimmyt.org/climate-smart-villages-in-indian-punjab-are-heading-for-resilient-farming/
http://www.icrisat.org/wp-content/uploads/2016/11/Building-Climate-Smart-Villages.pdf
Climate-Smart Villages An AR4D approach to scale up climate-smart agriculture https://cgspace.cgiar.org/rest/bitstreams/113613/retrieve
ENVIRONMENT
National Coal power's pace slows in India as glut leaves plants unused The inability of state distributors to utilize existing plants leaves India with a glut of capacity.
– Thermal Power capacity added during April-Nov 2017 eight months is the lowest since 2006 for the same eight months.
– Nearly 40% of the country's coal-based capacity is unused because the core customers — state-managed distribution companies — struggle to increase purchases in the face of massive debts and losses through electricity theft, insufficient metering and selling power below cost.
– Financially, the distribution companies are still not out of the woods and there isn't enough demand to use up all the power capacity. Net capacity additions for coal may fall even lower in coming years as some of the older plants get phased out.
– A rapid increase in renewable power is exacerbating the glut. During April-November, the country added 4.8 GW of renewable capacity, according to the ministry of new and renewable energy. That's almost sixfold the additions for coal.
– The country's electricity consumption peaked at 164 gigawatts during the eight months ended November, using up barely half of the installed capacity, CEA data show. http://www.livemint.com/Industry/xFABXPGeRPZBCtiuPEWSFK/Coal-powers-pace-slows-in-India-as-glut-leaves-plants-unuse.html (Live Mint, 02 January 2018)
Both average spot prices of and total electricity traded in Dec 2017 fall compared to those in Nov 2017. https://energy.economictimes.indiatimes.com/news/power/average-spot-power-price-drops-15-per-cent-in-dec-to-rs-3-per-unit/62360215 (The Economic Times 04 January 2018)
Please see DRP News Bulletin 01 January 2018 & DRP News Bulletin 25 December 2017  
Kindly follow us on www.facebook.com/sandrp.in ; https://twitter.com/Indian_Rivers