That big dams are dangerous, disaster prone is well known, the parliament having passed the Dam Safety Act is just one of the clear evidence of it. However, are big dams becoming even MORE dangerous in changing climate? All the science and also practical evidence seems to suggest that. This is also what the SCROLL report mentioned below concludes.
What is shocking is that the CWC (Central Water Commission), India's premier technical body on dams and water, when asked about this through an RTI, is in slumber. CWC told the journalist that there are no such cases! This should be worrying for everyone concerned including those in the risk zone of the dams, the beneficiaries of the dams and also the dam operators. This also exposes how weak is the mechanism set up by the Dam Safety Act passed recently by the Parliament is. This is because under the act, CWC Is the main organisation responsible dam safety in India. Can CWC really save us from unsafe dams, structurally unsafe or operationally unsafe? The SCROLL article illustrates through the example of Andhra Pradesh dams that CWC has not. It also quotes the compilation of SANDRP where to the frequency of disasters are only going up and there is again no confidence inspiring role from CWC.
Coincidentally, just in the week when this article is published, we had another major disaster at Kopili Dam in Assam on Saturday, March 26. The same dam had similar disaster in Oct 2019. There was no independent enquiry into that disaster, so no lessons were learnt, no accountability was fixed, no changes done in the SOPs. CWC remained in slumber. And now we have another disaster at the same dam. This time in March, in middle of summer, not even in monsoon or soon after monsoon.
Until and unless we change this, and ensure there is INDEPENDENT enquiry done in public domain after each disaster, which also helps fix accountability, help learn lessons, and help make necessary changes in the way we maintain and operate our dams, we are in for more disasters, whose frequency and intensity is only likely to go up.
Report Climate change making big dams dangerous Data from the South Asia Network on Dams, Rivers and People, a non-profit that works on dam safety issues, shows that since 2009 there have been 20 floods in the country as a result of dams breaking, or excess water being released from them. In response to Right To Information requests filed by Scroll.in asking for data on such floods, the Central Water Commission responded that it had no such data.
– According to an analysis of the flood by the South Asia Network on Dams, Rivers and People, the "ring bund", or the wall-like structure of Pincha dam, upstream of Annamayya, was damaged "amid heavy downpour" in the late hours of November 18. This flushed "additional inflows of around 1.40 lakh cusecs in Annamayya dam." As a result, on the morning of November 19, Annamayya's inflow went up to 3.20 lakh cusecs, against its total discharge capacity of 2.85 lakh cusecs.
– But in India, the parameters arrived at through these calculations are no longer relevant, according to Himanshu Thakkar, of the South Asia Network on Dams, Rivers and People. "Both the PMP and PMF are derived by looking at the historical precipitation and flow data," he said. "But all these figures are from the 1970s, when most of these dams were built. They are not relevant to the present-day realities, which have been altered by climate change."
– Right now the only government programme that aims at improving dams is the Central Water Commission's Dam Rehabilitation and Improvement Project. Launched in 2010, with a $341 million loan from the World Bank, the first phase of the project ended in 2018. The second phase started in August 2021, at an expense of $250 million. But the programme focuses only on improving structures of old dams, and does not examine proposed new dams. That the project does not improve dams' adaptation to climate change is apparent from the fact that before they unleashed the floods in the Periyar basin in Kerala in 2018, the Idukki system of dams had been improved under this programme. https://scroll.in/article/1020057/how-climate-change-is-making-indias-big-dams-dangerous (23 March 2022)
SANDRP Blog Major Disaster at Kopili Dam of NEEPCO The 275 MW Kopili Hydropower Dam of NEEPCO (a Union Power Ministry organisation, now under NTPC) has again faced a major disaster on Saturday, March 26, 2022. Earlier, the same project had suffered disaster in October 2019. The penstock pipe that takes water at high flow rates and speed from the Umrangso dam to the hydropower house burst during early hours of Saturday in Assam's Dima Hasao (earlier called North Cachar Hill) district. https://sandrp.in/2022/03/27/major-disaster-again-at-kopili-dam-of-neepco-in-assam/ (27 March 2022)
Uttarakhand Potential seismic precursors and surficial dynamics of a deadly Himalayan disaster: an early warning approach Conclusions:- Our observations based on seismic findings show the warning potential of seismic monitoring for the avalanche. A real-time monitoring of sliding and creeping of fracture and crack advancement is needed to know the degree of criticality and instability of source zone. The main destruction in Dhauliganga valley led to huge casuality in Tapovan dam that happened 15–17 min after the initiation of rock-ice avalanche. Had there been an early warning system in place, the study shows that there was enough time for mass evacuation. This study further indicates that the high quality data with close dense seismic array is needed for monitoring the potentially dangerous zones.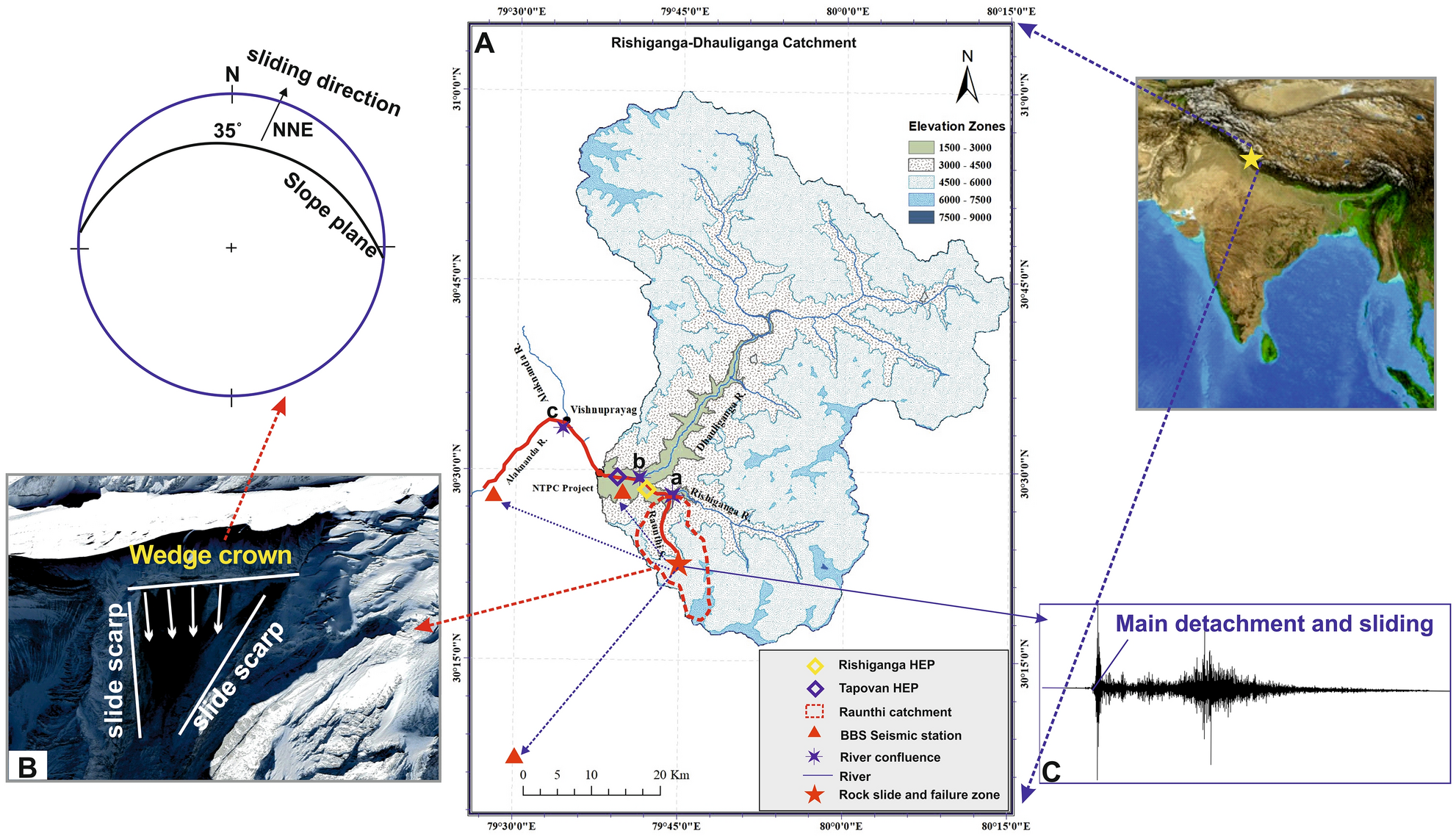 This approach would delineate the dynamics and degree of criticality of natural hazards of the region and can thus improve our attentiveness for significant hazards by providing timely warning for any disasters. Furthermore, we suggest the deployment of dense seismic network with other early warning parameters in the periphery of existing potentially dangerous zones would increase the efficiency of unfelt event detection, processing of signals and development of early warning system. This would also lead to a timely identification of new potentially active zone, which can create a critical situation in future. Hence, an integrated early warning perspective with a capability of practical response, communication, education and awareness would provide an effective approach for hazard mitigation. https://www.nature.com/articles/s41598-022-07491-y  (08 March 2022)
HYDRO POWER PROJECTS
Jammu & Kashmir CBI probe recommended into insurance, hydropower contracts The J&K administration has recommended a CBI probe into awarding contracts for a hydropower project and group insurance for the government employees. The decision was taken following allegations levelled by former Governor Satya Pal Malik that he was offered a bribe of Rs 300 crore in return for clearing the files of two big industrial houses. Malik "refused to take the bribe and cancelled the contracts". "Two files had come for my consideration. One of the secretaries told me that if I approve these, I can get Rs 150 crore each. I turned down the offer saying that I had brought five 'kurta-pyjamas' to Kashmir and will just go back with them," Malik had said at a function in Rajasthan in October. The government has now recommended that the CBI investigate the matter to ascertain the facts and the details.
– The CBI will also inquire allotment of the Rs 9,000 crore hydropower project in J&K. Sources say the contract of the proposed 1,540 MW Kiru hydropower project was allotted in violation of the government guidelines. https://www.tribuneindia.com/news/j-k/cbi-probe-recommended-by-jk-into-insurance-hydropower-contracts-380482 (25 March 2022)
Arunachal Pradesh 44 deals with private power developers scrapped The government has scrapped 44 memorandums of agreements signed with private power developers more than a decade ago for failing to start working on them, the 60-member State Assembly was told on Wednesday (March 16, 2022). Deputy Chief Minister Chowna Mein, who holds the Hydropower portfolio, said the terminated projects have been offered to the central public sector undertakings (CPSUs) considering their performance and reliability. Beginning 2007, the Arunachal Pradesh government had inked 153 deals with various CPSUs and independent power producers for hydropower projects with a combined capacity of 46,943 MW. The deals were based on the hydropower policies of the Centre and the State government. https://www.thehindu.com/news/national/other-states/44-deals-with-private-power-developers-scrapped-in-arunachal-pradesh/article65233438.ece (17 March 2022)
Assam Famous artist of Assam Nilim Mahanta arrested in Lakhimpur for writing No Big Dam on walls by police and taken to Arunachal Pradesh. https://fb.watch/c0nCAenvzu/
Andhra Pradesh Arcelor Mittal ties with Greenko developer 975 MW Andhra Project including hydro. https://www.newindianexpress.com/business/2022/mar/22/arcelormittal-ties-with-greenko-group-to-develop-975mw-re-project-2432988.html (22 March 2022)
DAMS
Mekedatu project Dam will aggravate water crisis: IISc faculty:- Ramchandra suggested that the government should instead focus on rainwater harvesting. "For example, Bangalore receives an annual rainfall of 700 to 850 mm which amounts to 15 TMC, while water requirement for Bangalore is 18 TMC, which means 70 per cent of water required for Bangalore is available in the form of rain. The best options are rooftop harvesting, which the government needs to make mandatory, and the next best option is to rejuvenate lakes and retain rainwater in lakes so that groundwater sources have clean water. For this, we have to ensure that lakes do not receive either untreated sewage or untreated industrial effluents and we need to punish all pollu ters as per the provisions of the Water Act, 1974 and Environment Act, 1986," the IISc professor elaborated.
-Ram Prasad, a co-founder of Friends of Lakes, said, "The recharge well is also a very powerful tool to manage groundwater, especially when we talk about a city like Bengaluru. These wells help in controlling urban floods, among others. It also helps in the revival of the shallow unconfined aquifer which has been the city's source of domestic water… Moreover, the statistics of the groundwater table should be released frequently so that people realise that we do not have unlimited natural resources." https://indianexpress.com/article/cities/bangalore/mekedatu-project-water-crisis-iisc-faculty-7831739/ (23 March 2022)
The Tamil Nadu assembly on Monday (March 21 2022) unanimously passed a resolution condemning the Karnataka government for its 'unilateral decision' to construct the Mekedatu dam across river Cauvery. It urged the Union government not to give technical, environmental or any other clearance required for the project. CM M K Stalin said the state government would oppose the project in every way – against the Centre granting permission and taking legal action to guard the interests of the state and welfare of its farmers. It was unanimously supported by the DMK allies, the Congress, VCK, MDMK and Leftparties, and the opposition, AIADMK, BJP and the PMK. https://timesofindia.indiatimes.com/city/chennai/mekedatu-dam-tamil-nadu-assembly-passes-resolution-condemns-karnataka/articleshow/90365058.cms (22 March 2022)
Members cutting across political parties in the Karnataka Legislative Assembly on Tuesday condemned the Tamil Nadu Assembly's unanimous resolution against construction of the Mekedatu dam in the Cauvery basin in the State, arguing that the neighbouring State has no right to object to the project in the territorial jurisdiction of Karnataka. To counter Tamil Nadu's resolution, the State Government has decided to move a resolution in the Legislative Assembly on Wednesday (March 23) urging the Centre to provide environment clearances for construction of the balancing reservoir, for catering to the drinking water needs of Bengaluru city. https://www.thehindu.com/news/national/karnataka/karnataka-condemns-tn-resolution-against-mekedatu-project/article65248870.ece (22 March 2022)
Polavaram Project Will not reduce height: CM YS Jagan Mohan Reddy on March 22 2022 reiterated that there is no question of reducing the height of Polavaram dam. He lashed out at the opposition parties for unleashing 'false campaign' on the issue. The CM vowed to complete the project by June 2023.Taking part in a short discussion on Polavaram project in the assembly, the chief minister said "the spillway was completed as per the original design of 45.5 metres height. Water will be stored in any newly constructed project in a phased manner keeping in view the safety of the dam". He said the sand shortage forced the works to stop at the project site. The incident happened when sand trucks belonging to Polavaram project contractor Megha Engineering and Infrastructure Ltd (Meil) were stopped from entering the project area by JP power ventures ltd (JVPL). https://timesofindia.indiatimes.com/city/amaravati/will-not-reduce-height-of-polavaram-dam-says-andhra-pradesh-cm-ys-jagan-mohan-reddy/articleshow/90386390.cms (23 March 2022)
INTERLINKING OF RIVERS
Ken Betwa Interlinking Who Benefits from the KBL Project? There is a way to increase the supply of water in the region of the two rivers without spending Rs 44,000 crore, destroying the biodiversity of the area and displacing hundreds of people from their homes. But the government seems blind to it. https://thewire.in/environment/who-benefits-from-the-ken-betwa-linking-project-field-notes-from-a-walking-tour (25 March 2022)
Demands to shift the location of Ken Betwa Dam upstream.
Bundelkhand Women 'water warriors' turned arid villages into plentiful oases Ms Jha, 30, is a Jal Saheli, or "Friend of Water". She forms part of a network of about a thousand women, mostly illiterate, who are on a mission to conserve water in the region. In the coming weeks and months, the group will embark on the annual task of reviving water sources by digging wells and ponds, and constructing small reservoirs, to harvest rainwater in the drought-prone region. https://www.thenationalnews.com/world/asia/2022/03/22/how-indias-women-water-warriors-turned-arid-villages-into-plentiful-oases/ (22 March 2022)
मध्यप्रदेश चट्टानों और गुफाओं में अंकित हैं चिन्ह प्राचीन धरोहरों से समृद्ध मध्यप्रदेश के पन्ना और छतरपुर जिले के जंगलों और पहाड़ों की कंदराओं में हजारों वर्ष पूर्व आदिमानव निवास करते रहे हैं। यहां के पहाड़ों व घने जंगलों के बीच स्थित गुफाओं में मिले आखेट के दुर्लभ चित्रों से यह साबित होता है कि हजारों साल पहले भी यहां पर मानव आबादी थी। जिनके द्वारा चट्टानों और कंदराओं में प्राकृतिक रंगों से आखेट के ऐसे चित्र बनाये गये हैं। आदिमानवों द्वारा बनाये गए शैलचित्रों और शैलाश्रयों के लिए प्रसिद्ध भीमबैठका (मध्य प्रदेश के रायसेन जिले में स्थित) की तरह पन्ना टाइगर रिजर्व के जंगल में भी अनेकों जगह दुर्गम पहाड़ियों और गुफाओं में शैल चित्र (रॉक पेंटिंग) बनी हुई हैं। ये कितनी प्राचीन हैं इसका पता लगाने के लिए विशेषज्ञों की मदद ली जानी चाहिए। ताकि यहां के दुर्लभ प्राचीन शैल चित्रों का संरक्षण हो सके। मालूम हो कि आदिमानवों द्वारा बनाये गए शैलचित्रों के कारण भीमबैठका क्षेत्र को भारतीय पुरातत्व सर्वेक्षण, भोपाल मंडल ने अगस्त 1990 में राष्ट्रीय महत्त्व का स्थल घोषित किया गया है। https://pannastories.blogspot.com/2022/03/blog-post_25.html (25 March 2022)
IRRIGATION
Gujarat Wastage of water due to 10 ft breach in Narmada Canal Massive 10 ft breach in Narmada canal in Santalpur in Patan district since 3 days, but no attempt to stop the wastage or repair. There has been some ten breaches in this area so far. https://www.youtube.com/watch?v=TAPzousadbM (22 March 2022)
Gujarat govt claims that the remaining 6% of Narmada Canals may be completed in 2022-23. https://timesofindia.indiatimes.com/city/ahmedabad/narmada-canal-work-to-end-by-2022-23/articleshow/90385048.cms (23 March 2022)
RIVERS
SANDRP Blog How and where can greening help Indian Rivers Guest Article by Manoj Misra River rejuvenation is not and cannot be an overnight or project driven phenomenon.
The secret of success of any sustainable river rejuvenation lies in restoration of its lower order streams which together shall rejuvenate the higher order streams. Our focus for greening should thus be on the hilly catchments of first, second and third order streams. In plains stand alone hills which abound in central and peninsular India should be taken up for such appropriate greening.  https://sandrp.in/2022/03/27/how-and-where-can-greening-help-indian-rivers/   (27 March 2022)
Karnataka Fighting for a river The once vibrant Jayamangali river (originates at Devrayanadurga in Tumakuru district) is deeply scarred by decades of sand extraction and development. The story tracks the destruction of the river and local attempts to rejuvenate it. https://www.deccanherald.com/spectrum/fighting-for-a-river-1094614.html (25 March 2022)
Yettinahole Project Not a drop at end of the pipeline after spending Rs 22K cr Tribal families around the project site are living in constant fear of losing their lives and homes. https://www.downtoearth.org.in/news/environment/yettinahole-water-project-not-a-drop-at-end-of-the-pipeline-after-spending-rs-22-000-crore-82049 (23 March 2022)
NARMADA Madhya Pradesh नदी के किनारे क्यों सूखने लगे बोर अमरकंटक से निकलने वाली नर्मदा नदी किनारे के क्षेत्र में बोरवेल सूखने लगा है। जानकार मानते हैं कि भूजल का यह संकट नर्मदा में पानी की कमी की वजह से हो सकता है। नदी के प्रवाह में रुकावट, सहायक नदियों का सूखना, अंधाधुंध खनन, पानी का अत्यधिक दोहन और रासायनिक खेती के बढ़ते चलन की वजह से भूजल स्तर नीचे जा रहा है। https://hindi.mongabay.com/2022/03/22/world-water-day-why-bores-started-drying-up-on-the-banks-of-river-narmada/ (22 March 2022)
GANGA Study Atmospheric rivers fueling the intensification of fog and haze over Indo-Gangetic Plains ABSTRACT: Indo-Gangetic Plains (IGP) experiences persistent and widespread rise of fog and haze during the winter season. This has been attributed to the rise in pollution levels and water vapor, but the reason for enhancement in latter is not clear yet. We detect moisture incursion from Arabian Sea, a phenomenon called atmospheric rivers (AR), land-falling intermittently along 12–25° N corridor of the west-coast of India during winter; using satellite and reanalysis data. The total vertically integrated horizontal water vapor transport in AR-landfalls ranging from 0.7 × 108 to 2.2 × 108 kg/s; nearly five-orders of magnitude larger than the average discharge of liquid water from Indus River into Arabian Sea. These AR events are playing prominent role in enhancing water vapor over IGP region by 19 ± 5%; in turn fueling the intensification of fog and haze through aerosol-water vapor interaction. We found that AR events enhanced aerosol optical depths over IGP by about 29 ± 13%. The progression of moist-laden winds in ARs onto Himalayan Mountains contributes to the precipitation that explains the observed rise in the extreme flow of western Himalayan Rivers in winter. We conclude that these ARs likely contribute to the decline of snow albedo as pollution-mixed-ARs encounter Hindukush-Karakoram-Himalayan mountain region. https://www.nature.com/articles/s41598-022-09206-9 (24 March 2022)
Reviving River Ganga – River lecture by Dr. Ravi Chopra. https://www.youtube.com/watch?v=kN3u9h6KHx0 (22 March 2022)
Uttarakhand Why rivers faces water shortage during summers? Ajay S Rawat, former chairman, forest history division, International Union Forestry Research Organisations at Vienna (Austria), said, "People in the hills always considered water sacred and their traditional harvesting mechanisms were efficient. However, in 1917, the Britishers made water management a state subject. From there on, things went downhill. In 1930, the British passed yet another law on water management that made matters worse. Cut to present times, we are witnessing several cases of builders digging borewells without permission from concerned departments."
Deforestation is another reason behind water shortage in Uttarakhand, according to experts. "Lack of harvesting and loss of green cover leads to a water shortage situation during summers in Uttarakhand. Besides, a reduction in arable land — which retains water — causes a drop in groundwater level," said Salil K Tewari, professor of agro-forestry at Pantnagar University. Echoing a similar opinion, environmentalist Sachidanand Bharti said, "Rainfall patterns are changing due to multiple factors. In view of this, we should return to our traditional water harvesting methods of Naula (aquifer) and Dhara (spring)." Forest fires also add to water woes in Uttarakhand, according to Deepak Kholiya, professor of Environmental Science at Graphic Era Hill University. "Forest fires cause soil erosion and uneven rainfall. This triggers a water shortage," he said.
Increased consumption in tourist seasons also causes water shortage. "During summers, a large number of tourists come to the hills. This increases per-capita water consumption dramatically, increasing burden on our already-strained resources," said Namita Tewari, professor of Environmental Studies at Doon University. The solution to this shortage, according to experts, lies in afforestation, water harvesting, and its conservation. https://timesofindia.indiatimes.com/city/dehradun/why-ukhand-origin-of-several-rivers-faces-water-shortage-during-summers/articleshow/90363962.cms (22 March 2022)
'Gangotri glacier lost 0.23 sqkm in 15 yrs' The Gangotri glacier in Uttarakhand has lost approximately 0.23 square kilometre area in 15 years and the Indian Space Research Organisation (ISRO) is monitoring the changes using Indian Remote Sensing Satellite data, Union environment minister Bhupender Yadav informed Rajya Sabha on Thursday (March 24). "As per the information received from ISRO, it has been observed that Gangotri glacier has lost approximately 0.23 sq km area due to the retreat of the glacier in the 15 years' time frame from 2001-2016," Yadav said.
The extent to which the Himalayan glaciers have retreated is a complex and evolving subject studied through investigation, data collection and analysis of various case studies by scientists in India and all over the world, Yadav said, adding that the glaciers and their characteristics exhibit complex changes in specific locations, such as various sub-regions in the Himalayas. "There are stable, retreating or even advancing glaciers in the Himalayas, thereby, emphasising the complex geographical and cyclical nature of the glacial dynamics. The literature suggests that the Himalayan region has experienced the presence of black carbon. However, its effect on mass loss and retreat of the Gangotri glacier has not been studied," the minister told the House.
According to information received by the environment ministry from ISRO, in situ measurements show a variable concentration of black carbon over the Himalayan region, with very low values (~ 60 to 100 ng m-3) over the western Himalayas, moderate values over the eastern Himalayas (~ 1000 to 1500 ng m-3), and high values over the foothills of the Himalayas (~ 2000 to 3000 ng m-3). "Black carbon is a short-lived climate pollutant, with a lifetime of only days to weeks after its release into the atmosphere, especially over the Himalayas that experience periodic snowfall. Moreover, Himalayan glaciers have a high concentration of debris on ice and dust on snow, significantly reducing the effect of the changing reflectance of snow and ice on the glaciers. Due to this, the impact of black carb. https://www.hindustantimes.com/environment/gangotri-glacier-lost-0-23-sqkm-in-15-years-centre-informs-rajya-sabha-101648181659574.html (25 March 2022)
YAMUNA Greater Noida Farmers to fast unto death in protest Farmers of Nagli Nagla village located along the Yamuna river have decided to sit on a fast unto death outside the Gautam Budh Nagar district magistrate's office to protest against the authorities for failing to stop the land mafia from constructing buildings on the Yamuna floodplains. They said the buildings are being constructed in violation of the May 20, 2013, NGT order which directed the Delhi, Uttar Pradesh and Haryana governments to clear all concrete structures built illegally from notified no-development zones on the NCR flood plains. They also alleged that the land mafia is not letting them do agricultural activities on the Yamuna floodplains and the administrative officials are sheltering the perpetrators. "Our family has been farming on our ancestral agricultural land for over 100 years. The land mafia is selling residential plots on this floodplain illegally and is trying to grab our land and construct buildings on it with the help of some officials. If we try to oppose them they call goons who threaten us. They have also destroyed our crops. If the administration will not help us, then we will resort to fasting unto death," said Samay Singh, a member of one of the 20 families who are taking part in the protest. https://www.hindustantimes.com/cities/noida-news/illegal-construction-on-yamuna-floodplains-farmers-to-fast-unto-death-in-protest-101648148903398-amp.html (25 March 2022)
Delhi -All the wastewater in Delhi will be tapped in the next six months and all areas will be linked to the sewer network in the next 15 months, he said at a virtual session organised by Assocham. "We will clean the Yamuna by December 2023 and not 2025. All the drains will be completely cleaned… I am confident. We will invite you all to take a dip in any stretch of the river in Delhi," he said. "The Yamuna and all the drains in Delhi will be so clean that you will find fish in the water," Jain added. https://www.moneycontrol.com/news/india/yamuna-will-get-back-its-fish-by-december-2023-satyendar-jain-8260511.html (22 March 2022)
FISH, FISHERIES, FISHERFOLKS
Tamil Nadu Community bonding over fishing, feast Amazing annual practice in some villages: Every year, the village of Meiappanpatti in Melur taluk hosts the fishing festival that draws people from the neighbouring Sivaganga district. On Monday (March 21 2022), at dawn around 2,000 people plunged into the village tank with whatever they could get a hold of — baskets, nets, lines, saris, dhotis. In an hour, they were showing off their catch — all kinds of carp. The seeds are released in these 15 tanks reserved for community fishing in August and since then, the kids of the village feed the vegetable waste to the fish. Everybody gets to catch on this day, and those who cannot catch, get their share from others.  https://timesofindia.indiatimes.com/blogs/tracking-indian-communities/community-bonding-over-fishing-feast/  (22 March 2022)
Uttar Pradesh Hindi media clips on mass fish death in Gomti river.
SAND MINING
Report Women & woes of sand mining by Sumaira Abdulali "There is no credible assessment, neither environment assessment nor social assessment, of river sand mining in India, which can only be credible if there is an independent assessment. In absence of that, we are moving in darkness. We don't even understand what the implications of river sand mining are," says Himanshu Thakkar of SANDRP, who has studied India's rivers for three decades. https://www.forbesindia.com/article/take-one-big-story-of-the-day/women-and-the-woes-of-sand-mining/74267/1 (08 March 2022)
Uttar Pradesh मौरंग कारोबारी ने रोक दी केन नदी की जलधारा -पैलानी क्षेत्र के खप्टिहाकला मौरंग खदान में एनजीटी नियमों की खुलेआम धज्जियां उड़ाई जा रही हैं। मौरंग ठेकेदारों ने केन नदी की जलधारा ही रोक दी।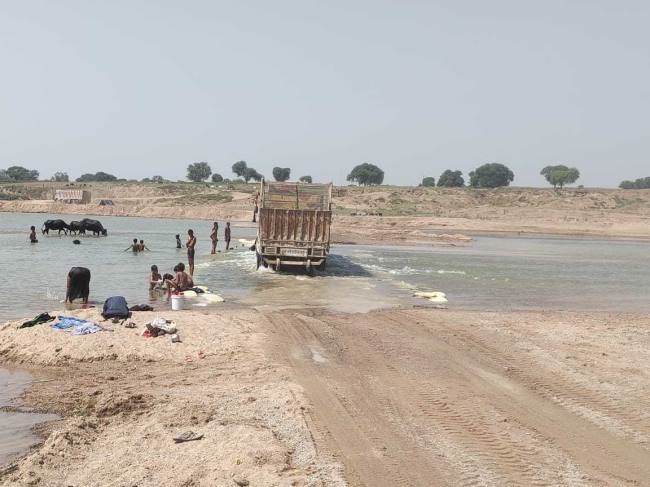 अस्थायी पुल बनाकर ओवरलोड ट्रक निकाले जा रहे हैं। जिला पंचायत सदस्य ने मामले की शिकायत उच्चाधिकारियों से की है। जनपद में इस समय करीब 13 मौरंग खदाने संचालित हैं। जिला प्रशासन और खनिज विभाग ने माह भर से इन खदानों की तरफ झांकना तक मुनासिब नहीं समझा। https://www.jagran.com/uttar-pradesh/banda-maurang-businessman-stopped-the-flow-of-ken-river-built-a-bridge-22569383.html   (24 March 2022)
खप्टिहा 100/3 की खदान का अवैध खनन और ओवरलोडिंग जी का जंजाल बनता जा रहा है। आए दिन ओवरलोड बालू भरे ट्रकों से जसपुरा सहित आस-पास के क्षेत्रों में दुघर्टनाएं होती जा रही है। खदान संचालक से मिन्नते करने के बाद भी केन की बालू के भूखे खनन माफिया सुधरने का नाम नहीं ले रहे है। https://swatantraprabhat.com/india/public-problems/Death-running-on-the-streets-in-Jaspura-town!/cid6968444.htm (24 March 2022)
बालू भरे ट्रैक्टर ने मजदूर की जान ली, ग्रामीणों में आक्रोश जनपद बांदा में बालू खदानों से बालू लेकर जाने वाले ओवरलोड ट्रक व ट्रैक्टर से आए दिन दुर्घटनाएं होती हैं। जिससे असमय अनेक लोग काल के गाल में समा जाते हैं लेकिन प्रशासन मूकदर्शक बना रहता है। ताजा मामला शहर कोतवाली क्षेत्र का है। जहां बुधवार (March 16) को एक बालू भरे ट्रैक्टर ने राह चलते मजदूर पर ट्रैक्टर चढ़ा दिया। जिसकी घटनास्थल पर मौत हो गई। घटना शहर कोतवाली अंतर्गत कनवारा गांव के समीप हुई। ग्राम कनवारा निवासी अयोध्या (28) बुधवार को सवेरे अपने गांव की तरफ जा रहा था तभी बालू से भरे ओवरलोड ट्रैक्टर सवार ने उस पर ट्रैक्टर चढ़ा दिय,ा जिससे उसकी घटनास्थल पर मौत हो गई। इस घटना से आक्रोशित ग्रामीणों ने एकत्र होकर प्रशासन के खिलाफ नारेबाजी से शुरू कर दी। तब तक घटना की जानकारी पुलिस को हो गई। https://bundelkhandnews.com/Baloo-tractor-killed-the-worker-resentment-in-villagers (16 March 2022)
Madhya Pradesh सीतापुर रेत खदान में 2 दिन में 2 हादसे, 3 की मौत पहला हादसा 18 मार्च को हुआ। 15 वर्षीय अंशुल कुजूर पिता दीपक कुजूर निवासी पुलिस लाइन के पास अनूपपुर सुबह करीब 11 बजे सोन नदी में नहाने गया था। यहांं रेत उत्खनन के लिए खोदे गए गहरे गड्ढे में डूबने से उसकी मौत हो गई। शाम करीब 7 बजे उसका शव ढूंढा जा सका। दूसरी घटना 19 मार्च को शाम करीब 5 बजे हुई। 22 वर्षीय अभय द्विवेदी पिता रमेश चंद्र द्विवेदी तथा आलोक केवट पिता पुरेंद्र केवट अपने मित्रों के साथ सोन नदी गया था। पानी में छलांग लगाते ही दोनों गहराई में चले गए और डूबने से उनकी मौत हो गई। शुभ शुक्ला की शिकायत पर कोतवाली अनूपपुर में केजी डेवलपर्स एवं उनके अधिकारी, कर्मचारियों के विरुद्ध धारा 304 ए का मामला पंजीबद्ध किया गया है।
जिला मुख्यालय में ही संचालित रेत खदान में रेत ठेकेदार की लापरवाही सामने आई जहां खदान में किसी भी तरह का सूचना पटल नहीं लगाया गया था। खदान का मुनारा भी टूटा हुआ था जिसके आगे रेत का उत्खनन किया गया। खदान में कोई भी कर्मचारी उपस्थित नहीं था जिससे लोगों को गहराई के संबंध में जानकारी दी जा सके। खदान में सुरक्षा के लिए रेत ठेकेदार के द्वारा किसी भी तरह का कोई भी कार्य नहीं कराया गया था। खनिज विभाग के नियमों के अनुसार नदी में पानी के जल स्तर से 3 मीटर तक की गहराई में रेत का उत्खनन किया जा सकता है किंतु इस मामले में रेत ठेकेदार के द्वारा लगभग 6 मीटर गहराई तक रेत का उत्खनन किया गया है। इसको लेकर जांच के निर्देश दिए गए हैं। वही स्वीकृत खदान से लगभग 15 मीटर अधिक में रेत का उत्खनन किए जाने की ग्रामीणों की शिकायत की जांच के निर्देश भी दिए गए हैं। https://www.bhaskarhindi.com/city/news/two-accidents-in-2-days-three-killed-in-sitapur-sand-mine-351577 (21 March 2022)
Maharashtra 11 year old boy drowned in river in Buldhana While the incident of attack by sand mafia on the vehicles of tehsildars in the district is fresh, an 11-year-old boy drowned in a pit made by pumping sand in the river Purna yesterday (15 March 2022). Relatives and villagers have alleged that the boy died after drowning in a ditch caused by heavy sand dredging. Shegaon has rushed to the rural police for action in this case. Anil Bharasakade's 11-year-old son Arjun fell into a machine-dug pit in the river basin in the afternoon and died, according to preliminary estimates. Upon learning of the incident, the boy's relatives searched the riverbed. https://pipanews.com/sand-mining-in-buldhana-chimukalya-victim-due-to-sand-mafia-11-year-old-boy-drowns-in-river-bed-11-year-old-boy-drowned-in-river-in-buldhana/ (16 March 2022)
West Bengal Birbhum killings: Saga of violence; corruption spawned by illegal sand mining Welcome to Birbhum's world of illegal sand mining has spawned rivalry, murder, a culture of adversaries storing guns and illegally manufactured bombs, and of course, corruption. The latest victim of this was local TMC strongman Bhadu Sheikh, who was killed allegedly for his unwillingness to share the spoils that the excavators were bringing up from the river beds. Eight people, including women and children, were burnt to death in a suspected revenge attack.
"Illegal sand-mining has been flourishing under the patronage of powerful people since a long time. For the local mafia and the powers that be, it's a team game," said Krishnapada Pal, a local who lives near the Baidhara bridge on Brahmani river, around 15 km from Rampurhat town. BJP leader Subhasish Chowdhury alleged that most of those who have been arrested, including Anasur Hossain and Newton Sheikh on suspicion of being involved either in Bhadu Sheikh's murder or the alleged revenge attack, were engaged in illegal sand mining.
Chowdhury said this unlawful practice and racket of extorting money have aided the rise of people, whose names now figure in the Birbhum tragedy. Incidentally, last year, the state police had set up a joint action team, with personnel from Purba and Paschim Bardhaman, Bankura, Birbhum, Purulia districts as well as from Hooghly to control and eradicate the menace. "We ought to have specialised teams to handle these criminals. And, we have to be backed up by the administration when a crackdown occurs," a police officer said. https://www.hindustantimes.com/india-news/birbhum-killings-a-saga-of-violence-corruption-spawned-by-illegal-sand-mining-101648385777650.html (27 March 2022)
WETLANDS, LAKES, WATER BODIES
Haryana Only state to Geotag 18, 104 water bodies "A 5-pillar strategy, including institutional reforms, policy interventions, focusing on key projects and activities, convergence and implementation and governance has been adopted by the state," said chief secretary Sanjeev Kaushal.
– At national level, National Water Mission, Ministry of Jal Shakti will be implementing the mission covering both urban and rural areas of all the districts in the country. The campaign will be launched on March 29 and will continue till November 30, 2022. https://indianexpress.com/article/cities/chandigarh/haryana-becomes-only-state-geotag-18104-water-bodies-7836517/ (25 March 2022)
Delhi NHRC takes serious view of disappearing water bodies in the national capital; issues notices to the Government and DDA. https://nhrc.nic.in/media/press-release/nhrc-takes-serious-view-disappearing-water-bodies-national-capital-issues (03 March 2022)
A total of 119 waterbodies situated in the villages of eight districts of Delhi are being developed as 'model ponds'. These ponds will have to meet certain parameters like no foul smell, presence of aquatic life and dissolved oxygen levels of more than 3 micrograms per cubic metre to become a model pond, Wetland Authority of Delhi said. On World Water Day, officials said that the land-owning agencies were developing these ponds after the revenue department identified them. The wetland authority has prepared and sent benchmarks to district magistrates for restoration or creation of model ponds. https://timesofindia.indiatimes.com/city/delhi/119-waterbodies-in-delhis-villages-being-developed-as-model-ponds/articleshow/90384177.cms (23 March 2022)
WATER OPTIONS
SANDRP Blog Celebrating hill women and their role in Springshed development and governance Guest Blog by: Seema Ravandale Abstract: The hill women share the special intricate and culturally nurtured connection to forest and water, which makes them better steward or owner of their resources.
This demands their participation beyond the right-based "beneficiary" approach, recognizing their accumulated knowledge and resilient and adaptive capacities in recently contested discourse of Springshed development and governance in Indian Himalayan Region (IHR). https://sandrp.in/2022/03/23/celebrating-hill-women-and-their-role-in-springshed-development-and-governance/  (23 March 2022)
As WWD 2022 theme is groundwater, here an attempt to acknowledge the role of hills women in conservation of vital groundwater source of Himalayan region called Spring. https://www.indiawaterportal.org/articles/celebrating-role-hill-women-springshed-development-and-governance (21 March 2022)
WWD 2022: Positive Water Stories from India This report on World Water Day 2022 highlights the positive impacts of initiative taken by individual, communities, civil societies and government schemes towards revival and protection of water sources in India over the past one year. These efforts show how conservation, restoration and management of water resources including springs, step-wells, ponds, lakes, tanks etc. at local level are far better, cost effective and efficient solutions in comparison to big water projects which in immediate and long term cause more damages than benefits to hydrological cycle, local community, environment apart from incurring huge construction and operating costs. https://sandrp.in/2022/03/22/world-water-day-2022-positive-water-stories-from-india/ (22 March 2022)
WWD 2022: Urban Water Options https://sandrp.in/2022/03/21/world-water-day-2022-urban-water-options/ (21 March 2022)
WWD 2022: India's Positive Groundwater Stories https://sandrp.in/2022/03/21/world-water-day-2022-indias-positive-groundwater-stories/ (21 March 2022)
Video recording Wells of India webinar organized by BIOME on WWD 2022. https://www.youtube.com/watch?v=2MfJ8KJJngk
Romit Sen:- Groundwater governance is about involving individuals and institutions in decision making backed by the understanding of the area's hydro-geology. One certainly cannot ignore the local wisdom of communities across different regions of the vast nation that has been the guiding principles for effective water management across several centuries. An effective and sustainable groundwater management roadmap will need integration of different disciplines with citizen science. Our approach towards groundwater resources should certainly be that of a fixed deposit that needs to be protected for securing our water future. https://timesofindia.indiatimes.com/blogs/voices/securing-groundwater-equals-safeguarding-indias-water-future/ (22 March 2022)
"150 years ago, no government system anywhere in the world was responsible for water supply. The community owned, managed, maintained, and controlled the water everywhere." Anupam Mishra liked to remind everyone. https://www.moneycontrol.com/news/opinion/world-water-day-revive-traditional-water-systems-to-avert-a-water-crisis-8260531.html (22 March 2022)
GROUNDWATER
Infographic highlights key facts about Groundwater.
Bihar NHRC takes a serious view of the groundwater contamination in 31 of 38 districts; issues notice to the State Government calling for a report within six weeks. https://nhrc.nic.in/media/press-release/nhrc-takes-serious-view-groundwater-contamination-31-38-districts-bihar-issues (04 March 2022)
URBAN WATER
MoJS Sketchy details of water reuse project a new GOI initiative. https://www.hindustantimes.com/india-news/centre-launches-water-reuse-project-101647988991369.html (23 March 2022)
ENVIRONMENT GOVERNANCE
Supreme Court Ex Post Facto Environmental Clearance Can Be Granted In Exceptional Circumstances The Supreme Court has observed that the Environmental Protection Act does not prohibit grant of ex post facto Environmental Clearance absolutely. The bench comprising Justices Indira Banerjee and JK Maheshwari observed that it should not be granted routinely, but in exceptional circumstances taking into account all environmental factors. https://www.livelaw.in/top-stories/ex-post-facto-environmental-clearance-can-be-granted-in-exceptional-circumstances-supreme-courtpahwa-plastics-pvt-ltd-vs-dastak-ngo-2022-livelaw-sc-318-195027 (25 March 2022)
CLIMATE CHANGE
WMO Extreme weather warning system for all in 5 years Early warning systems to protect the entire world from extreme weather and climate disasters should be rolled out within five years, according to the UN. Right now, around one-third of the global population has no cover while in Africa 60% of the population is unprotected. The World Meteorological Organization (WMO) will put together a plan on how this can be achieved by November. The UN has now asked the WMO to develop a scheme so that early notifications of these type of extreme events can cover everyone on the planet within five years. https://www.bbc.com/news/science-environment-60847942 (24 March 2022)
Chennai CSTEP report predicts climate change impact Chennai has seen catastrophic floods that have inundated the city over the past few years. The city is also grappling with increasing temperatures in the summer months. With each passing year, the impact of climate change only seems to get more pronounced and ominous for the city. And a recent report from the Centre for Study of Science, Technology and Policy (CSTEP) has predicted what exactly the city could face on the climate front over the next approximately 30 years. https://chennai.citizenmatters.in/chennai-cstep-climate-change-report-temperature-rainfall-39335 (24 March 2022)
THE REST OF THE WORLD
TANZANIA Destructive Dam Project Moves Ahead A massive hydroelectric dam under construction in Tanzania threatens to flood part of a famed game reserve and deprive villages and mangrove forests of the water they depend on, experts warn. But fear of the country's authoritarian government has silenced the project's critics. https://e360.yale.edu/features/despite-warnings-a-destructive-african-dam-project-moves-ahead (22 March 2022)
Report on how a Congo dam is so clogged with the plastic flowing in that the hydropower turbines are getting affected and one of the turbines has been shut since Jan 2022. https://www.wionews.com/videos/plastic-pollution-clogs-hydropower-dam-in-dr-congo-464639 (22 March 2022)
Report Dams, Damage and Defenders However, across the country, dams for irrigation, power and flood control are blocking their pathways. Similar to how major roads and highways can block access to habitat for land animals, dams and diversions harm river connectivity, acting as physical barriers for wildlife. Dams also slow rivers down, allow invasive aquatic plants and non-native animals to thrive, increase water temperature and make riparian ecosystems and neighboring cities less resilient to climate change… And let's remember that all roads lead to Rome, and all rivers flow to the sea. These familiar adages describe a fundamental reality for aquatic wildlife that use rivers like great highways—unless they encounter dams that act like roadblocks in their watery world. https://defenders.org/blog/2020/08/dam-it-dams-damage-and-defenders (23 Aug 2020)
Compiled by SANDRP (ht.sandrp@gmail.com)
Also see: DRP News Bulletin 21 March 2022 & DRP News Bulletin 14 March 2022
Follow us on: www.facebook.com/sandrp.in; https://twitter.com/Indian_Rivers