Swami Gyan Swarup Sanand (Prof G D Agarwal formerly) writes to Prime Minister on Feb 24 with three demands on Ganga and says if these are not satisfied by Ganga Dashera (June 22, 2018), he will go on fast unto death. The three demands are: 1. stop work on Vishnugad Pipalkoti, Singoli Bhawari and Phata Byung HEPs 2. Pass in Parliament the Draft Ganga protection act drafted by Just (retired) Girdhar Malviya headed committee and 3. Create a National Ganga follower committee whose permission will be necessary before taking any decision about Ganga. See the detailed blog by Arun Tiwari ji and link to the letter to PM. http://hindi.indiawaterportal.org/Swami-Sananda-open-letter-pm-modi-clean-ganga
HYDRO POWER
Hydropower policy entangled in 'fluctuating' market trends Important paper under preparation about viability of hydropower projects in India.
– The new policy paper began to be drafted nearly eight months after SPDC submitted the draft of a new policy before the government in April last year. In December, an empowered committee led by the Chief Secretary returned it back to SPDC, and instead asked for an approach paper that would give a holistic picture of hydropower in India. This had to be submitted in two months.
– "A good portion of work on the paper has been done, but the work is going on. It will still take some time before it is submitted," the official said.
– The lack of foresight made the company invest in projects whose generation costs were high. The 450-MW Baglihar II project has failed to lure any buyer for more than a year, as its selling cost of per unit of energy – Rs 4.4 – was nearly Rs 2 higher than the market rate. Another example is that of Nimuno Bezgo and Chutak hydropower projects, which sell energy at Rs 13 per unit. The SPDC also buys power from the Dulhasti project at Rs 7 per unit, when the available rates for power in the market are about Rs 2 and Rs 4 per unit. https://kashmirreader.com/2018/03/08/hydropower-policy-entangled-in-fluctuating-market-trends/ (Kashmir Reader, 8 March 2018)
Arunachal Pradesh Athena drags Arunachal govt into its financial mess The Athena group owes Rs 333.80 crore to the Indian Bank, a national public sector bank and others. The National Company Law Tribunal had ordered the commencement of Corporate Insolvency Resoluti on Process against Athena Demwe Power Limited, the project proponent of Run-of-the-River 1750 MW Demwe Lower Project on 28 Sept, 2017 as it called on the creditors to submit their claims. Athena Infraprojects Pvt Ltd is the parent company of Athena Demwe Power Ltd, the proponent of the proposed 1,750 MW (Demwe Lower) and 1,080 MW (Demwe Upper) in Lohit district. The Arunachal government holds 26 percent in Athena Demwe Power Ltd.
– "We were not made a party when they took the loan and we don't know where the money was used", the Arunachal Pradesh Govt source said. https://arunachaltimes.in/index.php/2018/03/08/athena-drags-arunachal-govt-into-its-financial-mess/ (Arunachal Times, 7 March 2018)
Punjab Higher generation at hydel plants saves Punjab utility Rs 300 crore Hydro projects (total capacity 1160 MW) has generated about 20% more power at 4407 MU compared to last year in 11 months till Feb 2018. The water level in Bhakra and Pong is also a bit higher than last year. https://energy.economictimes.indiatimes.com/news/power/higher-generation-at-hydel-plants-saves-punjab-utility-rs-300-crore/63164917 (Energy World, 5 March 2018)
DAMS
Maharashtra No threat to Ambazari dam due to Metro: NMC The Nagpur Municipal Corporation (NMC) on March 5 ahs informed that there is no threat to the 146 year-old dam on Ambazari lake due to ongoing work of Metro rail carried out by Maha Metro Rail Corporation Limited (MMRCL). NMC filed an affidavit in this regard after which hearing on the PIL was adjourned by a new division bench comprising justices Bhushan Gavai and Murlidhar Giratkar. The affidavit was in response to a PIL by Mohammad Shahid Sharif contending that MMRCL disregarded rules while constructing the station perilously close to the dam, which is posing threats to its structure. He pointed out that no construction can take place within 200m of a dam, as per rules. https://timesofindia.indiatimes.com/city/nagpur/no-threat-to-ambazari-dam-due-to-metro-nmc/articleshow/63177149.cms (The Times of India, 6 March 2018)
Sardar Sarovar Dam MP govt released surge of water for Narmada dam inauguration SOWMIYA ASHOK's front page report in INDIAN EXPRESS today shows how MP released huge quantity of water before PM declared SSP complete on his birthday. In the process jeopardising the safety of the dam too. And then Gujarat wastefully used it for various political functions that PM and CM attended. And now there is no water even for farmers or Kutch industries. No shortage for Sabarmati, though. http://indianexpress.com/article/india/madhya-pradesh-govt-released-surge-of-water-for-narmada-dam-inauguration-then-shut-tap-5092578/ (The Indian Express, 10 March 2018)
Alarming: Level slides 2m in 10 days in Sardar Sarovar Dam The water level in Sardar Sarovar Dam at Kevadia Colony in Narmada district on March 3 fell to 108.26 metres from 110.51 meters recorded on Feb. 20. This is a precarious situation because during peak, the water level in the Sardar Sarovar Dam had just touched 127 meters this season, not its full capacity. For the first time, many small hills and trees in the catchment area of Narmada River in the upstream of Sardar Sarovar have become visible.
People of Narmada and Bharuch districts say they had never seen the water level in Narmada river so shallow in the past 30 years. The inflow of water from Indira Sagar Dam into the river is almost zero now. However, the state government officials say there is water shortage, but certainly no need for people to panic. They hope the monsoon situation will help them retrieve the grim situation on water front in the state. https://timesofindia.indiatimes.com/city/surat/level-slides-2m-in-10-days-in-sardar-sarovar-dam/articleshow/63164525.cms (The Times of India, 5 March 2018)
Dead trees, visible as dam water level plunged, being cleared On 7 March 2018, teh level of the dam went down below 107 metres making about 1.7 lakh dead trees visible in reservoir submergence area. The forest department has deployed 70 labourers to remove the trees stating that it would increase water storage capacity of the dam. The work is stated to be completed in a month. With unprecedented fall in water level, old submerged temples also became visible, attracting devotees. http://www.business-standard.com/article/pti-stories/dead-trees-visible-as-dam-water-level-plunged-being-cleared-118030700318_1.html  (Business Standard, 7 March 2018)
Storage falls below 4000 MCM: Govt Some confusing, dated figures given here, it seems. As per NCA, the water storage in SSP was already down to 3299 MCM on March 6.
– Though the water storage in the dam stood at 7,069 MCM in Sept 2017, the highest since February 2016, it fell to 3,916 MCM in January this year, which is a decrease of 3,153 MCM in just four months.
– Responding to a query on the Narmada project-based 'Sauni Yojna', the government admitted that out of the total 115 dams in 11 districts under parched Saurashtra region, only 21 dams and reservoirs have been filled as on December 2017. http://www.business-standard.com/article/pti-stories/narmada-dam-storage-falls-below-4000-mcm-govt-118030900004_1.html (Business Standard, 9 March 2018)
Government makes supply plans till July 31 At present, the Narmada Canal System is supplying drinking water to 165 urban areas and 8,639 villages as well as for irrigating the Rabi crop in the state.
– "At the meeting, it was decided to restrict the use of water in the Narmada main canal and Saurashtra branch canal for drinking purposes only, while stopping supply of Narmada water to other canals," the release said. https://timesofindia.indiatimes.com/city/ahmedabad/gujarat-water-crisis-government-makes-supply-plans-till-july-31/articleshow/63161219.cms (The Times of India, 4 March 2018)
Water management skewed: Study Urban Gujarat today is nearly 85% dependent on Narmada waters (eight municipal corporations and 159 nagarpalikas).
– One of the largest studies on urban water management — Performance Assessment System (PAS) of water resources — spanning eight years that was conducted by Cept University and Urban Management Centre (UMC) has pointed out that water supply management in the state's urban areas is highly skewed. The report also highlights tremendous amount of inequity and lack of accountability in both ground water and surface water exploitation in urban Gujarat.
– While water supply connections in urban Gujarat marginally went up from 77% in 2008-09 to 83% 2016, the overall water supplied increased from 3,409 million litres a day (MLD) in 2008 to 4,519 MLD in 2016, which is a steep increase of 1,110 MLD. But the overall dependence on ground water sources has just reduced by 3% over the past decade. The government today claims that the per capita water consumption increased from 109 litres a day per individual in 2008 to 130 litres a day per individual in 2016.
– Certain smaller municipalities and municipal corporations — such as Thara town — consume a 251 litres of Narmada waters for every individual every day (litres per capita per day or lpcd); babudom in Gandhinagar takes in 254 lpcd! "Many slum pockets get 40 to 60 lpcd. https://timesofindia.indiatimes.com/city/ahmedabad/water-management-skewed-study/articleshow/63162583.cms (The Times of India, 5 March 2018)
When a river recedes There are a number of inaccuracies here, but provides some useful information: – As on Feb 26, 2018, over 1.41 l ha was under summer crops in Gujarat. March 15 deadline when irrigation water supply in Narmada project will stop is hanging a threat to most of them, except those close to main canal and Saurashtra Branch Canal, where supply will continue.
– BJP politicians during elections encouraged farmers to sow summer crops, assuring them that water supply will continue.
– It was only on Jan 12, 2018 that Guj Govt said that there will be no irrigation water after March 15, too late for farmers.
– 10000 villages and 167 towns in Guj depend on Narmada for drinking water.
– It says Y K Alagh said that this year Sabarmati river front should not have been given Narmada water.
– IBPT is being used for the first time since it was constructed in 2000-01, leaving aside the trial run.
– The Narmada water flow this year at 14.66 MAF is the lowest since SSP water supply started. It was 19.11, 21.72 and 22.21 MAF in 2008-09, 2009-10 and 2010-11. http://indianexpress.com/article/india/when-a-river-recedes-narmada-5093518/ (The Indian Express, 11 March 2018)
SAUNI MP have no waters to spare for SAUNI INDEED, Why was SAUNI launched and why was water released for SAUNI scheme in 2017 when Narmada Valley had deficit rainfall?
– Against this backdrop, said the official, the Gujarat government's Saurashtra Narmada Avtaran Irrigation (SAUNI) project, officially floated in 2013-14, launched to divert one MAF of "excess over flowing flood water of Narmada" looks a complete waste of money. Under SAUNI, "Excess over flowing flood water of Narmada will be distributed to 115 reservoirs of eleven districts of Saurashtra through total 1126 km long four link pipelines benefitting 10,22,589 acres."
While the project is under implementation, and the first of the four phases is already complete, the official said, "There is going to be no excess water. On the contrary, waters would be scarce, and nearly all Narmada officials and engineers know it, yet are implementing the project under political pressure. Considering its huge cost, Rs 18,000 crore, it's a matter of investigation as to why the scheme was launched." https://www.counterview.net/2018/03/narmada-water-scarcity-in-gujarat-to-be.html (Counter View, 6 March 2018)
After 25 years, Narmada dam sufferer shown land for resettlement Thirty-three villages in Maharashtra were submerged, 4,300 families displaced. According to data from the Narmada Bachao Andolan, 4,135 families were resettled over the last 25 years. Another evidence of inhumanity called Sardar Sarovar Dam. http://indianexpress.com/article/india/after-25-years-narmada-dam-sufferer-shown-land-for-resettlement-5094548/ (The Indian Express, 12 March 2018)
Telangana Silt chokes Sriramsagar reservoir The Sriramsagar Project (SRSP), the lifeline of north Telangana, has become choked with silt. The Centre has asked the Telangana government to take up desilting operations to prevent the project from becoming completely useless.
– When the SRSP was built, it had a storage capacity of 112 TMC. A survey conducted in 1983 revealed that the storage capacity had reduced to 90 TMC due to the accumulation of silt. A hydraulic survey conducted in 2014 revealed that the storage capacity had further reduced to 80 TMC.
– Last week, the Central Water Commission (CWC) sent a letter to the state government seeking the immediate implementation of measures to remove the silt and save the project. https://www.deccanchronicle.com/nation/current-affairs/080318/telangana-silt-chokes-sriramsagar-reservoir.html (Deccan Chronicle, 8 March 2018)
IRRIGATION
Maharashtra Irrigation Scam ACB opposes bail plea of six dam scam accused In an affidavit filed on March 5, the ACB said it apprehended that the accused may influence witnesses and create hurdles during the trial if released on bail. Justice Vinay Deshpande adjourned the hearing till March 12 after additional public prosecutor V A Thakre sought time. He extended interim protection from arrest to all accused by a week too.
The affidavit was in response to the petition by the accused challenging a Nagpur sessions court order rejecting their bail pleas. While praying for rejection of their bail plea, the ACB iterated its accusations against the petitioners, charging them with rigging the tender process and cheating VIDC. The ACB said directors Pravin and Jigar were not only common, but also control majority shares of both companies. https://timesofindia.indiatimes.com/city/mumbai/acb-opposes-bail-plea-of-six-dam-scam-accused/articleshow/63178226.cms (The Times of India, 6 March 2018)
INDIA RIVERS REVIEW 2017 by SANDRP
North India Rivers Review 2017: Pollution Poisoning Lifelines
Maharashtra Rivers Review 2017: Multi-colored Rivers!
West India Rivers Review 2017: Govts, Industries Destroy Rivers
South India Rivers Review 2017: More Water for Cities from Drying Rivers
Kerala Rivers Review 2017 : Government Efforts Fail To Protect Rivers
Tamil Nadu Rivers Review 2017: Despite Drought; Diversion of Rivers
RIVERS
SANDRP Blog Anthem Anthems alone don't save rivers: Treat sewage & create room for the rivers Nidhi Jamwal writes about state of Mumbai Rivers in the context of MUMBAI RIVER ANTHEM by the Chief Minister and his wife and showing what all the govt can do if they are genuinely interested in Mumbai Rivers. Unfortunately, the govt is moving in the opposite direction. https://sandrp.wordpress.com/2018/03/08/anthems-alone-dont-save-rivers-treat-sewage-create-room-for-the-rivers/ (SANDRP Blog, 8 March 2018)
The Hype, Hypocrisy and reality of Mumbai River Anthem Aslam Saiyad shares AMAZING photo blog on Mumbai Rivers with SANDRP, showing, in the context of the MUMBAI RIVER ANTHEM where is the reality Vs the Hype.  https://sandrp.wordpress.com/2018/03/08/the-hype-hypocrisy-and-reality-of-mumbai-river-anthem/ (SANDRP Blog, 8 March 2018)
Maharashtra Effluent treatment plant in Taloja most polluting in state Taloja effluent treatment plant in Thane industrial belt has been rated as the worst-performing among 25 such units in the state. The plant has been pumping out untreated waste into Vashi creek. Given its environmental impact, the state pollution board had last year sought remedial action by the industries wing. However, there has been no improvement in its capacity or maintenance. The plant can treat effluents with 2,600 mg/l COD but it gets 6,960 mg/l COD, leading to an overload.
Units are also accused of not treating waste before sending them to the plant. Arvind Mhatre, a corporator in Panvel civic body, has moved the green tribunal to seek relief for damage to Kasadi and Ghot rivers due to the plant. "Hearing is on March 13," he said. MIDC was told to take over all CETPs including seven in the Mumbai region. MIDC is yet to appoint a firm to improve their working. https://timesofindia.indiatimes.com/city/navi-mumbai/effluent-treatment-plant-in-taloja-most-polluting-in-state/articleshow/63178205.cms (The Times of India, 6 March 2018)
Kerala Mampuzha river to become pollution free Very strange DREDGING of 15 km stretch of Mampuzha River, Kerala at a cost of Rs. 1.75 crore is termed as Mampuzha Restoration Project: According to a study conducted by the Centre for Water Resources Development and Management Kozhikode, Mampuzha River is severely polluted by plastic waste, slaughter waste and waste dumped from households. The flow of the river also is affected owing to the accumulation of silt and plastic in the river bottom. The Mampuzha River a major water resource in the area has been remaining flow less owing to the dumping of waste and lack of protection. https://timesofindia.indiatimes.com/city/kozhikode/mampuzha-river-to-become-pollution-free/articleshow/63173794.cms (The Times of India, 5 March 2018)
Karnataka Govt not to allow industries to draw fresh water: Official The state government is formulating a plan that will soon prohibit industries from drawing fresh water from rivers and other water bodies, and instead force them to use recycled water.
Urban Development Department Secretary Anjum Parvez said on Thursday that the government is planning to create a 100-km-long network of recycled water along 10 cities with municipal corporations and that industries from now on will be required to use such water for their needs and not use fresh water.
– Ajay Mathur, director General of TERI said: "Tomorrow cannot be more of yesterday, we don't have enough material, energy or water to do that." https://timesofindia.indiatimes.com/city/bengaluru/karnataka-govt-wont-allow-industries-to-draw-fresh-water-official/articleshow/63220686.cms (The Times of India, 8 March 2018)
Uttarakhand Villagers hail NHRC action against river pollution The villagers, belonging to Mothrowala, Dudhli, Nagal, Bundawala, Jwalapur, Jhandod and Markham Grant villages in the outskirt of Dehradun has hailed the Uttarakhand Human Rights Commission for sending notices to various government agencies over pollution in the Rispana, Bindal and Suswa rivers. Recently, the commission had sent notices to the Dehradun municipal corporation and water supply department asking the government agencies to help in conserving the rivers. SPECS, which had been analysing water and food quality for last two decades, in one its reports revealed that all three rivers of Doon valley were full of toxins. As per SPECS the pollution of the river is affecting people, agriculture and wildlife of Rajaji Tiger Reserve. https://www.hindustantimes.com/dehradun/villagers-hail-rights-body-for-action-against-river-pollution/story-Wk1zfKtmDvh8OZJVbMFCNK.html (Hindustan Times, 5 March 2018)
GANGA Center Rs 221.75cr Clean Ganga Fund remains unutilised: Govt Rs 221.75 crore collected under Clean Ganga Fund (CGF) as on January 31 this year is unutilized, the Rajya Sabha was informed on March 5 Minister of state for water resources Satyapal Singh said CGF donors include individuals, central public sector undertakings, government departments, private companies and non-resident Indians/persons of Indian origins.  The government had approved establishment of the CGF, to be used for projects planned under the ambitious Namami Gange programme, on September 4, 2014. https://timesofindia.indiatimes.com/india/rs-221-75cr-clean-ganga-fund-remains-unutilised-govt/articleshow/63172377.cms (The Times of India, 5 March 2018)
500 turtles to be released in Ganga The Kashi Wildlife Division in association with the Wildlife Institute of India (WII) and National Mission for Clean Ganga (NMCG) will release over 567 turtles into Ganga at Rajghat on March 7. As per DFO Gopal Ojha so far, over 48,000 turtles have been released into the river since 1987. Among them 42,087 turtles were reared at the breeding centre in Sarnath, while 5,985 turtles were rescued from poachers." https://timesofindia.indiatimes.com/city/varanasi/500-turtles-to-be-released-in-ganga/articleshow/63180217.cms (Times of India, 6 March 2018)
Uttarakhand NGT directs govt to submit fresh report on Ganga cleaning A bench passed the order after advocate M C Mehta, who has filed a plea for cleaning of Ganga, said that there were deficiencies in the report and it does not answer whether the directions of the tribunal have been complied with.The court also said that no further time will be granted to the Govt. The matter will be taken up for hearing on March 13. The tribunal reiterated its earlier order of ban on mechanical mining in Ganga and said "no in-stream mechanical mining is permitted and even the mining on the floodplain should be semi-mechanical and preferably more manual". http://www.business-standard.com/article/pti-stories/ngt-directs-uttarakhand-govt-to-submit-fresh-report-on-ganga-cleaning-118030800797_1.html (Business Standard, 8 March 2018)
YAMUNA Delhi NGT continue to slam DJB for Yamuna pollution "Why are you picking up things here and there? We are only concerned with the pollution in Yamuna. You are coming up with a new plea each time. We are interested in the entire stretch of river Yamuna and not confined to segments. We are not going to compartmentalise the Yamuna as it is all one ecosystem. "You want Haryana to give you more water for dilution of the pollutants in the river but show us what have you done. Yamuna in your territory has become a sewer line," the bench observed. https://timesofindia.indiatimes.com/city/delhi/yamuna-reduced-to-sewer-line-in-delhi-ngt/articleshow/63202965.cms (The Times of India, 8 March 2018)
Rajasthan Farmers warns  of stir for Yamuna water Warning of a stir, Rajasthan farmers held Mahapanchyat to demand Yamuna water from Haryana through Gurgaon canal. https://www.hindustantimes.com/jaipur/bharatpur-farmers-to-meet-over-yamuna-water-other-demands-on-march-10/story-q0kPcBE3LttXvbWVw3XYBK.html (Hindustan Times, 8 March 2018)
Uttar Pradesh Agra hit by dry Yamuna  Alarming situation of River Yamuna in Agra. Pressure mounting on groundwater to meet potable water demand. https://www.indiatoday.in/india/story/once-capital-of-emperors-an-agra-hit-by-dry-yamuna-and-lack-of-handpumps-braces-for-tough-summer-1186551-2018-03-11 (India Today, 11 March 2018)
Women rally in Agra to demand saving of Yamuna Hundreds of women on 8 gathered on Yamuna river bank to demand prompt and effective action to save the Yamuna river which they dubbed a symbol of womanhood. http://www.business-standard.com/article/news-ians/women-rally-in-agra-to-demand-saving-of-yamuna-118030900011_1.html (Business Standard, 9 March 2018)
Hindon River NGT Committee begins inspection of polluting industries NGT set up committee starts inspecting industrial units in Western Uttar Pradesh causing surface and ground water pollution including Krishni, Kali and Hindon rivers. https://www.hindustantimes.com/noida/polluting-industries-in-western-up-committee-begins-inspection-of-water-samples/story-ekFgPRn19mmVsLsMvIdziJ.html (Hindustan Times, 10 March 2018)
SAND MINING
Rajasthan Government fails to frame small sand mining lease policy Rajasthan Mining Ban: To provide relief to real estate sector, state govt in its Budget announced to grant small sand mining leases through auction. But the mining department has has not devised any policy to grant these small sand mining leases. "With no solution in sight till the next hearing on March 13, when the court is expected to decide on whether to lift the ban or not, the real estate industry in the state met UDH additional chief secretary and top RERA officials and urged them to consider extending the time for projects lost due to sand shortage." https://timesofindia.indiatimes.com/city/jaipur/govt-fails-to-frame-small-sand-mining-lease-policy/articleshow/63162054.cms (The Times of India, 5 March 2018)
Punjab Administration wakes up to CM's tweet; seizes machinery, detains 23 Waking up from deep slumber after chief minister Captain Amarinder Singh's tweet on illegal mining, Nawanshahr district authorities on March 6 sprang into action and in a massive crackdown seized huge machinery and detained 23 people in this connection. The move came after Amarinder, while on his way to Kartarpur in his official helicopter, spotted 'illegal mining' on the banks of Sutlej in Phillaur and Rahon. He tweeted pictures of JCB machines along the river
Despite the ban on using machines like JCBs, poclains and excavators for mining, sources said contractors use the machinery to extract more sand than they are entitled to. They said that as there is no check on the quantum of the sand miners are extracting, they are taking benefit by extracting extra sand from the riverbed to earn big profits.
It's good that the CM himself has tweeted and share the pics of illegal mining happening in Satluj river. Hope he will ensure strict action against responsible contractors and mining officials and initiate actions against illegal sand mining activities happening in other rivers basin in the state.https://www.hindustantimes.com/punjab/punjab-cm-capt-amarinder-spots-illegal-mining-from-chopper-orders-probe/story-MiiqBmRm9X5A9slLbBTxuK.html (Hindustan Times, 6 March 2018)
Some actions against illegal sand mining in Satluj river following CM's aerial inspection tweet. Hope, he pays attention to other rivers also. The report says, things have not changed much on ground. https://www.hindustantimes.com/punjab/illegal-sand-mining-6-contractors-booked-punjab-cm-capt-amarinder-to-meet-dcs-ssps-of-14-districts/story-h1lMW8faNWjtMjIpBxx0jK.html (Hindustan Times, 8 March 2018)
FISH & FISHERIES
Telangana Ban on fresh water fishing from April The State Fisheries Department has now come out with clear guidelines on the ban on fresh water fishing beginning April to ensure breeding. The decision is taken to preserve the precious aqua resources.  There are four reservoirs in the district — Nagarjuna Sagar, Pulichintala, Prakasam Barrage and the river basin extending up to Repalle — and usually fishermen venture in these waters throughout the year. But from this year, the department wants to implement the ban.   It is estimated that aquaculture, from both fresh water and sea, fetches an annual revenue of ₹15,000 crore.  http://www.thehindu.com/news/cities/Vijayawada/ban-on-fresh-water-fishing-from-april/article22937643.ece (The Hindu, 6 March 2018)
WATER OPTIONS
Kerala Thrissur solving water problem with RWH Very detailed report on how Mazhapolima (Bounty of Rain), a roof top rain water harvesting scheme (started in 2008) to recharge dug wells has benefited residents of Thrissur Kerala. Although the Mazhapolima model has been extended to all districts, its monitoring is at the panchayat level. The data on its impact are anecdotal so far, based on household feedback. Since 2008, Mazhapolima has been able to install close to 30,000 units, with over 100,000 beneficiaries.
This is revealing: "Ever since government programmes ensured piped water supply in the 1970s, people have forgotten to protect wells in homesteads," Jos C. Raphael, Secretary of the Mazhapolima scheme, told IndiaSpend, "Piped supply has reduced drudgery, but the loss of traditional waterways, drainage systems, wells and ponds, and erratic rainfall have led to a serious water scarcity problem in Kerala."
Maintenance is key: A majority of the respondents (85 per cent) cited in the 2013 report said there is a need for periodic maintenance of the recharge systems, use of quality materials and beneficiary participation. Pipes and filters tend to accumulate dirt and leaves over time, and are not easy to clean. Funds for maintenance are not available from MGNREGA as the work is skilled/semi-skilled; MGNREGA is used only for unskilled work. http://www.business-standard.com/article/current-affairs/harvesting-rain-how-one-kerala-district-is-solving-its-water-problem-118030700088_1.html (Business Standard, 7 March 2018)
Thiruvananthapuram Administration makes percolation pits mandatory The Thiruvananthapuram District Disaster Management Authority has decided that all houses with an area over 200 sq.m. are expected to dig percolation pits of at least 2 sq m area inside their premises to help recharge groundwater. Plots over 300 sq.m. should have at least one percent of the total area to be reserved for rainwater percolation.
– The District Disaster Management Authority has decided to strictly enforce the provisions pertaining to rainwater harvesting under the Kerala Municipality Building Rules, 1999.
– Over 1500 farm ponds have been created in the district under the Jalasree project aimed at finding a sustainable solution to drinking water scarcity. Besides, the wells in the premises of around 900 schools were being recharged. http://www.thehindu.com/news/cities/Thiruvananthapuram/percolation-pits-mandatory-in-tvm-district/article22870595.ece (The Hindu, 27 Feb. 2018)
Gujarat IIT-Gandhi Nagar shows the way in conserving water with STP IIT Gandhinagar, since 2015 is treating 3 lakh litres of sewage per day and recycling it to maintain the green campus. The campus uses upto 5 lakh litres of water a day for its 2000 residents.
– It uses Root Zone treatment plant. In this system, plant or saplings absorb the filth in the water and it requires no equipment or mechanical assistance in treating the water. The plant has the capacity to treat 6 lakh litre sewage water per day," he said. The plant does not use electricity, has zero operational or maintenance cost and does not require major manpower. The STP is spread over 1000 Sq mt area.
– The system uses canna plants that are easily available in Ahmedabad. Sewage water is treated in three stages — first in the settler, then in the anaerobic billy reactor bacteria and lastly the roots of the canna plant suck the filth. The entire system does not emanate foul smell and the water treated can be used for horticulture. IIT-Gn's campus in Palaj is spread across 400 acres. http://ahmedabadmirror.indiatimes.com/ahmedabad/others/iit-gandhinagar-shows-the-way-in-conserving-water-with-sewage-treatment-plant/articleshow/63209255.cms?utm_source=ahmedabadmirror&utm_medium=Twitter&utm_campaign=referral (Ahemdabad Mirror, 8 March 2018)
Report Rainwater harvesting is the best way forward for irrigation As intensive agriculture spreads across India, there is an urgent need to encourage rainwater harvesting to irrigate multiple crops instead of the current unsustainable practice of groundwater extraction.
– Out of the total national water use across sectors, about 80% or more water is used for farming. More that 70% or more rainwater is also received in rural areas since farmland is 60% of India's geographical area and forest is 23%. I would also assume that about 60% of the water must be received directly on farmlands.
– Keeping the future scenario in mind, all state governments should come up with policies to encourage rainwater harvesting based on a scientific assessment of irrigation demand. At least 70% of demand should be met from rainwater harvesting. The fear of declining land availability from agriculture could be addressed through intensification and diversification in farming.
Leaving the details aside, the basic message is totally right, something that we have been emphasising for years. https://www.villagesquare.in/2018/03/09/rainwater-harvesting-best-way-forward-irrigation/ (Village Square, 9 March 2018)
Odisha Woman conservationist from Odisha receives 'Nari Shakti Award' Sabarmatee Tiki, a scholar and water conservationist was conferred with 'Nari Shakti Award' from the President of India, Ramnath Kovind, at Rashtrapati Bhavan in New Delhi, on International Women' Day. , is a crusader in her own right. The founder of Sambhav, an NGO that runs organic and training farms near Bhubaneswar. http://odishasuntimes.com/woman-conservationist-from-odisha-receives-nari-shakti-award/ (Odisha Sun Times, 9 March 2018)
GROUND WATER
Telangana Groundwater levels plummet The groundwater table in Visakhapatnam district has plummeted compared to the levels in March 2017 due to the stretched dry spell during the north-east monsoon. The water levels in the district have now reached 8.7 metres, which was the level in May 2017. Besides less rainfall, exploitation and wastage of water resources, and increased constructional activities are also among the reasons behind the mounting water woes in the district.
Despite the active south-west monsoon spell, Visakhapatnam district registered only 143.3 cm rainfall against a normal of 297.2 cm during the north-east monsoon season, which ended with about 51 per cent rainfall deficiency for Vizag district. On the other hand, the water levels in the reservoirs that supply water to Vizag city have also been depleting slowly, which will ultimately lead to reduced water supply to residents. https://timesofindia.indiatimes.com/city/visakhapatnam/groundwater-levels-plummet-thanks-to-stretched-dry-spell/articleshow/63161876.cms (The Times of India, 5 March 2018)
Tamil Nadu Monsoon replenishes groundwater, but renders it unfit for consumption A joint study by researchers from University of Madras and Anna University shows that after the monsoon, concentration of heavy metals like lead, iron, chromium, nickel, cobalt and manganese increases beyond acceptable limits in the water table in localities between Besant Nagar in Chennai and Sathankuppam in Kancheepuram district.
"The groundwater is contaminated due to rapid urbanisation which results in increase in industrial effluents and dumping of domestic waste," the study said, adding that the effluent discharge accumulates heavy metals in the soil initially and later moves to the aquifers when the rainwater percolates. Researchers collected 30 samples of water from wells and borewells, and studied the presence of eight metals. The levels of six metals were high. "The study area has been rapidly urbanised over the past few decades. This has deteriorated the condition of the aquifers," the study said. https://timesofindia.indiatimes.com/city/chennai/monsoon-replenishes-groundwater-but-renders-it-unfit-for-consumption/articleshow/63177305.cms (The Times of India, 6 March 2018)
Tamil Nadu Incursion of seawater into over-exploited aquifer robs ECR residents of fresh water Rapid urbanization & excessive extraction of groundwater has stressed the healthy aquifer running between Thiruvanmiyur and Muttukadu causing seawater intrusion in several residential pockets along East Coast Road. As a result residents sinking borewells are drawing up saline water every day. Reverse osmosis units have become common in many houses.https://timesofindia.indiatimes.com/city/chennai/incursion-of-seawater-into-over-exploited-aquifer-robs-ecr-residents-of-fresh-water/articleshow/63177283.cms (The Times of India, 6 March 2018)
Study Bacteria reduces concentration of arsenic in groundwater A team of the Centre for Biological Sciences (CBS) at Central University of South Bihar (CUSB) has found two strains of bacteria that reduce the arsenic concentration in groundwater. Another team of researchers from SS Hospital and Research Centre, Kankarbagh, have found proof of gene expression abnormality due to arsenic toxicity. In another ongoing research being carried out at the hospital, they have found four strains of bacteria, which have been reported to detoxify arsenic and endosulfan (widely used pesticide). https://timesofindia.indiatimes.com/city/patna/study-bacteria-reduces-concentration-of-arsenic-in-groundwater/articleshow/63191604.cms (The Times of India, 7 March 2018)
Delhi Delhi is the third most over-exploited state in India 15 of 27 (54%) Tehsils of Delhi state are over exploiting groundwater, in 5 others the exploitation still safe and in 7, it is in critical phase. Punjab has 76% and Rajasthan 66% assessment units were found over exploited. At all India level, 1034 of 6584 units are over exploited, as per a CGWB report tabled in Lok Sabha on March 8. https://www.hindustantimes.com/delhi-news/groundwater-delhi-is-the-third-most-over-exploited-state-in-india/story-0IBVBkqXxwQWLZKOrQWYcO.html (Hindustan Times, 11 March 2018)
Op-Ed Punjab's virtual water export by Ranjit Singh Ghuman The promotion of paddy in Punjab was the result of a policy of the Centre to feed the nation. And now the Centre says that it is the responsibility of Punjab alone to ward off the state's impending desertification. Indeed Punjab has been exporting water, it still does, on massive scale, something it can ill afford to. http://www.tribuneindia.com/news/comment/punjab-s-virtual-water-export/553317.html (The Tribune, 6 March 2018)
WATER
Tamil Nadu Villagers demand drinking water Residents of Muruga Tholuvu Harijan Colony in Chennimalai Union have urged the district administration to take steps to provide them water on a regular basis. In a petition, they said that villagers have to go in search of water from other areas and transport it in bicycles regularly. They said that most of the people were labourers and their livelihood is lost when they go in search for water. They said that the situation is worse during summer season, as water is not available at nearby areas and they are unable to purchase water from the market too. http://www.thehindu.com/news/states/provide-drinking-water-villagers/article22935093.ece (The Hindu, 5 March 2018)
Government nod for new drinking water project Govt has approved a ₹1,150-crore scheme to draw water from the Mullaperiyar dam for Madurai. The scheme envisages drawal of 125 million litres of water from the Lower Camp hydro-power station to areas under the Madurai Corporation through a 143-km pipeline. http://www.thehindu.com/news/cities/Madurai/corporation-plans-water-scheme/article23010208.ece (The Hindu, 9 March 2018)
Kerala Kuttanad reeling under water scarcity Several panchayats in Kuttanad, including Neelamperoor, Kavalam, Pulinkunnu, and Kainakary, are reeling under acute drinking water scarcity. The situation is not much different in Thalavady, Edathua, and Muttar. Delay in completion of water supply schemes in the region have contributed to the situation. Another multi-crore drinking water project mooted by the Union Ministry of Rural Development in 2012 to address the issue of water shortage in the region also remains on paper. Residents said that at least 50 Reverse Osmosis (RO) plants that had been set up under the Kuttanad Package in the region but most of them were not working properly. With potable water becoming a rare commodity, residents have already started to shell out a hefty amount for buying water from private suppliers. Kavalam grama panchayat president Sandhya Ramesh told that the situation was going to be severe in the coming months. http://www.thehindu.com/news/national/kerala/kuttanad-reeling-under-water-scarcity/article22936750.ece (The Hindu, 5 March 2018)
Water contamination cases go up in city Contamination of drinking water has become a major problem for residents in various areas of the Vijayawada city. In all the cases, residents complained of supply of drinking water mixed with drainage water and bad odour. The concern over contaminated drinking water has grown in the wake of seasonal diseases in the past month. Officials say that leaking pipelines are the only cause of water contamination. Contamination of drinking water due to outdated pipelines and overflowing underground drainages has been a problem since long in the many areas. http://www.thehindu.com/news/cities/Vijayawada/water-contamination-cases-go-up-in-city/article22955813.ece (The Hindu, 7 March 2018)
Uttarakhand State to face severe water crisis Uttarakhand has faced drought in 10 out of 13 districts for two years from 2007-09 . With scant rainfall in winter, the state is likely to go through the situation of severe water crisis and forest fire. United Nations Development Program (UNDP) has laid bare the findings of its more intensified Drill Down Vulnerability Risk Assessment (VRS) conducted till December last year with regard to water crisis in the state.
– "An estimated about 2.6 lakh springs provide 90% of the drinking water sources in Uttarakhand. Due to continued deforestation for projects like road construction, or to meet fuel and fodder demands of local communities, it was found after collecting information from various sources and communities that discharges of 500 water supply sources including springs , streams, ponds etc have reportedly reduced by more than 50%. Climate change will further amplify reduction of local water resources."
– "The state of Uttarakhand faces acute water scarcity during the peak summer season. As highlighted in the State Action Plan for Climate Change about 20% of the 15,165 villages have varied range of problems related to drinking water provision and more than 180 villages do not have a designated source."
– He said, traditional knowledge links oak forests to perennial springs and steams. Considering this, it is essential to develop oak forests, especially in the catchment of springs and water holes in small streams for their rejuvenation. https://timesofindia.indiatimes.com/city/dehradun/uttarakhand-facing-acute-water-crisis-undp-report/articleshow/63187711.cms (The Times of India, 6 March 2018)
Gujarat Govt puts PM's GWRA on the back burner PM Narendra Modi as the CM in 2012 had formed an ambitious Gujarat Water Regulatory Authority. One of the main functions as per the February 14, 2012 gazette notification of GWRA was to regulate water tariff system and charges for surface and sub-surface water used for domestic, agriculture, industrial and other purposes. It was also supposed to determine and regulate the distribution of water to various categories of users. It was also expected to periodically review and monitor the water sector costs and revenues. After formation of the GWRA, the government never initiated steps to appoint any chairperson or members in the authority. https://timesofindia.indiatimes.com/city/ahmedabad/govt-puts-modis-gwra-on-the-back-burner/articleshow/63224752.cms (The Times of India, 9 March 2018)
Hyderabad Officials asked to draw plans for summer water scarcity Glimpse of looming water crisis in Hyderabad: Chairman of the Nalgonda Zilla Parishad Nenavath Balu Naik urged the collectors of the three districts — Nalgonda, Suryapet and Yadadri-Bhuvanagiri — to come up with an effective plan to address the problem of drinking water in view of the dry season just around the corner. The problem already high now, as many villages and mandals are facing a rising demand for drinking, he pointed out, in response to the issue raised by the MPTCs and ZPTCs at the Zilla Parishad general body meeting. He said the problem was alarming with receding groundwater table adding to the worry. http://www.thehindu.com/news/cities/Hyderabad/officials-asked-to-draw-plans-for-summer-water-scarcity/article23036411.ece (The Hindu, 10 March 2018)
AGRICULTURE
CSE Punjab, Haryana and Uttar Pradesh facing severe nitrogen pollution Nitrogen-based fertilizers like urea, which have been instrumental in increasing crop yields in India, are now turning into potent destroyers by polluting land and water, affecting people's health and leading to climate change
– Nitrogen levels in water are way above WHO standards
– The Indian Nitrogen Assessment, done by a group of scientists referred to as the Indian Nitrogen Group (ING). This is the first study of this kind in India.
– "According to the ING study, agriculture is the main source of nitrogen pollution in India. Within agriculture, cereals like rice and wheat, which account for the maximum cropped area, pollute the most," says Richard Mahapatra, managing editor, Down To Earth. In the past five decades, every Indian farmer has, on an average, used up over 6,000 kg of urea. Only 33 per cent of this urea is consumed by rice and wheat crops – the remaining 67 per cent remains in the soil, water and environment, harming all irreparably.
– Too much nitrogen in the soil leads to reduction in carbon content of the soil and destroys the balance of nutrients in the soil
– What is needed now is rationalization of unbalanced use of nitrogen fertilizers and a clamp-down on non-agricultural sources of nitrogen.  https://www.cseindia.org/punjab-haryana-and-uttar-pradesh-facing-severe-nitrogen-pollution-says-an-expose-by-cse-and-down-to-earth-8535 (CSE, 8 March 2018)
RENEWABLE ENERGY
DGH's shale gas policy for CBM blocks by March The Directorate General Hydrocarbon (DGH) will formulate a policy for shale gas exploration from coal bed methane (CBM) blocks by this March in order to promote green energy in India. The deputy DGH said that eastern region has a huge potential of shale gas as most of the CBM reserves is located here. The estimated shale gas reserve in the region is up to 96 trillion cubic feet. Let us see how it deals with the water use issue. https://timesofindia.indiatimes.com/business/india-business/dghs-shale-gas-policy-for-cbm-blocks-by-march/articleshow/63177313.cms (The Times of India, 6 March 2018)
Diu becomes first UT to run 100% on solar power Union Territory of DIU has become the FIRST in India to source all its electricity needs from Solar Power only. It has total installed solar power capacity of 13 MW (3 MW root top and 10 larger scale solar) using 20 Ha of land out of total area of UT of 4200 Ha. It has population of 56000 and now the cost of electricity for consumer has come down to Rs 1.01 per unit for first 100 units. https://economictimes.indiatimes.com/news/environment/the-good-earth/diu-becomes-first-ut-to-run-100-on-solar-power/articleshow/63225202.cms (The Economic Times, 9 March 2018) 
SOUTH ASIA
Report Adverse effects of rampant sand mining starting to show in Asia Rampant sand mining over the decades in India and many parts Asia has led to eroding coastlines and degraded waterways in much of the continent. Christina Larson, a journalist from Kihim, India has looked the severe ecological damage caused by unbridled epidemic of illegal sand mining. Sand has become an essential component of most of modern infrastructure. From roads to buildings and other structure, usage of sand is ubiquitous all over the planet. Sand mining is the extraction of sand from beaches or ocean and riverbeds. The dredging and mining often leads to erosion, and the disturbance caused by the process of mining to the ocean or river floor can also adversely affect the biodiversity of the region. https://researchmatters.in/news/adverse-effects-rampant-sand-mining-starting-show-asia (Research Matters, 5 March 2018)
International Rivers Working transboundary: building resilience and democratizing governance in the Brahmaputra Basin This Dec 2017 article on Kathmandu meeting organised by IR on Brahmaputra basin includes link to their documents about Transboundary EIA and environment flows (including Executive Summary). https://www.internationalrivers.org/resources/working-transboundary-building-resilience-and-democratizing-governance-in-the-brahmaputra (International Rivers, 6 Dec. 2017)
Nepal IBN directors to decide fate of West Seti hydro While the 750 MW West Seti Hydro project is already declared economically unviable at currently offered (which are themselves pretty high, much higher than prevailing market rates) electricity prices, now the Board of IBN (Investment Board Nepal), headed by the PM will decide if the project with 75% Chinese stakes and 25% Nepalese stakes will be offered even higher rates. http://kathmandupost.ekantipur.com/news/2018-03-07/ibn-directors-to-decide-fate-of-west-seti-hydro.html (Kathmandu Post, 7 March 2018)
India-Bhutan After Doklam standoff, India to focus on Bhutan ties One project where work is in the final stages and is likely to be inaugurated during Modi's visit is the Mangdechhu hydropower project, a 720-MW run of the river power plant being built on the Mangdechhu river in Trongsa Dzongkhag district of central Bhutan. https://www.hindustantimes.com/india-news/after-doklam-standoff-india-to-focus-on-bhutan-ties/story-0eG4Ia0uqBuYBIVDc2JVbL.html (Hindustan Times 10 March 2018)
India-China  China threats looms over river Teesta This sounds a bit far fetched? China is just 4 km away from Tso Lamo, the Sikkimese lake from which the Teesta originates. China is not a riparian of the Teesta, but its proximity to the Teesta river basin and its increasingly distorted equations with India against the backdrop of its increasing global assertiveness give it a unique leverage over the Teesta.
– BUT THIS IS TRUE: Comprehensive water cooperation yields multi-faceted benefits for all riparians which extend to inclusive economic development, climate change resilience, improved bilateral relations, and greater cultural bonding. By taking a lead in diffusing these benefits in its neighbourhood, India can go a long way in expanding its socio-economic and political influence in a manner that is both subtle and more permeating than can be achieved with conventional hard power.
– India should take the initiative in establishing meaningful transboundary water cooperation with Bangladesh. And what better to start with than the Teesta? http://www.firstpost.com/india/xi-jinping-threat-looms-over-river-teesta-time-for-india-to-engage-in-water-diplomacy-counter-chinas-advances-4380187.html (First Post, 7 March 2018)
THE REST OF WORLD
France Hydro firm builds wind turbines as Swiss glaciers melt  The Rhone, running from Lake Geneva to the French Mediterranean, is one of Europe's biggest rivers but also one of the most exposed to climate change as it is fed mainly by Alpine glaciers, which are shrinking due to global warming.
– French hydropower firm CNR, anticipating the impact of climate change and the possible disappearance of glaciers in the Swiss Alps, plans to sharply increase its solar and wind capacity to compensate for lower water levels on the Rhone river.
– the problem was not just slower flow rates but also increasing volatility. Last year's drought was followed by three major floods in December-January. Floods also weigh on output, as CNR is forced to open dams to evacuate excess water.
– CNR accounts for 25 percent of French hydropower output and has a monopoly on Rhone river hydropower under a concession that runs till 2023. https://energy.economictimes.indiatimes.com/news/renewable/french-hydro-firm-builds-wind-turbines-as-swiss-glaciers-melt/63200827 (Energy World, 7 March 2018)
Op-Ed Can hydropower be classified as green energy? This asks an important question and says: – a latest study has now held that hydropower in Mekong River Basin, the longest river in Southeast Asia, might not be climate friendly and has emissions equalling that from fossil fuel sources.
– "Altogether, 82% of hydropower reservoirs (119) and 45% of reservoirs facilitating also irrigation (22) have emissions comparable to other renewable energy sources, while the rest have higher emissions equalling even the emissions from fossil fuel power plants. Several of these high-emission reservoirs are still in the planning phase," said the study.
– It pointed out that the results further show that the total basin-wide emissions of hydropower development are considerable.
– Noting that the Mekong River basin is undergoing extensive hydropower development, the study estimated the emissions of greenhouse gases (GHG) of 141 existing and planned reservoirs using statistical global emission models, with focus on gross carbon dioxide and methane emissions through the reservoir water surface. http://www.infosurhoy.com/cocoon/saii/xhtml/en_GB/news/can-hydropower-be-classified-as-clean-energy/ (Infosurhoy, 7 March 2018)
America Dam Lies: Despite Promises, An Indigenous Community's Land Is Flooded Panama's Barro Blanco dam was supposed to help fight climate change. It ended up damning a culture. The act of combating global warming can actually have its own victims, too. Few people understand this better than the Ngäbe-Buglé, the largest indigenous group in Panama. http://therevelator.org/dam-lies-indigenous-flooded/ (The Revelator, 5 March 2018)
Australia Dam wall collapse at Newcrest-owned Cadia goldmine forces shutdown A New South Wales goldmine forced to shut down for 3 months in 2017 after an earthquake has again halted operations following a dam wall breach. The wall of a tailings dam at the Cadia mine, about 20km south of Orange, partially collapsed on March 9, after there were two magnitude 2.7 earthquakes in the region on March 8. https://www.theguardian.com/australia-news/2018/mar/11/dam-wall-collapse-at-newcrest-owned-cadia-goldmine-forces-shutdown (The Guardian, 11 March 2018)
Uganda World Bank set for Uganda dam refinancing talks despite criticism The World Bank is poised to decide whether to refinance loans on a $900m hydroelectric power plant in Uganda despite criticism from the bank's own watchdog that workers' rights were violated on the project and complaints from campaigners that the Ugandan government has ridden roughshod over environmental safeguards. Critics have accused the World Bank of failing to enforce an agreement with the Ugandan government to preserve a stretch of the Nile as an "environmental offset" to compensate for damage caused by the hydroelectric plant. https://www.ft.com/content/9218ca3e-214b-11e8-a895-1ba1f72c2c11 (Financial Times, March 2018)
America Latin American countries sign legally binding pact to protect land defenders CONGRATULATIONS to Latin American Environment Activists.
– Officials from 24 Latin American and Caribbean states have signed a legally binding environmental rights pact containing measures to protect land defenders, almost two years to the day since environmental leader Berta Cáceres was killed in her home in Honduras.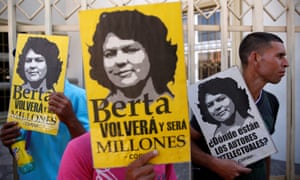 – Last year almost 200 nature protectors were killed across the world, 60% of them in Latin America. The new treaty obliges states to "guarantee a safe and enabling environment for persons, groups and organisations that promote and defend human rights in environmental matters".
– Carole Excell, the environmental democracy director of the World Resources Institute, described the new protocol as "a historic stand to safeguard the backbone of environmental protection".
– The agreement is formally called the Latin American and Caribbean countries declaration on Principle 10 (LAC-P10). Emerging from the UN's Rio+20 conference on sustainable development in 2012, it covers access to environmental information, justice and public participation in decision making.
– "I cannot understate how critical it is for communities to have access to environmental information, like data on local water pollution or nearby mining concessions," Excell said. "LAC-P10 is designed not only to protect environmental defenders, but also to make it easier for people to get information, participate in decision-making that will affect their lives and hold powerful interests to account."
– The treaty, which was stewarded by Chile, Costa Rica and Panama, also guarantees the right to a healthy environment and impels states to establish transparency bodies to monitor, report and oversee compliance with the new rules. https://www.theguardian.com/environment/2018/mar/05/latin-american-countries-sign-legally-binding-pact-to-protect-land-defenders (The Guardian, 5 March 2018)
England Pipe burst leaves thousands without water in London Burst water mains caused by a thaw in Britain's freezing temperatures closed a Jaguar Land Rover car plant in central England on March 6 and left tens of thousands of people without water. London's mayor Sadiq Khan said it was "unacceptable" that thousands across the British capital had no water, as utility companies Thames Waters struggled to maintain water supplies.
The worst snowstorms in Britain for nearly 30 years froze water in pipes last week, water suppliers said, during a blast of Siberian cold dubbed "the Beast from the East" which ground planes, stopped trains, blocked roads and shut schools. At least 23,800 households, including 12,000 households in London, were left without water when pipes burst after temperatures rose and snow thawed, prompting suppliers to advise customers not to waste water. http://www.thehindu.com/news/international/pipe-burst-leaves-thousands-without-water-in-london/article22947703.ece (The Hindu, 6 March 2018)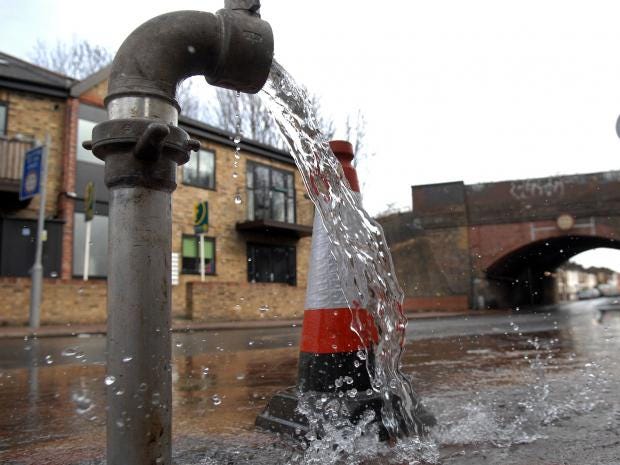 Privatisation hasn't improved the supply of our water In 2017, Thames Water was hit with a £20m fine for polluting the waterways of Oxfordshire and Buckinghamshire with a billion and a half litres of raw sewage between 2012 and 2014. The judge cited a "failure to report incidents" and a "history of non-compliance" by the company. Equipment was unmaintained. Warnings from employees went unheeded by management. Thames's conduct was branded "disgraceful", justifying the largest financial penalty for pollution in UK corporate history. This narrates the conduct of THAMES WATER, a UK water utility in charge of privatised water supply there. http://www.independent.co.uk/voices/burst-pipes-thames-water-privitisation-nationalisation-not-improved-a8242286.html (Independent, 6 March 2018)
ENVIRONMENT
Report India lost 40% of its mangroves in the last century by Soumya Sarkar  In this delta of the Ganga, Brahmaputra and Meghna rivers, the sea is rising more dramatically than in other parts of the world, research shows. Known as the biggest carbon sink in South Asia, these mangrove forests are recognised as a world heritage site.
Mangroves provide excellent nesting and breeding habitats for fish and shellfish, migratory birds and sea turtles, underlining their importance to coastal fishing communities. An estimated 80% of the global fish catch relies on mangrove forests either directly or indirectly, a 2008 paper in the Journal of Sea Research claims.
It is also often forgotten that mangroves form the first line of defence for coastal communities. Several scientists and economists concluded that mangrove forests would be the best biological barriers to soften the blow caused by tsunamis and cyclones.
Mangroves are also great carbon sinks. They isolate carbon at two to four times the rate of tropical forests like the Amazon and store three to five times more carbon per equivalent area than tropical forests.
One of the major obstacles to the growth of mangroves is rapid and largely unregulated coastal development. http://www.thehindu.com/sci-tech/energy-and-environment/india-lost-40-of-its-mangroves-in-the-last-century-and-its-putting-communities-at-risk/article22999935.ece (The Hindu, 10 March 2017)
Maharashtra Thousands of  farmers marched to Mumbai Demanding LOOT WAPASI as they call loan waivers, very interesting account of why the 20000 to 35000 farmers by different accounts walked from Nashik to reach Mumbai. https://thewire.in/230943/maharashtra-farmers-protest-march-mumbai/ (The Wire, 9 March 2018) More about the historic march with some amazing photos. https://countercurrents.org/2018/03/11/historical-farmers-march-reaches-mumbai/ (Counter Currents, 11 March 2018)
You may also like to see DRP News Bulletin 5 March 2018 & DRP News Bulletin 26 February 2018 
Follow us on www.facebook.com/sandrp.in; https://twitter.com/Indian_Rivers
Compiled by SANDRP (ht.sandrp@gmail.com)