The South West Monsoon in 2019 in India brought the highest rainfall of last 25 years and issues related to heavy rainfall continue even to the end of October 2019. Here we have listed major instances during the monsoon when there were question marks over safety of dams either due to structural safety or due to wrong operations of the dams. Some issues of breaches of embankments/ canals are also included here. As we can see, the instances come from across the country, including North East, North, West, Centre, South.
Maharashtra Tivare Dam Disaster Late that night of July 2, shouts of "Dharan Futla, Dharan Futla" (The dam has breached!) saved the already-scared 62 year old Narayan Gaikwad and his family, as the family ran to nearby hill. Tivare Dam (Longitude: 73° 42′ 0″; Latitude: 17° 36′ 0″ as per CWC's National Register of Large Dams), across a rivulet in the Vashishthi Basin of coastal Maharashtra breached around 9.30 pm on July 2, 2019, taking 24 men, women and children with its fury.
But how many and how much of Maharashtra would be saved considering the fact that Maharashtra has India's highest number of large dams, BY FAR? And especially considering the serious questions this episode is raising about the absolute lack of accountability of the government dam establishment.  https://sandrp.in/2019/07/06/tivare-dam-disaster-surviving-in-a-state-with-maximum-dams/  (6 July 2019) 
Leakage at Bhatghar Dam Detailed report on leakage from Bhatghar dam on Yelvandi river near Bhor, about 60 km from Pune. Built in 1927, the work on the dam started in 1885. It has a 16 MW power component and water is supplied to Bhor, Purandar and Baramati talukas of Pune district and also eastern talukas of Satara and Solapur districts. It has storage capacity of 23.75 TMC. The leakage is so heavy that two stories of the downstream power house are now submerged and power supply has been stopped. The Water Resources Dept however says there is no risk to the dam and the repair work to the valve that is possibly broken can happen only in summer when dam is empty. https://punemirror.indiatimes.com/pune/civic/cracks-manifest-in-bhatghar-dam/articleshow/70560687.cms  (7 Aug. 2019)
Madhya Pradesh Kundanpur Dam Breach According to CWC's Daily Flood Situation report of Sept 13, 2019, "There is a report of threat of breach/overflow at Kundanpur Dam a small dam in Ratlam District of Madhya Pradesh. A preliminary study indicates that the breach may affect the local populace in around 2 to 5 km of the dam but once it confluences bigger tributaries and main Mahi River, the effect may not be very severe. Preliminary Note on the above was shared with respective State Governments." There is a bit additional information in NDMA report.  (http://cwc.gov.in/sites/default/files/dfsrca13092019.pdf, https://www.ndmindia.nic.in/images/gallery/Situation%20report%20as%20on%2013.09.2019%20at%201800%20Hrs.pdf)
Ash DAM breach at NTPC Singrauli Plant Fly ash spills across 30 acres after breach in NTPC power plant dyke in Oct 2019. There was a breach in an ash dyke at the NTPC's power plant in Singrauli on Oct. 6, resulting in spillage of ash, but no loss of life was reported, NTPC and district authorities said on Oct. 7. One report gives details of damage to crops over 30 acres in Chandal, 15 cattle washed away and water supply of half a dozen villages contaminated. The people of Chandal had warned NTPC about possibility of breach 15 days ago, but that did not help.
The breach, in the wall of the ash pond, was noticed around 5 pm. The company said a preliminary investigation revealed that the damage to V 1 ash dyke was caused by development of high hydrostatic pressure on the bund which was consequently damaged. The build-up of hydrostatic pressure was caused by heavy rains in the region for the last few days, the company said in a statement. The company admitted that NTPC's equipment and property have suffered some damage.
Ash dyke breach in Aug 2019 at Essar Power Plant The report also says: "On August 7, cracks had developed in a fly ash dyke of Essar Power MP Ltd's 1,200 MW coal-based thermal Mahan power plant near village Bandhaura. The fly-ash leaked from the dyke reportedly turned into mudslide and affected nearby villages. Five children trapped in it were rescued by the district administration, the police had claimed. Later, Singruali collector KVS Chaudhary asked the company to pay Rs 50 lakh compensation to farmers whose crops were damaged while the MP Pollution Control Board sought an interim fine of Rs 10 crore from the power company for damage caused to environment due to spillage of fly ash. While it paid the compensation to the farmers it has requested the MP Pollution Control Board to waive the fine." https://www.hindustantimes.com/india-news/fly-ash-spills-across-30-acres-after-breach-in-ntpc-power-plant-dyke-in-mp-s-singrauli/story-ko8FT3D057Rnauo3ijyXvM.html, https://www.ndtv.com/india-news/ash-leak-from-madhya-pradesh-ntpc-plant-spills-on-farms-allege-villagers-2112858, https://indianexpress.com/article/india/breach-at-ntpc-plant-ash-dyke-in-singrauli-6058322/  (7 Oct. 2019) 
Man made National Crisis at Gandhi Sagar Dam in Sept 2019 Its not everyday that Government of India's National Crisis Management Committee (NCMC) meets. It's even rarer when the NCMC meets to deal with issues related to a dam. And that too on a Sunday. So when on Sunday, Sept 15, 2019, the Cabinet Secretary chaired the NCMC meeting to discuss the issues surrounding the Gandhi Sagar Dam on Chambal river in Madhya Pradesh (close to Rajasthan border) and called it a National Crisis, it signified how serious was the situation.
CWC tweets possibility of "Big Overtopping" at Gandhisagar, Overtopping at Rana Pratap Sagar, Jawar Sagar On Sept 14, 2019 night, just after 11 pm, CWC flood forecasting division had tweeted[iii]: "As informed by Mr Bharat Gosavi, CE Dam Safety minutes back, Gandhisagar dam, MP is in great crisis, inflow 16 lakh cusec & outflow 5.0 lakh cusec, dam already full, going for some big overtopping, all disaster management agencies must be activated accordingly." This was followed by more tweets: "Downstream of Gandhisagar Dam is Rana Pratap Sagar (RPS) Dam in Rawatbhata area in Chittorgarh District. It was getting an inflow of around 16,000 cumec. This may suddenly increase leading to overtopping from this dam also… Similarly, Jawagar Sagar Dam downstream of RPS Dam may also overtop as this dam is also very near FRL. Kota Barrage is releasing around 17,000 cumec, may also record huge increase in flow which may result in Extreme Flood Situation in Kota City in Kota District of Rajasthan… Since Kalisindh Dam on river Kalisindh is also releasing around 16,000 cumecs, the combined effect of the discharge of Kota Barrage and Kalisindh river will be felt in the downstream reaches at Mandawara in Kota District, Pali in Sawai Madhopur District, Dholpur (site) in Dholpur." https://sandrp.in/2019/09/24/man-made-national-crisis-that-gandhi-sagar-dam-faced-in-sept-2019/  (24 Sept. 2019)
Rajasthan Chaksu dam breach leaves 100 homeless The walls of a kuccha irrigation dam at Ravalta near Solanki-ki-dhani in Chaksu, around 41km from Jaipur, breached on July 27, 2019 morning following two days of incessant rain forcing over 100 people in a nearby hamlet to flee their homes. Without any assistance from the district administration, the families, including elderly women and children are now living in makeshift shacks or in muddy fields. The dam's sudden breach also forced many villagers to abandon their cattle in order to save them from the fury of rains. Some people had to flee with jus their umbrellas and buckets. https://timesofindia.indiatimes.com/city/jaipur/chaksu-dam-breach-leaves-100-homeless/articleshow/70414985.cms  (28 July 2019) 
ASSAM Major disaster at Kopili Dam of NEEPCO The 275 MW Kopili Dam Power House of NEEPCO (North Eastern Electric Power Corporation Limited, a Union Ministry of Power Underaking) in Assam suffered major disaster on Oct 7, 2019.
The penstock pipe that takes water from the Umrangso dam to the hydropower house burst during early hours in Assam's Dima Hasao (earlier called North Cachar Hill) district, and massive quantity of water erupted, a lot of it entered the power house, where four employees of NEEPCO died. A large portion of the Kopili Hydro Electric Plant was also inundated and a temporary bridge was also washed away. https://sandrp.in/2019/10/08/major-disaster-at-kopili-dam-of-neepco-in-assam/  (8 Oct. 2019)
NEEPCO releases water downstream NEEPCO's Ranganadi DAM was again charged for water releases leading to floods in Lakhimpur (Assam). The present wave of flood has affected 334 hectares of crop area, 10,164 people, 1,868 big animals, 1,721 small animals and 2,528 poultry. https://www.sentinelassam.com/news/flood-hits-more-than-40-villages-across-lakhimpur-as-neepco-releases-excess-water/  (10 July 2019)
Tamil Nadu Adavinainar dam shutter snaps Water flowed across the road after one of the sluices of the Adavinainar dam in Tenkasi district gave away. Also known as Mekkarai dam, the Adavinainar dam is located at the foothills of the Western Ghats across Hanumanadhi river in Mekkarai. The dam with a capacity of 132 feet was filled to its brim. There were some problems in releasing water on August 28 due to damage to the shutters which was rectified and water released. A shutter gave away on Sept. 8 and the water got discharged and it flowed onto the road damaging it. Farmers blamed the authorities for the situation saying they did not repair the sluices when the dam had very little water. https://timesofindia.indiatimes.com/city/madurai/water-flows-to-road-as-adavinainar-dam-shutter-snaps/articleshow/71056501.cms  (10 Sept. 2019)
Telangana Question mark over safety of Mid Manair Dam Issue of quality of work of the Mid Manair Dam (MMD) (part of the Kaleshwaram project) and its safety clearly seems to be substantial and no answers are forthcoming from Telangana govt or the CWC ideologues who were singing poems in favour of Kaleshwaram project.   https://thehansindia.com/telangana/people-panic-of-safety-over-mmd-leakages-in-karimnagar-571100  (9 Oct. 2019)
Repair of MMD taken up By deploying heavy machinery, the authorities were removing the earth a 200 m section — from the 2475 metres point to 2675 metres point — of the earth dam and in area where the leak was suspected to be present. The authorities were shocked to see the soil very loose in the area.  https://www.thehindu.com/news/national/telangana/repairs-being-taken-up-at-mmd-reservoir/article29660749.ece  (12 Oct. 2019)
Andhra Pradesh Srisailam dam gates not opened till water flows over the dam The gates of Srisailam Dam over Krishna River in Andhra Pradesh were not opened even as the dam reached the Full Reservoir Level of 885 ft. The gates were opened only after the water started flowing over the dam, which is considered most unsafe thing to happen for any dam.
The dam engineers are now giving some flimsy explanation that the overflow was due to WAVE action and that dam is safe. But the question is WHY did they wait for the dam to reach FRL before opening the gates. This reminds one of the similar situation that happened at this dam in early Oct 2009. This certainly should require an investigation. https://timesofindia.indiatimes.com/city/vijayawada/srisailam-dam-overflows-due-to-delay-in-opening-of-crest-gates/articleshow/71071196.cms  (11 Sept. 2019)
Dam Floods Maharashtra; Karnataka Aug 2019 Krishna Basin Floods in Maharashtra – Karnataka: How dams harming rather than helping Krishna River Basin is in for worst floods than the previous big flood of August 2005. Already at eight sites, the water level has already crossed the previous HFL – Highest Flood Level recorded by CWC (Central Water Commission), at four sites each in Maharashtra and Karnataka, almost all on different tributaries. https://sandrp.in/2019/08/08/aug-2019-krishna-basin-floods-in-maharashtra-karnataka-how-dams-harming-rather-than-helping/#more-32520  (8 Aug. 2019)
Karnataka Aug 2019 Krishna Basin floods in Karnataka & the Role of Dams Belagavi district (earlier known as Belgaum) in Northern Karnataka is the worst affected among the Krishna Basin Flood affected districts in August 2019. As the state Chief Minister and Union Home Minister visit the area to take stock of the situation, it would help to understand the reasons for these unprecedented floods.
One of the signs of the unprecedented floods is the flood hydrograph (from CWC) of the site Gokak Falls along the Ghataprabha river in Belagavi district. It shows that the water level of the river at this site crossed the HFL (HIGHEST Flood Level recorded at this site) of 546.88 m (reached on Aug 23, 2005) at around 6 am on Aug 5 2019. The water level at this site than reached a new peak of 555.3 m around 11 pm on Aug 9, 2019 and the water level remained above the HFL till 1300 hrs on Aug 12. It means that the new flood peak for this site is about 8.42 m above the previous HFL and the water level has remained above the HFL for 7 days and 7 hours. Both these are unprecedented and shows how unprecedented the floods are. https://sandrp.in/2019/08/12/krishna-basin-floods-in-karnataka-the-role-of-dams/#more-32542  (12 Aug. 2019)
Unprecedented Dam flood situation in Uttara Kannada in Aug 2019  This is totally unprecedented. District administration taking "over control of the dam due to the failure of the dam officials" is something that has never known to happen. There is clear allegation here that due to the failure of proper operation of the dam, the uncontrolled release of water from the KADRA dam of KPCL (Karnataka Power Corporation Limited) on Kali River lead to massive, avoidable floods. https://sandrp.in/2019/08/31/unprecedented-dam-flood-situation-in-uttara-kannada-in-aug-2019/  (31 Aug. 2019)
DAM FLOOD PUNE Mutha swells as discharge from Khadakwasla rises The state irrigation department initiated water release from Panshet and Varasgaon reservoirs. The downpour in the catchment of Nazare dam near Saswad, about 40 km from Pune, also triggered water discharge at the rate of 85,000 cusec into the Karha river late on Sept. 25 night, inundating areas of Purandar and Baramati. Located in the parched area of Pune district, Nazare is a small dam with a storage capacity of 0.60 TMC. The catchment area of the dam recorded 59mm rainfall in 24 hours ended Sept. 26 morning.
"The water release from the dam was increased in a phased manner from Sept. 25 evening as its storage had already reached maximum capacity. The release reached the maximum rate of 85,000 cusec around 1am, flooding the downstream areas," an irrigation department official said. Incidentally, it is for the first time that water was released from the dam at such a high rate continuously. As per irrigation department records, water level in Nazare dam has reached to full capacity for the first time in 8 years after 2011.  https://timesofindia.indiatimes.com/city/pune/mutha-swells-as-discharge-from-khadakwasla-rises/articleshow/71320209.cms  (27 Sept. 2019)  
"Over 10,000 people from low-lying areas in Baramati were shifted to safer places after water was released from Nazare dam, built on the Karha river near Jejuri," Patil said. Besides, more than 500 people stranded in low-lying areas of the city were also rescued, Ranpise said. https://www.thehindubusinessline.com/news/seven-killed-in-rain-related-incidents-in-pune/article29516463.ece  (26 Sept. 2019)
DAM FLOODs in GOA Goa's worst floods after Maharashtra opened nearly-full Tillari dam The recent floods in North Goa, one of the worst in over two decades, was due to release of surplus water from the Tillari dam by Maharashtra as it had reached its maximum capacity. The continuous rain, beginning early August, in the upper and lower catchment areas of the Tillari dam saw the reservoir level reach 112m. With a storage capacity of 113.2m, the water resources department of Maharashtra had no choice but to release the surplus water, sources said. "Until last year, the quantity of water released was far lesser to cause any submergence of villages in Goa. The situation occurred this time because of the heavy rainfall received during a concentrated period of time," a WRD official from Goa told TOI. But why did the dam operators not take advance release action to reduce the possibility of dam induced floods?
On the Goa side of the border, Mashe Gawas of Pernem said, "The release of surplus water from Tillari had created inconveniences to us. 15 years ago we were affected by flood but during this time intensity of flood was heavy and losses too suffered were enormous." https://timesofindia.indiatimes.com/city/goa/goas-worst-floods-after-mahaopened-nearly-full-tillari-damgoas-worst-floods-as-maha-released-tillari-water-after-dam-was-almost-full/articleshow/70635685.cms  (12 Aug. 2019)
Andhra Pradesh Boat stuck in Prakasham barrage After a six-day-long operation, special teams of National Disaster Response Force and irrigation department comprising 40 members removed the boat stuck at gate number 68 of Prakasam Barrage. Irrigation authorities brought special teams from Polavaram, used machinery, including cranes, to lift the 20 ton iron boat. The boat was used to transport sand illegally. Removing the heavy boat without damaging the gate was a major task. https://timesofindia.indiatimes.com/city/vijayawada/after-six-days-special-team-removes-boat-stuck-at-barrage/articleshow/70832628.cms  (26 Aug. 2019) 
Fisherman washed out in River Krishna Hundreds of people witnessed an elderly person being washed away in the River Krishna after officials lifted five crest gates of the Prakasam barrage, to dislodge a boat stuck in one of the sluice gates from the past one week. Sources said that the attention of the officials was focussed on the minister and the collector and they failed to notice the fishermen when they lifted the gates. By the time the NDRF teams managed to trace the fisherman, the elderly person had died. https://www.deccanchronicle.com/nation/current-affairs/250819/hyderabad-edlerly-man-washed-out-in-river-krishna.html  (25 Aug. 2019)
Meghalaya Flood Situation Worsens in Garo Hills, Embankment Breached The flood situation in the plain belt of Garo Hills worsened with water now flowing above the Solairtek Nagabund embankment on July 15 evening.  The region over the past ten days has seen a steady rise in water levels of both the Brahmaputra and its tributary, Jinjiram. It has now crossed the danger mark. The situation is expected to further worsen as the breach in the embankment means a threat to Phulbari town. https://www.northeasttoday.in/flood-situation-worsens-in-garo-hills-embankment-breached/  (16 July 2019)
Punjab BBMB Dam Floods Water level in Bhakra, Pong, Thein above normal in June 2019  The pre-monsoon rainfall in Himachal Pradesh has been significantly deficient, but water levels in the three major dams in the region are 66-91 per cent above normal. Such high pre-monsoon levels at the far end of the reservoirs' depletion period, officials say, have rarely been experienced. The flip side is that the dam authorities are reworking the daily release of water, letting go more than the demand from states to cater for inflows that would increase during the monsoon. There is also a chance of freak weather conditions, such as a cloudburst, that may result in a flood situation, bringing in more water than normal.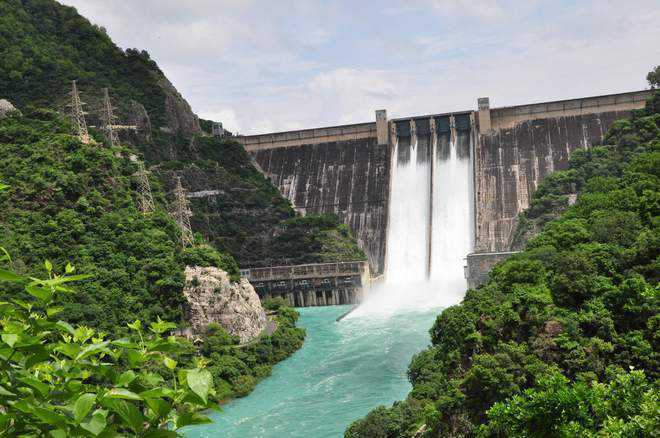 As on June 2, the Bhakra reservoir is filled up to 45 per cent of capacity, which is nearly double than normal and more than seven times the quantum of water available at this time last year. Last year, due to historic low inflows, the storage had plummeted to 6 per cent of the total capacity. While the situation had turned critical in the summer of 2018, unprecedented rainfall in the upper regions of Himachal during autumn resulted in reservoirs filling up to the brim. https://www.tribuneindia.com/news/nation/dams-filled-may-offset-weak-monsoon/782226.html  (3 June 2019) 
81 buffaloes washed away as BBMB releases water 81 buffaloes were washed away when the Bhakra Beas Management Board (BBMB) released water into the Sutlej river near Kalitran village on June 2 causing a loss of more than 50 lakh to the owners.  Kalitran village sarpanch said the village panchayat was not informed about the release of water by the authorities concerned. SDM Tanu Garg claimed prior information was received and that all village panchayats were informed about this in advance. https://www.tribuneindia.com/news/punjab/81-buffaloes-washed-away-as-bbmb-releases-water/782123.html  (2 June 2019)
BBMB & Punjab ill prepared to use water flows to Bhakra dams in 2019 summer It's pretty unusual situation in Bhakra, Pong and Ranjit Sagar dams this summer. These reservoirs on Sutlej, Beas and Ravi rivers respectively, allocated to India under Indo-Pak Indus Waters Treaty, are releasing so much water this summer that a significant part of it is flowing into Pakistan, much against the proclamations of the Government. But the Bhakra and Pong reservoirs maintained by BBMB and Ranjit Sagar Dam on Ravi managed by the Punjab government have been literally releasing Billions of litres of water on daily basis since around April 25, 2019, till June 12, 2019. https://sandrp.in/2019/06/12/bbmb-punjab-ill-prepared-to-use-water-flows-to-bhakra-dams-in-2019-summer/  (12 June 2019)
Debate on Bhakra role in Aug 2019 Punjab floods Flood had first hit the villages in Anandpur Sahib and Nurpur Bedi blocks of Ropar district on August 16 after the water was released from Bhakra Dam. It led to flooding in several villages of Ropar. On August 17, BBMB released 45,100 cusecs of water in the Sutlej. At the same time, the BSL diversion carried 8,365 cusec of water towards the Sutlej. BBMB stopped the BSL diversion on August 18 and 19 as part of flushing operations as per sources. However, when asked, top BBMB officials claimed that they had stopped BSL diversion following floods. The officials replied that predictions of IMD was incorrect and the heavy rainfall was beyond their expectations. 
Former chief engineer (irrigation) of Punjab Amarjit Singh Dullet said the BBMB could have handled the situation better. "They should not have filled up Bhakra dam by 1,680 feet and should have kept it 1,670 feet. I am not at the helm of affairs but this is what we used to do. Why do they now want to reduce it to 1,675 feet and not before? In view of the impending monsoon, 1,670 feet was a good level even if the BBMB wanted to watch the interest of other states".  
Sources in the irrigation department said losses to the villages could have been avoided had BBMB stopped withdrawing water from Beas-Satluj Link (BSL) diversion to generate power at Dehar power house. From BSL, water is stored at Pandoh Dam in Mandi district of Himachal Pradesh and after power generation the water is sent to Bhakra Dam that directly releases it in the Satluj. In this way, around 9,000 cusecs of water from Beas river is released into the Sutlej on a daily basis. https://timesofindia.indiatimes.com/city/chandigarh/debate-over-bhakra-dam-spillway-rages-on/articleshow/70795731.cms, https://timesofindia.indiatimes.com/city/chandigarh/bbmb-could-have-reduced-water-in-satluj-by-altering-bsl/articleshow/70795703.cms  (23 Aug. 2019)
Bhakra dam level crosses permissible limit The water level in the Bhakra dam crossed its permissible limit of 1,680 feet on Aug. 19, prompting the authorities to increase the release of excess water through spillway gates to 41,000 cusecs, officials said. "Water level in the Bhakra reservoir was 1,681 feet at 10 am on Aug. 19 against the permissible storage level of 1,680 feet," an official said. The water level at the dam, which usually gets filled to the capacity by September, crossed the permissible limits in the month of August for the first time.
The BBMB authorities ruled out the allegation that downstream floods got aggravated due to dam releases. In all the rivulets of Punjab having catchment area downstream of the Bhakra dam, there was heavy water inflow of around 2,00,000 cusecs, an official said. "It was due to heavy rainfall in Punjab areas & not due to any release (19,000 cusecs) of water from the dam." https://economictimes.indiatimes.com/news/politics-and-nation/bhakra-dam-level-crosses-permissible-limit-more-water-released/articleshow/70740321.cms  (19 Aug. 2019)
'Had to release water from Bhakra dam due to unprecedented flow into reservoir' BBMB on Aug. 21 said it had to release large quantities of water from the Bhakra dam due to "unprecedented" high levels of flow into the reservoir from catchment areas owing to heavy rain — the highest in the last 40 years. This they said had also resulted in one of the highest levels of deflection in the structure of the dam itself.
Addressing a press conference, BBMB Chairman D K Sharma said heavy rain on the intervening night of August 17 and 18 in catchment areas had generated 3.11 lakh cusecs of water for release into the Bhakra dam, and this water inflow was more than that of the 1988 floods in Punjab, which was the worst the state has seen till date. The chairman said that an international tender had been floated to study the strength of the Bhakra dam. He said the review is also being carried out in view of climate change and a dynamic and seismic analysis of the dam will be done.
DK Sharma said 24 per cent silt has been deposited in the dam since 1964. "We have asked IIT Roorkee to do a study on the utilisation of silt and tell us about its industrial use. This is an ongoing study and samples from 63 locations have been taken," he said. Sharma also said that IIT Ropar had been asked to do a study on the source of silt in catchment areas of the Sutlej so that the Himachal Pradesh government could be apprised for corrective measures. https://indianexpress.com/article/india/had-to-release-water-from-bhakra-dam-due-to-unprecedented-flow-into-reservoir-5926953/  (22 Aug. 2019)
Breach in embankment floods 57 villages With swollen Sutlej river breaching Dhussi Bandh at six spots in Jalandhar, water entered homes and fields in 57 villages. While fields in all 57 villages were inundated, homes in over three dozen of them were under 3-4 feet water. The breaches were reported to be 50-70 feet wide and took place at Bholewal Kadim, Meowal villages and two other points near Phillaur and at two places in Shahkot's Janian Chahal village and Gidderpindi Extension Bandh. In total, 31 villages of Phillaur, 18 of Shahkot (both in Jalandhar district), five of Kapurthala district and three in Ferozepur got affected. https://indianexpress.com/article/cities/chandigarh/punjab-floods-jalandhar-kapurthala-phillaur-shahkot-breach-57-villages-inundated-5918883/  (20 Aug. 2019)
2 new breaches worsened situation in Jalandhar, Kapurthala With two fresh breaches at Mandala Channa village, Lohian, in Jalandhar and Indessar village in Kapurthala, the flood crisis in the districts was aggravated.
With over 21 villages inundated in Lohian alone, there is no let-up in the severity of water flow. For the second consecutive night, more than 19,000 villagers are expected to spend night in the open. Over 30,000 acres in Jalandhar has been inundated. https://www.tribuneindia.com/news/punjab/2-new-breaches-worsen-situation-in-jalandhar-kapurthala/820673.html  (22 Aug. 2019)
Deepest breach in Sutlej near Ludhiana village repaired 45 foot-deep and 175-ft-wide breach occurred due to floods on the banks of Sutlej river close to Bholewal Qadim village in Ludhiana on Aug. 19 night. Within a distance of 6 km, a total of 10 breaches occurred on the banks of Sutlej out of which one was in Ludhiana and the rest in Phillaur area. https://indianexpress.com/article/cities/ludhiana/punjab-floods-deepest-breach-in-sutlej-near-ludhiana-village-repaired-5934998/  (25 Aug. 2019)
Breach in Gang Canal in Ferozepur Due to overflow of water a breach was noticed in the Gang Canal near village Luthar from Hussainiwala Head Works and entered in the fields of the Luthar village up to three to four feet and started hitting the adjoining areas.   http://www.babushahi.com/view-news.php?id=90650&headline=Breaking:-Breach-in-Gang-Canal-in-Ferozepur,-war-footing-work-on-to-plug  (29 Aug. 2019)
7 breaches in Sutlej banks not yet plugged in Jalandhar, Sultanpur Lodhi districts 10 days since the Sutlej river breached its banks in several places in Punjab, flooding 64 villages in Sultanpur Lodhi, 31 villages in Phillaur and 23 in Shahkot, the administration is yet to begin plugging three breaches in Sultanpur Lodhi and four in Shahkot, sub-division of Jalandhar. Out of total nine breaches in Jalandhar, four have been plugged. Work is under way at Jania Chahal in Shahkot, which at 500 feet, is the widest breach.
Breaches at Gata, Mandi Kasu, Mandala, Nall village in Shahkot sub-division and Sarupwal, Tibbi and Bhaoana village in Sultanpur Lodhi are yet to be plugged. The administration is waiting for the water level to decline to locate the specific breaches, said a senior administration officer. Although they have sought help from the army, officials say it will still take a week to plug all breaches. https://www.hindustantimes.com/punjab/seven-breaches-in-sutlej-banks-not-yet-plugged-in-jalandhar-sultanpur-lodhi-districts/story-S6wQJ3catOZ9G2zoLgDq8I.html  (30 Aug. 2019) 
Canal breach triggers panic Morning walkers saved the situation from taking an ugly turn as they noticed a breach in the embankment of Bhakra canal in Sehjadpur village. They rushed to the village gurdwara and raised the alarm, requesting people of adjoining Khanpur, Harlalpur and Dera Mir Miran villages to rush to the spot to plug the breach. Within minutes, a large number of villagers reached the spot and initiated work to breach the same as strong water current was widening the breach.
Villagers succeeded in plugging the breach by placing sandbags. They also informed the district administration following which Fatehgarh Sahib Tehsildar Gurjinder Singh and DSP Raminder Singh Kahlon reached the spot and helped villagers carry out the work.
While talking to mediapersons, villagers said the poor condition of the canal embankment had been causing panic in the surrounding villages as a breach could inflict a great damage on life and property. They said they had been informing the district administration about the dilapidated state of the canal embankment, but to no avail. https://www.tribuneindia.com/news/canal-breach-triggers-panic/846761.html  (14 Oct. 2019) 
Breach in Naggal earthen dam, Mohali Naggal dam gives way, triggers flash floods At least 15 head of cattle, six houses and four bridges were washed away in flash floods that hit several villages, including Chhoti Naggal, Badi Naggal, Parol and Mirzapur, and nearby areas following a major breach in the Naggal earthen dam on Aug. 18 morning.
Most of the residents of Chhoti Naggal, Badi Naggal and Mirzapur villages suffered losses worth several lakhs. These three villages have also been cut off following collapse of bridges connecting these to other parts of the district. Roads in the area were damaged. https://www.tribuneindia.com/news/chandigarh/naggal-dam-gives-way-triggers-flash-floods/819555.html  (19 Aug. 2019)
250 acres of paddy fields flooded after canal breach in Karnal Due to incessant rainfall, which added to the flow of Sirsa-Habri canal, three breaches occurred in the bank of the canal in Nigdhu village, resulted in the flooding of around 250 acres of paddy fields on July 16. The breach occurred at two more places. https://www.tribuneindia.com/news/haryana/250-acres-of-paddy-fields-flooded-after-canal-breach-in-karnal/803015.html  (16 July 2019)
Uttar Pradesh Ganga breaches Ballia ring dam The Ganga continued to rise in Ballia and breached the Dubey Chhapra ring dam in Ballia district on Sept. 16 morning, affecting a population of over 35,000 of four villages. The river continued to rise after breaching the danger mark in Ballia on Sept 14. As per the records of CWC, Ganga level touched the 59 m mark, more than a metre above the danger mark of 57.61 by late Sept. 16 afternoon and was inching closer to highest flood level mark of 60.39 m recorded in 2016.
In Ghazipur, Ganga level touched 63.60m, after breaching the danger mark of 63.10m. Flood water has entered several villages of Ghazipur and Chandauli districts, compelling people to move to safe shelter. The crops in farms are inundated.
On Sept. 15, an overhead tank and portions of primary school were swept away in Keharpur area near Dubey Chhapra. In Ghazipur, floods has caused a heavy damage to paddy and vegetable fields in several villages of Revatipur, Karanda, Mohammadabad and Saidpur areas. Satyam and Rajesh Yadav, cultivators in Revatipur said that flood has caused a heavy loss to farmers, especially vegetable growers. Over 40 villages in Niyamtabad, Sakaldiha, Chahania and Dhanapur blocks in Chandauli district are also affected by floods. https://timesofindia.indiatimes.com/city/varanasi/ganga-breaches-ballia-ring-dam-marooned-villagers-evacuated/articleshow/71156215.cms  (17 Sept. 2019)
In Conclusion As India's dams age, and as instances of high intensity rainfall increase, the concerns about operational and structural safety of dams, embankments and canals are only going to increase. Unless we are able to make our operation and maintenance systems more effective, accountable and transparent, the number of such unsafe & damaging events will only go up. This will include complete restructuring of water institutions, starting from Central Water Commission. The Dam Safety Bill may not be particularly helpful in current form as we wrote earlier.
SANDRP (ht.sandrp@gmail.com)