Feature image: UNDP mission to restore 9 wetlands in Andhra beings (The Hindu, 05 May 2021)
Here we highlight the top ten Wetlands India stories about Government actions in 2021 from media reports, including some positive and some adverse decisions taken by various state governments and centre. The first part has presented current situation of wetlands in the country through top 10 reports. The next part would present top 10 judicial interventions in India in 2021 regarding the wetlands.
1. Tamil Nadu Proposal to declare 13 wetlands as Ramsar sites Nearly 2 decades after Point Calimere Wildlife and Bird Sanctuary was designated as the lone Ramsar Site in TN, there is a renewed push from the current government to get the international recognition for 13 more important wetlands, for which proposal has been recently submitted to the MoEFCC. Government has made budgetary allocation of Rs 150 crore for Tamil Nadu Wetland Authority (TNWA).
Deepak Srivastava, Additional Principal Chief Conservator of Forests and Member Secretary of TNWA, said the National Atlas prepared by ISRO in 2011 proved that Tamil Nadu is a wetland-rich State. It has a whopping 43,916 wetlands, accounting for 6.92 per cent of its geographical area, as against the country's 4.7 per cent. Despite this richness, it's an intriguing fact that floods and droughts are becoming recurrent features. "When we do in-depth analysis of the reasons behind flooding, unplanned urbanisation in the past and loss of natural wetlands due to encroachments and land use changes come up as plausible causes," he said. https://www.newindianexpress.com/cities/chennai/2022/jan/07/tn-renews-push-to-get-ramsar-tag-for-13-wetlands-2404052.html (07 Jan. 2022)
Construction bordering Kotagiri wetland cancelled After local opposition from activists, construction bordering one of the last remaining wetlands in Kotagiri, has been cancelled by the Nilgiris district administration. The wetland, known as Rifle Range in Kotagiri, is said to have originally been 15 times its current size. Due to a lack of protection, the original spread of the wetland has gradually been whittled down and is now said to be just around 8 acres. Though the wetland has diminished in size due to encroaching residential buildings and plantations, it continues to be a source of drinking water for some of the most populated parts of Kotagiri town, with four wells being dug into it. https://www.thehindu.com/news/cities/Coimbatore/construction-of-government-buildings-halted-in-rifle-range-wetland-in-kotagiri/article33851145.ece (16 Feb. 2021)
Collector bans non-agricultural activity on wetlands This comes in the wake of a number of paddy fields and wetlands being converted into housing plots; Kannyakumari Collector says a survey has been started to assess this. https://www.thehindu.com/news/national/tamil-nadu/collector-bans-non-agricultural-activity-on-wetlands-of-kanniyakumari/article35403745.ece (19 July 2021)
Move to declare Kaliveli wetlands a sanctuary In a major push to declare Kaliveli (Kazhuveli) wetlands, the second-largest brackish water lake in South India after Pulicat lake, a bird sanctuary, the Villupuram district administration has issued the first declaration under the Wildlife Protection Act, 1972. The decision is seen as a big win for Forest Department officials and conservationists, and their efforts to protect this wetland that remains a safe haven for diverse flora and fauna.
The first challenge will be to minimise the negative impacts of the creation of a checkdam downstream that may impact water levels and salinity but also of the plan of creating a fishing harbour in the estuary of the lagoon system downstream from the bird sanctuary, Mr. Mathevet said. "The surface area of the bird sanctuary is around 5,000 hectares while the wetlands are much larger than that. The Forest Department must work with the local communities to improve the management of the wetlands," he added. https://www.thehindu.com/news/national/tamil-nadu/move-to-declare-kaliveli-wetlands-a-sanctuary-first-declaration-issued/article33739194.ece (03 Feb. 2021)
MoEF declaration about Kazhuveli birds sanctuary. The Tamil Nadu government considers that the area of Kazhuveli brackish water lake wetland in 8 villages in Marakkanam taluk and 5 villages in Vanur taluk in Villupuram district is of "adequate ecological, faunal, floral and geomorphological significance for the purpose of protecting, propagating and developing wildlife and its environment," said a notification issued on Dec. 6, 2021.
The sanctuary lies adjacent to the Bay of Bengal. It is one of the 94 identified wetlands under the National Wetland Conservation and Management Programme launched by the Union government. Tamil Nadu has three more wetlands – Point Calimere, Pallikaranai marsh and Ousteri lake (spread in Tamil Nadu and Puducherry) – under the programme. https://timesofindia.indiatimes.com/city/chennai/tamil-nadus-kazhuveli-wetland-declared-as-bird-sanctuary/articleshow/88126488.cms (06 Dec. 2021)
Kazhuveli Bird Sanctuary will be the 16th Bird Sanctuary in Tamil Nadu and will help to preserve the biological diversity of the region and conserve the threatened bird species in their natural environments. A navigation channel will be developed in Kaliveli backwaters by clearing the sandbar between the waterbody and the sea threatening to displace around 65,000 people, mostly from marginalised communities.
M Yuvan, an active member of the Madras Naturalists Society, said that Kazhiveli is ecologically contiguous with the Edaiyanthittu bar mouth where it meets the sea. "The commercial harbour proposed here can block the Uppukali creek, destroy the seagrass meadows, oyster reefs and salt marshes here and trigger erosion. This is bound to have a great impact on wetland health and birds. It's important to protect the entire coastal wetland – the barmouth, creek and lake area." https://www.newindianexpress.com/states/tamil-nadu/2021/dec/06/tamil-nadu-declares-5151-hectares-of-kaliveli-wetlands-in-villupuram-as-bird-sanctuary-2392493.html (06 Dec. 2021)
2. Delhi SWA to revive, conserve 180 waterbodies An official of the state wetland authority said, "We have received brief documents for around 180 waterbodies. A committee comprising wetland experts will review these documents. The brief document also contains challenges in the management of wetlands like dumping of waste, discharge of sewage, encroachment or excessive growth of weed. Once they are finalised, we will start our work by prioritising the environmental characteristics of a wetland and start the process of notifying them." The official added that "the submission of documents by land-owning agencies acknowledges the presence of waterbodies."
If a wetland is notified under Wetlands (Conservation and Management) Rules, 2017, it will start getting legal protection and activities like dumping of waste, discharge of untreated effluents and encroachment will be prohibited for its conservation, said an official. Authorities at the state wetland authority, which constituted in 2019 for restoration of wetlands after an order of NGT, said there was no official data on the number of wetlands and their area in Delhi but it was believed that there were around 1,000 natural waterbodies in the capital. https://timesofindia.indiatimes.com/city/delhi/papers-in-wetland-authority-to-revive-conserve-180-waterbodies/articleshow/83879210.cms (27 June 2021)
While the floating wetlands were recently installed at Sanjay Van lake, the DJB had set them up earlier at the lakes at Nangloi and Rajokri. The wetlands are to come up in around 10 lakes as part of the 'City of Lakes' project of the DJB. The DJB will ensure the maintenance of these sites once the wetland systems are in place. Plants that grow on the platforms include yellow and red canna, spider lily, elephant ear plants, pampas grass, and soft rush or bulrush plants. https://indianexpress.com/article/cities/delhi/delhi-jal-board-sets-up-floating-wetlands-to-clean-lakes-7465308/ (22 Aug. 2021)
SWA will soon appoint 27 "wetland mitras" to take care of waterbodies around Delhi and help the government carry out their preservation and revival. While the SWA had begun the process to appoint the mitras in March, officials say they were awaiting selection through a committee that was formed recently. Of the 30 applications received, 27 were selected and their names sent to the Delhi government for approval, an official said. The notice, however, stated that there would be no payments or honorarium from the Delhi government for these wetland mitras. https://timesofindia.indiatimes.com/city/delhi/friends-indeed-27-wetland-mitras-to-help-conserve-revive-waterbodies-around-delhi/articleshow/86820696.cms (07 Oct. 2021)
10 waterbodies in the capital are set to be declared wetlands, as recommended by a 7 member technical committee. These includes Sanjay Lake, Hauz Khas Lake, Bhalswa Lake, Smriti Van (Kondli), Smriti Van (Vasant Kunj), Najafgarh Jheel, Welcome Jheel, Daryapur Kalan, Sultanpur Dabas, Poth Kalan (Sardar Sarovar Lake), said a report by Delhi Parks and Gardens Society. https://timesofindia.indiatimes.com/city/delhi/10-waterbodies-in-delhi-to-be-declared-wetlands/articleshow/88017328.cms (01 Dec. 2021)
https://indianexpress.com/article/cities/delhi/hauz-khas-sanjay-lakes-on-list-of-10-water-bodies-that-may-soon-be-notified-as-wetlands-7671523/ (14 Dec. 2021)
Najafgarh Jheel in NCR CPCB has shown that the sources of pollution causing deterioration in water quality should be identified and quantified for the restoration of Najafgarh lake. https://www.timesnownews.com/delhi/article/najafgarh-lake-pollution-sources-causing-water-quality-deterioration-must-be-identified-says-cpcb/732711 (15 March 2021)
The Centre has decided to notify the Najafgarh Jheel, the second largest water body in Delhi-NCR after the Yamuna, as a transboundary wetland for its restoration and rejuvenation, according to a report submitted to the NGT. "A Framework for Integrated EMP for Najafgarh Jheel" will be implemented in a time-bound manner by Delhi and Haryana within the jurisdiction of the respective state, the report said.
According to INTACH, the revival of the jheel would yield around 20 million gallons of water a day to support a population of 3.5 lakh. "Despite being the source of several benefits and sustaining habitats of diverse species, Najafgarh Jheel has been highly fragmented and transformed, built upon, used as a waste receptacle, and infested with invasive species," the committee said. It noted that the Sahibi river, of which Najafgarh Jheel was the natural floodplain, has been converted virtually into a drain. The decimation of wetlands has exposed the neighbouring settlements in Haryana and Delhi to high risks of pluvial flooding and reduced groundwater levels. Recent constructions within the wetlands, while impeding natural wetland functions, are precarious owing to high seismicity and liquefaction within the region, it said. https://www.thehindu.com/news/cities/Delhi/centre-to-notify-najafgarh-jheel-as-transboundary-wetland/article37959220.ece (15 Dec. 2021)
3. MoEF Wetlands of India portal launched The Environment Minister launched the 'Wetlands of India Portal', which is supposed to act as single-point access to all information relating to wetlands. A dashboard for each state and Union Territory has been developed to access the portal and populate it with information of their wetlands. The new web portal will also provide a monitoring mechanism at the national, state and district levels. https://www.livemint.com/news/india/environment-ministry-launches-guidelines-for-ecotourism-river-dolphins-11633176267753.html (02 Oct. 2021)
The web portal, http://indianwetlands.in, hosts capacity-building material, data repository, videos, and related information. Currently, citizens can register themselves and upload wetland-related pictures across different themes. It also allows them the facility to take a pledge to become Wetland Mitra and indicate their State/UT and areas of interest.
The portal has been developed under a technical cooperation project "Wetlands Management for Biodiversity and Climate Protection" (Wetlands Project) of the MoEF in partnership with Deutsche Gesellschaft für Internationale Zusammenarbeit (GIZ) GmbH. https://newsonair.com/2021/10/03/wetlands-of-india-portal-single-point-access-to-all-information-relating-to-wetland/ (03 Oct. 2021)
First wetland conservation centre in Chennai Chennai has got its first specialised institution – Centre for Wetland Conservation and Management (CWCM) – which will work as a knowledge hub for various stakeholders for conserving wetlands that occupy 4.6% of the country's total land area. The CWCM has been set up as a part of the National Centre for Sustainable Coastal Management (NCSCM), Chennai.
It will assist the national and state/UT governments in the design and implementation of policy and regulatory frameworks, management planning, monitoring and targeted research for conservation of wetlands, said the environment ministry in a statement. https://timesofindia.indiatimes.com/city/chennai/indias-first-wetland-conservation-centre-comes-up-in-chennai/articleshow/80660343.cms  (03 Feb. 2021)
Celebrating World's Wetlands Day 2021 Gajendra Singh Shekhawat, Minister of Jal Shakti said, "Namami Gange is the first of its kind program where Wetland Conservation is integrated with Basin Management Plan."  He added, "The innovative work done by NMCG for wetland conservation linked to River Rejuvenation would help the entire country as a model framework".  On the occasion of Wetland Day, a massive scientific and community-based program to develop Health card and management of 10 wetlands in each of the 50 plus Ganga districts was launched. https://pib.gov.in/PressReleseDetailm.aspx?PRID=1694555  (02 Feb. 2021)
4. Bihar Proposal for conserving Gangetic floodplain wetlands Bihar's principal secretary of Environment, Forest, and Climate Change Department Dipak Kumar Singh said that the proposed Gangetic floodplain wetlands protection project will be 100% centrally funded with an estimated cost of Rs. 2.505 crore. He said that the project aims at creating a knowledge base and capacities for effective management of floodplain wetlands in the 12 Ganga districts in Bihar.
The revised DPR for "Development of Ghat and Crematoria at Simariya, Barauni, Bihar" was presented by National Buildings Construction Corp Ltd (NBCC) at the meeting. As the official statement stated, the field survey of the project location had already been done by the NBCC to carry on the works at an estimated project cost of Rs. 11.92 crores in a period of 20 months. Bihar's Simariya is famous also for being the birth-place of Rashtra Kavi Ramdhari Singh Dinkar, besides being a famous Ghat of river Ganges. https://www.newindianexpress.com/nation/2021/oct/02/bihar-presents-proposal-for-conservinggangetic-floodplain-wetlands-in-new-delhi-2366731.html (2 Oct 2021)
5. Andhra Pradesh UNDP mission to restore 9 wetlands The forest authorities have launched the works pertaining to the restoration of 5,000 hectares of mangrove cover in the Krishna and Godavari estuaries and 200 hectares of salt marshes as part of the five-year project of the United Nations Development Programme (UNDP). The program titled 'Enhancing climate resilience of India's coastal communities' is being funded by the Green Climate Fund. Of the 24 landscapes identified in Andhra Pradesh, Odisha and Maharashtra for restoration at a cost of ₹298 crore, nine are in AP.
Of the 5,000 hectares of targeted mangrove cover, around 4,250 hectares are in the Krishna and Godavari estuaries in the surrounding areas to the Coringa and Krishna Wildlife sanctuaries. The mangrove restoration will be done by adopting the fish bone method, Wildlife Management (Eluru Division) Divisional Forest Officer C. Selvan said. https://www.thehindu.com/news/national/andhra-pradesh/undp-mission-to-restorenine-wetlands-in-ap-begins/article34493010.ece (05 May 2021)
Pelican of Kolleru declared wetland ambassador The famed pelican of Kolleru, a much-loved visitor to one of the largest freshwater lakes in the country, is now a proud wetland ambassador. The Chief Conservator said that 40 per cent of crane type of birds around the world were present in the Kolleru region. He said that to protect wetlands, Wetland Mitras were appointed. Kolleru and its pelicans are quite endearing to the bird lovers of the State. An annual Pelican Festival is hosted at the Atapaka Bird Sanctuary. This is also known as 'Pakshula Pandaga' and is held on Krishna -West Godavari districts border. https://www.thehansindia.com/andhra-pradesh/pelican-of-kolleru-declared-wetland-ambassador-709779 (07 Oct. 2021)
6. CPCB Prohibition on opening of new retail fuel stations near water bodies Central Pollution Control Board (CPCB) issued fresh guidelines prohibiting setting up new petrol pumps (retail outlets) within a distance of 50 meters from the nearest point of lakes, ponds, streams, rivers, wetlands, canals and creeks. The guidelines, sent to all public and private sector oil marketing companies, and state pollution control boards, also specify the groundwater and soil sampling protocol to monitor level of contamination at regular intervals, and suggest protection which is to be followed by petrol pumps even beyond 50 meters from the water bodies.
Acting on directions of the NGT, the central pollution watchdog had earlier issued draft guidelines on the issue and placed it in public domain for seeking suggestions of general public and concerned stakeholders. The final guidelines have now been issued after reviewing all suggestions by an expert committee. The monitoring will be done (not clear by whom) for all those fuel retail outlets which are located within 100 meter from the nearest point of surface water bodies, regardless of the date of establishment. The guidelines issued last year had prohibited opening of new fuel stations (retail outlets) within 50 metres from schools, hospitals and residential areas. https://timesofindia.indiatimes.com/india/cpcb-prohibits-opening-of-new-retail-fuel-stations-near-water-bodies-makes-soil-testing-near-petrol-pumps-mandatory/articleshow/85480284.cms (20 Aug. 2021)
The basis of deciding the distance limits is not mentioned however its totally insufficient as shallow aquifers connected to the water bodies often extend to kilometres underground. Further, there are several petrol pumps established breaching even this limit. Moreover, CPCB has been permitting oil well exploration projects very close to wetlands area and even within riverbeds & floodplains, the Baghjan disaster of Assam is one example of this.
7. Kerala KCA plan to reclaim wetlands in Edakochi In what will slowly pave the way for large-scale destruction of mangroves in Vembanad wetlands, the Kerala Cricket Association (KCA) has gone ahead with the proposal to reclaim a large portion of wetlands in Edakochi. The proposal of KCA to develop an international stadium, spread over 22 acres, has been revived by planning to fill the sediments extracted from the Vembanad lake, which will be desilted very soon. The proposal to reclaim the wetlands was earlier shot down by the ministry of environment and forests headed by Jairam Ramesh after it was found violating the coastal regulation zone (CRZ)-1 rules.
The irrigation department is now planning to dredge and deepen the 1.5-km stretch of the Vembanad Lake in the first phase from Kannangattu Island to Edakochi at a cost of Rs 1.2 crore. The dredging will remove the sediment accumulated in the lake, especially after the 2018 floods. The plan is to dump the sediments extracted from the lake onto the wetland owned by the KCA as the irrigation department could not find any other place to dump it. KCA officials said that when they purchased the land in 2005, it was in CRZ-2 and there were no mangroves at the site at that time.
"As the project got delayed, mangroves grew there. When the re-categorisation of CRZ norms came, the area fell under CRZ-1 as mangroves grew in an area of 1,000 square feet and no construction was permitted. But we gave a request to the chief minister that KCA needs an international stadium and we will now approach the central government too," Nair said. "It is suspected that the current move is to reclaim the site. If a large quantity of sediment is deposited, the area will become terrestrial land and the natural habitat of mangroves will deteriorate," Dr P Sujanapal, a senior scientist in Kerala Forest Research Institute said. https://timesofindia.indiatimes.com/city/kochi/kca-goes-ahead-with-plan-to-reclaim-wetlands-in-edakochi/articleshow/88639085.cms   (02 Jan. 2022)
Vehicles used for reclaiming Akkulam wetlands seized A revenue team led by sub-collector Madhavikutty M S seized four vehicles that were used for reclamation of wetland at Akkulam on Jan. 4, 2021. The officials said the land on which levelling was done has been notified as wetlands under relevant sections of Kerala conservation of paddy land and wetland act, 2008. The provisions state that the wetlands of the state shall be maintained as such and there shall be a total prohibition on reclamation of wetland and removal of sand. It empowers an authorised official to seize any vehicle or implements used in contravention of the provisions of the act and send a report to the district collector for initiating proceedings for their confiscation. https://timesofindia.indiatimes.com/city/thiruvananthapuram/vehicles-used-for-reclaiming-akkulam-wetlands-seized/articleshow/80102881.cms  (05 Jan. 2021)
PalakkadDistrict collector Mrunmai Joshi started an investigation into large-scale complaints of conversion of wetland in Shoranur municipality violating the rules of the Kerala Conversion of Paddy Land and Wetland Act, 2008.
Agriculture minister P Prasad had ordered an investigation on the complaint by Shoranur Padasekhara Samithy that 350 acre of wetland was converted by Shoranur municipality and a gazette notification was issued making it dry land. The converted land includes three-crop paddy land near Shoranur-Cheruthuruthy check dam in Bharathapuzha. https://timesofindia.indiatimes.com/city/kochi/probe-begins-into-wetland-conversion/articleshow/83444518.cms (12 June 2021)
Kochi Corporation issued a memo to Kerala Judicial Officers Cooperative Society Limited to stop construction of a ground-plus-15 storey building at Chalikkavattom near Vyttila stating that a portion of the land on which the construction was going on is a wetland area. The society, however, obtained a stay on the order from the HC, after about a week the memo was issued and has been allowed to continue the construction on the land excluding the area under dispute. https://timesofindia.indiatimes.com/city/kochi/wetland-norms-corporation-issues-stop-memo-to-building/articleshow/84509088.cms (18 July 2021)
8. J&K Gharana Wetlands 10-yr management plan However, the plan is facing a stumbling block with the villagers in Gharana seeking compensation at par with market rates. According to the officials, the Wildlife department has given Rs 11.70 crore to the Revenue department for land acquisition from the farmers whose land comes under the management plan.
"They are demanding Rs 5 lakh per kanal and the prestigious project is hanging in the balance even after demarcation and installing of poles on the identified land for the past two years," they said. The officials said that 408 kanal and 14 marla land had been demarcated with the help of Police for the Gharana Wetland. They said that the people were not permitting any developmental activities like road construction, its widening, and bio-gas plant in the area. https://www.greaterkashmir.com/jammu/wildlife-department-prepares-gharana-wetlands-10-year-management-plan (21 Oct. 2021)
Wular Lake Admin sets deadline to remove encroachments As per the minutes of the meeting chaired by Divisional Commissioner Kashmir, P K Pole, the Wular Management and Conservation Authority and DC Baramulla have been directed to remove encroachment on Wular Lake by or before 30 Nov 2021. The directions have been passed to remove encroachment on 380 kanal land of the Wular Lake.
Earlier, Jammu and Kashmir govt had come up with an Integrated Management Action Plan for conservation of wetlands in Kashmir with a proposed budgetary outlay of Rs 46.7 crore. "An overall budget of Rs 46.70 crore is proposed for implementation of the Integrated Management Action Plan for all the Wetland Conservation Reserves of Kashmir region over 2022-27," the Action Plan reads. https://www.greaterkashmir.com/kashmir/admin-sets-deadlines-to-remove-encroachments-from-water-bodies (03 Nov. 2021)
The J&K govt has renamed Lakes and Waterways Development Authority as J&K Lake Conservation and Management Authority. https://www.greaterkashmir.com/kashmir/jk-govt-renames-lawda-as-lcma (3 Nov 2021)
9. Uttar Pradesh Govt to promote wetlands for tourism, water sports These include 8 sites designated as wetlands of international importance (Ramsar Sites). UP has the maximum number of Ramsar sites among the 42 in India & Punjab, with 6 sites, is next to UP. The plan includes the construction of roads for easy accessibility, boarding and lodging facilities, movement around the area, recreational activities like boating and water sports and online facilities, said a senior forest official.
"The sites will be developed under the financial collaboration of the central and the state governments in 60:40 ratio. Most of the project proposals have been sent to the central govt," said the official. "It's difficult to comment on the timeline for the project because of the interruptions due to the Covid pandemic. But these sites should be developed in a couple of years" he added. https://www.hindustantimes.com/cities/lucknow-news/uttar-pradesh-to-promote-wetlands-as-tourism-water-sports-hubs-101622909304602.html (5 Jun 2021)
Airport at cost of 63 wetlands? The farmers have been protesting against land acquisition and inadequate compensation for the proposed site for Noida International Greenfield Airport project since Oct 2018. The proposed airport, 70 km away from the Indira Gandhi International (IGI) Airport, New Delhi, estimated to cost Rs. 16,000 crore, was believed to be the government's showpiece ahead of the elections.
Although the state govt officials claim that the farmers' issues have been resolved as Allahabad High Court has dismissed land dispute cases in April, concerns regarding the long-term impact of the construction on the environment continue to bother experts as several wetlands and habitat of Sarus cranes, peacocks and blackbucks fall under the project area. https://citizenmatters.in/environment-impact-of-proposed-noida-international-greenfield-airport-13500 (7 Aug 2021)
The Haiderpur Wetland abutting the Madhya Ganga barrage, about 10 km from Bijnor, has been recognised under the 1971 Ramsar Convention on Wetlands, bringing the total number of such designated areas in the country to 47, MoEF posted on Twitter on Dec. 9 2021.
Located within the boundaries of Hastinapur Wildlife Sanctuary, this Wetland of International Importance (no. 2463 on the 'Ramsar List') is human-made wetland covering an area of 6,908 hectares and was formed in 1984 after the construction of the Madhya Ganga Barrage on the floodplains of Ganga. Haiderpur Wetland provides habitat for numerous animal and plant species, including more than 30 species of plants, over 300 species of birds, including 102 waterbirds, more than 40 fish and more than 10 mammal species. https://www.daijiworld.com/news/newsDisplay?newsID=902471 (09 Dec. 2021)
Dhanauri soon to be Ramsar site: Forest dept On being asked the reason for the delay, as it was in 2018 that the divisional forest department first sent a proposal to declare the waterbody as a wetland under Wetland Rules 2017 and later in 2019 to declare it a Ramsar site, officials said that "such work often takes time".
However, Anand Arya, a Noida-based birder who led a legal battle for its conservation, said that the forest department had been "very lethargic". "They had been sitting on it for over 7 years, when we first approached them for its conservation. As a result, over time this statuary wetland lost its original glory and continues to degrade. It's high time that something is done in a timely manner and someone is held accountable before this wetland is completely lost," said Anand Arya. https://www.hindustantimes.com/cities/noida-news/field-survey-at-dhanauri-wetland-soon-to-declare-it-ramsar-site-says-forest-dept-101624816269712.html (27 June 2021)
Artificial wetland to be ready by Nov The irrigation dept has started work on the creation of a wetland to naturally clean stinking murky water of Kondli drain, a major source contributing to the pollution of river Yamuna. About 500 m in length, the wetland is being built between sectors 51 & 52, will be ready by Nov 2021, officials said on June 21, 2021.
The Noida authority, which is financing and monitoring the project, said that six more such wetlands will be created at different locations. "The wetland is being built where the drain is the widest. The estimated cost of the first wetland is ₹7 crore, and all seven may cost around ₹42 crore. The first wetland is likely to be ready by Nov," said RP Singh, deputy general manager (waters), Noida authority.. https://www.hindustantimes.com/cities/noida-news/yamuna-pollution-artificial-wetland-to-naturally-treat-kondli-drain-to-be-ready-by-november-101624298616699.html (21 June 2021)
10. Haryana Govt may build check dam around Najagfarh lake: CM Even as the Haryana government is yet to submit an environment management plan pertaining to the Najafgarh lake with the NGT, CM Manohar Lal Khattar on Aug. 16 2021 said that the government is considering construction of check dams (bundhs) around the lake to prevent flooding of around 5,000 acres of agricultural land located in its vicinity.
However, experts were against the construction of a check dam at Najafgarh. Ritu Rao, a PhD scholar at the TERI School of Advanced Studies, who specialises and works on urban water bodies and has been working on the Najafgarh lake, said, "Building a check dam near the lake will block the only outlet for stormwater in Gurugram. With climate change, Gurugram is facing extreme precipitation in a short span of time, which leads to urban flooding; this will only increase in future. Further, to build a check dam, undulated terrain is needed, whereas the area in question is not such a land."
Experts working for the protection of the lake have been demanding that the Haryana government declare the water body a wetland till 212.5 metres above mean sea level, in accordance with the high flood level of the past 100 years. If it is done lower than that, then there is a risk of flooding and collapse of the buildings constructed on this land as the Najafgarh Jheel is a natural hazard zone. https://www.hindustantimes.com/cities/gurugram-news/govt-may-build-check-dam-around-najagfarh-lake-khattar-101629138089977.html (16 Aug. 2021)
Wetlands Haryana has some 1,441 wetlands, but none were protected under the Ramsar treaty till now, according to data from the ministry. While Sultanpur National Park is spread across 353 acres, Bhindawas Wildlife Sanctuary covers more than 1,000 acres. Both wetlands are natural homes to a wealth of bird species and attract a large number of migratory birds every year. https://timesofindia.indiatimes.com/city/gurgaon/sultanpur-bhindawas-wetlands-get-ramsar-tag-a-first-for-haryana/articleshow/85223346.cms (11 Aug. 2021)
Other Relevant Reports
MoEF Rs 1039 cr released for 157 wetlands: Javadekar "Under the National Plan for Conservation of Aquatic Eco-systems (NPCA) scheme, the central assistance is based on proposals received from state governments, in conformity with the guidelines and budget availability. Accordingly, so far, MoEFCC has sanctioned projects for conservation of 157 wetlands in the country and released an amount of about Rs 1,039 crore as central share", Union Minister of Environment Prakash Javadekar informed Parliament on March 19 2021.
In a written reply to a question in the Lok Sabha on whether the number of lakes has declined substantially across the country over recent years, Javadekar said rapid urbanisation, development activities and anthropogenic pressures have stressed water bodies. https://indianexpress.com/article/india/rs-1000-crore-released-for-157-wetlands-in-india-javadekar-7236585/ (20 March 2021)
Four New Ramsar Sites, two each from Haryana and Gujarat – have been recognised as wetlands of international importance under the Ramsar Convention, taking the number of such sites in the country to 46, the Union Environment Ministry said on Aug. 14 2021. https://www.thehindu.com/sci-tech/energy-and-environment/four-more-indian-sites-added-to-ramsar-list-as-wetlands-of-international-importance/article35907804.ece (14 Aug. 2021)
https://www.hindustantimes.com/environment/4-more-sites-in-india-added-to-ramsar-list-all-you-need-to-know-101628943420153.html (14 Aug. 2021)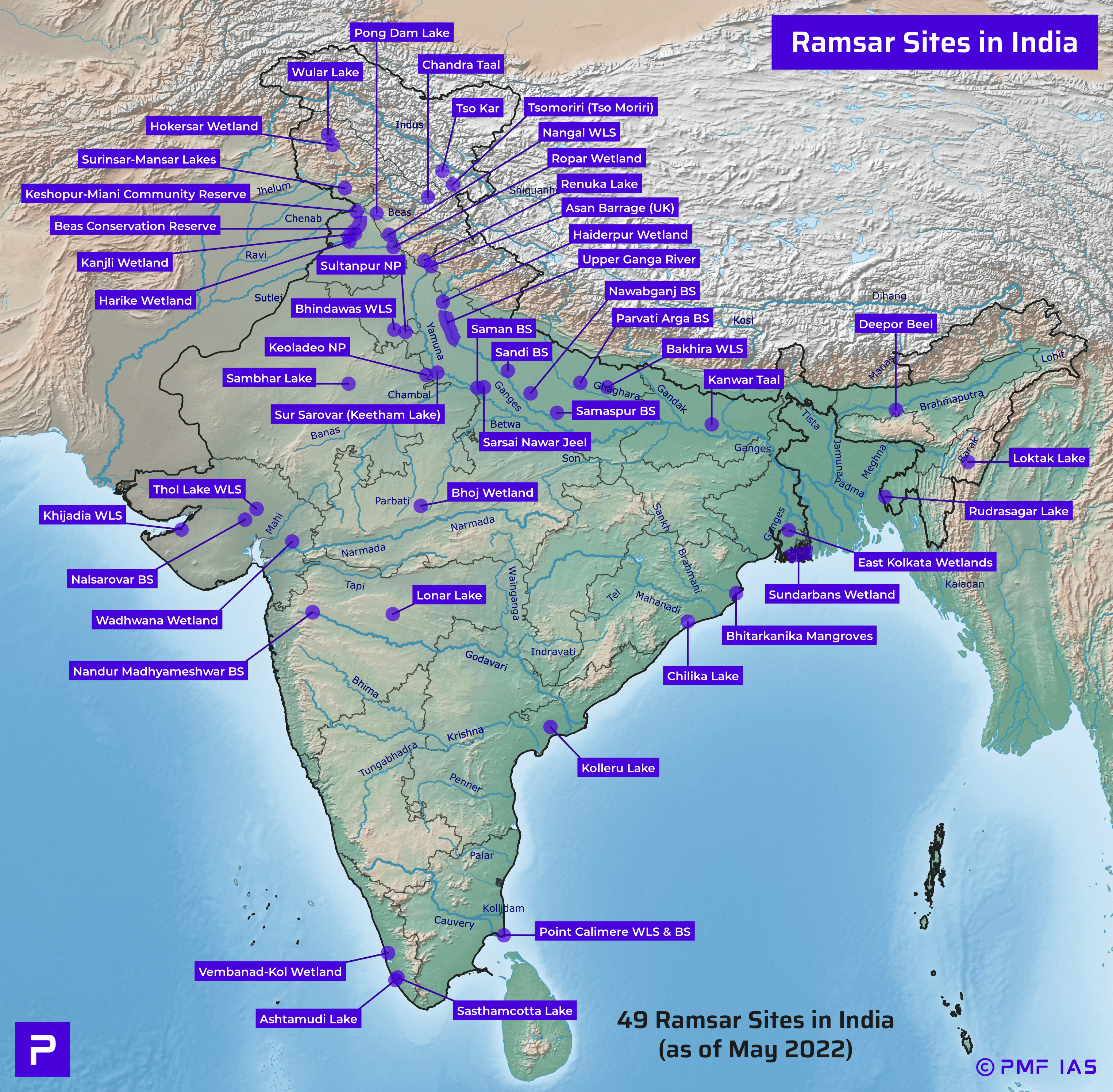 With Thol Wildlife Sanctuary near Ahmedabad and Wadhwana wetland in Vadodara, the number of Ramsar listed wetlands in Gujarat goes up to 3 and the listings come 9 year after Nalsarovar had earned the tag in 2012.
Located 40 km west of Ahmedabad city, Thol was constructed for irrigation in 1912. In 1988, it was declared as a wildlife sanctuary by the state government to protect the birdlife found in this open-water wetland site. Likewise, Wadhawana was also created as an irrigation dam in 1910 in Dabhoil taluka of Vadodara, some 40 km away from Vadodara city. https://indianexpress.com/article/cities/ahmedabad/4-more-indian-sites-added-to-ramsar-list-as-wetlands-of-international-importance-7453467/ (15 Aug. 2021)
Goa 'No wetlands planned along proposed Western Bypass' State Wetland Authority (SWA), in its report to the state govt, said that no water bodies along the path of the proposed Margao Western Bypass are being considered for declaration as wetland. The joint site inspection was conducted by SWA and Goa State Biodiversity Board personnel on water bodies around the site of the bypass, which will go through the villages of Seraulim, Benaulim and Varca. After the visit, the data was cross-referred with a CSIR-NIO study on wetlands in Goa. https://timesofindia.indiatimes.com/city/goa/no-wetlands-planned-along-proposed-western-bypass/articleshow/85547988.cms (23 Aug. 2021)
As per the 2017 Wetlands Rules, 6 lakes have been declared wetlands. The lakes are Xeldem lake and Nanda lake in Quepem, Toyyar lake in Chimbel, Dashi lake in Revora, Sarzora lake in Chinchinim, and Cottambi lake. https://timesofindia.indiatimes.com/city/goa/six-lakes-declared-official-wetlands/articleshow/86693718.cms (02 Oct. 2021)
Saulem lake at Pilerne in Bardez, with an area of 46,010 sqm, has been notified as Goa's 7th wetland. The lake has been declared a wetland for being critically significant for its ecosystem services and biodiversity values to the local communities. 35 major water bodies have been identified in the state in all — with the help of the National Institute of Oceanography — which can qualify to be declared as wetlands. Apart from the 7 waterbodies notified until now as wetlands, at least 13 others are in the final stages of being declared as wetlands. https://timesofindia.indiatimes.com/city/goa/pilernes-saulem-lake-is-states-7th-notified-wetland/articleshow/88286710.cms (16 Dec. 2021)
West Bengal Rs 120 cr plan to protect EKW The govt has chalked out a 5 year, Rs 120 cr plan, to protect and nurture East Kolkata Wetlands (EKW), a 12,500 ha zone, a top official of the environment department said. It has components like ways to stop encroachment, prevent contamination of water by pesticides used in farming and effluents from tanneries, besides creating awareness about the wasteland, a designated Ramsar site. https://www.outlookindia.com/newsscroll/bengal-forms-rs-120-cr-plan-to-protect-east-kolkata-wetlands/2096662 (5 Jun 2021)
Senior KMDA engineers involved with the project said 5km out of the proposed 7km-long flyover would stand on 36 piers instead of the earlier plan of 86 and precautions would be in place to ensure that the ecologically fragile wetlands are not affected. A team of officials from KMDA has met their counterparts in the East Kolkata Wetland Management Authority to discuss the new project report and the conditions laid down by the Union environment ministry. https://www.telegraphindia.com/my-kolkata/news/em-bypass-new-town-flyover-plan-spares-core-east-kolkata-wetlands-area/cid/1842826 (11 Dec. 2021)
Chandigarh Sukhna ESZ: Ministry says pursuing matter with states Recently the UT administration had urged the ministry to take up the matter with Punjab and Haryana. In 2017, the UT administration had notified to leave a 2-to-2.75-km radius from the Sukhna Wildlife Sanctuary as eco-sensitive zone. UT's chief conservator of forests Debendra Dalai, in a recent letter to the ministry, had requested expedition of the ESZ notification for the area falling in Punjab and Haryana. UT had also reiterated that 90% area falls in Punjab and Haryana, therefore to protect the entire sanctuary, it was important to notify ESZ immediately. https://timesofindia.indiatimes.com/city/chandigarh/sukhna-wildlife-sanctuary-esz-ministry-says-pursuing-matter-with-states/articleshow/85470676.cms (20 Aug. 2021)
Telangana Not identified a single wetland so far Not a single wetland has been identified in Telangana till date though the State Wetland Authority was constituted in 2019. The lethargic pace at which the SWA has been functioning can be gauged from the fact that its first-ever meeting was held only two years after its formation, on Dec 29, 2020, as per the information submitted by govt to the NGT. https://www.newindianexpress.com/states/telangana/2021/jul/20/telangana-hasnt-identified-asingle-wetland-so-far-2332544.html (20 July 2021)
Bhim Singh Rawat (bhim.sandrp@gmail.com)