The theme for World Water Day 2020 is 'Water and Climate Change'. Indeed the changing climate has been altering the earth weather system including disrupting the water cycle.
Urban areas in India are facing increasingly severe water crisis due to mismanagement of available resources, urban flooding due to blockage and encroachments of drainage channels, pollution of water sources on account of increasing solid and liquid waste. However, there are individual, civil society group and government efforts which have been helping ameliorate the situation with rain water harvesting, pond revival, wells restoration among others. Here is a compilation of positive urban water stories from for World Water Day 2020. 
Top five positive urban water stories
Bengaluru Bhovi well-diggers back to centre-stage Wells have been helping the village communities fight drought. In urban areas wells have been mostly forgotten and abused. However in Bengaluru the efforts of Srikanth Vishwanath, advisor, Biome Environmental Trust, & others have brought back the attention on urban wells as effective rainwater harvesting system and also helped the traditional well diggers get their livelihood & respect back.
This report tries to shed some light on history of the Bhovi or Vaddar community. Some claim Vaddars came from Odisha while others say their ancestors came from Andhra Pradesh, as their primary language is Telugu. The tradition of well-digging exists in Maharashtra and Gujarat. Vaddars are broadly divided into three groups: Mannu Vaddars work with soil; Kallu or Dagad Vaddars work with stone; while Ooru Vaddars grow ragi.
According to Vishwanath, until piped Cauvery water came to the city in 1972, open wells were the main source of drinking water. Borewells came in the early 1980s, and the culture of open wells all but vanished. Today, 40% of Bengaluru is dependent on groundwater. As per the regulations of the Bruhat Bengaluru Mahanagara Palike and the water supply and sewerage board, all new and old buildings of a given size must harvest rainwater or face penalties. So, recharge wells that collect rainwater and pump it into the ground, are becoming popular. https://www.thehindu.com/society/drought-has-brought-karnatakas-bhovi-well-diggers-back-to-centrestage/article26406902.ece (2 March 2019)
Vishwanath replies in an interview: "The well-diggers have cleaned, deepened, dug new ones, and revived at least 10,000 open wells in the city. These wells provide water for homes, institutions, industries and parks. We estimate that close to 1,00,000 recharge wells (they replenish groundwater with rainwater) would have been dug to recharge rainwater from rooftops and storm water drains. The impact has been positive on the well-diggers and their livelihood opportunities have increased, but a lot more needs to be done. Success stories such as that of the Wheel and Axle Plant, Yelahanka; Cubbon Park; Rainbow Drive with its 300 recharge wells; and IIM with 65 recharge wells have helped in spreading the word." https://timesofindia.indiatimes.com/home/sunday-times/all-that-matters/bengalurus-well-diggers-have-shown-how-traditional-water-bodies-can-be-revived/articleshow/70005591.cms  (30 June 2019)
A report on how Manuvaddar (or Bhovi), the traditional well-digging community in Karnataka & elsewhere are part of our solution for groundwater crisis.  https://www.thenewsminute.com/article/build-and-recharge-open-wells-lessons-bengaluru-india-s-groundwater-crisis-107967  (26 Aug. 2019)
Vishwanath's video on how the tanks in urban areas can be modified to become treated waste-water retaining structures, wetlands, percolation and flood mitigation structures and provide livelihoods through fishing, fodder harvesting and more. These tanks can also become recreational open spaces and be integrated as part of the management of the commons. https://www.youtube.com/watch?v=PCwtMUtQrXg&feature=youtu.be  (15 August 2016)
A million wells for Bengaluru Rainbow Drive Complex from Bengaluru provides excellent case study how to manage Urban Water. Salutes to Vishwanath and his group. https://www.civilsocietyonline.com/cover-story/a-million-wells-for-bengaluru/  (1 Nov. 2019)
How to reclaim our water bodies  With the "One Million Wells" project for his city, Vishwanath, says, "These water bodies are becoming the new public spaces. It's building new communities of joggers, birders, and ecologists. There are examples of wetland revival in Delhi and East Kolkata, stepwells are being revived in Jodhpur, and youngsters are stepping forward to clean up tanks and lakes in Salem and Mumbai's beaches. Water is our natural heritage and we should, collectively as a community, find ways to revive it." https://indianexpress.com/article/express-sunday-eye/building-blocks-reclaiming-water-bodies-urbanisation-5790596/  (23 June 2019)
1 lakh litres water a year by a couple Through different forms of storing water from the rooftop around one lakh litres of rainwater every year. The house has two eco san toilets it does need water for flushing. The waste collected after every use is covered with ash, and the microbes present on the toilet surface convert it into manure in a short period, which helps maintain the rooftop garden. The duo uses grey water for almost all kinds of organic produce growing on their rooftop.  "Besides," Vishwanath claims, "the rooftop garden helps in cooling the entire house."
The couple believes that building an eco-friendly house should be an intellectual pursuit—where you learn from your failures and apply your lessons—all for a habitation that helps you as well as the environment. To know more, visit Vishwanath's YouTube page.  https://www.thebetterindia.com/181796/bengaluru-couple-sustainable-home-rain-water-harvesting-save-water-india/  (13 May 2019)
Chennai RWH improves ground water Residents of Muthulakshmi Nagar in Chitalapakkam have seen a stark increase in groundwater levels after the recent rains due to the newly installed recharge wells in all streets of their locality, they were able to save almost every drop of rainwater. This comes as a major relief for residents as a month ago, the entire locality was dependent on private tankers for drinking water as borewells had completely dried up.
To ensure that the scarcity situation doesn't repeat in future, residents decided to install recharge wells on every street in Muthulakshmi Nagar after consulting water management experts. Since July 2019, they have installed 8 such wells using funds pooled in by residents. These common wells installed at every street corner helped largely in conserving run-off rainwater that otherwise stagnates on the roads. Each recharge well is 8 feet deep and 3 feet wide and cost about Rs 8,000 each.
Residents said this was much cheaper than installing a rainwater harvesting structure on the terrace by which only rainwater stagnant on the terrace can be tapped. The association plans to install 15 more such structures, such that there is at least one recharge well in all 23 streets. A separate team is given the responsibility of getting the concrete lids made which are used to cover the wells. https://www.newindianexpress.com/cities/chennai/2019/aug/27/citizen-led-rainwater-harvesting-improves-ground-water-level-in-this-chennai-suburb-2025130.html   (27 Aug. 2019)
Noida Engineer brings ponds back to life Ramveer Tanwar, who has a BTech degree in mechanical engineering, recently quit his job with a multinational to focus on a cause dear to him — saving ponds. "Water conservation is a more significant career for me than sitting in an AC office," says Greater Noida's resident water crusader, who has been instrumental in reviving 10 village ponds in the last five years. Greater Noida, part of Gautam Buddh Nagar district, is home to hundreds of smaller ponds have been neglected — until now.
The bigger ones, like the 60-acre Surajpur wetland, are protected by forest conservation rules. He noticed how small water bodies, around which community life traditionally revolves in the rural hinterland of Uttar Pradesh, were often treated as garbage dumps. "I grew up seeing this mistreatment of water bodies, even when we were facing droughts," he says. https://timesofindia.indiatimes.com/india/26-yr-old-engineer-brings-10-ponds-back-to-life/articleshow/68759278.cms  (7 April 2019)
A video report highlighting the lakes revival efforts of Vikrant Tongad and Ramveer Tanawar. https://www.youtube.com/watch?v=geDEb2bugns&feature=youtu.be  (12 March 2020)
Visakhapatnam RWA conserves groundwater The JR Nagar Residents' Welfare Association (RWA) has set up eight water harvesting structures in the colony, with the latest one being rectangular with three inlets. The other seven, all round in shape with a diameter of three feet, were built in 2014. Situated in the foothills in nearly 10 acres, the colony has an advantage as water flows down copiously.
The apartments and houses in the colony have rainwater harvesting pits. Some residents also have second recharge pit to collect the roof-top water. The residents have complied with the norms of the Greater Visakhapatnam Municipal Corporation that has made recharge pits compulsory around 2,000. The association has won the National Water Award instituted by the Union Ministry of Water Resources for 2018-19. https://www.thehindu.com/news/cities/Visakhapatnam/residents-association-leads-the-way-in-groundwater-conservation/article26515700.ece (13 March 2019)
Delhi RWA wins water battle Nizamuddin East has set up water harvesting facilities in the colony, which not only improved the water quality but also increased the groundwater levels. "The community members came together and installed 17 structures in parks, which are regularly cleaned and maintained.
When the rain water falls into collection chambers and storm (water) drains, the perforated filter cleans it and recharges groundwater." The locals had contributed Rs. two lakh for the project years ago, and now they are enjoying the fruits. https://www.indiatoday.in/mail-today/story/delhi-nizamuddin-east-fought-water-scarcity-1548527-2019-06-14  (14 June 2019)
Other positive India urban water efforts
South
Chennai Once-dying lake restored by the community The Perumbakkam lake was being damaged due to dumping of garbage, construction rubble and water extraction through wells. Alarmed, a group of residents made efforts to stop sewage/ garbage dumping, prevent private suppliers drawing water from the farm wells. In October 2019, the lake got a makeover, centuries of mud deposit was scooped out and collected into a high bund along the open side of the lake. With the generous rainfall that followed, the lake filled up and plants grew on the sides as the water body waited for fish and birds to re-discover it. The 2-km causeway is now a beautiful trail, whether you walk it for work or leisure. https://www.thehindu.com/news/cities/chennai/two-roads-diverged-on-a-narrow-bund/article30725171.ece  (03 Feb. 2020)
Residents take the reuse, recycle route Many apartments have started recycling grey water and some others have opted for smaller yet effective ways to tackle the ongoing water crisis. Some residents have resorted to extreme measures like taking bath with reject water from air conditioners while some are giving their pets a bath with reject water from the RO machine. http://www.newindianexpress.com/cities/chennai/2019/may/21/chennai-residents-take-the-reuse-recycle-route-to-tackle-water-crisis-1979520.html  (21 May 2019)
Apartments get smart Residents of apartment complexes are taking to smart water metering systems, which allow them to monitor their daily consumption, even while they are at work or on a holiday. Many builders of multi-storeyed apartments on Old Mahabalipuram Road & East Coast Road which face groundwater scarcity, are incorporating such meters at the planning stage.
Apartment complexes, which have installed the app, say there has been a 20-30% cut in consumption. Khurinji Westeria apartments in Kumaran Nagar, Shollinganallur, which has 20 apartments, has reduced its water consumption by around 42,000 litres a month after installing a smart water meter. This is a 20% decrease in its consumption. Sreshtha Varuna Apartments in RA Puram, which has 18 residents, has brought down its use by 59,300 litres a month, a 14% drop. Not only does this bring down the water bill, it also helps save on power use by motors. Residents need to install a separate plumbing network for this, which may take 21-30 days. https://timesofindia.indiatimes.com/city/chennai/apartments-get-smart-to-save-water/articleshow/72203742.cms  (24 Nov. 2019)
Chitlapakkam lake revival campaign Residents around Chitlapakkam lake, whose water was contaminated with sewage & plastic will soon bid adieu to their water crisis after Chitlapakkam Rising, a volunteer organisation was given the green signal by the Water Resources Department on May 28, 2019 to desilt the lake. Chitlapakkam Rising, formed in 2014, is a 5000-strong volunteer group that works on civic programmes such as cleaning up of roads and lakes, RTI queries and monitors government projects.
With a core team of 25 people, the group operates chiefly through Facebook, which is where news of the lake restoration drive was first shared. The NGO also said that a Chitlapakkam Lake Protection Committee will be formed to execute the project and ensure that it is completed ahead of deadline. https://indianexpress.com/article/cities/chennai/chennais-chitlapakkam-lake-revival-model-holds-key-to-fight-water-crisis-5758223/  (31 May 2019)
New technique to maximise groundwater recharge Environmentalist Foundation India has recently started restoring Karuppan Kulam, a water body near Menambedu in Ambattur facing negligence for years, with special focus on replenishing the aquifer. For this a new type of recharge well called the central circular recharge pit, was installed to increase groundwater recharge. Arun Krishnamurthy, founder of EFI, said this technique was deployed for the first time in Chennai. http://www.newindianexpress.com/cities/chennai/2019/may/07/efi-deploys-new-technique-to-maximise-groundwater-recharge-1973598.html  (7 May 2019)
A collaborative effort of EFI, Corporation and local residents has revived several smaller water bodies in the western and southern suburbs, which were neglected and considered almost non-existent in the city map.  https://www.thehindu.com/news/cities/chennai/neglected-waterbodies-spring-to-life/article30126893.ece (1 Dec. 2019)
Forest officials revive a lake Due to the sustained efforts of the forest officials, 17-acre Otteri lake inside the Vandalur Zoo or the Arignar Anna Zoological Park gets revived. Otteri Lake is situated on the western side of the park premises in Vandalur Zoo. Every year, after the monsoon, the lake attracts aquatic migratory birds. The zoo authorities also draw water for the animals in the zoo from Otteri lake. https://www.thenewsminute.com/article/water-birds-are-back-how-forest-officials-revived-dried-lake-chennai-zoo-113915  (11 Dec. 2019)
Restoration of water bodies Of the 3,000 water bodies in Chennai city, the process to restore 210 is underway. The work entails desilting as well as removing water hyacinth and garbage from the water bodies. From the photos in the story, it seems the water bodies are shrinking and the surroundings are being concretised, both seems to be against the interest of the water bodies. https://india.mongabay.com/2019/12/chennai-water-restoring-chennais-water-bodies/  (10 Dec. 2019)
Puduthangal lake gets a new lease of life The water body, spread across 50 acres, was rejuvenated, due to the joint efforts of different groups. The lake was contaminated by the sewage & the dumping of trash. https://www.thehindu.com/news/cities/chennai/puduthangal-lake-near-tambaram-gets-a-new-lease-of-life/article30766486.ece  (08 Feb. 2020)
Coimbatore group rejuvenate water bodies Makkal Trust, a Coimbatore-based social welfare group, is taking small yet effective steps to desilt and restore waterbodies across Tamil Nadu. So far, the Trust has de-silted over 10 waterbodies in Chennai, Coimbatore, Ariyalur, Thiruvarur and Namakkal. http://www.newindianexpress.com/cities/chennai/2019/sep/11/the-revivalists-this-is-how-chennai-is-replenishing-its-water-bodies-2031860.html  (11 Sept. 2019)
Grey water recycling The Metrowater has started process for the project to use treated wastewater for city supply. Treated waste water will be blended in two lakes and then drawn for supply.  https://www.thehindu.com/news/cities/chennai/grey-water-recycling-catching-up-in-the-city/article27903307.ece  (14 June 2019)
With the addition of Metrowater's new tertiary treatment reverse osmosis plant in Kodungaiyur, industrial units at Manali, Ennore and Minjur will soon get 50 mld of treated sewage water. Chennai generates 550mld of sewage. Of this, 45mld will be treated at the Kodungaiyur plant, and 45mld in the Koyambedu plant.  With the commissioning of the plant, Chennai would become the first city in India to recycle and reuse 20% of sewage it generates. https://timesofindia.indiatimes.com/city/chennai/sewage-recycling-will-save-50mld-of-chennais-water/articleshow/71367136.cms  (30 Sept. 2019)
Minister for Municipal Administration S.P.Velumani on Oct. 1, 2019 took everyone by surprise by drinking a glass of treated sewage water that came from the newly inaugurated Rs 348 crore plant in Kodungaiyur. Till now these industrial units were supplied with 40 MLD desalinated water. https://www.thenewsminute.com/article/tn-minister-drinks-treated-sewage-water-event-set-example-109828  (1 Oct. 2019)
Metrowater had bid out these projects to private sector EPC contractors who will operate and maintain the plants for 15 years. The projects also address Chennai's drinking water shortage significantly. https://www.thehindubusinessline.com/specials/clean-tech/chennai-water-water-everywhere-and-all-of-it-for-industry-to-use/article29620490.ece  (9 Oct. 2019)
New RWH method The Greater Chennai Corporation has asked its contractors across the city to employ a new technology to harvest rainwater, where water go through a filtration process. It has been implemented in some parks. Known as 'ecobloc' infiltration wells, these structures are being funded by German agency KfW and are likely to be installed in the Kovalam river basin. "In this method, four layers of filtration are provided before the water enters the soil," said an official. "The layers can be cleaned by pressure wash or removal of the filter layer. The structure is modular and can be stacked one above the other. It does not need any steel or cement reinforcement like the existing ones". https://timesofindia.indiatimes.com/city/chennai/greater-chennai-corporation-to-try-out-new-rainwater-harvesting-method/articleshow/72325803.cms  (2 Dec. 2019)
Madurai Unused wells for groundwater recharge In recent survey Madurai civic body has found 478 unused borewells, it has been decided to convert them into recharge structures. It has identified 10 open well to be used for recharging groundwater. The civic body completed works in around 230 borewells. The work is in progress to convert the rest. 153 recharge structures will be built at public places where water stagnation often happens. 95 structures have been constructed and work is under way for the rest.  https://timesofindia.indiatimes.com/city/madurai/corpn-converts-unused-wells-into-groundwater-recharge-structures/articleshow/71622411.cms  (17 Oct. 2019)
Vijaypura Reviving open wells Fetching water from a public tap close to her house in Sakaf Roza area in Ward 28 in Vijayapura (Karnataka), Megha Kapse (43) recalls how situation changed in 2009 for about 2,000 houses of the area when they started receiving water almost everyday, even when several wards in the city are facing drinking water problem even today.
"Since 2009 we have not faced any water crisis even during harsh summers. I think it is the only ward of the city which gets water everyday despite having no 24 x 7 water connection from the government," she said. The source of this perennial water is two ancient open wells, which were till decade ago filled with filth and garbage. https://www.thehindu.com/news/national/karnataka/reviving-open-wells-helped-address-water-crisis/article28120266.ece  (24 June 2019) 
Bengaluru Award for reviving Jakkur Lake The 160-acre Jakkur Lake is setting an example, not just for lakes in the city, but for lakes across the country. Bengaluru's Jalaposhan Trust has won the second prize under the 'promotion of citizen and state action for water conservation, augmentation, and preservation' category by National Water Mission for rejuvenating, conserving and preserving the 200-year-old Jakkur Lake. https://timesofindia.indiatimes.com/city/bengaluru/bengalureans-win-award-for-reviving-and-protecting-jakkur-lake/articleshow/71319835.cms  (28 Sept. 2019)
100 recharge wells to come up in Lalbagh With the construction of 65 recharge wells in Cubbon Park close to completion, and seeing the positive impacts, the stakeholders behind the project have decided to build 100 such wells in Lalbagh Botanical Garden. http://www.newindianexpress.com/cities/bengaluru/2019/may/29/after-cubbon-park-100-recharge-wells-to-now-come-up-in-lalbagh-1983163.html  (29 May 2019)
Thrissur RWH The Mazhapolima program has shown us the blueprint of how activists, communities, and govts can innovate to address the vagaries of climate change, protecting even traditionally heavy rainfall regions from undue water scarcity. https://www.thebetterindia.com/178186/kerala-rainwater-harvesting-recharge-well-thrissur-india/  (5 April 2019)
West
Surat Plan to deepen ponds, harvest rain Surat administration has deepened 38 ponds at a cost of Rs 96.95 lakh to store additional 3,000 million litres of water across the district.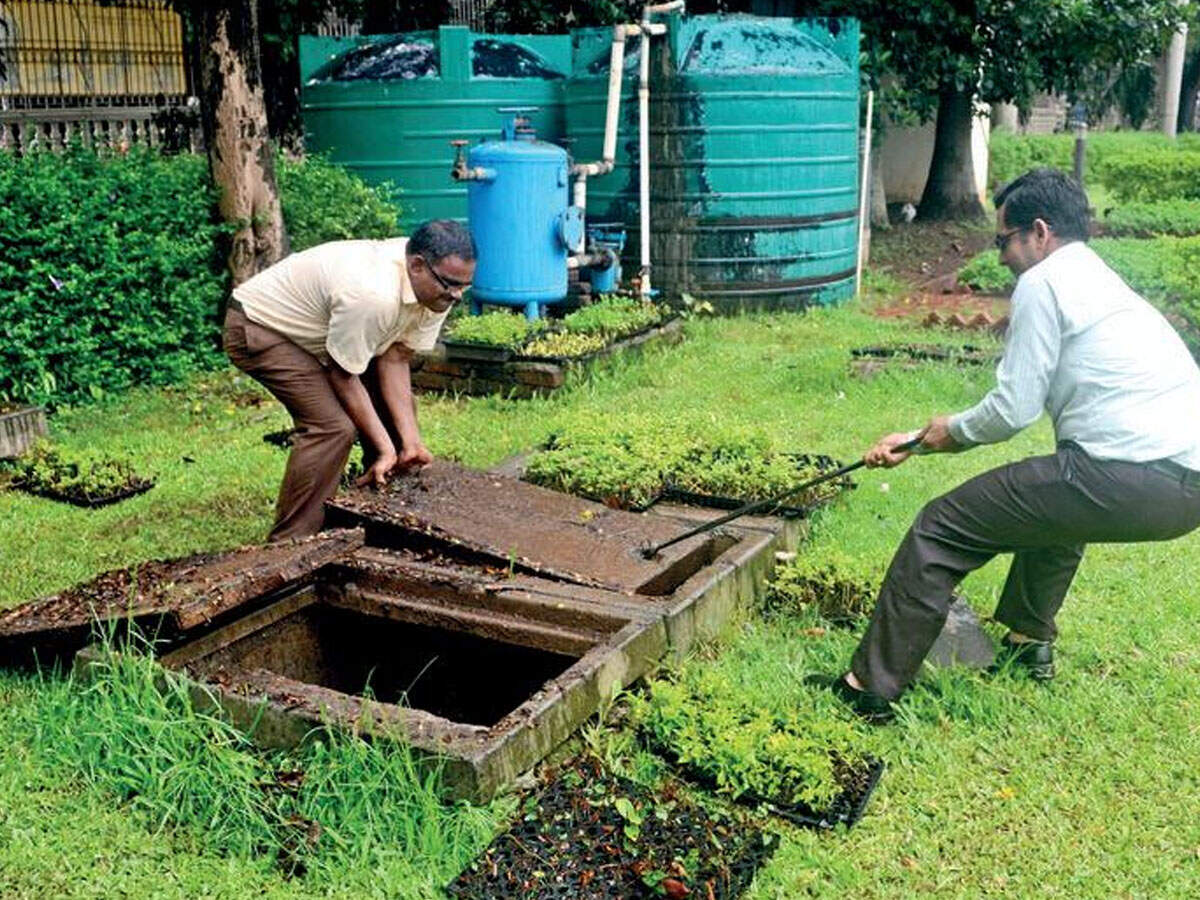 Surat Municipal Corp plans to use the 333 rainwater harvesting systems developed in the past six months to store additional 2,000 million litres, 598.72 million litres have already been collected. https://timesofindia.indiatimes.com/city/surat/surat-implements-plan-to-save-5000-million-litres-of-water-for-crisis-situation/articleshow/69747826.cms   (12 June 2019)
Vadodara Example that can be emulated by most govt buildings all over India Water released as waste by RO water filter is stored in overhead tanks and used for cleaning and washing dishes. Even condensed water from air conditioners, considered the cleanest source of water, is collected and channelised into rainwater harvesting wells for groundwater replenishment. With four RO water tanks, 122 air conditioners and four rainwater harvesting wells, the 14-year-old three-storey building has been able to save about 14.5 lakh litre water in a year. The office has been awarding 'Water Warrior' status to acknowledge the efforts made by staff members for water conservation. https://indianexpress.com/article/cities/ahmedabad/conservation-lesson-a-white-govt-building-goes-green-with-water-recycling-5619916/ (11 March 2019)
PSUs to get treated water In Vadodara a Special Purpose Vehicle to be set up in partnership with industries like GSFC, GIPCL, GACL to set up STP to supply treated Waste Water to industries.  https://timesofindia.indiatimes.com/city/vadodara/psus-to-get-treated-water-from-vmc/articleshow/72374782.cms  (5 Dec. 2019)
Ahmadabad Govt to reuse treated sewage water The Gujarat govt is planning to create regional grids to treat and transport sewage water to the nearest industrial cluster. The 1,000 MLD capacity grid is likely to be set within a year and the water will be sold to industries at Rs 20-30 per kilolitre. Gujarat generates over 5,000 MLD of sewage of which only 43 MLD is being reused. The reuse of treated sewage is currently happening at Surat where water is being supplied to an industrial cluster. At Bhavnagar, water is being used for a thermal power plant and Rajkot is reusing treated water for the construction industry. Gujarat plans to reuse 70 per cent of the treated wastewater by 2025 and 100 per cent by 2030. https://indianexpress.com/article/cities/ahmedabad/gujarat-water-crisis-govt-to-create-regional-grids-to-reuse-treated-sewage-water-5805447/  (28 June 2019)
Treated sewage to feed Fatehwadi canal Around 400 MLD of treated sewage water from Ahmedabad city will now irrigate the neighbouring rural areas in the district through the Fatehwadi canal network. The project was inaugurated by CM on Dec. 21. The treated water will be reused for irrigation in the villages of Daskroi, Sanand, Bavla and Dholka, stated an official release. This treated water will irrigate 12,000 ha, which till now, was given Narmada waters. The state govt had told the farmers in the region last year that they will not be given Narmada waters in the future for irrigation as the Fatehwadi canal is not part of the Narmada Command Area. https://indianexpress.com/article/cities/ahmedabad/ahmedabads-treated-sewage-to-feed-fatehwadi-canal-6178911/  (22 Dec. 2019)
Vadnagar Town had over 50 water bodies! More details of water conservation around Vadnagar in Mehsana district, surviving for 2200 years, thanks to water conservation work. https://timesofindia.indiatimes.com/city/ahmedabad/water-conservation-is-secret-of-vadnagars-longevity/articleshow/70528005.cms   (5 Aug. 2019)
RWH system was key to survival of Vadnagar in ancient times, finds ASI research. https://www.hindustantimes.com/india-news/water-system-key-to-prosperity-in-ancient-vadnagar-in-harsh-climate-conditions-finds-asi/story-rlnGIeh758LYqDrOM5rYwK.html    (17 June 2019)
Valsad Toilet-linked biogas plants tackle faecal sludge problem A few hundred households in Valsad district of south Gujarat have shown the way by linking their toilets to biogas plants. https://www.downtoearth.org.in/news/waste/toilet-linked-biogas-plants-tackle-faecal-sludge-problem-in-gujarat-s-villages-64713     (28 May 2019)
Indore IMC eyes no. 1 spot in RWH Indore Municipal Corp (IMC) has decided to install 50,000 more rainwater harvesting system within next three months. Commissioner said, "Under Jalshakti scheme of the govt, around 7,000 RWH systems were installed in city & the city improved its ranking from 11th to 6th." https://timesofindia.indiatimes.com/city/indore/now-indore-eyes-no-1-spot-in-water-harvesting/articleshow/71131272.cms  (15 Sept. 2019)
Central 
Pune Chinchwad consultant design model to save water A Chinchwad-based ISO consultant Vinayak Parkhi, 49 has designed a simple model to save 20 per cent water in each household. He is a resident of Ruston Colony in Chinchwad and has received a patent from the government authorities for this design.
As per the model, water used by the top floor flat for bathing and washing clothes will be collected in a tank mounted above the toilet of the flat below.  A wire mesh will be fitted to filter out solid particles like hair and will be flown into the tank. The same water from the tank will be then reused by the residents of the flat below for flushing toilet. The same can be done for all flats in an apartment complex.
Parkhi had submitted this design to Pune Municipal Corporation (PMC) with an aim to save around 2.5 TMC of water annually in the city. Pune's annual requirement is 17 TMC, considering the per day consumption of 1350 MLD. However, at present the city gets only 11.5 TMC and has become a cause of concern.
As per the design suggested by Parkhi, every house requires 750 litres of water daily. Out of which, 300 litres are used for bathing and washing clothes, 200 litres for toilet, 150 litres for cooking and drinking and 100 litres for other use. Parkhi's design aims to save about 200 litres of water per day. https://punemirror.indiatimes.com/pune/civic/pmcs-draft-resilient-plan-to-mitigate-risks/articleshow/68224920.cms (4 March 2019)
North
Delhi How Hauz Khas Lake got a new lease of life Hauz Khas Lake is located inside the beautiful landscaped lush green Hauz Khas Park in South Delhi. An initiative started by Tarun Nanda, an environmental engineer has given a fresh lease of life to a dying lake which used to give a pungent smell. "In 2017, I managed to raise over Rs 20 lakh through crowd funding and a corporate sponsor.
Then we got permission from Delhi Development Authority to go ahead with the project. Since then I have carried out the construction of the largest wetland system in Delhi that has the capacity to purify over 2 million litres of water per day," said Nanda. Hauz Khas is a 14th century water body that was dug up to serve as a tank during Alauddin Khilji's reign. https://www.indiatoday.in/amp/mail-today/story/how-hauz-khas-lake-got-a-new-lease-of-life-1546331-2019-06-11    (11 June 2019)
Floating 'purification islands' fix water pollution in Rajokri lake The Delhi Jal Board initiative of introducing "purification islands" to soak up pollutants and purify the water in Rajokri lake has reportedly shown positive results. Ankit Srivastava, advisor to DJB, explained that the 2×2-metre rafts have a framework of PVC pipes lined with geo-netting to support the plants like cyperus and canna.
"A mix of different hormone-treated plants is used on each float to increase the nutrient uptake," he said. Each raft costs around Rs10,000, including maintenance for a year. Around two dozen such islands have been introduced and DJB plans to have 60 ultimately. The NEERI created the framework for the floats, but vendors are now manufacturing it. A similar experiment is being carried out at the Hauz Khas lake, where algal bloom has turned the water green. https://timesofindia.indiatimes.com/city/delhi/floating-islands-find-fix-to-water-pollution/articleshow/68713165.cms  (4 April 2019)
Drain's waste water recycled with low-cost tech In the first intervention of its kind, the DJB is using a technological process provided by a start-up, Alcantarilla Limpiar Equipo. The pilot is being done at one of DJB's Ranney wells in Akshardham. Contaminated effluents are being drawn from the Shahdara Link Drain, cleaned and currently used only for horticulture. The pilot project can clean 10,000 litres of water per day. Currently, the Biological Oxygen Demand (BOD) of the water in the Shahdara Link Drain is 150. It falls to less than 10 after treatment that takes 15-30 minutes. The water is then mixed with polymer coagulants and undergoes a process called flocculation which causes the remaining fine pollutants to clump together thereby making them heavier.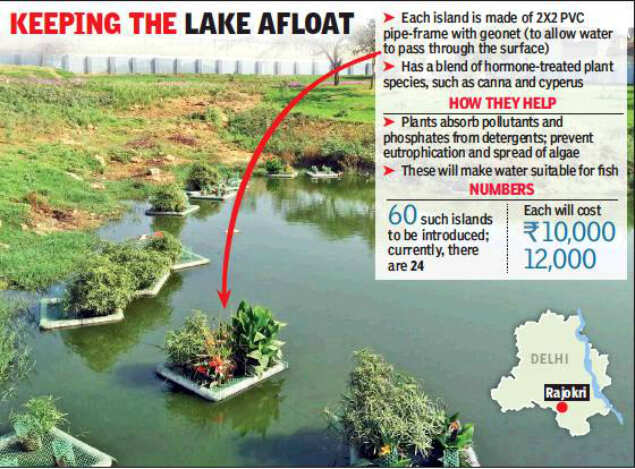 The remaining pollutants settle in the next chamber where the water is slowly drained for further treatment. In the final part of the process the water passes through two filters, a multi-grade filter which cleans up any remaining particulate matter and an activated carbon filter. The machine occupies 9 square metres. The investment to clean 10 KLD is Rs 15-20 lakh depending on the filters installed. Operation and Maintenance costs are additional. The DJB is keen to decentralise sewage treatment and raise groundwater levels. Its first successful attempt at Rajokri on the Delhi-Gurugram border, cleaned up a sewage-laden pond by constructing a wetland & used minimal technology. https://www.civilsocietyonline.com/cities/dirty-drains-waste-water-is-recycled-with-low-cost-tech/  (1 Nov. 2019)
DJB looks underground to solve water shortage From storing excess water underground in aquifers to using runoff water from city roads to recharge groundwater, DJB is looking at different projects to solve 22.5% water shortage the city faces. https://www.thehindu.com/news/cities/Delhi/delhi-looks-underground-to-solve-water-shortage/article29939443.ece  (11 Nov. 2019)
Narela pond rejuvenation Efforts of Narela youths have been rewarded with rain run off filling up traditional pond in March 2020. Local have been working on it for past eight months apart from taking up greening and cleaning works around the water body on regular basis. There was not much water during south west monsoon 2019 and the pond was in dry state as shown in the first image, second was taken after it filled.
Jaipur When rainwater quenched city's thirst Neeraj Doshi, an organiser of the heritage water walks, while giving details about the old water structures of the city said, "The technology used then was to preserve as much water as possible and prevent it from flowing down the hills. There are three tanks at Nahargahr and five at Jaigarh. The Nahargarh tanks could store around 6 crore litres of water. At Jaigarh, the only open tank stores around 2.5 crore litres of water. The structures are still working except a few damages on the route."
The water collected at the forts was utilised over there, but there are ruins of a tunnel coming down the hill of Nahargarh fort to Talkatora pond. It is presumed that this tunnel was used to transfer water to Talkatora in case of overflow, which gushed into Mansagar Lake. Talkatora was filled by water received through a canal passing through the city from Dravyawati river which also flows to Mansagar lake.
"The system of Jaipur was advanced enough to provide water to royals and the residents. Choti Chaupar and Badi Chaupar used to have water tanks from where water was taken by the common people. The idea was to make water available at the centre of the city. With change of time, taps were introduced by Samuel Swinton Jacob, an English engineer, after 1880. He installed taps on many intersections of the Walled City to reach out to common people," explained Neeraj. The structures built at Nahargarh still store water, but it is not used. At Jaigarh, water is utilised by the people living within the fort except for bathing and drinking. https://timesofindia.indiatimes.com/city/jaipur/when-rainwater-quenched-thirst/articleshow/74326402.cms  (27 Feb. 2020)
Udaipur Rainwater storage The model of rainwater management at Udaipur lakes is over four centuries old. It is a unique inter-connected micro-system of river diversion and linking canals. Prominent lakes such as Pichhola, Fatehsagar, Udaisagar and Badi were built in such a way that overflow from one flowed into another, thus providing a year-long water storage system. It was the rulers of Mewar who created a system of lakes, says Pushpendra Ranawat, a retired professor of geology.
In his book 'Wah Udaipur Wah,' Ranawat elaborated, "Pichola is a lake behind an earthen dam constructed by a Banjara in the 14th century. Height of the dam was raised to increase the capacity of the lake. Additional water resource for the new capital was created through the construction of Udaisagar Lake, east of Udaipur. Its work started in 1559 and was commissioned on April 4, 1565. The needs of the growing city during the next two centuries were met by converting the pre-existing Pichola from a small pond (talai) to a large lake behind a masonry gravity dam-Badi Paal. Its capacity further increased through the addition of Amar-Kund, Rang Sagar, Kumbhariya Talab, and finally the northern most extension-Swaroop Sagar." Lakes at Dewali and Badi constructed by Maharana Jai Singh helped Udaipur. https://timesofindia.indiatimes.com/city/jaipur/rainwater-storage-is-dam-good-in-udaipur/articleshow/74347301.cms  (28 Feb. 2020) 
Court Interventions
MCs can be prosecuted under water pollution law: SC Clearing the decks for action against a few former senior bureaucrats in Bengaluru, the Supreme Court has ruled that municipal commissioners and chief officers can also be prosecuted under the Water (Prevention and Control of Pollution) Act over pollution of water bodies in their jurisdictional areas.
Clarifying the law on this point, a bench headed by Justice Ashok Bhushan held that municipal bodies shall be deemed to be 'body corporate' and 'company' for the purposes of the Act, and that their heads could be prosecuted for polluting water. The top court noted an ambiguity in this regard for want of a precedent as to whether a municipal commissioner can be considered as head of a government department, liable to be prosecuted under the Water Pollution Act.
Discussing the objectives of the Act as also various other provisions, the bench noted that city municipal council and city municipal corporation are created or incorporated by the state and entrusted with the municipal functions, which includes ensuring clean environment to the residents, to control pollution. It went on to conclude that offences by body corporate like city municipal council and corporations are covered under Section 49 wherein a complaint has to be initiated by a pollution control board, treating it to be offence as by 'company'.
With the clarification of the law on this point, the bench also paved way for prosecution of at least three former municipal commissioners in Bengaluru, against whom the Karnataka State Pollution Control Board had sought to initiate action.
In 2006, the Board had filed a complaint against municipal commissioners Krishnarajapuram, Kengeri, Rajarajeshwari Nagar and Mysore Road before a judicial magistrate in Bengaluru. The complaints stated that the officials had not only failed in setting up sewage treatment plants within the stipulated time but the accused persons have continuously been discharging the untreated sewage into the water bodies like ponds, lakes, natural valleys etc.
Some of these approached the High Court, which quashed the complaint after holding that commissioner of municipal council, chief officer of council cannot be termed as head of the department and they cannot be prosecuted under the Water Pollution Act. But the Supreme Court, following its ruling, set aside this order and ordered that the magistrate may proceed with the complaints in accordance with law. https://www.news18.com/news/india/municipal-commissioners-can-be-prosecuted-under-water-pollution-law-rules-supreme-court-2405025.html  (29 Nov. 2019)
Green Toilets
Eco-San Toilets that save water The Ecosan is a dry toilet built on a raised platform, listed in the Swachh Bharat Mission's (SBM) guidelines as suitable for dry areas with scarce water supply, coastal and flood-prone areas with high water tables, and rocky areas. Excreta are not flushed out, but stored in sealed chambers to be used as farm manure later.
Ecosan toilets return the nutrients to soil, preventing pollution and reducing expenditure on farm chemicals. https://www.indiaspend.com/a-revolutionary-toilet-saves-water-money-but-it-is-ignored-by-target-obsessed-swachh-bharat-mission/ (19 Feb. 2019)
Bio-Digestive Tank Entrepreneur reuses toilet water  Manickam understood that pollution is a serious concern, and built a bio-digestive septic tank which would recycle the waste water and make it fit for reuse. "It costs only one-third of what it costs to install a conventional septic tank, and the running cost is one-tenth of what it takes to maintain a septic tank. If you treat human waste right at home, wherever it is generated, then there is no question of sewage water," he says, and adds that as many as 2000 such tanks have been installed in various houses, schools and colleges in Coimbatore, and are working well.
The water thus recycled can also be used to recharge the groundwater table in areas, and will be of use during drought season, he says. "This system will be of great use for cities like Bengaluru, Chennai, Coimbatore etc. This is going to be the order of our future to solve the water shortage problem, and we should be equipped for all kinds of eventualities," he notes. https://www.thenewsminute.com/article/sukhoi-septic-water-tank-how-kovai-entrepreneur-has-touched-lives-112529  (18 Nov. 2019)
GARV Toilets Toilets with sensors to stay clean GARV toilets have many pluses. The toilets run on solar power and come installed with bio-digesters. Recently, they have begun installing a decentralised sewage system that converts sewage into charcoal. They can be easily produced in a factory. Second, they need less water to clean and don't require chemical cleaning agents. Operational and maintenance costs, as compared to conventional public toilets, are also lower. The toilets have an auto-cleaning system that uses micro controllers. After 10 to 15 people have used the toilet, it cleans itself. A piping system is laid on three sides of the bathroom and the micro controllers are able to detect if the toilets haven't been flushed, thereby activating the flush. There are also biosensors that detect malodour in the toilets.
– The sewage systems of GARV toilets are self-sustaining which is important as demand for their toilets comes from places that are not connected to sewage systems. GARV toilet complexes are equipped with a bio-digester which breaks down all the waste, using bacteria, and discharges treated water which can be used for horticulture or in the toilet itself. https://www.civilsocietyonline.com/business/toilet-has-sensors-to-stay-clean/  (19 Nov. 2019)
Bhim Singh Rawat (bhim.sandrp@gmail.com)
Also See:-
World Water Day India 2020: Top Positive Stories from Farmers