The theme for World Water Day 2020 is 'Water and Climate Change'. Indeed the changing climate has been altering the weather system in multiple ways.  Extreme weather events like flash floods, intense heat, prolonged droughts, intense cold spells striking different parts of the world are increasingly being linked to the climate change. Changing water cycle is a major consequence. The farmers are among the most affected, facing all kinds of water problems including droughts, scarcity, flooding, hail storms, cyclones, unseasonal rains and pollution.
Several initiatives are being taken by the farmers, civil society groups to find right solutions to the water challenges, many of which have brought positive changes. Here we have compiled some such positive water options from the past one year. We hope this can encourage us to look for such community driven water options.
Top Five Positive Water Stories
Punjab 'Phagwara technique' of paddy direct seeding Some farmers had experimented in 2018 with a direct seeding technique of paddy, developed by a Phagwara-based farmer, which reduces water requirement by 90%. Seeing the results (low water usage and high yield) now many more farmers have signed up for the same this year. As they require much less water for the first 2-3 weeks, these farmers have also managed to sow paddy much before the date fixed by the state government.
Avtar Singh, a post-graduate in applied chemistry, but who chose to become a farmer, had developed the technique. According to Avtar, the "paddy puddle", the reason why the crop consume a lot of water, is required to create anaerobic conditions. But with the Phagwara technique, he said the anaerobic sowing of rice (ASR) is achieved by planking the soil repeatedly and heavily before and after using the drill machine for seeding. "Already 300 farmers have adapted the technique and they are happy with results," he said.
Avtar and a few hundred farmers of Punjab, Haryana and UP are already experimenting to reduce input costs while keeping the yields high by bringing in symbiotic diversification where crops complement each other and now several are going ahead with the 'Phagwara technique'.
Explaining the consumption of water required under 'Phagwara technique' and conventional method on the basis of practical observations in fields, former agriculture department deputy director Dr C R Vashisht said that on an average they use 43,000 litres of water on one acre with the technique while conventional puddle consumed around 5.76 lakh litre water per acre. "Saving is even more than 90%," he said.
Studies say direct seeding of pre-germinated rice has resulted in reduced methane emissions due to a shorter flooding period & decreased soil disturbance compared to transplanting rice seedlings. https://timesofindia.indiatimes.com/city/chandigarh/many-takers-for-phagwara-technique-of-paddy-direct-seeding/articleshow/69717917.cms  (10 June 2019)
Bundelkhand 'Jal Budget Gaon' or 'water budgeting' model Farol Nagariya, a remote village in the Firozabad district of Uttar Pradesh, has declared itself a 'Jal Budget Gaon'. The title is prominently displayed. This village has about a hundred households, has adopted a mix of budgeting and conservation techniques. The Firozabad district administration has ordered replication of Farol Nagariya's model in six water-stressed development blocks of the district.
Firozabad has nine development blocks, out of which six are categorised as dark zones. "Not only do we ration water, our 'Jal Budget' model also involves replenishing the groundwater table," said village council head Ajiram Rajpoot. "Each household has created soak pits for putting the waste water from the kitchen and the bathroom back into the ground. Besides, soak pits have also been created near hand-pumps. We have also planted trees around the hand-pumps". https://www.hindustantimes.com/lucknow/this-up-village-is-setting-an-example-with-its-water-budgeting-model/story-zEfHIE50AMT8fKC1hotQzK.html  (23 Sept. 2019)
Maharashtra Marathwada farmers change crop pattern to conserve water In drought-prone Marathwada farmers are now turning to water conservation by changing cropping patterns. "Our village is known to cultivate water demanding crops like cotton and maize. However, for the past two years, many farmers collectively decided to cultivate tur and soybean. The effort has paid off," said Bhagvat Gavade, a farmer from Kolegaon, about 20 km from Bhokardan in Marathwada. Gavade said that water consumption was reduced to ensure that groundwater was not overexploited. "Majority of farming activities are done using groundwater. The village has about 350 families, of which over 150 had agreed to practice the new method," he added.
The farmer also said that others not wanting to compromise on a cash crop like cotton have instead reduced the area under cultivation. "The area under cotton has been cut down by at least 10-15 %, helping reduce the water requirements," Gavade said. These efforts have now saved 40-50 % of groundwater. "The tankers that were procured in Nov-Dec are now only called only during peak summer months like March-April," Gavade said. https://punemirror.indiatimes.com/pune/civic/marathwada-farmers-change-crop-pattern-to-conserve-water/articleshow/69995424.cms  (29 June 2019)
Gujarat Villagers built 21 check dams, provide lifeline to water starved Kawant Since January 2018, the villagers have constructed 21 check dams in Bekhadiya village of Chhota Udepur's Kawant taluka, the last one (30 Ft deep) by 135 women and subsequently named Mahila Sarovar. A year on, migration has drastically decreased and harvests have more than doubled. Karsan got 920 (up from 200 earlier) kg of maize in the latest harvest.
"The groundwater table earlier depleted below 800 feet but this year the water levels have been raised to 150 feet and above. One of the three borewells is overflowing. When we were digging for the Mahila Sarovar, we found the first trace of water at 11 feet." said Geeta Rathwa (35) who participated in building the check dam.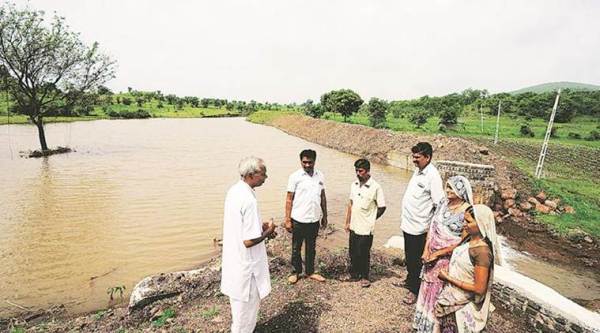 Of the 21 check dams, nine are inter-linked, providing water to the eastern part of the village, and the water finally mixing with the Ashwin river. Other 12 are inter-linked, feeding the surplus water to the Heram river. Through every check dam, small canals have spread across the farms. With Chhota Udepur recording a 73% surplus rain and Kawant recording the maximum, all the 21 check dams are filled this year, contributing majorly to the replenishment of groundwater. https://indianexpress.com/article/india/gujarat-villagers-build-21-check-dams-provide-lifeline-to-water-starved-kawant/  (21 Aug. 2019)
Karnataka People's barrage "We have to help ourselves," says septuagenarian Gurappa Badger of Jamkhandi in Bagalkot district where small cultivators like him have found a sustainable solution to farmers' woes with 'India's first people's barrage', built across the river Krishna. Gurappa and other members of farmers' association Krishna Teera Rayat Sangha are working on an ambitious plan to make all farmers in the region debt-free.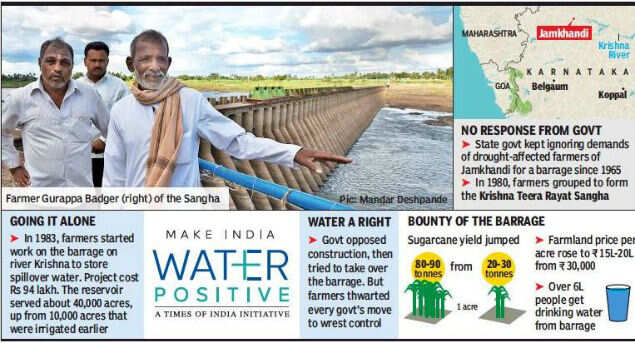 They believe that right to water is the solution to stop farmer suicides and control agrarian crisis. The Sangha controls the flow of excess water, manages pumping and distribution of water from the reservoir, which they have named 'Shrama Bindu Sagar'.  https://timesofindia.indiatimes.com/city/bengaluru/karnataka-how-a-peoples-barrage-saves-water-improves-farmers-lives/articleshow/70053753.cms  (3 July 2019)
Other Positive Water Stories
NORTH INDIA
Punjab Pond rejuvenation Owning a tube well makes much difference for farmers in the state and several marginal famers have no tube well to irrigate their corps. They source water from big farmers by paying water charge in addition to this restriction on crops choices to be sown.
This is the story of Kans Ram a farmers with 2.5 acre land holding in Nasirewal village of Kapurthala district. However, under pilot project the state soil conservation department has been helping such farmers by providing water from village ponds. Now Kans Ram is getting water through underground pipeline to supply water to his farm free of cost from the rejuvenated village pond. Sandeep Singh, a former sarpanch of Manak Dheri village in Hoshiarpur district, too now irrigates his three acre farm with water from the village pond.
"The water is good and we don't need to put too much fertilizer to improve the crop quality," says Sandeep Singh. The underground pipeline network in his village stretches over 3.5 km. Saranjit and Sarwan Ram, both marginal farmers with around two acres of land at Nasirewal village, have a similar story to tell. So does Surinder Singh, a small farmer from Jalandhar's Rurka Kalan village, who now doesn't have to plead before fellow farmers to let him use their tubewell.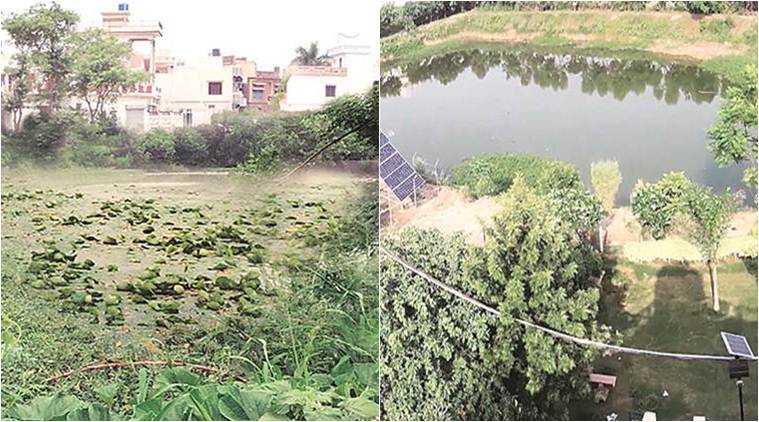 In Nasirewal and Rurka Kalan villages, the ponds are providing water to 60 farmers to irrigate over 100 acres of land. These farmers are among hundreds across Punjab who are beneficiaries of the pilot project under which 54 village ponds are being revived and used to irrigate 1139 hectares in over-exploited blocks of eight districts.
The waste water from the village households flow into these ponds. With piped drinking water supply system making its way to the village households, the water flowing into these ponds has increased considerably over the years.
"Under the project, the ponds were rejuvenated to increase the water holding capacity and to ensure that water quality was fit for use in agriculture. Underground pipelines were laid from these ponds to take the water to agricultural fields. Solar Photovoltaic (SPV) Pump sets were installed for pumping the water through the pipelines," said Map Officer, office of chief conservator of soils, Punjab, Gurvinder Singh Dhillon. The stagnant water in these ponds had often led to various health hazards in the villages besides numerous other environmental, economic and social impacts.
"If all the water bodies or ponds in the state are utilized in agriculture, it will not only help in checking ground water exploitation but will also provide farmers an assured irrigation water source besides avoiding drought incidences in agriculture as household water flows into ponds regularly," he said. https://indianexpress.com/article/india/parched-punjab-finds-a-source-of-water-rejuvenated-village-ponds-5770045/  (7 June 2019)
Treated STP Water for irrigation Similarly, the farmers in Mohali, Bathinda and Phagwara districts are using treated sewage water for irrigational purposes. Treated water for irrigation has low operational and maintenance cost and reduces the burden on state accrued on subsidy payments to power department for providing free electricity to tubewells.
The Soil and Water Conservation Department had launched this project under 'Utilisation of Treated Water from STPs for Irrigation' a few years back, and has been providing treated water from over three dozen STPs to irrigate nearly 18,000 acres. Department sources said free power to run tubewells for irrigation and un-regulated ground water digging are major impediments in promoting such alternate, but highly useful projects.
Under the scheme, the department sets up irrigation infrastructure from STPs by laying underground pipelines, which are then handed over to Water User Associations to operate. "The department has been planning to create more irrigation facilities from STPs so that over 50,000 hectares can be irrigated. Already, the department has submitted proposal under 'PMKSY-Har Khet Ko Pani' for irrigation infrastructure from STPs," said Dharminder Sharma, IFS, Chief Conservator of Soil, Punjab. https://indianexpress.com/article/india/punjab-farmers-slowly-turn-to-treated-wastewater-for-irrigation-5789641/  (20 June 2019)
Punjab Roles of microbes in supporting sustainable rice production using SRI SRI is an agro-ecological approach to rice cultivation that seeks to create optimal conditions for healthy plant growth by minimizing inter-plant competition, transplanting widely spaced young single seedlings, and optimizing favorable soil conditions with organic amendments, increased soil aeration by weeding, and controlled water management. These practices improve rice plant growth with yields up to three times more than with conventional cultivation methods, and increase crop resilience under biotic and abiotic stresses.
This review discusses the roles of beneficial microbes in improving rice plant growth, yield, and resilience when SRI practices are used, and how these modifications in plant, soil, water, and nutrient management affect the populations and diversity of soil microorganisms. Mechanisms whereby symbiotic microbes support rice plants' growth and performance are also discussed. https://india.mongabay.com/2019/05/punjabs-groundwater-stress-drowns-in-election-noise/    (17 May 2019)
Haryana Subsidy on native crops to discourage paddy Under this pioneering scheme the state government has announced subsidy on millets, maize on paddy land to arrest falling groundwater level in 7 dark zone areas. https://www.amarujala.com/chandigarh/haryana-government-s-big-decision-subsidy-to-farmers-who-not-farming-paddy   (22 May 2019)
Uttarakhand Just Organik helping mountain farmers Majority of farmers are still practicing natural farming using locally available resources and traditional seeds. However the hybrid seeds, chemical market forces have started reaching the hill areas. Under such circumstances it is necessary to get reliable market for organic farmers. Just Organik has been doing that since 2013. The market chain is founded by Pankaj Agarwal and his wife, Richa procuring produce from small organic farmers. The initiative is also providing these products to people at affordable price. The organic foods includes pulses, millets, cereals, spices, sweeteners, oils and tea. https://www.civilsocietyonline.com/business/just-organik-goes-to-small-farmers-in-uttarakhand/
NORTH EAST
Assam Traditional knowledge to the rescue A centuries-old water management and distribution system, called dong, has become the lifeline for villages of Assam along the Indo-Bhutan border. Dongs are channels that originate at rivers and constitute a community-managed water distribution system.
Government-installed tube wells in the area are defunct due to inaccessibility of groundwater. Dongs aid both agriculture and household needs.  https://india.mongabay.com/2019/05/traditional-knowledge-to-the-rescue-in-water-scarcity-hit-assam/  (2 May 2019)
EAST
Jharkhand Agraian potential of in-situ water harvesting- A case study of farm ponds A case study of farm ponds in Jharkhand finds the contribution of these in increasing the agrarian surplus through yield enhancement, crop diversification and crop intensification. https://www.epw.in/journal/2019/26-27/notes/agrarian-potential-situ-water-harvesting.html   (26-27 June 2019)
Bihar Banka farmers keep drought at bay
Remarkable story of 70 year old farmer Anirudh Prasad Singh whose work in Katoria and Chandan blocks of Banka district transforms rainfed arid area to two crop growing one, benefiting about 1000 farmers in 30 villages and about 10000 farmers of 200 villages have followed this model of rejuvenation of local water bodies including streams and ponds and irrigating using lift schemes and pipes extending to 1000 ft. https://indianexpress.com/article/india/in-this-parched-bihar-district-how-farmers-keep-drought-at-bay-6055673/  (6 Oct. 2019)
CENTRAL
Bundelkhand Villagers Take Water Matters into Their Own Hands  Like every year, natives of the Dahra village that is situated in parched pockets of the Bundelkhand were facing an acute water shortage after its only source – a public well- dried up. Natives of the nearby Bamnuda village, dependent on the well, were forced to look for alternatives due to diminished groundwater.
Volunteers of Manav Jivan Vikas Samiti (MJVS), Ekta Parishad and Bharat Rural Livelihood Foundation (BRLF) came forward to encourage locals to join hands and clean the village well. "With their collective effort and the pre-monsoon showers, the well now has water that is three feet water, enough to fulfil the needs of the locals," said Nirbhay Singh of MJVS. Nandlal Singh, a volunteer from MJVS and a local resident, said that cleaning the well in Dahra village had restored the vital source. "We have also worked collectively to widen the pond in our village which will help us store water during the monsoon," he said.
Besides encouraging public participation, the volunteer organisations have also been helping the villages construct check dams to store rainwater during the monsoon. The organisations are also helping farmers engage in organic farming in Damoh. https://www.news18.com/news/india/faced-with-searing-heat-and-water-woes-bundelkhands-villagers-take-matters-into-their-own-hands-2191935.html  (18 June 2019)   
Jal Sahelis quench the thirst of parched villages  In Chandrapur village, 170 families are comparatively relaxed. A check dam, built by a women's group, Jal Sahelis (women friends of water), five years ago, is full of water collected during monsoon. The water is being used for irrigation and domestic purpose in the village.
Started in 2005 from Madhogarh in Jalaun in Uttar Pradesh, the network of Over 670 rural women – Jal Sahelis across 200 villages in Bundelkhand is reviving water harvesting structures and traditional water bodies through community participation. While the reach of the Jal Sahelis is limited, they hope that the government would scale up its efforts for rainwater harvesting across India. https://india.mongabay.com/2019/04/jal-sahelis-quench-the-thirst-of-parched-villages-in-bundelkhand/  (30 April 2019)
Farm ponds building agriculture resilience An intern with Watershed Organisation Trust narrates his field experience from the villages in Seoni and Chhindwara where farmers are using farm ponds. She concludes, "From these examples, it can be seen that the farm pond has proved to be important in India's rainfed and semi-arid regions. The small area of the farm pond can be filled within a couple of rainy days, and can last through the dry spells, thus making it an attractive proposition. Farm ponds can play a major role in conserving water, and can indirectly contribute to agriculture and food security. The key aspect is to combine building farm ponds and similar water storage structures with efficient and effective management of the water stored." https://www.indiawaterportal.org/articles/how-farm-ponds-madhya-pradesh-are-building-agricultural-resilience  (24 Oct. 2019)
Bunds help farmers in Mahoba fight drought Bunds helped revive groundwater levels and recharged wells in drought-stricken Mahoba district in Bundelkhand. "2019 is different than previous years. We have integrated various water conservation schemes under different departments," said RS Goutam, district development officer. He is also the district nodal officer for Central government's water conservation programmes under Jal Shakti ministry. This integration has placed Mahoba in the top 10 among the 255 most water-stressed districts in the country, claimed Goutam.
In Mahoba, the district authority prepared a plan for two blocks. The plan included a number of functional and non-functional structures in these blocks. It listed around 175,000 small and medium water conservation structures and 1,301 recharge structures. It also pointed to around 17,850 non-functional water conservation structures and 2,071 recharge structures that needed restoration. "The strategy was to conserve functional structures and plan revival of non-functional ones. Annual work under different departments would be carried out at the same time," said Goutam. https://www.downtoearth.org.in/news/water/water-stressed-in-india-how-bunds-helped-farmers-in-mahoba-put-drought-behind-69705  (11 March 2020)
'Create village pond to get our votes' In a remarking development, during Lok Sabha poll, the people in Bundelkhand raised their voice against water scarcity. Persistent draught and migration have led the residents to a coin a slogan: 'Gaon-gaon talab banega, tabhi humara vote milega' (Will vote only after getting ponds in each village). The villagers also formed an outfit 'Jal Jivan Sangathan' to raise the issues.
The People's Science Institute of Dehradun is running an awareness campaign in Panna district under which village-level committees (Gram Swaraj Samiti) have been formed. Members of village panchayats are also members of these committees. Representatives of three panchayats Fatepur, Birampura and Bilpura had decided to mount pressure on all candidates. https://www.business-standard.com/article/news-ians/bundelkhand-wants-its-ponds-in-return-for-votes-119041201349_1.html    (12 April 2019)
Here is one more report on interesting campaign. https://hindi.newsd.in/bundelkhnd-men-gaunjaa-naaraa-gaaanv-gaaanv-taalaab-bnegaaa-tbhi-hmaaraa-vot-milegaaa/   (12 April 2019)
Here is inspiring story of 58 years old farmer Naval Kishore from Mahua block who without any government aid had created farm ponds in 2009-10 and still reaping the benefits of water stored in these ponds. In 2016-17 he had helped his brother dig two such farm ponds. Both have set example before other farmers and many are following them.
Now his village has five ponds meeting the irrigation and other water needs. About 1800 ponds have been dug so far in 150 nearby villages. Naval wants to motivate farmers to make 300 ponds in 2019.  https://www.patrika.com/banda-news/farmer-naval-kishor-creat-ponds-for-irrigation-in-banda-4733065/  (June 2019)
Also see Goan Connection report on successful efforts of farm pond creation initiative by villagers. https://www.gaonconnection.com/uttar-pradesh/dry-bundelkhand-farmer-200-ponds-village-apothecary-fluttering-crop-42696 (13 March 2019) 
Revival of ponds reduce water problem About 10 years ago, the severe water scarcity made the residents of Jakhni village in Banda district make efforts to revive the ponds in the area. Their grit and efforts yielded results.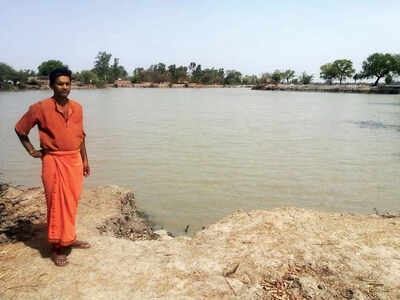 This year, while several other villages are lying parched, five ponds in Jakhni village are full and residents are getting easy supply of water through tubewells. https://timesofindia.indiatimes.com/city/lucknow/man-made-oasis-quenches-thirst-in-bkhand/articleshow/69882394.cms  (21 June 2019)
Encouraged by Banda's district administration, which has taken on the region's persistent droughts and paucity of rain on a war footing, Gureh's villagers have got together to clean all the wells. Men have been hired to rappel down the stone walls to remove silt and debris, and the results are encouraging. https://indianexpress.com/article/india/water-conservation-how-bundelkhand-is-keeping-drought-at-a-distance-by-recharging-wells-5829222/  (15 July 2019)
Story of Kalyanpur villagers in Panna district who launched pond revival initiative to fight back migration. https://www.firstpost.com/india/in-mps-panna-district-villagers-launch-initiative-to-restore-local-water-bodies-as-successive-droughts-give-rise-to-malnutrition-migration-6793591.html   (09 Aug. 2019)
How Akash Chaurasia, a farmer with 2.5 acre in Bundelkhand's Sagar district practices multi layered organic farming: https://www.downtoearth.org.in/video/agriculture/akash-chaurasia-a-millionaire-farmer-from-bundelkhand-64365  (7 May 2019)
WEST
Rajasthan Digging ponds  Mojhiram, 51, who lives in a village called Sapere Ka Pura in Mashalpur Tehsil, has dug up a large pond in front of his house with the help of other villagers to collect rainwater. Though the pond has dried up in this prolonged hot summer, the hand pump is still providing water to his family and other villagers. "The villagers decided to combat the scarcity of water by community efforts. During long summers these ponds help irrigate the fields and perform daily needs. When they (ponds) dry up, we can turn to the hand pumps until the rain refills our ponds," says Mojhiram.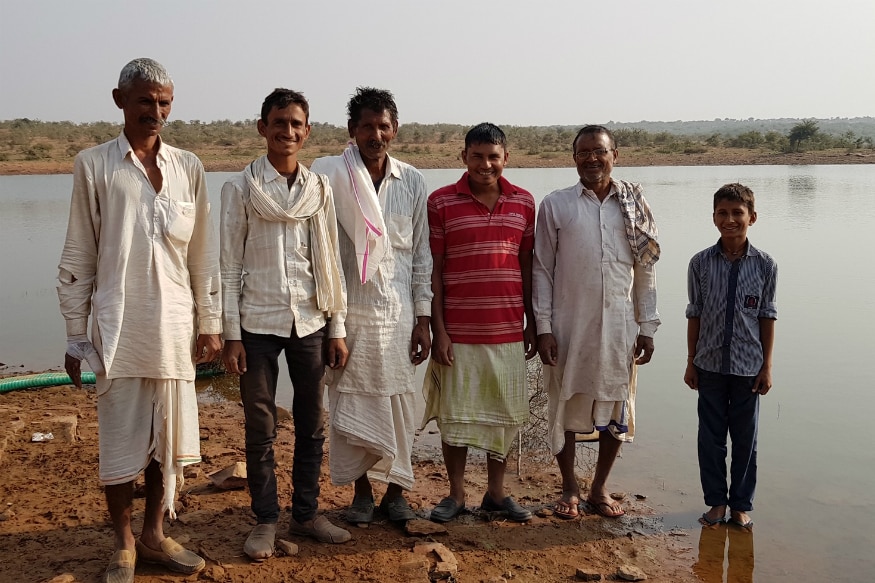 In Mardaikalan, a few kms from Mojhiram's village, more than 100 villagers erected a 60 feet-high mud wall in 2012 to harvest rainwater. This worked well and the pond slowly kept spreading. Today, even in this summer, the reservoir has water to serve the villagers and cattle. "When the rain comes, this ponds extends to an area of 50 acres. It helps us get water for all our needs," says 47-year-old Ranveer Singh. https://www.news18.com/news/india/in-parched-rajasthan-digging-up-ponds-the-only-way-to-control-water-crisis-and-a-death-trap-2183021.html  (12 June 2019)
Similarly the well-recharge technique is helping farmers to channelise the wasted rain water for irrigation purposes. https://www.indiatoday.in/india/story/well-recharge-technique-rajasthan-farmers-water-scarcity-1560786-2019-07-02  (2 July 2019)
Maharashtra Solar dryers giver farmers market clout Facing prices instability farmers in Nasik were forced to see their vegetables rot. The district is a significant vegetable growing belt  and when prices crashed, small farmers were not even harvesting them. But things have changed in recent years. In Ozar, 20 km from Nashik, the Shri Sant Savta Shetkari Gut (SSSSG), which is a farmer producer organisation (FPO), has found a way out of this quagmire. It spots a glut in the market and signals farmers to divert their crops into processing. The vegetables are dehydrated with solar dryers and then packed and sold to markets beyond Nashik where they fetch a better price. https://www.civilsocietyonline.com/business/solar-dryers-giver-farmers-market-clout/  (1 July 2019)
Recognition for water warrior When Popatrao Pawar took over as sarpanch of Hiware Bazar in 1989, the village was beset by frequent drought-like conditions, low agricultural yield, paucity of resources and a high migration rate.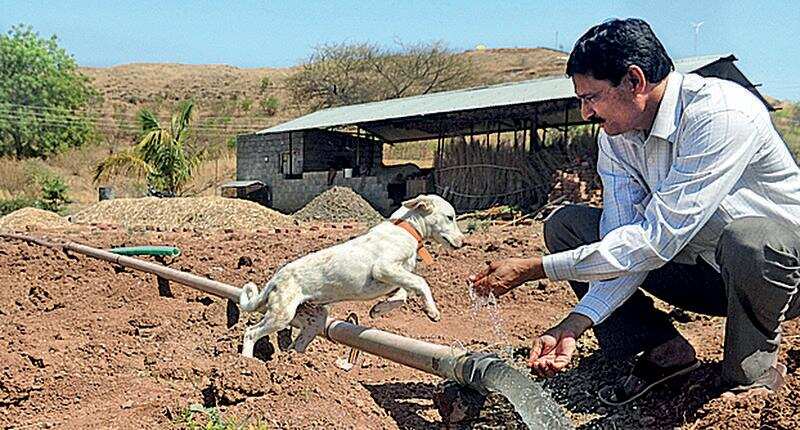 Today, the village has become self-sufficient and stands as a model for modern governance. For his work towards water conservation over the decades, Popatrao was conferred the Padma Shri recently. https://m.timesofindia.com/city/pune/recognition-after-decades-of-work-for-water-warrior/amp_articleshow/73620782.cms  (26 Jan. 2020)
Also see video report on how Vidarbha's farmers water crisis was solved  (18 March 2020)
https://news.abplive.com/videos/news/india-maharashtra-know-how-vidarbhas-water-crisis-was-solved-1177354#t=169
Goa Engineer dream comes true with Gir cows When Chaitanya Malik graduated from the Goa College of Engineering with a specialisation in computers, he mapped out a surprising future for himself. Instead of computers he decided he was going back to his ancestral village, 32 km from Panaji, to practise organic farming. Five years later, he has a four-acre farm where he grows cluster beans and lady's finger or bhindi. He also has a dairy, which sells 100 litres of desi or superior A2 milk a day. The farm and the dairy make a profitable enterprise. https://www.civilsocietyonline.com/agriculture/goan-dream-comes-true-with-gir-cows/
Goa's traditional water management While parts of the state struggle with water shortage, some more severely than the others, a glimpse into the past shows that this situation is a more recent development one exacerbated by people moving away from their traditions.
Since the region receives rains only for three to four months, way back in time, our wise ancestors, like their contemporaries in the subcontinent, devised various ideas to harvest water to ensure that it was always aplenty and neither man nor biodiversity went thirsty. To complement the water harvesting system, they also came up with simple but ingenious ideas to lift this water and use it for irrigation, making use of rustic lever systems. One such tradition in Goa is called the 'laat' and it meets autumnal irrigation needs for chillies, coriander and onions, among others.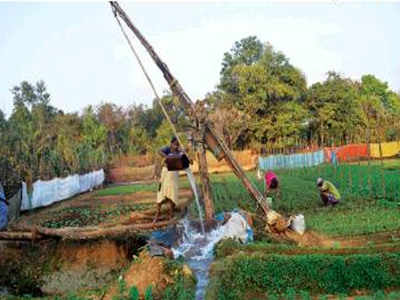 Today, this tradition of making judicious use of water continues, but only in rural pockets of Tiswadi, Bardez, Pernem and Bicholim where the system continues to be maintained in an intelligent and sustainable manner.
During the monsoon, when the land is amply fed with moisture, pits more than 3m in diameter are dug near fresh water bodies. These are locally referred to as 'honde'. Then to pull the water out, a lever system is fashioned out of the trunk of an arecanut tree where one end is weighed down with a heavy stone. To the other end a bamboo stick with a bamboo basket is attached. When the stone weighs down, the bamboo basket rises filled the water collected from the 'honde'. With time, the bamboo basket or 'kolame', as it is called, has come to be replaced with a tin box.
The water that is lifted out is poured in irrigation channels dug in the earth. Operated by women, the lever system increases the ease of drawing water. Rural women refer to the water harvesting and irrigation system in their folksongs.
Laat ge laatala Pani javuni patala Pani javuni patala Kay shevatichya betala….In this song, the 'laat' system finds reference as the women sing about irrigating and harvesting 'shevantim' (chrysanthemums). https://timesofindia.indiatimes.com/city/goa/goas-lost-knowledge-of-water-management/articleshow/68030349.cms (17 Feb. 2019)
Gujarat ZBNF The water usage has come down by 70%, and in case of heavy rains, the crops won't be damaged. Instead, the excess water will now recharge the groundwater table! https://www.thebetterindia.com/196917/gujarat-farmer-zero-budget-natural-farming-double-income-organic-vegetables-india/  (17 Sept. 2019)
Experts begin work on groundwater management plan for farmers Experts belonging to Sardar Vallabhbhai National institute of Technology (SVNIT) and five other universities, including three of foreign countries, are studying the effects of climate change on agriculture in two villages of Sithan and Kanyasi in Surat district. It is a two-year project, sponsored by Ministry of Human Resource Development (MHRD), to formulate a groundwater management plan to help farmers improve their crop yield.
MHRD had allocated Rs58 lakh under promotion of academic and research collaboration (SPARC) scheme in April for the project titled 'securing water for agriculture and food sustainability: Developing trans-disciplinary approach to groundwater management.' The water management plan and its importance will be explained to around 500 farmers of these two villages which should help them improve their crop yield. Water management plan will also restrict migration from the villages to cities because of improvement in drinking water provisions."  https://timesofindia.indiatimes.com/city/surat/experts-begin-work-on-groundwater-mgmt-plan-for-farmers/articleshow/69817673.cms  (17 June 2019)
SOUTH
Tamil Nadu Benefits of farm ponds A coconut farmer, Raghunathan is now confident that he can manage till the next southwest monsoon with the water available in the pond and the well.
Though agricultural experts and the government have been advising farmers to create small farm ponds in their lands for years, as an effective method of rainwater harvesting, it is only now that farmers in the Pollachi region seem to be experimenting with the idea. "It not only holds the rainwater but also allows it to percolate into the soil, recharging the groundwater table in the area up to 1km radius," Raghunathan says.
In the last two-and-half years, nearly 590 farmers between Kinathukidavu and Udumalpet, as part of Marico's Kalpavriksha project, have either created farm ponds, bunds or trenches to save the rainwater that their land receives. "While at least 135 farmers from August 2018 have created farm ponds of different sizes, around 458 farmers have created trenches or bunds," says Marico's executive vice-president Udayraj Prabhu.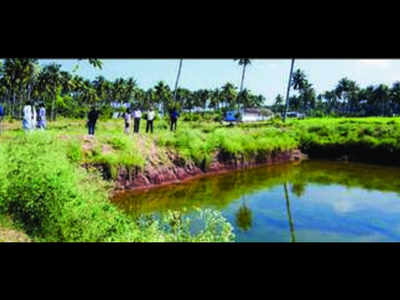 As per the project, 80% of the cost to create a pond is borne by Marico and the rest by the farmer. It costs between Rs 50,000 and Rs 1 lakh based on its size to make a farm pond.
Though they don't have numbers to prove improvement in groundwater table levels, farmers say the fact that their dry borewells have begun yielding water is proof that these ponds are serving their purpose.
S Subramani, a coconut farmer in Kinathukadavu, who created a 20ftx16ft farm pond in his land says he has drilled borewells twice and they have come dry even at beyond 100ft. "We have had to buy water to water my trees and then ended up cutting down many of them during the drought," he says. "For the first time, I can see water standing in the pond and the borewell yielding water," he adds. "A farm pond does take away the cultivable space of at least seven to eight trees, but by giving up this space, we are saving more than 250 of our remaining trees," says Gopalsamy, a farmer from Kolapatti. The Tamil Nadu government has also launched a farm pond scheme, where farmers can get a 50% subsidy on their pond creation costs. https://timesofindia.indiatimes.com/city/coimbatore/farmers-reap-benefits-of-farm-ponds-during-low-rainfall/articleshow/73452563.cms  (21 Jan. 2020)
Farmers repurpose bore wells for rainwater harvesting  Farmers are on a voluntary drive to convert the abandoned borewells into rainwater harvesting structures. https://www.villagesquare.in/2019/11/11/farmers-repurpose-bore-wells-for-rainwater-harvesting/  (11 Nov. 2019)
SRI Learnings from an Irrigated Agriculture Management Project A well-designed upscaling strategy boosted and sustained the production of rice; it also helped the build-up of organic matter and improved soil fertility. This experience shows that the System of Rice Intensification offers an attractive opportunity for increasing food production per unit of water and improving efficiency.  https://www.epw.in/journal/2020/2/special-articles/sustainable-sri-and-rice-production.html  (11 Jan. 2020)
Karnataka CoolCrop initiative In April 2019, for the first time, the Kunbi tribal community in Joida (Uttar Kanada district) will harvest their crop of pickling mangoes without a trace of nervousness. They now have a cold storage right in their village where they can keep their mangoes. The mangoes, a local wild variety called appe midi, have to be harvested at a tender stage.  https://www.civilsocietyonline.com/business/cold-storages-for-villages-a-mini-answer-from-coolcrop/
A report on how & when borewell recharging can be successful & sustainable. https://thewire.in/agriculture/how-borewell-restoration-is-helping-farmers-repay-their-loans (18 March 2019)
Kerala Story of first barren-land free constituency  It was in September 2019 that Parassala was declared the first barren-land-free constituency in Kerala. All the nine panchayats of Parassala were able to achieve the tag. Around 30 km from Kerala's Thiruvananthapuram and 35 km from Tamil Nadu's Nagercoil is the town of Parassala. A rural area located below the Neyyar Dam, Parassala is surrounded by canals and ponds filled with water from the Neyyar river, leaving the town green most of the year.
– Since 2016, a joint effort by the Haritha Keralam Mission and the state Agriculture Department under the 'Thalir' project has encouraged farmers, self-help groups and Kudumbashree units to start cultivation in barren and unused lands in nine gram panchayats in the constituency. Haritha Keralam is a mission integrating waste management, organic farming and water resources management. https://www.thenewsminute.com/article/agri-revolution-story-keralas-first-barren-land-free-constituency-117445  (04 Feb. 2020)
Telangana Magic of farm ponds 
Digging farm ponds under NREGS was taken up on a large scale over the last couple of years. https://telanganatoday.com/farming-comes-alive-in-narayanpet-thanks-to-the-magic-of-farm-ponds    (27 May 2019)
Tech for irrigation management As per this report, from November 2019 farmers dependent on canal water for irrigating their fields in Karimnagar (likely in 8000 acres) district may have a chance to try out something new to improve productivity of the winter rice crop. The irrigation department of the stae government has roped in Kritsnam Technologies, a firm incubated at the Indian Institute of Technology (IIT) Kanpur, to carry out a pilot project aimed at improving canal irrigation efficiency in the State. Called Irrigation Scheduling using real-time data on Water Availability and Requirement, or ISHWAR for short, could be a tool that could improve the efficiency of India's poor canal water irrigation system management. Developed by a team of technopreneurs who graduated from or are studying at the IIT Kanpur, ISHWAR has already caught the attention of three major States – Telangana, Haryana and Uttar Pradesh. The idea is to link water suppliers and water users in a manner that enables the release of the right quantity of water at the right time. What ISHWAR would do is to calculate water requirement of each farm on a broad scale using weather and agronomic data collected in real time through satellites and ground-based measurements.
Another Kritsnam project is called PANI or Provision of Advisory for Necessary Irrigation, which is being implemented on an experimental basis in many villages in Kanpur Rural district. The pilot PANI project is funded through $22,000 provided by the World Bank and is implemented with the help of IIT Kanpur, the University of Washington and GeoKno, another firm incubated at IIT Kanpur. Around 150 farmers are involved in the PANI project, commenced in Nov 2018. https://www.thehindubusinessline.com/news/education/firm-incubated-at-iit-kanpur-harnesses-tech-for-irrigation-management/article29189441.ece#   (21 Aug. 2019)
Bhim Singh Rawat (bhim.sandrp@gmail.com)
Also see:-
World Water Day India 2020: Top Positive Urban Stories