After separate reports on key developments surrounding wetlands in 2017 in North India including Jammu & Kashmir, Uttarakhand, Punjab, Chandigarh and Haryana – this final compilation in North India Wetlands Review 2017 series by SANDRP, highlights the plight of wetlands, lakes and water bodies in Uttar Pradesh, Delhi and National Capital Region.
UTTAR PRADESH
Surajpur Wetlands Eco Park plan inside Surajpur wetland shelved In a positive development, the forest department has shelved its Eco Park project inside the Surajpur wetland and forest reserve. A haven for migratory birds, Surajpur bird sanctuary is located on the Dadri-Surajpur-Chhalera road in Greater Noida.  The Eco Park was proposed as a concept to attract visitors to wetlands and forest reserves. The project was allotted a ₹130-crore budget and included the construction of a cycle track and a 4-km pathway, besides other facilities, inside the wetland. It was inaugurated in April 2014 by the then Chief Minister Akhilesh Yadav. However, environmentalists contended that construction work and human intervention inside the wetland would affect the ecology and birds habitats.  The wetland is area is 325 ha & includes a lake of 80 ha. https://www.hindustantimes.com/noida/forest-dept-shelves-eco-park-plan-inside-surajpur-wetland/story-y27ve3nqRG1oBy4BChthCM.html (Hindustan Times, 20 Feb. 2017)
Birds Population at Surajpur on decline There has been a dip of 38 percent in bird population at Surajpur wetland. The Asian Waterbird Census (AWC) in Jan 2018, has found The number of unique species in the wetland decreased from 42 to 35 between 2017 and 2018. Also, for the second year in a row, the census has found Uttar Pradesh's state bird Sarus Crane missing. http://indianexpress.com/article/cities/delhi/at-surajpur-wetland-dip-in-bird-population-5021183/ (The Indian Express, 12 Jan. 2018)
Dadri Wetlands Protest against real estate projects on Dadri wetland In Feb. 2017, environmentalists and concerned residents opposed a real estate proposed on Bil Akbarpur wetland in Dadri, Greater Noida. The builders got environmental clearance (EC) for the township without showing the presence of the wetland and the Gautam Budh Nagar district authorities had not included this wetland in its list.
The developer had reportedly bought farms and common land from the village panchayats nearby for the development of the township.  The 20 ha wetland area has been reduced to a mere 6 ha due to earth filling by the developers. This encroachment has stopped the storm water from the surrounding areas from draining into the lake, affecting the water level and the natural habitat of the migratory birds.
Following public protest, the Ministry of Environment and Forests (MoEF) team found certain construction activities around the wetland and issued a show-cause notice to the state govt under the Environment Protection Act. According to the new wetland rules, only the district authorities can identify the wetlands in the district and there is no involvement of the stakeholders. It is not mentioned in the rule how the stakeholders would approach the wetland authority in case the state or the district fails to identify a threatened water body. http://www.downtoearth.org.in/news/real-estate-invades-dadri-wetland-36287 (Down To Earth, 17 Feb. 2017)
NGT refused to cancel EC to real estate projects on Dadri wetlands In a sad turn of events, National Green Tribunal (NGT) in Sept. 2017, refused to cancel the environment clearance (EC) granted to Uttam Steels and Associates (Consortium) and the Shiv Nadar University and instead directed both to preserve the existing low-lying land of Dadri wetlands. The tribunal refused to agree with the claim by the petitioners that two of their buildings were located on wetlands as the area is not declared as a wetland as per the rules by the MoEF.
As per the report, state government had acquired this land in 2006-07 and allocated it through UPSIDC for construction of the Hi-Tech University and Shiv Nadar University and there was no justification to seek withdrawal of the environment clearance granted to these entities. The wetlands, also called as Bil Akbarpur wildlife habitat, is home to the protected black buck species, Nilgai and over 200 species of migratory and resident birds. https://www.indiatoday.in/pti-feed/story/ngt-directs-up-govt-to-protect-flora-fauna-in-dadri-wetlands-1044672-2017-09-14 (India Toady, 12 Sept. 2017)
Dhanauri Wetland Dhanauri wetland set to host a Sarus research centre  In March 2017, the forest department of Gautam Budh Nagar  proposed a conservation and education plan for Dhanauri wetlands, which has been recognised as an important bird habitat by the Bombay Natural History Society (BNHS). The International Sarus Crane Foundation, USA, and Nature Conservation Foundation, Bangalore, have been roped in as the knowledge partners for the project.
With an estimated project cost of Rs 25 lakh, a plan has been submitted to the Sarus Protection Society in Lucknow. So far, the budget approval has not been made for the project. The programme is based on scientific research and education.
Sarus crane, listed as a Schedule 1 bird in the Wildlife Protection Act, is also the state bird of Uttar Pradesh and is provided with a special conservation plan. India is also one of the major Sarus habitats in the world with over 80% of the world's Sarus population inhabiting its wetlands. https://timesofindia.indiatimes.com/city/noida/dhanauri-wetland-set-to-host-a-sarus-research-centre/articleshow/57565289.cms (The Times of India, 10 March 2017)
40 NCR birders explore Sarus habitat at Dhanauri wetland In July 2017, forty members of birding group, Delhi Bird Photographers hosted a day long birding event at Dhanauri  wetlands to spot and photograph Sarus cranes in their natural habitat as well as to photograph monsoon visitors to the wetland.
Dhanauri is a marshland with a core wet area of 100 acres, surrounded by a buffer green zone. It spreads across Yamuna Expressway Industrial Development Authority's (YEIDA) Sector 16 and 17. Dhanauri wetland has already been recognized as a Sarus crane nesting and breeding ecology.
Home to over 120 Sarus cranes, it draws enthusiastic birders and bird photographers. Located 46 km away from Noida, it was first noticed as a Sarus breeding zone, when birder Anand Arya chanced upon it during a birding trip in 2014 and demanded it be notified as a wetland. Arya had informed the UP state government, NGT and the MOEF of his findings. https://timesofindia.indiatimes.com/city/noida/40-ncr-birders-explore-sarus-habitat-dhanauri-wetland/articleshow/59834655.cms (The Times of India, 30 July 2017)
See, beautiful pics of migratory birds flock at the Dhanauri wetland https://www.hindustantimes.com/photos/india-news/photos-beautiful-migratory-birds-flock-at-the-dhanauri-wetland/photo-HgoPR6qWIkSe4Uv331VdOJ.html (Hindustan Times, 20 Dec 2017)
Virndavan Water Bodies 80 per cent Braj "Kunds" extinct now Due to rapid urbanisation, a lack of maintenance and prolonged negligence in the last 200 years, 80 percent of the kunds became silted up and were relegated to gradual extinction says India Water Portal report. The man-made small water bodies known as kunds dating back to the 5th to the 15th century served as important sources of freshwater in Braj. As per report, there were more than 1000 kunds in Braj and their water was used for multiple purposes.  http://www.indiawaterportal.org/articles/saving-kunds-vrindavan (Indian Water Portal, 9 Sept. 2017)  
Agra Lake Revived Water returns to a dried up lake after 40 years The Jodhpur Jhaal, a colonial reservoir that till half a century ago sustained an extensive irrigation network between Mathura and Agra, has come to life as water from the Agra canal flooded the 155-acre dry wasteland. As per report, farmers had encroached upon the dry lake bed and were cultivating for past many years despite protests and official action. The lake spans from Farah district in Mathura to Fatehpur Sikri and connects with Agra's Keetham Lake (Sur Sarover), which is a national bird sanctuary.  http://news.vrindavantoday.org/2018/01/water-returns-dried-lake-40-years/ (Vrindavan Today, 04 January 2018)
NATIONAL CAPITAL REGION (NCR)
NCR's largest wetland faces threat, Centre seeks report In Feb. 2017, the MoEF sought an action taken report from the principal chief conservator of forest, wildlife, Uttar Pradesh, on multiple threats to the natural Hasanpur wetland. Spread over 37.749 ha, the wetland is located near Bambawad village on the border of Gautam Budh Nagar and Hapur districts.
The wetland, the biggest in Delhi-NCR, is around 10 km away from Greater Noida's Dadri. However, since it is located in two districts, its protection has been nobody's priority. The Union ministry sought an action taken report after Vikrant Tongad lodged a complaint on the destruction of the wetland and its wildlife. He added that the NHAI and Greater Noida authority also plan to construct two major roads around the wetland, which will destroy it to a large extent. https://www.hindustantimes.com/noida/delhi-ncr-s-largest-wetland-faces-threat-centre-seeks-report/story-0Na5ydMsGfgxQAbjIl3ZII.html ( Hindustan Times, 19 Feb. 2017)  
NCR lost 40% of its water bodies As per a study by the Centre for Atmospheric Sciences at IIT Delhi Water bodies have decreased by a steep 40 per cent in NCR as a result of rapid urbanisation between 1972 and 2014, when the region saw a 17-fold rise in urban built-up areas. The assessments were done by tracking the land use change in NCR for five years representative of 5 decades – 1972, 1981, 1993, 2003 and 2014 – using satellite images. https://timesofindia.indiatimes.com/city/delhi/ncr-lost-40-of-its-water-bodies-in-42-years-study/articleshow/61177634.cms (The Times of India, 23 October 2017)
DELHI
Purana Qila Lake Dries Up Boating licence expired, ground water pumping stopped in the lake In Dec. 2016, due to bird flu out brake, Delhi Zoo was closed for 45 days and boating was stopped in Purana Qila lake for five months. Following this, the pumping of fresh water into the lake was also discontinued.
The report also revealed that the gates to the lake were closed for the longest period ever as Delhi Tourism and Transport Development Corp (DTTDC), that runs the boating club, was unable to renew its agreement with the Archaeological Survey of India (ASI). The ASI had referred the matter to the ministry of culture which asked the India Tourism Development Corporation (ITDC) to run the facility.
As per the report, DTTDC's five-year long MoU expired on March 31, 2016. However ASI allowed to run the boating club till August 10, 2016. Earlier, the agreement used to get renewed on time. In absence of water, boating was suspended and the lake started gradually drying up. The 16th century lake used to get a little water from Yamuna but over the years the river has shifted its course at least 4 km away from the fort. Hence it was being filled with ground water and rain water now.  https://www.hindustantimes.com/delhi-news/zoo-closed-boating-shut-purana-quila-draws-a-blank-this-season/story-ITCqKIv2CloO9rTJobBEKO.html (Hindustan Times, 30 December 2016)
Officials pass responsibility In April 2017, the Purana Qila lake dried up completely, however no authority took up the responsibility to fill it up. It was not clear under whose jurisdiction was the lake. DTTDC was looking after the boating operations and ASI work was to renew the licence.  Finally ITDC was asked to look into it and manage the lake but it reported of receiving no formal communication from the Ministry of Culture regarding this. https://timesofindia.indiatimes.com/city/delhi/delhis-purana-qila-lake-dries-up-officials-pass-responsibility/articleshow/58361817.cms (The Times of India, 26 April 2018)
Don't turn Purana Quila lake into waste-dumping yard: NGT to Delhi govt In May 2017, the Green Tribunal rapped the Delhi government over the poor condition of the iconic Purana Quila lake and directed it to ensure that it does not become a waste-dumping yard. Taking exception to non-compliance of its May 19, 2017 order to expeditiously restore all water bodies in the city, the green panel also asked the AAP government to explain why silt, sand and other debris have not been removed from the lake despite its specific direction. http://zeenews.india.com/environment/dont-turn-purana-quila-lake-into-waste-dumping-yard-ngt-to-delhi-govt-2028218.html (Zee News, 28 July 2018)
Boating to start after desilting: ASI In May 2017, ASI stated that it had started dredging and desilting of the lake before the NGT directive and boating facilities would start after the completion of dredging work. According to estimates provided by the state environment department, there are more than 600 water bodies spread across the city in the form of village ponds, lakes, marshes and step wells. https://www.hindustantimes.com/delhi-news/will-boating-be-back-at-delhi-s-old-fort-asi-starts-work-to-revive-purana-qila-lake/story-huAzTXMjTfxwEVw749TvZM.html (Hindustan Times, 25 May 2017)
In August 2017, NGT slammed the ASI over the poor condition of the iconic Purana Quila lake here and summoned its senior official to explain why it has not been cleaned despite its direction. http://www.financialexpress.com/india-news/ngt-summons-asi-officer-over-purana-quila-lakes-bad-condition/835284/ (The Financial Express, 31 August 2017)
As per latest report, the lake will be revived by the ASI in a joint project with National Buildings Construction Corporation Limited (NBCC). ASI officials also said that they plan to fully resume boating activity at the lake but could not give a time frame yet. As per sources ITDC may be considered for the boating contract.
In Oct, 2017, NBCC had adopted portions of Purana Qila as part of its corporate social responsibility. According to officials, Rs 15 crore was allotted for the monument's conservation and upkeep by NBCC to be utilised in a period of two years. Interestingly this is the second winter that Delhiites have missed boating at the lake. https://timesofindia.indiatimes.com/city/delhi/asi-to-revive-boating-at-purana-qila-lake/articleshow/62214848.cms (The Times of India, 23 Dec. 2017)
Questions over ASI-NBCC plan to revamp Purana Qila The tender floated by the NBCC for the redevelopment of the Purana Qila area has become a bone of contention between the PSU and the ASI. In Oct, 2017, the NBCC had released Rs 15 crore, to be used over a period of five years, for the redevelopment of the site as part of its CSR activities, under the Ministry of Tourism's Adopt a Heritage scheme.
At the time, NBCC had said that they wanted to spend the funds to redevelop the ticketing counter, visitor facilities, horticulture and build toilets at the site. But last week, NBCC released a tender on its website inviting bids for "Conservation, Restoration, and Upgradation in and around Purana Qila on behalf of ASI". http://indianexpress.com/article/cities/delhi/questions-over-tender-for-purana-qila-upgrade-5041821/ (The Indian Express, 28 Jan. 2018)
Plan to Revive Neela Hauz Khas Lake Floating wetlands to revive Hauz Khas lake In August  2017, Delhi Development Authority (DDA) planned to undertake the work to rejuvenate, conserve and revive the Neela Hauz water body along with environmental engineer Tarun Sebastian Nanda and public participation. The landowning agency will be using constructed or floating wetlands for treating sewage in the drain. As per DDA, the water in the lake comes through a sewage treatment plant (STP) in Mehrauli. It gets polluted in between due to leakages and sewer water entering into the channel. Neela Hauz Khas Lake is a water body in the middle of south Delhi. It has been dying a slow death due to pollution over the last few years.  http://www.hindustantimes.com/delhi-news/dying-hauz-khas-lake-to-get-a-new-lease-of-life/story-8eBpyAruzNFVl6zbF0sjHI.html (Hindustan Times, 3 August 2017)
A floating wetland consists of— plants grown on a mat built from wire mesh, drainage pipes and used water bottles. The plants purify the water by removing algae and absorbing nitrates, phosphates and other heavy metals. As per Tarun Nanda who has been testing these wetlands says that an approximate cost of building a floating wetland is around Rs 4,000. https://www.indiatimes.com/news/india/delhi-techie-says-floating-wetlands-can-help-purify-water-curb-pollution-265782.html (The Times of India, 19 Nov. 2016)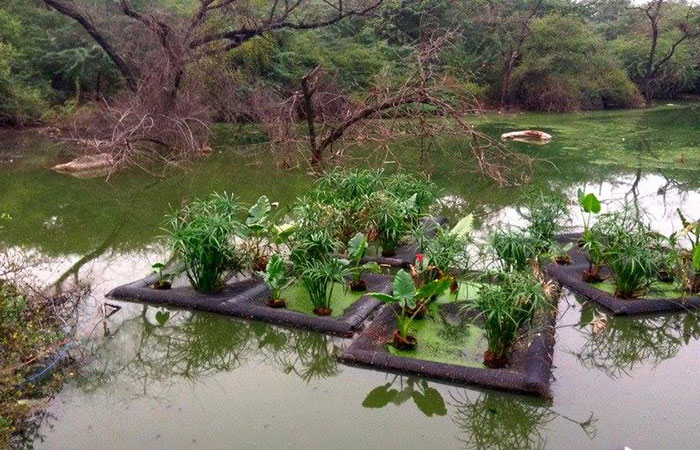 Naini Lake NDMC to start Naini lake rejuvenation In Jan. 2017, the long-neglected Naini lake rejuvenation plan got a fillip, it is claimed, after the visit of union culture and tourism minister Mahesh Sharma and area MP and union science & technology minister Dr Harsh Vardhan. With the tourism ministry's assurance of monetary assistance, the North Delhi Municipal Corp proceeded with the revamp of the few surviving water bodies in the capital. https://timesofindia.indiatimes.com/city/delhi/north-delhi-municipal-corporation-to-kickstart-naini-lake-rejuvenation/articleshow/56743354.cms (The Times of India, 24 Jan. 2017)
Rs 1 cr cleared for Naini Lake redevelopment In Feb. 2017, five months after the NDMC passed a resolution to complete the redevelopment work of Naini Lake on its own, its commissioner PK Gupta has allocated Rs 1 crore for the project. The corporation decided to develop the lake in Model Town on the lines of Kankaria Lake in Ahmedabad, following a visit to the state by its officials.
The plan was prepared by environmentalist CR Babu and proposals like mechanical desilting of the lake bed, aeration arrangement using pumps and sprinklers, installation of effluent treatment plant, rainwater harvesting system to recharge the lake along with development of green area and lightning arrangement have been approved. However, other proposals like laser shows, zorbing and heavy power boats have been excluded from the plan submitted by Prof Babu, from Centre for Environmental Management of Degraded Ecosystems.
In Feb. 2016, residents started 'Save Naini Lake' campaign which caught attention of the then Delhi tourism minister Kapil Mishra and a plan was put in place with the north civic body.
However, in August 2016, the BJP-led corporation decided not to renew the Delhi tourism department's lease to manage the lake and junked the agreement, deciding instead to "redevelop" the lake on its own, despite being cash strapped.
Meanwhile, the civic body continues to pump groundwater from borewells into the lake, which might pose threat to the water body and its aquatic life. https://timesofindia.indiatimes.com/city/delhi/rs-1cr-cleared-for-naini-lake-redevelopment/articleshow/57279931.cms (The Times of India, 22 Feb. 2017)
Delhi Water Bodies Revive all the water bodies: NGT On 19 May 2017, the NGT has directed the Delhi government and the civic bodies to restore expeditiously all water bodies in the city and ensure that these remain clean & not become a waste-dumping yard. It also said that the water bodies surrounding colonies should be maintained and kept clean so that they become source of natural beauty for the residents of the area.
The green panel had also approved a proposal put forward by Delhi Jal Board to revive Rajokari water body in south-west Delhi and develop it an aesthetic manner. However, it made it clear that there should be no use of any "concrete, cement or brick" and should not result in changing the natural geomorphology of the area.  http://indianexpress.com/article/india/restore-and-clean-water-bodies-expeditiously-ngt-directs-delhi-govt-civic-bodies-4666238/ (The Indian Express, 21 May 2017)
Half of Delhi's 1000 water bodies lost to pollution encroachment As per June 2017 report, more than half of Delhi's 1000 water bodies have either dried up, encroached upon or acquired for infrastructure development. Official estimates also show that around 200 water bodies in the city have been partially or fully encroached upon. And those which still have some semblance of a water body left are being used as sewage and waste dumping spots and are drying up. Experts said that the ponds located in the villages and illegal colonies are the most vulnerable. With no proper drainage system in these areas, locals use these water bodies as dumping grounds.
Similarly, several of the city's perennial water bodies have either partially or completely dried up over time. Many dried up water bodies have become playing fields for the locals and grazing grounds for cattle. In some areas parks and roads have been developed on the dried up beds of the water bodies. Apart from the falling water table and the interrupted flow of water channels, experts say that changing rainfall pattern could also be one of the factors behind drying up of the water bodies. https://www.hindustantimes.com/delhi-news/half-of-delhi-s-1-000-water-bodies-vanished-due-to-garbage-dumping-encroachments/story-2zqIpkq6N0eVqdKx97Le2L.html  (Hindustan Times, 19 June 2017)
Yamuna Wetlands  Bird population rises AWC 2017 has revealed an increase in bird population in the Delhi stretch of Yamuna. Around 2,641 birds belonging to 24 species have been spotted in 2017. Around 590 birds belonging to 23 species were spotted in 2016, while in 2015, 641 birds belonging to 19 species were seen. According to the ecologists, the presence of black-winged stilt shows the foul quality of the river in the city. However, not all think the number of birds spotted is too big and if one leaves out the gulls, the number of birds is not too much as out of the birds spotted, over 2,000 are gulls.
The AWC earlier had also revealed that bird population has doubled in Okhla in the past one year. Nearly 53 species with a total of 6,183 birds were counted at the Okhla Bird Sanctuary compared to last year's 3,113 with 46 species. The census is carried out simultaneously in 27 countries from January 7 to 21. https://www.hindustantimes.com/delhi-news/census-2017-bird-population-rises-in-delhi-stretch-of-yamuna-despite-degraded-habitat/story-wGZmfsRuLku32vkh1k8C7J.html (Hindustan Times, 12 Feb. 2017)
Najafgarh Wetlands  Haryana finally recognises Najafgarh lake as a water body After claiming there was no natural lake in the Najafgarh area, the Haryana government in Feb. 2017 took a U-turn and informed the NGT that it has accepted the lake as a water body. The re-designation would enable the governments of Haryana and Delhi to check construction and other activities in the dried up water body and restore its natural beauty.
The government informed the NGT that the matter however has still to be approved by the competent authority of the state government and it was under process. The state government had earlier claimed that there was no natural lake in Najafgarh but only a "low-lying area" existed.
Noting the submissions, the NGT directed Delhi government to take "appropriate steps in accordance with law" with regard to the Najafgarh lake in view of the statement made by Haryana government. The submission came in response to a plea filed by an NGO Indian National Trust for Art and Cultural heritage (INTACH) seeking directions to Delhi and Haryana governments seeking revival of the 'jheel' (lake in Urdu), as almost equal parts of it fell in the two states.
INTACH had alleged that the large-scale construction work done in the floodplain of the Najafgarh nallah and the lake had drained the area. It had claimed that sectors 106, 107,108 of Gurgaon were being constructed in the "high flood level" area of the lake, while some construction was also going on in the Delhi side. http://indianexpress.com/article/india/haryana-recognises-najafgarh-lake-as-a-water-body-4540106/ (The Indian Express, 13 Feb. 2017)
In the same month, the Delhi government also roped in Middle East's firm-Ayala Water and Ecology Limited-to spruce up an 8-km stretch of the Supplementary drain a tributary of Najafgarh drain. Importantly, Ayala is also working on Ganga rejuvenation under the Ministry of Water Resources (MoWR) at a stretch in Rishikesh, and on lakes in Hyderabad and Bengaluru. https://www.indiatoday.in/mail-today/story/aap-delhi-drain-cleanup-yamuna-najafgarh-drain-israeli-firm-roped-in-959571-2017-02-08 (India Today, 8 Feb. 2017)
Before this, in Jan. 2017, AWC survey has reported decline in number of birds species at Najafgarh Lake. The survey hold global climate change responsible for change in the migration trend of birds as well the decline and shrinking of wetlands.  http://www.thehindu.com/news/cities/Delhi/Fewer-migratory-birds-at-Najafgarh-Lake-this-year/article17030996.ece (The Hindu, 13 Jan. 2017)
Also a July 2017 comprehensive report by Neha Sinha in which she rightly narrates how Najafgarh Jheel, in spite of all the atrocities Delhi heaps on it, including calling it a drain, is valued as a wetlands by the birds. http://www.thehindu.com/society/ballerinas-of-najafgarh/article19325363.ece
In August 2017, speaking at a workshop on 'Transforming the Najafgarh Basin', Union Minister of State for Urban Development Rao Inderjit Singh has invited  private companies to rejuvenate the Najafgarh basin. http://www.thehindu.com/news/cities/Delhi/public-private-participation-need-to-rejuvenate-najafgarh-drain/article19512665.ece (The Hindu, 18 August 2017)
Compiled by Bhim Singh Rawat (bhim.sandrp@gmail.com)
For other parts of North India Wetland Review 2017, kindly see following links
J&K Wetland Review 2017:  Siltation, Encroachment & Pollution Choke Wetlands
Uttarakhand Wetlands 2017: Nainital Lake Needs Urgent Attention
Punjab Wetlands 2017: Ramsar Sites Under Severe Threats
Chandigarh Wetlands Review 2017: Sukhna Lake Facing Multiple Problems
Haryana Wetlands Review 2017: Urbanization Taking Over Basai Wetland