Four interesting developments in this week seems to suggest that mankind is being pushed closer to nature based solutions to society's needs. In Brussels in Belgium (Europe), the local government has started to uncover the Senne river that now is hidden under the pavements with the declared objective to "return nature to the city" and the river becoming an ecological corridor in the city.
In USA, the Army Corps of Engineers, more known as Dam builders, have over the last five years, moved towards nature based flood control by creating wetlands. In the 2020 Water Resources Development Act, US Congress directed the Corps to consider nature-based systems on equal footing with more traditional infrastructure. Its possibly a baby step, but a very significant one for a traditional dam building organisation that has stopped building dams and have been working towards decommissioning dams.
Closer in India's neighbourhood, Bhutan has commissioned its first solar (& wind) station, a clear step to move away from its reliance on hydropower projects. The massive fiasco of Punatasangchu I and II HEPs and advocacy by a lot of people may have played role in this.
And within India, the Kerala government's official move to abandon the controversial Athirappilly Hydropower project against which the Chalakudy Puzha Samrakshan Samiti, formerly led by Bhagirath Prayas Award winner let Dr Latha Anantha, waged a struggle for over 25 year. Dr Latha would have been very happy about this. And hope this will bring better sense among Indian governments to abandon pushing the unviable hydropower projects.
While all of these are significant steps and indications, there should be no illusion that this does not necessarily mark a break from the past disastrous projects. It will take a lot of work to ensure that these initial steps lead to complete break from the past and more nature based decisions. But these developments are worth taking note of.
Brussels uncovers hidden waterway Brussels had the Senne — until they paved over it. Now, bit by bit, the Belgian capital is starting to uncover its long-hidden waterway to eventually "return nature to the city". "It's a real paradigm shift," Benjamin Thiebaux, heading up the project for the regional environmental agency, told AFP.
– "We can now start thinking about no longer covering up the river and giving it back to Brussels residents," he said. The preparatory phase of the progressive unveiling of the Senne was cleaning up its waters, started in 2007. The small river was cemented over in the late 19th and early 20th centuries because it had long served as a sewer and industrial dumping ground, whose turgid course stank up Brussels and posed a health hazard.
– Most of the Senne's course through the city was erased from the surface, built over to create boulevards and big buildings, with its course diverted and only parts left accessible on Brussels's outskirts. The Brussels region on Oct 5, 2021 is inaugurating the first 200-m stretch of the Senne to be brought out of the dark. The covered-up parts of the river — around two-thirds of the 15 kilometres of its course through the city — have over time become the base for indispensable urban structures, such as the city's main railway station. Currently, a riverside walkway exists along just 600 metres of the Senne in the southern district of Anderlecht. The plan is to double that promenade over the next three years, with the addition of a city-centre park, picnic tables and bike paths. The objective is that "the river again becomes a true waterway that can be a source of pleasure, of leisure, of well-being," said Aude Hendrick, curator of the city's Sewer Museum.
– The goal is for the Senne to once again become "an ecological corridor, with the water purified by the plants, which will also provide shelter" for fish and birds. https://www.rfi.fr/en/a-river-runs-through-it-brussels-uncovers-hidden-waterway (05 Oct. 2021)
Army Corps of Engineers considers nature-based flood control A new initiative by USA's Army Corps of Engineers, known more for building dams, seeks natural flood control solutions as climate change brings increasingly frequent and severe weather events that test the limits of concrete and steel. In the 2020 Water Resources Development Act, Congress directed the Corps to consider nature-based systems on equal footing with more traditional infrastructure. And the initiative was directly funded for the first time last year with $12.5 million.
– In Missouri, the Corps recently completed a levee setback along the Missouri River after the existing levee was overtopped and breached by flooding in 2019. Rather than simply repairing the levee, the Corps built a new 5-mile (8-kilometer) stretch farther from the river, opening up about 1,000 acres (405 hectares) of floodplain to help reduce future flooding while providing habitat for rare and declining species.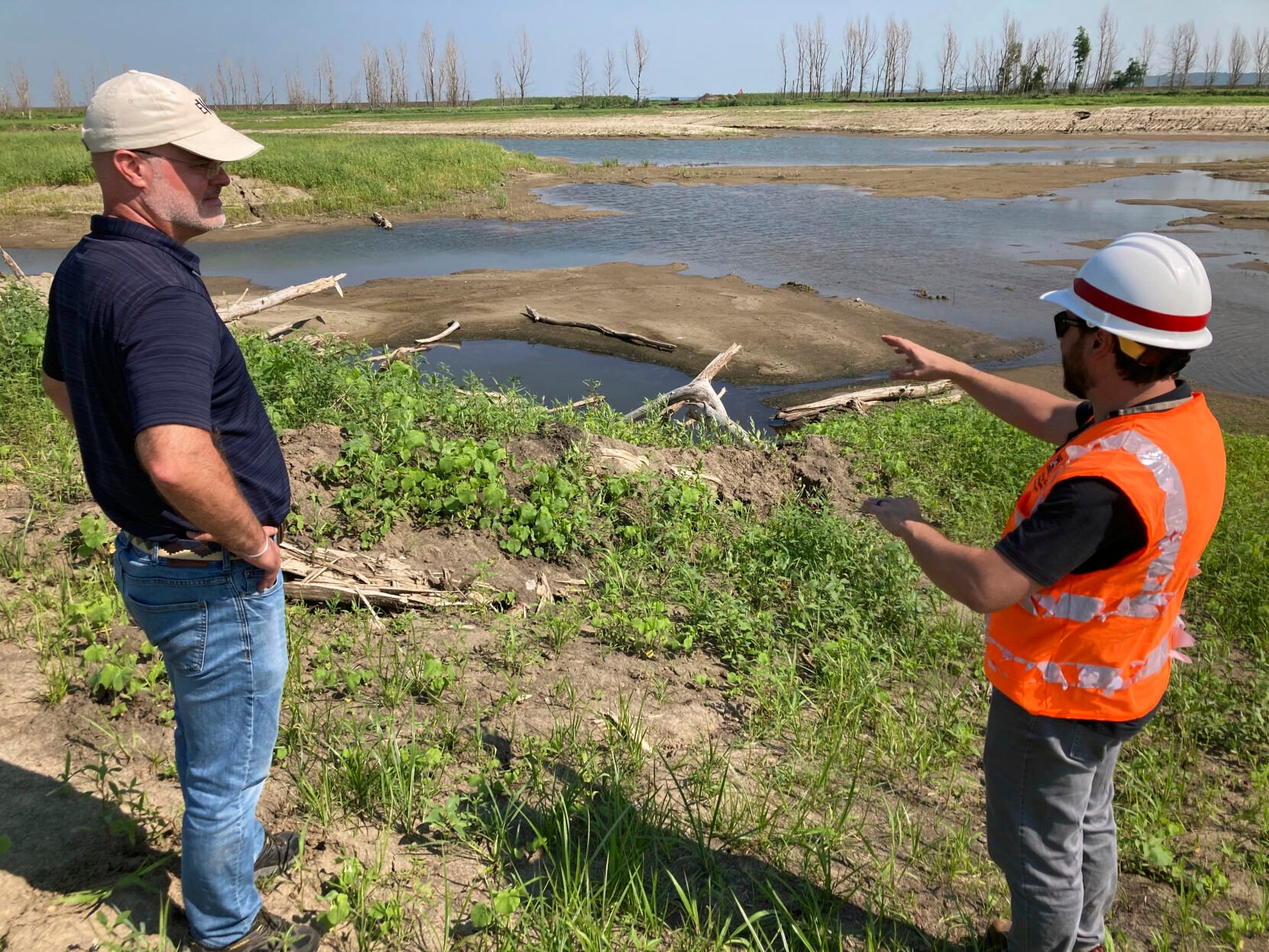 – Bridges hopes new 1,000-page international guidelines for nature-based systems (released on Sept 16, 2021), five years in the making, will push the Corps to take nature-based solutions more seriously. The manual was developed in collaboration with the Netherlands and the United Kingdom, among others. "How we evaluate benefits (of nature-based solutions) is the key issue," Bridges said. Putting monetary value on their flood protection is a first step. Bridges also wants the Corps to recognize social and environmental benefits not traditionally considered. Relatively little has been done to quantify benefits of nature-based flood control, but a 2016 study estimated coastal wetlands saved northeastern states from more than $625 million in damages during Superstorm Sandy. https://tucson.com/news/national/army-corps-of-engineers-considers-nature-based-flood-control/article_bedeae3b-7d47-59a8-9625-baf7a83e75d5.html (05 Oct. 2021)
Bhutan First 180kW grid-tied solar plant in Ruebisa A 180-kilowatt (kW) grid-tied solar power plant project was inaugurated on Oct 4, 2021 at Ruebisa, Wangdue. The pilot project is the first of its kind in Bhutan, and the energy generated is feeding electricity into the national grid. With 464 solar panels, the will produce 263,000 units of energy a year, adequate to meet the electricity demands for 90 households. The USD 210,000 project was executed by DRE in collaboration with BPC as the implementing agency. The project was funded by the government of Japan, supported by UNDP.
– Director of the Department of Renewable Energy (DRE), Phuntsho Namgyal, said that Bhutan was endowed with 12,000 MW of solar power potential. One imminent project is the construction of Bhutan's first mega solar power plant, a 17MW plant in Sephu, Wangdue. https://kuenselonline.com/first-180kw-grid-tied-solar-plant-in-ruebisa/ (05 Oct. 2021)
Kerala Controversial Athirappilly HEP scrapped The Kerala government has called off the proposed 163-megwatt Athirappilly hydroelectric power project on the Chalakudy river basin in Thrissur district, confirmed state electricity board officials. The decision came amid mounting opposition from environmentalists and tribal organisations against the construction in the biodiverse and state's only riverine forest. The forest department will return Rs 4.11 crore deposited about two decades ago by the Kerala State Electricity Board (KSEB) as seigniorage for cutting and removing trees from the proposed project construction area. A high-level meeting involving top officials of the department and board decided to facilitate an immediate transfer of the amount. https://www.downtoearth.org.in/news/governance/kerala-government-abandons-controversial-athirappilly-hydroelectric-project-amid-widespread-protests-79564 (07 Oct. 2021)
HYDRO POWER PROJECTS
Sikkim Voice Against Teesta Hydropower Projects Gain Momentum The Lepchas of Dzongu in North Sikkim resumed their protests against the construction of proposed mega hydropower projects on the river Teesta. Hundreds of people gathered at Namprikdang to demonstrate their strong opposition against the 520 Mw Teesta Stage-IV power project and 300 Mw Panan power project, both constructed in Upper Dzongu. Affected Citizens of Teesta (ACT) demanded immediate scrapping of all hydel projects to protect environmental and socio-cultural ethos along the region. This protest also witnessed the presence of Bongthings – the Lepcha priests, who performed rituals seeking blessings to help them "Save Teesta".
– Earlier, the organization strongly condemned the 'Blue Planet Prize' award given to National Hydroelectric Power Consumption (NHPC) Ltd for its Teesta-V 510 Mw power station at Dikchu, East Sikkim. https://www.northeasttoday.in/2021/10/07/sikkim-voice-against-teesta-hydropower-projects-gain-momentum/ (07 Oct. 2021)
Assam Lower Kopili HEP bhoomi poojan MORE PUBLIC MONEY FOR UNVIABLE HYDRO PROJECTS AND MORE DESTRUCTION OF RIVERS AND PEOPLE Union Finance Minister Nirmala Sitharaman has performed bhoomi pujan for Assam Power Generation Corporation Ltd's (APGCL) 120 MW Lower Kopili Hydro Electric Project at Longku, Dima Hasao today. The Kopili Hydro Electric Project is to be completed at a cost of Rs 2200 crore, out of which Rs 1700 crore was sanctioned by the Union Government. https://newslivetv.com/fm-nirmala-sitharaman-performs-bhoomi-pujan-for-kopili-hydro-electrict-project-in-dima-hasao/ (07 Oct. 2021)
Uttarakhand Podcast on impact of dams Ravi Chopra, founder Director of the People's Science Institute in Dehradun on MoEF permitting 7 controversial hydropower projects in Uttarakhand and how hydro power projects are causing disaster, vulnerable to increasing disasters apart from being economically unviable. https://www.thehindu.com/podcast/the-impact-of-dams-in-the-himalayas-in-focus-podcast/article36838970.ece (05 Oct. 2021)
Paper Energy generation in the canal irrigation network in India ABSTRACT: This paper develops a novel canal-network level framework for energy planning that integrates generation with local energy needs in a canal-corridor. This framework for integrated spatial assessment analyzes the supply of renewable energy generation potential and the demand of unmet energy needs in a canal-corridor, using the Upper Ganga Canal in Uttar Pradesh, India as a case study. We consider the theoretical and technological potential of hydropower and solar power generation and develop three indices to assess the agricultural, domestic, and composite unmet power demand of the canal-corridor. Our results show an overall theoretical potential of 149.1 MW and 13,213 MW for small hydropower and solar power, respectively, which could more than help meet the current 18 hours per day electricity service standard in Uttar Pradesh. The framework uses standardized irrigation and census datasets and therefore is generalizable for canal networks across India and South Asia more broadly. https://www.sciencedirect.com/science/article/abs/pii/S1364032121009667
MoEF Minutes of EAC on River Valley Projects held on Sept 27, 2021, key decisions:- 500 MW Chitravati Pumped Storage Hydroelectric Project in 136 ha located at village Peddakotla and Parnapalli, Tehsil Tadimarri, District Anantapuram, Andhra Pradesh by New & Renewable Energy Development Corp of AP Ltd: TOR approved. INTERESTINGLY, the EAC had this meeting with just one project on its agenda, an unprecedented kind of event! http://environmentclearance.nic.in/writereaddata/Form-1A/Minutes/0410202114335378Approved_MoM_of_17th_EAC_RVHEP_held_on_27-9-2021.pdf
Key relevant decision of FAC meeting held on Sept 17, 2021:- Proposal for diversion of 397.8863 ha forest land in favour of SJVN Ltd for the construction of Sunni Dam Hydroelectric Project (382 MW) in Shimla, Kotgarh and Karsog Forest Divisions, in Dist Shimla and Mandi, Himachal Pradesh: DEFERRED, more info sought. http://forestsclearance.nic.in/writereaddata/FAC_Minutes/10116125912111ApprovedMoMofFAcheldon17-9-2021.pdf 
DAMS
Sardar Sarovar Project In this short clip, Sitarambhai talks about the impact of the dam on the Narmada River and how pure its water was before it was damned. https://www.youtube.com/watch?v=xd_Eaw8_1nk (11 Oct. 2021)
Songs of the Narmada Bachao Andolan https://thebastion.co.in/politics-and/environment/conservation-and-development/sangharsh-ke-sangeet-songs-of-the-narmada-bachao-andolan/ (30 Sept. 2021)
Telangana Do not enter lands, farmers tell officials Asserting their rights on the lands acquired for Thotapally reservoir by the Telangana Government, which was discarded later, the farmers of Ogulapur in Chigurumamidi mandal in Karimnagar district erected flex boards, asking officials not to enter their lands. The flexi boards appeared in the fields on Saturday (Oct. 9), the day some revenue officials planned for a survey of lands in the village. https://www.thehindu.com/todays-paper/tp-national/tp-andhrapradesh/do-not-enter-lands-farmers-tell-officials-in-telangana/article36923626.ece (10 Oct. 2021)
The State government has been taking all measures for the completion of the pending irrigation projects by allocating Rs 25,000 crore in the budget, said Minister for Major Irrigation T Harish Rao. Speaking after inaugurating the Thotapalli link canal at Ogulapur village of Chigurumamidi mandal in Karimnagar district on Wednesday (Feb. 17, 2016), Mr Harish Rao said that they would complete the Mid Manair Dam (MMD) reservoir across the SRSP flood flow canal in Karimnagar by June 2016 and store at least 25 tmcs of water. Similarly, they would also complete Gandipalli and Gouravelli reservoirs within one year and provide irrigation sources to the upland Husnabad mandal, he added.
Stating that they were taking up Gouravelli project at a cost of Rs 1,000 crore and Gandipalli reservoir at a cost of Rs 334 crore, he said that they were taking link canal to the above reservoirs at a cost of Rs 119.93 crore. He said that they would provide compensation as per norms under GO number 123 and appealed to the farmers cooperate with the government.
In the name of Thotapalli reservoir, there was no developmental activity in Ogulapur, Gagigillapur and Narayanpur villages. They would cover the losses of development by announcing special package for these three villages. The land acquired from the farmers would be returned back to the farmers at lesser rates. If not, they would establish industries and provide employment to the local youth. They were also examining to purchase the land and provide the same to the SC under the three acres land scheme, he maintained. https://www.thehindu.com/news/national/telangana/pending-projects-get-rs-25000-crore/article8250892.ece (18 Feb. 2016)
Shelving of the ambitious Thotapalli balancing reservoir to be constructed as part of the SRSP flood flow canal in the upland Ogulapur village of Chigurumamidi mandal is snowballing into a controversy with the land oustees and opposition parties up in arms against the State government.
The Thotapalli balancing reservoir was proposed in Obulapur village to provide water for irrigation to the upland Husnabad region in the district. Accordingly, foundation stone was laid for the project in 2007 by the then Chief Minister Y.S. Rajashekhara Reddy. The project should have been completed in 2008 itself, but the executing agency delayed works and those taken up were carried out in an unscientific manner. https://www.thehindu.com/news/national/telangana/government-abandons-thotapalli-project/article7314397.ece (14 June 2015)
Gouravelli oustees seek payment on a par with Mallannasagar The oustees of Gudatipally village that would submerge under the proposed Gouravelli reservoir made it clear to the officials on Thursday (Oct. 7) that they must be paid compensation on par with oustees of Mallannasagar who were displaced from villages with a good compensation paid by the government. Further, they said that they would not vacate the village till all payments were cleared. https://www.thehindu.com/todays-paper/tp-national/tp-telangana/gouravelli-oustees-seek-payment-on-a-par-with-mallannasagar/article36924255.ece (10 Oct. 2021)
Mallannasagar oustees are getting ready for another round of agitation as the officials are yet to keep the promises. https://www.thehindu.com/news/national/telangana/mallannasagar-oustees-plan-another-round-of-agitation/article36883111.ece (07 Oct. 2021)
Slowly, but surely, the issue of Gouravelli reservoir is reaching the boiling point. Both government and the oustees are sticking to their guns. "We are ready to extend all payments to the oustees at one stake and all steps are being taken in this direction. For many oustees the amounts were paid about five years ago. We appeal to the oustees of Gudatipally and Samaji Tanda to vacate the villages voluntarily," said Collector P. Venkatarami Reddy, in appeal made to oustees on Wednesday at a meeting held at camp office at Mulugu. The Collector said that the government had already transferred ₹58 crore to his account to make payment for the remaining 272 acre that was required for Gouravelli reservoir.
Meanwhile, the oustees of Gudatipally, which would be submerged in Gouravelli reservoir, appealed to the authorities not to go ahead without completing inquiry under Section 15(2) of Fair Compensation and Transparency in Land Acquisition, Rehabilitation and Resettlement Act – 2013 (LA Act – 2013). "After issuing notification under Section 11(1), the authorities have to answer our objections in writing and have to provide us detailed project report (DPR) in Telugu. We appeal to authorities to provide an opportunity to present our objections," the oustees said. They submitted a memorandum to land acquisition officer RDO on Thursday (Sept. 30). "We are not ready to vacate our villages till our demands are met. We had seen the bitter experiences of oustees at Mallannasagar and Kondapochamma reservoirs. No official will address our problems once we vacate our villages," an oustee from Gudatipally told The Hindu. https://www.thehindu.com/news/national/telangana/vacate-villages-voluntarily-collector/article36761299.ece (30 Sept. 2021)
Farmers of Gudatipally in Akkannapet mandal of Husnabad revenue division were not ready to part with their land for Gouravelli reservoir if they do not get a proper compensation. They made this clear in a meeting held by Collector P. Venkatarami Reddy and attended by MLA V. Sathish Kumar. "Pay us the right compensation and only then acquire land from us," was what the farmers told the officials in the three-hour long meeting held at Siddipet Collectorate on Friday (Sept. 24) evening. https://www.thehindu.com/news/national/telangana/gudatipally-farmers-demand-fair-compensation/article36669201.ece (25 Sept. 2021)
A three-member committee constituted by the NGT visited Gouravelli reservoir on Wednesday (Sept. 22) and examined the issues that were brought to its notice. The members are P.S. Kautilya, member, Godavari River Management Board, M. Ramesh Kumar, Director, M&A, and Dr. E. Arockia Lenin, Scientist C. The visit continued from 10 a.m. to 3 p.m. during which they interacted with officials and representatives of oustees. https://www.thehindu.com/news/national/telangana/oustees-submit-memo-to-ngt/article36614100.ece (22 Sept. 2021)
The oustees of Gudatipally have urged the authorities to provide complete details of Gouravelli reservoir with enhanced capacity. They said that their repeated appeals to the officials failed to yield any result. https://www.thehindu.com/news/national/telangana/oustees-seek-complete-details-of-project/article36252085.ece (02 Sept. 2021)
Homes of nine oustees damaged by rain In a shocking incident, the rooftops of as many as nine houses were damaged at Mamidyala village in the Rehabilitation and Resettlement colony of Kondapochamma oustees. The incident took place on the intervening night of Sept. 9-10. Heavy rains coupled with huge gales resulted in flying of rooftops of these houses constructed with thick plastic sheets. The government constructed houses for the oustees of Kondapochammasagar reservoir at Mutrajpally. While permanent double bedroom houses were constructed to those who surrendered early and handed over lands and houses to the government, single bedroom houses were constructed to those who challenged the government and approached the High Court. Their houses were constructed in low-laying areas and it was such a painful situation that they had to spend sleepless nights whenever there were black clouds/rain. This was not for the first time that rainwater had entered their houses. However, this time the rooftops of their houses were flown in the air and fell on poles. https://www.thehindu.com/news/national/telangana/homes-of-nine-oustees-damaged-by-rain/article36933929.ece (10 Oct. 2021)
According to sources, at least 26 families are yet to receive permanent double bedroom houses, as a result of which they had been staying in makeshift houses in the colony. The temporary houses were provided to those oustees who had moved the High Court previously. In another incident, tension prevailed in the area after an electric pole fell on top of one of the houses. However, no one was injured in the incident. Meanwhile, the residents slammed the officials for not vising the colony after learning about the incidents. https://www.newindianexpress.com/states/telangana/2021/oct/11/makeshift-houses-of-kondapochamma-oustees-collapse-in-telanganas-siddipet-2370180.html (11 Oct. 2021)
INTERLINKING OF RIVERS
KEN BETWA PROJECT: This report, interestingly, does raise the question of conditions in the stage I FC, but only one or two of them. There are other conditions which is not mentioned here. The report also does not mention the issue of WL Clearance and the adverse CEC report pending before the SC, among others. https://timesofindia.indiatimes.com/city/bhopal/ken-betwa-project-grapples-with-pending-environment-clearances/articleshow/86923099.cms (11 Oct. 2021)
INTERSTATE WATER DISPUTES
Centre to take over irrigation projects in Andhra Pradesh, Telangana The Central government is set to take over all the completed and ongoing major and medium irrigation projects on Krishna and Godavari rivers in Telangana and Andhra Pradesh with effect from October 14, according to the gazette notifications issued by the Union ministry of Jal Shakti on July 15. As per the gazette notification, both the Telugu states would have to bear the expenditure on salaries and allowances of the personnel belonging to the Central Industrial Security Force (CISF), who would man the irrigation projects. Besides, the two states would also have to deposit ₹200 crore each for the operation of the two boards within the next two months. It is learnt the two states have expressed their inability to deposit this money with the boards. https://www.hindustantimes.com/india-news/centre-to-take-over-irrigation-projects-in-andhra-pradesh-telangana-101631732581872.html (16 Sept. 2021)
Krishna Water Dispute Telangana, Andhra oppose Karnataka's plan to construct a balancing reservoir In May, the Karnataka Cabinet finally revived and cleared a decade-long plan to construct a balancing reservoir with a storage capacity of 40 thousand million cubic feet (tmc ft) along the Tungabhadra river in Navali, Koppal district, since the State was losing out on its share of Krishna waters because of the silt that has accumulated on the bed of the Tungabhadra dam. Though the storage capacity of the Tungabhadra reservoir is 134.7 tmc ft, thanks to gross mismanagement and because the dam was never desilted, the storage capacity has sunk by 31 tmc ft. The Karnataka Cabinet had given its sanction for the preparation of a detailed project report (DPR) and asked the Karnataka Neeravari Nigam to undertake it.
– On hearing about Karnataka's plans to construct a balancing reservoir at Navali, officials from Andhra Pradesh disclosed that they would construct a parallel canal from Tungabhadra foreshore to draw up to two tmc ft a day. This, they claimed, would forestall Karnataka's need to construct a new balancing reservoir at Navali on the upstream of the Tungabhadra dam.
– Officials from Telangana's Irrigation Department who participated in the Tungabhadra Board meeting on September 29 have asked their counterparts from Karnataka to submit a DPR on the proposed balancing reservoir. Even while asking Karnataka to share details of the DPR, Telangana officials made it clear that they were vehemently opposed to the proposal from Andhra Pradesh to construct a parallel canal from the Tungabhadra foreshore. https://frontline.thehindu.com/dispatches/karnataka-to-construct-a-balancing-reservoir-across-the-tungabhadra-river-raises-objections-from-telangana-and-andhra-pradesh/article36751938.ece (30 Sept. 2021)
Tungabhadra: Telangana has termed the request of Andhra Pradesh for diversion of additional 2 tmc ft of water from Tungabhadra Dam to the TBP-Right Bank High Level Canal (HLC) as "untenable and against the Krishna Water Disputes Tribunal-I award and would be detrimental to the requirements of Rajolibanda Diversion Scheme (RDS) already getting deficit flows. In a letter addressed to the Secretary of Tungabhadra Board, Engineer-in-Chief (General-Irrigation) of Telangana C. Muralidhar said on Tuesday that utilisation of Krishna water for Kurnool-Cuddapah (KC) Canal from Srisailam reservoir by A.P. for diversion of another 2 tmc ft water to HLC from Tungabhadra dam, in addition 2 tmc ft water already being diverted, is not agreeable to Telangana till RDS gets its quota. https://www.thehindu.com/news/national/telangana/ts-terms-aps-plan-to-divert-water-to-hlc-untenable/article36843845.ece (05 Oct. 2021)
Telangana objects to Andhra constructing Jiledubanda reservoir Red-flagging the plans for the Jiledubanda reservoir, a letter written by C. Muralidhar, Telangana Irrigation and Command Area Development Engineer-in-Chief (General), explained that Andhra Pradesh, as per approvals from both the Central Water Commission and the Ministry of Water Resources, could divert only 34 tmc ft of water from the Srisailam reservoir during flood flows. But, during the current water year, Andhra Pradesh had already diverted 82 tmc ft of water from Pothiredddypadu head regulator and 11.2 tmc ft from Handri Neeva Sujala Sravanthi (HNSS) lift irrigation, totaling 93.29 tmc ft of water. Any diversion of water by Andhra Pradesh from Srisailam reservoir, according to Muralidhar, needed to be immediately stopped by the KRMB.
Telangana claims that these "fresh" diversions of water by Andhra Pradesh will affect the needs of Telangana in the Krishna basin areas "from Srisailam and Nagarjunasagar", with the new irrigation schemes of Andhra Pradesh "further worsening the situation". https://frontline.thehindu.com/dispatches/telanganas-objects-to-andhra-pradesh-constructing-the-jiledubanda-reservoir-in-anantapur-district/article36834424.ece (05 Oct. 2021)
The Telangana government urged the Krishna River Management Board (KRMB) to take only 20% of water for drinking purpose while considering water utilisation of the state. The government said it was seeking allocation of 15 tmcft (withdrawal of 75 tmcft) utilizations towards domestic water requirements for the projected population till 2051. https://timesofindia.indiatimes.com/city/hyderabad/take-only-20-water-from-krishna-river-for-drinking-purposes-telangana-tells-krmb/articleshow/86844873.cms (07 Oct. 2021)
The Telangana government on October 6 withdrew its petition in the Supreme Court for an "equitable apportionment" of Krishna river waters among the riparian States. Telangana's withdrawal comes in the wake of an assurance given by the Union government that it will "consider" the constitution of a new tribunal to resolve the vexed issue. Justifying its decision to withdraw its petition, Telangana stated that Union Minister of Water Resources Gajendra Singh Shekhawat had, during a meeting, put forth a proposal that the Centre would consider the formation of a tribunal subject to Telangana withdrawing its "equitable apportionment" plea.
Counsel for Telangana stated that Chief Minister K. Chandrashekar Rao acquiesced to act on the proposal put forth by the Union Minister. Telangana stated that the Centre had expressed the view that it would, after taking the necessary legal opinion, "positively" consider forming a tribunal under provisions of the Inter State River Water Disputes Act, 1956.
Legal opinion on whether the Centre can form a new tribunal on the issue is mixed since the Krishna Water Disputes Tribunal-II (KWDT II), constituted in 2004, is already adjudicating on the matter. https://frontline.thehindu.com/dispatches/telangana-withdraws-plea-in-supreme-court-on-krishna-water-share-after-centres-assurance-on-forming-a-new-tribunal/article36864145.ece (06 Oct. 2021)
Telangana government has raised its concern over the plan of neighbouring Andhra Pradesh to enhance the scope of Handri-Neeva Sujala Sravanthi (HNSS-lift irrigation project), a surplus water based project taken up outside the Krishna Basin, by taking up a new reservoir with irrigation potential of 23,000 acres as part of the HNSS phase-two. https://www.thehindu.com/news/national/telangana/ts-raises-concern-over-aps-plan-to-expand-handri-neeva-scope/article36825428.ece (04 Oct. 2021)
Telangana government has addressed one more letter to the KRMB, this time requesting the river board to restrain Andhra from executing works pertaining to the Galeru-Nagari Sujala Sravanthi (GNSS) lift irrigation project with enhanced scope of the surplus water-based project. https://www.thehindu.com/news/national/telangana/telangana-urges-krmb-to-stop-aps-gnss-expansion-works/article36761410.ece (30 Sept. 2021)
Godavari Water Dispute Telangana terms Andhra's DPR unwarranted Telangana and neighbour Andhra Pradesh are once again involved in bitter water wars as Telangana has reacted strongly to referring detailed project reports (DPRs) of its irrigation projects to AP. In a letter to Godavari River Management Board chairman J Chandrasekhar Iyer, irrigation special chief secretary Rajat Kumar said DPRs of projects such as Choutpally Hanumanth Reddy Lift Irrigation Scheme and Chanaka-Korata Barrage have been referred to AP for its observations and comments which, he said, was unwarranted. "The projects were well within the water allocations made to Telangana and there were no inter-state issues involved here. The Choutpally Hanumanth Reddy LIS was taken up, executed and commissioned under the united AP government and has been in operation for six years. Chanaka-Korata project was approved as per the GRMB gazette notification and was taken up as per an agreement with Maharashtra and AP and subsequently between Telangana and Maharashtra," Rajat Kumar pointed out. https://timesofindia.indiatimes.com/city/hyderabad/referring-dprs-to-ap-unwarranted-t/articleshow/86792851.cms (06 Oct. 2021) https://www.thehindu.com/news/national/telangana/ts-urges-grmb-not-to-seek-comments-of-ap-on-2-dispute-free-projects/article36845907.ece (05 Oct. 2021)
URBAN RIVERS
Sabarmati; Ahmedabad Polluting units to be named, shamed & prosecuted: HC Industrial units found to have discharged pollutants into the Sabarmati river in Gujarat will not be provided water and power. They will also be penalised, named and shamed, the Gujarat High Court said in a recent order. All such polluting units will also be banned from participating in any industrial fair, public-private partnership events, etc, the court added. The two-judge bench of Justice B Pardiwala and Justice Vabhavi D Nanavati had taken suo motu cognizance of the slow death of the river due to effluent discharge. https://www.downtoearth.org.in/news/pollution/dying-sabarmati-polluting-units-to-be-named-shamed-and-prosecuted-says-gujarat-hc-79541 (05 Oct. 2021)
'Involve all citizens to revive river' The bench of Justice J B Pardiwala and Justice V D Nanavati issued a slew of directions to authorities and asked the Joint Task Force (JTF), which had been formed to curb river pollution, to take assistance of experts and institutes to revive and rejuvenate the Sabarmati. The issue HC had taken suo motu cognizance of improperly treated sewerage being discharged into the river from the STP near Pirana. The amicus curiae Hemang Shah inspected the places and came up with a report on basis of which the HC constituted the JTF.
As the polluting industries are located in the Gujarat Industrial Development Corporation estates, the HC has issued notice to GIDC. The court has sought report on measures ordered by next hearing on October 21. https://timesofindia.indiatimes.com/city/ahmedabad/involve-all-citizens-to-revive-river/articleshow/86663265.cms (01 Oct. 2021)
Mutha; Pune Water quality between Khadakwasla dam, Mundhwa bridge most polluted: Report While the main cause of pollution along this stretch of river is sewage runoff as faecal coliform increases 10 times in the western part of Pune city, other sources include: industrial pollution from chemical industries such as electroplating; agricultural runoff containing fertilisers; and untreated sewage. However, the report also found that when fresh water from sources such as the Ghod river merges with the existing river, it rejuvenates the health of the river to some extent proving that rivers can be rejuvenated and the damage possibly reversed. https://www.hindustantimes.com/cities/pune-news/chandrabhaga-found-polluted-between-khadakwasla-dam-and-mundhwa-bridge-report-101633795655815.html (10 Oct. 2021)
Coonoor; Coimbatore Formulate plan to check pollution: NGT Coonoor Municipality cannot shirk its responsibility of preventing pollution in the water bodies in Coonoor, in the Nilgiris, as the pollution may impact areas downstream of a river, the Southern bench of the NGT has said. It ordered that an action plan be drawn up to end the problem.
The NGT had taken up the case suo moto in 2020 following a media report that elephants in the area did not have access to proper drinking water as the water bodies in the region were polluted. The Tribunal had formed a joint committee and directed the Coonoor Municipality to come up with a timeline to address the issue of water pollution. https://www.thehindu.com/news/cities/Coimbatore/formulate-action-plan-to-check-water-pollution-in-coonoor-ngt/article36703838.ece (28 Sept. 2021)
Phalguni, Mangalore Lokayukta directs authorities to prevent pollution by Refinery Initiating suo moto proceedings following a story titled "Oily discharge from Mangaluru Refinery Polluting Water Bodies" on October 1, 2021, the Karnataka Lokayukta directed the authorities concerned to take immediate steps to prevent discharge of effluent substances by the Mangalore Refinery and Petrochemicals Limited to the water bodies.
Mentioning the TNIE's story which highlighted the discharge of blackish oily water into stormwater by the Mangaluru Refinery and Petrochemicals Limited (MRPL), which resulted in flowing of contaminated water into the Thokur stream and River Phalguni, leading to massive protest by local people unable to use water, Justice Shetty noted that story highlights that the problem is being aced by the local people for about last six years. https://www.newindianexpress.com/nation/2021/oct/04/tnie-impact-lokayukta-directs-authorities-to-prevent-water-pollution-by-mangalore-refinery-2367497.html (04 Oct. 2021)
Mangaluru refinery polluting water Discharge of blackish oily water from the Mangalore Refinery and Petrochemicals Ltd (MRPL) into the storm water drain in the refinery area, has contaminated water bodies in the region, setting off alarm bells among those living in and around Jokatte and Thokur. Locals complain that they have been seeing blackish water flowing into the Thokur stream since the last one week.
The Nagarika Horata Samiti, a committee formed by locals to take up community issues, complained to MRPL officials about the problems they are facing due to discharge of brackish water. However, contaminated water continues to flow into the Thokur stream and River Phalguni. Locals pointed out that the problem had cropped up about six years ago when petrochemical waste water was let into storm water drains. However, back then, immediate action was taken after a massive protest.. https://www.newindianexpress.com/states/karnataka/2021/oct/01/oily-discharge-from-mangaluru-refinery-polluting-water-bodies-2366046.html (01 Oct. 2021)
Musi, Hyderabad River Front Walk draws attention to pollution Remembering the Musi floods of 1914 which took away lives of 20,000 people and destroyed thousands of houses including the Puranapul bridge, M Vedakumar, Chairman, Forum for Better Hyderabad, recalled how the City Improvement Board was formed by the then Nizam of Hyderabad State by engaging Ali Nawaz Jung and M Visvesvaraya, who built a drainage system to prevent such floods from happening again.
"17 STPs have been setup to treat effluents entering the Musi in recent times, but we have been able to clean only 25% of the 4,000 million litres entering the river from various sources," Vedakumar told Express. Observing that the problem needed to be addressed at the origins, he hoped for more STPs to be setup and also the need for people to take ownership of Musi's protection, which his organisation has been doing since its inception in 2000. https://www.newindianexpress.com/cities/hyderabad/2021/sep/27/musi-river-front-walkdraws-attention-to-river-pollution-2364195.html (27 Sept. 2021)
Diving in river for a livelihood -About grave risks and services offered by Musi coin collectors. https://www.deccanchronicle.com/nation/in-other-news/071021/diving-in-the-musi-youths-pick-coins-for-a-livelihood.html (08 Oct. 2021)
After the incessant rainfall in Hyderabad on October 09, crocodile was spotted on the banks of Musi River in Attapur, Hyderabad. It created panic among locals in the residential area. https://timesofindia.indiatimes.com/videos/city/hyderabad/watch-crocodile-spotted-on-banks-of-musi-river-in-hyderabad/videoshow/86897644.cms (09 Oct. 2021)
Dravyavati; Jaipur Raje alleges mismanagement in riverfront project Former CM Vasundhara Raje on Sept. 23 alleged that due to the insensitivity and negligence of the state government, the Dravyavati River Front project has become a victim of mismanagement. https://www.ndtv.com/india-news/vasundhara-raje-alleges-mismanagement-in-rajasthan-governments-dravyavati-river-front-project-2550742 (23 Sept. 2021)
RIVERS
Opinion Floodplain as water sanctuaries Floodplains and a forested river-corridor along the rivers provide a natural filter to help purify, rejuvenate and restock our water supply writes Venkatesh Dutta.
The Ganga is about 2525km long and its flood terrace is vast. The wetlands on the fringes of Ganga are one of the most productive ecosystems, cleaning and regulating water systems while providing a home for a variety of aquatic plants and wildlife. On a conservative estimate, if 500 metres along both banks are left as no-development zones, it can store huge amount of freshwater. Hundreds of smaller rivers and tributaries of Ganga can also be declared as water sanctuaries. This will ensure a water-positive society, restore rivers, revitalize ecology and sustain biodiversity. https://timesofindia.indiatimes.com/city/lucknow/need-to-create-water-sanctuaries-to-save-humanity/articleshow/86923622.cms (11 Oct. 2021)
Commentary Public perceptions matter in conservation of rivers The ability of rivers to sustain biodiversity and deliver ecosystem services is governed by the degree to which their natural flow regime and connectivity are maintained. No matter how one perceives a river, whether based on its existence, importance to human or key to progress, if rivers are destroyed, civilisations will perish. In India, dams are often symbols of development in the popular mind. It's important to build public perceptions around the ecosystem values of rivers, writes Ranjan K. Panda in this commentary. https://india.mongabay.com/2021/10/commentary-public-perceptions-matter-in-the-conservation-of-rivers/ (05 Oct. 2021)
Book Excerpt 'The Grand Anicut' An excerpt from Veena Muthuraman's novel set in ancient Tamilakam, where the arrival of a Roman trading ship changes everything. https://scroll.in/article/1006841/the-grand-anicut-the-cholas-are-in-control-and-a-dam-is-coming-up-on-the-kaveri-in-this-novel (04 Oct. 2021)
Centre VP calls for national campaign to rejuvenate Indian rivers Vice President M Venkaiah Naidu on Sunday (Oct. 3) called for a powerful national campaign on the need to rejuvenate the country's rivers, saying it has to be done with a sense of urgency. Noting that rivers have always been revered in India for their life-regenerating power, he pointed out that growing urbanisation and industrialisation have led to pollution of rivers and other water bodies in different parts of the country.
"In the past, our villages and cities used to be dotted with several water bodies. In the quest for modernisation, man, driven by greed, has destroyed natural ecosystems and at several places, the water bodies have virtually disappeared or have been encroached upon," he observed. The vice president, who arrived here on Sunday on a tour of the Northeast, began his trip by inaugurating the Heritage-cum-Cultural Centre on the banks of the river Brahmaputra. https://timesofindia.indiatimes.com/india/vice-president-naidu-calls-for-national-campaign-to-rejuvenate-indian-rivers/articleshow/86726304.cms (03 Oct. 2021)
Nagaland-Assam Bhogdoi dying a slow death The rampant coal mining in Nagaland, coupled with waste discharge from tea estates and encroachment have been sounding death knells for River Bhogdoi in Assam. The river, one of the south bank tributaries of the mighty river Brahmaputra, originates from Mokokchung in Nagaland where it is also known as Tsujenyong nullah. The total catchment area of the inter-state river (flowing between Assam and Nagaland) is 1,545 square kilometres and travels 160 kilometres before joining Dhansiri river near its confluence with Brahmaputra. https://www.downtoearth.org.in/news/pollution/coal-mining-waste-discharge-encroachment-river-bhogdoi-has-been-dying-a-slow-death-78852 (06 Sept. 2021)
Meghalaya River Brought Back From The Dead: Govt The Lukha — "reservoir of fish" in the local Pnar language — was considered toxic beyond redemption a decade ago. The Meghalaya Pollution Control Board had in its 2012 investigative report blamed the contamination on acid mine drainage and run-off from the coal mines. The Lukha river is in the East Jaintia Hills district where most of Meghalaya's rat-hole coal mines are located.
Forest and Environment Minister James Sangma said the pilot project to rejuvenate the Lukha by using algae to remove toxic contents from the water has become a success. The detoxification process is called phycoremediation. Environmentalists in Meghalaya and elsewhere have been raising an alarm over the contamination of the Lukha, marked by dead fish found afloat frequently and the colour of the water turning either blue or yellow. https://www.northeasttoday.in/2021/10/11/lukhmeghalaya-river-brought-back-from-the-dead-claims-government/ (11 Oct. 2021)
CAUVERY Study River polluted with high levels of pharmaceutically-active compounds A study by a team of researchers from IIT Madras led by Dr. Ligy Philip showed that pharmaceutical contamination was particularly serious in India, which is the second-largest pharmaceutical manufacturing country in the world. These drug compounds, when released even in minuscule amounts into water bodies, can harm human beings and the ecosystem in the long run, the study said.
"The findings of this work also point to the need for more research into assessing the long-term impacts of emerging contaminants on human health and the environment," a press release issued by IIT Madras said.
The research team also found that water quality and levels of pharmaceutical contaminants in the Cauvery are influenced by the monsoon season. The post-monsoon period showed an increased level of various types of contaminants including pharmaceuticals due to reduced riverine flow and continuous waste discharge from multiple sources. https://indianexpress.com/article/cities/chennai/cauvery-river-polluted-with-high-levels-of-pharmaceutically-active-compounds-iit-madras-finds-7557562/ (07 Oct. 2021)
One river system in South India that has been subjected to constant human threat is the River Cauvery, the 2.5 years long IIT Madras study covering samples from 11 locations each in Karnataka and Tamil Nadu revealed. The contaminants found includes Pharmaceutical residues in significant quantities. https://indianexpress.com/article/cities/chennai/cauvery-river-polluted-with-high-levels-of-pharmaceutically-active-compounds-iit-madras-finds-7557562/ (07 Oct. 2021)
Karnataka Forest land diversion plan opposed Apart from the development of the hotel, there are plans to come up with a ropeway between the two banks of Sharavathi river in front of the Jog Falls. The tentative civil cost (excluding GST) for the development of the hotel and ropeway has been estimated at Rs 75 crore and Rs 20 crore, respectively. The state government has also decided to develop the Jog Falls and its surrounding areas with a dedicated transit hub, grand entrance, retail outlets, view decks and central islands.
The government in June 2014 had sought the prior approval of the Central Government for the diversion of 0.4046 hectare forest land at the same location for development and wellness of tourists and ayurvedic centre. The proposal was rejected by the Centre on the ground that the project was not site-specific and also not in the interest of conservation of forests. https://indianexpress.com/article/cities/bangalore/karnataka-forest-land-hotel-construction-7558035/ (07 Oct. 2021)
Telangana New bridge across Godavari beset by delays The construction of a new bridge of 1.20 km length and 12 metre width, parallel to the existing old bridge above the Godavari, at the temple town has been pending for more than five years. https://www.thehindu.com/news/national/telangana/new-bridge-across-godavari-beset-by-delays/article36827491.ece (04 Oct. 2021)
Himachal Pradesh SPCB slammed for inaction on water pollution in Baddi Coming down heavily on the State Pollution Control Board (SPCB) for lack of action on violators of water pollution, the Principal Bench of the NGT made this observation on June 23 in a case pertaining to pollution in Balad river on account of leakage from the CETP. "Merely keeping an eye on units discharging more than 200 KLD effluents is not enough and violations by those discharging less than 200 KLD effluents is no less serious or less harmful for the environment and public health," observed the Tribunal. https://www.tribuneindia.com/news/himachal/spcb-slammed-for-inaction-on-water-pollution-in-baddi-275364 (29 June 2021)
Punjab Govts not taking pollution of Buddha Nullah seriously: PAC Dr Amandeep Bains of the RBS Roots said, "On the one hand the Rs 650-crore Buddha Darya rejuvenation project that concerns health of millions is not having a single eminent environment scientist or a health scientist on the team despite the fact that the project concerns drinking water pollution of millions, on the other hand, the govt is not even answering questions that citizens and civil society have been asking. This shows that the government neither has sincerity to solve the problem nor any answers to such questions that are being asked." https://www.tribuneindia.com/news/ludhiana/govts-not-taking-pollution-of-buddha-nullah-seriously-pac-310014 (12 Sept. 2021)
Madhya Pradesh Police officer removed from field duty for negligence Hitendra Singh Rathore, Manpur police station in-charge from Indore district was removed from field duty for alleged negligence in investigating the dumping of industrial waste consisting of harmful chemicals in the Ajnar river, a senior officer said on Wednesday (July 14). According to officials, the dumping of industrial waste in the Ajnar river has been going on for a long time, resulting into its water getting polluted and even the underground water in the vicinity being affected.
Narmada Bachao Andolan leader Medha Patkar had led a protest rally on Sunday (July 11) from Foottalab village to Manpur police station demanding the arrest of those responsible for the river pollution. The river is the main source of drinking and irrigation water for the citizens including tribals of 50 villages of Indore, Dhar and Khargone and the river's polluted water is affecting their and their domestic animals' lives, she had said. https://timesofindia.indiatimes.com/city/indore/madhya-pradesh-police-officer-removed-from-field-duty-for-negligence-in-checking-river-pollution/articleshow/84406935.cms (14 July 2021)
GANGA NMCG Chacha Chaudhary selected as mascot Speaking to The Indian Express, Rajiv Ranjan Mishra, Director General, NMCG, said that 5-6 months ago, Diamond Toons, the publisher of the Chacha Chaudhary series, had submitted a proposal to work with the NMCG to spread awareness about the Namami Gange programme. The NMCG has also discussed the proposal with the World Bank, which is supporting the Namami Gange programme. https://indianexpress.com/article/india/chacha-chaudhary-is-now-mascot-of-namami-gange-programme-7547166/ (02 Oct. 2021)
Uttarakhand चार महीनों में ही खराब हुई बदरीनाथ हाईवे पर पातालगंगा हाफ टनल की हालत बदरीनाथ हाईवे पर चमोली-जोशीमठ के बीच भूस्खलन क्षेत्र में 33 करोड़ की लागत से बनाया गया पातालगंगा हाफ टनल 4 महीने भी नहीं टिक पाया और 4 महीने के अंदर ही टनल की दीवारों पर बड़ी-बड़ी दरारें आ गई हैं और टनल का सरिया भी दिखने लगा है। ऐसे में राष्ट्रीय राजमार्ग एवं ढांचागत विकास निगम की कार्यप्रणाली सवालों के घेरे के अंदर आ गई है। इस हाफ टनल का अभी तक उद्घाटन भी नहीं हुआ है और उद्घाटन से पहले ही इस टनल की हालत पस्त हो गई है। विभाग हाफ टनल के उद्घाटन की बजाय अब दरारों की मरम्मत करने में जुट गया है.
पातालगंगा में 20 सालों से सक्रिय भूस्खलन जोन में होने वाले हादसे किसी से छिप नहीं पाए हैं। इस सक्रिय भूस्खलन जोन में आपदाओं को रोकने के लिए कई प्रयास किए गए मगर सब के सब विफल रहे। बीते 10 साल में इस जोन के अंदर 30 से अधिक दुर्घटनाओं में कुल 20 से अधिक लोगों की जान जा चुकी है। भूस्खलन को देखते हुए एनएचआईडीसीएल ने जोन के 600 मीटर क्षेत्र के 150 मीटर क्षेत्र को खतरनाक घोषित करते हुए यहां पर हाफ टनल का निर्माण कार्य शुरू किया। जिला अधिकारी स्वाति एस भदौरिया ने तत्काल रूप से इस मामले में संज्ञान लेते हुए कहा है कि एनएच से जानकारी लेकर आगे की कार्यवाही की जाएगी। फिलहाल जिला प्रशासन इस पूरे मामले की गहराई से जांच कर रहा है। टनल की मरम्मत की जा रही है। https://www.rajyasameeksha.com/uttarakhand/18067-crack-in-patalganga-half-tunnel (03 July 2021)
Those found immersing idols and other articles in the Ganga at other than designated ghats and spots in Haridwar will be slapped with a fine of Rs 50,000 along with legal action. Acting upon directions of the National Green Tribunal, the Haridwar district administration has issued the directives in this connection. Haridwar municipal commissioner Dayanand Saraswati said: "Total three spots have been designated for idol immersion in the ongoing festive season. Other than these spots, any kind of immersion will be fined with Rs 50,000 along with legal action." https://www.newindianexpress.com/nation/2021/oct/11/rs-50000fine-for-unauthorised-idols-immersion-in-river-ganga-2370229.html (11 Oct. 2021)
Bihar Proposal for conserving Gangetic floodplain wetlands Bihar's principal secretary of Environment, Forest, and Climate Change Department Dipak Kumar Singh added that the project will be 100% centrally funded with an estimated cost of Rs. 2.505 crore. Outlining the proposal, he said that the project aims at creating a knowledge base and capacities for effective management of floodplain wetlands in the 12 Ganga districts in Bihar.
Besides all this, revised DPR for "Development of Ghat and Crematoria at Simariya, Barauni, Bihar" was presented by National Buildings Construction Corporation Limited (NBCC) at the EC meeting.As an official statement stated, the field survey of the project location had already been done by the NBCC to carry on the works at an estimated project cost of Rs. 11.92 crores in a period of 20 months. Be it known, Bihar's Simariya is famous also for being the birth-place of Rashtra Kavi Ramdhari Singh Dinkar, besides being a famous Ghat of river Ganges. https://www.newindianexpress.com/nation/2021/oct/02/bihar-presents-proposal-for-conservinggangetic-floodplain-wetlands-in-new-delhi-2366731.html (02 Oct. 2021)
Patna district administration has banned immersion of Durga idols in the Ganga and suggested use of artificial ponds for the purpose. https://timesofindia.indiatimes.com/city/patna/patna-district-admn-bans-immersion-of-durga-idols-in-ganga/articleshow/86790623.cms (06 Oct. 2021)
West Bengal Rise in Hooghly sludge threatens Kolkata water supply The sharp increase in sludge in the Hooghly water is threatening the operations at three major treatment plants that supply water to households in Kolkata. The century-old plant located at Palta, 22km from Kolkata, which caters to two-third of the city's population, is the worst-hit by the sudden rise in turbidity or suspended particles in the water from the Hooghly. "We were shocked to see the turbidity level and initially, we thought it was due to some isolated incident upstream. But it has remained static since then," said a KMC water supply department official.
The suspended particles in such high volume have threatened the functioning of water treatment units at Palta. The plant engineers are apprehensive about the damage to the machines in the sedimentation tank zone. According to a KMC engineer, if any machine develops a snag, it will be difficult for the civic body to supply safe drinking water to large parts of the city. "Several machines work to ensure proper filtration of the water. We are being extremely cautious and are trying to protect the machines. If there is a breakdown, it will lead to a water crisis in the city," said a civic official. https://timesofindia.indiatimes.com/city/kolkata/rise-in-hooghly-sludge-threatens-safe-drinking-water-supply-to-kol/articleshow/86791593.cms (06 Oct. 2021)
YAMUNA Haryana A river's birthday Rivers gave birth to civilisation. But their birthdays are unknown and seldom celebrated. Those such as the Ganga are exceptions, as mythological tales speak about their appearance on earth. People residing by a small river, the Thapana, in Haryana celebrate the last Sunday of September as its birthday. Though COVID-19 has affected the grandeur of the celebration, people visit the river with great faith. https://www.thehindu.com/opinion/open-page/a-rivers-birthday/article36912506.ece (10 Oct. 2021)
Delhi 21-day drive to clean Yamuna kicks off The government on Oct. 7 began a 21-day cleaning drive for a four-km-long stretch of the Yamuna near Sarai Kale Khan under the Centre's "Clean India" programme. The government is using excavators and an amphibious machine to pull waste and hyacinths to the banks of the river. https://www.thehindu.com/news/cities/Delhi/21-day-drive-to-clean-yamuna-kicks-off-in-city/article36889256.ece (08 Oct. 2021) Delhi BJP leaders and workers will make a voluntary contribution every month to clean the Yamuna river and its ghats, party president Adesh Gupta said on Oct. 6. https://www.ndtv.com/delhi-news/delhi-bjp-launches-campaign-to-clean-yamuna-with-help-from-party-leaders-workers-2565702 (06 Oct. 2021) Delhi Water and Industries Minister Satyendar Jain on Sept. 14 directed officials to connect stormwater drains carrying industrial waste to the common effluent treatment plants to ensure no untreated waste is discharged into the Yamuna river. https://www.newindianexpress.com/cities/delhi/2021/sep/14/satyendar-jain-tells-officials-to-ensure-no-untreated-waste-is-discharged-into-yamuna-river-2358752.html (14 Sept. 2021)
RIVERS BIODIVERSITY
Study Threats to freshwater fishes This study represents the first comprehensive assessment of the threat of potential future climate extremes to freshwater fish species, covering both flow and water temperature, the entire globe and about 90% of the known freshwater fish species. https://www.nature.com/articles/s41467-021-21655-w (15 March 2021)
MoEF Guidelines for ecotourism, river dolphins The Union Environment Minister also released a field guide for monitoring "Ganges and Indus river dolphins, associated aquatic fauna and habitat". Speaking about the field guide, the Minister noted, "by conserving dolphins, India will ensure the well-being of the entire aquatic ecosystem and the people dependent on it."
Through the field guide, the release said that for the first time a standardized monitoring protocol has been made and will be employed for synchronised dolphin enumeration exercise to be undertaken in the states of Assam, West Bengal, Bihar, Jharkhand, Uttar Pradesh, Madhya Pradesh, Rajasthan and Punjab. Notably, dolphin estimation is an important process and constituent of "Project Dolphin".https://www.livemint.com/news/india/environment-ministry-launches-guidelines-for-ecotourism-river-dolphins-11633176267753.html (02 Oct. 2021)
Western Ghat Tree That Came Back To Life A long gently flowing in Kalakad Mundanthuurai Tiger reserve in the South Western ghats of India, grows a small flowering tree, long thought to be extinct. Trudging down the rocky banks of the Manimuthar River, Chellam Muthumperumal, a Programme Officer at ENVIS, spotted the mystical plants. https://madrascourier.com/environment/wendlandia-angustifolia-the-tree-that-came-back-to-life/ (05 Oct. 2021)
Butterfly riches mapped The Northeast, primarily Assam, the Western Ghats and the Himalayan landscapes of Uttarakhand are India's three big butterfly treasure troves, a September 2020 survey has found. The survey counted 38,059 butterflies across the country, which belong to 557 different species. https://timesofindia.indiatimes.com/india/himalayas-to-western-ghats-indias-butterfly-riches-mapped-/articleshow/86315499.cms (04 Oct. 2021)
Bihar बूढी गंडक नदी में मरी मिली डॉल्फिन बूढ़ी गंडक नदी के किनारे बाड़ा गांव के निकट गुरुवार (July 23) को मरी हुई डॉल्फिन को देखकर लोगों के होश उड़ गए। लगभग डेढ़ क्विंटल वजन की मरी हुई इस विशेष प्रकार की मछली को नदी किनारे देख कर लोगों के बीच तरह-तरह की चर्चाओं का बाज़ार गर्म है। डॉल्फिन प्रजाति से मिलती-जुलती इस मछली को कुछ लोग सोईंस तो कुछ लोग डॉल्फिन का बच्चा बता रहे हैं। कुछ लोगों ने बताया कि इस प्रजाति का जीव बड़ी नदियों में पाया जाता है। बूढ़ी गंडक नदी के जलस्तर में उफान के साथ ही यह किसी दूसरी नदी से भटक कर बूढ़ी गंडक में आ गयी। स्थानीय लोगों ने मिलकर मरे हुए उस जीव को नदी के किनारे मिट्टी में दबा दिया। https://www.livehindustan.com/bihar/begusarai/story-dolphins-found-dead-in-old-gandak-river-3370351.html (23 July 2020)
FISH, FISHERIES, FISHERFOLKS
Andhra Pradesh Farmers irked over mass fish death in Visakhapatnam A large number of dead fish found floating in a pond at Parawada in Visakhapatnam created a flutter on Monday, Sept 13. Farmers, who farmed fish in the water body, locally known as Pedda Cheruvu, alleged that industrial units in the area had polluted it. They said they recently staged a week-long protest demanding immediate steps be taken to check the pollution of groundwater due to pollutants from the industries. About 110 acres is under cultivation in the ayacut of the tank.
Expressing concern over the alleged pollution of the tank water, the farmers said though they had brought the issue to the notice of officials any measure to mitigate the problem was yet to be taken. State pollution control board executive engineer Lakshminarayana said a team of officials visited the tank and found the water to be clear. "There were no pollutants in the tank," he said and added samples from the water body were sent to a lab for analysis. https://www.newindianexpress.com/states/andhra-pradesh/2021/sep/14/farmers-irked-over-mass-fish-death-in-visakhapatnam-2358410.html (14 Sept. 2021)
SAND MINING
Uttar Pradesh 15 killed as Sand truck rammed into bus At least 15 people killed, 32 injured of which 11 critical after a sand laden truck plying in wrong direction rammed into a double decker bus near Baburi village on Kishan Path outer ring road in Barabanki around 04:30 am on Oct. 7. https://www.amarujala.com/uttar-pradesh/barabanki/major-road-accident-in-kisan-path-barabanki-between-truck-and-bus-many-died (07 Oct. 2021)
The private bus carrying 55 passengers onboard was on its way to Bahraich from Delhi. The deceased included nine men, two women, three children who have been identified while the identity of one man could not be ascertained. Barabanki police said that prima facie it seems that the truck came from the wrong side and tried to save a stray cow, lost control and rammed into the bus. https://timesofindia.indiatimes.com/city/lucknow/nine-killed-27-injured-in-head-on-collision-between-double-decker-bus-and-truck-in-ups-barabanki-district/articleshow/86829623.cms (07 Oct. 2021)
Madhya Pradesh मकान पर पलटा गिट्टी से भरा डंपर, चार की मौत दमोह में मकान पर गिट्टी से भरा डंपर पलटने से चार लोगों की मौत हो गई। एक दूसरे हादसे में एक अन्य युवक की मौत मिलाकर दोनों हादसों में कुल 5 लोग मृत हुए हैं। बटियागढ़ ब्लॉक के आजनि टपरिया गांव में जिस मकान पर गिट्टी से भरा डंपर पलटा है उसमें तीन बच्चों सहित डंपर में बैठे एक युवक की मौत हुई है। डंपर का चालक मौके से भाग गया था। रात में ही पथरिया विधायक रामबाई परिहार जिला अस्पताल पहुंची थी और घायलों की जानकारी ली थी। उन्होंने जिला प्रशासन से इस मामले की शीघ्र ही जांच कर पीड़ित परिवार को मुआवजा देने की मांग की है। https://www.naidunia.com/madhya-pradesh/damoh-road-accident-in-damoh-four-killed-five-injured-in-two-road-accidents-in-damoh-7087104 (09 Oct. 2021)
Punjab Gandhi Dham serves as route to illegal mining As the country celebrates the 152th birth anniversary of Mahatma Gandhi, the Gandhi Dham in Phillaur, the memorial constructed at the place where a part of his ashes were immersed, has turned into a hotspot for illegal sand mining. Located on the banks of Sutlej River near National Highway-I (NH-I), the memorial is a picture of bureaucratic neglect. But as a yearly ritual, just before Gandhi Jayanti, the memorial and its surroundings are whitewashed to offer a red-carpet welcome to babus and politicians. https://www.hindustantimes.com/cities/chandigarh-news/gandhi-dham-in-phillaur-serves-as-route-to-illegal-sand-mining-101633120657817.html (02 Oct. 2021)
Kerala Voices from Thottappally, other coasts need to be heard Sand mining in Thottappally was initiated with the construction of the fishing harbour on the coast. Initially sand was removed to make channels for the safe harbouring of fishing boats. But later on people noticed that large amount of sand being extracted from the shore. But what made them panic was that the sand stripped off was transferred to the Kerala Minerals and Metals Limited (KMML) and the Indian Rare Earths Limited (IREL), both these public sector companies are engaged in the extraction of minerals. This strengthened the conviction of residents that what is happening at the coast is not sand dredging associated with the construction of harbour but looting of black soil. https://www.onmanorama.com/news/india/2021/09/09/sand-mining-in-india-thottappally-sumaira-abdulali.html (09 Sept. 2021)
Gujarat lignite mines contaminating river: Centre warned Well-known environmentalists Rohit Prajapati and Krishnakant of the Paryavaran Suraksha Samiti, in a letter to the Secretary, Ministry of Environment, Forests and Climate Change, Government of India, with copies to the Chief Secretary, Gujarat; CEO, Gujarat State Disaster Management Authority; other senior officials of industries, mines, environment and forest departments, have sought "urgent Investigation" to study the "unfolding disaster" at Badi-Hoidad Lignite Mines, Bhavnagar district, Gujarat, where land is "sinking." They pointed out that, on their visit to the area on October 1-3, they witnessed contamination of river and pastoral land. https://www.counterview.net/2021/10/gujarat-lignite-mines-contaminating.html (06 Oct. 2021)
Maharashtra Stone mining chips away Godavari ecosystem The foothills of the Brahmagiri mountain range in Maharashtra, where the Godavari River originates, has emerged as a coveted destination for private developers to buy land and build farmhouses and resorts. A citizens' collective of social and environmental organisations, has been protesting against the stone mining and extraction and exploitation of resources in the Brahmagiri and Sahyadri mountain ranges. Activists allege that changes to this terrain through land levelling and stone mining could increase soil erosion and destroy the ecosystem that provides water to six states. https://india.mongabay.com/2021/09/stone-mining-in-brahmagiri-mountains-chips-away-at-the-godavari-river-ecosystem/ (29 Sept. 2021)
Sand truck crushes women to death in Ajni A young women met a tragic end after a truck carrying illegally mined sand crushed her under its wheel here on Thursday (Aug. 26) afternoon. The incident reported under Ajni Police jurisdiction. According to sources, a women was trying through Suyog Nagar Ring Road when a recklessly driven truck knocked her from behind. The impact was so severe that the women fell on the concrete road and the truck crushed her to death. https://www.nagpurtoday.in/video-truck-carrying-sand-crushes-women-to-death-in-ajni/08261650 (26 Aug. 2021)
Andhra Pradesh Rising water levels hit sand mining operations Increase in water levels of various rivers passing through the state temporarily halted sand mining activities, resulting in shortage of sand for construction industry in many parts of the state. This has been attributed to continuation of floods and increasing water levels in the water bodies like Vamsadhara, Nagavali, Godavari, Penna and Krishna.
The reasons for increasing water levels were attributed to active monsoon and heavy rainfall. The state has registered above normal rainfall since the beginning of the southwest monsoon in June. The state recorded 113.1mm of rainfall against 93.7mm in June, 196.1mm of rainfall against 151.3mm in July and 100.7mm against 94.3mm in August. In September, 224.8mm of seasonal rainfall was recorded against 152.7mm normal. https://www.deccanchronicle.com/nation/in-other-news/210921/rising-water-levels-hit-sand-mining-operations-in-ap.html (21 Sept. 2021)
Tamil Nadu Panel to probe illegal mining near Marina beach The Southern Bench of the NGT has constituted a Joint Committee to probe whether any illegal beach sand mining was being done at the eco-sensitive zone in the mouth of Cooum river near Napier Bridge in Chennai, and to inspect the area during different times to ascertain if any illegal activities was going on. The Bench issued the directions on an application filed by Selvaraj Kumar, based on a media report which stated that beach sand was being illegally mined from Marina beach at Napier Bridge, and tipper lorries were being used to carry sand from the river mouth. https://www.thehindu.com/news/cities/chennai/panel-to-probe-illegal-sand-mining-near-marina-beach/article36528122.ece (18 Sept. 2021)
Goa NIO study calls for caution in sand mining, flags erosion Taking note of a report by scientists of the National Institute of Oceanography (NIO), the Goa State Expert Appraisal Committee (GSEAC) – an advisory body to state on environment clearances – has given the go ahead to resume sand extractions at four locations in the River Chapora. However, the committee has laid down a host of restrictions, including installing CCTV systems to monitor the mining activity. Earlier, the high court had asked for such CCTV monitoring of sand extraction in the state to curb illegalities in the sector.
The NIO scientists Mandar Nanoskar and Saurav Mondal carried out prefeasibility reports for sand extraction for the River Chapora and found that the upper stretches of river banks have experienced bank erosion at many locations. They noted that many more areas are vulnerable and prone to bank erosion. "Based on the baseline data and the prevailing site conditions, sand extraction at unregulated rates or in the sensitive area will have negative impacts on the environment. Accordingly, certain areas in the stretches of the river have been demarcated where sand extraction from the river bed requires restrictions," states the NIO report. https://timesofindia.indiatimes.com/city/goa/nio-study-calls-for-caution-in-sand-mining-flags-erosion/articleshow/86717419.cms (03 Oct. 2021)
Install CCTV cameras to curb illegal mining: Bombay HC The Bombay High Court bench in Goa on Thursday (Sept. 30) slammed the state police and administration for not doing enough to rein in the sand mafia from pilfering sand from the state's rivers illegally. The court has now directed the police to seize and destroy unregistered canoes and impound the trucks which illegally transport sand, and to install CCTV cameras at illegal sand mining sites.
"The authorities, who were duty-bound to prevent this sand mining, do not appear to be seriously interested in implementing the orders made by us from time to time. According to us, the persons involved in illegal sand mining are out to hoodwink the authorities. Unfortunately, we find that in many cases even the authorities appear to be too eager to be hoodwinked," Justices M.S. Sonak and M.S. Jawalkar said in their order, while hearing a petition filed by Goa Foundation. https://www.business-standard.com/article/current-affairs/install-cctv-cameras-to-curb-illegal-sand-mining-in-goa-bombay-hc-121093000857_1.html (30 Sept. 2021)
Bihar New sand mines set for auction in 8 districts Bihar is set to start auctioning of ghats (river banks) for sand mining in eight more districts after the state cabinet on Friday (Oct. 1) evening gave its nod to the mines department's proposal, officials said. The state government has also decided to extend the lease of ghats of various rivers for sand mining in another eight districts — Patna, Bhojpur, Saran, Rohtas, Aurangabad, Gaya, Jamui and Lakhisarai — for a period of six months (from October 1, 2021 to March 31, 2022) on the deposit of 50% extra of the previously settled lease amount.
Sanjay Kumar, additional chief secretary (cabinet secretariat), said Bihar State Mining Corporation Limited had been asked to settle the lease of ghats in districts like Arwal, Nawada, Banka, Bettiah, Madhepura, Kishanganj, Vaishali and Buxar for mining of sand through open tendering. "Ghats of rest of the districts would be open for settlement once cases pending with various courts are resolved," said Kumar. https://www.hindustantimes.com/cities/patna-news/new-sand-mines-set-for-auction-in-8-districts-in-bihar-101633187622199.html (02 Oct. 2021)
Cabinet approves resumption of sand mining in 16 districts The state cabinet on Friday (Oct. 1) approved resumption of sand mining activities in the 16 districts. The sand mining settlement would be done with the old holders in eight districts at 50% more than the existing rate from September 30 to March 31 next year. The settlement in Patna, Bhojpur, Saran, Rohtas, Aurangabad, Gaya, Jamui and Lakhisarai districts would be done afresh through open bidding. https://timesofindia.indiatimes.com/city/patna/resumption-of-sand-mining-in-16-districts-okd/articleshow/86689849.cms (02 Oct. 2021)
West Bengal In dark world of white clay Kaolin or China clay remains a largely untapped mineral resource in West Bengal even as mining and processing activities raise questions on its impact on the environment, human health and rights of the workers. Though clay mining is being done for decades in districts such as Birbhum, it has continued without following measures for ensuring the protection of the environment and the people. Local communities complain about impacts to health, water and farmlands but are forced to live with the conditions, as the mining sector gives them direct or indirect employment. https://india.mongabay.com/2021/09/photos-in-the-dark-world-of-white-clay/ (24 Sept. 2021)
WETLANDS, LAKES, WATER BODIES
MoEF Wetlands of India portal launched The Environment Minister also launched a web portal on the 'Wetlands of India Portal', which will act as single-point access to all information relating to wetlands. Importantly, a dashboard for each state and Union Territory across the country has been developed to access the portal and populate it with information of wetlands in their administration. The new web portal will also provide a monitoring mechanism at the national, state and district levels. https://www.livemint.com/news/india/environment-ministry-launches-guidelines-for-ecotourism-river-dolphins-11633176267753.html (02 Oct. 2021)
Goa Six lakes declared official wetlands As per the 2017 Wetlands (Conservation and Management) Rules, six lakes in the state have been declared wetlands. The lakes are Xeldem lake and Nanda lake in Quepem, Toyyar lake in Chimbel, Dashi lake in Revora, Sarzora lake in Chinchinim, and Cottambi lake. Bondvoll lake in Santa Cruz village was on the verge of becoming the state's first wetland since the central rules came into being, but the process is taking longer as more area is required to be added as part of the proposed wetland, hence the delay. The National Institute of Oceanography has assisted in identifying 35 water bodies in the state that may qualify for wetlands status, and at least 14 are in the final stages of being designated as wetlands. https://timesofindia.indiatimes.com/city/goa/six-lakes-declared-official-wetlands/articleshow/86693718.cms (02 Oct. 2021)
Tamil Nadu Mercury poisoning pride of Kodaikanal A study by Chennai Solidarity Group in August this year, showed that an estimated 100 kg of mercury has washed off into the eco-sensitive Pambar Shola forest in Kodaikanal Wildlife Sanctuary triggering concern for wildlife and birds in the area. https://thefederal.com/states/south/tamil-nadu/mercury-poisoning-has-sholakili-the-pride-of-kodaikanal-at-risk/ (04 Oct. 2021)
West Bengal Rain water reclaims former wetlands Construction on what once used to be wetlands and paddy fields may be responsible for the regular flooding that we see plaguing vast swathes east of the Eastern Metropolitan Bypass. We have just choked off the egress zones that used to take away the excess rainwater by simply building and living in this zone. Some measures, like having more pumps to flush out the flood water, may help temporarily. But long-term solutions may be difficult.
Town planners say the situation is a fallout of rampant filling up of ponds and wetlands in the belt, unplanned development and inadequate focus on infrastructure. According to a KMC sewerage department official, leave aside underground drainage, large parts of these areas even lack surface drains. "Water flows down and finds alow land and gets stagnant. There is no drainage network along this belt," said a KMC official. https://timesofindia.indiatimes.com/city/kolkata/east-of-em-bypass-rain-water-reclaims-former-wetlands/articleshow/86437780.cms (23 Sept. 2021)
Andhra Pradesh Pelican of Kolleru declared wetland ambassador The famed pelican of Kolleru, a much-loved visitor to one of the largest freshwater lakes in the country, is now a proud wetland ambassador. The Chief Conservator said that 40 per cent of crane type of birds around the world were present in the Kolleru region. He said that to protect wetlands, Wetland Mitras were appointed.
Kolleru and its pelicans are quite endearing to the bird lovers of the State. An annual Pelican Festival is hosted at the Atapaka Bird Sanctuary. This is also known as 'Pakshula Pandaga' and is held on Krishna -West Godavari districts border. https://www.thehansindia.com/andhra-pradesh/pelican-of-kolleru-declared-wetland-ambassador-709779  (07 Oct. 2021)
Delhi 27 'wetland mitras' to help conserve, revive waterbodies State Wetland Authority (SWA) will soon appoint 27 "wetland mitras" to take care of waterbodies around Delhi and help the government carry out their preservation and revival. While the SWA had begun the process to appoint the mitras in March, officials say they were awaiting selection through a committee that was formed recently. Of the 30 applications received, 27 were selected and their names sent to the Delhi government for approval, an official said. The notice, however, stated that there would be no payments or honorarium from the Delhi government for these wetland mitras. https://timesofindia.indiatimes.com/city/delhi/friends-indeed-27-wetland-mitras-to-help-conserve-revive-waterbodies-around-delhi/articleshow/86820696.cms (07 Oct. 2021)
Sharing the details of the walk to Najafgarh Jheel being organised by KLODB on 24 October. Interested people can get in touch with contact person for registration. Sun, Oct 24 at 10:00 AM Dwarka Sector 12 metro station. https://fb.me/e/1mPUICocI?ti=wa
WATER OPTIONS
Maharashtra A village transformed parched land to lush fields A teacher and guide from Maharashtra's Purushwadi village shares how the collective efforts of village residents and experts helped contain the water crisis in the village https://vikalpsangam.org/article/every-drop-counts-how-a-village-in-maharashtra-transformed-parched-land-to-lush-fields/ (25 Aug. 2021)
The latest on watershed efforts in Maharashtra by Paani Foundation. Write up from India Water Portal in Sept 2021. https://www.indiawaterportal.org/articles/how-paani-foundation-harnesses-power-communication-social-transformation (04 Sept. 2021)
Natural Sugar and Allied Industries Limited, a private mill located in Kalamb taluka of Osmanabad district, has managed to bring more than 6,000 of its total 10,000 hectares of sugarcane area under drip irrigation. https://indianexpress.com/article/cities/pune/how-a-mill-in-arid-marathwada-motivates-cane-farmers-to-opt-for-better-water-management-system-7562959/ (10 Oct. 2021)
GROUNDWATER
Centre Heli-borne survey tech for groundwater mapping in arid regions Heli-borne geophysical mapping technique will provide high-resolution 3D image for sub-surface up to a depth of 500 meters below the ground level and map potential groundwater sources. This latest technology is being employed by CSIR to map groundwater sources in arid regions and utilise groundwater for drinking purposes, he said. The Ministry of Jal Shakti has signed a Memorandum of Agreement with CSIR-NGRI for executing the project named High Resolution Aquifer Mapping & Management in Arid Regions of North Western India to target key water challenges in Rajasthan, Gujarat, Punjab and Haryana.
"This is a mega project of ₹150 crores to be implemented in two phases in collaboration with the Ministry of Jal Shakti as a part of National Aquifer Mapping Project. This project is expected to bring high visibility to CSIR in implementing the Government of India`s most ambitious project Jal Jeevan Mission," the Ministry of Science & Technology said in a statement on Tuesday (Oct. 5). https://www.hindustantimes.com/india-news/centre-launches-heli-borne-survey-tech-for-groundwater-mapping-in-arid-regions-101633517919142.html (06 Oct. 2021)
Rajasthan Heli-borne survey for water management launched Union ministers Gajendra Singh Shekhawat and Jitendra Singh jointly launched a heli-borne survey for water management in arid areas of Rajasthan. Mr. Shekhawat had recently given sanction to the survey to develop a high resolution aquifer map to increase ground water resources in arid areas of north western Rajasthan, Gujarat, Haryana and Punjab. The survey is the outcome of an agreement between the Central Groundwater Board, Jal Shakti Ministry and the National Geophysical Research Institute, Hyderabad. https://www.thehindu.com/news/national/other-states/heli-borne-survey-for-water-management-launched-in-rajasthan/article36851545.ece (06 Oct. 2021)
Opinion Move to deep aquifers to ensure flows in Ganga By Ravindra Swaroop Sinha For restoring river flow, top priority under Namami Gange should be to de-stress shallow (phreatic) aquifers by phasing out all existing shallow tubewells and shift to deeper aquifers. Another thrust area should be to strengthen community participation and stakeholders' involvement in all strategic projects right from baseline survey to implementation and monitoring. https://timesofindia.indiatimes.com/city/lucknow/pro-active-measures-to-restore-groundwater-level-sprout-hope/articleshow/86751539.cms (04 Oct. 2021)
3 pronged strategy for crop diversification Surinder S Kukal Punjab needs a comprehensive crop diversification plan at the micro level, involving a block or a cluster of blocks with similar conditions. The plan should be based on water availability, niche crops and marketing facilities in that geographical unit. The plan must be spread over 5-10 years for its implementation, prioritising the areas to be brought under it each year on the basis of severity of water scarcity. This is expected to be a win-win situation for conserving our natural resources as well as sustaining farmers' income. https://www.tribuneindia.com/news/punjab/groundwater-conservation-three-pronged-strategy-for-crop-diversification-319933 (04 Oct. 2021)
Oceans of water are beneath our feet, and new technologies are extracting it economically without ecological damage. https://www.greaterkashmir.com/op-ed-2/a-new-water-source-that-could-make-drought-a-thing-of-the-past (09 Oct. 2021)
URBAN WATER
Bengaluru 'Biggest water tower' faces threat of losing tree cover With the State Government deciding to develop the heritage structure, Balabrooie Guest House, into a Constitution Club for legislators, experts have raised concerns over axing of century-old trees.
– Noted environmentalist A N Yellappa Reddy said Balabrooie Guest House is "biggest water tower" in Bengaluru because of its altitude and massive root system of trees that can absorb huge quantity of rain water. The century-old trees have roots spread across 40 feet. The location was chosen to construct the building because of the altitude and gets at least 50 mm of rainfall in one hour more than 10 times in a year. The area has a capacity to absorb at least 14 million litres of water. Any new construction or cutting of trees will disturb the whole system and rainwater will come on to roads and cause flooding,'' he added. https://www.newindianexpress.com/states/karnataka/2021/oct/05/bengalurus-biggest-water-tower-faces-threat-of-losing-tree-cover-2367700.html (05 Oct. 2021)
A number of useful suggestions here for Bangalore water/ rain water harvesting. https://timesofindia.indiatimes.com/city/bengaluru/the-catcher-in-the-rain/articleshow/86814767.cms (06 Oct. 2021)
The municipal corporation has written to the state government seeking a special grant of Rs 250 crore for the two assembly constituencies where the Palike plans to send the city's mixed waste. Not releasing the grant might pose a hurdle for the civic body's plan for processing the mixed waste. The cost of not segregating waste runs into several crores.
The aforementioned are the new landfills identified next to the ones where the civic body has been dumping waste for the last five years. To compensate for the illegal dumping of waste, the BBMP had in the past allocated a total of Rs 200 crore for undertaking 'developmental works' and providing basic amenities for people living around these landfills.
BBMP has been transporting 2,750 metric tonnes of mixed waste to Mitaganahalli landfill alone. About 350 compactors are said to be transporting the waste to this landfill every day. As this dump yard is filling up fast, the civic body has almost readied the Bagalur 'scientific' landfill by engaging a contractor to fix liners, provide a leachate storage tank and take up mud-capping as and when the garbage fills up, etc.
The civic body's dependence on landfills – despite NGT, High Court and Supreme Court orders – comes due to its failure to revive all the seven waste processing plants. Of the seven plants, only four are working but not to their full capacity. Three are closed for petty reasons and the civic body has shown no interest to revive or operate them. https://bangaloremirror.indiatimes.com/bangalore/civic/waste-matters/articleshow/86925961.cms (11 Oct. 2021)
Hyderabad Special Cell for protection of Lakes For the protection of lakes in Hyderabad, the Telangana government has formed a special cell for this purpose with a special commissioner heading its operations. There are about 185 lakes, including other water bodies in the Greater Hyderabad Municipal Corporation (GHMC) area. Arvind Kumar, special chief secretary, Municipal Administration and Urban Development told the Deccan Herald that the outflow channels have been encroached in some cases, adversely affecting the chain of tanks concept. There have been instances of lake overflows and breaches of bunds whenever it rains heavily. Kumar further added, 'We will prepare a master plan for each water body, taking into consideration factors like Full Tank Level (FTL), buffer and green zones. While preventing further encroachments on FTL, officials would scientifically manage the flow into and out of the water body. https://www.thenewsminute.com/article/hyderabad-get-special-cell-protection-lakes-156079 (04 Oct. 2021)
Vigilance wing of Hyderabad Metropolitan Water Supply and Sewerage Board (HMWS&SB) busted free water tanker supply racket and registered a total of 45 criminal cases against offenders including 43 tanker drives and owners and two HMWS&SB water filling in-charges.
The racket was busted at Old City in Hyderabad by the vigilance wing. The chief vigilance officer, M Ravichandan Reddy and inspector, P Tirupathi have jointly probed the misusing of free water tanker supply for the past a month and busted it.
"Almost, daily 600 free water tankers trips going from 'Miralum Filter Beds (known also MRG filters) filling station, Bahadurpura, which are meant for ill-served areas under domestic category. Surprise is, tankers and owners diverting all these free water trips to Katedan industrial area for wrongful monetary gains," inspector, vigilance wing, P Tirupathi told TOI. https://timesofindia.indiatimes.com/city/hyderabad/hyderabad-vigilance-wing-of-hmwssb-busts-free-water-tanker-racket-in-old-city-and-registers-45-criminal-cases/articleshow/86915686.cms (10 Oct. 2021)
Chennai Theatres banning water bottle must give it free: Madras HC Cinemas prohibiting viewers from bringing water bottles to theatres should mandatorily provide free drinking water, Madras high court has said on Oct. 4. Mere availability of the drinking water would not be sufficient to enforce prohibition of carrying drinking water inside the cinema. Purified drinking water with prescribed standards must be provided, so as to satisfy the requirements, Justice Subramaniam said.
He made the observation while hearing a plea moved by G Devarajan in 2016 against management of S2 Cinemas and Hindustan Coca Cola Beverages Private Limited. The petitioner had alleged that soft drinks and bottled water were sold at much higher prices than the MRP in the cinemas. Opposing the plea, S2 Cinemas submitted that prior to 2017 dual MRP fixation was permitted considering the nature of place of selling but now the practise has been discontinued. At present, products are sold only at MRP prices, it said. https://timesofindia.indiatimes.com/city/chennai/theatres-banning-water-bottle-must-give-it-free-says-madras-high-court/articleshow/86765457.cms (05 Oct. 2021)
Sewage instead of storm water turns Selaiyur lake into cesspool The Selaiyur lake in Chennai's southern suburbs is brimming with sewage let into the waterbody through stormwater drains. The Water Resources Department (WRD) is yet to plug the sewage inlets into the lake. Activists in the locality said many houses that do not have an underground sewage pipeline are reportedly letting raw sewage into the cut-and-cover drains built by the Public Works Department (PWD) to carry floodwater from residential localities around Selayur to the lake. This has resulted in water of the lake, 145 acres in size, getting polluted. It is now covered with a layer of water hyacinth and reeks of sewage. https://www.newindianexpress.com/cities/chennai/2021/oct/11/sewage-instead-of-storm-water-turns-chennais-selaiyur-lake-into-cesspool-2370167.html (11 Oct. 2021)
Cuttack Another underground water pipeline bursts In the second such incident in the last few days, an underground drinking water pipe burst in the middle of the busy Badambadi square bringing traffic to a grinding halt for around 20 minutes on Oct. 10. Eyewitnesses said the underground drinking water pipeline, four feet in diameter, suddenly burst at 5.25 pm following which water gushed out and rose to a height of around 20 feet leading to a flood-like situation in the area. A 25-year-old girl had a narrow escape and sustained minor injuries in the mishap. CMC Commissioner Ananya Das said she has sought an explanation from Watco on the incident with a warning to prevent its recurrence.
General Manager, Watco, Cuttack division, Debabrata Mohanty said the underground drinking water pipelines were laid under Atal Mission for Rejuvenation and Urban Transformation (AMRUT) scheme two to three years back for migration of the city's drinking water system from ground water sources to surface. However, the pipes were not tested. A similar incident had occurred in the city four days back on the Kathajodi Ring Road near Rajabagicha. https://www.newindianexpress.com/states/odisha/2021/oct/11/another-underground-water-pipeline-bursts-cuttacks-badambadi-flooded-this-time-2370285.html (11 Oct. 2021)
Ajmer Water supply hit as pipeline from Bisalpur dam bursts A pipeline from the Bisalpur Dam burst on Oct. 7 morning hitting water supply in the city for the next 72 hours. The pipeline from Nasirabad storage tank connects to Adarsh Nagar, where the incident took place. The rupture was so powerful residents could hear the sound from a distance and there was water everywhere.
The pipeline was buried under the road, but after the rupture, a 20-feet ditch was created, and traffic remained halted for many hours. The supply to the city was stopped from the Nasirabad pumping station and gallons of water was wasted. There was a 4-feet waterlogging in the Adarsh Nagar main road and the police reached the spot to control the situation. A Public Health Engineering Department (PHED) official said engineers had reached the spot and started repairing the pipeline.
According to officials, the 20-year-old pipeline was made of cement and was buried underground. It probably could not bear the pressure created due to the plying of heavy vehicles, they said. Ajmer was already reeling under water scarcity with supply in every two days as the water level in Bisalpur dam went down to 311 meters. However, after monsoon it had crossed 312 meters. A 116-km pipeline connects Bisalpur dam to Ajmer. https://timesofindia.indiatimes.com/city/jaipur/ajmer-water-supply-hit-as-pipeline-from-bisalpur-dam-bursts/articleshow/86853773.cms (08 Oct. 2021)
G Noida Ganga water scheme enters final phase The Greater Noida authority's scheme to channel water from the Ganga for daily use in villages in the area has entered its final phase with water from the river reaching the primary treatment plant. According to officials, the Rs 800-crore project was sanctioned in 2005 so that those in Greater Noida villages wouldn't have to use hard water for their day-to-day needs.
On Thursday (Oct. 7), CEO of the Greater Noida Industrial Development Authority (GNIDA) Narendra Bhushan held a ceremony as the water was successfully diverted towards the treatment plant in Dehra. The authorities have been directed to ensure that the water reaches Jaitpur village by the end of the month. As per the scheme, 85 cusecs of water from the Ganga will be directed towards Greater Noida areas. The project had been delayed for several years due to problems in acquiring land from farmers, officials said. https://indianexpress.com/article/cities/delhi/ganga-water-scheme-for-greater-noida-residents-enters-final-phase-7559774/ (08 Oct. 2021)
Gurugarm Research students from USA's Columbia University to conduct study As part of an academic exercise to conserve groundwater, research students of the Water Resources Department from Columbia University in the United States of America will collaborate with the Gurujal Society to undertake a study of the city. According to the district administration, the joint group will work together to analyse hydrological data, check underground water resources and formulate a long-term plan for boosting groundwater by at least five metres in the district. https://www.hindustantimes.com/cities/gurugram-news/groundwater-conservation-research-students-from-usa-s-columbia-university-to-conduct-study-101632677082842.html (26 Sept. 2021)
Navi Mumbai Morbe Dam fills to capacity After two years, Morbe dam of Navi Mumbai became full on Tuesday (Sept. 28). With 3742 mm rainfall till now this year, Morbe dam has reached its capacity of 190mn cubic metre (MCM). On Tuesday (Sept. 28), there was a rainfall of 35.96 mm reported. In the year 2020, a rainfall of 3546.24 mm was reported till October while in 2019, it was 4638.29 mm. According to the Navi Mumbai Municipal Corporation (NMMC) officials, there would not be any water cut in Navi Mumbai in 2022 due to enough storage. A week back, the dam was 98% full. https://www.hindustantimes.com/cities/mumbai-news/morbe-dam-in-navi-mumbai-fills-to-capacity-with-adequate-rainfall-101632840482972.html (28 Sept. 2021)
Pune Dams full Pune is not likely to face any water disruptions for the next 6-8 months as at the end of the monsoon season this year, the five reservoirs supplying drinking water to the city and Pimpri-Chinchwad are at their optimum levels having a collective reserve of 44.95 thousand million cubic feet (TMC). As on September 30, except Khadakwasla, all the remaining dams — Pavana, Bhama Askhed, Varasgaon, Panshet and Temghar — continue to stock water reserves at their optimum capacity. Of the total 26 small and large reservoirs in the Bhima river basin, 16 dams this year are fully stocked and additional six dams have stocks ranging between 60-95 per cent of the total capacity. https://indianexpress.com/article/cities/pune/pune-dams-full-water-supply-7543386/ (01 Oct. 2021)
Delhi DJB to install 80MGD RO plants Water minister Satyendar Jain on Thursday (Sept. 23) said the government will install RO plants with a total capacity of 80mgd or 363mld within a year. In the first phase, the water utility will install these plants in areas like Okhla, Dwarka, Nilothi-Nangloi, Chilla and Najafgarh. The government estimates that around 725,000 households may benefit from this project. The Delhi government said it will use RO systems that will have 80% water recovery rate, unlike typical systems, which waste a lot of water during the purification process.
The Central Ground Water Board (CGWB) estimates that the city has around 22 lakh million gallons of saline, and hence unusable, groundwater. "This can be converted to drinking water after RO treatment and can be used to augment the DJB's existing water supply. Areas for the project will be selected in such a way that the existing pipeline system can be used, which will save the utility money on laying pipelines," DJB said in an official statement.
The minister said that one small RO plant will be installed for every 500 households and more than one RO plant will be provided in areas where the population is more than 2,000. DJB currently supplies the city with 4,230mld of water, against a demand of 5,130mld. If the RO project is successful, officials estimate that this shortfall will drop from 900mld currently, to 540mld. https://www.hindustantimes.com/cities/delhi-news/djb-to-install-80mgd-ro-plants-in-areas-with-saline-groundwater-satyendar-jain-101632417658535.html (23 Sept. 2021)
Report Cities leak money in supplying tap water to households Since 2019, India has provided tap water connections to 50 million rural households. Of its 192 million rural households, 42.8 per cent have a tap water connection. Till 2019, only 16.8 per cent had tap water. As more people get water at home, the cost is rising for the state. Jal Boards, state-run utilities that supply water in cities, are leaking money. The Delhi Jal Board, which controls water and sewage management in the national capital, had its deficit ballooning 23 per cent between 2015-16 and 2019-20. https://www.business-standard.com/article/current-affairs/bs-number-wise-cities-leak-money-in-supplying-tap-water-to-households-121101100316_1.html (11 Oct. 2021)
WATER POLLUTION
Edit Water contamination deaths due to criminal negligence This Deccan Herald EDITORIAL (Oct 8, 2021) shows how people have died as the new water pipelines being laid in Makarabbhi village of Hoovina Hadagali Taluk in Vijayanagara district in Karnataka damaged the existing water pipelines, leading to contamination of drinking water and death of at least six people and hospitalisation of 200 others. The EDIT calls it criminal negligence. https://www.deccanherald.com/opinion/second-edit/water-contamination-deaths-due-to-criminal-negligence-1038427.html (08 Oct. 2021)
Even as the death toll in Makarabbi village in Hoovina Hadagali taluk of Vijayanagara district is rising, the villagers have claimed that the administration ignored early warnings of water contamination. It was in early September that the first person got sick after consuming contaminated water, but the local administration did not react till over 100 people got admitted to various hospitals, they say. https://www.newindianexpress.com/states/karnataka/2021/oct/08/early-signs-of-water-contamination-were-ignored-makarabbivillagers-2368998.html (07 Oct. 2021)
Haryana Water contamination 'likely cause' of fever outbreak in Palwal village A Preliminary investigation into the deaths of seven children in the last three weeks in Chilli village, over 20 km from Palwal, has indicated that the "probable cause of the outbreak could be the unhygienic conditions and illegal drinking water pipe connections that led to contamination of drinking water," the Haryana government said on Wednesday (Sept. 15). Most of the children had shown similar symptoms — high fever, rash, vomiting, low platelet count – and died within three-four days of reporting a fever. https://indianexpress.com/article/india/water-contamination-likely-cause-of-fever-outbreak-in-haryana-village-7511559/ (16 Sept. 2021)
Odisha Death stalks villages in Keonjhar Tribal villagers are seen near the polluted water stream in Keonjhar district, on the foothills of the 'Gandhamardan' iron ore mining hills, in Odisha. Iron ore is scooped up every day by the large earth excavators of the Odisha Mining Corporation (OMC) — lease holder of the Gandhamardan iron ore mines and the largest profit-making public sector undertaking in the State — but little has changed in the lives of tribals like Ms. Sukurmani, who live near the huge facility. By one conservative estimate, iron ore worth ₹5,000 crore has been excavated from the Gandhamardan mines in the last five years.
"We survive only on pakhala (fermented rice in water) throughout the year. The only other dish that we can afford is a preparation of arum leaves," said Ms. Sukurmani. She has been drying up arum leaves for her family's use till the next monsoon. Mushrooms and tubers available in nearby forests are an affordable alternative source of food.
While the land beneath their feet is a massive iron reserve, Rugudisahi's villagers are unable to even access basic needs. The village does not have an anganwadi centre. This year, six students in Rugudisahi started herding goats after dropping out of school. "Most kids below the age of five years only have only one or two pairs of shirts. On most days, they wander about aimlessly in torn pants," said Pandav Munda, a tribal. Iron ore dust mixes into the stream in which villagers bathe. The water is reddish brown. https://www.thehindu.com/news/national/other-states/death-stalks-villages-in-odishas-keonjhar-district/article36927557.ece (10 Oct. 2021)
JJM/ RURAL WATER SUPPLY
Haryana 3rd state to get clean tap water in every rural household The state has claimed to have become the third state of the country where every family in the rural areas has started getting clean tap water in their homes. Goa and Telangana are the two states which have already claimed this achievement as part of the Centre's Jal Jeevan Mission (JJM). Besides these states, three Union Territories (UTs) of Andaman and Nicobar Islands; Puducherry; and Daman and Diu and Dadra and Nagar Haveli have also achieved 100 per cent of the 'Har Ghar Jal' Mission. According to sources in the Jal Shakti ministry, which is steering the Jal Jeevan Mission and is headed by Gajendra Singh Shekhawat, all schools, anganwadi centres (AWCs), health centres and the likes in Haryana are also having provision of tap water supply. https://timesofindia.indiatimes.com/india/haryana-becomes-3rd-state-to-get-clean-tap-water-in-every-rural-household-under-jal-jeevan-mission/articleshow/86789858.cms (05 Oct. 2021)
Odisha Foundation of drinking water project in Gajapati Chief Minister Naveen Patnaik will lay the foundation stone for the mega drinking water supply project at Harabhnagi reservoir during his visit to Paralakhemundi in Gajapati district on Monday (Oct. 3). The proposed drinking water project, estimated to cost Rs 796.19 crore, will provide drinking water to 80 panchayats in the four blocks of Mohana, R.Udayagiri, Nuagada and Gumma. He said the project would be completed within two years from the issue of work order. The mega drinking water supply project will help to achieve the state government's ambitious plan to provide access to safe drinking water within the premises of every household in rural areas by 2024, said an engineer. https://timesofindia.indiatimes.com/city/bhubaneswar/cm-to-lay-foundation-of-drinking-water-project-in-gajapati/articleshow/86734337.cms (04 Oct. 2021)
Madhya Pradesh All rural homes to have tap water in 2 years: CM In Madhya Pradesh, tap water is being supplied in 3401 villages, 33, 996 anganwadi centres and 56, 369 schools. The CM said that the Union government is also providing adequate fund for this mission. Today about 41.5 lakh rural families are getting continuous water supply through tap connections.. https://timesofindia.indiatimes.com/city/bhopal/madhya-pradesh-all-rural-homes-to-have-tap-water-in-2-years-says-cm-shivraj-singh-chouhan/articleshow/86745820.cms (04 Oct. 2021)
WATER
Opinion Focus on water quality & demand management The third in a series of weekly articles on the new National Water Policy by Mihir Shah The new National Water Policy (NWP) argues that limits are now being reached on possibilities of solving India's water problem from the supply side. The policy proposes a shift in focus towards the long-neglected demand-side management of water. The most important reform needed here is in irrigation, which takes up 80-90 per cent of India's water use. And just three crops — rice, wheat and sugarcane — consume 80 per cent of this water. Without a radical change in this pattern of water demand, basic water needs of millions of people cannot be met. Water-intensive crops are grown even in relatively water-short regions mainly because these are the only crops for which farmers are assured a steady market, thanks to government procurement operations for wheat and rice and purchase of sugarcane by sugar mills. Hence, crop diversification without endangering national food security is the single most important step in resolving India's water crisis.
To enable this, the policy suggests diversifying crop procurement operations to include nutri-cereals, pulses and oilseeds, in line with local agro-ecology. As proposed under the 2018 PM-AASHA (Annadata Aay Sanrakshan Abhiyan), at least 25 per cent output of these crops could be procured, going up to 40 per cent if they are part of the public distribution system (PDS). This will incentivise farmers to gradually diversify their cropping patterns, resulting in huge saving of water. The largest potential outlets for these procured crops are the Integrated Child Development Services, Midday Meal Scheme and PDS. Creating this link would additionally become a powerful weapon in India's battle against the twinned syndemic of malnutrition and diabetes, given the far superior nutritional profile of these crops compared to rice and wheat.
Highly water-consuming, high-cost and high-risk chemical agriculture has become unviable for many farmers, whose net incomes have started to turn negative due to both diminishing returns and rising input costs. Harmful chemicals from fertilisers and pesticides transported into the body via food and water are having a grave impact on health. Agro-ecological farming, which reduces use of chemical inputs at the right pace, could lead to massive saving in water, since it needs much less irrigation and enables greater retention of soil moisture through improved soil structure. Water use can also be reduced by incentivising the System of Crop Intensification, drip and sprinkler irrigation, and water saving seed varieties based on the local germplasm, of which India has a rich repository. Reserving some land for diverse biomass production systems comprising trees, shrubs, creepers and fibre-producing plants, with multi-year life cycles and multi-tiered root systems and canopies, reduces water use and increases resilience, being less sensitive to variations in rainfall.
Urban areas must also move decisively towards demand management of water. Reduce-Recycle-Reuse should become the core mantra of integrated urban water supply and wastewater management, with treatment of sewage and eco-restoration of urban river stretches as far as possible through decentralised wastewater management. All non-potable use, such as flushing, fire protection, vehicle washing, landscaping, horticulture etc must mandatorily shift to treated wastewater. More efficient water-using appliances and location-specific water-efficient sanitation alternatives need to be adopted. Urban local bodies must explore revenue generation through efficiently treated effluent and waste.
India's industrial sector is also suffering the consequences of not addressing the demand side, given its excessively high water footprint. Over the last decade, industrial shutdowns due to water shortage have become increasingly common. Indian industry is currently excessively dependent on fresh water and tends to dump its untreated waste into rivers and groundwater. Thermal power plants take up the highest proportion of industrial water. Converting them from once-through open-loop to closed-cycle cooling systems using recycled water can save about 65,000 million litres per day of fresh water. The NWP suggests comprehensive water audits, with companies providing details of water footprints in their annual reports, as also steps they are taking to reduce water demand in production processes, lower effluent generation and higher industrial value added per unit of water consumed. All of these technologies and investments have a very short payback period. A growing market for treated wastewater is an additional incentive.
The new NWP considers water quality as the most serious unaddressed issue in India today. It proposes that every water ministry, at the Centre and states, must include a Water Quality Department, run by a team of multi-disciplinary professionals. The policy advocates adoption of state-of-the-art low-cost, low-energy, eco-sensitive technologies for treatment of sewage. No less than 26,000 tonnes of plastic waste is generated every day in India, of which 10,000 tonnes ends up in water. Thus, the policy proposes a national action plan for phase-wise replacement of plastics by green alternatives. Widespread use of Reverse Osmosis (RO) has adverse consequences for water quality and health. A large proportion of input water is wasted and reject water from ROs has a high concentration of contaminants. Hence, the policy suggests that RO units be discouraged if the Total Dissolved Solids (TDS) count in water is less than 500mg/L.
The "polluter pays principle" has at times almost served as a licence to pollute. Thus, the NWP argues that payment for violations must be high enough to have a deterrent effect on polluters as "extended producer responsibility". Licences of polluting units must be temporarily suspended in case of repeated violations, till corrective actions are taken. The policy also suggests that the Government of India form a Task Force on Emerging Water Contaminants. Recent studies indicate uranium and manganese beyond safe limits in groundwater in some areas. Climate change could also produce unexpected, often interlinked, consequences. The release of certain pathogens due to permafrost melting is only one such example. The Task Force needs to anticipate these dangers and prepare mitigation and adaptation plans to keep the country as safe as possible. https://www.business-standard.com/article/opinion/focus-on-water-quality-demand-management-121100501495_1.html (06 Oct. 2021)
CWC RESERVOIR STORAGE BULLETIN OF 07.10.2021 As per reservoir storage bulletin dated 07.10.2021, live storage available in these reservoirs is 141.555 BCM, which is 82% of total live storage capacity of these reservoirs. However, last year the live storage available in these reservoirs for the corresponding period was 150.279 BCM and the average of last 10 years live storage was 132.149 BCM.
Thus, the live storage available in 130 reservoirs as per 07.10.2021 Bulletin is 94% of the live storage of corresponding period of last year and 107% of storage of average of last ten years.  http://www.cwc.gov.in/sites/default/files/07102021-fbpdf.pdf 
Sikkim Packaged mineral water to be banned from 1 Jan. 2022: CM CM PS Tamang on Saturday (Oct. 2) said that a three-month buffer time is being given to deplete the existing stock of mineral water bottles available with business establishments. Tamang said that the state government is taking steps to stop the supply of packaged drinking water from outside. Notably, tourist hotspots like Lachen in North Sikkim have already banned packaged water bottles. "Sikkim is rich in natural water resources and all requirements for water can be met within the state through environment-friendly initiatives," the CM added. Sikkim was one of the first states in India to ban plastics in 1998. Since then, it has gradually been phasing out the use of plastics from the state. https://www.livemint.com/news/india/sikkim-packaged-mineral-water-to-be-banned-from-1-january-says-cm-11633184849890.html (02 Oct. 2021)
MONSOON 2021
SANDRP Blog High Rainfall days in India's districts in Sept 2021 An analysis of the daily district wise rainfall data from India Meteorological Department (IMD) for the month of September 2021, the last month of India's South West Monsoon 2021 shows that there were 489 instances when district rainfall of a day was above 50 mm. The normal monthly rainfall of India for Sept is 170.2 mm and actual rainfall was a huge 34.96% above normal at 229.7 mm[i], the actual average daily rainfall in this month was about 7.66 mm. Such high rainfall instances included 374 instances when rainfall was 50-100 mm, 84 instances when it was 100-150 mm, 20 times it was 150-200 mm and eleven times above 200 mm.
Interestingly, in June 2021, July 2021 and Aug 2021 there were seven, seven and just one instances respectively when rainfall was above 200 mm, the eleven instances recorded in Sept 2021 is thus a record for this year. Similarly, the number of instances in Sept 2021 when rainfall was in the range 150-200 mm, at twenty is also a record for 2021 and such instances in June, July and Sept were five, seventeen and eleven. Detailed articles on June, July and Aug 2021[vii] provide more information about district wise, state wise rainfall in respective months. https://sandrp.in/2021/10/07/high-rainfall-days-in-indias-districts-in-sept-2021/ (07 Oct. 2021)
IMD Second most delayed monsoon withdrawal IMD says that conditions are favourable for the monsoon to start withdrawing from some parts of northwest India on Wednesday (Oct. 6), marking its second-most delayed withdrawal in the last 41 years. In 2019, monsoon withdrawal was the most delayed, commencing only on October 9. https://www.hindustantimes.com/india-news/2nd-most-delayed-monsoon-withdrawal-may-begin-wednesday-101633400352101.html (05 Oct. 2021)
Interesting about IMD's own assessment of its monsoon forecast over the last decade. https://ianslive.in/news/rain_forecast_accuracy_for_delhi_imd_s_work_in_progress-818523/LatestNews/0 (07 Oct. 2021)
Ludhiana 3-fold rise in normal rainfall for Sept With 295.8mm rain recorded in the city so far this month, Ludhiana has seen a three-fold increase in the normal rainfall for September this year. The normal rainfall for September is 106.2mm, as per the Met department. The highest rainfall for the month of September was previously seen in 1990, when the figure had gone up to 420.9mm. But in the subsequent years, it remained well below the 295.8mm- mark.
Experts at the department of climate change and agricultural meteorology, Punjab Agricultural University (PAU), said the pattern of monsoon has changed over the past few years and the withdrawal of monsoon has been delayed. Normally, withdrawal starts from mid-September but this time, heavy showers are being witnessed even in the penultimate week of the month.
Prabhjyot Kaur, head of the department of climate change and agricultural meteorology, PAU, said, "The pattern seems similar to 1988 when floods were witnessed in the state. At that time too, monsoon withdrawal was delayed and heavy rainfall was witnessed towards the end of the month." This year, deficit rainfall was witnessed in the month of August at 107.6mm, against the normal of 190.3mm. However, the cumulative rain of four months, starting June, was higher than the normal (599.6mm), at 759.4mm, said Sidhu. https://www.hindustantimes.com/cities/others/ludhiana-sees-3-fold-rise-in-normal-rainfall-for-september-101632430320881.html (24 Sept. 2021)
FLOOD 2021
SANDRP Blog Rivers that crossed Highest Flood Level in Monsoon 2021 While India has received 874.6 mm rainfall which falls in normal category in just concluded south west monsoon season, there have been at least 27 incidents of rivers crossing the Highest Flood Levels (HFLs) ever recorded in the past and attaining new HFLs in 5 river basins (some composite basins) in India, as recorded by the Central Water Commission (CWC) Flood Forecasting site during the monsoon. The maximum 12 such instances have taken place in Ganga basin followed by 6 in west flowing rivers Tapi to Tadri basin, 5 in Godavari, 2 in West Flowing rivers Tadri to Kanyakumari basin and 1 each in Subernarekha and Tapi basin. https://sandrp.in/2021/10/05/rivers-that-breached-hfl-in-south-west-monsoon-2021/ (05 Oct. 2021)
Karnataka According to the Karnataka State Disaster Management Authority (KSDMA), the water storage level in the 13 major reservoirs is 780 tmcft (thousand million cubic feet). Last year, it was a bit higher at 807 tmcft.
– INTERESTINGLY, the report says: "Mismanagement in the release of water from various dams was one of the main contributing factors for the 2019 deluge… Similarly, Belagavi district's Ghataprabha reservoir, which had a major role in worsening the flood situation last year after operators waited for it to be almost full, has a water level of 650 metres currently as against the FRL of 662 metres. Malaprabha dam, also in Belagavi, which was one of the worst-hit last year, has storage up to 628 metres compared to the FRL of 633 metres. " Something SANDRP has been saying. https://timesofindia.indiatimes.com/city/bengaluru/deficient-monsoon-in-karnataka-but-dam-levels-are-up/articleshow/86772292.cms (05 Oct. 2021)
West Bengal Flood Situation Worsens More than 22 lakh people have been affected by a devastating flood across eight districts in south Bengal. A total of eight columns of army personnel are currently deployed in the affected areas to help the flood victims.
Heavy to very heavy rainfall in the catchment area of Damodar Tarakeshwar and Keleghai river led to the flood. The flood has been partially caused by the massive outflow of water from the Damodar Valley Corporation (DVC) project in the state that clocked water flow of 1.25 lakh cubic metres per second. In total, 15 people have died so far in the floods.
In east Burdwan and east Medinipore districts, water from the Ajay and Damodar rivers has worsened the flood situation. In Ketugram, the Bisheswar area embankments near the Ajay river has been breached, and multiple villages have been inundated.
CM Mamata Banerjee accused the DVC of causing the flood saying the Asansol area DVC released water without intimation at around 3 O' clock in the night. The DVC refuted the allegation saying that the state government was intimated at every step before water was released from their reservoirs. https://www.newsclick.in/army-NDRF-deployed-flood-situation-worsens–west-bengal-15-dead-far (04 Oct. 2021)
Maharashtra Floods increase sediments in rivers of Raigad district The recent rains and subsequent floods have increased the level of sediments in rivers of Maharashtra's Raigad district, an official said. The Maharashtra Maritime Board surveyed Savitri, Kundalika, Patalganga and Amba rivers in the district post the rains and floods in the region, and the report was handed over to the mining department in the district. According to the report, the four major rivers in the district are full of sediments, which has obstructed the water flow, and may cause flooding in the future. As per the report, the sediment level in Patalganga river is 51,723 brass, while in Amba river, it is 74,556 brass, followed by 4,29,539 brass in Kundalika river, 1,43,174 brass in Savitri river and 93,949 brass in Rajpuri and Mandad creek. https://timesofindia.indiatimes.com/city/mumbai/maharashtra-floods-increase-sediments-in-rivers-of-raigad-district/articleshow/86678200.cms (01 Oct. 2021)
While Jayakwadi bird sanctuary is one of the wetlands in Maharashtra identified by the experts to carry out the bird ringing and colour flagging project, the overflowing dam may delay the start of the related activities. https://timesofindia.indiatimes.com/city/aurangabad/overflowing-dam-may-delay-start-of-bird-ringing-project/articleshow/86918106.cms (11 Oct. 2021)
Marathwada lets out 509TMC water towards Telangana Marathwada, known as a drought-prone region, has released a record 509 TMC of water towards Telangana state from its different overflowing dams so far this monsoon, said the officials of the Godavari Marathwada Irrigation Development Corporation (GMIDC) on Oct 7, 2021. This has been attributed the surplus showers in the region this year.
– "Discharge of water from some of the key major irrigation projects in Marathwada — including the Vishnupuri dam, Yeldari dam, Siddheshwar dam, Lower Dudhna dam, Manar dam, Majalgaon dam and the Jayakwadi dam — along with several other reservoirs and barrages goes towards Telangana via Babhali. Heavy to very heavy rainfall activity, especially in September, had initiated water release from these dams. In the majority of the projects, water release is continuing even now," he said. The GMIDC officials said further water release from Marathwada to southern regions of the country is likely given that more rainfall is expected during the withdrawal phase of the monsoon. https://timesofindia.indiatimes.com/city/aurangabad/mwada-lets-out-509tmc-water-towards-telangana/articleshow/86846630.cms (08 Oct. 2021)
3 dozen dams overflow for first time in recent years As Cyclone Gulab swept through the state and had the worst-ever impact on the drought-prone Marathwada and Vidarbha regions, standing crops on an estimated 11 lakh hectare of land were completely washed away.
On the other hand, following heavy rainfall, water stock in more than three dozen dams in the state has crossed the 100% mark. It is for the first time in the state's recent history that water stock in such a large number of dams has crossed 100% capacity. Significantly, considering the record stock in the dams, the number of water tankers now has reduced to a single digit, to only six, in the entire state. https://timesofindia.indiatimes.com/city/mumbai/mumbai-3-dozen-state-dams-overflow-for-first-time-in-recent-years/articleshow/86628533.cms (30 Sept. 2021)
Eight districts Marathwada known for frequent droughts, have been battling with the agrarian crisis due to huge losses of crops in three floods in the ongoing monsoon season. Crops on as much as 2.6 million hectares have sustained damage since the outset of monsoon on June 1, while the recent flooding early this week is expected to increase the figures further as the spot assessment of the losses are still underway.
The divisional administration has estimated the compensation towards the losses to the crops, roads, government buildings, lives and livestock etc. to be worth ₹2254 crore. Of it, ₹1796 crore needs to be disbursed towards the losses of the crops. The region has reported 22 deaths, 12 of which are reported this week. https://www.hindustantimes.com/cities/mumbai-news/often-affected-by-droughts-8-marathwada-districts-facing-agrarian-crisis-due-to-floods-101633023151112.html (30 Sept. 2021)
The water level in Jaikwadi, which is the biggest dam in drought-prone Marathwada region, has crossed 86 per cent. The Water Resources Department has asked district officials to closely monitor the water levels and if required, open the gates for discharge. Of the total water storage capacity (2,170,000 million litres), Jaikwadi, which is located at Paithan taluka in district Aurangabad, at present holds 1,846,300 million litres.
Patil, who is touring flood-hit districts in Marathwada region, held a review meeting late Tuesday (Sept. 28) night in Beed. "We are contemplating raising the heights of some irrigation projects to create more water storage facilities. The process of reviewing the irrigation projects to upstage the water storage to its optimum level is also underway." However, details and shortlisting of projects will be taken up after further study, he added.
Despite a large amount of water discharge following the opening of gates in Manjara and Majalgaon dam in Beed, the water level was 100 per cent. On Tuesday (Sept. 28), all 18 gates of Manjara dam and 11 gates of Mazalgaon dam were opened for water discharge. This resulted in floods in Beed and adjoining Latur district. The maximum water storage capacity of Manjara dam is 1,769,60 million litres. Majalgaon dam has a capacity of 3,11,340 million litres.
In Osmanabad district, which is amongst the worst drought districts in the region, also came under heavy rain spells. The Lower Terna dam in Osmanabad, which has a maximum water storage of 91,220 million litres, was overflowing at 100 per cent. In Hingoli district, Yeldhari dam with a maximum water storage of 8,097,70 million litres was also at its brim. https://indianexpress.com/article/cities/mumbai/maharashtra-rains-floods-marathwada-region-dam-water-storage-capacity-7541443/ (29 Sept. 2021)
Gujarat 124 dams on high alert However, officials are confident that SSP will be in a "comfortable position" to meet the drinking water supply needs for the summer of next year. The dam, known as the lifeline of Gujarat, has recorded total gross storage of 68.33 per cent of which only 47.98 per cent is live storage as of October 4. Currently, SSP has 6,463.67 MCM gross storage of which only 2,763 MCM is the live storage. The dam stands at 127.90 m.
According to the data by NWRWS and Kalpsar, of the other 206 gated and ungated reservoir schemes in the state, 124 reservoirs are on high alert, crossing their respective 90 per cent filling capacity. https://indianexpress.com/article/cities/ahmedabad/september-wet-spell-dams-barring-sardar-sarovar-filled-brim-7552225/ (05 Oct. 2021)
Dams register 21% increase in storage While the Sardar Sarovar Dam received water to the tune of 12% of its storage capacity in 21 days, as on September 6, the other 26 dams increased their storage by 26% during the same period. Overall, the state's dams including the Sardar Sarovar registered a 21% increase.
Officials said the data was mainly of large dams and there are many check dams on the river which are also full. Further, the officials said that the water in Narmada dam has increased by nearly 770 cusecs and the current level was at 124.47 metres. The dam has an inflow of over 48,000 cusecs which will result in further increase in the water level. Among the major dams, there are eight dams that have more than 90% storage and are overflowing. https://timesofindia.indiatimes.com/city/ahmedabad/dams-in-gujarat-register-21-increase-in-storage/articleshow/86566371.cms (28 Sept. 2021)
As heavy rain continued in Narmada district, Karjan dam began releasing water on Tuesday afternoon with four of its nine radial gates open after it recorded 113.84 metres, just two metres short of its Full Reservoir Level of 115.2 metres.
The dam has present gross storage of 492.90 Million Cubic Metres (MCM), which is 91.49% of the total gross storage capacity of 538.75 MCM, as per the data from the water resources and water supply department. Executive engineer of Karjan Dam, SM Patel, said that the water was released from four gates to maintain the rule level of 113.75 as the dam is inching towards FRL. https://indianexpress.com/article/cities/baroda/gujarat-rain-continues-karjan-dam-almost-full-4-gates-open-7525895/ (22 Sept. 2021)
Tamil Nadu Water at 1,000 cusecs released from Poondi reservoir The storage level at Poondi reservoir touched 2,823 mcft and the PWD on Oct. 10 released water at the rate of 1,000 cubic feet per second (cusecs). A senior PWD official told TOI that the maximum water level at Poondi reservoir is 35 ft, and on Oct. 10 morning, it touched 34 ft. https://timesofindia.indiatimes.com/city/chennai/tamil-nadu-water-at-1000-cusecs-released-from-poondi-reservoir/articleshow/86926425.cms (11 Oct. 2021)
Flood alert sounded as the Poondi Reservoir is to reach full capacity. https://www.youtube.com/watch?v=XP5oFw4FloA (10 Oct. 2021)
First flood warning issued in Sothuparai dam The first flood warning in Sothuparai dam was issued on Friday (Oct. 1) evening after the water level in the dam touched 121.28 feet at 5 p.m. with an inflow of 16 cusecs. The full reservoir level is 126.8 feet. The second and the final flood warning will be issued as a when the water level touched 126.28 feet and the surplus water would be released. Meanwhile, the PWD officials have sent a proposal for releasing water for 2,845 acres of land in Periyakulam taluk of Theni district. "The proposal has been made in anticipation of rainfall under northeast monsoon in October, November and December," he added. https://www.thehindu.com/news/cities/Madurai/first-flood-warning-issued-in-sothuparai-dam/article36794287.ece (02 Oct. 2021)
URBAN FLOOD
Hyderabad: Flights cancelled, restaurant flooded, two washed away Heavy waterlogging was reported from various parts of Hyderabad after incessant rainfall on Friday (Oct. 8). Two persons washed away in the drainages, and several flights got cancelled due to waterlogging at the airport. Heavy rainfall lashed many parts of Hyderabad city. Roads and the low lying areas are inundated with water. Nalas in Vanasthalipuram and Kukatpally have overflowed due to heavy rains. https://www.livemint.com/news/india/hyderabad-flights-cancelled-restaurant-flooded-two-washed-away-amid-heavy-rains-11633755442791.html (09 Oct. 2021)
Pune Many stuck at airport due to water logging, traffic jam Around 300 flyers got stuck at the Pune airport late on Saturday (Oct. 9) as heavy rains caused major water logging in parts of city's Lohegaon, Dhanori, Shivajinagar and other areas, resulting in massive traffic jams on roads leading to the airport and non availability of public transport, following heavy rainfall in Lohegaon (75.8mm), Shivajinagar (49.2mm) and Chinchwad (70mm). https://www.hindustantimes.com/cities/pune-news/many-stuck-at-pune-airport-due-to-water-logging-traffic-jam-101633844994742.html (10 Oct. 2021)
Visakhapatnam Airport almost submerged as Cyclone Gulab triggers heavy rain Although Cyclone Gulab weakened into a deep depression after completing the landfall process earlier in the day, heavy rainfall in the coastal areas of Andhra Pradesh caused by the storm led to severe waterlogging at the Visakhapatnam International Airport. Visuals shared by news agency ANI showed people wading through ankle-deep rainwater to enter or leave the airport. The road leading to the entrance of the airport was also seen as heavily waterlogged. https://www.hindustantimes.com/india-news/visakhapatnam-airport-almost-submerged-as-cyclone-gulab-triggers-heavy-rain-101632765492989.html (27 Sept. 2021)
Surat 1.75 lakh cusecs water released from Ukai The Tapi river through the Diamond City will be flowing bank-to-bank from Monday (Sept. 27) late evening with the release of 1.75 lakh cusecs water from the Ukai dam. The amount of water released from the Ukai dam was increased from 1.5 lakh cusecs following heavy inflow from the Tapi catchment area which witnessed incessant rain under the influence of cyclone Gluab in the Bay of Bengal.
"There will be no impact of the water release from Ukai up to 2 lakh cusecs on Surat city. The water is being released to bring down the water level in wake of heavy inflow from catchment areas," said Banchha Nidhi Pani, city municipal commissioner. "Though the dam rule level is 345ft at present, we are bringing it down below 342ft so that we have enough space to store and manage the rainwater," Pani added. "If necessary we will release up to 1.95 lakh cusecs of water," said an irrigation department official at Ukai dam. https://timesofindia.indiatimes.com/city/surat/1-75l-cusecs-water-released-from-ukai/articleshow/86564898.cms (28 Sept. 2021)
DISASTERS
J&K, Ladakh Govt initiates project to increase disaster resilience Jammu and Kashmir government has commissioned two consultancy assignments to increase the disaster resilience of J&K and Ladakh and increase the capacity of the UTs to respond promptly and effectively to any crisis or emergency. The initiative is being handled by Jhelum and Tawi Flood Recovery Project (JTFRP). Officials said that the Multi Hazard Risk Assessment (MHRA) project carried out detailed hazard and risk estimations for J&K and Ladakh recently. Moreover, two applications have also been developed under this assignment, being the first of their kind in the two UTs, the officials said.
The second consultancy assignment involves the commissioning of a Decision Support System (DSS) for emergency management. "RMSI Private Limited, an India-based global consulting firm, was engaged to carry out these two consultancy assignments", Chief Executive Officer, JKERA/JTFRP, Dr Syed Abid Rasheed Shah said. It may be mentioned that the MHRA has two key outcomes in terms of new applications called DRDB (Digital Risk Database) and IOFS (Integrated Operational Forecasting System). https://www.greaterkashmir.com/todays-paper/front-page/government-initiates-project-to-increase-disaster-resilience-of-jk-ladakh (19 Sept. 2021)
LANDSLIDES
Uttarakhand भारी बारिश के बाद गदेरे में बनी झील, दो गांवों पर मंडराया खतरा चमोली जिले के नारायणबगड़ के गड़कोट और अंगोठ गांवों के नीचे भूस्खलन होने के कारण 25 मीटर लंबी और 10  मीटर चौड़ी झील बन गई है। गड़कोट और अंगोठ गांव बिल्कुल आमने-सामने हैं और इन दोनों गांव की तलहटी से गडनी गदेरा बहता है। हाल ही में बारिश के कारण दोनों गांव के नीचे भारी भूस्खलन हुआ और मिट्टी एवं पत्थर गदेरे के किनारे गिर गए जिस कारण गदेरे का रास्ता बंद हो गया है और गदेरे में एक गहरी और चौड़ी झील बन गई है।
गांव के लोगों का कहना है कि गांव के नीचे अभी भी जलस्तर बहुत बढ़ रहा है और इस कारण लोगों के मकानों में भी दरारे आ रही हैं। इसी गदेरे में पानी भरने के कारण 1992 में भी बाढ़ आई थी और भरा पूरा बाजार देखते ही देखते उजड़ गया था जिसमें 14 लोगों की दर्दनाक मृत्यु हुई थी। हर वर्ष मानसून के समय यह गदेरा विकराल रूप धर लेता है जिस कारण दोनों ओर ग्रामीणों की सांसे अटक जाती हैं. https://www.rajyasameeksha.com/uttarakhand/18414-lake-made-in-narayanbagar  (25 July 2021)  
ENERGY OPTIONS
Uttarakhand Delays mar solar self-employment scheme In September 2020, Govt started a self-employment scheme to distribute small solar plants upto 25 (kW) to 10,000 individuals by the end of March 2022. The scheme has the potential to add 250 megawatts (MW) of additional solar power production in the northern Indian hill state. However, it has received only 1,242 applications till August 31, 2021 out of which only 558 received allotment letters. https://india.mongabay.com/2021/09/delays-and-glitches-mar-uttarakhands-solar-self-employment-scheme/ (22 Sept. 2021)
THERMAL POWER
Energy Exchange Jumps 176% For three months ended September 2021, Indian Energy Exchange saw a 57% year-over-year rise in power trading volume with demand across market segments. https://www.ndtv.com/business/an-energy-exchange-nearly-triples-as-country-faces-severe-coal-crisis-2567953 (08 Oct. 2021)
Union minister of power RK Singh has reassured that there were no threats to power supply and coal dispatches will increase in the coming days amid fears that some states including national capital Delhi may be hit by energy crisis. https://www.hindustantimes.com/india-news/power-minister-slams-opposition-for-unnecessary-panic-over-coal-shortage-101633919163598.html (11 Oct. 2021)
ENVIRONMENT GOVERNANCE
Supreme Court NGT can take up environment issues on its own "The National Green Tribunal cannot afford to remain a mute spectator when no one knocks on its door," the court said on Thursday (Oct. 7) while passing an order that vests suo moto powers to the body created under the National Green Tribunal Act 2010 for protection of environment.
Holding that any other interpretation would go against public good and render the environmental watchdog "toothless" and "ineffective", a three-judge bench of Justices AM Khanwilkar, Hrishikesh Roy and CT Ravikumar said, "It is vital for the wellbeing of the nation and its people, to have a flexible mechanism to address all issues pertaining to environmental damage and resultant climate change so that we can leave behind a better environmental legacy for our children, and the generations thereafter."
The bench declared, "It is accordingly declared that the NGT is vested with suo motu power in discharge of its functions under the NGT Act." Adding a rider, the bench added, "The exercise of suo motu jurisdiction does not mean eschewing principles of natural justice and fair play. In other words, the party likely to be affected should be afforded due opportunity to present their side, before suffering adverse orders."
In its 77-page judgment, the Court said that given the fallout of the climate crisis, "where adverse environmental impact may be egregious, but the community affected is unable to effectively get the machinery into action, a forum created specifically to address such concerns should surely be expected to move with expediency, and of its own accord." Justice Hrishikesh Roy, writing the judgment for the bench, said, "The functional capacity of the NGT was intended to leverage wide powers to do full justice in its environmental mandate." There were also concerns expressed by lawyers that suo moto powers could be abused. To counter this, the bench said, "As long as the sphere of action is not breached, the NGT's powers must be understood to be of the widest amplitude."
The court said it is was conscious of the fact that often citizens may not approach the tribunal. This could be on account of illiteracy, lack of mobility, technical knowledge, or when powerful entities with adequate wherewithal skirt regulations. The bench said, "The duty to safeguard Article 21 rights cannot stand on a narrow compass of interpretation….It may not always be feasible for individuals to knock on the doors of the Tribunal, and NGT in such exigencies must not be made dysfunctional. Procedural provisions must be allowed to fall in step with the substantive rights that are invoked in the environmental domain, in larger public interest." Article 21 of the constitution protects the right to life and personal liberty.
Further, the bench noted that addressing evolving environmental concerns will require a flexible institutional mechanism. "An affirmative role, beyond mere adjudication at the instance of applicant, is certainly required for serving the ends of environmental justice, as the statute itself requires of the NGT." "The hands-off mode for the NGT, when faced with exigencies requiring immediate and effective response, would debilitate the forum from discharging its responsibility and this must be ruled out in the interest of justice… We cannot validate an argument which furthers uncertainty to justify the role of a spectator, if not inaction, and would most assuredly result in injustice," the court said. https://www.hindustantimes.com/india-news/ngt-can-take-up-environment-issues-on-its-own-supreme-court-101633631587237.html (08 Oct. 2021)
"Institutions which are often addressing urgent concerns gain little from procedural nitpicking, which are unwarranted in the face of both the statutory spirit and the evolving nature of environmental degradation. Not merely should a procedure exist but it must be meaningfully effective to address such concerns. The role of such an institution cannot be mechanical or ornamental. We must, therefore, adopt an interpretation which sustains the spirit of public good and not render the environmental watchdog of our country toothless and ineffective," the bench said.
"The NGT, with the distinct role envisaged for it, can hardly afford to remain a mute spectator when no one knocks on its doors. The forum itself has correctly identified the need for collective stratagem for addressing environmental concerns," the court said. https://timesofindia.indiatimes.com/india/sc-empowers-green-tribunal-to-initiate-action-on-its-own/articleshow/86852909.cms (08 Oct. 2021)
FCA Govt eyes green law tweaks to boost strategic projects The TOI, in online version of this report has changed the title and heavily edited out the critical comments by Ritwick Dutta, carried in the printed version. "Exemption of projects for strategic and defence needs to be reviewed. The process can be streamlined but blanket exemption will have serious ecological consequences," said Ritwick Dutta of LIFE.
– Referring to use of forests on private land, Dutta said, "Allowing one time exemption for private residence in private forest will lead to fragmentation of forest areas, besides deforestation. This will open areas such as the Aravalli's mountains to private real estate development."
– Objecting to the provisions of allowing zoors, safari parks in forest areas, Dutta said, "Zoo and safaris are not site specific activities and do not need forest land. These are essentially commercial activities and revenue generating activities and can be located in non-forest land." https://timesofindia.indiatimes.com/india/govt-eyes-green-law-tweaks-to-boost-strategic-projects/articleshow/86798136.cms (06 Oct. 2021)
However, founder of LIFE and environment lawyer Ritwick Dutta termed it as a "good step" that the Ministry has at least asked for views at the pre-legislative stage, rather than presenting with a draft law. "They are asking for comments on essential ideas," he said. Stating that some of the ideas (in the consultation paper) are indeed problematic, Dutta said, "But the Ministry, technically, has not formed its opinion. There are serious issues of concern. On the face of it, basically, it is talking about how to facilitate diversion. There is no talk of conservation." https://english.lokmat.com/politics/govt-proposes-amendment-to-forest-act-for-accelerated-integration-of-conservation-and-development/ (04 Oct. 2021)
The draft forest law could actually end up spurring deforestation https://themorningcontext.com/chaos/the-draft-forest-law-could-actually-end-up-spurring-deforestation (06 Oct. 2021)
The Union environment ministry has come out with a consultation paper on amending the Forest Conservation Act 1980 to bring significant changes to forest governance in India including facilitating private plantations for harvesting and exploration or extraction of oil and natural gas deep beneath forest land by drilling holes from outside the forest areas. https://www.hindustantimes.com/india-news/key-changes-proposed-in-forest-conservation-act-1980-101633492055682.html (06 Oct. 2021)
India Environment Matters compilation on the changes that took place in the environment laws and policy this year. https://indiaenvironmentmatters.org/wp-content/uploads/2021/10/IEM-Newsletter-Issue-1-1.pdf
Opinion Right Livelihood Award for LIFE Manoj Misra LIFE played an influential role in the establishment of the National Green Tribunal in 2010, and in a slew of cases that have set the bar for the protection of environmental rights.
Its two heads also travel extensively to understand ground realities of the cases they handle and the adverse impacts of the projects on the lives and livelihoods of the local people. https://science.thewire.in/environment/2021-right-livelihood-award-life-india-environmental-democracy/ (06 Oct. 2021)
Tamil Nadu Longer green nod to run industries In a significant relief for industrial units, the Tamil Nadu Government has done away with the requirement for them to approach the Tamil Nadu Pollution Control Board every year for getting consent to operate and renewal of consent. The Board will issue the clearance for the entire validity period of an industrial unit on payment of the total consent fee. https://www.thehindu.com/news/national/tamil-nadu/longer-green-nod-in-tamil-nadu-to-run-industries/article36935435.ece (11 Oct. 2021)
Study Highest premature deaths in Kolkata due to coal pollution A new study by 'C40 Cities' — a network of the world's megacities committed to addressing climate change — reveals that Kolkata has the highest number of premature deaths due to coal-fired thermal power plant pollution in 2019 among 61 global megacities. It is also projected to witness 10,000 premature deaths till 2030. For the first time, this new research report by C40 quantifies the impact of air pollution from coal plants on the health of urban populations and its economic consequences.
The residents of Kolkata are the worst impacted by coal pollution compared to residents in other cities in terms of premature deaths. Around 20% of India's coal-powered electricity is generated within 500km of the city. Air pollution from coal-fired power plants travels long distances with the winds pushing pollutants towards the city, thus putting people, especially youths, pregnant women and senior citizens at risk. https://timesofindia.indiatimes.com/city/kolkata/highest-premature-deaths-in-kol-due-to-coal-pollution-says-global-study/articleshow/86625494.cms (30 Sept. 2021)
CLIMATE CHANGE
Study Seismic forensics and its importance for early warning The scientific description of the catastrophic rockslide of February 7, 2021, in India's Dhauli Ganga Valley reads like a forensic report. A rockslide and the subsequent flood had killed at least 100 people and destroyed two hydroelectric power plants. In the scientific journal Science, researchers from the GFZ German Research Center for Geosciences (GFZ) together with colleagues from the National Geophysical Research Institute of India (NGRI), trace the disaster minute by minute using data from a network of seismometers. The team posits that seismic networks could be used to establish an early warning system for high mountain regions.
– On Sunday, February 7, 2021, at just before half past ten in the morning, more than 20 million cubic meters of ice and rock began to rush downslope into the valley of the Ronti Gad River. Seismometers recorded the signal at 10:21 am and 14 seconds local time. 54 seconds later, the mass hit the valley floor at 3730 meters elevation, generating an impact equivalent to a magnitude 3.8 earthquake. In the valley, the mix of rock and ice mobilized debris and additional ice, which—mixed with water—rolled through the valleys of the Ronti Gad and Rishi Ganga rivers as a gigantic debris flow and flood. First author Kristen Cook of GFZ estimates that at first, the mass shot downhill at nearly 100 kilometers per hour; after about ten minutes, the movement slowed to just under 40 kilometers per hour.
– At 10:58 and 33 seconds, the flood reached a major road bridge near Joshimath. Within seconds the water there rose by 16 meters. Thirty kilometers further down the valley, the Chinka gauge station recorded a jump of 3.6 meters in water level, and another sixty kilometers down, the level still rose by 1 meter.
– Phase 1 was the rockslide and its massive impact on the valley floor. Phase 2 followed, with the mobilization of enormous amounts of material—ice, debris, mud, creating a devastating wall of material rushing through a narrow winding valley, where a great deal of material remained and the energy rapidly decreased with time. This lasted about thirteen minutes. Phase 3 (fifty minutes in duration) was more flood-like, with massive amounts of water that flowed downstream, carrying along large boulders up to 20 m across.
– Joshimath, where the river level rose 16 meters during the flood, was 34.6 km downstream from the landslide. Kristen Cook: "That means people in and around Joshimath could have received a warning about half an hour before the flood arrived." For regions farther upstream, where the wave arrived just a few minutes after the landslide, it might still have been enough to shut down power plants.
– Fabrice Cotton, Head of the Section Seismic Hazard and Risk Dynamics, says: "The problem is the different requirements for seismic measuring stations, which make many stations in our worldwide and regional earthquake networks less suitable for detecting rockfalls, debris flows or major floods. At the same time, stations that aim to monitor floods and debris flows in their immediate vicinity don't help as well in detecting events at a distance." The solution the GFZ researchers are working on with their colleagues in India and Nepal is a compromise: Stations would have to be set up at strategic locations that would form the backbone of a high-mountain flood early warning system. https://phys.org/news/2021-09-seismic-forensics-importance-early.html (30 Sept. 2021)
18.52% decrease in snow cover in Himachal A study titled Assessment of Spatial Distribution of Seasonal Snow Cover during the Year 2020-21 in Himachal Pradesh Using AWIFS Satellite Data' carried out by the Centre on Climate Change of the Himachal Pradesh Council for Science Technology and Environment (HIMCOSTE) and Space Applications Centre, Ahmedabad, from October 2020 to May 2021 found that 23,542 square kilometre was under snow cover in 2019-20 which now come down to 19,183 square kilometres in 2020-21, a drop of 3,404 square kilometres in area.
The study further revealed that all these rivers basins saw a fall in the snow cover area in 2020-21 in comparison to 2019-20. The snow cover in the Chenab basin reduced from 7,154.12 square kilometres in 2019-20 to 6,515.92 square kilometres in 2020-21 — a reduction of 638.2 square kilometres. The snow cover shrunk by 2,777 square kilometres in the Sutlej basin — from 11823.28 sq km in 2019-20 to 9,045.51 sq km this year. The Beas basin too witnessed a decrease of about 19% with its average snow cover area. The snow-clad area of the river basin decreased from 2457.68 square kilometres to 2002.04 square kilometres.
The Ravi basin saw an overall reduction of 23% in the total area under snow cover. This year, the snow cover in the river basin was of 1,619.83 sq km compared to 2,108 sq km last winter thus. The reduction in terms of area under snow cover was 488 sq km. Further analysis of the data reveals that the total maximum and minimum area under snow from October to May during 2020-21 that could be mapped varies from about 98% in January and about 21% in October. In the case of the Chenab basin, about 61% in January and about 10% in October and in the case of Beas, about 64% in January and about 3% in October, according to the study. https://www.newindianexpress.com/nation/2021/sep/01/climate-change-leads-to-1852-decrease-in-snow-cover-in-himachal-study-2352892.html (01 Sept. 2021)
हाल ही में जलवायु परिवर्तन केंद्र हिमाचल और अंतरिक्ष अनुप्रयोग केंद्र (इसरो) अहमदाबाद की रिपोर्ट में यह चिंताजनक खुलासा हुआ है कि हिमाचल प्रदेश में लगातार हिम आच्छादित क्षेत्र कम होता जा रहा है। यह पूरे हिमाचल और उतर भारत के लिए चिंता का विषय है क्योंकि हिमाचल और खासकर हिमालय से निकलने वाली नदियों के पानी पर ही उतर भारत की कृषि अर्थव्यवस्था सीधे तौर पर टिकी हुई है। अगर ऐसा ही हाल रहा तो यह देश की जल सुरक्षा का सवाल भी बन जाएगा। https://bit.ly/3atUtfT (10 Oct. 2021)
SOUTH ASIA
India-Nepal Offer to Export Excess Electricity, Receives No Response Between 200 MW and 600 MW of surplus electricity is being wasted daily, during different times in Nepal. An estimated 800 MW of electricity or more could be wasted during the Dashain festival, beginning October 12 as all government offices, schools and factories close to celebrate the week-long festival. The immediate export possibility is with India and the Nepal Electricity Authority (NEA) had written to India's ministry of power for electricity export approval about a month and a half ago. "The authority has sent a request to India's power ministry for exporting electricity from Nepal, detailing how much energy from which hydropower projects we can export," said Suresh Bahadur Bhattarai, spokesperson for the NEA. "We are yet to receive a reply." The power utility has proposed that electricity generated by various hydropower projects, including those in Upper Tamakoshi, Upper Bhotekoshi, Marshyangdi, Trishuli, and Devighat whose combined generation capacity stands at 621.1MW, will be exported after approval from India.
– According to the authority, Nepal now has surplus power even during peak hours, usually between 7 pm and 8 pm. The peak hour demand stands at 1,500MW. The country is currently producing 2,000MW of electricity a day and of that, 1,900MW is generated from hydropower projects. "We can offer a price in the range of INR 5 per unit which will not only be less costly for India but will also balance power prices in India and boost the Indian economy," said Ghising. "In fact, India purchasing Nepal's power is a win-win situation for both countries." https://thewire.in/energy/nepal-writes-to-indian-power-ministry-with-offer-to-export-excess-electricity-receives-no-response (07 Oct. 2021)
Nepal Communities tap water harvesting For the past four years, Liwali residents have been collecting rainwater through a system of pipes connected to the zinc sheet roofs of shacks built as temporary housing after two huge earthquakes shook Nepal in 2015, explained resident Kamala Sitikhu. The water is stored in a 106,000-litre underground tank, filtered and dispensed through a set of taps, and evenly shared among nearly 100 households, each of whom get 40 litres every other day, she said. "Our situation was no different than Taumadhi's. (But) now, we don't have to go to a neighbouring town to get water," Sitikhu said, lifting a water-filled can to her waist. Rainwater harvesting projects like the one in Liwali could offer a solution to other thirsty towns. https://www.tribuneindia.com/news/world/as-nepal-runs-dry-communities-tap-water-harvesting-320956 (06 Oct. 2021)
Vegetables imported from India destroyed Agricultural authorities in Kathmandu said that high levels of pesticides were found in seven vegetables including gourds. The vegetables were either destroyed or quarantined in the previous two and a half months. https://www.timesnownews.com/technology-science/article/nepal-destroys-7-consignments-of-vegetables-imported-from-india-over-pesticide-toxicity-how-to-make-fruits-crop-safe-organic-insecticide-free/821168 (07 Oct. 2021)
Pakistan Satellites spot methane plumes floating above Lahore
The cloud was seen over Lahore on Aug. 6 and had an emissions rate of about 126 metric tons of methane an hour, according to an estimate from geoanalytics firm Kayrros SAS. A second, smaller plume was seen above the city on Aug. 31, emitting about 39 tons of methane an hour. https://www.hindustantimes.com/world-news/satellites-spot-methane-plumes-floating-above-lahore-101632128486525.html  (20 Sept. 2021)
Opinion Cooperation is key as Himalayan nations deal with glacial floods As dangerous glacial lake outburst floods proliferate, countries need to find ways to manage and mitigate transboundary climate-related disasters. https://www.thethirdpole.net/en/regional-cooperation/south-asian-cooperation-needed-to-deal-with-glacial-floods/ (30 Augt. 2021)
ASIA
Report Green washing big hydropower Despite being linked to several disasters, the Asian Development Bank has reaffirmed its commitment to large hydro developments. Rishika Pardikar speaks to people holding it to account.
Large hydropower projects, which use moving water to create electricity, can have destructive consequences for the environment – despite their seemingly green credentials. Despite this, the Asian Development Bank (ADB) has shown its willingness to continue financing them in its recently published draft energy policy – a document which could shape its investment decisions in the coming years. https://newint.org/features/2021/10/04/greenwashing-big-hydropower (04 Oct. 2021)
THE REST OF THE WORLD
Report Global Energy Crisis Is the First of Many in the Clean-Power Era Insightful report on the world's "first major energy crisis of the clean-power transition, wont be the last one": "The next several decades could see more periods of energy-driven inflation, fuel shortages and lost economic growth as electricity supplies are left vulnerable to shocks."
– The shortages jolting natural gas and electricity markets from the U.K. to China are unfolding just as demand roars back from the pandemic. But the planet has faced volatile energy markets and supply squeezes for decades. What's different now is that the richest economies are also undergoing one of the most ambitious overhauls of their power systems since the dawn of the electric age — with no easy way to store the energy generated from renewable sources. "It is a cautionary message about how complex the energy transition is going to be". In the throes of fundamental change, the world's energy system has become strikingly more fragile and easier to shock.
– Continued economic and population growth will also drive consumption higher. And as the world moves even more into all things digital, it will mean that this heightened vulnerability comes at a time when people need reliable power more than ever. The planet's energy systems are interconnected, so the crisis and its spillover are being felt across the world.
– "The new economy is over-invested and the old economy is starved." One of the biggest obstacles ahead will be storing power generated by intermittent solar, wind and water sources. Solutions do exist, but it will be years before we have them at the scale on which they're needed. The first wave of green hydrogen plants is still in planning stages. https://www.bloomberg.com/news/articles/2021-10-05/global-energy-crisis-is-the-first-of-many-in-the-clean-power-era (05 Oct. 2021)
GERD Egypt Reviews with UN Officials 'Negative Impact' of GERD Egypt reviewed on Oct 5, 2021 with UN officials the negative impact of the Grand Ethiopian Renaissance Dam (GERD) on the Nile River, stressing its keenness to reach an agreement that preserves its "water rights" and meets the aspirations of all the countries.
Egypt and Sudan have been in vain negotiations with Ethiopia for the last decade, aiming to reach an agreement on filling and operating the dam on the main tributary of the Nile, Ethiopia has rejected this so far pressing its right to development. The UN Security Council has called on the three countries to resume negotiations under the auspices of the African Union (AU), stressing the need to reach a "binding agreement on the filling and operation of the GERD" within a reasonable timetable. https://english.aawsat.com/home/article/3229736/egypt-reviews-un-officials-%E2%80%98negative-impact%E2%80%99-gerd  (06 Oct. 2021)
USA FLOOD DEATHS: At least four people, including a child, died in flooding and many more were rescued from inundated cars after heavy rainfall swept through parts of northern and central Alabama, officials said on Oct 7, 2021. Nine to 10 inches of rainfall over 24 hours pooled in basements or swamped high-elevation areas in Hoover, which has about 92,000 people on Oct 6 night. https://www.nytimes.com/2021/10/07/us/child-alabama-flooding-death.html (07 Oct. 2021)
Ancient groundwater As rising temperatures and drought dry up rivers and melt mountain glaciers, people are increasingly dependent on the water under their feet. Groundwater resources currently supply drinking water to nearly half the world's population and roughly 40% of water used for irrigation globally. https://theconversation.com/ancient-groundwater-why-the-water-youre-drinking-may-be-thousands-of-years-old-167982 (07 Oct. 2021)
NASA Rover Images Show Existence Of Ancient River Delta On Mars Evidence gathered that a river may have existed on Mars 3.7 Billion Years ago, which in turn would mean life may have existed there. https://www.ndtv.com/world-news/nasas-rover-images-show-existence-of-ancient-river-delta-on-mars-2567841 (09 Oct. 2021)
Biodiversity loss risks 'ecological meltdown' – scientists The UK is one of the world's most nature-depleted countries – in the bottom 10% globally and last among the G7 group of nations, new data shows. It has an average of about half its biodiversity left, far below the global average of 75%, a study has found. A figure of 90% is considered the "safe limit" to prevent the world from tipping into an "ecological meltdown", according to researchers. The assessment was released ahead of a key UN biodiversity conference. https://www.bbc.com/news/science-environment-58859105 (10 Oct. 2021)
Compiled by SANDRP (ht.sandrp@gmail.com)
Also see: DRP News Bulletin 03 Oct. 2021 & DRP News Bulletin 27 Sept. 2021
Follow us on: www.facebook.com/sandrp.in; https://twitter.com/Indian_Rivers