From the beginning of May 2021, Uttarakhand has started witnessing excessive rainfall events termed as 'cloud bursts'. Worryingly the intensity and frequency seems on higher side this time. So far there have been about 24 reported cases of 'cloud bursts' in the state but the monitoring, prediction and mitigation efforts are lagging far behind.
Details of 'cloud burst' events
May 3
A series of cloud burst[i] incidents caused significant destruction in Uttarakhand on May 3, 2021. There are reports of one cloud burst[ii] occurring in Chinyalisaur block, Uttarkashi, four in Augustmuni, Jakholi blocks[iii] in Rudraprayag and a similar incident[iv] in Ghansali block of Tehri district on the same day.
The one and half hour long heavy downpour[v] in Chulyani tok caused flash floods[vi] downhill damaging over a dozen homes, shops and vehicles in Kumrada and Baldogi village areas around 04:30 pm. Several toilets, pathways, potable water supply lines were also damaged[vii] by the deluge. Three cattle were buried after a home where they were kept in, collapsed. Farming land and produces were also affected by the incessant rains.
Similarly, the homes and shops suffered damages in Kamad market area in Gajna under Dunda tehsil. A lightening incident amid heavy downpour near Fitadi, Renkcha villages killed 40 goats and sheep in Mori block. There was heavy rainfall[viii] in Kotgaon also. In absence of reports, impact on land and people living there is not known.
In Tehri the flash floods in Jheedkhale stream area damaged[ix] the homes & wheat crops in Kandal village under Bandachak gram panchayat of Jaunupar block on May 3 around 5 pm.
The incident damaged[x] drinking water supply lines, roads and farms in the area. There was unconfirmed report of few people being washed away in flash floods. Three bikes on Thatyud-Bandachak road were buried under debris.
The lightening damaged a cowshed killing five cattle in Bhainti village. The fisheries tanks built under livelihood improvement schemes were damaged by hailstorm and lightening in Soanp village under Bhilangna block causing losses worth Rs 4 lacs to villagers.
In Rudraprayag cloud burst incidents in Khankara and Fatehpur villages under Bachchansyun area in Augustmuni heavy rainfall caused flash floods in Chitramati river invading several houses and cowsheds. There was excessive rain in Kotli, Garsari villages under Bhardar patti of Jakholi block damaging houses, pathways, farm lands.
Another cloud burst[xi] incident took place in Sain tok of Rudraprayag tehsil flooding a dozen of homes with debris in Narkota situated downhill close to Badrinath highway. The villagers had to run for safety of their lives.
Local streams were in spate following the heavy rainfall. A Max vehicle was washed away in Alaknanda river and four occupants somehow managed to escape. A bike carrying two persons was hit by deluge on Amkoti-Tanyukhar road killing one of the riders. The Badrinath Highway was blocked in Rudraprayag at several locations.
May 4
On May 4, three cloudburst occurred[xii] at Chinadol Tok, Band Bazar, Ganesh Nagar located at the foothills of Binsar Hill in Ghat block around 5.30 pm causing widespread damages[xiii]. The locals were caught unaware and had to run out of homes for safe places.
About 30 homes and 25 shops in Ghat market area were flooded with muck and debris[xiv] while several vehicles were trapped in sludge there. The debris also blocked Ghat-Banjbagad, Ghat-Bhainti, Ghat-Ustoli roads. The Ghat block and market area has been disaster prone. There have been similar incidents in 2013, 2015, 2017 and 2019 also.
The market area is surrounded by hills. With sharp gradient the Chuflagad river flows through the market area. It turns fierce, threatening lives and structures whenever there is heavy rainfall. The area also suffers from frequent and unpredicted landslides.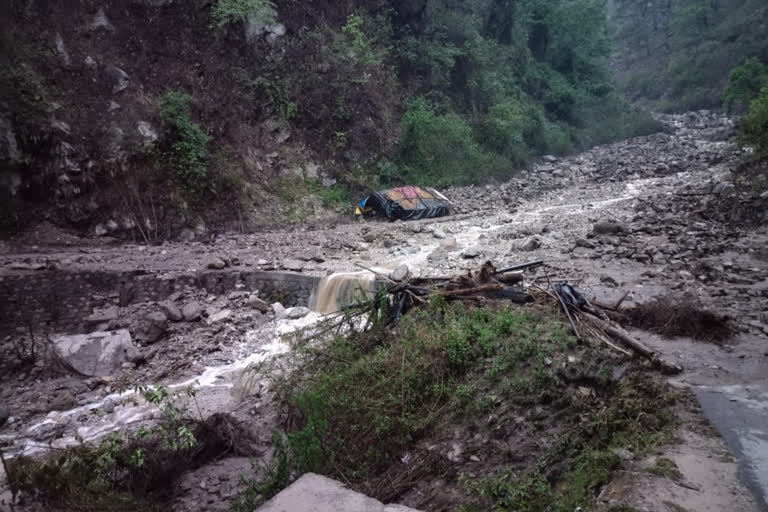 Same day, there was one more cloud burst incident[xv] in Bainoli village under Jakholi tehsil of Rudraprayag flooding five homes with debris and washing away large area of farm land. The water supply pipeline of the village was also damaged. Further, the flash flood in local stream blocked the Tilwada-Myali road.
May 5
The Chaukhutiya tehsil area in Almora witnessed heavy rainfall[xvi] for about two and half hours in the afternoon on May 5 leading to flash floods in Agar, Kuthalad, Chitaligad, Ullani, Dhudhaliya, Dhoun, Bhatkot, Bakhli, Kotuda, Gadsyari streams which are tributaries of Ramganga. There was increase in Ramganga water level.
The deluge caused significant damages[xvii] to homes, cowsheds, agricultural land in the area. The water supply and irrigation channels in Ulaini village were washed away. Two cattle died when a cowshed razed in Siroli village. Part of a playground in Bhatkot was damaged while a car and two bikes were washed away in the deluge.
The incessant rains[xviii] in the catchment of Chitailigad resembled like a cloud burst event. There was hailstorm spell adding into crops damage. Chaukhutiya-Dwarahat road was blocked following landslips and debris sludge.
May 6
Three cloud burst incidents[xix] were reported in Tehri Garhwal late in the night on May 6. The calamity severely affected Pipola village[xx] under Jakhnidhar block, Malyakot and Ghansali market area in Bhilangna, Dharkot and Khark villages in Kritinagar and Bharpuriya village under Pratapnagar.
About 16 homes, 7 drinking water scheme pipelines, a school building, part of a Panchayat building, four water tanks, natural water sources, walls of few cowsheds and toilets, several pathways and large area of farmlands were also damaged by debris in Angadh, Dang and Kaila hamlets under Pipola village.
There was flash flood[xxi] in Nailchami stream near Malyakot village following a cloud burst around 08:00 pm destroying electricity lines and potable water supply pipelines. The deluge flooded several shops with debris in Ghansali market apart from affecting large farming area.
Several vehicles stuck in mud and debris that followed. The Ghansali-Sunharigad-Rjakhet and Tehri-Pratapnagar roads were blocked after the downpour which were later restored by Public Works Department (PWD).
On May 6, one more cloud burst incident[xxii] was reported from Jandanu Khirmu village under Naugaon tehsil in Uttarkashi affecting agricultural lands and few homes. There is not much information available about the incident.
May 11
There were multiple cloud burst incidents in Tehri district on May 11. First a cloud burst[xxiii] stuck the Dashrath hills in Shanti market area of Devprayag in Tehri district around 05:00 pm. The incident caused severe flash floods in Shanta stream (gadera) destroying a three storey ITI building and about 10 shops.
A pathway and bridge connecting to bus station were washed away while the water and electricity supply was disrupted. The market was fortunately closed due to Covid 19 curfew otherwise it could have been a big disaster. Few people had to run for their safety following the incident.
At the same time another cloud burst incident[xxiv] occurred in Bonth village under Bharpur patti of Devprayag block damaging[xxv] two homes, three shops, village pathways, drinking water supply lines and Inter College building apart from washing away some farmlands and destruction to crops.
In addition to this, excessive rainfall damaged three homes in Kyara village under Dongi patti of Narendar Nagar block. There is no information if it was a cloud burst event.
May 12
The Bhawali and Ramgarh area of Nainital saw two back to back cloud burst[xxvi] incidents in short span on May 12 around 01:00 pm causing flash floods in three local streams including Kshipra river. The homes, cowsheds and farmland were affected in the incident.
The flooded streams dumped huge debris in Kainchi dham temple and Sai temple area damaging[xxvii] some shops there. Apart from this boulders and rubbles blocked the Bhavali- Almora highway for several hours. However the administration denied of any cloud burst incident.
On same day a cloud burst incident[xxviii] was reported in Khati village under Vani block in Pithoragarh district. As per locals the heavy rainfall around 05:30 pm resulted in deluge of boulders and debris flooding the high school area. It also damaged village water tanks and supply line and farm crops.
One more cloud burst[xxix] incident was reported in Kambakhal area under Saklana Uniyal village in Jaunpur region of Tehri damaging the drinking water supply line, village pathways and vegetable crops were damaged in the incident. However, there is not much information on this.
May 20
In one of the worst cloud burst[xxx] incidents three people, two dozen cattle were killed while four others were injured. The incident occurred on May 20 in Chakrata region of Dehrudun. As per information a few families from Jogiyo panchayat under Vishlad Khat were practicing farming, cattle rearing in Kheda Bijnad area of Jaunsar.
There was intensive rainfall in area since previous night and around 08:30 am a cloud burst occurred uphill causing flash floods in Bijnad khad (stream). The cowsheds, dwellings of the people were devastated by debris and downpour resulting in the casualties. Some reports mentioned that the people and cattle were washed away in the flash flood.
The flash floods[xxxi] in Khachda and Laambagad streams damaging part of Badrinath highway in Chamoli is also being said a result of cloud burst incident in the area on May 20.
May 30
The Amsera area of Bangwadi village in Pauri district witnessed a cloud burst[xxxii] incident around 03:30 am on May 30 in which three cowsheds, village pathways and two vehicles were damaged while farm land and crops were severely affected. The flash floods and debris also blocked[xxxiii] the Srinagar-Pauri road.
District Wise Rainfall in Uttarakhand The map below shows the district wise % rainfall departure from Normal Rainfall in Uttarakhand during the pre-monsoon 2021 season that includes March, April and May as per IMD.
In the table below we have provided the district wise rainfall in Uttarakhand only for the month of May 2021, which shows that not only all districts had huge surplus rainfall, but also that at least five districts had over 200% surplus and three among them had over 300% surplus rainfall in that month.
| | | | |
| --- | --- | --- | --- |
| State/ District | Actual Rainfall, mm | Normal Rainfall, mm | % Departure |
| Uttarakhand | 175.5 | 65.6 | 168 |
| Almora | 153.3 | 51.4 | 198 |
| Bageshwar | 245.6 | 51.4 | 378 |
| Chamoli | 167.9 | 68.2 | 146 |
| Champawat | 225.7 | 55.4 | 333 |
| Dehradun | 145.8 | 53.4 | 173 |
| Haridwar | 82.2 | 26.5 | 210 |
| Nainital | 230.4 | 64.1 | 259 |
| Pauri Garhwal | 112.6 | 39.7 | 184 |
| Pithoragarh | 205.2 | 105.9 | 94 |
| Rudraprayag | 220.8 | 90.5 | 144 |
| Tehri Garhwal | 135 | 54.3 | 149 |
| US Nagar | 184.7 | 37.4 | 394 |
| Uttarkashi | 186.9 | 82.2 | 127 |
The rainfall figures seems to indicate that there may be many more instances of cloud bursts or heavy rainfall leading to damages like the events listed here.
Summary Table
| | | | | | |
| --- | --- | --- | --- | --- | --- |
| Date/ Time | Incidents of cloud burst | Affected Villages | Block, Tehsil District | Death Human | Death Cattle |
| May 3 ~04:30 pm | 1 | Kumrada, Baldogi Kamad | Chinyalisaur, Uttarkashi | | 3 |
| May 3 ~05:00 pm | 1 | Kandal | Jaunupar, Tehri | | |
| May 3 ~04:00 pm | 4 | Khankra, Fatehpur Kotli, Gairsari Narkota | Augustmuni Jakholi Rudraprayag | 1 | |
| May 4 ~05:30 pm | 3 | Chinadol Tok, Band Bazar, Ganesh Nagar | Ghat, Chamoli | | |
| May 4 ~06:00 pm | 1 | Bainoli | Jakholi Rudraprayag | | |
| May 5 ~01:30 pm | 1 | Unaili, Siroli, Bhatkot | Chaukhutiya Almora | | |
| May 6 Late night | 3 | Pipola Malyakot Ghansali Dharkot Khark | Jakhnidhar Bhilangana Kirtinagar Tehri | | |
| May 7 Early morning | 1 | Jandanu Khirmu | Naugaon Uttarkashi | | |
| May 11 ~05:00 pm | 2 | Devprayag Bonth | Devprayag Tehri | | |
| May 12 ~01:00 pm | 2 | Ramgarh Bhavali | Nainital | | |
| May 12 ~05:30 pm | 1 | Khati | Pithoragarh | | |
| May 12 | 1 | Uniyal | Dhanaulti, Tehri | | |
| May 20 ~08:30 am | 1 | Bijnad | Chakrata Dehradun | 3 | 24 |
| May 20 ~12:00 pm | 1 | Lambagad | Lambagad Chamoli | | |
| May 30 ~03:30 am | 1 | Bangwadi | Pauri | | |
| Total | 24 | | | 4 | 27 |
In just nine days, May 2021 has seen about 24 'cloud burst' incidents from ten districts of Uttarakhand. The first half of pre monsoon month saw 22 of excessive rainfall while there were only 2 such incidents in later half.
Half of the 'cloud burst' events were reported only from two districts of Tehri (7) and Rudraprayag (5), while the three other districts Chamoli (4), Uttarakashi (2) and Nainital (2) witnessed 8 of such incidents. There was one incident of cloud burst in each of Almora, Pithoragarh, Dehradun and Pauri districts.
SANDRP has been monitoring and compiling the extreme weather events in Himalayan region for past four years and could not find reports of so many 'cloud bursts' taking place in just one state in a single month.
Reports show death of 4 human beings and 24 cattle in the disaster while the homes, cowsheds, basic human amenities including water, electricity, access roads, buildings, farming land and produces have also been commonly and greatly damaged in each of such incident.
Discussion The unusual snowfall on higher reaches and frequent hailstorm spells throughout the month alongside cloudbursts have aggravated the miseries of local people at a time when state machinery is battling Covid 19 pandemic.
While rescue teams have apparently been prompt in early response to disaster, the restoration work particularly in the remote villages is moving at snail's pace.
Heavy downpour leading to mud slide, debris laden flash floods impacting human settlements down hills have also been a common feature in most of the cases.
Likewise, the incidents of Kumrada, Devprayag, Ghat again emphasize why residential and commercial buildings must not come up in danger zone of streams and rivers as being repeatedly warned by judiciary, experts and scientists since 2013 but still missing the due attention and action which is crucial part of disaster mitigation efforts.
There could have been more excess rainfall incidents in the state in May month going unmonitored and unreported. It's also very much possible that not all of the above listed events qualify the official definition of cloud bursts with is 100 millimetres of rains in one hour. We have gone by what the media has called cloud bursts, which is just a phrase used by them when there is heavy rains, leading to damages and loss of life. The key aspect is not the technical definition of the cloud bursts but the undeniable fact of the damages to the life and property at so many places on so many days in May 2021 in Uttarakhand.
In fact, the local administration and weather department, Dehradun have reportedly denied the Chaukhutiya, Nainital even Devprayag incidents in which three storey ITI building was ruined in a moment as a result of cloud burst. At the same time there are huge concerns regarding daily block wise rainfall monitoring and data unavailability in public domain for larger evaluation.
While the state has been repeatedly devastated by weather related disasters over a decade, yet there are only 24 automated weather stations (AWS) and 5 surface observatories as shown on IMD Dehradun website[xxxiv] and one Doppler radar installed against long due plan and promise of 52 new AWS, 16 new surface observatories and 3 new Doppler radars. It also appears that these cloud burst events are not being recorded separately.
However Rohit Thapliyal, Meteorologist, IMD Dehradun says there are over 150 AWS and Automatic Rain Gauge (ARG) installed by IMD, Delhi and state government across Uttarakhand which may not have been updated on the website. "We have all the meteorological data and impact related information can be found mostly with media and state disaster management department" adds Thapliyal.
When asked if the Doppler radar at Mukteshwar was helpful in timely prediction of intense rainfall spell taking place on May 12 which blocked the Bhawali-Almora road and flooded Kainchi Dham with debris.
He says Doppler radars are weather monitoring system which generates real time data on cloud formation and subsequent rainfall activities within its range. Data based on satellite images and Doppler radar is processed and disseminated under Now Cast weather updates after every three hours.
On the question of if IMD is maintaining block level rainfall data on daily basis. Thapliyal replied that IMD Dehradun gets block level rainfall data from various sources. "Block is very small unit and it's difficult to go to that level nevertheless our AWS and ARG are covering most of the blocks in the state. Rainfall information of a particular station near the block or district is recorded and available with IMD, Dehradun", informs Thapliyal.
He further adds that the intense shower and thunder storm spells are common weather feature in pre-monsoon months of April and May in Uttarakhand and severe weather system are generally with large spatial scale and it's not necessary that the weather system of lesser dimension would be equally severe in terms of impact.
He accepts that there could be highly localized rainfall phenomena inside valleys and it's not possible for observatories to always record these.
While IMD, Delhi officials confirm that rainfall has not been severe and say even low scale rains can activate landslides, the experts caution that increased pace of construction such as Char Dham road project laying bare the hill sides and slopes is aggravating[xxxv] the risks of flash floods and other disasters in fragile region.
Another senior IMD official now retired rules out climate change impact behind these increased heavy rainfall incidents; attributes unchecked encroachments of streams, river spaces as main cause behind infrastructural damages citing the example of Devprayag deluge washing away ITI building.
Indeed, there is absence of rainfall monitoring at local level and given the intensity and severity of frequent 'cloudburst' events even the state authorities feel the need of redefining the 'cloudburst' definition[xxxvi] for hills.
It seems most of these extreme rainfall events are occurring outside weather department's monitoring network. Also the numbers and of scale[xxxvii] of resultant destruction is worryingly larger.
The revenue officials under agriculture department at tehsil levels and forest department at range official levels are also learnt to be measuring rainfalls. The data of forest department is for official use while data from revenue official is submitted to emergency operation centre to disaster management teams at district level.
There is no information ascertaining the monitoring mechanism and functionalities of rainfall gauge at tehsil or block or local level. Moreover even this information is not open for public scrutiny. Further, there are huge variation in rainfall intensity in different region under the same tehsil or block or sometimes even a village.
Hence this data is not always very useful for monitoring cloud burst of high rainfall events and managing disasters related to them. We do not know if any instance where the Doppler radar or the satellite monitoring has helped forecast such events in advance and helped manage the disaster.
Also the Central Water Commission (CWC) does flood forecasting in the state only during southwest monsoon months beginning from June 1, hence there is no the timely warning of flash floods induced by the intense rains in before June. When asked about the reason; CWC maintained that pre-monsoon monitoring and forecasting can be done only after the requisition of state government.
It is worth to mention that there have been flash floods[xxxviii] after heavy rainfalls in Ramganga, Alaknanda and Sharda rivers in May month in the state causing devastation and panic among the local people. The floods in Sharda even killed three mining workers.
Undoubtedly, the extreme rainfall events are happening across the state with increased intensity and frequency at the same time the monitoring, prediction and mitigation work by concerned departments and state government as a whole is lagging miles behind.
Bhim Singh Rawat (bhim.sandrp@gmail.com)
Also see:
Uttarakhand Cloud Burst Incidents 2018
Uttarakhand Cloud Bursts 2019: No Doppler radars six years since 2013 disaster
Cloud Burst in Chauthan; NO RAINFALL says disaster control room Pauri
Cloud Bursts in Indian Himalayan region in pre-monsoon, monsoon 2020
उत्तराखंड: जब मेरे गांव में बादल फटा
References:
---
[i] https://www.amarujala.com/dehradun/uttarakhand-weather-news-today-excess-rainfall-like-disaster-in-uttarkashi-rudraprayag-and-tehri
[ii] https://www.dailypioneer.com/2021/india/u—khand–3-incidents-of-cloudburst-reported.html
[iii] https://www.livehindustan.com/uttarakhand/rudraprayag/story-villagers-of-narkota-made-a-broken-road-for-the-village-by-doing-shramdaan-3498396.html
[iv] https://www.indiatoday.in/india/story/cloud-burst-uttarakhand-tehri-uttarkashi-rudraprayag-1798444-2021-05-03
[v] https://www.youtube.com/watch?v=beRG2JSdJCg
[vi] https://www.hindulive.com/uttarakhand/uttarkashi/cloud-burst-in-kumrada-village-of-chinyalisaur-sdrf-team-leaves-for-the-spot/
[vii] https://www.jagran.com/uttarakhand/dehradun-city-uttarakhand-weather-update-possibility-of-rain-and-hailstorm-in-many-areas-in-uttarakhand-for-next-three-days-21611023.html
[viii] https://twitter.com/kalapian_/status/1389506257787101187?s=20
[ix] https://www.amarujala.com/photo-gallery/dehradun/uttarakhand-weather-news-today-disaster-in-hilly-area-after-extreme-rainfall-in-uttarkashi-rudraprayag-and-tehri-photos
[x] https://react.etvbharat.com/hindi/uttarakhand/state/tehri-garhwal/cloudburst-in-dhanaulti-has-damaged-many-roads-and-drinking-water-lines/uttarakhand20210503194851615
[xi] https://react.etvbharat.com/hindi/uttarakhand/state/rudraprayag/many-houses-have-been-damaged-due-to-cloudburst-in-rudraprayag/uttarakhand20210503182211557
[xii] https://uttarakhandnewsnetwork.com/2021/05/cloudburst-wreaks-havoc-in-chamoli-district/
[xiii] https://www.amarujala.com/photo-gallery/dehradun/uttarakhand-weather-chamoli-disaster-news-today-cloudburst-in-three-places-of-ghat-block-photos
[xiv] https://www.amarujala.com/dehradun/uttarakhand-weather-news-today-cloudburst-in-chamoli-binsar-mountain-debris-covered-market-and-village
[xv] https://react.etvbharat.com/hindi/uttarakhand/state/rudraprayag/cloud-burst-again-in-rudraprayag-district/uttarakhand20210504210738843
[xvi] https://www.amarujala.com/photo-gallery/dehradun/uttarakhand-weather-disaster-news-today-excess-rainfall-in-kumaon-glacier-broken-in-pithoragarh
[xvii] https://www.jagran.com/uttarakhand/nainital-rain-fell-as-a-chaukhutia-disaster-in-almora-devastated-agricultural-land-landslides-in-different-places-21617412.html
[xviii] https://www.jagran.com/uttarakhand/nainital-rain-fell-as-a-chaukhutia-disaster-in-almora-devastated-agricultural-land-landslides-in-different-places-21617412.html
[xix] https://lokpaksh.com/cloud-burst-in-pipola-dhung-dhungmandar-belt-of-tehri/
[xx] https://digitalwomen.news/2021/05/07/uttarakhand-cloud-burst-in-ghansali-of-tehri-for-third-time-in-four-days/
[xxi] https://www.jagran.com/uttarakhand/tehri-garhwal-tehri-cloudburst-huge-loss-due-to-cloudburst-in-ghansali-21621309.html
[xxii] https://m.facebook.com/story.php?story_fbid=1261678537585923&id=221379381615849&sfnsn=wiwspwa&funlid=sOsqbnwJLZuEi32L
[xxiii] https://www.amarujala.com/photo-gallery/dehradun/uttarakhand-cloudburst-news-today-disaster-in-devprayag-after-heavy-rainfall-photos
[xxiv] https://www.jagran.com/uttarakhand/tehri-garhwal-tehri-cloudburst-many-shops-damaged-due-to-cloudburst-in-devprayag-21634818.html
[xxv] https://janpakshtoday.com/%e0%a4%ac%e0%a4%be%e0%a4%a6%e0%a4%b2-%e0%a4%ab%e0%a4%9f%e0%a4%a8%e0%a5%87-%e0%a4%b8%e0%a5%87-%e0%a4%b9%e0%a5%81%e0%a4%8f-%e0%a4%a8%e0%a5%81%e0%a4%95%e0%a4%b8%e0%a4%be%e0%a4%a8-%e0%a4%95%e0%a4%be/
[xxvi] https://hindi.oneindia.com/videos/nainital-ke-bhavali-ke-pas-badal-phata-kainchi-dham-malabe-ki-chapet-me-dhnt-1550426.html
[xxvii] https://www.amarujala.com/photo-gallery/dehradun/uttarakhand-weather-news-today-disaster-after-extreme-rainfall-in-haldwani-and-nainital-photos
[xxviii] https://public.app/video/sp_6mgjkpz6dm0x8
[xxix] https://react.etvbharat.com/hindi/uttarakhand/state/udham-singh-nagar/life-is-disturbed-due-to-rain-and-hailstorm-in-uttarakhand/uttarakhand20210513084403117
[xxx] https://www.jagran.com/uttarakhand/dehradun-city-cloud-burst-in-bijnad-village-of-chakrata-at-dehradun-21660302.html
[xxxi] https://react.etvbharat.com/hindi/delhi/bharat/people-are-troubled-by-the-subtraction-of-rain-and-cloudburst-with-corona-in-uttarakhand/na20210520215928127
[xxxii] https://www.jagran.com/uttarakhand/pauri-garhwal-cloud-burst-in-amasera-of-bangwadi-village-pauri-srinagar-motorway-closed-21690760.html
[xxxiii] https://www.amarujala.com/dehradun/uttarakhand-weather-forecast-today-update-cloud-burst-in-pauri-today
[xxxiv] https://rmcnewdelhi.imd.gov.in/MET_CENTRES/MCDDN/ddn_upload/uploads/Network%20of%20Existing_AWS_&_Dept_Observatory_Uttrakhand.pdf
[xxxv] https://www.hindustantimes.com/india-news/imdwarns-of-dangers-to-char-dham-project-101620846946173.html
[xxxvi] https://en.gaonconnection.com/uttarakhand-rainfall-cloudburst-floods-damage-pauri-garhwal-chamoli/
[xxxvii] https://www.downtoearth.org.in/news/natural-disasters/cloudbursts-in-uttarakhand-again-flooding-too-76794
[xxxviii] https://timesofindia.indiatimes.com/city/dehradun/water-level-in-rishiganga-alaknanda-rises-alert-issued-for-those-living-on-river-banks/articleshow/82415337.cms