Inland fisheries support millions of people and remains a major source of nutrition for a very large number of poorest people. This includes riverine fisheries, reservoir fisheries, wetland and local water body fisheries. Here we try to provide an overview of developments in this sector during the year 2020.
The overview has following sections: Policy & Governance in Centre, followed by in States, some positive developments, Covid-19 & Fishing Community, Fisher folks' struggles, New Fish Species, Invasive fish, Fish Deaths & Pollution, Over fishing & Extinction, Studies related to inland fisheries.
FISHERIES STATISTICS The Union Ministry of Statistics and program implementation says this about Inland Fisheries statistics, see: http://mospi.nic.in/416-fisheries-statistics.
Current Status
1 Fisheries of India can be broadly classified into two types namely, marine fisheries and inland fisheries. The Fisheries Statistics Section of the Department of Animal Husbandry and Dairying in the Ministry of Agriculture is in charge of compiling the data relating to this sector. At present data on items like fish production, prawn production, fish seed production, disposal of fish catch, preserved and processed items and aquaculture are being collected from State Governments.
2 So far as inland fisheries are concerned, there were several attempts to develop suitable sampling techniques for estimation of catch since 1955, but they have remained inconclusive. The Central Inland Fisheries Research Institute (CIFRI), Barrakpore lately devised a methodology for collection of data relating to some important still water areas. This involves dividing water sources into two categories namely, fresh water and brackish water bodies each with a distinct ecology, and classifying them further into three groups according to the level of production. Different sampling methods are adopted for assessment of fish production in each group. There is still a large data gap in coverage not only geographically but also in terms of several sources of inland fisheries such as rivers, canals, etc.
Deficiencies
3 The data on fish production from the inland sector are collected by the State Governments. It is noticed that the resources required for regular data collection are quite large and the cost incurred is not commensurate with the actual volume of fish production. Inland fisheries pose several problems due to the vast and diverse nature of water sources and it is necessary to develop a cost-effective methodology. IASRI is presently engaged in some pilot studies in this regard but more concerted effort is urgently called for.
4 The data on fish production from aqua culture, supplied by the States, similarly suffer from poor quality and become available with considerable time lag. The types of culturing methods are not reflected in the data.
5 The data on fisherman population, fishing craft and gear are available from both the State Governments and the Livestock Census, while data on workers engaged in fishing are also available from the population census. However, the data from these sources are not comparable due to differences in concepts and definitions and their application across States.
6 There is an apparent inconsistency between the value of the output and the export earnings, the latter being much higher. An exploratory study is required to reconcile the discrepancy.
Conclusions and Recommendations
7 Since the CIFRI and the IASRI are involved in the development of sampling methodology for inland fisheries, the Commission considers that these institutes should be properly equipped to develop an alternative methodology. The alternative approach should also consider the possibility of undertaking enquiries of fishermen households wherever there is a large concentration of fishing especially along major riverbanks.
8 The Commission recommends that:
The survey methodology for estimating production of inland fisheries especially with regard to running water sources (rivers and canals) should receive urgent attention and the Indian Agricultural Statistics Research Institute (IASRI) along with the Central Inland Fisheries Research Institute (CIFRI) should be provided with adequate support to develop this programme on a priority basis.
The States should improve the recording of area under still water by appropriate modification of land use statistics.
The discrepancies between the two sources of data namely, Livestock Census and State reports with regard to data on fishermen, fishing craft and gear should be reconciled by adoption of uniform concepts and definitions and review of these statistics at the district and State levels.
Handbook for fisheries statistics Union Minister released the handbook on fisheries statistics-2018 (The last (12th edition of) Handbook was published in 2014.) in India Sept 19, 2019. The Press Release from the Ministry of Fisheries on that occasion said among other things: The percentage contribution of inland fish production in the total fish production of 29% during the year 1950-51 and has increased to 71% in the year 2017-18. Andhra Pradesh has recorded the highest production of inland fish (34.50 lakh tones). The Fisheries sector is major source of livelihood for over 1.60 Crore people along with double the number in down and upstream. Development of fisheries can ensure nutritional security, food security of India and also provide employment in these regions that are predominately inhabited by rural populace. The total fish production of 12.59 million metric tonnes was registered during 2017-18 with a contribution of 8.90 million metric tonnes from inland sector. The average growth in fish production during 2017-18 stands at 10.14% when compared to 2016-17 (11.43 million metric tonnes). This is mainly due to 14.05% growth in Inland fisheries when compared to 2016-17 (7.80 million metric tonnes). India is currently world's second largest producers of fish. It is also world number two in aquaculture production as well as in inland capture fisheries. The full handbook is available at: http://dof.gov.in/sites/default/files/2020-08/HandbookonFS2018.pdf.
CENTRE: Policy & Governance
Rainfed Fisheries: high time to invest on this Sub-Sector In large stretches of rainfed areas of India – from semi-arid to humid tropics, numerous water bodies of varying sizes and seasonality dot the landscapes. Fisheries are integrated with these water systems, livelihoods and household nutrition. With MGNREGS and Watershed Development, many such water bodies are developed and many more are rejuvenated, expanding the scope for local production and consumption of fish. Its time that this is recognized as a "Sub-Sector" that requires dedicated public investments and institutional service delivery to realize its potential for local people. http://www.rainfedindia.org/wp-content/uploads/2019/08/Paper-RRA-FIsheries-Policy-Brief.pdf
Govt drafting NFP with Rs. 45K cr budget The newly carved out Fisheries Ministry is working on an overarching policy that would cover all aspects of the fishery sector. "The fishery sector never had a policy. Now, a new policy is being made. It will focus on promoting marine, acquaculture and mariculture besides addressing the traceability issues. It will cover both catch and capture fishing," an official said. The draft policy will be placed before the Cabinet for approval. A budget of Rs 45,000 crore would be required for next five years for implementing the policy.
At present, two fishery schemes are being implemented. One is Fishery Infrastructure Development Fund, which is a five year scheme. The other one is fishery development scheme funded partially by the World Bank. It is for eight years. The third scheme 'Pradhan Mantri Matsya Sampada Yojana' which was announced in July 2019 Budget is yet to get the cabinet approval. It aims to boost fish and aquatic products through appropriate policy, marketing and infrastructure support. http://www.navhindtimes.in/govt-drafting-fisheries-policy-with-45000-cr-budget/ (16 Jan. 2020)
NFP neglects fishing communities, environment Fishermen bodies, marine experts and other experts working with the fisheries sector feel that the National Fisheries Policy (NFP) is export-oriented, production-driven and based on capital investments. NFF said in a PR that they feel that it is neither protecting the interest of the fishing communities nor the environment.
NFP will increase private control over open access water bodies Researchers and members of fisher rights unions have criticised the draft NFP 2020 for being export-oriented, production-driven, and based on capital investments, which they fear would strip small scale fishers off their rights of access to commons, and also damage the environment in the long run. In addition, they say that the policy does not talk about women. It is silent on caste and class. Fishing communities in India are not homogenous. They have distinct social governance structures and traditional practices, depending on where they live on the coast. They are also organised into sectors, such as the mechanised and non-mechanised. https://india.mongabay.com/2020/07/draft-national-fisheries-policy-seeks-big-growth-but-ignores-fishers/; https://scroll.in/article/968349/indias-new-fisheries-policy-will-increase-private-control-over-open-access-water-bodies (25 July 2020)
Small Scale Fishers Ask Centre Not to Back Curbs on Subsidies in WTO Negotiations A national group of small fish workers said that fisheries subsidies cannot and should not be determined or disciplined on consideration of international trade. https://www.newsclick.in/small-scale-fishers-centre-back-curbs-subsidies-WTO-negotiations (6 Oct 2020)
World Bank pushing fisheries privatisation through Blue Revolution Program? One of the projects in pipeline for approval of USD 300 million from the World Bank is the Blue Revolution Program. In 2017, the GoI rolled out an umbrella scheme – "Blue Revolution" to ensure more focused development and management of the fisheries sector. Blue Revolution was expected to close in 2020-21, but the govt of India has announced a continuation and expansion of the Blue Revolution program, being established under a new name, the PM's Fisheries Resources Program (PMMSY). During 2017-20, the Blue Revolution program spent about US$900 m (including contribution from both the central and state govts) and has a budget of US$200 m during 2020-21. The program also facilitated an additional indicative investment level of about US$990 m from the private sector (including from leveraging the Fisheries and Aquaculture Infrastructure Development Fund, FIDF). Total estimated cost of PMMSY (2021-25) public investments is approximately US$2.17 b with an additional indicative investment level of about US$760 million from the beneficiaries, over a five-year period. The proposed project seeks to support India to achieve increases in fisheries sector productivity with due consideration to resource efficiency and sustainability. But it seems from the project document the agenda of privatisation in the fisheries sector is embedded in the project. https://www.cenfa.org/international-finance-institutions/if-snippets/ (9 Sep 2020)
First edition of the fisheries and aquaculture newsletter "Matsya Sampada" Union Minister for Fisheries, Animal Husbandry and Dairying, Giriraj Singh launched the first edition of the Fisheries and Aquaculture Newsletter MATSYA SAMPADA, and the Operational Guidelines of the Pradhan Mantri Matsya Sampada Yojana (PMMSY). MATSYA SAMPADA is to inform all stake holders, especially the fish farmers about the latest developments in the fisheries and aquaculture sector. It would be published on a quarterly basis starting from the first quarter of 2020-21. https://www.5dariyanews.com/news/298386-Giriraj-Singh-launches-the-first-edition-of-the-Fisheries-and-Aquaculture-Newsletter-%E2%80%9CMatsya-Sampada (30 June 2020)
NMCG to work on hilsa to improve its numbers Concerned over the dwindling numbers of the fish in Ganga, the govt-run National Mission for Clean Ganga (NMCG) has embarked on an ambitious, technology-aided project to help conserve and increase the natural stock of hilsa in the river. The NMCG has collaborated with the Barrackpore-based Central Inland Fisheries Research Institute (CIFRI) for Hilsa Improvement Programme, which has been approved for a three-year period.
The programme will seek to establish the current migration pattern of the fish upstream of Farakka Barrage in W Bengal by tagging the fish with Floy T-bar anchor tags — an external tag put between the fish bones — and other advanced technologies like sensor-based tagging. "The idea is to identify the breeding location of the hilsa and declare them conservation sites. The project is aimed at establishing the natural biodiversity of the Ganga," NMCG director general Rajiv Ranjan Mishra said. https://theprint.in/india/ganga-mission-to-now-work-on-hilsa-to-improve-its-numbers-project-to-ranch-and-tag-the-fish/501650/ (13 Sept. 2020)
STATES: POLICY AND GOVERNANCE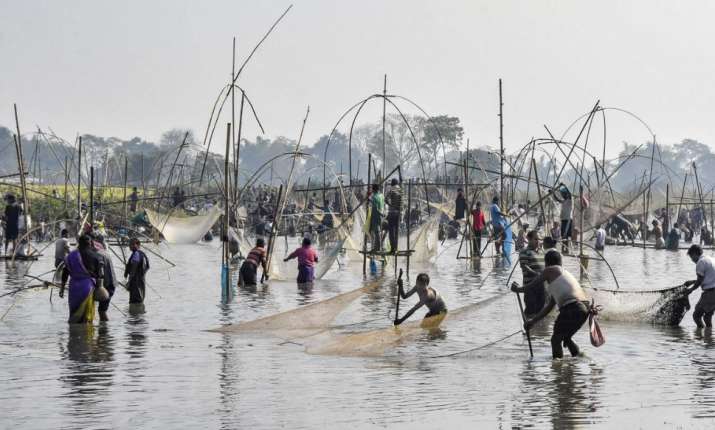 Punjab Subsidy for fish farming Forty per cent subsidies to women in the general category and 60 per cent subsidies to women in the Scheduled Caste/Tribe category will be provided for fish farming and promote the Blue Revolution under the PMMSY. The Fisheries Development Agency, Kapurthala, said this was as per the policy to promote diversification under the PMMSY. Chief Officiating Officer HS Bawa said Rs 7 lakh expenditure has been estimated on a 2.5 acre fish pond, on which the govt will provided 40 per cent subsidy. He said five training camps will be held from Nov 2 to 6 during which training will be provided to famers on facilities being given by the govt to ensure maximum productivity on limited land under the RAS & Bio flock systems. https://www.tribuneindia.com/news/jalandhar/kanjli-wetland-revival-163502 (31 Oct 2020)
Kerala Inland Fisheries & Aquaculture Act 2010, to be amended The Kerala Inland Fisheries and Aquaculture Act, 2010, will be amended so as to enable conservation of species, scientific breeding, and a sustainable livelihood for the fishing community. The proposed amendments also seek to introduce better control over ornamental fisheries, and fish species introduced. https://www.thehindu.com/news/national/kerala/kerala-inland-fisheries-and-aquaculture-act-2010-to-be-amended/article32854434.ece (14 Oct. 2020)
Maharashtra Fisheries dept cancels fishing contract Within a year of granting a five-year fishing contract at Yeldari dam to a society, the fisheries dept cancelled it citing violation of conditions. For the dam spread over 15,500 acres, the five-year contract from July 1, 2019, to June 30, 2024, was awarded to a Late Rajiv Gandhi Fishermen Traders' Cooperative Society situated at Jintur of Parbhani dist for an annual royalty of Rs 3.1 lakh. Against the granting of this contract, a local NGO named Lal Sena alleged serious loss of revenue to state exchequer as well as violation of the contract conditions and protested against the same. Taking cognizance of the same, fisheries dept carried out an internal probe and found that the society had violated the contract condition by tying up with a fisheries company based in Mumbai. https://timesofindia.indiatimes.com/city/aurangabad/fisheries-dept-cancels-contract-at-yeldari-dam/articleshow/79597554.cms (7 Dec 2020)
Himachal Pradesh 500 T fish to be harvested from Gobind Sagar dam The overall fish production in the Gobind Sagar dam is set to reach 500 T this fiscal, ensuring additional income for 3,963 fishermen and 2,169 fish licence holders, Fisheries Minister Virender Kanwar said on Nov. 17. The fish production in the reservoir is likely to hit 30 kg per ha in comparison with 23.78 kg per ha in 2019-2020. As per the Director-cum-Warden of Fisheries, 195.34 T fish was harvested from the reservoir from April to Oct 2020 compared with 164.35 T during this period in 2019. In 2017-18, the yield was 346.42 T. The species reared include the silver carp, grass carp & common carp.
Illegal mining in rivers and unscientific dumping of road construction debris in the rivers is also destroying fish breeding grounds. This has caused a decline in fish production in the Gobind Sagar too. The major fish species available in the streams of Himachal are trout, mahseer, barilus and glyptothorax. Trout, both brown and rainbow, are found in the Beas, Sutlej and Ravi rivers in the higher reaches of the state. Being a game fish, the brown trout is also an angler's delight.
Nearly 13,000 fishermen and fish farmers in Himachal are dependent on this sector for livelihood. Of the 3,000-km network of water resources for fisheries, 600 km of cold water streams are conducive for trout farming. The average annual production of a small fish farm is 900 kg, whereas a large farm could produce up to 3,400 kg. https://www.tribuneindia.com/news/himachal/500-tonnes-of-fish-to-be-harvested-from-hps-gobind-sagar-dam-171637 (17 Nov. 2020)
Mahseer fish number up The Fisheries Department is emphasizing its main focus on artificial breeding of Golden Mahseer fish and by conserving and ranching of the river system with Mahseer seed would also promote eco-tourism in the state. The state recorded 20900, 28700 and 41450 Golden Mahseer fish eggs production in the year 2017-18 year 2018-19 and year 2019-20 respectively. The state has recorded highest 45.311 MT Mahseer catches during these years.
Director Fisheries Satpal Mehta said despite being declared as endangered species, it is found abundantly in the state which contributes about 10-15 percent of total catch in the state reservoirs especially in Pong reservoir. He said that state's water bodies are home to 85 fish species, including Rohu, Catla and Mrigal and Trout, both brown and rainbow. Total 492 MT fish has been marketed outside state during last financial year.
The state government is also setting up new Mahseer hatchery-cum-carp breeding unit at Sunni in district Shimla with an estimated cost of Rs 297 lakh to develop methods of breeding under safe conditions in hatcheries. An estimated 12,000 record highest hatching are expected during this year out of 41450 eggs produced this year so far. https://sunpost.in/mahaseer-fish-number-up-in-himachal/ (20 Dec. 2020)
Govt to start land-based fish farming using RAS technology Under this scheme state will set up 15 fish ponds using Recirculation aquaculture systems (RAS) technology during next five years beginning from 2020-21 to 2024-25. Out of total 15 fish farms, five fish farms will be set up in normal waters in Una, Mandi, Kangra (Palampur and Pong dam) and Sirmaur districts and 10 in cold water fisheries under the RAS technology in Kinnaur, Sirmaur, Shimla, Mandi, Chamba and Kullu districts during next five years aiming at enhancing fish production and productivity in the state in an integrated and holistic manner.
It is estimated that total 40 ton per unit annual fish production will be achieved in normal RAS unit while in cold water RAS there are 4 ton and 10 ton production capacities units, which will meet the growing demand of trout fish in metropolitan cities and will generate additional employment and economic activities in the respective regions.
Fishery Minister Virender Kanwar said that when all 15 fish farms under RAS technology will be operationalised approximately 270 ton fish is expected to be produced annually in the state. He said that new fish farms in the state under RAS technology will be set up in private sector and it is estimated that around Rs 5 crore private investment will be received for infrastructural development for setting up new land based fish farms under RAS technology in the state in next five years under PMMSY. https://timesofindia.indiatimes.com/city/shimla/himachal-to-start-land-based-fish-farming-using-ras-technology/articleshow/78602604.cms (11 Oct. 2020)
Record fish price from Pong reservoir According to an official release, the Pong reservoir with a catchment area of 12,561 sq km has emerged as a leading fishing reservoir in the state. The total catch during the first year of fishing operation was 98 tonnes and increased progressively attaining a peak of 287.5 tonnes during 2018-19, the release added. https://www.tribuneindia.com/news/himachal/himachal-gets-record-fish-price-from-pong-reservoir-38670 (10 Feb. 2020)
Uttarakhand Govt allows 'catch & release' fishing in 8 specified rivers Two years after Uttarakhand became the first state in the country to ban angling – catching fish using hooks and releasing them back into rivers and ponds in forests – the decision has been reversed. An order to this effect, dated Nov.18, 2020, signed by the chief wildlife warden JS Suhag has been sent to all DFOs. The order says that the state wildlife board, in its meeting decided that angling should be permitted in the state's reserve forest areas to boost tourism, provided due norms are followed. The forest dept has now decided to allow angling with certain conditions.
Wildlife experts, on the other hand, advised caution. "If angling is permitted, the process — to make sure the fish are released back in the wild — should be monitored, as the forests are among the only remaining habitats for aquatic life. As it is, Himalayan rivers are witnessing a reduction in and migration of fish population due to various factors ranging from construction of hydropower plants, pollution, to uncontrolled fishing, irrespective of seasons," said a scientist from the Doon-based Wildlife Institute of India. https://timesofindia.indiatimes.com/city/dehradun/uttarakhand-1st-state-to-ban-angling-reverses-decision-allows-catch-release-fishing-in-8-specified-rivers-to-encourage-tourism/articleshow/79375011.cms (24 Nov. 2020)
Four days Mahseer angling festival to be organized in Nayar river in later half of March 2020 by Pouri district administration to promote angling based tourism which was common some five years back but was stopped due to illegal, over fishing. Nayar river image by Kailash Ghildiyal. https://epaper.livehindustan.com/imageview_75107_97066272_4_137_01-03-2020_5_i_1_sf.html (01 March 2020)
Manipur State fish introduced in cage culture For the first time, Manipur's state fish 'Pengba' (Osteobrama belangeri) has been introduced in cage aquaculture on a trial basis in an attempt to enhance table fish production to meet the increasing demand of fish and its conservation. Similarly, the cage culture was being introduced to different fish varieties even in other north eastern states such as Assam Tripura, Meghalaya.
The new initiative has been taken up after successful induced-breeding of 'Pengba', which used to be found abundantly in Loktak Lake and Nambul River in particular, ended in its wild habitat and is now only bred in farm ponds due to habitat degradation, pollution and introduction of non-native fish species etc. Manipur, home to more than 200 fish species, has seven endemic fishes among the 15 endangered freshwater fish species, mentioned in the Red list of the International Union for Conservation of Nature's threatened species report on the status and distribution of freshwater biodiversity in Eastern Himalaya. https://www.hindustantimes.com/environment/manipur-s-state-fish-introduced-in-cage-culture-to-enhance-production-and-conservation/story-K14UH2JlXxHSDotJLRnE8I.html (25 Dec 2020)
W Bengal State expects big Hilsa harvest As pollution in the river Ganga and its tributaries is less this year because of the lockdown, it could attract schools of Hilsa to migrate upstream to breed. https://www.hindustantimes.com/india-news/with-cleaner-rivers-after-lockdown-bengal-expects-big-hilsa-harvest/story-oLX7JuorYlqSto6hIgrzfI.html (16 June 2020)
Assam Community fishing banned in Deepor Beel The Assam government has imposed section 144 CrPC under the Wildlife Protection Act, 1972 prohibiting assembly of more than five persons in and around Deepor Beel Wildlife Sanctuary for community fishing. The prohibitory order has been imposed in the wildlife sanctuary located to the south-west of the city from January 1 to January 31, 2021. Villagers from the areas around Deepor Beel take part in the community fishing in the wetland to welcome the New Year. https://www.thenortheasttoday.com/current-affairs/states/assam/assam-community-fishing-banned-in-deepor-beel (31 Dec. 2020)
Something fishy in Fishery dept Fishery department that has a large number of ponds only in office files but not on the ground, and ponds shown as new in the office files turn out to be the old ones on the ground. And funds have already been released against all such ponds according to their status in the office files, not on their actual status on the ground. If this is the ground reality in the dept, how can the 'Ghore Ghore Pukhuri, Ghore Ghore Maas' scheme announced by CM Sarbananda Sonowal two years ago meet its goal?
Assam has 430 registered beels covering around 60,000 ha, and around 700 unregistered ones. Apart from them, there are around 3.7 lakh ponds and tanks and around 5,000 km river fisheries. The total annual production of fish in the State is around 3.50 lakh T which cannot meet the fish demand of the State that imports annually around 12,000 T of fish, draining out a huge amount of funds every year. https://www.sentinelassam.com/top-headlines/something-fishy-happening-in-the-fishery-department/ (12 Feb. 2020)
Despite ban, fishing continues in Golaghat Under the Assam Fishery Rule 2005, fishing during the months of May, June and July with fishing nets of a certain gauge is prohibited. Despite the ban, egg-laden fish are being sold everywhere within the Golaghat district. Even multiple incidents of poisoning in the river Dhansiri were reported in the last couple of weeks. Villagers living on the Dhansiri riverside area said that they witnessed many incidents where fishermen put poisonous liquid in the river.
He further said that he was even scolded by some govt officials of the depts concerned in the district for repeatedly approaching them and asking for actions against the illegal fishing and poisoning activities in river Dhansiri. This signifies that some influential persons having strong political background might be behind this illegal fishing racket. Another catastrophic side of these frequent poisoning in the river is also causing concern. More than 50,000 families of Golaghat get drinking water from the water treatment plant situated in the heart of the town. https://www.sentinelassam.com/topheadlines/despite-ban-fishing-continues-in-golaghat-district-477532 (19 May 2020)
Tamil Nadu 2 T of formalin-laced fish dumped After the seafood that are sold in Karimedu fish market were found to be laced with formalin, nearly 2 T of fish that had the presence of the chemical were dumped by the officials of the Dept of Food Safety on Feb. 29. The seafood that was procured from within Tamil Nadu, as well as the neighbouring states of Kerala & Karnataka tested positive for the presence of formalin, a chemical ingredient used to preserve dead bodies. https://www.newindianexpress.com/states/tamil-nadu/2020/mar/01/two-tonnes-of-formalin-laced-fish-from-karimedu-fish-market-dumped-by-food-safety-officials-2110648.html (1 March 2020)
Illegal fishing activity busted Following a tip off about illegal fishing activities after dark in Cauvery River, the Kollegal Buffer Zone staff of Cauvery Wildlife Division and Male Mahadeshwara Wildlife Division conducted an operation on Apr. 23 and seized fishing equipment and coracles. It is learnt that the fishermen used to stay inside the forest area during nights, illegally fish and take the catch to Shilvepura in the early morning and sell the fish to fish traders of Sathegala (Hand Post).
On the Karnataka side, the forest along the river has been declared as a Cauvery Wildlife Sanctuary, fishing is a punishable offence and human activity has been restricted. However, on the Tamil Nadu side, fishing licenses are being given by the Fisheries Dept despite strong objections by the Forest Dept. https://starofmysore.com/illegal-fishing-activity-busted-at-cauvery-wildlife-division/ (25 April 2020)
SOME POSITIVE DEVELOPMENTS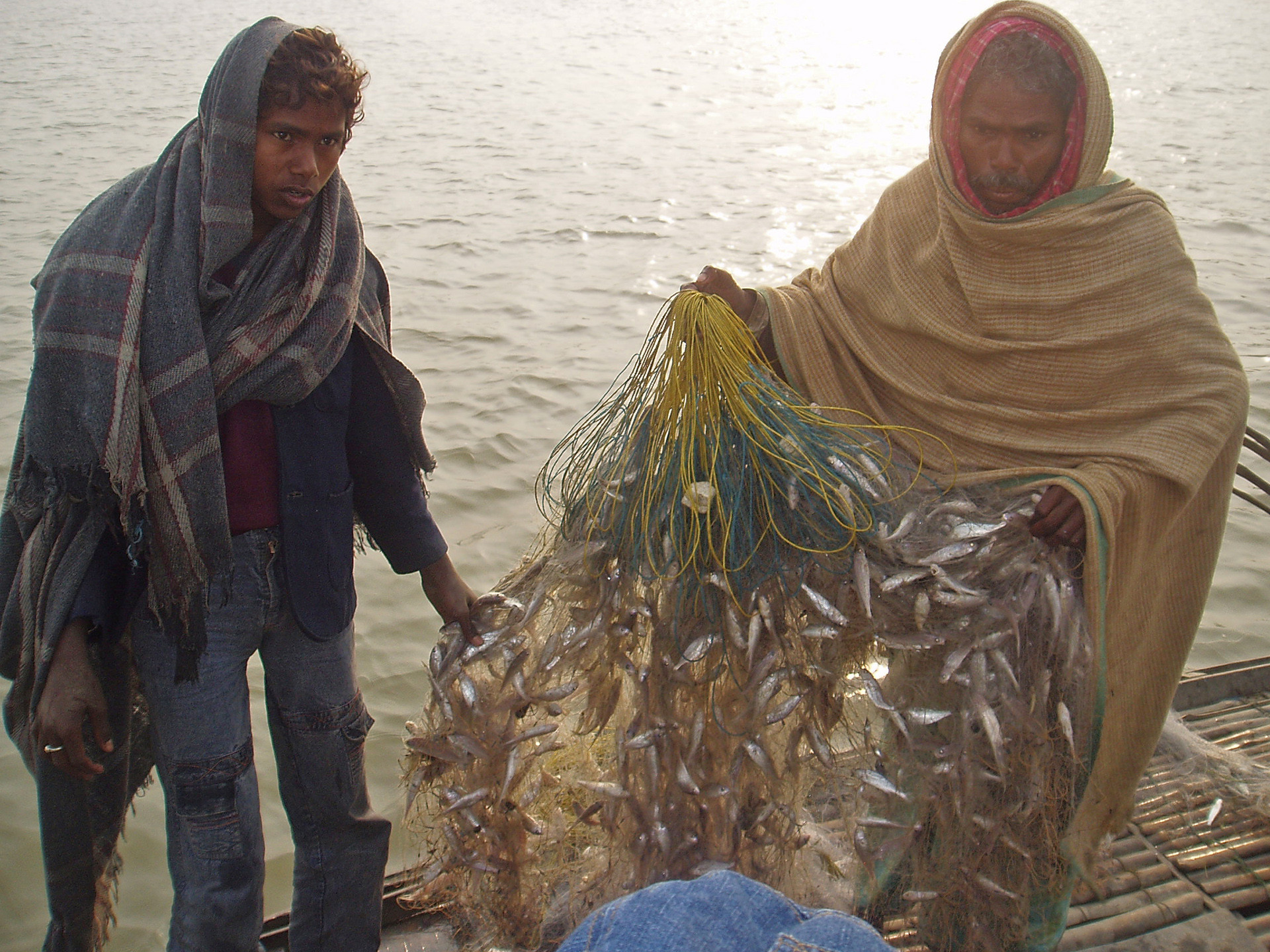 Self-reliant after Covid The agriculture, forestry and fisheries sector grew by 3.4% even in pandemic situation. Article (Marathi) by Parineeta Dandekar on Sept 5, 2020: https://www.loksatta.com/bara-gaoncha-pani-news/article-on-self-reliant-development-after-covid-abn-97-2267317/
Maharashtra Mumbai's fishers adapted in the lockdown, kept their sales alive A fishing cooperative society has joined hands with a data analytics firm to educate fishers about various aspects of sustainable and smart fishing. Fish are being sold to customers with QR codes on the packaging, bearing information about when, where and by whom they were caught. Fishers are being educated about the ecosystem and encouraged to let fish breed — and not overexploit the resource. https://india.mongabay.com/2020/06/how-mumbais-fishers-adapted-in-the-lockdown-kept-their-sale-alive/ (08 June 2020)
Of sacred streams and grooves Documentation of some fish sanctuaries:- Tekpowale kund is located in Mangaon village near Pune, upstream of the Panshet reservoir, on a mountain stream called Kadkuna Nadi. Tekpowale villagers zealously protect the mahaseer fish in it as they consider it sacred. The source of the stream is also considered sacred (devasthali).
– Walen kund on River Kali in the Mahad region of the Konkan is about 100 yards long and is flanked by a rocky gorge on top of which is located the temple of Goddess Vardayini. The kund houses many indigenous and endangered species of fish like shindas, kolas and the Deccan mahaseer. https://round.glass/sustain/book/sacred-streams-groves/
Tamil Nadu Fisherwomen use food to fight Adani's port expansion – Pulicat's fisherfolk are fighting against Adani group's port expansion, which will convert 1145 ha and seawater to industrial real estate, possibly erasing close to 50 villages.
By highlighting the importance of the Ennore-Pulicat wetlands, the Pulicat Seafood Festival tries to show how its fate in terms of water and flood security is inevitably tied to the existence of this ecosystem. To celebrate the World Wetlands Day on February 2, the Pazhaverkadu menu curated by the Pulicat fisherwomen will be on offer for three days from Jan 31 – Feb 2, at Sea Salt in Nungambakkam, Chennai. https://www.thenewsminute.com/article/fisherwomen-tamil-nadu-town-use-food-fight-adani-s-port-expansion-116760 (24 Jan. 2020)
Celebrating the Ennore-Pulicat wetland system "The Ennore-Pulicat wetland system can't be slotted into our usual divisional categories of ecosystems. There are coastal dunes, backwaters, salt pans, mudflats, mangrove forests, tropical dry evergreen forest and scrub jungle. The salinity in the Pulicat lagoon created by barrier islands is known to hit an incredibly low number during the monsoon due to freshwater inflows. And the diverse elements come together in a rare mix of land, water and vegetation," says naturalist M Yuvan, also a volunteer-guide.
He adds, "Kosasthalaiyar river breaks into various distributary streams, meeting the backwaters, and the gradient from freshwater to brackish water is gradual. Therefore, there is a continuum of ecologies and livelihoods based on them. Fishing is a broad term encompassing many local economies." https://www.thehindu.com/news/cities/chennai/in-the-ennore-pulicat-wetlands-livelihoods-depend-heavily-on-the-areas-biodiversity/article30851988.ece (18 Feb. 2020)
Andhra Pradesh Fisherfolks helping in Godavari, Krishna estuaries conservation The 25 km coastal stretch between Hope Island and Sacramento Island in the Godavari estuary on the Kakinada coast remains a safe habitat for the turtles, and their eggs are protected by the wildlife management staff and local fisherfolk.
In Krishna estuary, the coastline between the two confluence points of the Krishna river into the sea at Hamsaladeevi and Nagayalanka Lighthouse is the prime breeding ground for the turtles. Last winter, nearly 30,000 eggs were collected and at least 29,000 hatchlings were released into the sea. "We continue to prefer the ex-situ method of conservation of turtle eggs as wild boars and jackals remain the prime predators in the sanctuary. However, the Yanadi tribals monitor the breeding ground round the clock till the hatchlings are released into the sea," she explains. https://www.thehindu.com/news/national/andhra-pradesh/godavari-krishna-estuaries-provide-a-safe-ground/article33156092.ece (23 Nov. 2020)
Kerala Fishermen release endangered whale shark back into water A group of fishermen released an endangered shark that was trapped in their nets back into the sea. Whale sharks are the largest fish in the ocean and can reach up to 40 feet in length. Distinguished by their white spots, this shark is on International Union for Conservation of Nature's list of endangered species. According to Wildlife Trust of India, whale sharks were added to Schedule I of India's Wild Life (Protection) Act in 2001. This species has therefore been accorded the highest level of protection in the country. https://www.ndtv.com/offbeat/kerala-fishermen-release-endangered-whale-shark-back-into-water-win-praise-2172174 (31 Jan. 2020)
Discussion meeting on impacts of Covid-19 on Indian Rivers With multiple stories across a range of media platforms talking about rivers also appearing clean, Mahseer Trust convened a discussion to collect more information and consider how best to use this, if it proved to be accurate. Opening the discussion, Steve Lockett (Mahseer Trust) said that 'although concerned mainly with water pollution, there are other forms of pollution which may be having impacts and consequences during lockdown. These include air pollution, but also falls in sound pollution may be having a positive impact upon movements of Gangetic dolphins and changes in light pollution have been shown to impact upon insect populations.' Among the other impacts of lockdown discussed were flow rates and impacts of loss of markets. https://www.mahseertrust.org/post/indian-rivers-under-covid-19-virus (28 April 2020)
West Bengal Swarup Bhattacharyya continues to stun us with his scale models of boats of Bengal. https://developers.facebook.com/docs/plugins/embedded-posts/
Uttar Pradesh River people conserving Yamuna biodiversity The video shared by Panch Dev Yamuna Nadi Mitra Samiti, Ekdla in Fatehpur mentions of some traditional knowledge on sustainable fishing practices. The Samiti, part of larger Friends of River Yamuna group also released a turtle stranded into farmlands back into river marking World Turtle Day May 23. In the interior remote areas, the group is spreading awareness on importance of dolphins for the health of the river. Jaikant Singh, a member of the Samiti also requested some fisherfolks avoid fishing during breeding season. https://youtu.be/VyAFWugbOPg (30 May 2020)
COVID-19 AND FISHING COMMUNITY
Fisheries get no relief "Due to coronavirus restrictions and previous climate reasons, fishers have not been able to go to sea for several months. Now Cyclone Amphan has also hit fish workers on the east coast and the annual monsoon fishing ban will come into effect in a few days. Given the huge loss of income, we had asked the Centre to give a financial assistance of ₹10,000-15,000 a month for each fish worker family," said T. Peter, general secretary of the National Fishworkers Forum (NFF).
-In late March, in the early stages of the lockdown, the Fisheries Ministry responded to the NFF's demand by sending letters to the State governments asking for estimates on losses to fishworkers, leading to hopes that the stimulus package would provide such support. "We have heard nothing further from the Ministry after those initial discussions and the package announced by the Finance Minister has nothing much for small and traditional fishers," said Mr. Peter.
-Anil T. Varghese from the secretariat of NFF in Delhi said, "The Ministry itself put out a statistics handbook in 2019 with clear estimates of number of fish workers in each State and their average earnings."
– On May 25, the Ministry reduced the duration of the annual fishing ban in the monsoon season from 61 days to 47 on the demand of mechanised fishing boat owners, saying it was to provide COVID-19 relief. "The ban is there for important environmental reasons to ensure that fish spawning can take place during the monsoon and regeneration of fish stock," Mr. Peter said. https://www.thehindu.com/news/national/fisheries-scheme-has-no-relief-component/article31680854.ece (26 May 2020)
Rescind Order to Reduce and Reschedule Fishing Ban Period NPSSFW has taken strong exception to the reduction and rescheduling of annual fishing ban period directed by the Department of Fisheries in the Ministry of Fisheries, Animal Husbandry and Dairying under their Order No.30035/15/97FY (T-1) Vol.V dt.25.05.2020. The order has reduced the fishing ban period from 61 days to 47 days and has rescheduled the uniform ban periods for the East Coast from 15th April to 31st May 2020 and for the West Coast from 15th June to 31st July 2020.
NPSSFW(I) objects to the revision of fishing ban period on following grounds: The order is unilateral and it violates consensus; is against conservation & regeneration of fish stock; is against the interest of small scale fishing communities; is going to hit the migrant fish workers. https://www.facebook.com/sandrp.in/posts/3446841302010185?__tn__=K-R ; https://www.thehindu.com/news/national/tamil-nadu/reduction-of-fishing-ban-duration-boost-for-fisherfolk/article31681552.ece (26 Nov. 2020)
COVID-19: Traditional fisherfolk left in the lurch They are not included in PM-Kisan and hence are not eligible for benefits similar to farmers. https://www.downtoearth.org.in/news/economy/covid-19-traditional-fisherfolk-left-in-the-lurch-70095 (30 March 2020)
At least a hundred thousand migrant fish workers are stranded in fishing boats off the Maharashtra coast. Meanwhile, the lockdown is a death blow to the livelihood of 16 million fishers and fish workers. https://en.gaonconnection.com/lockdown-enforced-when-they-were-at-sea-so-lakhs-of-fishers-now-wait-in-deep-waters/ (2 April 2020)
Coronavirus lockdown adds to woes of climate-hit fishers With climate change impacts, pollution and now Covid-19, hundreds of thousands of fishers now have their backs to the wall, and many are looking for alternate livelihoods. https://indiaclimatedialogue.net/2020/05/15/coronavirus-lockdown-adds-to-woes-of-climate-hit-indian-fishers/
Madhya Pradesh Traditional fisherfolk turn to farming to survive lockdown, monsoon Without access to markets across the country, the Nishad community of the Narmada river have no place to sell their catch. https://thewire.in/labour/traditional-fisherfolk-in-madhya-pradesh-turn-to-farming-to-survive-lockdown-monsoon (10 June 2020)
FISHER FOLKS STRUGGLES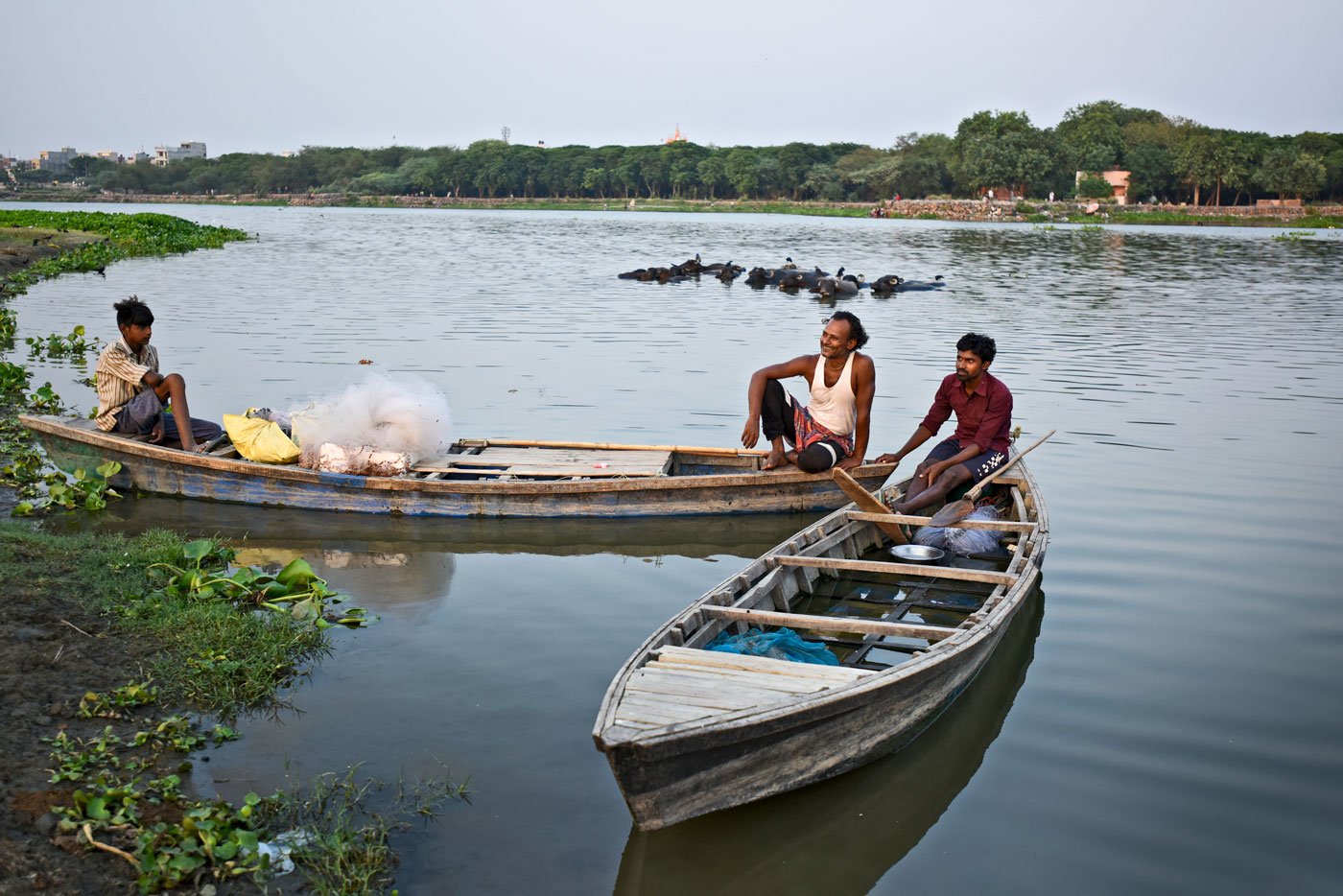 Dakshinbanga Matsyajibi Forum (DMF) Fishing Communities Assemble to fight At the call of Ganga Mukti Andolan more than 500 small and traditional fishers and fish vendors assembled on the bank of Ganga at Kahelgaon, Bihar on 22nd Feb, 2020 to take stock of the situation and decide upon strategies for moving forward. Members of Jal Shramik Sangh, the fish worker wing of Ganga Mukti Andolan, National Alliance of Peoples' Movements (NAPM) and National Platform for Small Scale Fish Workers (NPSSFW Inland) also joined. Ramsharan Singh, Veteran leader of Ganga Mukti Andolan & Pradip Chatterjee, Convener of NPSSFW stressed the fishing communities' right to water. https://dilipsimeon.blogspot.com/2020/03/ganga-mukti-andolan.html (12 March 2020)
Protest against encroachment in Ganga rivers The Ganga Mukti Andolan (GMA) and Jal Shramik Sangha have been fighting to establish small scale fishing communities' right to sustainably use the fish resources of river Ganga and also to protect those resources and river Ganga. They protested against the illegal encroachments by mafia and landlords on the river Ganga and its tributaries. They raised their voice against Dolphin Sanctuary established without their consent or consultation, which has turned into a ploy to fleece the poor fishers by the forest guards. They objected to the Farakka Dam that severely affected the ecology and flow of the river Ganga. They also opposed use of mosquito and cloth nets to save juvenile fish. They demanded that the fisher folk should get their free fishing rights. https://dc.icsf.net/en/component/dcnews/articledetail/17369.html
Frequent Capsizes of Fly Ash Laden Ships and Barges in Hooghly River Complaints submitted by DMF has been admitted by National Green Tribunal (NGT). Principal Bench of NGT has constituted Committee to examine, investigate and report in 2 months. Malancha to Kulti Gang: Fisher people March 12 Kms To Save River Vidyadhari. Fisher People and Local Panchayats demand action against State Pollution Control Board. (Telegraph, 19×20) https://www.facebook.com/sandrp.in/posts/3916982684996042
Tamil Nadu Justice Rocks' latest production spotlights the women fishers that care and are cared for by the mangroves of Ennore Pulicat wetlands. On World Mangroves Day (26 July), we remind that not too far from Chennai in the sprawling patchwork of mangroves, salt marshes, perennial channels and deepwater pockets of the Ennore Pulicat wetlands, a lopsided battle is playing out — with pver 2000 dalit & irular women fishers on the one side and the Govt of Tamil Nadu, Kamarajar Port, TANGEDCO and Adani Ports on the other.
The women have successfully raised entire families from the income provided by the waters made bountiful by the mangroves. The Govt wants to convert large tracts of this waterscape into industrial real estate. https://www.youtube.com/watch?v=ZvOU_OLJvSg (26 July 2020)
Health a concerns for Ennore fishermen Due to excessive water pollution, most fish in the river has disappeared, and the remaining fish too are filled with chemical content. This also pushed many fishermen to catch these worms, which they later export as prawn feed to Odisha and Andhra. This type of fishing has come with myriad health issues, mainly skin related problems like rashes, lesions typically psoriasis and hives. ''To catch these worms, we stay in chest-deep water for almost eight ours daily and earn about 500 or 600 a day,'' tells Kumaresan, to this reporter sitting on a boat opposite to him. Narrating his sorrow tale, he said, out of his three sons, one died of cancer three months ago while the other son faces severe problems. He puts all the blame on the contaminated water & fish caught in the river.
The travel expenditure adds to their medical costs putting them further in poverty. ''We don't get to save anything from the Rs 600 we earn daily as medicine costs reach Rs 5000 a week,'' adds Dhanaraj. Unable to pay fees for their children, the kids mostly end up dropping out, leading to them also entering into fishing at a young age.
Facing health hazards and livelihood crisis, many fishermen have left their traditional livelihood and started seeking employment in the nearby industries. But only a few have had the luck. ''All the industries are in north Chennai but they rope in labourers from North India for work,'' says M Raja (43), a fisherman. However, he is not very keen on leaving fishing but wants his river and livelihood back. Traditional fish don't come here anymore, say fishermen. https://www.newindianexpress.com/cities/chennai/2020/jan/05/river-reality-health-a-concern-for-ennore-fishermen-2085249.html (5 Jan. 2020)
Protest against check dam at Thengaipattinam fishing harbour Fishermen across the State have planned a black flag agitation on Friday (July 31) demanding removal of a check dam in the Thengaipattinam fishing harbour in Kanniyakumari district. They said that the dam being constructed to prevent salt water intrusion had led to sand accretion at the mouth, which resulted in deaths of several fishermen. "In the past few weeks alone two men died in separate incidents. From the time construction began in 2019, several deaths have happened. It is being constructed without the permission of the fishers. If the work is continued, the harbour would be destroyed. We don't have enough space to anchor 700 mechanised boats and 4,000 traditional craft. They are not taking up work for our development," said A. Sesadimai, president, Thoothur Deep Sea Boats Association.
-M.D. Dayalan, Indian Fishermen Association, said that the natural fishing harbour at Thengaipattinam was being used by fishers of 15 villages but did not have facilities like ice units or auction halls. "Immediate steps need to be taken to prevent the deaths. All boat owners associations will join in the agitation," he said. Fisheries Minister D. Jayakumar said that an expert committee would be formed to look into the issue. https://www.thehindu.com/news/national/tamil-nadu/protest-against-check-dam-at-thengaipattinam-fishing-harbour/article32207832.ece (28 July 2020)
NGT to see if Thamirabarani check dam have nod A check dam is being constructed at the mouth of river Thamirabarani, affecting ecosystems, fisheries & water supply. Fisherfolk have filed petition against it in NGT. http://timesofindia.indiatimes.com/articleshow/78609454.cms (12 Oct. 2020)
Illegal landfills take life out of Muttukadu backwaters Ravi Kumar, a fisherman from Kovalam village said they have stopped fishing in Muttukadu due to poor quality of the catch. "The fish, prawns and crabs that are caught here stink like sewer. The catch has become so unhygienic that we can't sell it. About 10 years back, this backwater was brimming with life. Migratory birds were frequent visitors, but now, their numbers have drastically reduced," he said. The depth of the backwater has also significantly reduced due to heavy siltation and plastic pollution. https://www.newindianexpress.com/states/tamil-nadu/2020/oct/12/another-cooum-in-the-making-illegal-landfills-take-life-out-of-muttukadu-backwaters-2209018.html (12 Oct. 2020)
Andhra Pradesh Fisherman protests illegal destruction of Kakinada mangroves The Govt is destroying 100 acres of Mangroves in Kakinada from the mid-night on 14th March after declaring the lockdown by PM.
Thousands of people who were sincerely following the lockdown and confined to their homes have come out to safeguard their livelihood and protect Kakinada from disasters like tidal waves and Tsunamis. The videos taken on 7th April: https://youtu.be/724cV2wPCTc &
https://youtu.be/amGgUAIos6w (15 April 2020)
NGT Admits Petition by DTFWF; Orders Submission of Report by Aug 18, 2020 Facilitated by LIFE, Democratic Traditional Fishers Workers Forum (DTFWF) activists moved a petition at the National Green Tribunal (NGT) to take immediate action against destruction of mangroves as well as reclamation of creek and coastal wetland at Kakinada in close proximity of the Coringa Wildlife Sanctuary in the East Godavari dist. The NGT has admitted the petition on 29.05.2020 and directed the Committee constituted by NGT to submit a consolidated report on the observations made and objections raised by the petitioners.
The fisher people of Dummulpeta, Parloipeta and adjacent wards of Kakinada are deeply concerned about the destruction of nearly 300 acres of mangroves and reclamation of a creek that provide anchorage for thousands of small fishing boats to accommodate "Pedalandariki Illu" programme of the state govt and a container depot for Indian railways. The area, lying beside the Kakinada port, is a coastal wetland with mangrove cover.
NGT: compensate fisher folks The clearing of mangroves have taken place for development of State Govt sponsored housing project- Pedalandariki Illu as well as construction of a container depot for the railways.
The orders were passed in a petition filed by a social activist, D.Pal as well as local traditional fisher folk community members from Kakinada whose livelihoods have been severely impacted due to the mangrove destruction and reclamation of the creek for these projects. According to the petitioners, the destruction has impacted the livelihood of 1 lakh fisher folks who are directly or indirectly dependent on these mangrove wetland and creek ecosystems.
According to the petitioners, Kakinada coast is already prone to inundation due to climate change induced sea level rise, and that the destruction of mangroves which act as a defence from such inundation has increased the risk of the same. The petitioners have also requested for a coastal vulnerability assessment of the Andhra Pradesh Coast. This becomes even more relevant in light of the recent massive destruction caused along the Andhra- Orissa- W Bengal coast due to Cyclone Amphan.
Dec 9: NGT panel begins probe NGT, Chennai team investigated into the complaints of the destruction of the mangroves at house sites in Kakinada on Dec. 9. The NGT team looking at the levelled grounds wanted to know where exactly the mangroves were existed prior to the levelling of the ground. Pandey asked revenue officials to bring at least one or two plants of mangrove trees to confirm their existence in the ground. [https://www.impactnews.in/mangrove-destruction-in-andhra-coast-ngt-directs-expert-committee-to-consider-compensating-fisher-folks/ 31 May 2020; https://sandrp.in/2020/06/08/drp-news-bulletin-08-june-2020-banda-satyagaraha-shows-tip-of-the-sandberg/-INLAND FISHEIRES FORUM PR: 020620; https://www.thehansindia.com/andhra-pradesh/kakinada-ngt-panel-begins-probe-into-alleged-mangroves-destruction-661225; https://www.thehansindia.com/andhra-pradesh/kakinada-ngt-team-inspects-aqua-ponds-sand-mining-activities-661056 (10 Dec 2020)]
GMR told to stop dredging in Kakinada The action comes in response to a report published in The Hindu on May 22 detailing the threat to the mudflat and the mangrove cover and destruction of the prime habitat of birds — endangered Great knots (Calidris tenuirostris), and Indian skimmers (Rynchops albiocollis), which are listed as a vulnerable species. The dredging was being carried out by GMR Energy Ltd to shift existing installations. https://www.thehindu.com/news/national/andhra-pradesh/gmr-told-to-stop-dredging-in-kakinada/article31705118.ece (29 May 2020)
Industrial effluents pose threat to Pulasa fish in Godavari July is the time for fish lovers who await eagerly to taste 'Pulasa', only available during June-Aug, with cost varying depending on size and weight. People like to purchase Pulasa though its price is skyrocketing. People enjoy its taste.
– The tasteless 'Ilisha' metamorphoses itself into a delicious Pulasa. The biological name of Pulasa is Hilsa. The fish starts it journey upstream for breeding as the sweet Godavari water starts merging into Bay of Bengal. The fish is available in the sea with the name of Ilisha during the rest of the year. Many people mainly officials and politicos send Pulasa to their top bosses to get their blessings. As the travel of Ilasa ends at Sir Arthur Cotton Barrage at Dowleswaram many fishermen wait at the barrage to catch it.
– Ilasa swims 90 km from Bay of Bengal to Sir Arthur Cotton Barrage at Dowleswaram for 12 hours and transforms into a tasty variety. A matured Hilsa lays nearly 0.1-2.0 million eggs in fresh water and after one year it reaches into a size 40-60 cm prior to their migration into freshwater. One kg of Pulasa costs Rs 2,000-4,000, the price may increase depending on its size and weight. But the industrial effluents being released into River Godavari are posing problems to Pulasa. https://www.thehansindia.com/andhra-pradesh/industrial-effluents-pose-threat-to-pulasa-fish-in-godavari-633868 (16 July 2020)
Assam Community fishing in Deepor beel begins This annual fishing in the wetland revives an old system of selling and buying fish that is called aska in Assamese. According to this system, fish is sold without being weighed. Bargaining starts from the size of fish, without weighing it. This system goes on the bank of the water body in the fishing season and at the Godhuli Bazar (evening market) at Azara all throughout the year. https://www.sentinelassam.com/guwahati-city/community-fishing-at-deepor-beel-begins/ (6 Jan. 2020) Villagers take part in a community fishing event ahead of Bhogali Bihu celebrations in Tezpur, Sunday, Jan. 12, 2020. https://www.indiatvnews.com/news/india/bihu-makar-sankranti-pongal-celebrations-photos-579736
Madhya Pradesh Women SHG perform Jalsatyagrah to extend fishing lease To extend the lease tenure for fishing in Hammirsagar pond of Simra village in Damoh, the women fishermen self-help group performed jal (water) satyagraha against which the administration imposed Section 144. The lease of fishing in the pond is issued to the women fishermen for 3-years, however women wCanted to extend it upto 10 years. https://www.bhaskar.com/mp/damoh/news/mp-news-sdm-reached-to-explain-the-women-doing-water-satyagraha-in-the-pond-if-not-believed-then-put-144-stream-in-the-village-074038-6380252.html (13 Jan. 2020)
Uttar Pradesh Fishing community bears burnt of river pollution Despite having provisions for involving local communities in mitigation and conservation-related activities, policies, in many instances, have robbed riverine communities off their customary rights over the river & their means of subsistence. https://www.downtoearth.org.in/blog/environment/river-pollution-conservation-up-s-fishing-community-bears-brunt-71908 (23 June 2020)
Goa 'Marina in Zuari will affect fishing' Traditional fishermen in Zuari bay have expressed apprehensions about the adverse impact a marina in the river would have on their fishing activities and have said that hundreds of them stand to lose their livelihoods. In a statement, the fishermen, under the banner of the All Goa Small Scale Responsible Fisheries Union, said that the marina in the Zuari would have long-term and irreparable impacts on the ecosystem. Fishermen along the northern banks at Odxel, Nauxim, Cacra and Siridao and at Sancoale and Chicalim in the south have been traditionally carrying out fishing activities.
An area of 10 ha will be taken up by the marina while a vast area will be reclaimed on the waterfront. This will result in different impacts, some of which will be long-term and irreparable. Zuari river is a known fish biodiversity hotspot, with many species of shellfish comprising bivalves, crabs and other species. The union demanded the scrapping of the project in the interest of ecology & people's livelihoods. https://timesofindia.indiatimes.com/city/goa/marina-in-zuari-will-affect-fishing/articleshow/76778782.cms (4 July 2020)
Fishermen stand against scooping of Sal riverbed The traditional fishermen gathered to protest against the digging process after a dredger was seen in the river. This was not a move to desilt the river, but, a case of 'capital dredging' to remove the virgin soil from the sea bed to create smooth navigational channels for larger ships. https://thelogicalindian.com/environment/river-sal-dredging-25381 (11 Dec. 2020)
Maharashtra No fish in creeks The rivers in Mumbai are slowly turning into sewers due to disposal of trash by Humans. One such example is that of the Versova creek that has been polluted as there are 12 inlets connecting to the creek coming from North Mumbai.
Rivers like Malad, Oshiwara, Mogra, Poisar etc that have been carrying a lot of harmful Industrial as well as domestic waste into the river. This has led to heavy pollution and an extreme loss of marine life in the creek. Fishermen living in the coastal part of Andheri can no more fish in the Versova creek for a living and the traditional method of fishing has been lost. https://mumbai.citizenmatters.in/video-there-are-no-fish-in-the-creeks-of-mumbai-what-this-means-to-the-city-21565 (29 Oct. 2020)
Environment groups NatConnect Foundation, Shri Ekvira Aai Pratishtan and fishermen's forum Paaramparik Machhimar Bachao Kruti Samiti pointed out that there has been a reckless destruction of mangroves and wetlands at Pagote, Bhendkhal and Panje under NMSEZ jurisdiction and that the Raigad district administration has already filed police cases against unidentified officials. https://timesofindia.indiatimes.com/city/navi-mumbai/maharashtra-cm-responds-to-greens-outcry-on-uran-wetlands-destruction/articleshow/74260404.cms (22 Feb. 2020)
West Bengal With depleting fish catch, Sundarbans fishers migrate About 500 traditional fishermen from the Sankizahan village in the Sundarbans region migrate to other coastal states in India for the better part of the year. This migration, that seems to have happened over the past five or six years, is fuelled by the depleting fish catch that is affecting their livelihoods. Human interventions, including harmful fishing practices and pollution along with climate change are among the reasons attributed for the depleting fish stock. https://india.mongabay.com/2020/08/with-depleting-fish-catch-sundarbans-fishers-migrate-to-other-coastal-states/ (28 Aug. 2020)
J&K Sand mining threatens Kashmir's trout industry Fisheries experts from Kashmir have warned that unabated mineral extraction from the valley's rivers, streams and other water bodies poses a grave threat to fish industry. The Kashmir valley and its Himalayan rivers are famous for trout, Mahaseer and many other fish species, which support a thriving industry and tens of thousands of jobs in Jammu and Kashmir.
"The govt may have to soon declare the famous trout fish an endangered species if immediate steps aren't taken to stop the unabated extraction of minerals from the rivers and streams of Kashmir," said Mohammad Nazir Bhat, a resident of Pulwama district in south Kashmir. Bhat, who lives near Rambi Ara, a tributary of the River Jhelum in Tahab, in the west of the state, said he sees people extracting truckloads of minerals from the river. Similarly, in central and north Kashmir, contractors are using heavy machinery to extract mineral deposits from the rivers and streams, destroying important fish habitat and breeding grounds. https://www.thethirdpole.net/2020/08/18/sand-mining-threatens-kashmirs-trout-industry/ (18 Aug. 2020)
Delhi Yamuna fisheries "We are the protectors of Yamuna," declares a smiling Arun Sahni, 75, who came to Delhi four decades ago from Bihar's Vaishali district leaving behind his family. Back in the 1980s-90s, he says, he could get up to 50 kgs of fish in a day, including varieties such as rohu, chingri, saul and malli. Now it's barely 10-20 kgs, on a good day. https://ruralindiaonline.org/articles/when-yamunas-dead-fish-will-be-fresher/ (22 Jan 2020)
Bihar New Ramsar site could benefit local fishing community? Members of the fishing community however are not aware about the Ramsar Convention and its implications. "We are illiterate to understand about these things. We would only consider it as good news if our livelihood improves. We have been watching political leaders making tall promises during poll campaigns of improving our condition but it has proved to be lip-service. The situation, in fact, has turned worse so far," fumed Lalu Sahni, 70, a fishermen for the past five decades.
According to A.K. Dwivedi, Member Secretary of Bihar State Wetland Authority, "The total area of the wetland is over 6300 ha out of which around 2620 ha have been identified as core zone where the water is available most of the year. The area under the conflict with the locals has been excluded from the core zone. We are in talks with locals and would allow farming with stern rules including a bar on the use of pesticides and other harmful chemicals that might affect the ecosystem." https://india.mongabay.com/2020/12/new-ramsar-site-designated-in-bihar-could-benefit-local-fishing-community/ (11 Dec. 2020)
Odisha Elephants destroy prawn farms, fishing boats This is the first time that elephant herd damaged the prawn farms in the Bahuda lake. Changes in Ganjam district has destroyed habitats and traditional corridors of elephants, bringing them into frequent conflict with humans. https://www.downtoearth.org.in/gallery/wildlife-biodiversity/elephants-destroy-prawn-farms-fishing-boats-in-odisha-74838 (30 Dec. 2020)
Nature in Focus Understanding Rivers And Their Less Privileged Denizens Save Every Drop Series: Ecologist Nachiket Kelkar shows the world of river fishers and riverine animals across the Gangetic plains and the delicate space between conservation and livelihoods. https://www.natureinfocus.in/save-every-drop/understanding-rivers-and-their-less-privileged-denizens (31 July 2020)
NEW FISH SPECIES
Kerala New family of snakehead fishes Abstract Pronounced organism-wide morphological stasis in evolution has resulted in taxa with unusually high numbers of primitive characters. These 'living fossils' hold a prominent role for our understanding of the diversification of the group in question. Here we provide the first detailed osteological analysis of Aenigmachanna gollum based on high-resolution nano-CT scans and one cleared and stained specimen of this recently described snakehead fish from subterranean waters of Kerala. https://www.nature.com/articles/s41598-020-73129-6 (30 Sept. 2020)
Newly-discovered Gollum snakehead fish may have lived alongside dinosaurs With its long, scaly body and delicate, veil-like fins, the Gollum snakehead captured quite some attention when discovered last year in south India. Now, scientists have found that it is genetically distinct from other snakehead fish worldwide and sports so many unique features that it warrants its own family, Aenigmachannidae.
This new family is also ancient. It possibly evolved at least 109 m years ago (when the last dinosaurs still roamed the world), after the Indian plate drifted away from the supercontinent of Gondwana. The Gollum snakehead could well be a living fossil. https://scroll.in/article/975290/the-newly-discovered-gollum-snakehead-fish-from-kerala-may-have-lived-alongside-dinosaurs (11 Oct. 2020)
A 100 m-year-old fish species The discovery of a new family of fish is very rare. The dragon snakeheads have evaded scientists till now because they live in subterranean aquifers and come to the surface only after heavy flooding from rain.
The closest relative of the family Aenigmachannidae is the Channidae, of which at least 50 species can be found in the streams and lakes of Asia and tropical Africa. According to molecular analyses, the two families split from each other 34 m to 109 m years ago.
"This may indicate that Aenigmachanna is a Gondwanan lineage, which has survived break-up of the supercontinent, with India separating from Africa at around 120 m years ago," the researchers have said in the paper. https://indianexpress.com/article/explained/aenigmachanna-gollum-kerala-fish-lord-of-the-rings-6883999/ (26 Oct. 2020)
Western Ghats 3 new fish species found Filament barbs are a group of small freshwater fishes found in the rivers of peninsular India and Sri Lanka, where nine species are known under the genus Dawkinsia. They are popular among aquarium hobbyists and are wild-collected and captive-bred for trade. https://www.thehindu.com/news/national/three-new-species-of-fishes-found-in-western-ghats/article31551352.ece (10 May 2020)
Presenting the 22nd new species from our team – Dawkinsia uttara, a new species of filament barb! Look out for this fish if you are in the Kajali, Jagabudi and Terekhol river systems in the Konkan region of northern Western Ghats. Paper is available open access from Vertebrate Zoology – VZ-70-4-11 | Senckenberg Gesellschaft für Naturforschung https://www.facebook.com/sandrp.in/posts/4009057275788582
Maharashtra New genus of fresh water fish found The new fish genus is called 'Waikhomia hira'. 'Waikhomia' is derived from the surname of Prof Waikhom Vishwanath, a well-known taxonomist with the dept of life sciences of the Manipur University, hira means diamond.
"The name 'Waikhomia' for the new genus is a tribute to Prof Vishwanath Waikhom for his exemplary contributions to improving our knowledge on freshwater fish of north-east India, & for promoting fish taxonomy as a science in the country," said Dr. Rajeev Raghavan, of Kerala University of Fisheries & Ocean Studies (KUFOS). https://www.hindustantimes.com/india-news/new-species-of-freshwater-fish-found-in-maharashtra-named-after-manipur-professor/story-sMryQvRIbQBDGy3f0cbfeP.html (2 July 2020)
Sindhudurg: New freshwater fish Researchers have discovered a new sub-species of the Schistura – a freshwater loach –from the Sahyadris (western ghats). The Schistura are tiny and colourful fish species which inhabit streams and water that is rich in oxygen. Species that spend most of their life in either freshwater inland areas or brackish estuaries are known as freshwater fish species.
The fish was named as 'Schistura hiranyakeshi' after the river Hiranyakeshi which originates in the Sindhudurg dist. "As we collected the specimens from 2017, we found that the fish did not have any official scientific name, and hence we worked on it. We compared our newly-found loach with other species of Schistura from the Indian subcontinent and confirmed it to be new. Hiranykeshi in Sanskrit means 'golden hair' which also symbolises the golden yellow fin colour on the fish. This is one of the prettiest loaches ever discovered from India," said Praveenraj. https://www.hindustantimes.com/mumbai-news/new-freshwater-fish-discovered-from-western-ghats-in-maharashtra-s-sindhudurg-district/story-8LNQx506ylGFaUr3yh7eRJ.html (16 Oct. 2020)
Meghalaya Newly discovered fish species named after a local youth The discovery of a new species of Channa, a genus of predatory fish in the family Channidae, commonly known as snakehead (locally known as Dohthli), native to freshwater habitats in Asia: This species of Channa is named 'Channa aristonei' after a Shillong-based freshwater enthusiast and former MMA fighter Aristone M. Ryndongsngi, who also holds a degree in Fisheries Science from St Anthony's College, Shillong.
Ryndongsngi discovered the species in 2017 when he accidentally collected the new species, thinking that it is Channa pardalis, and was trying to find the habitat of this snakehead species, discovered from West Khasi Hills in 2016. Snakehead fish are small-sized to large-bodied fish with a size range of 10-180 cm. It belongs to the fish family Channidae. They have a head shape resembling that of a snake and have specialized air-breathing organs in their gills, which enables them to inhale oxygen from air. https://www.thenortheasttoday.com/current-affairs/states/meghalaya/newly-discovered-fish-species-in-meghalaya-named-after-a-local-youth-2 (27 Dec. 2020)
World's largest' subterranean fish Story of how the largest known subterranean fish is discovered in caves. Its an as yet un-named fish without eyes. Several new species have been discovered from the 1500 identified and many more unexplored caves of Meghalaya where since 1992, an caving expedition called "Caving in the abode of clouds" is organised. There are in fact 21000 subterranean species in all! https://indianexpress.com/article/north-east-india/meghalaya/from-deep-dark-meghalaya-cave-explorers-bring-to-light-worlds-largest-subterranean-fish-6266800/ (14 Feb. 2020)
Himachal Pradesh New fish species discovered The 9 animals discovered in the state include a fish, moth, caddisfly, two wasps, and four true bugs. The fish was found in Simbalbara river in Sirmaur district and has been named after the river as Garra simbalbaraensis.
In India, 368 new animal species were discovered in 2019, including 294 invertebrates & 74 vertebrates. The report said that during the last decade, nearly 2,500 species have been discovered in India, a mega-biodiverse country. The total faunal diversity in India now comprises around 1.02 lakh species which is 6.5 % of the global diversity. https://indianexpress.com/article/india/animal-species-himachal-pradesh-6854277/ (24 Oct 2020)
West Bengal New freshwater fish in Ganga Researchers from Kerala and W Bengal have identified a new species of freshwater fish from the Ganga. The fish, which is edible, has been christened Systomus gracilus for its thin and compressed body. 'Gracilus' means slim in Latin. This fish can be cultured in inland waterbodies. The fish, which has a light reddish-white body and fins, was discovered from Naihati, W Bengal. Systomus is a genus in the family Cyprinidae. Systomus gracilus can be distinguished from other species of the genus by its high and strongly compressed body, tiny barbels, and anal fin with six branched rays. The collected specimens were 11-12 cm long. https://www.thehindu.com/news/national/kerala/new-freshwater-fish-identified-in-the-ganga/article32482185.ece (30 Aug. 2020)
Telangana New fish species in Kawal Tiger Reserve A new fish species discovered in the hill stream area of Kawal Tiger Reserve (KTR) is among the first vertebrates to bear the name of Telangana. Called Indoreonectes Telanganaensis, the new species of loach, is distinguished by pectoral fins as long as the head, large eyes, nasal barbel reaching the middle of the eye and a number of other distinguishing features.
"The hill stream is seasonal and is part of the Godavari river basin but does not flow into the main river directly. It was discovered there," informed Srinivasulu Chelmala, the corresponding author of the paper published in Zootaxa, a peer-reviewed scientific journal for taxonomists. The research team was led by Krishna Prasad Kante, a scholar from Osmania University. The researchers backed up their claim for the new species with DNA analysis information. https://www.thehindu.com/news/cities/Hyderabad/new-fish-species-found-in-kawal-tiger-reserve/article33097515.ece (14 Nov. 2020)
Andhra Pradesh New edible freshwater fish Scientists have discovered a new species of freshwater fish from the Alluri forest of the Eastern Ghats in Visakhapatnam district. The species, small in size, has been named Parapsilorhynchus alluriensis, in recognition of the Alluri forest, where it was found. The specimens were collected from the Dharamattam waterfall, with details published in the peer reviewed journal Zootaxa.
"The freshwater fish is small in size, measuring 35-45mm. The colour of the species is dark grey, ventral surface uniformly cream white. Dorsal fin of the fish bears a yellowish tinge and a distinct oblique black bar near its free margin," S. S. Jadhav, one of the scientists behind the discovery, said. The specimens were collected by M. Karuthapandi from the waterfall in Nov 2018 and the fish was later described by Dr. Jadhav, who is associated with the Freshwater Biology Regional Centre, Zoological Survey of India, Hyderabad. https://www.thehindu.com/news/national/andhra-pradesh/new-edible-freshwater-fish-discovered-in-andhra-pradesh/article31114933.ece (15 March 2020)
Rajasthan Researcher found a blind snow trout near Thar desert This biological puzzle could be the key to deepen our geological understanding of the region. https://scroll.in/article/981060/how-a-researcher-found-a-blind-snow-trout-near-thar-desert-and-why-its-vital-to-study-it-further (13 Dec. 2020)
INVASIVE FISH
Ganga 8 different exotic fish species Rattan Lal Kataria, Minister of State in the Jal Shakti Ministry, said on Sept. 24 said in written response to a question in the Lok Sabha, under the Namami Gange Programme, a project of "Assessment of fish and fisheries of the Ganga River System for developing suitable conservation and restoration plan" was sanctioned to Central Inland Fisheries Research Institute (CIFRI) for Rs 7.067 crore.
"The studies carried out under the project revealed a total of 190 fish species from the main stem of river Ganga. The project has addressed evaluation of native fish species, out of which, 15 near threatened, 2 vulnerable and 2 endangered have been found under the IUCN (International Union for Conservation of Nature) Red List. Eight different exotic fish species have also been recorded." https://www.outlookindia.com/newsscroll/eight-different-exotic-fish-species-recorded-in-ganga-river-kataria/1937717 (17 Sept. 2020)
Uttar Pradesh 'Amazon catfish found in Varanasi The discovery of the Suckermouth Catfish has gotten zoologists at the Banaras Hindu University (BHU) extremely worried. The fish is considered to be extremely dangerous for the ecology of the river.
BHU's zoologist Prof. Bechanlal informed that the zoological name of the fish is Hypostomus plecostomus and it is known as pleco elsewhere in the world. According to the professor, while native fish require specific conditions for breeding, the suckermouth catfish can breed in water under any circumstances and anywhere, making it a threat to the balance of the ecosystem.
Ganga sentinel Darshan Nishad, who works for the conservation of aquatic life associated with the WII & the Namami Ganga project, said he found the strange fish for the second time in the river. These carnivorous fish neither have food quality nor have any medicinal properties. Another report mentioned that the fish was caught in the nets on Sept 24 near the Ramna village, south of Kashi. (https://www.news18.com/news/buzz/catfish-native-to-amazon-found-in-varanasi-scientists-term-it-dangerous-for-ganges-ecology-2918753.html Sep 29, 2020)
Telangana This is not the first time that a species of catfish native to the Amazon basin was discovered in India. Back in August, a strange looking fish was discovered in Narsimhulugudem village, Telangana by fishermen. According to a report in Telangana Today, Dr Joe K Kizhakudan, a Principal Scientist at the Central Marine Fisheries Research Institute in Chennai, Tamil Nadu, said it is the Amazon Sailfin Catfish which is often confused with the Suckermouth Catfish. The species is native to the Amazon River Basin in Brazil and Peru. https://www.news18.com/news/buzz/catfish-native-to-amazon-found-in-varanasi-scientists-term-it-dangerous-for-ganges-ecology-2918753.html (29 Sept. 2020)
Odisha Rare fish found in Bhargavi river A fisherman caught a rare fish on Sept. 2 from Bhargavi river in Brahmagiri area of Puri dist. https://www.indiatvnews.com/science/odisha-rare-fish-found-in-puri-s-bhargavi-river-647008 (3 Sept. 2020)
Kerala Amazon fish discovery sparks concern A research paper, "Occurrence of Ornamental Fishes: A Looming Danger for Inland Fish diversity of India," by S. Sandilyan states that 27 ornamental species were reported in the inland wetlands of India by 2016. Of those, 15 had established a breeding population & had emerged as a threat to native species.
In the canals of Thiruvananthapuram in Kerala, the native fish population has declined because of the invasion of pterygoplichthys or sailfin armored catfish, a cousin of the suckermouth catfish. The number of fish collected by the cast net ranged from 3 to 27 throughout the study period by Biju Kumar, a faculty member in Aquatic Biology and Fisheries at the University of Kerala, which indicates the dominant biomass of the species. The invasive fish consume the eggs of native species, which leads to the extinction of indigenous varieties.
-As of 2018, of 3,535 species in India's freshwater, brackish and marine waters, 14 percent, or 495, were found to be alien. "Alien established species are mostly found in degraded waters as these are hardy in nature and can survive and flourish in diverse, polluted, altered, regulated, derelict water bodies," said Joshi, scientist at ICAR-NBFGR. https://tntribune.com/discovery-in-india-of-fish-native-to-amazon-sparks-concern-for-indigenous-species/ (02 Oct. 2020)
Maharashtra Drive to destroy breeding centres of Thai Mangur Govt launched a special drive to destroy the cultivation centres of the exotic Thai Mangur fish. The decision is the outcome of a meeting between fish traders and officials of the Maharashtra fisheries dept headed by Minister Aslam Shaikh. "The fish is popularly known as Thai Mangur or African Mangur or foreign Mangur, as appearances is somewhat like fresh water Mangur. "But the Thai Mangur is cultivated in highly unhygienic conditions, which may lead to people falling sick after consuming it," said an official from the fisheries dept.
"NGT banned it in 2000 and a fresh order was also issued regarding the same in Jan 2019. Unfortunately, it was not implemented effectively," he said. "The state fisheries dept has now decided to carry out a drive to destroy its cultivation centres," he said. So far, the state govt has destroyed stocks of some 32 T of Thai Mangur – 3 T in Sakoli (Bhandara dist), 15 T in Bhiwandi (Thane dist), 8 T in Indapur & 6 T in Shikrapur (both in Pune dist). The action will continue. https://mumbaimirror.indiatimes.com/mumbai/other/maharashtra-government-launches-special-drive-to-destroy-breeding-centres-of-thai-mangur-fish/articleshow/74244881.cms (21 Feb. 2020)
Crack down on illegal sell of Cat fish The state fisheries dept confiscated and buried 30 T of Magur — 15 T in Mumbai, 8 T at Indapur near Pune, & 7 T in Bhiwandi – in the last 10 days. The central govt had banned breeding, transportation and sale of the invasive species in 2000. However, as the species grows to a good size, when compared to their smaller indigenous counterparts, farmers have found it more lucrative and reared them on the sly. https://indianexpress.com/article/cities/mumbai/maharashtra-govt-cracks-down-on-illegal-sale-of-catfish-seize-30-tonnes-in-10-days-6281787/ (23 Feb. 2020)
Andhra Pradesh Dangerous catch A poisonous puffer fish got caught in the net in Visakhapatnam. A scaleless fish with spiky skin and four teeth, this variety of puffer fish contains enough poison to kill 30 adult humans. (Photo: K.R. DEEPAK/ The Hindu) https://www.thehindu.com/todays-paper/dangerous-catch/article30954651.ece (1 Mar 2020)
Commentary Tilapia: Invasive fish came to dominate our ecology, food and psyche Tilapia are among several fish species belonging to the family Cichlidae, native to Africa and the Middle East. Their ability to adapt to a wide variety of conditions, their omnivorous food habits and their popularity in the aquaculture sector have resulted in tilapias being introduced to several parts of the world.
The Mozambique and the Nile tilapia were introduced into India to boost food security. However, through both accident and intentional release, the species have established themselves through large sections of the country's waterways, making their way into biodiversity hotspots as well.
Creating a market for an invasive species like the tilapia, if not done with a clear understanding about their threat to local ecosystems and reasons for their eradication, can have serious consequences for natural ecosystems and ecosystem services. On the eve of the World Food Day (Oct 16), Aaron Savio Lobo examines the complex issues around tilapia in this commentary. https://india.mongabay.com/2020/10/commentary-tilapia-how-an-invasive-fish-came-to-dominate-our-ecology-food-and-psyche/ (15 Oct. 2020)
Guppies: solving one problem triggers bigger one While scientists are skeptical on the effectiveness of using guppies for mosquito control, many recommend use of indigenous species of fish from their respective regions from genera like Aplocheilus and many small barbs (formerly known as Puntius spp.) as a better option instead of guppies.
Besides, there are many other natural invertebrate native predators of mosquito larvae as well such as several species of aquatic bugs and beetles, odonate (dragonflies and damselflies) nymphs and crustaceans like tadpole shrimp (Triops sp.) crustaceans and their efficacy has also been studied. They could also be used as alternatives to guppies. Being local species, they are less aggressive and do not have a negative effect on the biodiversity of freshwater bodies. At the same time, concerted efforts to reduce pollution and eutrophication of water bodies need to be made on an urgent basis.https://www.indiawaterportal.org/articles/when-solving-one-problem-triggers-another (6 Aug 2020)
FISH DEATHS, POLLUTION
Tamil Nadu Dead fish in stream raises concerns Several dead fish were found floating in a stream near the check dam at Nanjundapuram in Coimbatore on Feb. 6. The stream comes from Vellalore check dam and flows to Singanallur tank after reaching the check dam in Nanjundapram. Residents in the area said they had in the past three days seen fish rising to the stream surface for breathing. V Shanthamani, a local resident, said, "Even three days ago, some fish had died. But on Feb. 6, the number increased. There must be around thousand dead fish. The stench is unbearable. We are unable to eat or carry out daily chores."
Environmental activists said the problem started at Selvapuram. "There are bleaching units in Selvapuram. They bleach old clothes. Bleaching effluents from the units can be found at Puttuvikki Bridge across the stream. There are also effluents from other units. Domestic sewage also gets mixed in the stream. This might have caused their (fish) death," said R Manikandan, a member of Kovai Kulangal Padhukappu Amaippu. "Another reason might be lack of oxygen." https://timesofindia.indiatimes.com/city/coimbatore/dead-fish-in-stream-raises-concerns-among-residents/articleshow/73994112.cms (7 Feb 2020)
Fish kill at Ennore Creek worries fishermen As hundreds of fish were found dead in Ennore Creek, a thick stench hung in the air near Nettukuppam in north Chennai on Aug. 14. Fishermen said it was due to hot water discharge from a neighbouring thermal power station. A. Mathi, president of the Nettukuppam Fishermen Cooperative Society, said that at least one tonne of fish died overnight. "There is no other immediate reason for the deaths. The water is really hot. It has chemicals," he alleged. The Fisheries dept collected samples for testing.
Advocate T.K. Ramkumar, who deals with environmental matters, said it was not a one-off occurrence. "Several years ago we had been to the spot to check the water and it was hot enough to have a bath. The death of the fish only meant that the water's temperature is not within the permissible limits as otherwise fish wouldn't die in large numbers. The thermal station should either cool the water before letting it into the creek or let it deep into the sea. But that is not happening. The creek's natural ecosystem has been damaged over the years, with the discharge of fly ash and hot water," he said. https://www.thehindu.com/news/cities/chennai/fish-kill-at-ennore-creek-worries-fishermen/article32359826.ece (15 Aug 2020)
Scientists find out what caused 2017 fish apocalypse Studying yet another instance of the adverse effects of pollution on habitat and environment, researchers led by Vinitha Ebenezer from the Centre for Climate Studies, Sathyabama Institute of Science and Technology, Chennai, have found that chromium toxicity and low salinity caused the mass death of fish in Adyar estuary, two years ago.
In Nov 2017, hundreds of dead fish washed up on the shores of the Adyar estuary at the mouth of the Adyar River, creating panic across the city, especially among the local fishermen. The fishermen blamed the discharge of untreated sewage into the water body for the mass death. This was the second such occurrence within three years, the first having taken place in December 2014.
Talking about the possible cause of increased chromium in the estuary, Umer Khalifa S.R., the lead author of the study says, ​"It is most likely from the release of a leather industry which uses chromium in the tanning process." Tanneries use toxic mixtures of chromium salts for tanning animal skins to obtain leather. Along with increased chromium, low salinity in the estuary made matters worse. Optimum salinity or salt content in water prevents the accumulation of heavy metal ions. ​"Increased chromium alone could not have caused the mass death of fish in a short time span. Low salinity was the compounding factor," says Khalifa. https://thewire.in/science/something-fishy-an-environmental-mystery-solved (1 Nov 2019)
Kerala From fishing to toxic hotspots Nestled between Periyar river and its tributary Muttar river in Ernakulam district, the island municipality of Eloor has often been in the news for the massive fish deaths along the river stretch. It is only around Eloor — an industrial hotspot with about 247 chemical industries — that the Periyar river has shown visible effects of pollution, including fish deaths and change in water colour. Just a week ago, the Muttar river witnessed another major fish kill. For many, it is hard to comprehend that Eloor — once a pristine fishing and agricultural village — is currently choked by the hundreds of functioning and defunct factories, with some even emitting toxic pollutants and radiation.
The Centre for Developmental Studies in Thiruvananthapuram has managed to trace Eloor's transition from a fishing hotspot into one of the world's toxic hotspots. The team has recorded their findings in a 128-page booklet titled: 'Why Do People Deny Environmental Destruction? The Pollution of the Periyar at Eloor, and Local-level Responses'. https://www.thenewsminute.com/article/how-pristine-kerala-island-transformed-world-s-top-toxic-spot-116980 (28 Jan. 2020)
Andhra Pradesh Pollution board probe into dead fish at Ameenpur lake "Dozens of fish were found belly up in the water or on the bank of the lake. The most likely reason is effluents from industries nearby," said Thakur Raj Kumar Singh of the Human Rights & Consumer Protection Cell Trust. Ameenpur lake is the only biodiversity heritage site in the state. https://timesofindia.indiatimes.com/city/hyderabad/pollution-board-probe-into-dead-fish-at-ameenpur-lake/articleshow/75363537.cms (25 April 2020) Highlighting a recent incident when several fish in Ameenpur lake died and were found floating on the surface, they allege that factories located either in Patancheru or IDA Bollaram are dumping chemicals in the lake. https://www.thenewsminute.com/article/industries-polluting-air-and-water-residents-hyderabad-s-ameenpur-allege-124402 (12 May 2020)
Maharashtra Fish die en-mass in Gandhi Sagar Preliminary investigation, however, has ruled out possibility of fish dying due to environmental reasons in this lake in Nagpur. Professional diver Jagdish Khare, who stays at the lake, said every year there is a similar phenomena during monsoon. This year, the number of dead fish is alarming, he said.
Environment expert Kaustav Chatterjee explained that cloudy weather combined with night-time conditions deplete oxygen level. As per him this mainly affects big fish which need more oxygen to survive. Other reasons for fish deaths could be overcrowding, said Chatterjee. https://timesofindia.indiatimes.com/city/nagpur/fish-dying-in-gandhisagar-nmc-to-seek-neeri-help/articleshow/77493154.cms (12 Aug. 2020)
Soil pollution from Kanjur landfill killing fish Leachate from Kanjurmarg dumping ground and stagnant water have killed fish over a 2 ha mangrove forests' area in the eastern suburbs of Mumbai between Bhandup and Kanjur. https://www.hindustantimes.com/mumbai-news/soil-pollution-from-kanjur-landfill-killing-fish-less-than-500m-from-flamingo-sanctuary/story-D2JTlJsPWYZp3qeBChF6eK.html (16 Sept. 2020)
Meghalaya Hundreds of dead fish found floating on 'blue' Lukha river Hundreds of fish & fingerlings died and were found floating on the 'mysterious blue' waters of river Lukha in East Jaintia hills dist of Meghalaya on Dec 26, 2020. Since 2007, waters of river Lukha turn blue during the winter months. But, this year, the water quality has reportedly deteriorated further, and has turned 'deep blue'. The cement factories around Thangskai and Lumshnong are the main cause for the pollution in the river system in East Jaintia hills. While the cement companies have been claiming that they were not responsible for changing colour of Lukha river, according to experts Calcium Carbonate slush from limestone mines can change colour of river waters to 'blue'. https://nenow.in/north-east-news/meghalaya/hundreds-of-dead-fishes-found-floating-on-blue-lukha-river-in-jaintia-hills-of-meghalaya.html (26 Dec 2020)
KSU demands inquiry The Narpuh unit of the Khasi Students' Union (KSU) has demanded for an independent inquiry into the 'blue' coloured water of the Lukha River. "Thousands of fish died and the water is no longer fit for drinking," the KSU stated. https://nenow.in/north-east-news/meghalaya/meghalaya-khasi-students-union-demands-inquiry-into-blue-coloured-water-of-lukha-river.html (22 Dec. 2020)
J&K Hundreds of fish killed as Covid medicines found in river Authorities in Doda district have ordered a probe after medicines worth lakhs of rupees from hospital supply were found abandoned at multiple places along Neeru River on Nov 8, leading to the deaths of hundreds of fish. The medicines meant for the coronavirus patients were seen by locals after hundreds of fish died under suspicious circumstances in the river near Gupta Ganga temple, Parnala and Atal-garh area.
Neeru River is the lifeline of Bhadarwah since it is the primary source of potable water and provides water supply to trout fish farms besides being the source of income to local fishermen. Workers of trout fish farms claim that the mortality rate has suddenly spiked after the medicines were thrown in the river in large quantities. "Since past one week, we have been collecting and removing medicines from our pond every day. Despite all of our efforts, dozens of fish have died in last couple of days and hospital authorities are responsible for this," Barkat Ali of Bagwan trout fish farm Atalgarh said. https://thelogicalindian.com/trending/fishes-jammu-kashmir-24763 (10 Nov. 2020)
Himachal Pradesh Dead fish in Sirsa river Another failure of the HP Pollution Board:  A large number of dead fish were found in the Sirsa river near Sainimajra village in the Nalagarh industrial cluster in the dist on June 9. Residents said that the quality of river water had started improving during the lockdown when only a few industries were operational. But now when most of the industries were functioning, untreated industrial effluents were being callously discharged into the river, causing stench and water pollution. The river water not only emanated a foul odour but has also become a health hazard for people residing nearby. The residents said that fish died in the river every year during the rainy season, as some erring industries dispose of toxic effluents into it.  https://www.tribuneindia.com/news/himachal/dead-fish-found-in-sirsa-river-at-nalagarh-industrial-cluster-96812  (10 June 2020)
Punjab Thousands of fish found dead in Sarsa Thousands of fish were found dead in the Sarsa near Ghanauli village on June 10. The reason behind their death is suspected to be discharge of effluents from factories in the Baddi area of Himachal Pradesh. Similar incidents were reported from the Baddi-Nalagarh area of Himachal Pradesh on June 9.  https://www.tribuneindia.com/news/punjab/thousands-of-fish-found-dead-in-sarsa-97944  (12 June 2020)
Rajasthan Dead fish raise water scarcity concerns A school of dead fish was seen floating in a drying pond at a Jodhpur village, evoking concerns about water security as western part of state is currently experiencing heatwave conditions and monsoon is about a fortnight away. A revenue officer in Soyla village said the fish died because hardly any water was left in the pond.
Villagers have pooled money to hire a water tanker to refill the pond in the hope that it may allow at least some fish to survive till the monsoon arrives. "There's no rainfall, so water level went down and fish died. We arranged water tanker after contributing Rs. 300 each. Water is being transferred into the pond so that fish that are alive can live," the tehsildar said. https://www.ndtv.com/india-news/dead-fish-in-jodhpur-pond-raises-water-security-concerns-2245738 (13 June 2020)
Assam Fish die in Baghjan wetland The official said fish have died in huge numbers in the past few days in the Maguri-Motapung Beel (wetland) as floodwaters turned "acidic" after mixing with the condensate, a form of crude that has been spewing from the gas well since May 27. The chemical spray has affected nearby water bodies, grassland, paddy fields and tea plantations. The death of fish compounds the problems for locals as around 40 per cent of them are involved in the fishing business. Around 9,000 residents are living in 10 relief camps since the well blowout and subsequent fire. https://www.telegraphindia.com/north-east/fish-die-in-wetland-near-assam-blowout-site/cid/1784791 (30 June 2020)
Karnataka Fish dead in Phalguni river Hundreds of fish were found floating dead in River Phalguni at Dadelu in Nadthikallu, near Venoor, triggering an alarm that water had been poisoned. As the fish had died, the entire area reeked of a nauseating smell. Hundreds of cattle drink water from the water body. The residents fear spread of diseases from the rotting fish. They said animals and birds that drink from the river will die if the water is poisoned. The villagers, who were angry over the incident, said that the miscreants behind the poisoning of the river should be punished. https://www.deccanherald.com/state/top-karnataka-stories/scores-of-fish-found-dead-in-river-phalguni-832785.html (2 May 2020)
OVERFISHING & EXTINCTION
Something fishy Fishing for catastrophe, a report published by The Netherlands-based Changing Markets Foundation in Oct 2019, shows how the $362 B aquaculture industry is havocking natural fish stock, destroying marine ecosystems and disrupting traditional livelihoods, besides undermining the food security of vulnerable communities.
The report — based on findings from India, Vietnam and Gambia — found that in 2016, 69 % of the fishmeal and 75 % of the fish oil produced were used for seafood farming globally. The UNFAO estimates that 33 per cent of marine stock is fished in biologically unsustainable ways. With govt assistance, fishing vessels are now able to fish farther, longer and with greater intensity. The crisis brewing underwater, though, is yet to raise a stink on shore. https://www.thehindubusinessline.com/blink/shoot/something-fishy/article30584543.ece/photo/1/ (17 Jan 2020)
W Bengal Aquaculture boost damaging marine ecosystem According to the govt data, W Bengal has 405,000 ha of brackish water that making it the largest area in the country for potential shrimp production. Marine Products Export Development Authority (MPEDA) statistics says that the production of shrimp in W Bengal reached 76,534 T in 2017-18, up from 28,000 T in 2007-08. As aquaculture production is increasing, the demand for fishmeal is also rising. As a result, trawlers are engaging more into bottom trawling, and even smaller fishers are also forced to catch small aquatic creatures to feed local fishmeal factories. https://www.youthkiawaaz.com/2020/03/heres-how-bengals-aquaculture-boost-is-damaging-marine-ecosystem/ (10 March 2020)
HILSA Overfishing drives Hilsa up the creek In a recent study, scientists have questioned the sustainability of hilsa fishing practices in the northern Bay of Bengal. They suggested that excess of licensed fishing trawlers are responsible for declining hilsa stock. From the estuary of the Ganga to deep in the Bay of Bengal, about 15,000 trawlers are hovering in the migratory path of the hilsa as the fish approaches the river to spawn, and on its way out.
The study revealed that between 2002 and 2015, even though the number of boats engaged in fishing increased by 25%, the hilsa catch dipped by 13%. "In spite of the ban on nets with mesh holes less than 90 mm, such nets are used most of the time. A very large number of juvenile hilsa are caught regularly. Apart from this hundreds of nets, each around 1-2km long, block the mouth of the estuary. How will the fish enter the river?" asked Debasish Shyamal, district president of DMF.
The damage is twofold – the possibility of getting mature hilsa in the future is reduced, and it also hampers the reproduction of the fish. Shyamal further explained, "W Bengal has 158 km coast line, comparatively smaller coast line than others but production rate is higher than other coastal states. Govt is always pushing to increase production numbers without thinking the environmental consequences. In 2012 hilsa production in the state was 8510 T. According to fisheries dept data 14203 T hilsa caught in 2016. As result trawlers are involved in destructive fishing practices to increase production numbers." https://www.thequint.com/news/environment/overfishing-drives-west-bengals-hilsa-fishers-up-the-creek (25 March 2020)
Hilsa haul dips to 25 year low So far Hilsa catch by 3500 Hilsa trawlers in 24 N Parganas and 12000 in 24 S Parganas since the season started officially on June 15 this years has been the lowest in 25 years so far. https://www.telegraphindia.com/west-bengal/coronavirus-outbreak-hilsa-haul-dips-to-25-year-low/cid/1788254 (5 Aug. 2020)
A fish called Hilsa "If you know about Jhulelal — a 1000 AD saint, the most revered deity of the Sindhi Hindus and revered by Muslims as Zinda Pir, you'll know that he travels on a fish on the Indus river. This was the palla, the local name of hilsa in Sindh. Even in the Ajanta caves, in the pictorial representation of the Monkey God in Bodhisattva, there are fish visible on the river. And they, too, have the same shape," Salt Lake-based ophthalmologist Arnab Biswas's says, having done research on Hilsa for seven year. "The palla fish were all believed to come from the Saraswati basin."
"From my understanding the Hilsa will always come back to the place where it was born. In their life span of 4-5 years, they will make three to four attempts to swim upstream in the river to breed. This is essential for many reasons," he says. "When the Hilsa swims against the tide on the river to find a breeding place, it eats very less. It also forms polyunsaturated fatty acid. It also urinates more leaving out the toxins from the body. And due to the swimming, the muscles are softer. So, the taste is basically a culmination of all these," he argues.
"Now, compare this with the much older ritual in Bangladesh's Faridpur — of having Hilsa roe with puffed rice on Dashami, after immersion. That was the last time they would eat hilsa, starting again only from Saraswati Puja. In Bengal, jora-Ilish or a pair of hilsa is offered in the Puja. Now we understand the reason why people stopped having hilsa in this period. This was breeding time. This window allowed newborn hilsa, called jhatka, to swim back to the seas," he says. https://timesofindia.indiatimes.com/city/kolkata/a-fish-called-hilsa/articleshow/74250388.cms (22 Feb. 2020)
Crabs Unsung heroes of Sundarbans I believe that we have to make sure that the Sundarbans continues to provide food, work and safety to the people who need it—now & in the future. Why not start with the crabs and ensuring that only mature ones are taken, asks Shanto Dylan Mansur, a 9-year-old nature lover. https://www.thedailystar.net/shout/news/crabs-unsung-heroes-the-sundarbans-1885558 (26 March 2020)
J&K Fish species on decline, experts warn of extinction Dr. Imtiaz Ahmed Khan, a well-known Ichthyologist and Senior Assistant Professor of Zoology at the University of Kashmir said that out of 13 Schizothorax (Kasheir Gaed), 8 species became extinct very early and among 5 species left out, the numbers of 2 are declining at present. https://kashmirpatriot.com/2020/11/06/fish-species-on-decline-in-jk-experts-warn-of-extinction/ (06 Nov. 2020)
Delhi Yamuna suffers from an unfortunate throes As per the comprehensive survey by the CIFRI from headwaters of river Yamuna at Delhi, the catch composition of 93 native fish species including Golden Mahseer, Snow trout, Kalaban, Calbasu carp, etc. belonging to 23 families that occur in the river has significantly declined due to the increase in pollution. https://letmebreathe.in/2020/09/14/the-yamuna-suffers-from-an-unfortunate-throes/ (14 Sep 2020)
Gujarat Draining Bandhara in search of fish The two Bandharas on Udh Nhai River at Mattidhad and Dabhal storing huge quantities of water have been purposely drained by free loaders in search of free fish in river. These free loaders are least bothered about impact of releasing water from bandhara on plantations and nearby wells. The wells have drained immediately and there is no water for plantation. Plantation owners had applied FYM and in absence of water there is possibility of these plantation drying up. In past when monsoon had arrived on 15th June the water in these Bandharas saved the villagers. These miscreants should face action. Police should identify these culprits who tinker unauthorised with the assets of WRD Department and for few rupees worth free fish, drain out entire river jeopardizing livelihood and drinking water supply. https://sandrp.in/2020/06/01/drp-nb-1-june-2020-no-escape-from-dam-floods-as-dam-lobby-continues-to-dominate/ (01 June 2020)
Kerala Vembanad gasps for breath For the majority who depend on it, Vembanad Lake now provides no more than a meagre living as the fish wealth is getting depleted by about 7,500 tonnes every year. As per estimates, about six to seven lakh people are dependent on the lake system for a living even as the number of fish species has declined markedly over the years. The annual Vembanad Fish Count (VFC) conducted by the ATREE, in collaboration with the Kerala University of Fisheries and Ocean Studies, in the past two years noted a steady decline in diversity of almost all kinds of fin and shell fishes. https://www.thehindu.com/todays-paper/tp-national/tp-kerala/vembanad-stifling-under-human-intervention-gasps-for-breath/article30779394.ece (10 Feb. 2020)
Oil sardine on path of revival but experts advise caution Oil sardine, Kerala's staple fish which had been on the decline in the state's coast for the past many years, is on the path of revival, the CMFRI in Kochi, said on Friday (Jan. 1). However, the institute has cautioned fishers in the state about catching the sardine as they are still below the reproductive age.
Oil sardine landing in Kerala had been on a sharp decline for the past five years. Though sardine landing reported a slight increase in 2017, it dipped further in the following years. In the annual study report released in June 2020, the CMFRI stated that in 2019, sardine landing was the lowest in two decades at just 44,320 tonnes. https://www.thenewsminute.com/article/oil-sardine-path-revival-kerala-coast-experts-advise-caution-140673 (01 Jan. 2021)
STUDIES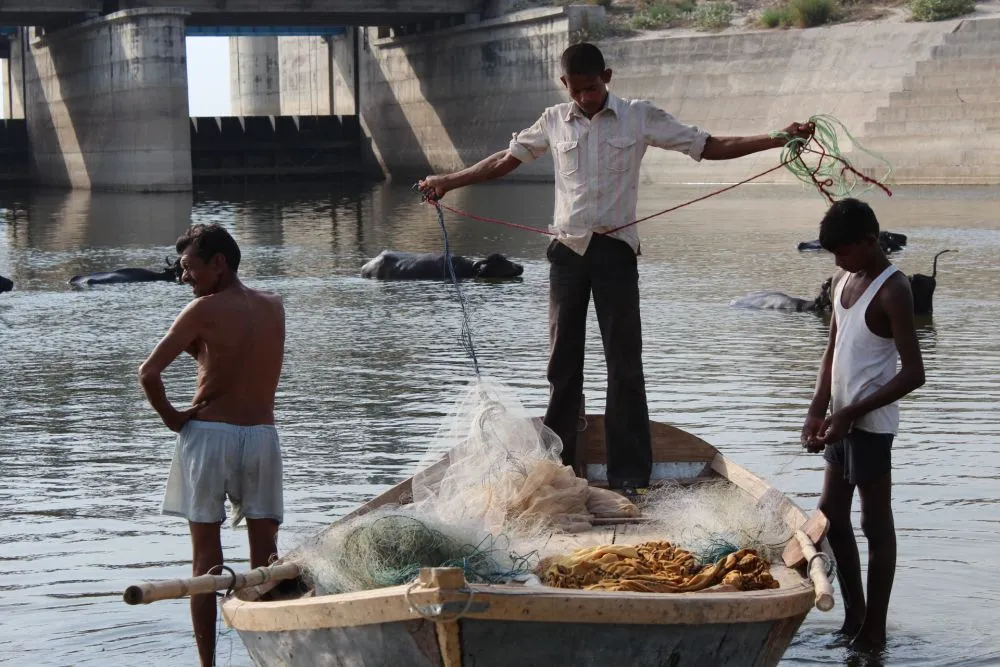 Dams altering the water and impacting the fish The researchers (How Dams affect fisheries. By Dr Vidyadhar et al) chose the Tunga and Bhadra rivers for their near-natural, (river stretches without dam) undisturbed water flow, and the sub-basins of Mhadei and Malaprabha in northern Karnataka for their water flow regulated by dams. They conducted various water quality tests along with mapping river habitat to investigate what factors affect the quality of water and the ecosystems of fish that dwell in them.
The study also examined the fish population in the four rivers and recorded a total of 12,840 fish individuals belonging to 79 species across wet and dry seasons during 2011–2014. Among these, 31 species were endemic to the Western Ghats and found nowhere else. The Tunga and Bhadra rivers come from the headwater region and have more endemic and habitat specialist species than Mhadei and Malaprabha. https://researchmatters.in/news/dams-western-ghats-are-altering-water-and-impacting-fish (8 Dec 2020)
Dams spell doom for fresh water fish A global study finds that freshwater fish suffer more due to fragmentation and loss of connectivity of rivers due to dams. https://www.indiawaterportal.org/articles/dams-spell-doom-freshwater-fish (19 June 2020)
Ganga's riverine communities in troubled waters A study 'Livelihood and health challenges of riverine communities of the River Ganga' by the National Council of Applied Economic Research supported by the Tata Centre for Development at UChicago and Water-to-Cloud attempts to examine the quality of the Ganga river's water at selected stretches of the river during 2019-20. It seeks to assess the inter-linkages between pollution in the Ganga water & the livelihood of users of the river by analysing their socio-economic profile.
It was observed that the fisherfolk are socially and economically fragmented. There is a need to formally recognise the communities settled on the river banks as part of the riverine ecosystem. It said there is need to synchronise their local ecological knowledge with scientific knowledge for implementing better water monitoring techniques. Need to formalise the traditional occupation of riverine fishing by providing proper licensing facilities to allow for targeted policies for the community in order to mitigate the livelihood challenges. https://www.indiawaterportal.org/articles/gangas-riverine-communities-troubled-waters (1 Sep 2020)
Plastic pollution from fishing nets threatening wildlife in Ganga In the study, published in the journal Science of The Total Environment, surveys along the length of the river, from the mouth in Bangladesh to the Himalayas in India, show levels of waste fishing gear are highest near to the sea. The researchers noted that fishing nets — all made of plastic — were the most common type of gear found.
Interviews with local fishers showed high rates of fishing equipment being discarded in the river — driven by short gear lifespans and lack of appropriate disposal systems, they said. "The Ganges River supports some of the world's largest inland fisheries, but no research has been done to assess plastic pollution from this industry, and its impacts on wildlife," said Sarah Nelms from the University of Exeter in the UK. "Ingesting plastic can harm wildlife, but our threat assessment focussed on entanglement, which is known to injure and kill a wide range of marine species," Nelms said.
The researchers used a list of 21 river species of "conservation concern" identified by the Wildlife Institute of India in Uttarakhand. They combined existing information on entanglements of similar species worldwide with the new data on levels of waste fishing gear in the Ganges to estimate which species are most at risk.
"There is no system for fishers to recycle their nets. Most fishers told us they mend and repurpose nets if they can, but if they can't do that the nets are often discarded in the river," said Nelms. "Many held the view that the river 'cleans it away', so one useful step would be to raise awareness of the real environmental impacts," she said. https://phys.org/news/2020-11-fishing-gear-threatens-ganges-wildlife.html; https://www.hindustantimes.com/india-news/plastic-pollution-from-fishing-nets-threatening-wildlife-in-ganga-study-finds/story-Ma4r298OWOb3pO8NsW5x7L.html (30 Nov. 2020)
Catfishes of the genus Sperata in India Rahul Girish Kumar, Ravi Charan, Nadumury Pradeep Krishnaprasoon, Valaparambil Saidumohammad Basheer. A recent study reveals diversity within catfishes of the genus Sperata in India. Five species have been recorded, all of which were previously described, but since synonymised with S. aor or S. seenghala. Sperata aorides is endemic to the Cauvery river basin and is apparently the only species in that river system. Sperata lamarrii is unique within the genus in possessing short maxillary barbels which do not reach the adipose fin, a very slender body with eyes in the anterior half of the head and a short adipose fin. Sperata aorella also possesses a short adipose fin, but is very deep bodied and has maxillary barbels extending to the adipose fin. Sperata aor, S. seenghala and S. aorides can be differentiated visually by the shape, size and position of the supra-occipital spine and interneural shield, a bony plate just ahead of the dorsal fin. https://onlinelibrary.wiley.com/doi/abs/10.1111/jfb.14590
IISc study sheds light on fish schools, bird flocks While studying the cichlid species of fish, IISc scientists discovered that "noise" can actually help make sense of how complex group-level behaviours — such as swimming together in a synchronised manner to avoid predators and forage efficiently — emerge from simple individual behaviours.
"It is very counter-intuitive," said Vishwesha Guttal, Associate Professor at the Centre for Ecological Sciences, IISc, and senior author of the paper which was published in Nature Physics. "We all usually think noise reduces order." Crucially, the researchers also tracked how these behaviours fluctuated over time. "What we find is that when the fish are moving in a misaligned state, the fluctuations are high," said Danny Raj M, co-author of the paper & an INSPIRE Faculty Fellow at the Dept of Chemical Engineering. https://www.deccanherald.com/city/life-in-bengaluru/iisc-study-sheds-light-on-fish-schools-bird-flocks-810310.html (4 March 2020)
Compiled by SANDRP (ht.sandrp@gmail.com)
Also See: WFD 2020: Impacts of River Sand Mining on Riverine Fisheries