Today is World Water Day. The theme[1] for this year is 'Leaving No One Behind'. In India it's onset of summer. As usual, many parts of country have started facing water scarcity. After deficient monsoon, half of the country is in drought grip. The drought is further compounding the already stressed situation. Cauvery river has started drying[2]. The monsoon failure and drying of surface water sources have severely affect the ground water resource, which is depleting across the country.
Presently groundwater is lifeline[3] of India. It caters to meet 85 per cent of drinking water supply in rural parts. About 65 per cent of urban potable water supply is also based on ground water. Similarly 65 per cent of agricultural area is irrigated by water below the ground and it is meeting about 55 per cent of industrial demand.
The Water Aid report titled Beneath the Surface: State of the World's Water 2019 released in this month, draws grim picture of ground water depletion in India. It says that about 24 per cent of all India's water use is extracted ground water. With about 250 cubic km of extraction, India draws out more groundwater than any other in the world — more than that of China and the US combined. Because of this, the rate of groundwater depletion has increased by 23% between 2000 and 2010.
It further says that India is the third largest exporter of virtual water — 12% per cent of the global total. In 2014-15, the country exported 37.2 lakh tonnes of basmati, using around 10 trillion litres of water. This means India virtually exported 10 trillion litres of water. Replacing such crops with less water-intensive ones will mean a huge saving of water.  
In his article[4], renowned agriculture expert Devinder Sharma draws attention towards alarming situation of water resources where 76 per cent of the assessed blocks are over-exploited and the estimated groundwater availability for future irrigation use is negative. Though the state has 98 per cent assured irrigation supply however more than 16,600 farmers have committed suicide in the state in last 17 years.
He suggests that Punjab needs is a change in the farming systems as water intensive crops, mechanized farming practices have not only exploited the water sources in the state but also has put the farmers in debt trap.
Indeed, for preserving water sources sustainable agricultural practices are need of the hour. The simple methods of SRI, organic farming, Zero Budget, crop diversification will not only benefit the farmer community but also improve the health of soil while meeting the water supply through locally viable options.
In the above context, there have been a number of instances of remarkable water conservation efforts by farming communities across India in last one year. This compilation tries to put together some of them including some of significant water conservation steps taken by governments at state and central level in India.
SRI, ORGANIC FARMING AND OTHER OPTIONS
India could reduce the water it uses for irrigation by a third and simultaneously address its persistent malnutrition problem if it replaced its rice crop with more nutritious[5] and less thirsty cereals, a study of irrigation-water use over 43 years has found. The study, 'Alternative cereals can improve water use and nutrient supply in India', was published on 4 July 2018.
The study has found that in the last 40 years, the burden of water stress has shifted away from southern districts, some of which have experienced a decrease in agricultural water demand, towards Punjab and Haryana which are main producers of rice and wheat. 
The broad findings of another similar study indicate that there are regions in India which are heading towards unsustainable agriculture[6] with highly skewed distribution of water for certain crops. Rice in Punjab and sugarcane in Maharashtra are classic examples of highly inefficient, iniquitous, and unsustainable use of water resources.
According to the government data, in 2017, nearly 40 lakh hectares of agricultural land was impacted because of water woes[7], resulting in a drop in the area under cultivation for crops such as rice, pulses and oilseeds. The total area sowed with rice, pulses, oilseeds and cereals alone shrunk by 29 lakh hectares the same year.
NITI Aayog has promoted Zero Budget Natural Farm (ZBNF)[8] in states, saying it would help double farmers' income by 2022. As per Aayog, around five million farmers are working on zero-budget farming in different states. Also see, work of T Vijay Kumar, including spreading ZBNF[9].
In 2019, out of the 94 Padma Shri awardees, 12 farmers have been awarded[10] for various activities like organic farming, traditional seed conservation and use of scientific methods in cultivation. Babulal Dahiya of Satna district was awarded Padma[11] for his seed conservation work.
Jammu & Kashmir A new generation of Kashmiri farmers are adapting to extreme weather events such as more frequent droughts by creating water harvesting infrastructure[12] including farm ponds to irrigate their land. Another report advocates[13] for system of rice intensification (SRI) as a unique agricultural strategy where much can be achieved with up to 50 percent less water.
Uttarakhand About 127 km from Pithoragarh district headquarters, farmers in the villages of Munisari block, far away from Nepal and Tibet border, fully practice organic farming[14], they do not use any kind of chemical fertilizers, pesticides.
In the state, the Center has sanctioned a plan of Rs 1500 crores for the organic farming and along with the work on this scheme, Uttarakhand will try to get the identity of the second organic farming state of the country.
Punjab A trial of the technique to grow paddy without puddling[15] at village Chehlan of Ludhiana has resulted in higher yield in comparison to puddled fields, while saving water in the process. The crop was ready for harvest days before expected time, saving irrigation water otherwise to be used for another fourteen days.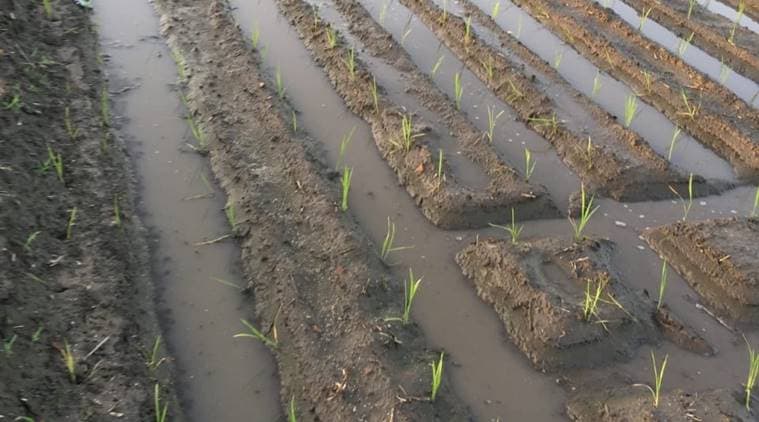 This trial was funded and supervised by ATMA, a central government scheme under the Union Ministry of Agriculture. It should be mentioned that SRI is a very important option that govt needs to push in Entire North West India, including Punjab, Haryana and UP.
In another positive development, concerning the groundwater conservation and air pollution, Gurbachan, a 57 year old farmer has not burnt stubble[16] in his 40 acres farmlands for almost last two decades. His efforts has been mentioned by PM[17] in monthly Mann Ki Bat, on Oct. 28, 2018. There are efforts[18] being made by other farmers also.
Uttar Pradesh Using SRI and System of Wheat Intensification (SWI), yields of both crops have increased 50 to 100 per cent[19] and additional income has come from high value vegetable cultivation in Bahraich and Shravasti districts. The fields are also lush green with vegetables. Wheat yields increased from two quintal a bigha to five quintal per bigha. 
Maharashtra With ZBNF techniques Pune farmers manage to survive average monsoon[20] rainfall and water scarcity. The techniques, a farmer claims, are a contrast to chemical-based farming, which was not "profitable" and commanded an investment of Rs 60,000 per acre. Here is the story of Savi Thangavel, 69, a resident of Mohegaon village which is just 22 km from Nagpur, successfully taking up date farming[21].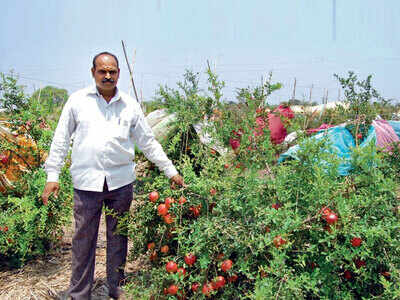 Goa The state govt is planning to set up a Centre of Excellence for organic farming[22] to encourage farmers to stop using fertilizers and adopt conventional methods. The report provides a lot of information on current position of organic farming[23] with respect to area covered across the country in lakh hectares under various schemes.
Andhra Pradesh  The ZBNF has achieved great success[24] in the state. It was initially launched in Sept. 2015 and initially, 50 villages across 13 districts of the state were selected for the pilot project. In 2017, during the Kharif season, work started in 704 villages to bring farmers under this practice. There is a plan to cover an estimated 6 million farmers by 2025-26. 
The program will be promoted by a specialized wing of the govt called Rythu Swadhikara Samstha. In an interesting innovation the agency has recruited over 100 natural farming fellows[25] agriculture graduates who are paid Rs 30,000 a month to demonstrate the benefits of ZBNF by taking up farming in rented plots and staying in villages to answer farmers' queries.
During the over 1,600 crop-cutting experiments conducted on ZBNF fields across the state after the summer crop season in 2017, the average output per acre was higher in ZBNF[26] fields for all major crops. Photos from ZBNF and non-ZBNF fields showed ZBNF crops withstood the storms better, resulting in better climate resilience both for the field and the farmer. 
To deal with extreme weather, many farmers in Anantapur as well as the rest of the state are going back to alternative farming[27] as they used to before high-yield crop varieties, hybrid seeds, synthetic fertilizers and pesticides became the norm. They have found that crops grown the traditional way, with a little bit of agro-ecological innovation, have a better chance of survival in this errant climate.
Tamil Nadu The SRI methodology is gaining popularity[28] in Trichy district as the agriculture department has resolved to implement the technique on 87,500 acres out of 1.25 lakh acres where samba crop cultivation usually takes place.
At the same time, the agriculture department has nominated a dedicated assistant agriculture officer in each for 84 revenue villages, under the 'Whole village' scheme, to switch the cultivation method to SRI from traditional methods. 
West Bengal Farmers of West Bengal are resorting to rice transplanters and zero tiller machines to save water[29] and labour cost and to increase productivity.  
GOVERNMENT EFFORTS
Uttarakhand A study finds that water from sacred groves[30] conforms to all WHO standards of potability and is of better quality than water from surrounding areas.
Himachal Pradesh The report shows that Dharmshala is in better position[31] than Shimla to deal with water crisis by effective resource management. The town has a natural gift in the form of perennial streams that originate from glaciers in Dhauladhar mountains and flow in vicinity of the town. All the four water supply schemes that cater to the need of Dharamshala town have been augmented. These schemes have been built keeping in view the future needs and will be able to cater to the town for next 15-20 years. Daily need of Dharamshala town is around 11 MLD. 
Chandigarh Administration in March 2018 decided to fine Rs 2,000 on citizens found wasting water[32]. During summer Chandigarh faces a shortage of water as the city gets 85 MGD while the demand reaches up to 116 MGD. The gap in the demand and supply leaves several sectors and colony areas of the city high and dry. Last year, over 500 people were challaned for wasting water. However, councillors had said that the number was quite less and the checking be intensified to stop the wastage. 
Punjab State Power Corporation Limited in June 2018 came up with a new scheme of direct benefit transfer for electricity[33] to agricultural consumers. Under the scheme "PaaniBacho, PaiseKamao" (save water, earn money) farmers will get monetary benefit for less use of tubewell. Farmers will get ₹4 as direct benefit for each unit saved. Seen as a double bonanza, farmers will earn money for power which the Punjab government gives them free of cost.
Uttar Pradesh A technique called Underground Taming of Floods for Irrigation[34], or UTFI, serves to overcome the spatial and temporal mismatch in water availability that is characteristic of recurrent flood/drought cycles. Through targeted recharge of excess wet season flows into aquifers, water security is enhanced during dry spells and droughts, making water available for irrigation, which is a critical source of food and livelihoods in many regions.
The technique is implemented at the community level and replicated across suitable locations within a river basin so as to mitigate floods more effectively, while also boosting groundwater reserves.
Bihar Govt has taken up water conservation work using MGNREGA funds[35]. As per officials, govt had completed 3,202 such projects and Rs 220 crore was spent on the works. Around 3,000 more such projects were in the pipeline and those would be completed soon. The works, which are being done include watershed management, water conservation and renovation of traditional water bodies among others.
The state agriculture department also prepared a Rs 2,950 crore integrated watershed project[36] comprising 332 schemes for recharge of groundwater resources in 17 south Bihar districts. The project is expected to be completed in 5 years and will provide irrigation facility in 55 lakh acres. The work involves creation of micro watersheds – 'nullahs' – along roadsides, brick and cement structures across the 'nullahs' for holding flowing water and digging of ponds on both government and private land.
West Bengal Mamata Banerjee released 43 page booklet containing information on how Purulia has been made drought free[37] by implementing various water conservation schemes.  The govt also planned a Groundwater Act[38] to put a leash on wastage of underground water as a result of over-extraction, particularly within the city.
Rajasthan As per the report, the groundwater level recorded an average rise of 4.66 feet in 16 non-desert districts out of 21 after the execution of the Mukhya Mantri Jal Swavlambhan Abhiyan (MJSA) phase-I.
Gujarat Under the water-conservation drive Jal Sanchay Abhiyan, launched on May 1, 2018 from Kosamdi village, Bharuch district, the government is expecting to cover 1.1 lakh ha area by deepening 13,000 lakes[39], check dams and reservoirs. The government also plans to revive 32 dead rivers in Gujarat spread over 340 km-long stretches in 30 districts.
More than 5,400 km long canal network and 580 km long cut canals will be made free from the silt and other muck. More than 4,000 earth movers and more than 8,000 transportation vehicles will be used for civil works. Around 50 lakh man days employment would be generated under this drive and labourers will be paid remuneration under MNREGA scheme. 
In Feb. 2019, inaugurating the second phase of project at Tarnetar in Surendranagar district, state govt has increased its share of money to 60 per cent[40], the rest to come from communities or private sector or voluntary contributions.
Hyderabad In Sept 2018, the authorities planned to make the city tanker free[41].
Central Govt The Union ministry of water resources and Central Ground Water Board (CGWB) planned to hold a national workshop involving 12 states in the Indian Himalayan region to discuss issues related to the sustainable development of springs[42] and strategies for their renovation, rejuvenation and augmentation.
The NITI Aayog report by the working group in Dec.2017 said that there are five million springs across India and out of which nearly three million are in the Himalayan region alone, which is home to nearly 50 million people.
Fast depleting ground water in nearly 30 per cent of the assessed blocks in the country pushed the Centre to announce Rs 6,000 crore ambitious plan aimed at efficient management[43] of available water resources and strengthening of recharge mechanism through community participation.
The Union Ministry of Water Resources has launched a video contest[44] titled 'Jal Bachao, Video Banao, Puruskar Pao' to engage people on the important issues of water conservation and water management. On Feb. 10, the consultative committee of MoWR agreed upon the need to promote[45] and encourage participatory management as a solution to long term, sustainable development of  ground  water resources in the country.
CGWB organized two-day 3rd national 'Bhujal Manthan'[46], on Feb 16 and 17. The theme of meet was 'Participatory groundwater management and low cost artificial recharge measures for groundwater augmentation.'
As per one more report, aquifer mapping of about nine lakh sq kms[47] area across the country has been completed and mapping of another nine lakh sq kms will be completed in another three years, said K.C Naik, Chairman, CGWB.
Compiled by Bhim Singh Rawat (bhim.sandrp@gamil.com)
Also see, World Water Day 2019: Positive Stories from India
World Water Day 2018: India's Positive Water Stories  
END NOTES:
[1] https://www.dutchwatersector.com/news-events/events/222-world-water-day-2019.html
[2] https://www.deccanherald.com/declining-water-level-in-river-cauvery-raises-serious-concern-723627.html
[3] https://sandrp.in/2017/02/09/ground-water-2016-indias-water-lifeline-continues-to-bleed/
[4] https://www.tribuneindia.com/news/comment/review-farming-methods-to-tackle-water-crisis/742815.html   
[5] https://www.thequint.com/voices/opinion/farmers-grow-millet-maize-not-rice-to-save-water-nutrition
[6] https://www.nabard.org/auth/writereaddata/tender/1806181128Water%20Productivity%20Mapping%20of%20Major%20Indian%20Crops,%20Web%20Version%20(Low%20Resolution%20PDF).pdf  
[7] http://www.newindianexpress.com/business/2018/jul/28/depleting-groundwater-shrinks-indias-agricultural-lands-government-data-1849994.html 
[8] https://www.business-standard.com/article/economy-policy/niti-aayog-wants-states-to-adopt-zero-budget-natural-farming-118071000054_1.html  
[9] https://www.thehindu.com/news/national/andhra-pradesh/who-is-t-vijay-kumar-and-what-is-he-doing-to-promote-natural-farming-in-andhra-pradesh/article24420701.ece  
[10] https://www.downtoearth.org.in/news/agriculture/padma-shri-awardees-include-12-farmers-63000
[11] http://www.vikalpsangam.org/article/a-farmer-saving-our-heritage-of-seeds/#.XEyIJ88zbR1     
[12] http://indiaclimatedialogue.net/2018/10/01/young-kashmiri-farmers-turn-water-wise-to-tackle-climate-change/ 
[13] https://www.firstpost.com/india/indias-water-crisis-parched-winter-followed-by-prolonged-dry-spring-dashes-hopes-of-kashmirs-farmers-4767071.html  
[14] https://www.gaonconnection.com/desh/organic-farming-munsiari-pithoragarh-uttrakhand-farmers
[15] https://sandrp.in/2018/10/29/drp-news-bulletin-29-october-2018-better-paddy-options-exist-for-punjab/
[16] https://indianexpress.com/article/india/how-a-punjab-farmer-is-showing-the-way-in-crop-burning-fight-5402032/ 
[17] https://indianexpress.com/article/india/prime-minister-hails-farmers-campaign-against-stubble-burning-5422616/ 
[18] https://timesofindia.indiatimes.com/city/ludhiana/farmers-get-innovative-turn-paddy-stubble-into-fertiliser/articleshow/66584188.cms  
[19] http://www.asianage.com/metros/delhi/020518/bumper-vegetable-wheat-yields-push-back-farm-distress-in-up.html
[20] https://punemirror.indiatimes.com/pune/civic/zero-budget-farming-dodges-water-paucity/articleshow/66699208.cms  
[21]  http://www.indiawaterportal.org/articles/vidarbha-farmers-date-success 
[22] https://www.thehindubusinessline.com/news/national/goa-govt-to-set-up-centre-of-excellence-for-organic-farming/article25378841.ece 
[23] http://pib.nic.in/newsite/PrintRelease.aspx?relid=181608 
[24] http://www.downtoearth.org.in/news/andhra-farmers-taste-success-with-zero-budget-natural-farming-59445 
[25] https://www.livemint.com/Politics/RR91lCVqVKPaQuBovNeYGM/How-Andhra-Pradesh-is-taking-to-natural-farming.html
[26] https://www.eco-business.com/opinion/in-soil-stressed-india-its-time-to-swap-chemical-pesticides-for-natural-farming/
[27] https://indiaclimatedialogue.net/2018/12/26/indian-agriculture-tries-adapt-climate-change-2/
[28] https://timesofindia.indiatimes.com/city/trichy/system-of-rice-intensification-gains-traction/articleshow/66437354.cms  
[29] https://www.indiawaterportal.org/articles/smart-farming-changes-farms-fortunes-bengal
[30] http://www.indiawaterportal.org/articles/sacred-groves-water-wizards-uttarakhand  
[31] https://www.hindustantimes.com/india-news/shimla-water-crisis-dharamshala-shows-way-to-harness-water-resources/story-wgCAtYoH8FLhLGss2ptPPL.html
[32] http://indianexpress.com/article/cities/chandigarh/from-april-15-pay-rs-2000-fine-for-wastage-of-water-5102753/
[33] https://www.hindustantimes.com/cities/save-water-and-earn-money-pspcl-launches-voluntary-scheme-for-farmers/story-6CI0p45fKGRr4yKCzRMwMO.html
[34] http://gripp.iwmi.org/natural-infrastructure/water-retention-3/underground-taming-of-floods-for-irrigation-utfi-2/
[35] https://www.telegraphindia.com/states/bihar/thrust-on-water-savings-243394 
[36] https://timesofindia.indiatimes.com/city/patna/groundwater-resources-to-be-recharged-in-17-districts-minister/articleshow/62841384.cms
[37] http://www.millenniumpost.in/kolkata/purulia-no-longer-drought-prone-cm-releases-booklet-chronicling-its-journey-329502  
[38] https://timesofindia.indiatimes.com/city/kolkata/worried-west-bengal-government-set-to-bring-in-law-on-groundwater-use/articleshow/66112950.cms 
[39] http://www.dnaindia.com/ahmedabad/report-water-conservation-drive-to-cover-11k-lakh-cu-mt-area-across-gujarat-2610031
[40] https://ahmedabadmirror.indiatimes.com/ahmedabad/others/gujarat-launches-second-edition-of-water-conservation-scheme/articleshow/68130962.cms
[41] https://timesofindia.indiatimes.com/city/hyderabad/water-board-plans-to-stop-plying-tankers-for-domestic-use-soon/articleshow/65943222.cms 
[42] https://www.hindustantimes.com/india-news/govt-to-revive-drying-springs-in-himalayan-region-pilot-study-begins-in-dehradun/story-jyFQEphQ0v1SXyTocVTHcP.html
[43]  https://timesofindia.indiatimes.com/home/environment/centre-pushes-rs-6000cr-plan-to-tackle-water-depletion/articleshow/62923993.cms
[44] http://mowr.gov.in/sites/default/files/JalBachaoVideoBanaoPuruskarPaoContest%20.pdf
[45] http://pib.nic.in/newsite/PrintRelease.aspx?relid=176482
[46] https://timesofindia.indiatimes.com/city/nagpur/national-bhujal-manthan-meet-in-city-from-friday/articleshow/62922827.cms
[47] http://thehitavada.com/Encyc/2018/2/17/CGWB-aims-to-boost-conservation-of-groundwater-in-country–Naik.aspx