Undoubtedly sand is essential part of river ecosystem. Like flow and fish it helps rivers stay healthy. It's critical for ground water recharge, replenishes the nutrients in moving water, supplies lean season flow to rivers and provides habitat to numerous forms of aquatic and riparian fauna.
Despite all this, illegal and unsustainable mining of sand and boulders is widespread across the country taking heavy toll on the lifelines of modern civilization. Continuing our effort to assess the scale of threat and level of devastation illegal sand mining is posing to our rivers, SANDRP presents State wise 2017 year end review on the issue. This is third straight year that we are doing this after 2015 and 2016. The subsequent reports would cover Governments' role and Judicial interventions to reign in the unsustainable, unlawful sand mining activities across India.
NORTH INDIA
Jammu & Kashmir Illegal sand mining endangers 2 bridges in Bishnah Unchecked sand mining from Morchapur camp river bed in Bishnah tehsil has endangered two bridges in the area. The eroded river bed has reached near the bottom of bridge and caused damage to its base, which may lead to its collapse. Over 30 tractors strip the river beds of sand daily from the sites, close to several important bridges hinting that there was an unholy nexus between some officials and the contractor. As per locals, the matter was brought to notice of Assistant Executive Engineer (Irrigation and Flood Control) several times, but he did not bother. They said, no monitoring or patrolling of sand excavation is being done by the Department of Geology and Mining. http://www.earlytimes.in/newsdet.aspx?q=199687 (January 2017)
Riverbed mining destroys rivers in Jhelum basin Uncontrolled extraction of sand, gravel and boulders from Jhelum and other rivers is destroying the ecosystem of the rivers. The importance of sediments is such that the Indus Waters Treaty – the water sharing agreement between India and Pakistan over the Indus River –gives explicit recognition to the right of downstream riparian population to the sediments, just as it does for the water. The trapping and release of sediments is regulated under the treaty, and has been a subject of frequent discussions and arbitrations under the treaty. https://www.thethirdpole.net/2017/05/04/indiscriminate-riverbed-mining-destroying-rivers-in-jhelum-basin/ (May 2017)
Ravi river dying because of illegal mining The video shows that illegal mining in Ravi river in Kathua district is posing threat to environment and heavy loss to state exchequer. Under the nose of state government, the Punjab based stone crushers are mining the river bed beyond the legal mark causing severe damage to the river. https://www.youtube.com/watch?v=ICGOx2sKsiA
Himachal Pradesh Illegal mining on the rise in Jaisinghpur Despite a complete ban on mining in the state and subsequent orders of the National Green Tribunal (NGT), the administration has so far failed to check illegal mining going on in the rivulets of the remote Jaisinghpur subdivision of Kangra district. Because of apathetic attitude of the mining and forest departments, other state agencies and the local administration, the illegal mining has flourished here for the past three years. Heavy machinery is being used for extracting mining material from local rivulets in gross violation of rules. In many rivulets, the level had gone from 10 to 15 ft deep which can cause flash flood during the rainy season.http://www.tribuneindia.com/news/himachal/community/illegal-mining-on-rise-in-jaisinghpur/405070.html (May 2017)
Illegal mining poses threat to 12 panchayats Notwithstanding mining ban in Chakki rivulet in the subdivision bordering Punjab and Himachal Pradesh, rampant and illegal mining has been going on, posing threat to 12 gram panchayats. Not long ago, farmers of Khanni, Maira, Baduee, Baranda, Lodwan, Kandwal and Mohtli gram panchayats produced around 5,000 tonne of foodgrain in a year by using Chakki water for irrigation, but illegal mining has left the fertile fields barren causing resentment among residents and farmers. Villagers of the affected gram panchayats lamented that underground water level in the area had dipped drastically. http://www.tribuneindia.com/news/himachal/illegal-mining-poses-threat-to-12-panchayats/463789.html(September 2017)
Uttarakhand Ganga Sand mining rampant in Ganga: Uma Bharati
http://epaper.jansatta.com/c/17362877 (February 2017)
Matri Sadan Fight Against Illegal Sand Mining in Ganga Mining resumed in Ganga, seer sits on protest fast After about five years ban, Haridwar (rural) MLA Yatishwarananda launched mining activity to be carried out by the forest development corporation in presence of a host of corporation officials. In protest against the administration's alleged contempt of court, Atmabodhananda, an Matri Sadan ashram inmate, went on a fast from May 14, 2017, demanding suspension of chief secretary S Ramaswamy, industry secretary Shailesh Bagoli, director (mining) Vinai Shankar Pandey and other officials responsible for issuing the order for resumption of mining. https://timesofindia.indiatimes.com/city/dehradun/in-haridwar-mining-resumed-in-ganga-seer-sits-on-protest-fast/articleshow/58672874.cms (May 2017)
On May 28, 2017 a team of district officials and police which reached the ashram and tried to cut the grill surrounding the Swami's room in order to force feed him. Seer Swami Shivanand is on fast since May 14, 2017 against resumption of mining in the Ganga. https://timesofindia.indiatimes.com/city/dehradun/attempt-to-force-feed-seer-on-fast-to-ban-mining-in-ganga/articleshow/58884412.cms , https://www.jansatta.com/rajya/uttarakhand/swami-shivanand-arrested-by-police/335645/   (May 2017)
Accusing the State Government of blatant apathy towards Swami Shivanand's hunger strike against illegal mining on the Ganga riverbed in the Kumbh Mela area, a group of scientists, environmentalists, activists and followers of the Swami have written to the PM Modi. They pointed out that Matri Sadan in Haridwar has been demanding ban on mining and stone crushing on the Ganga in Haridwar for many years with successive central and State Governments also approving the demand from time to time. http://www.dailypioneer.com/state-editions/dehradun/swami-followers-write-to-pm-against-illegal-mining-on-ganga.html (June 2017)
Google image created by Matri Sadan showing impact of mining on Ganga riverbed
Finally on World Environment Day, Swami Shivanand has withdrawn his fast unto death agitation. It was thirteenth day of his indefinite hunger strike including six days of water fast (from May 25 – 30, 2017) against illegal mining in Ganga. https://sandrp.wordpress.com/2017/06/06/about-matri-sadan-fight-against-illegal-mining-in-river-ganga/
In October 2017, Matri Sadan founder Swami Shivanand has again written to the President, PM and Chief Justice of India, asking their intervention to ensure that the stone crushers operating near the Ganga riverbed comply with the norms laid down by CPCB. The seer further said that heavy illegal mining is making ditches of 30-40 feet in the agricultural fields situated on the Ganga banks and several islands clad with valuable 'khair' and 'Sheesham' trees were destroyed, causing thus grave ecological disturbances to this area. http://www.dailypioneer.com/state-editions/dehradun/matri-sadan-sought-prez-pm-intervention-in-stone-crushing-near-ganga.html (October 2017)
This village shows there's money in saving forests Dudhai's villagers may be the first in India to have got financial benefits under the Biological Diversity Act, 2002.They have also used its provisions to end rampant illegal mining on the Swarna riverbed which had been destroying agricultural field and forests. Fighting the mining mafia, engaged in large-scale extraction of stones and sand for construction works, seemed unthinkable until villagers and forest officers in Dudhai, near Dehradun, decided to use the biodiversity Act. https://timesofindia.indiatimes.com/home/environment/flora-fauna/this-village-shows-theres-money-in-saving-forests/articleshow/58781991.cms (May 2017)
Politician mafia nexus behind illegal quarrying in Ganga The report presents so many ignored social and environmental dimensions of illegal Ganga riverbed quarrying in Haridwar.
As election frenzy peaks up pace in Uttarakhand, spurt in illegal mining across Ganga is visible with tractors carrying sand and stones jostling on kacha (temporary) roads along the 15km dry bank, symbolising politician-mining mafia nexus.  Although both the Congress and the BJP have promised ban on mining within 5km radius of river Ganga, none have implemented it, claim locals.
This election, they are not even talking about it, as the mining mafia is a major poll funder and have stake in all political parties. Both Congress vice-president Rahul Gandhi and PM Modi skipped the issue during their public functions in Haridwar.
"There is not even a single legislator or prominent leader in Haridwar who does not own or have a stake in stone crusher. Of course, it is all benami," said a senior police official, who was not willing to be quoted.
Dushyant Mainali, who has been fighting legal battles in Haldwani against the pollution generated by the quarry business, said, "Many ministers are involved in running quarry business through proxy."  
As per those in the mining associations', around ₹150-200 crore is what they have provided — directly or indirectly — to political parties this season. Mining (mostly illegal) is said to be the second biggest money grosser in Uttarakhand after tourism with an annual turnover of over ₹2,000 crore.
Bhogpur village in Haridwar rural, from where Harish Rawat is contesting, is epicentre of rampant illegal mining in the region with sand and stones been lifted from close to the river even two days before polling. Farm land has been dug up 10 times of the permissible limit up to 30 feet, sand and stone have been removed from the river bed and strong voice of crushers creates ripple effect in air.
"There is demand for money (for polls) and miners have got a free hand," said Sandeep Saini who runs a shop in the village. "But all this mining happens in six hours between 10 and 4 in the night when the vigil is low in connivance with the authorities," he added. 
Locals say the spurt in mining, mostly illegal, happened during Harish Rawat's tenure as he allowed leasing of farm land to remove stones and sand claiming that it would improve agriculture productivity and reduce chances of flooding. A letter of agreement from the farm owner was more than enough to get mining permission resulting in hundreds of approvals given in the last two years of the Rawat govt.
"Not even a single stone crusher here is owned by a local. People from Noida, Lucknow and Haryana have set up crushers. We have been turned slaves in our own land," said Gangar Ram of Bhogpur village, demanding crackdown on illegal mining and "people-centric" plan to save Ganga.
In an alleged sting operation that rocked the state a few months ago, Congress legislator from Dwarahat was heard saying how the quarry lobby from the state's Terai region allegedly provided money to protect the Harish Rawat-led Congress govt.
 "For me, both Ramesh Pokhriyal Nishak (BJP chief minister) and Harish Rawat (present CM) are same. They promote mining lobby," Saraswati said in a choked voice. "The BJP has also looted the Ganga in name of cleaning it as the Congress did. We need to save Ganga for future generations".
Mainali said the guidelines on the crushers were changed seven times in recent past due to pressure from the influential lobby showing "money power and clout" they enjoy. And in campaign, apart from money, they also provide the muscle power through their strongmen. http://www.hindustantimes.com/assembly-elections/uttarakhand-election-menace-of-illegal-mining-along-rivers-not-on-poll-agenda/story-ivAKzbVVbC00d4BUymy3iO.html (February 2017)
Stone crusher owner obstructed CPCB inspection team Gaurav Aggarwal, owner of Ganesh Stone Crusher in Katarpur and 103 villagers hampered the  Central Pollution Control Board (CPCB) team and members of the Matra Sadan Ashram from inspecting the impact of stone quarrying in the area.  Police later filed a case against stone crusher onwer and villagers. http://www.hindustantimes.com/dehradun/stone-crusher-owner-others-in-uttarakhand-booked-for-obstructing-cpcb-inspection-team/story-pHYPyPqFJ6eRC8zJxiQFdN.html (Nov 2017)
Ramganga Kosi Sand mining saps the lifeblood along Kosi river The report highlights the negative impacts of unabated Gola riverbed mining on river ecology, croplands, local residents, wildlife, groundwater.  
Situated on the banks of the Kosi, Choi has become the cynosure of illegal sand mining in the area. The riverbed along Choi has always been mined for sand and stones. But residents say their problems have exacerbated since the govt allowed stockpiling in the village in 2013. Today, 9 sand stockpiles in Choi have come up on land that was once fertile and productive. Moreover, dust from the stockpiles has adversely affected the productivity of the abundant litchi and mango trees. The water levels in Choi, which used to be as high as 15 feet, have dipped in some areas to 150 feet.
Most of the riverbed mining illegal is uncontrolled. According to law, only chugaan, picking up mining materials by hand, is allowed here. Yet, excavators are a common sight in Choi and other mining areas in the region. A settlement of migrant labourers has come up on the riverbed. During mining season (mainly summer), there are as many as 9,000 labourers living here. https://www.pressreader.com/india/business-standard/20170417/281565175632226 (April 2017)
Corbett forest guard murdered for opposing illegal mining Members of a mining mafia gang active in the river banks near Corbett mowed down a forest department beat watcher under a tractor when he tried to oppose them. The incident happened near the Kosi river bed in the Jwalavan forest area at Kaladhungi adjoining the Corbett Tiger Reserve on March 24 night. When the men involved in illegal mining were challenged by the beat guard Pehelwan Singh, they rushed at him with a tractor killing him on the spot. Two other beat guards accompanying Singh were tied up by the miscreants and later released by the police.
Apart from the killing of the beat watcher, two more incidents of assault on forest department staff took place in Udham Singh Nagar district on the same day. The first was in Kulwant Nagar where a team of forest department was attacked when they tried to seize illegal timber. The other incident happened at the Barhaini range of Bajpur where a forest team was shot at by a group involved in illegal mining. However, the forest team managed to seize three tractor trolleys laden with illegally mined material from the gang.
The border area between the two districts – Udham Singh Nagar and Nainital — has been notorious for illegal mining activity which is usually centred near towns like Ramnagar and Bajpur. Assault on forest department officials and police have become common. In April 2015, a trainee IFS officer Kalyani Bisht was attacked by a group of around 50 people in the Bailpadao area of Ramnagar while she was conducting a raid near the Dabka river bed where illegal mining was ongoing. Two people were arrested in the case. https://timesofindia.indiatimes.com/city/dehradun/forest-guard-who-opposed-illegal-mining-near-corbett-mowed-down-one-arrested/articleshow/57831592.cms (March 2017)
Following the incidents, the forest department on March 25 suspended 3 senior officers, after an operation went horribly wrong during which the mining mafia mowed down a beat watcher near the banks of Kosi in Ramnagar.
In another incident March 24, the Barhaini range near Kaladhungi saw confrontation between mining mafia and forest officials near Baur river. A forest team led by Barhaini beat officer Mayank Kumar was fired upon by mining mafia, prompting the team to retaliate. This was the nineteenth instance of attack on forest employees by the quarrying mafia in last six years. http://www.hindustantimes.com/dehradun/mining-mafia-mows-down-forester-govt-suspends-three-officers/story-H4Hohlu8N0XS2ZpVOltFkJ.html (March 2017)
The police later on March 28 arrested a person in connection with the murder of forest guard. http://www.tribuneindia.com/news/uttarakhand/crime/one-arrested-for-killing-forest-guard/382635.html (March 2017)
As per another report shortage of arms with guards, hits fight against mining mafia, wildlife criminals. http://www.hindustantimes.com/dehradun/shortage-of-arms-with-uttarakhand-guards-hits-fight-against-mining-mafia-wildlife-criminals/story-ZdTbNnoP2S4PLNl8evVb5J.html (October 2017)
3 labourers buried alive in sand mining pit Three people, including a father-daughter duo, were buried alive under sand on Dec 22 when they were allegedly extracting the mineral illegally at Noorpur village, near Sultanpur Patti of US Nagar district, police said. Three others were lucky as a police team managed to rescue them in the nick of time with minor injuries. All the people that were buried were daily wage earners and were hired by a mining lease holder, said police. A case was registered against the lease holder and the owner of the vehicle that was used for transporting the sand. The lease holder was later arrested while the vehicle owner managed to flee. Meanwhile, district magistrate Neeraj Kharwal has directed the authorities concerned to deal with illegal mining with a firm hand. https://timesofindia.indiatimes.com/city/dehradun/-3-labourers-buried-alive-in-sand-mining-pit/articleshow/62213225.cms (December 2017)
Punjab 3 illegal sand mining cases in daily Punjab's river basins, which are already facing reduced water flow and pollution are also being systematically depleted by the sand mafia who continue to mine it without fear. According to one estimate more than three cases of illegal mining are being registered in the state daily. To make matters worse, Punjab has had just one geologist and no mining inspector, operating from the dilapidated mining headquarters in Chandigarh for the past decade. The sanctioned number of inspectors is 32.
Environmentalists believe that the illegal sand trade in Punjab has led to dire consequences in the past five years: Both urban and rural housing has becoming unaffordable for the common man while construction firms as well as retailers have seen massive losses because of the high sand price. Government officials say that the mafia creates an artificial shortage for sand in the market, not letting its price fall. https://timesofindia.indiatimes.com/city/chandigarh/3-illegal-sand-mining-cases-in-punjab-daily/articleshow/58332949.cms (April 2017)
Sand demand 2 crore tonnes a year, business Rs 3,000 crore The article gives some useful stats about Punjab sand mining. In Punjab, sand is mined mainly from riverbeds in the dry months, when the water is a trickle in most of the rivers and tributaries, and vast portions of the bed are dry. Sand is mined in 14 districts of Punjab. Punjab's estimated demand for sand is said to be 2 crore tonnes annually. Officials estimate the business in Punjab to be worth Rs 3,000 crore annually. A tipper truckload of 35 tonnes fetches anywhere between Rs 10000 and Rs 25000 depending on supply. When construction activity picked up in Punjab in the post-terrorism era, so did the sand mining business. But it was only in 2005-2006, with the real estate boom and new residential developments, that there was new spurt in demand for sand. http://indianexpress.com/article/explained/mining-punjab-for-sand-demand-2-crore-tonnes-a-year-business-rs-3000-crore-4683382/ (June 2017)
Locals rent out tippers to sand miners, make a quick buck The report mentions involvement of villagers in facilitating illegal sand mining in Mohali by renting out their tippers to contractors who pay him a good amount of money. During a visit, to the village in Majri block, which includes Khijrabaad, Mianpur Jhangar, Majri village, Kubbaheri and Saini Majra, reporters found that tippers are parked outside every fourth or fifth house. Most of the owners of these tippers are local farmers. According to government, if a miner digs up 25 feet area at a mining site, it generates 1 tonne sand. http://indianexpress.com/article/india/illegal-mining-locals-rent-out-tippers-to-sand-miners-make-a-quick-buck-4934781/ (November 2017)
Illegal mining free as sand through fingers The detail investigative report highlights illegal sand mining going on unabated in Ravi, Sutlaj, Beas, Ghaggar rivers in Punjab. http://www.tribuneindia.com/news/punjab/illegal-mining-free-as-sand-through-fingers/504761.html (November 2017)
Illegal sand mining rampant in Tarn Taran The illegal sand mining incidents have become rampant in Beas river bed falling in Tarn Taran and Amritsar districts. Every night, scores of trucks and trolleys are found commuting on main roads of the district over-loaded with sand, but no one is there to put a check on malpractices. As per officials, staff crunch and patronage of local political leaders has increased the illegal sand mining practice. They admitted that the practice existed in Sheron Baga, Budha Theh and Kot Mehtab villages in Baba Bakala constituency in Amritsar, and Blojla, Gagrewal, Vaironwal, Dhunda, Mundapind etc villages in Tarn Taran district.
There are eight mining quarries in the district but only one has been auctioned which will also be closed soon as the contractor has not paid a second instalment. During the assemble elections, the Congress had used it a major poll plank to curb illegal sand mining and provide sand on cheap prices in the state. Before assembly polls, sand was available at ₹1,200-1,500 per 100 cubic feet but now the price is ₹2,500-3,000. http://www.hindustantimes.com/punjab/illegal-sand-mining-rampant-in-tarn-taran-amritsar/story-GbidDjL1KMDyxHtqbYP6cP.html (November 2017)
Rampant mining in Mohali, posing threats to houses Mining mafia has changed the shape of land around the Salempur Khurd village in Mohali. Deep mining pit close to houses pose a threat to the safety of villagers. In Saini Majra village, where mining has caused major damage to supply pipes of a tubewell. The villagers have been spending money from their own pocket to keep the tubewell functional. https://timesofindia.indiatimes.com/city/chandigarh/all-i-can-see-is-20ft-deep-pits-house-owner/articleshow/62214865.cms (December 2017)
A PIL has been filed in this regard in Punjab High Court and the court has issued notices to State Govt and Mohali police.  http://indianexpress.com/article/india/punjab-and-haryana-hc-issues-notice-to-punjab-govt-mohali-police-on-illegal-mining-4995216/ (December 2017) 
In Moga, drug mafia takes to sand mining The drug mafia in the district's Daulewala villages has now turned to illegal sand mining on village common land and a few private properties. A recent visit to the village brought out that a portion of panchayat land on the Maseetan link road has been robbed off its fertility. The land, where wheat and paddy were sown for several years, has now turned barren with deep trenches as a result of illegal sand mining. http://www.tribuneindia.com/news/punjab/in-moga-drug-mafia-takes-to-sand-mining/506198.html (December 2017)
Acting on the news report, the Rural Development and Panchayat Department has begun investigations into illegal sand mining on panchayat land at Daulewala village in the Dharamkot sub-division of the district. http://www.tribuneindia.com/news/punjab/inquiry-on-into-illegal-mining-at-moga-village/518583.html (December 2017)
YAMUNA Haryana Mining firm builds 'bridge' on Yamuna The Irrigation Department is finding itself helpless to remove an illegal bridge on the Yamuna bed constructed by a mining company in Sonepat in disregard of ecology and threat of change of the course of the river. Sources said that the influence of a powerful functionary of the RSS, who is said to have interests in the company, was stopping the department to act and it was rather resorting to the game of passing of the buck with the Mining and Geology Department. http://www.tribuneindia.com/news/haryana/community/mining-firm-builds-bridge-on-yamuna-authorities-helpless/383250.html (March 2017)
As per latest reports, the Haryana Irrigation Department has demolished the illegal bridge made on the Yamuna riverbed in Sonepat district. Anurag Rastogi, Principal Secretary in the Irrigation Department, confirmed that the illegal bridge had been razed. http://www.tribuneindia.com/news/haryana/governance/illegal-bridge-demolished/384160.html (March 2017)
Uttar Pradesh Mining firms built illegal bridge over Yamuna in Noida After a gap of around four years, the district administration had allotted contracts for sand mining in the Yamuna floodplains to three private agencies in May. Nardan Infra Developers got a mining site for Rs 459 per cubic metre in Kondli Khadar, while Jatin Buildtech Private Limited got a licence for Rs 257 per cubic metre in Aurangabad village and SN Construction Company for Rs 484 per cubic metre in Tilwada village. This seems to have become an annual affair. ADM statement proves local policemen connivance with the miners but whether the erring officers ever face any action is never known.  http://www.hindustantimes.com/noida/noida-fir-against-mining-firms-for-illegal-bridge-over-yamuna/story-dZwvQ5QH4QvR8sK6XXNMsL.html (December 2017)
As per report sand worth Rs 30 lakh was being extracted illegally from Yamuna river daily at Panipat, Shamli border. Miners had dug the riverbed 20-25 feet deep against the rule and were doing business of over Rs 10 crore on monthly basis. The sand was being supplied to various Haryana districts. There was negligible flow in the river and administration was afraid of taking action. https://www.bhaskar.com/news/HAR-PAN-HMU-illegal-sand-mining-in-yamuna-river-panipat-5610202-NOR.html (May 2017)
Sand mining poses threat to Sujawandev Temple The historical Sujawandev Temple on a rock island in the middle of the Yamuna in the  Ghoorpur area of Allahabad is facing a threat from illegal sand mining. Years of sand mining has loosened the rocks under the water and weakened the base, allege some locals on the condition of anonymity. Locals claim the administration is helpless against the sand mafia which calls the shots in the area. The sand mafia has virtually changed the course of the river, using rocks and boulders to make an embankment and connect the island to the riverbank. http://www.hindustantimes.com/lucknow/sand-mining-poses-threat-to-allahabad-s-sujawandev-temple-on-rock-island-in-yamuna/story-bh7Yjl6AVEWUX18bN7DBYJ.html (May 2017)
DSP attacked at home by mining mafia Enraged after a tractor carrying sand was seized by Shahjahanpur (UP) deputy superintendent of police and circle officer Arun Kumar, over a dozen men from the sand mafia allegedly attacked Kumar's residence late on April 23, 2017 night. Officials said police had been routinely getting complaints regarding illegal sand mining in Sindhauli block of Shahjahanpur. Two major rivers, Gomti and Khannaut, pass through the district and sand mafias are quite active in the area. https://timesofindia.indiatimes.com/city/bareilly/dsp-attacked-at-home-by-mining-mafia/articleshow/58348868.cms (April 2017)
Families look for answers after two children found dead On June 21, in village Bhauri Bahraich 2 children, 7 and 12 were found mysteriously dead, amid charges that they were murdered following villagers' protests against the sand miners and the son of a BJP MLA. A week later, the parents say they are not sure if the boys died in an accident or were murdered.  This is tragic fall out of opposition to sand mining by a poor farmer on the banks of Ghaghra river stream.  It seems opposition to sand mining in his own land leads to possible killing of two of his kids. http://indianexpress.com/article/india/scouring-the-sand-families-look-for-answers-after-two-children-found-dead-in-up-village-4731228/ (June 2017)
अवैध बालू खनन से महकमा बेखबर सिद्धार्थनगर तहसील क्षेत्र में अवैध बालू खनन का कारोबार धड़ल्ले से जारी है। बावजूद इसके प्रशासनिक अमला इससे बेखबर बना हुआ है। नदियों से जुड़े अथवा तटों पर बसे हुए गांवों की हालत खनन के कारण बदहाल होती जा रही है। स्थानीय स्तर पर किसी भी घाट का ठेका नहीं है, पर दिन रात बालू लदी गाड़ियां सड़कों पर फर्राटा भरती नजर आ रही हैं। बिल्डग मैटेरियल के दुकानदारों और ठेकेदारों की मिलीभगत से यह कारोबार फल फूल रहा है। लोगों का कहना है कि यहां दिन रात नदी से बालू निकालने का कारोबार चलता है, जिससे तटबंध जर्जर हो चुके हैं। तटबंधों की जर्जरता का खामियाजा अभी पिछली बरसात में लोगों ने भुगता है। कई गांवों में बाढ़ के पानी का कहर बरपा और गांव मैरूंड हो गए। खनन की शिकायत भी कई बार सक्षम अधिकारियों से हुई पर कोई जांच पड़ताल नहीं हुई। https://www.jagran.com/uttar-pradesh/sidharth-nagar-illegal-sand-mining-17243779.html (December 2017)
Bihar 6 hurt in clash over sand mining at Nepal border Villagers on either side of the India-Nepal border clashed over sand mining at Oriya Khola in Sikta police station area of West Champaran district on Feb. 24, 2017. Nepal citizens allege that deep sand mining along the Indian border was changing the course of the river, affecting their habitations. Due to this border pillars had also been obliterated, thus presenting difficulty in ascertaining the boundaries between the two nations at this point. A similar incident was reported on Sep 13, 2016 at the same site after armed police force of Nepal, backed by people of the Himalayan nation stopped sand miners. http://www.hindustantimes.com/india-news/6-hurt-in-clash-over-sand-mining-on-india-nepal-border/story-Tx2bokFwPvD7dKlUYAw5TK.html (February 2017)
Adverse impact of unsustainable mining on Falgu river The Hindi report by India Water Portal highlights impact of pollution and illegal sand mining on Falgu river.  http://hindi.indiawaterportal.org/Falgu-river-in-sorry-state-needs-restoration (2017)
West Bengal Critical gap in sand mining reform The environmental provisions in the new Rules are drafted using broad and vague wording, rendering them toothless. A rule obliging the "protection of environment" is so broad it is practically meaningless. Furthermore, the rule is arguably only protecting environmental damage at the mining site, rather than damage up or downstream from mining activity (which is often the case). These Rules also fail to make the connection with laws relating to different forms of pollution, such as air pollution, noise pollution and the discharge of effluents into water. There is no mention of water pollution, groundwater and river flows, in a situation where riverbed mining's worst impacts are on water quality, groundwater availability and downstream river water availability. The Rules also have loopholes that allow circumvention from environmental compliance. https://thewire.in/161840/sand-mining-reforms-west-bengal/ (July 2017)
NORTH EAST INDIA
Arunachal Pradesh Mining threatens scared Crane habitats The ongoing sand-mining threatens the wintering habitat of the Black-necked Crane as the season for wintering of the Black-necked crane has now begun. The mining is happening right when the Wildlife Institute of India is currently conducting a study at the site on the crane as per the order of the NGT. As per forest dept sand mining is under the Department of Minerals and Mining and not under Forest Dept. https://arunachaltimes.in/index.php/2017/11/23/unabated-mining-threatens-black-necked-crane-habitat-in-zemithang/ (November 2017)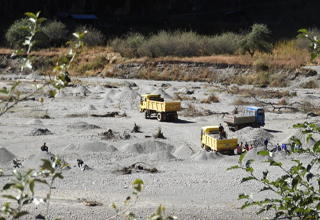 Meghalaya Mining goes unregulated in Garo hills As per Centre for Environment Protection and Rural Development (CEPARD), a Tura-based NGO "excessive" sand mining was one of the reasons for erosion and rivers like Ganol changing its course. CEPARD said that illegal sand mining in Garo Hills has been posing a serious challenge for the environment and hence threatening the low-lying areas with frequent erosion and submergence of villages particular in the plain belt areas of West Garo Hills and in neighbouring Assam's South Salmara Mancachar district. https://www.northeasttoday.in/sand-mining-goes-unregulated-in-garo-hills/ (November 2017)
WEST INDIA 
Rajasthan Villagers working for sand mining to be penalized Umand villagers in Kapasan near Chittorgarh are leaving no stone upturned to check the rampant mining going on for three years. The unchecked mining on Berach river has affected the fertility of the soil, productivity on land and made village area vulnerable for landslides during monsoon. The mining company has also violated several rules. Against 3 metre depth limit, mining is done as deep as 12-15 metre. Countless trees were also cut off. Officials accept large scale irregularities and admit that it can change the course of a river. http://timesofindia.indiatimes.com/city/jaipur/villagers-working-for-sand-mining-to-be-penalized/articleshow/59551057.cms  (July 2017)
Deafening, deadly mine blasts make villagers suffer endlessly, no relief from Govt Residents of Rela, Indraj Gurjar and other villages in in Sikar district under Neem Ka Thana, a small township that houses clusters of mines, are an apt example of the dark side of mining , a sector that earned the in the desert state a revenue of Rs 2,866.37 crore in the financial year 2015-2016. Heavy stone pieces rain on villagers houses, ground water has depleted, repeated blasts have brought crakes in houses, smoke dust from mining taking toll on villagers health. Children forced to stay in door and unable to attend the school.
Last year, Rajasthan allocated approximately ₹900 crore for the District Mineral Foundation (DMF) — a trust set up as a non-profit body in districts affected by mining works — which is meant for the welfare of people living near areas where direct mining-related operations take place. The Pradhan Mantri Khanij Kshetra Yojana (PMKKKY) and other welfare schemes of the state are expected to be implemented through the DMF. However, local residents claim that the administration has done nothing for their welfare till now. Activists allege that collusion between the mining mafia and the police has resulted in never-ending difficulties for the villagers.
Continuous mining has also taken a toll on the natural resources in the area, groundwater levels have completely depleted in places near the village. According to data from the groundwater department, the water level in Patan, turned dry before rainfall last year. The data of the past few years show that the groundwater level has consistently gone down over time.
According to latest figures from the Rajasthan state pollution control board (RSPCB), it has issued operating licenses to a total of 30,976 mining establishments in the state. They include 3,443 major mineral leases, 15,610 minor mineral leases and 11,923 quarry licences.
A senior official of the board, on the condition of anonymity, said that due to severe shortage of technical staff, it's not possible for it to inspect every establishment to make sure that they are following the guidelines.
The Rajasthan government currently Rs 1 lakh to people who are diagnosed with silicosis and Rs 3 lakh to families of those who succumb to the disease. According to data from the mining department, in the last three years, 2,052 labourers working in various mines across the state have been diagnosed with silicosis. And 236 have lost their lives in the past three years. (http://www.hindustantimes.com/jaipur/the-tale-of-rela-a-peek-inside-a-rajasthan-village-battered-by-the-downsides-of-mining/story-rexh6hb9Y4lHB3UzPyOv3L.html 08 August 2017)  
Highlighting the pathetic conditions of mine works another report mentioned that silicosis cases were increasing by the year the state. There were 2201 reported cases in 2015, 5058 cases in 2016 and 1182 up to April 2017.
Ironically, the District Mineral Foundation Trust (DMFT) fund meant for the welfare of mining communities is lying unutilised. Sanjay Dubey, from the Department of Mines and Geology, Udaipur, confirmed that as of May 31, 2017, DMFT had ~835 crore and the department was weighing various projects. http://www.hindustantimes.com/india-news/how-rajasthan-s-mine-workers-keep-languishing-without-any-identity/story-mxemfXxl4SXOfmZR2TPaUK.html (The Hindustan Times, 06 August 2017)
Despite ban, illegal sand mining rampant Notwithstanding SC's ban, illegal sand mining is going unabated in Merta. Mining department has not conducted replenishment study, leave alone taking action against the lease holders who are involved in illegal mining. http://www.dnaindia.com/jaipur/report-despite-ban-illegal-sand-mining-rampant-2563008 (November 2017)
Gujarat Saving Sangam from mining Very interesting story: "It is a unique hydrological occurrence where three rivers–the Hiren, the Kapil and the Saraswati–are known to meet before they flow into the Arabian Sea. Till about 10 years ago, this confluence was rich in biodiversity. A wide array of birds including flamingos perched on undulating sandbars in this coastal riverbed. It was a visual treat and a way of life for several of us growing up in rural areas of Gir Somnath district of Gujarat."
It ends with a hope: A systematic method, which included evidence, persistent follow up, use of law and a clearly articulated demand seemed to have worked. Today, sand mining has stopped and we are slowly seeing the Triveni Sangam coming back to life. While some of us have found our memories again, others have gained faith in working together to find solutions. http://www.indiawaterportal.org/articles/saving-sangam-mining (June 2017)
Illegal riverbed mining rampant In an order passed on Dec 21, the HC has observed, "Illegal mining in the state of Gujarat, more particularly, the riverbed mining is at a rampage and has created a lot of ecological imbalance." https://timesofindia.indiatimes.com/city/ahmedabad/illegal-riverbed-mining-rampant-in-gujarat-hc/articleshow/62186305.cms (December 2017)
Goa Sand extraction damaged river bank It is an official site inspection visit on the impact of illegal sand mining in Tiracol river in Pernem region Goa. https://timesofindia.indiatimes.com/city/goa/sand-extraction-damaged-river-bank-finds-study/articleshow/57070703.cms (Feb 2017)
Uguem remains tense as locals, sand extractors clash Uguem in Pernem taluka continued to remain tense after sand extractors and villagers clashed over illegal extraction of sand. The incident led to Uguem villagers protesting and blocking the national highway, demanding for police action against the assailants. Villagers say that indiscriminate, uncontrolled and excessive sand extraction is being carried out by 'sand mafia' in the Tiracol river at Uguem village, which is situated along the national highway 66. The illegal activity has caused damage to the river's ecology as well as the fields adjacent to the riverbanks, which has resulted in several clashes between villagers and sand extractors. https://timesofindia.indiatimes.com/city/goa/uguem-remains-tense-as-locals-sand-extractors-clash/articleshow/62003359.cms (Dec 2017)
Uguem continued to remain tense for the third consecutive day over the sand extraction issue. The villagers convened a meeting at the temple in the village and also took a delegation to the Pernem police station demanding a crackdown on illegal sand extraction in the village and action against the sand mafia for assaulting a local resident. Police have booked Thomas Fernandes, Richard Fernandes and eight unknown persons in this connection. https://timesofindia.indiatimes.com/city/goa/uguem-sand-mining-one-arrested-many-booked-for-assaulting-resident/articleshow/62014150.cms (Dec 2017)
CENTRAL INDIA
NARMADA Madhya Pradesh NBA activists arrested for protesting against illegal sand mining The State Government has arrested two senior tribal rights activists, Rahul Yadav and Pavan Yadav, attached with the well-known anti-dam movement, Narmada Bachao Andolan (NBA), as they reportedly tried to take objection to "illegal sand mining in Narmada riverbed in Badwani district.  http://www.counterview.net/2017/01/madhya-pradesh-tribal-rights-activists.html (Jan 2017)
Non stop sand mining puts the river at risk Informative report highlighting impacts of illegal and mechanized Narmada riverbed mining. Surprisingly on January 09, 2017, two of NBA senior activists were attacked and arrested by State Police intercepting illegal sand mining. About 20 days later, six dumpers belonging to CM Shivraj Singh Chouhan's nephew have been caught evading sand mining royalty and carrying sand beyond the permissible limit in district Sehore. Even after this, the CM in his usual rhetorical manner has promised strict actions against illegal sand mining from Narmada river. Meanwhile, to encash the issue Congress the opposition party has planned a mega rally against illegal sand mining issue in Budhni the constituency of CM. https://www.newslaundry.com/2017/01/20/ceaseless-sand-mining-of-the-narmada-puts-the-river-at-risk (January 2017)
Lady Official attacked by sand mafia No let up in incidents of attacks on govt officials by sand mafia. In this incident, during a raid to check illegal sand mining, this lady Tahsildar was the target of the attackers but the driver intervened and got seriously injured while protecting her from the attack. This also shows that despite repeated claims made by CM Shivraj Chauhan, illegal sand mining is happening unabated. http://epaper.bhaskar.com/detail/859613/333142968/text/194/03-03-2017/9/map/cph/ (March 2017)
Nexus between police, sand mining mafia The mining mafia is so deep rooted that even an attack on a deputy ranger of the forest department fails to make the Police act against the accused. Raman Singh Bhadoria accused of being part of the sand mining mafia and wanted absconder for attacking deputy forest ranger Sukhdev Arora on March 19, 2017, was seen chatting with SHO, Ater Police Station in Bhind district on July 15, 2017. http://indiatoday.intoday.in/story/madhya-pradesh-sand-mining-mafia-police-cctv-footage/1/1016923.html (August 2017)
Sand mining mafia unleashes terror Shocking, illegal sand mining from State rivers has become order of the day. Mafias with full patronage from politicians show no fear of law. Against norms heavy machines are ravaging the rivers. Narmada riverbed lined with hundreds of makeshift roads and dotted with thousands of pit created due to illegal mining.
– Armed men allegedly held a raiding party led by Ajaygarh tehsildar J.P.S. Baghel of Panna district hostage on October 16 for impounding their vehicles which were illegally transporting mined sand. Similarly, on July 20, sand mining mafia allegedly thrashed the daylights out of a sub-divisional magistrate in Tikamgarh for confiscating their dumpers and earthmovers.
-Sand mining is carried out on the river beds violating the mining and environment rules and under the nose of local administration. It is alleged that relatives of some influential people, including MP CM Shivraj Singh Chouhan, are into the illegal sand mining business.
-Altogether, around 1,135 blocks measuring around 8,800 hectares in 33 districts of the state have been leased out for sand mining.
– According to an estimate, the state is robbed of Rs 1000 crore revenue every year due to illegal sand mining. At present, the state receives a revenue of around Rs 170 crore annually. In the past 7 months, as many as 70 sand mining cases have been reported in different districts of the state.
-It is normal to see the Narmada river bed dotted with hundreds of roads, some as long as 15 km, made to move heavy machineries such as earth movers and JCB machines to mine sand. What's more, in some areas, roads created on the river bed even block the flow of water. Ironically, under the mining policy of the MP government, use of machineries in sand mining has been prohibited. http://www.asianage.com/india/crime/041117/sand-mining-mafia-unleashes-terror-in-madhya-pradesh.html (November 2017)
Highlighting the gravity of situation, Free Press Journal report also says that making mockery of State govt's order of banning unauthorised sand mining across the state, sand stealing continues unabated around Dhamnod area not only leading to heavy revenue loss to the government, but it has wiped out fish and aquatic life. Even concerned department officials are well aware about the illegal activities going on around and to cover-up for the big sharks' officials take action against the small fish.
According to the report rampant illegal sand mining taking place in a tributary of Narmada has raised serious concerns over the destruction of invaluable ecosystem and borrow pits created by perpetrators, which poses danger to the people. http://www.freepressjournal.in/bhopal/bhopal-despite-ban-illegal-sand-mining-continues-unabated-near-dhamnod/1165349  (Nov 2017)
KEN RIVER Bundelkhand Illegal sand mining continues unabated Despite NGT banning unauthorised sand mining in 2013, sand stealing has continued unabated in Ken river bed flowing through Kartal village in Banda, Uttar Pradesh. A short distance away, rows of trucks are lined up to ferry away the sand to towns and cities of the state for use in construction.
Banda superintendent of police, RP Pandey, had last Oct written to the district magistrate that heavy excavation equipment are being used to dredge sand, which is changing the natural course of the river. Pandey had further said that the heavy trucks plying in the area has damaged the district's roads and are also evading paying state tax. The sand mining is also changing river course and damaging crops on adjoining banks. The villagers allege that the district administration is fully in the know but has deliberately turned a blind eye. http://www.hindustantimes.com/india-news/despite-ngt-ban-illegal-sand-mining-continues-unabated-in-bundelkhand-region/story-aKkhFzhIDc78yTJNudmAwO.html (Feb 2017)
Villagers protest against illegal sand mining in Ken River In February a group of people at Hinota village of Chhatarpur held a demonstration on the dry bed of river Ken. The villagers demanded to demolish an illegal bridge constructed by the mafia the way it was done in neighbouring Panna where a bridge was constructed on the same river. The villagers also complained of entry of large number of heavy vehicles from across Uttar Pradesh carrying illegal mining whole night which had led to enormous noise and air pollution in and around the village. https://timesofindia.indiatimes.com/city/bhopal/bhopal-crackdown-on-illegal-sand-mining-440-vehicles-seized/articleshow/57026968.cms (February 2017)
Mechanised sand mining continues unabated in Ken river A day after the MP govt banned mechanised sand mining in all rivers of the state, heavy earth moving machines were seen digging out sand from Ken river in Chattarpur district on May 23, 2015. The machines rubbed salt on wounds of Hinota villagers who have been sitting on a dharna for the past one week to stop illegal sand mining in Ken river. The villagers have now threatened to hold a jal satyagrah from May 25, 2017. The sand mines in the area are spread both in Panna and Chattarpur districts. Though the contract for mining belongs to a Jabalpur-based miner, people from UP also operate and trucks loaded with the sand are despatched to cities like Lucknow, Kanpur, Raibareli and Faizaba, the villagers alleged. https://timesofindia.indiatimes.com/city/bhopal/mechanised-sand-mining-continues-unabated-in-ken/articleshow/58814414.cms (May 2017)
Chhatarpur villagers kick off stir against illegal sand mining In a first of its kind agitation, villagers in Chhatarpur district have started a dharna against illegal sand mining from the Ken river, threatening that it will continue till illegal mining is stopped. For the past one month, the mafia men have been digging sand round-the-clock. Villagers alleged that heavy earth moving machines are deployed in the area to dig out the sand from Ken river. Sand mafia threatens to set whole village on fire if villagers objecting to mining activities. The round the clock illegal mining operations from Ken river in Hinota village have   enveloped the village in dust clouds, leading to health problems.  https://timesofindia.indiatimes.com/city/bhopal/chhatarpur-villagers-kick-off-stir-against-illegal-sand-mining/articleshow/58757084.cms (May 2017)
With the ban on sand mining being lifted on September 30, the mafia has stepped up its mining operations around Ken river in Chhatarpur district. After protests against plying of heavy vehicles transporting the mineral across villages leading to pollution and accidents, the sand mafia has blocked a sub canal in Chandla to make way for sand transportation. Since the sowing season for rabi crop is underway and water can be released any time from Bariyarpur dam on the Ken river.  https://timesofindia.indiatimes.com/city/bhopal/sand-mafia-blocks-canal-on-ken-in-chattarpur-dist/articleshow/60998264.cms (October 2017)
http://epaper.jansatta.com/c/24772283 (December 2017)
Chambal River 'Submarines'-new arm of sand mafia in Chambal Rampant use of underwater machines – which locals call 'deshi pandupis' (submarines) is the worrying trend with the illegal sand mining in Chambal and Sindh rivers. Officials believe many sand miners are using such 'submarines' for digging out sand from the bottom of the rivers. Seeking a CBI inquiry to expose the mining syndicate in Chambal region, a lawyer says that  the State Govt has not set clear guidelines on the use of suction pumps for legal mining too and it is important to ban suction pumps because it can extract sand from the river bed with minimum effort. https://timesofindia.indiatimes.com/city/bhopal/desi-submarines-a-new-arm-of-sand-mafia-in-chambal-region/articleshow/57610638.cms (March 2017)
Illegal sand mining going on As per report miners have started use of camels to transport illegally mined sand from the Chambal to the villages in Rajasthan. Sand mining in sanctuary area is prohibited. https://www.bhaskar.com/news/MP-BPL-HMU-illegal-sands-going-to-rajasthan-via-camel-from-chambal-river-5608637-PHO.html (May 2017)
Son River Illegal sand mining pushes gharials to brink Illegal sand mining continues to pose the biggest threat to the last of the wild and breeding gharials in Son Gharial sanctuary of Sidhi district. Forest rangers have failed to locate even a single hatchling this breeding season. Insiders say that the only male Gharial left in the river is now missing. Mining of sand banks is destructive for gharials as they are essential for nesting and basking, gharials lay eggs under sand beds, but illegal mining destroys their nests. https://timesofindia.indiatimes.com/city/bhopal/illegal-sand-mining-pushes-gharials-to-brink-in-son-river/articleshow/58968658.cms (June 2017)
Resistance against attempts to stop illegal mining Attempts to stop illegal mining have met with resistance from locals throughout Madhya Pradesh with officials being threatened and even attacked.
Illegal mining in Sidhi is mainly carried out on the banks of Son river, home to now endangered Ghariyal. Mining department officials say that every day, some 400 to 500 trucks of sand are mined. Though there is no official estimate, activists say the government loses crores every year due to illegal mining in Sidhi. Sidhi SP Manoj Shrivastava said they registered around 100 cases of theft under Section 379 of the IPC against illegal mining in the past two months.
The government had passed a proposal in the state cabinet in November under which 821 of the 1,266 sand mines in the state would be handed over to the panchayats, while the remaining 445 would be given through auction. http://www.hindustantimes.com/bhopal/madhya-pradesh-cracks-the-whip-on-officers-colluding-with-illegal-sand-miners/story-73d72SJeYTUbbldgwCZz2H.html (December 2017) 
Maharashtra Sand mining a trigger for croc attacks According to Bhilawadi police records 6 people have lost lives in crocodile attacks in the past last ten years in that belt of Krishna river and most of the crocodile attacks have taken place between January to May every year, which is the mating and breeding period of the reptiles. Experts claim that crocodiles used to live in co-existence with humans since many years. However, over the past one decade, enormous sand mining in the region has caused destruction of the natural habitat of the crocodiles. Villagers say that sand mining has led to destruction of the bushes on the banks of the river where crocodiles lay eggs.  https://timesofindia.indiatimes.com/city/kolhapur/sand-mining-a-trigger-for-croc-attacks/articleshow/57638419.cms (March 2017)
Sand mafia tried to mow down Solapur DM During a vigil on illegal sand mining activities near Kurduwadi village on Feb. 01, the sand extractors allegedly attempted to murder Tuka Ram Munde, the District Collector of Sholapur. As per the report, the DM had to run for his life, as a truck diver with illegally mined sand tired to run down him on being stopped. After a chase by police, the vehicle was caught and a report has been filed against the truck driver. https://www.bhaskar.com/news/MH-MUM-OMC-murder-attempt-on-collector-of-solapur-sudam-munde-5222618-PHO.html (January 2017)
Illegal sand mining continues in Raigad district Unabated illegal sand mining continues in Raigad district, according to environment group Awaaz Foundation, which filed its fourth complaint this year. Awaaz has images that show sand being carted away by bullock carts along a permanent access road that has been constructed from Awas to Kihim Beach, near Alibaug. http://www.hindustantimes.com/mumbai-news/illegal-sand-mining-continues-in-raigad-district/story-olIB0VMlR6BIFaaKnTV8DL.html (March 2017)
Maharashtra remains the country's biggest 'haven' for illegal mining As per report, for year after year, Maharashtra has accounted for almost 40% of the reported incidents of illegal mining in India. (http://164.100.47.194/Loksabha/Questions/Qtextsearch.aspx) but the state has fewer cases registered, lower fine collected and least cases reaching the courts. The paltry amount collected as fines appear to corroborate the view that political pressure is used to ensure that illegal mining continues. If anecdotal evidence is to be believed, it would also appear that illegal mining continues to remain one of the best ways to generate ill-gotten funds for political parties. http://www.freepressjournal.in/analysis/rn-bhaskar-maharashtra-haven-for-illegal-mining-political-funding/1058507 (April 2017)
Diving to death  This shows how sand miners are dying in Mumbai, Thane, Palghar and surrounding areas while diving into polluted waters. Uneven depths in creeks and rivers caused by illegal sand mining can spark currents and whirlpools, posing a danger not just to miners but anyone using the rivers, with multiple drowning deaths across India blamed on the black market for sand.  http://news.trust.org/shorthand/drowning-for-sand/ (July 2017)
Illegal sand mining responsible for damaged of Palghar bridge The public works department (PWD) in Palghar has said that illegal sand mining by sand mafia from Vasai, Virar, Navi Mumbai and Thane is what caused cracks in the bridge over Vaitarna river in Palghar. The bridge was constructed in 1988 to link tribal hamlets in the area and was shut down for heavy vehicles in Dec 2014, after it developed cracks in its foundation. http://www.hindustantimes.com/mumbai-news/illegal-sand-mining-is-to-blame-for-damaged-palghar-bridge/story-Na5OJZ0ygMzw2tFHldZm5H.html (November 2017)
'Rampant sand mining will weaken Juinagar bridge' Environmentalists have raised red flags about illegal sand mining close to the railway bridge near Juinagar railway station. The activists have been reiterating that if the authorities don't take steps to stop illegal sand mining then it may even damage the foundation of the bridge. The Maharashtra Minor Minerals Extraction (Development and Regulations) Rules, 2013, has also clearly stated that no mining activity can be carried out near bridges and embankments for the purpose of infrastructural safety. https://timesofindia.indiatimes.com/city/navi-mumbai/rampant-sand-mining-will-weaken-juinagar-bridge/articleshow/62199379.cms (December 2017)
Criminals held with firearms for sand mafia The accused were trying to sell the firearms to a sand mafia in Pune district. Two persons, including a criminal on the police records, were arrested on Dec 20 and four country-made pistols as well as 10 live cartridges were recovered from them — the second major haul of country-made firearms by the Pune Rural police in the past 10 days. The probe revealed that Rajendra Rathod (32), currently residing at Wagholi, and his accomplice, Dhondibhau Jadhav (25) of Ahmednagar district, were preparing to sell the arms to people involved in illegal sand business in Daund and Shirur taluka.  https://timesofindia.indiatimes.com/city/pune/four-pistols-seized-from-criminal-his-accomplice/articleshow/62200690.cms (December 2017)
Odisha Illegal sand mining causes soil erosion in Mahanadi Illegal sand lifting in violation of NGT directions has become a regular affair in Jagatsinghpur district. Scores of tractors, trucks and tippers are deployed everyday to carry out the trade clandestinely with alleged support of revenue officials and a section of politicians. Apparently, sand lifting is also the reason behind soil erosion on the banks of Mahanadi that passes through the district. In fact, unauthorised sand quarrying has led to severe erosion of river banks in Tirtol, Raghunathpur and Kujang blocks situated in Mahanadi downstream. http://www.newindianexpress.com/states/odisha/2017/feb/21/illegal-sand-mining-throws-green-norms-to-wind-1572989.html (February 2017)
Rampant sand mining goes on; govt loses revenue Rampant sand loot has bent taking place from the bed of river Tel in Kalahandi district while the govt is losing revenue worth crores of rupees every year. Locals have demanded a probe into the illegalities.  They said machines were engaged in sand quarrying and truckloads of sand had been transported to other places. However, the revenue officials are accused of looking the other way. Villagers of Turkel and Chhenagaon had taken up the issue of illegal sand lifting with the collector and the revenue divisional commissioner a few days ago. http://www.orissapost.com/rampant-sand-mining-goes-on-govt-loses-revenue/ (December 2017)
Jharkhand Three killed over sand mining dispute Three persons were killed and one was injured in firing over a sand mining dispute in Jharkhand's Garhwa district. According to police, the villagers were opposing the sand mining in Jatpura village. Sanjit Singh, who has been awarded the sand mining contract, allegedly opened fire at the villagers. In the firing, three members of a family were killed and one sustained injuries. The irate villagers set afire seven trucks used to transport sand. The contractor managed to escape. http://www.business-standard.com/article/news-ians/three-killed-over-sand-mining-dispute-in-jharkhand-117051900599_1.html (May 2017)
June-October sand ban bites realty hard Realty in Ranchi is reeling under a severe sand crisis in the wake of the NGT's ban on sand mining during monsoon to avert floods. In Jharkhand, sand mining is banned from June 15 to October 15 as a flood prevention measure since sand, lining the river banks, acts a natural barrier to overflowing water. The crisis has even hit middleclass home-owners. Earlier this month, sand crisis was among the issues raised during a state meeting of the 20-point implementation committee chaired by chief minister Raghubar Das. Here, a committee member had suggested giving sand mining rights to panchayats. https://www.telegraphindia.com/1170723/jsp/jharkhand/story_163349.jsp (July 2017)
Violation of NGT order The blanket ban on sand mining during monsoon by the NGT has put a question mark on the on-going construction work under the Central Government's flagship schemes in Jharkhand. The construction of houses and household toilets under Pradhan Mantri Awas Yojana and Swachh Bharat Mission, respectively, has enough reasons to cast aspersions about the compliance of the NGT's order by the State Government.  The NGT has ordered the State Government to stop mining of sand from riverbeds in view of possible damage to the ecology of rivers. http://businessworld.in/article/Violation-Of-NGT-Order-In-Jharkhand/24-09-2017-126858/ (September 2017)
Chhattisgarh Malaise of Naxal violence lies deep in illegal mining and political funding The detailed report tries to imply that illegal sand mining is feeding violent naxal attacks and  unaccounted funding to political parties in many Indian states. http://www.firstpost.com/india/sukma-maoist-attack-malaise-of-naxal-violence-lies-deep-in-illegal-mining-and-political-funding-3408728.html (April 2017)
SOUTH INDIA
Andhra Pradesh 14 villagers protesting against illegal sand mining killed In a tragic incident, at least 14 persons were killed, 15 persons, including 2 police officials and 3 journalists, were injured when a truck lost control, ploughed through a group of people in front of a police station, hit an electric pole uprooting it, and rammed a roadside shop at Yerpedu, 25 km from Tirupati on the Srikalahasti highway on April 21. Most of the victims had come to the mandal headquarters town to file a complaint in the police station against rampant sand mining in the Swarnamukhi riverbed. All the victims hailed from Munagalapalem village in Yerpedu mandal. http://www.thehindu.com/news/national/andhra-pradesh/many-feared-killed-as-lorry-rams-electric-post-near-srikalahasti/article18181793.ece (April 2017)
For the past three years, the Munagalapalem villagers have been fighting to contain the illegal quarrying to safeguard the dwindling groundwater resources in the area. This is quite evident from the presence of a fence along the river bank, followed by a trench, to prevent the movement of heavy vehicles. http://www.thehindu.com/todays-paper/tp-national/tp-andhrapradesh/illegal-sand-mining-a-bone-of-contention/article18194369.ece (April 2017)
Reporter trying to expose illegal sand mining beaten with iron rods Rama Reddy a reporter for a TV channel was assaulted by a mob in Peravali Mandal's Pittala Vemavaram (Godavari) because he was trying to expose illegal sand mining in the state. He was seriously injured and is being treated at a local hospital. https://scroll.in/latest/836678/andhra-pradesh-reporter-who-was-trying-to-expose-illegal-sand-mining-beaten-with-iron-rods (May 2017) Sand Mafia managed to run away. http://samachar4media.com/andhra-journalist-thrashed-iron-rods-exposing-alleged-sand-mining (May 2017)
Tungabadra River (Andhra, Telangana Borders) Sand mining in Kurnool The report shows that illegal sand mining goes unabated in the district during night times with the concerned officials turning a blind eye. In blatant violation of norms, the traders are transporting sand to other parts by allegedly bribing the officials. Illegal sand transportation was evident at Panchalingala and Munagalapadu, Nidzur and Singavaram villages in Kurnool mandal. http://www.thehansindia.com/posts/index/Andhra-Pradesh/2017-07-24/Sand-mining-goes-unabated-in-Kurnool/314203  (January 2017)
Illegal sand mining is going on unabated from Tungabhadra River during night hours despite District Collector's orders. Hundreds of tractors are transporting sand illegally from Tungabhadra River. The police and officials are turning a blind eye to the illegal activity. In blatant violations of norms, the traders are transporting sand to other parts of the state by bribing the officials concerned at check posts. When questioned the officials of Kurnool mandal, simply ruled out illegal activities and assure to look into it. http://www.thehansindia.com/posts/index/Andhra-Pradesh/2017-04-02/Illegal-sand-mining-rampant-in-Tungabadra-River/290473 (April 2017)
Illegal sand mining in Mahbubnagar Illegal sand mining at Pedda Wagu in Polepally village of Jadcherla Mandal has gone unchecked for some time causing loss to the government exchequer. According to villagers, despite many complaints the revenue officials have turned a blind eye, taking advantage of which the sand mafia had been doing its business unabated.  Recently, the sand miners also established artificial sand minting centre illegally near the river side and are digging the available sand from the Pedda Wagu rivulet.  http://www.thehansindia.com/posts/index/Telangana/2017-08-06/Illegal-sand-mining-goes-unchecked-/317069 (August 2017)
Illegal sand mining from Tungabhadra Illegal sand mining in River Tungabhadra at Panchalingala village is disturbing the communal harmony among the villagers. The transportation of sand as it is being carried out round-the-clock. With the heavy competition, group clashes have become common. Recently, a clash between two communities took place in the village. Tense situation prevailed in the village for some time. A huge gathering from both communities reached the station and made allegations against each other.
The police deployed at Thandrapadu, border of Telangana and Andhra and on the T-Junction of Panchalingala on the national highway, are turning blind eye after accepting bribes from the tractor owners. It is said that the sand is being transported to adjacent state Telangana as Panchalingala shares the borders. http://www.thehansindia.com/posts/index/Andhra-Pradesh/2017-09-22/Illegal-sand-mining-continues-unabated/328238   (September 2017)
Illegal mining in Kurnool Despite taking several steps to curb the illegal sand mining from river belts, sand transportation from Tungabhadra and Hundri Rivers is going unabated under the watchful eyes of the police personnel.
It is very surprising to note that despite setting up of CCTV cameras at two placesthe sand is being transported illegally to various places in the district and to the Telangana. With the indiscriminate mining of the sand from the river belts, the water resources are getting depleted resulting water shortage during summer.
 Due to continuous sand transportation in the village, school students and residents are facing problems in crossing the roads and the motorists are fearing to ride their vehicles.  Ten motorists suffered injuries as their bikes skidded due to sand on the roads. http://www.thehansindia.com/posts/index/Andhra-Pradesh/2017-12-01/Illegal-sand-mining-rampant-in-Kurnool/342325 (Dec 2017)
According to one estimate there is about 3.5 lakhs cubic meters of sand in Ryalampadu and 25 thousand cubic meters each in Pullur and Chinna Dhanwada villages. This treasure is being mined illegally during the night times alleged by the Polepally villagers in Telangana. https://www.deccanchronicle.com/nation/current-affairs/141217/sand-from-tungabhadra-costly.html (Dec 2017)
FREE SAND POLICY 
Govt loosing ₹550 cr revenue to free sand policy Govt free sand policy announced in March 2016 has its impact on the revenue front. As per Mines and Geology Minister R. Venkata Sujay Krishna Ranga Rao, the govt may be losing ₹550 crore due to the free sand policy, but has brought down the cost of construction significantly. http://www.thehindu.com/news/national/andhra-pradesh/post-free-sand-policy-focus-shifts-to-alternative-revenue-sources/article22272296.ece
In August 2017, facing revenue losses (Rs 700 crore by this report) and misuse of free sand policy by sand mafia, the govt decided to revise the policy and collect nominal charges for supply of sand to the consumers. As per report, sand mafia grossly exploited the free sand policy and was selling it between Rs 6,000 and Rs 10,000 per trucks depending on the supply and demand. http://www.thehansindia.com/posts/index/Andhra-Pradesh/2017-08-03/Government-revises-sand-policy/316410
In November 2017, illegal sand mining and collection of high prices from public by sand mafia dominated the proceedings in the State Assembly during the Question Hour. http://www.thehansindia.com/posts/index/Andhra-Pradesh/2017-11-14/Free-sand-policy-a-failure-alleges-Vishnukumar-Raju/339237 (November 2017) 
In August 2016 NGT had issued notices to State Govt, the Director of Mines and Geology and to all District Collectors following allegations of misuse of the recently introduced Free Sand Policy. There photographic evidence of individuals using heavy machineries like procliners and dredges to suck out sand from the river banks and the underwater, violating all the stipulated norms and causing an irreversible damage to the ecology. http://www.newindianexpress.com/states/tamil-nadu/2016/aug/02/NGT-issues-notice-to-Andhra-government-over-free-sand-policy-1501121.html
Telangana 2 deaths, 18 injuries in a month due to illegal sand mining Residents of several villages in Sircilla, a newly created district in Telangana, are up in arms against police and district administration over sand mining in the area after sand-laden trucks were involved in several accidents in the past one month. Two persons have been killed and at least 18 injured in separate accidents in the area. http://indianexpress.com/article/india/telangana-sircilla-villages-up-in-arms-against-sand-mining-as-trucks-crush-two-4784343/ (August 2017)
Illegal sand mining at Pedda Wagu in Polepally village of Jadcherla Mandal has gone unchecked for some time causing loss to the government exchequer. According to villagers, despite many complaints the revenue officials have turned a blind eye, taking advantage of which the sand mafia had been doing its business unabated.  http://www.thehansindia.com/posts/index/Telangana/2017-08-06/Illegal-sand-mining-goes-unchecked-/317069  (August 2017)
TPCC president N. Uttam Kumar Reddy alleges that the State police machinery is supporting illegal sand mafia as it is owned by the close relatives of CM K. Chandrasekhar Rao. http://www.thehindu.com/news/national/telangana/kcrs-relatives-involved-in-illegal-sand-mining-business/article19400394.ece (August 2017)
Illegal sand mining in Jougulamba Gadwal district The Rylampad reservoir in the district is witnessing unabated sand mining which is causing huge loss to the exchequer. Reliable sources revealed that even though the district and enforcement officials are fully aware of the illegal mining they are being ignorant due to political pressure from the local public representatives. The local politicians from Gattu, Dharoor and KT Doddi mandals of the district are behind the illegal mining and are involved in sand mining with the support of revenue officials. It is said the sand mafia had already transported over 5,000 cubic metres of sand from the reservoir and encashed it for a huge sum of money by selling it to the builders. http://www.thehansindia.com/posts/index/Telangana/2017-06-17/Illegal-sand-mining-continues-unabated/307104 (June 2017)
Illegal mining of red sand alleged Allegations of illegal red sand mining has surfaced at Dasugadd Tanda area barely 15 km from the Sangareddy district headquarters. The digging has been taking place in assigned lands, which were earmarked only for the purpose of cultivation, and officials can take them back for any violation.
After the issue came to light, the digging has stopped. Officials seized two earth-moving machines and two tippers, imposed a fine of ₹25,000 for each of the two machines and ₹10,000 each for two tippers. But, the offenders were allowed to go scot-free.
Officials reason that the accused were let off since they belonged to Lambada community and any action against them would have created unnecessary trouble for the administration.But then, in case of previous raids by the Revenue Department on illegal mining, the offenders had been let off easily. http://www.thehindu.com/news/national/telangana/deep-pits-found-illegal-mining-of-red-sand-alleged/article22277688.ece (December 2017) 
Karnataka Illegal sand extractors mine in dam backwaters in Dakshina Kannada Illegal sand extraction continues to thrive in parts of Dakshina Kannada, including Bantwal, the constituency of Environment Minister. After the licence period for sand extraction in rivers under CRZ ended in April 2nd week, sand extractors appeared to have gone up-stream the Netravathi in the backwaters of Thumbe vented dam. PWD maintained that the area covered by backwaters does not fall under CRZ area; permits to extract sand should be given either by PWD or Mines Department. In this case neither have issued permits to extract sand in the backwaters, sources said confirming illegal extraction. http://www.thehindu.com/news/cities/Mangalore/illegal-sand-extractors-mine-in-dam-backwaters-too/article18528624.ece (May 2013)
Illegal sand mining at TG Halli reservoir as officials look the other way The Thippagondanahalli Reservoir (TGR) bed is witnessing unabated illegal sand mining as the authorities concerned have failed to take any action to check this. The reservoir comes under the Bangalore Water Supply and Sewerage Board (BWSSB) jurisdiction. Access to the surrounding area is restricted and entry without permission is prohibited. The miners seem to have carved a road to the reservoir, axing many trees in the process. This has also loosened the soil around the natural vegetation. The local police are also unaware of sand mining. The BWSSB top brass, including the chief engineer and the chairman, is also unaware of the activity. http://www.deccanherald.com/content/650631/illegal-sand-mining-tg-halli.html (29 December 2017)
People's panel to study sand mining in Cauvery A group of farmer associations of Tamil Nadu in association with Rashtriya Jal Biradari have planned to constitute a 'people's commission' to study the ecological aspects and sand mining in the Cauvery river. http://www.thehindu.com/news/cities/Tiruchirapalli/peoples-panel-to-study-sand-mining-in-cauvery/article18643409.ece (May 2017)
Kerala Rampant mining endangering 100 bridges: Minister According to Minister for Public Works Department G. Sudhakaran the main reason of about a 100 bridges in the state being in bad shape, and therefore in danger, is the indiscriminate river sand mining. Over the years, river sand mining has become a huge business in Kerala, as this is the main raw material for all sorts of construction in the state. http://www.business-standard.com/article/news-ians/indiscriminate-sand-mining-100-kerala-bridges-in-danger-117011901555_1.html (January 2017)
Mining posing threat to mangrove forests The district environment committee of the Kerala Sastra Sahithya Parishad has alleged that the mineral sand-mining activity carried out by the public-sector Indian Rare Earths along Vellanathurutu in Alapad panchayat as causing widespread damage to the naturally growing mangrove forests in the area. According to committee the activity had already destroyed more than two hectares of mangrove forests at estuary where the Pallikkal River met the sea. At least 12 mangrove species, some of them threatened or endangered, were growing in the region. http://www.thehindu.com/todays-paper/tp-national/tp-kerala/Mineral-sand-mining-posing-threat-to-mangrove-forests/article17281729.ece (February 2017)
Fishfolk opposed to sea sand mining After the Geological Survey of India had initiated a survey on Kollam, Chavakkad and Ponnani coastal areas on sea sand mining, there has been mixed reactions to Government's proposal. While KPCC president V. M. Sudheeran has objected to it, Government Contractors Association is favouring it citing the presence of several tonnes of sand formation in the deep sea. But the biggest opposition is going to be from the fisherfolks. With illegal sand mining, riverbanks are caving and seawater reaching rivers, making bridges unsafe across the state. http://www.deccanchronicle.com/nation/in-other-news/070317/kerala-debate-hots-up-again-on-move-to-mine-sea-sand.html (March 2017)
Shortage of manually dredged sand may lead to illegal mining Shortage of manually dredged sand from the Valapattanam river, sold through the Ports Department after the announcement of the government's policy of allotment of mining permits to panchayats, is feared to cause a rise in illegal mining in the river. The government decided to allot the mining permits only to the local panchayats, thus discontinuing the practice of renewing permits of co-operative societies of sand mining workers. http://www.thehindu.com/news/national/kerala/shortage-of-manually-dredged-sand-may-lead-to-illegal-mining/article19612046.ece (September 2017)
Tamil Nadu Illegal Beach Mining Exposed After exposé, the reporter complains of harassment, intimidation Chennai-based senior journalist Sandhya Ravishankar, who published a four-part series on Tamil Nadu's sand mafia in The Wire, has alleged that she has been constantly harassed by supporters of S. Vaikundarajan (owner of the largest sand mining conglomerate in the country, who is mentioned extensively in the articles). The series, published in Jan 2017, documented the illegal sand mining, political collusion, and method used to suppress competition in the south and is the outcome of four years of investigative journalism. https://thewire.in/116202/sand-mafia-expose-harassment-intimidation/ (March 2013)
75 per cent of the leases in beach sand mining in Tamil Nadu is controlled by one company — VV Mineral; and the rest are related to this company in one way or the other. It's a virtual monopoly, so much so that a story on beach sand mining in Tamil Nadu cannot ignore VV Mineral. https://www.newslaundry.com/2017/02/01/meet-sandhya-ravishankar-the-journalist-hell-bent-on-exposing-illegal-sand-mining-in-tamil-nadu (February 2017)
The deputy director of mines in the district submitted a report stating that 13,70,409.28 metric tonnes of raw & semi-processed sand had been illegally stored in the 'triggered' area. https://thewire.in/102506/countdown-begins-tamil-nadus-beach-sand-mining-cartel/ (Jan 2017) http://www.huffingtonpost.in/2017/03/17/this-journalist-is-going-through-hell-for-exposing-illegal-beach_a_21898816/ (March 2017)
The report has pointed out that an excess of almost 34 lakh metric tonnes (MT) of raw sand has been mined by a group of miners including VV Mineral, Transworld Garnet India – both owned by S. Vaikundarajan during the period spanning 2000-01 to 2007-08. In the same period, close to 9 lakh MT of garnet, around 8 lakh MT of ilmenite, 3,500 MT of zircon and 1,350 MT of rutile have also been mined, transported and stored. According to the committee, these figures are over and above the legal amount allowed to be mined by miners. https://thewire.in/110405/tamil-nadu-sand-mining/ (February 2017)
At 130,000 square kilometres (50,200 square miles), the state is about the same size as Nicaragua. Ninety-five rivers with sandy bottoms and shorelines cut across it. There are at least 17 sand-rich river basins. With the Bay of Bengal forming its eastern border, Tamil Nadu also has the second longest sandy beachfront in India, stretching over 1,076 kilometers (670 miles).
Because of aggressive mining bottoms two of the state's major rivers, the Thamirabarani and the Palar, have dropped 15 meters (50 feet) in the past two decades, according to state measurements. Sand mining on the Bay of Bengal shoreline is so rampant that entire stretches of beaches have disappeared.
The Tamil Nadu government estimates that between 5,500 and 6,000 truckloads, each measuring of 200 cubic feet of sand each are mined in Tamil Nadu every day. But activists put the number much higher, at 90,000 truckloads or more. They also disputes the state public works department's assertion that the market rate for sand is $US 105 to $US 120 per truckload. The actual price, he says, is $US 300 to $US 600, and much more if it is trucked out of state. http://www.circleofblue.org/2017/world/pursuing-riches-miners-plunder-tamil-nadus-river-sand/ (May 2017)
Submitting his report on the plundering of rare minerals along the southern coast, the amicus curiae has called for a thorough probe into the role played by various officials. In his report, the committee has also advocated initiating criminal proceedings against the guilty. http://www.thehindu.com/news/cities/chennai/beached-by-illegal-sand-mining/article19246822.ece (July 2017)
Sand Miner go to HC against the amicus curiae Accusing the amicus curiae as 'biased', one of the private firms involved in the suo moto public interest litigation regarding the illegal beach sand mining case has petitioned the Madras High Court to relieve him. http://www.deccanchronicle.com/nation/crime/030917/tamil-nadu-relieve-amicus-curiae-from-beach-sand-mining-case.html (September 2017)
Other Illegal Sand Mining Reports in Tamil Nadu
Widespread conflicts over sand mining in rivers in Tamil Nadu An insight into the large-scale illegal sand mining trade in Tamil Nadu for the building industry, with complex dynamics between the state, the sand mining mafia, the bureaucrats and the local people, and with many victims. https://ejatlas.org/conflict/illegal-sand-mining-in-tamil-nadu
Sand mining baron gets conditional bail  After 87 days of their arrest, a special court for CBI cases on March 17, 2017 has released sand mining baron Shekhar Reddy and his two associates Srinivasulu and Premkumar on conditional bail. https://timesofindia.indiatimes.com/city/chennai/sand-mining-baron-shekhar-reddy-associates-get-conditional-bail/articleshow/57690226.cms (March 2017)
How sand mining mafia is thriving posing as farmers Despite efforts by the government to stop illegal mining of sand, the mafia enjoys a flourishing business as the agents take different forms to steal the natural resource. In a historical announcement, CM Edappadi K Palaniswami proclaimed that sand in the state of Tamil Nadu will be sold only online to keep a check on the amount that is been mined and where it is being utilised. Unfortunately, complaints have started to pour in from all across the state about the irregularities in the system & how sand is still being looted from quarries. http://indiatoday.intoday.in/story/tamil-nadu-illegal-sand-mafia-cm-palaniswami/1/1000121.html (July 2017)
Illegal sand mining from Thenoponnaiyar River despite ban by NGT  Despite a ban on mining of sand from the Thenponnaiyar River by the NGT, illegal and indiscriminate mining of sand has been continuing from the river bed and upstream portions of the river in Tamil Nadu and the Union territory of Puducherry, charged a water users' forum. https://timesofindia.indiatimes.com/city/puducherry/illegal-sand-mining-goes-unchecked-in-tamil-nadu-and-pondy/articleshow/60026641.cms (August 2017)
Greed for atomic minerals to leave Tamil Nadu in peril  Coastal Regulation Zone (CRZ) Notification, 2011 by Union Ministry of Environment, allows mining of atomic minerals like uranium, thorium or titanium in ecologically sensitive CRZ areas, irrespective of whether they are available in non-CRZ areas or not, is only going to deliver a telling blow on the already under-stress Tamil Nadu coast. Tampering of fragile coastline would invite disasters like salt water intrusion, leading to degradation of ground water. http://www.newindianexpress.com/states/tamil-nadu/2017/oct/13/greed-for-atomic-minerals-to-leave-tamil-nadu-in-peril-1672778.html (October 2017)
Illegal sand mining meets 30% of demand Illegal sand mining that is going on unabated, catering to about 32% of the sand requirement from the construction industry. On an average, about 8,000 loads of sand are being illegally mined from the major riverbeds like Araniyar, Kosasthalaiyar and Palar, the Cauvery delta region and along the Thamirabarani river. https://timesofindia.indiatimes.com/city/chennai/illegal-sand-mining-meets-30-of-demand/articleshow/61210696.cms (Oct 2017)
Plea to stop mining in water body A PIL filed, in Madras High Court has sought directions against private parties mining sand at Kanoor tank in Sivaganga district in the guise of removing savadu (brick earth) sand. The petitioner, P. Gayathri of Sivaganga, said permission was given only to excavate 'savadu' sand. However, every day more than 1,000 lorries transported sand excavated from the tank and adjacent lands. Sand had been excavated to a depth of up to 25 feet, said the petitioner. http://www.thehindu.com/news/national/tamil-nadu/plea-to-stop-sand-mining-by-private-parties-in-waterbody-hc-madurai/article19999049.ece (November 2017)
Tamil Nadu Villagers Taking Action Against Illegal Sand Mining
Villagers hold 3 PWD officers hostage to protest against illegal sand mining Close to 500 villagers held three officers of the Public Works Department hostage to protest illegal sand mining. The protestors also captured 47 trucks which were allegedly being loaded with sand before getting a permit. At Sirugambur, a village situated on the banks of the branch of river Cauvery, villagers noticed discrepancy with which the authorities allowed sand to be mined and when questioned, the authorities gave an arrogant reply or none at all. https://in.news.yahoo.com/tamil-nadu-villagers-hold-3-021207485.html (July 2017)
Villagers take on illegal sand miners, detain three lorries Unfazed by the threat from the illegal sand miners, residents of Thuraikudi village on the outskirts of Trichy detained three lorries loaded with sand taken from a torrent passing through the village in the early hours. The report shows how Trichurapalli villagers are facing problems even risking their lives due to illegal sand miners http://timesofindia.indiatimes.com/city/trichy/villagers-take-on-illegal-sand-miners-detain-three-lorries/articleshow/60811804.cms (September 2017)
Local people stop 13 lorries with smuggled sand in Karur In another incident, 100 people at Seethakattuputhur and Periya Vadugapatti in Karur have intercepted thirteen lorries transporting illegally-mined sand from the Cauvery river. Since the closure of the quarries across the state following the high court ban a few months ago, illegal sand mining has been taking place in the dead of the night.  https://timesofindia.indiatimes.com/city/trichy/local-people-stop-13-lorries-with-smuggled-sand-in-karur/articleshow/61611227.cms (Nov 2017)
See the interview of R Nallakannu the 91 years old CPI leader campaigning against illegal sand mining for the last 15 years. Due to his efforts, the Madras high court has stopped sand mining along River Tamirabarani within six months. https://timesofindia.indiatimes.com/city/chennai/officials-who-abet-sand-mafia-must-be-identified-and-punished/articleshow/61876048.cms (November 2017)
NATIONAL 
Centre Faster green nods fail to slow down illegal mining Union mines ministry, in its agenda for the meeting of minor mineral producing states that even though it simplified the process of obtaining EC in 2016 by delegating the clearance granting authority to a district-level body headed by district collector, illegal sand mining continues across the country. A new committee will be set up to address the illegal sand mining issues. Still so many states are emphasizing on use of technology (GPS, bar code, drone monitoring) as a solution of the problem. http://indianexpress.com/article/business/business-others/minor-mineral-faster-green-nods-fail-to-slow-down-illegal-sand-mining-4702898/ (June 2016)
Documentary Illegal sand miners in India make Rs. 1,611-cr profit every year A documentary by the Australian Broadcasting Corporation has claimed that India is facing a serious environmental crisis with rampant illegal sand mining fetching Rs 1,611 crore in profits every year. The 20-minute documentary 'Line in the Sand' was screened in Mumbai by Awaaz Foundation on April 23, 2017 that highlights the illegal sand mining trade, the mafia involved and identified areas such as Maharashtra and Uttar Pradesh, where regular sand excavation using machines is carried out. http://www.hindustantimes.com/mumbai-news/illegal-sand-miners-in-india-make-1-611-cr-profit-every-year-australian-film/story-o0wzzmQhL3ON42JlkeBM9H.html (April 2017)
OTHER USEFUL REPORTS
How to steal a river The sand acts as an aquifer, regulating the river's flow. But sand is also a crucial ingredient in concrete, and India is urbanizing at a speed and scale virtually unmatched by any country in history. Apartment towers, highways, bridges, skyscrapers, metros, dams: Each of them swallows unimaginable helpings of sand. It (sand) could line the rivers, or it could form the cities that were rising everywhere alongside them, but it could not do both at once. This is a very perceptive piece indeed.  https://www.nytimes.com/2017/03/01/magazine/sand-mining-india-how-to-steal-a-river.html (March 2017)
Need estimates and mapping of demand and supply Mining of sand is considered a necessity under current situation where there are few alternatives available. However, little effort is made to find and implement such alternatives and the State has left it up to individual builders to use such technology if suitable. No efforts to map available sand stocks and match them with building requirements of the Development Plan are made and the draft Regional Plan currently under circulation does not map the source of sand to supply the quantities needed to execute the DP. http://www.moneylife.in/article/sand-mining-need-estimates-and-mapping-of-demand-and-supply/50273.html (April 2017)
How will India address illegal sand mining without any data? Illegal sand mining is a perennial problem in India. But it assumes gargantuan proportions right before the onset of monsoon because swollen rivers make extraction extremely difficult during the rainy season. To make most of the lean period, mine owners and hoarders try to dig out as much sand as possible, through legal and illegal means, in the pre-monsoon months. http://www.downtoearth.org.in/news/flouted-with-impunity-58736 (September 2017)
Silicosis caused by sand mining reached epidemic-like levels The detailed and comprehensive report throws light on the plight of silicosis affected mine workers in Bundi, Kota and Bhilwara districts. As per the report, despite the 7th Asian Mining Congress held last month in Kolkata, where the head of the Directorate General of Mines Safety (DGMS) admitted that silicosis was a "concern", nothing looks likely to change soon. DGMS is only now conducting a study to determine the extent of the problem. It has collected 9,000 samples from five or six States, including Rajasthan, Jharkhand and Gujarat.
Rajasthan has the highest number of mine leases (close to 35,000 mines, according to a 2015 report by the Department of Mines and Geology, Rajasthan), and has been at the centre of the silicosis debate in India. A large number of its nearly 2.5 million mine-workers are under threat, with sandstone miners at even greater risk because sandstone has some of the highest quantities of silica. There were 125 confirmed cases of silicosis in Bundi in 2015, and 113 in 2016, according to govt data. http://www.thehindu.com/society/theres-death-in-the-air-here-in-dabi-village-in-rajasthan-silicosis-caused-by-sand-mining-has-reached-epidemic-like-levels/article21241289.ece (November 2017)
ASIA
Sand mining is destroying Asia's rivers There is no house or road or bridge or port in South Asia whose builders can claim to have built it with legally obtained sand alone. Illegal mining of sand from riverbeds is so ubiquitous in the subcontinent that on the rare occasions it is stopped temporarily by a judicial order, house prices go up and editorials criticising the judgement are written in financial newspapers.
Reporting illegal sand mining is the most dangerous thing a journalist can do in India. In the last couple of years, three journalists have been killed, allegedly by the illegal sand mining mafia, one each in the states of UP, MP and Bihar. Apart from journalists, there was the death of the monk who opposed illegal sand mining around Hardwar. The monk had been on hunger strike and had been taken to hospital, where he died. Mystery surrounds the cause of his death. Still, activists have continued to oppose illegal sand mining in India. https://www.thethirdpole.net/2017/05/05/sandmining-is-destroying-asias-rivers/ (May 2017)
GLOBAL
The World is Running Out of Sand Skyrocketing demand, combined with unfettered mining to meet it, is creating the perfect recipe for shortages. Plentiful evidence strongly suggests that sand is becoming increasingly scarce in many regions. This problem is rarely mentioned in scientific discussions and has not been systemically studied. Media attention drew us to this issue. While scientists are making a great effort to quantify how infrastructure systems such as roads and buildings affect the habitats that surround them, the impacts of extracting construction minerals such as sand and gravel to build those structures have been overlooked. https://www.smithsonianmag.com/science-nature/world-facing-global-sand-crisis-180964815/ (September 2017)
Compiled by Bhim Singh Rawat (bhim.sandrp@gmail.com)
Kindly explore the link to see second part of the report Riverbed Mining 2017 -II- States Look To Centre, Centre Dilutes Norms
You may also like to see
River Sand Mining in India in 2016 &