There are large number of stories this week from all over India highlighting the crisis that Urban Rivers in India face. Urban rivers, like the Urban Water sector, exist in complete policy vacuum. There is no policy to guide the Urban water governance. Cosmetic efforts being done when President Donald Trump of USA visits India on Feb 24-25, 2020 at Yamuna (in view of his visit to Agra) or Sabarmati (visit to Sabarmati Ashram in Ahmedabad) won't really help. The crisis not only affects the rivers, but the health, livelihoods and lives of millions and millions of city dwellers too, in addition to the downstream river users. Our Water Resources establishment has no clue, as is evident from their calling the Dravyawati river channelization in Jaipur as an example of river rejuvenation and suggesting such rivers should be given to corporates to rejuvenate in similar ways! It's doubtful if the new National Water Policy now being formulated will help, unless it dares to suggest radical changes.
URBAN RIVERS
SANDRP Blog Despite NGT order and Yamuna Monitoring Committee-CPCB-DDA responses, action awaited about dumping on Yamuna floodplain The floodplains of Yamuna in Delhi have been facing encroachment threats for long. In the latest incident a huge portion of riverbed underneath Nizammudin bridge towards Games village was found turned into a dumping ground on February 16, 2020. This was happening despite the protection of floodplains from encroachment and waste dumping were among key concerns of remarkable NGT judgement "Maili Se Nirmal Yamuna" of January 13, 2015. https://sandrp.in/2020/02/24/despite-ngt-order-and-yamuna-monitoring-committee-cpcb-dda-responses-action-awaited-about-dumping-on-yamuna-floodplain/  (24 Feb. 2020)
YAMUNA Delhi Tweet on debris near Yamuna spurs depts into action Following SANDRP tweet, NGT monitoring committee, DDA, CPCB have assured remedial actions to remove the debris illegal dumped in Yamuna riverbed and undo damages to floodplain near Nizammudin Bridge Delhi. SANDRP thanks them for the responses and looks forward to effective action.  https://timesofindia.indiatimes.com/city/delhi/tweet-on-debris-near-yamuna-spurs-depts-into-action/articleshow/74182555.cms  (18 Feb. 2020)
Uttar Pradesh Trump's Taj visit; polluted river might cast a shadow Though the administration is leaving no stone unturned to present a positive profile of the city, the dry and polluted river Yamuna at the rear of the Taj Mahal could cast a shadow over the preparations.
-During his Taj Mahal visit, Trump could possibly ask questions such as – "Did white marble Taj Mahal turn yellow due to pollution? Is this a river or a sewage drain?"
– The senior officials are preparing to counter such questions and project a positive image of the state administration and central government.
– A cleanliness drive has been launched by the Agra Municipal Corporation in the city with hundreds of sanitation workers removing garbage dumps. All the encroachments are being removed in the vicinity of the 17th-century monument while houses and shops are being whitewashed.  https://www.timesnownews.com/india/article/agra-prepares-for-donald-trump-s-taj-mahal-visit-polluted-yamuna-might-cast-a-shadow/554566  (17 Feb. 2020)
Untreated effluents in large volume being dumped into Yamuna river in Agra as seen on Feb. 18, 2020. American President Donald Trump is visiting Taj Mahal. Administration fears he may ask about Yamuna pollution.  https://www.facebook.com/sandrp.in/videos/127210671996285/?t=0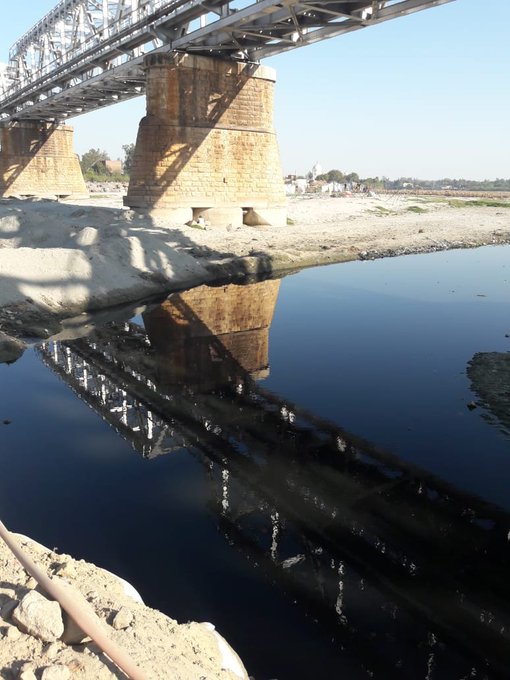 There no clean water in the river there. Dry riverbed is choked with solid waste.  (Image Source: Pandit Ashwani Misra Agra) 
Water Released to Improve Its 'Environmental Condition' Ahead of Trump's Visit "Keeping in mind US President Trump's visit to Agra, 500 cusecs of water has been released from the Ganganahar to improve the environmental condition of the Yamuna. This water will reach the Yamuna in Mathura by February 20 and Agra by February 21 afternoon," the department's Superintending Engineer Dharmender Singh Phogat said.  https://www.news18.com/news/india/water-released-into-yamuna-to-improve-its-environmental-condition-ahead-of-trumps-visit-2506339.html  (18 Feb. 2020)
Earthmovers remove debris from the Yamuna bed ahead of U.S. President Donald Trump's visit, in Agra on Feb. 19.  https://www.thehindu.com/todays-paper/tp-national/tp-otherstates/operation-clean/article30866194.ece  (20 Feb. 2020) 
He doesn't really care about clean water or rivers. He has done the most harm to clean water protections in the US comments Ranjana Bhandari on FB post sharing this link. https://www.npr.org/2020/01/23/798809951/trump-administration-is-rolling-back-obama-era-protections-for-smaller-waterways  (23 Feb. 2020)
Kadambrayar; Kochi Waste dumping, salinity leaves river high and dry Kadambrayar acts as the main source of water for Infopark, Smart City, Cochin Special Economic Zone (CSEZ) and many industrial units, but it is fast getting polluted due to the dumping of waste and lack of proper cleaning drives. Adding to it, excessive growth of water hyacinths and other weeds has severely affected the water flow. Residents and environmentalists feel the river will die a gradual death if action is not taken on a war footing.
– Environmental activist Purushan Eloor alleged the state government is not taking enough measures. "Piles of waste are being dumped into the river. It'll eventually lead to the death of the river, which is the major water source for the area. Without water, the companies will have to close down. Residents too will be forced to leave, turning Kakkanad into a ghost town," he said.
– The Brahmapuram waste treatment plant (STP) is also a threat to the water body as it is not fully functional yet and waste is being dumped straight into the river. A massive cleaning drive, under the instruction of then district collector K Mohammed Y Safirulla, was held from May-November 2017 using the CSR funds of the companies working in the vicinity. https://www.newindianexpress.com/cities/kochi/2020/feb/11/waste-dumping-salinity-leave-kadambrayar-high-and-dry-2101688.html  (11 Feb. 2020) 
Fire keeps date with Brahmapuram WTP on Kadambrayar bank A major fire broke out at the Kochi corporation's waste treatment plant at Brahmapuram on Feb. 18 afternoon, leading to thick smoke clouds in the area. This is the first fire incident reported from the plant this year. On February 22 last year, a similar fire broke out at the plant and the blaze continued to rage for more than a week. The waste plant is located on Kadambrayar river bank.
-The officials said that the fire broke out in the scorching heat spread fast as the atmospheric temperature and wind fuelled it up. Tonnes of plastic waste have been burnt already and toxic smoke is billowing from the area. Local residents have raised pollution concerns and said that frequent fires will continue at the plant as summer is around the corner.
– Fire officials said that they are pumping out water from the nearby Kadambrayar as refilling the fire tenders by going back to the stations is time consuming.
– Meanwhile, the members of Vadavucode-Puthencruz panchayat, where the plant is situated, blamed Kochi corporation for the latter's failure to erect fire hydrants and create cleaves in the heap of garbage so as to prevent the fire from spreading to a large area. "After the fire in February last year, corporation created blocks of garbage. But when they continued to dump waste on each block, the tracks amidst the heaps disappeared. They have not even installed hydrants as well. We will hold a meeting to discuss when the corporation should be allowed to dump waste in the plant," said ward member Beena Kuriakose.
– Meanwhile, mayor Soumini Jain said: "We did everything possible after the fire last year. We bought three motors to pump water on the heap of waste regularly and invited tender of Rs 83 lakhs to prepare layers of crushed gravel on the lanes in the plant. But erecting hydrants is not possible. Though we have filed a complaint with the vigilance to find out the reason behind the fire incidents at the plant, there is no headway yet," she said. https://timesofindia.indiatimes.com/city/kochi/brahmapuram-plant-keeps-annual-date-with-major-fire/articleshow/74198822.cms  (19 Feb. 2020)
Adyar; Chennai DMK cadre stage protest on River bed – They claim it to be first of its kind protest by any political party for a public cause.
– On Feb. 21, DMK cadres staged a protest at the Adyar river alleging irregularities in the construction of a flood protection wall. With the river flowing as a sewage stream on one side, hundreds of DMK cadre, including women entered the river bed near Saidapet abbatoir, after navigating garbage.
– The Public Works Department (PWD) has started work to erect a flood protection wall from Jaffarkhanpet bridge upto Saidapet on the bank sides of the Adyar river. The width of the river here is shorter, when compared to other parts of the city. This area was one of the worst affected during the December 2015 deluge, former Mayor and Saidapet MLA Ma. Subramanian said.
– The government allocated ₹104 crore for constructing a flood protection wall along the banks following repeated demands from the DMK in the Assembly.
– "Though ₹104 crore was allocated, the wall is being constructed only for 875 meters by spending a mere ₹18 crore. The authorities claim that they had strengthened the banks in the remaining areas with soil from the river bed," he said alleging irregularities.
– "As per specifications, the wall should be constructed using M-sand but the contractor is using the dirty river sand. Hence the stability of wall is questionable. Moreover, water with chemical effluents is also used. The wall will not protect people during floods," he charged. https://www.thehindu.com/news/cities/chennai/dmk-cadre-stage-protest-on-chennais-adyar-river-bed/article30887920.ece  (22 Feb. 2020)
Pavana, Pimpri Chinchwad Hyacinth covers river, bank to bank PCMC is once again faced with the task of keeping the Pavana river free of hyacinth.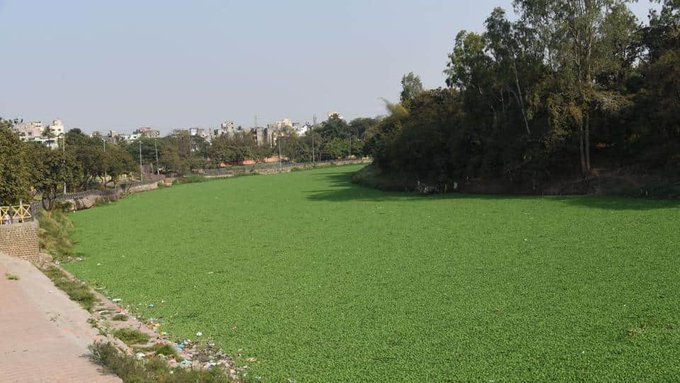 "The river from the Morya Gosavi temple across till the other side is completely covered with hyacinth and is turning into a breeding spot for mosquitoes. This is a health hazard for residents," said Gajanan Chinchwade Patil, district head, Shiv Sena. https://www.hindustantimes.com/pune-news/hyacinth-covers-pavana-river-bank-to-bank-awaiting-pcmc-action/story-4cBRzNhRReAmDyhyOHtyDP.html  (19 Feb. 2020)
Satellite image dated Feb-19-2020 shared by Pradeep Goud Macharla @Macharlazz shows Water hyacinth at the location is covering ~1.5 kms.
Ulhas, Mumbai River pollution story in numbers – 30% of the 126 MLD sewage generated daily that is treated by the Kalyan-Dombivli Municipal Corporation (KDMC) before it is released into the river. Up from 10% in 2016.
– 80% of the 80 MLD sewage treated by the Ulhasnagar Municipal Corporation. Up from 0% in 2018!
– 90% of 18 MLD treated by the Kulgaon-Badlapur Municipal Council. Up from 40% in 2016.
– 97% of waste and sewage water that is treated by the Ambernath Municipal Corporation. Untreated water continues to be released into the river. This is a significant improvement from 2016 when it was around 60%.
– Rs. 100 crore:- Amount the state government is supposed to spend on restoration of Ulhas and Waldhuni rivers, according to a 2017 ruling by the Supreme Court. https://numerical.co.in/numerons/collection/59b41b66250a41f81b6ef477 
Binwa, Baijnath Binwa turns river of garbage The Baijnath Municipal Council and the temple authorities are dumping garbage in the Binwa, a tributary of the Beas passing through Baijnath, in violation of the guidelines of the NGT. However, the district authorities seem not concerned about the situation.
– The river is a major source of drinking water in the lower areas of Baijnath and Paprola but has become highly polluted.
– Chhavi Nanta, SDM, Baijnath, said there was no place for garbage dumping in Baijnath, therefore, the Municipal Council dumps it in the river. The land allotted for a dumping site was embroiled in a dispute. She had started proceedings under Section 133 of the IPC against the MC. She said that she was not getting cooperation from locals in this regard.
– However, Ruchi Kapoor, president of Baijnath Municipal Council, tells a different story. She said that the Deputy Commissioner had transferred over 40 kanals for a garbage treatment plant and there was no dispute at all. Despite repeated requests, the revenue authorities could not demarcate land.
– The MC had floated tenders for the boundary wall of the land. The matter was also brought to the notice of the SDM and the Tehsildar but in the past six months, no demarcation was done. She added over Rs 11 crore was lying with the MC for the development of the town but had not be utilised in the past two years. https://www.tribuneindia.com/news/binwa-turns-river-of-garbage-at-baijnath-35112  (02 Feb. 2020)
Gomti, Lucknow Life giving river, becomes lifeless Fishes are very sensitive to changes in water quality. When rivers get dry or become fragmented into isolated pools, what happens to fishes and turtles? https://en.gaonconnection.com/when-life-giving-rivers-become-lifeless/  (08 Jan. 2020)
Bahini-Bharalu, Guwahati Neither sewerage, nor STPs
The Bahini-Bharalu river carries the city's untreated sewage and empties it into the Brahmaputra river. Polluted sewage also flows into an important bird sanctuary. https://en.gaonconnection.com/neither-sewerage-nor-sewage-treatment-plant-smart-city-guwahatis-bharalu-river-is-a-sewage-channel/  (22 Feb. 2020)
Northeast has 60 most polluted river stretches in country CPCB has identified more than 350 polluted stretches in the country that includes 60 from the Northeastern states, pollution in Manipur, Mizoram & Tripura localised near urban areas. These polluted stretches have high values of BOD, TSS. https://www.eastmojo.com/tripura/2020/02/17/northeast-has-60-most-polluted-river-stretches-in-country-cpcb  (17 Feb. 2020)
HYDRO POWER PROJECTS
Arunachal Pradesh SJVNL keen to tap power in Lohit basin Satluj Jal Vidyut Nigam Ltd (SJVNL) has evinced interest in tapping electricity in Arunachal Pradesh's Lohit Basin. A meeting in this regard was held between SJVNL Chairman and Managing Director Nand Lal Sharma and Arunachal Pradesh Deputy Chief Minister Chowna Mein in Delhi. Sharma requested the Deputy Chief Minister to allot the entire Lohit basin to SJVNL on BOOM (Build Own Operate Maintain) basis to study and harness the hydro potential exceeding 7,000 MW. The company also intends to mutually identify more doable projects in other river basins as Subansari, Dibang and Siang.  https://energy.economictimes.indiatimes.com/news/power/sjvnl-keen-to-tap-power-in-arunachals-lohit-basin/74275918  (24 Feb. 2020)
Uttarakhand Assessment of sedimentation and useful life of Tehri reservoir This paper deals with the computation of sedimentation rate and useful life of Tehri reservoir of Bhagirathi river, in India, using hydrographic survey analysis, Hydrologic Engineering Center's River Analysis System (HEC-RAS) modelling, satellite remote sensing (SRS) technique, and trap efficiency based empirical curve methods. The rate of sedimentation was found as 5.33 million cubic metres (MCM)/year based on hydrographic survey analysis from the data obtained for the years 2005, 2008 and 2013. Likewise, the mean annual rate of sedimentation was estimated to be 5.07 MCM/year and 5.75 MCM/year based on the HEC-RAS model and SRS techniques respectively.
– The elevation area calculation for the reservoir indicated that the submerged area of the reservoir at FRL (830 m) was 41.9 sq. km in the year 2013, compared to 42.6 sq. km in 2008, and 43.3 sq. km in 2005 according to THDC. Similarly, the elevation–volume calculation of the reservoir was observed to reduce the capacities of the reservoir at MDDL, FRL, and at an elevation of 840 m, and found to be 907.5 MCM, 3505.8 MCM, and 3973.3 MCM respectively. It was observed from Table 1 that the overall reduction rate of the inactive storage capacity, live storage capacity, gross storage capacity, and flood-area storage capacity of the Tehri reservoir between 2005 and 2013 were 1.095 MCM/year, 4.23 MCM/year, 5.33 MCM/year and 2.70 MCM/year respectively.  https://www.currentscience.ac.in/Volumes/118/03/0411.pdf 
MoEF Minutes of EAC meeting for River Valley Projects held on Jan 27, 2020. Decisions:
Dagmara Multipurpose Hydropower Project (130 MW) on Kosi River, District Supaul, Bihar by Bihar-State Hydro-Electric Power Corp For ToR. RECOMMENDED ToRC

Expansion of Tubachi-Bableshwar Lift Irrigation Scheme (CCA: 52,700 ha) in Bagalkot District of Karnataka by Karnataka Neeravari Nigam Ltd. For EC. More Info sought

Maa Ratangarh Multipurpose Project erstwhile Sindh (Seondha) Barrage project (CCA: 78,484 ha) in Datia District of Madhya Pradesh, For EC. More info Sought

Modikunta Vagu Irrigation Project in Jayashankar Bhoopalpally District of Telangana by Irrigation & CAD Dept, Telangana For EC. More info sought

Sondur Reservoir Project (12,260 ha) in Dhamtari, Chhattisgarh For EC. RECOMMENDED EC

Gunjawani Irrigation Project in Pune District, Maharashtra For amendment in EC. RECOMMENDED change

Kelo Major Irrigation Project (CCA: 22,800 ha) village: Lakha, Raigarh district in Chhatisgarh For amendment in EC. Not required. Submit info to MoEF. http://environmentclearance.nic.in/writereaddata/Form-1A/Minutes/21022020I24YMGJ230.pdf
DAMS
Odisha Additional spillway work on Hirakud dam hits roadblock Tata Projects and AGE Group of Turkey, which had been entrusted to carry out the construction work on the additional spillway of Hirakud dam, have backed out after undertaking some preliminary work, raising question mark about the project's future. Work on the additional spillway began in January 2019. The firms excavated around 4 lakh cubic metre soil and received a payment of Rs 12 crore against it. But recently they wrote to the state government saying they are withdrawing from the project owing to the delay by the government in handing over the site for construction work. The project is worth Rs 369.53 crore. The firms have even started moving away personnel from the site.   https://timesofindia.indiatimes.com/city/bhubaneswar/additional-spillway-work-on-hirakud-dam-hits-roadblock/articleshow/74215382.cms  (20 Feb. 2020)
Andhra Pradesh NGT seeks report within a month on ECs to lift irrigation schemes NGT has directed the Environment Appraisal Committee of MoEF&CC, CPCB and other concerned departments to submit a report within four weeks of convening a meeting discussing if environmental clearances (ECs) were required for Purushottapatnam, Pattiseema and Chintalapudi Lift Irrigation Schemes (LISs). The tribunal also expressed its ire at MoEF for reportedly making contradictory statements on the matter. The bench, headed by AK Goel, heard the matter in New Delhi on Thursday in which the MoEF submitted that separate ECs for the LISs were required if Polavaram canal was used and that the national project's EC would suffice if canal was not used.
– The counsel representing the petitioners, Sravan Kumar, argued that the projects were designed and executed without any scientific study. He contested that if they were temporary projects, as being claimed by the State, then why did the State not care about the permanent damage caused to the farmers. "Even after three years of taking the lands, by force, compensation has not been paid," Sravan Kumar argued. In the affidavit filed by the Union Ministry of Water Resources, it was made clear that Pattiseema and Purushottapatnam schemes were not part of Polavaram project and that the Centre would not bear costs pertaining to them. https://www.newindianexpress.com/states/andhra-pradesh/2020/feb/21/environmental-clearance-for-lift-irrigation-schemes-in-andhra-ngt-seeks-report-within-four-weeks-2106482.html  (21 Feb. 2020)
Maharashtra Govt set to restore excess water supply from dam to Pawar's home turf In another significant reversal of a decision taken by the previous Devendra Fadnavis regime, the Shiv Sena-NCP-Congress government is set to overturn a move to cut off water supply from the left bank canal of the Nira-Deoghar dam to Baramati, the pocketborough of NCP president Sharad Pawar. https://indianexpress.com/article/cities/mumbai/maharashtra-govt-set-to-restore-excess-water-supply-from-dam-to-pawars-home-turf-6274869/  (19 Feb. 2020)
Telangana Tough times ahead; with the water storage in the Singur reservoir remaining low, residents have started feeling the pinch of summer, thanks to rationed supply of drinking water even before the onset of the season. (Image- Nagara Gopal/ The Hindu) https://www.thehindu.com/todays-paper/tp-national/tp-andhrapradesh/summer-comes-early/article30893198.ece  (23 Feb. 2020)
"Kaleshwaram project Link-1 satellite Imagery comparison(Feb 2019 vs Feb 2020). 3 new barrages at Medigadda,Annaram & Sundilla securing atleast 25 TMC of water besides many TMC's of water which is being diverted downstream using gravity canals & mega pumps." https://twitter.com/Macharlazz/status/1231786679461126144
INTERLINKING OF RIVERS
How Farakka barrage & govt's river linking project can sink Ganga-Brahmaputra-Meghna delta This highlights less known impacts of Dams on deltas, besides the climate change. https://theprint.in/environment/how-farakka-barrage-govts-river-linking-project-can-sink-ganga-brahmaputra-meghna-delta/366574/  (18 Feb. 2020) 
INTERSTATE WATER DISPUTES
Mahadayi Water Dispute SC passes interim order on Mahadayi tribunal's award  The Supreme Court on February 20, passed an interim order allowing an application by the State of Karnataka to notify the Mahadayi Water Dispute Tribunal's award. The implementation of the award would, however, be subject to the final judgment of the Supreme Court in the civil appeals filed by Karnataka, Goa and Maharashtra, challenging the allocation of water from the Mahadayi river among them. https://www.thehindu.com/news/national/sc-passes-interim-order-on-mahadayi-tribunals-award/article30873425.ece  (20 Feb. 2020)
Following this, opposition parties in Goa have slammed the BJP government in the state for failing to protect its interests over the river Mahadayi in backdrop of a Supreme Court ruling.  https://www.theweek.in/wire-updates/national/2020/02/21/bes32-ga-mahadayi-oppn.html  (21 Feb. 2020)
In Karnataka, the Water Resources Minister Ramesh Jarkiholi said the state government will get the necessary approvals from concerned authorities, and take up work on the project. He said they have already got approval from the environment department for the drinking water scheme, but are yet to get approval from the Central Water Commission and the Forest Department. https://www.newindianexpress.com/states/karnataka/2020/feb/21/mahadayi-joshi-asks-jal-shakti-minister-to-take-follow-up-action-2106412.html  (21 Feb. 2020)
IRRIGATION
Odisha Irrigation worries for Koraput farmers Even as the Irrigation wing has decided to release water for irrigation from January 2, the silted and damaged canals are yet to be cleaned or repaired by Upper Kolab Irrigation Project authorities. And at some places, the canals are covered with unwanted vegetation. Unless cleared, farmers said, water will not reach tail ends of different distributary systems under Upper Kolab project.
– For the rabi crop season, as per the guidelines of the Water Resources Department, the Upper Kolab project officials release water to irrigate about 25,000 hectares of land in Jeypore, Kotpad and Borrigumma pockets. In the last apex committee meeting of the project, it was decided that before releasing of water, all the canals in Jeypore, Kundra, Borrigumma and Kotpad ayacut areas would be cleaned and repaired for smooth flow of water to tail ends. However, work has not started yet.
– Farmers in Dhanpur, Padmapur, Batasana, Dhamanahani, Kotpad and Kusumi said the project's canals in their areas have not been cleaned and repaired as a result of which, flow of water will slow down posing threat to paddy crops. A junior engineer of Dhanpur distributary said there are no funds for repairing the canals. https://www.newindianexpress.com/states/odisha/2020/jan/01/irrigation-worry-for-koraput-farmers-2083363.html  (01 Jan. 2020)
RIVERS
नदी बदलतेय, आपण कधी बदलणार? Parineeta Dandekar's Marathi article in Loksatta on Feb 22, 2020 focussing on how better dam operation can help reduce floods in downstream area rather than create a flood disaster.  https://www.loksatta.com/bara-gaoncha-pani-news/rivers-are-changing-rivers-crossed-highest-flood-level-flood-in-maharashtra-rivers-zws-70-2091250/  (22 Feb. 2020)
National Experts call for national river policy Outcome of the recommendations of Rivers for Future Conference. https://www.thehindu.com/news/cities/Thiruvananthapuram/experts-call-for-a-national-river-policy/article30884176.ece  (22 Feb. 2020)
Manipur As Railway Line Grows, Ejei River Fighting for Survival Despite peoples effort to hold the government accountable, the damage caused by the project has received very little attention from the local and national news media. Instead, much of the local media's focus has been on the construction of bridge 164, which, at a proposed height of 141 metres, is touted to be the tallest girder bridge in the world and a potential tourist attraction.
– In the three years since Tingenlung took on the fight to save the river of his childhood, he relocated to Imphal. He hopes that the NGT case is transferred to the principal bench in New Delhi. Tingelung's lawyer Aindreela Chakraborty says that she had been struggling – with no success – to get the Kolkata bench to schedule a hearing via video conferencing with the principal bench in New Delhi, which hears zonal cases on an ad hoc basis.
– Today, with no Eastern bench appointed and the case marked "disposed" on the NGT's website, the last door for environmental accountability and justice certainly appears to be shut for the Ejei river. https://thewire.in/environment/manipur-ejei-river-railway-line  (24 Feb. 2020)
Kerala About second phase of Killiyar river cleaning initiative Killiyar, a tributary of Karamana River, originates from Panavur in Nedumangad, and flows through Thiruvananthapuram city.
-The Killiyar Cleaning Mission began in 2018 after a detailed survey. Its second phase named 'Karakaviyathe Killiyar' (Killiyar without overflow) began at 8 am on Feb. 14 and lasted till afternoon. It was allocated a budget of Rs 50 lakh. According to Tourism Minister Kadakampally Surendran, who participated in the drive, 25,000 people volunteered to clean up the river in the second phase.  https://www.thenewsminute.com/article/over-25000-volunteers-participate-second-phase-killiyar-river-cleaning-kerala-118234  (15 Feb. 2020)
CAUVERY Tamil Nadu Assembly introduces Bill to declare delta a protected agricultural zone The proposed PSAZ (Protected Special Agricultural Zone) would comprise of Thanjavur, Tiruvarur and Nagapattinam districts and five blocks each in Cuddalore and Pudukkottai districts. These areas have been listed under the First Schedule of the Act, to which the government may add or omit any area in the future.
– The government has identified zinc smelter, iron ore process plants, copper smelter, aluminium smelter, tannery, and ship breaking industries among others as industries that adversely affect agriculture developments in the PSAZ. This list in the Second Schedule of the Act too, is subject to omission and addition subsequently.
– Nothing contained in the legislation shall affect the activities or projects in operation in the protected agriculture zone before the date of coming into force of this Act, one of the provisions of the Bill, stated.
– The legislation would not affect infrastructure developments in the protected agricultural zone such as harbour, pipelines, road, telecommunications, power, water supply and other utilities.  https://www.thehindu.com/news/national/tamil-nadu/tamil-nadu-assembly-introduces-bill-to-declare-cauvery-delta-a-protected-agricultural-zone/article30869074.ece  (20 Feb. 2020)
The salient features of the Bill:- https://www.thenewsminute.com/article/5-things-know-about-act-declaring-cauvery-delta-protected-agricultural-zone-118604  (20 Feb. 2020)
GANGA New Book Excerpt from 'Superhuman River: Stories of the Ganga' by Author, Bidisha Banerjee:- Before the Ganga was a human being, she/they were many other beings, animate and inanimate, young and old, life-giving and sometimes unfathomably menacing: a tree; a pot; a dashing woman holding a pot; a snake; half woman, half snake dancing in Shiva Nataraja's dreadlocks; full woman dancing in Shiva's dreadlocks on the male half of the body of Ardhanarishwar, who is depicted as half female; an adolescent led by the sage Bhagirath; a fertile goddess who birthed Kartikeya, the god of war; one who lounged under a lotus umbrella; a river dolphin gracing the lintel of a palace; a doorpost; a crocodile with a child in its mouth under the wheel of time.
-Time and water are both flowing faster. For millennia, most of the rain in the subcontinent has fallen within one hundred stormy hours during the three-month monsoon season in northern India. With each passing year, more rain falls within a shorter time span. According to the World Economic Forum, out of sixty-seven surveyed countries, India is the most vulnerable to climate change.
– As peak rainfall becomes more intense, landslides – already an existential threat to thousands of mountain villages – will become more common. The monsoon crops, chief among them rice, will be alternately drowned and starved, and the summer crops will die if more irrigation cannot be drawn from the limited water table. But a lot of solutions exist.
– Through this troubled landscape winds the mighty river, now glimmering, now dull, now out of sight. Each day, with our excreta, our disavowal of balance and responsibility and our acceptance of the legacy of industrialisation, we are writing a dark chapter in the biography of this ancient goddess, the eternal life force, the Ganga River.  https://scroll.in/article/953556/what-or-who-is-the-ganga-bidisha-banerjee-travelled-the-length-of-the-river-to-write-this-book  (19 Feb. 2020)  
Hindon Villagers again on Feb. 18, 2020 complained of industrial effluents being dumped into Hindon river. They have been raising the issue over the past one year. The pollution level has gone worse. They say their health, cattle, crops all are severely affected as river pollution has also reached groundwater level. https://www.facebook.com/sandrp.in/videos/214138116389445/?t=0 
73 Number of grossly polluting industries in Saharanpur Division, spitting effluents into the Hindon river. State and central pollution control boards have miserably failed in checking pollution. Split by industry type.  https://numerical.co.in/numerons/collection/5e50caf5545c9d1c18f23471
RIVERS BIODIVERSITY
Report Researchers trying to shed light on Fishing cat Old but interesting, informative report on little understood habitats and habits of fishing cats found along rivers, wetlands across country. https://scroll.in/article/901975/fishing-cat-researchers-are-trying-to-shed-light-on-the-little-known-felines-that-swim-for-food (27 Nov. 2018) 
Hunting, poaching biggest threats to migratory birds Based on CMS report The preliminary assessment showed that 96% of all the species listed under Appendix 1 of the CMS face these threats. Of all the 173 species included in the appendix, 98% of the mammals, 94% of the birds and 100% of the reptiles and fish, respectively, are facing extinction because of hunting and poaching, the report showed.  https://www.hindustantimes.com/india-news/hunting-poaching-biggest-threats-to-migratory-birds-according-to-report/story-hK78Pg6yrNvtdmPQoVbVTJ.html  (20 Feb. 2020)
FISH, FISHERIES, FISHERFOLKS
Maharashtra Special drive to destroy breeding centres of Thai Mangur fish Govt has launched a special drive to destroy the cultivation centres of the exotic Thai Mangur fish. The decision is the outcome of a meeting held last week between fish traders and officials of the Maharashtra fisheries department headed by Minister Aslam Shaikh.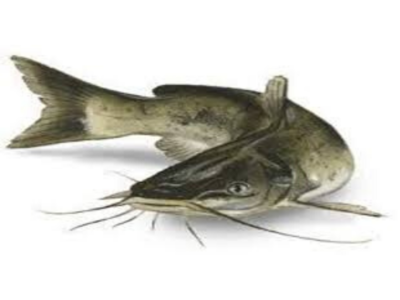 – After a detailed review of the situation, Shaikh has ordered a ban on sale of Thai Mangur fish and asked officials to destroy its breeding centres, officials said. "The fish is popularly known as Thai Mangur or African Mangur or foreign Mangur, as appearances is somewhat like fresh water Mangur. "But the Thai Mangur is cultivated in highly unhygienic conditions, which may lead to people falling sick after consuming it," said an official from the fisheries department.
– "NGT banned it in 2000 and a fresh order was also issued regarding the same in January last year. Unfortunately, it was not implemented effectively," he said. "The state fisheries department has now decided to carry out a drive to destroy its cultivation centres," he said.
– So far, the state government has destroyed stocks of some 32 tonnes of Thai Mangur – three tonnes in Sakoli (Bhandara district), 15 tonnes in Bhiwandi (Thane dist), eight tonnes in Indapur and six tonnes in Shikrapur (both in Pune district). "The action will continue as we learn about more such cultivation centres," said the official. https://mumbaimirror.indiatimes.com/mumbai/other/maharashtra-government-launches-special-drive-to-destroy-breeding-centres-of-thai-mangur-fish/articleshow/74244881.cms  (21 Feb. 2020)
SAND MINING
Rajasthan Illegal mining rampant; should be stopped: SC Illegal sand mining, which could cause irreparable damage to the environment, is rampant in Rajasthan and should not be allowed to continue, a dismayed Supreme Court said on Feb. 19, ordering a Central Empowered Committee (CEC) to look into the issue and suggest preventive measures. The CEC, the court said, should consider the views of sand miners, consumers, transporters and other stakeholders and submit a report to the court within six weeks. "It would be necessary for the CEC to go into illegal mining and suggest preventive measures for stopping illegal mining," the order said. "We find that it is not disputed that illegal sand mining is rampant in Rajasthan. This cannot be allowed to continue. We, therefore, direct the state, collectors and superintendent of each district to take steps to stop illegal mining," the order said.
– The order was passed during the hearing of appeals against a 2019 Rajasthan high court judgment, which had turned down a plea by holders of letter of intent (LoI) challenging conditions mandated by the Rajasthan government for obtaining mining leases.The LoI had stated the government's in-principle intent to grant them mining licences.
– The Rajasthan government had, on February 28, 2017, brought into force the Rajasthan Minor Mineral Concession Rules. These rules provided that the conditions specified in an LoI for obtaining mining leases should be fulfilled within a period of one year from the date of commencement of the rules, failing which the rights of LoI holders would be forfeited.
– The LoI itself was issued to mining firms in 2012 subject to them fulfilling certain conditions which included procurement of environmental clearance (EC) from the Union ministry of enviro
– However, the top court, by its November 2017 order, restrained all the 82 LoI holders from carrying out mining of the sand unless the replenishment study was completed and EC granted or rejected. https://www.hindustantimes.com/india-news/sc-illegal-sand-mining-rampant-in-rajasthan-should-be-stopped/story-frkeaGaD8gix4SO935um2H.html  (20 Feb. 2020)
Haryana मंत्री मूलचंद शर्मा का विज को पत्र– हरियाणा में पुलिस की छतरी के नीचे हो रहा अवैध खनन हरियाणा के खनन एवं परिवहन मंत्री मूलचंद शर्मा कई दिनों की छापेमारी के बाद इस नतीजे पर पहुंचे कि पुलिस की मिलीभगत से ही राज्य में अवैध खनन का काम हो रहा है। खनन मंत्री ने इस बात की जानकारी देने के लिए गृह मंत्री अनिल विज को पत्र लिख दिया। साथ ही मूलचंद शर्मा ने पत्र में विज से अनुरोध किया है कि अवैध खनन को रोकने के लिए उनका सहयोग जरूरी है। https://www.jagran.com/haryana/panchkula-illegal-mining-under-umbrella-of-police-in-haryana-said-minister-moolchand-sharma-to-anil-vij-in-letter-20038328.html  (17 Feb. 2020)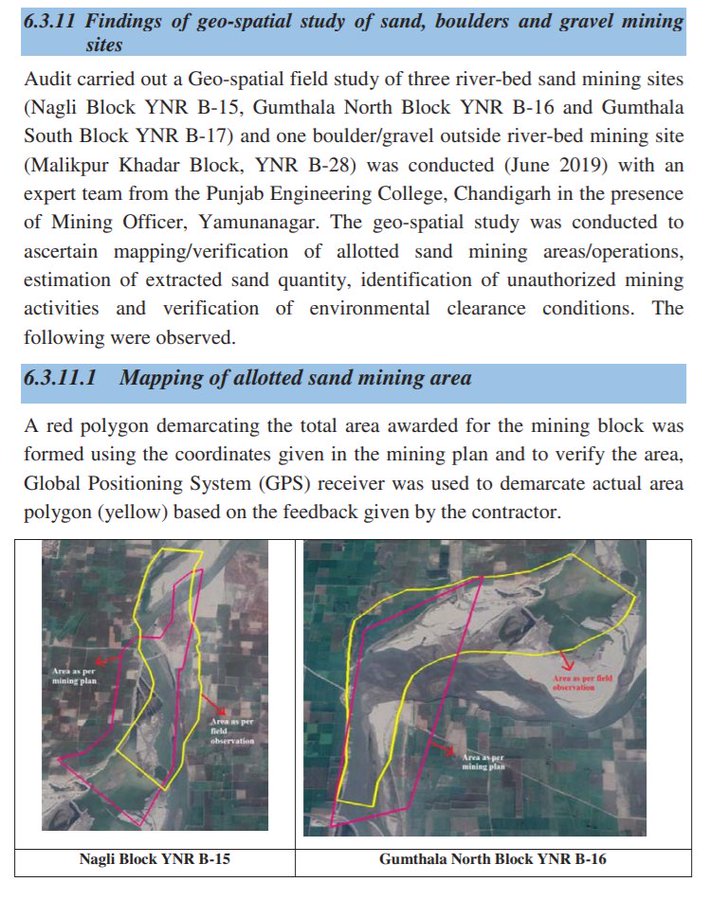 In Nov 2019, CAG raised many pertinent issues.
-Confirms large scale illegal mining.
-Losses of crores in revenue.
-Severe impact on Yamuna floodplain.
-Poorly equipped govt etc. https://cag.gov.in/sites/default/files/audit_report_files/Report_No_4_of_2019_Revenue_Sector_Government_of_Haryana.pdf 
Andhra Pradesh Experts panel to verify govt report NGT has constituted a team of experts to verify the report submitted by the state government on the damage to the ecosystem of the Krishna due to free sand mining. The report defended de-silting (dredging) from the river, and sought dismissal of the petition against it.
– The NGT's principal bench, led by its Chairman Justice Adarsh Kumar Goel, however, constituted the committee, comprising representatives of the Expert Appraisal Committee of the Ministry of Environment and Forests, Central Pollution Control Board, and IIT Dhanbad and Bangalore.
– The NGT gave the committee two months' time to verify the report, validate the observations made, and posted the matter for hearing on May 13. https://www.thehindu.com/todays-paper/tp-national/tp-andhrapradesh/expert-panel-to-verify-govt-report-on-sand-mining-in-the-krishna/article30826527.ece  (15 Feb. 2020)
WETLANDS, LAKES, WATER BODIES
National SC admits petition challenging new rules for wetlands The Supreme Court on Feb 20, 2020 issued notices to the Centre admitting a plea challenging the constitutional validity of Wetlands (Conservation and Management) Rules, 2017. The SC bench comprising justice Deepak Gupta and justice Aniruddha Bose issued notices to the Union environment ministry and ministry of law and justice based on a writ petition filed by Vanashakti, a non-government organisation (NGO). The writ petition, presented before the apex court on Feb 17, 2020, sought striking down of the wetland rules in its entirety, and urged the court to inventorise and protect 2,01,503 wetlands of more than 2.25 ha in size covered in the National Wetland Atlas (India) — developed by the Space Applications Centre, Ahmedabad under the Indian Space Research Organisation (ISRO) in 2011.
– Vanashakti's petition challenged the rules on the grounds that it arbitrarily excludes a number of wetlands and that it allegedly gave unfettered powers to the Centre to carry out reclamation and destruction of wetlands as per its own discretion. The plea also challenges the Centre's delegation powers to states to conduct a fresh wetland identification exercise. "The 2017 Rules drastically dilute the 2010 rules and makes the current laws a toothless legislation having no real protective measures. Protection of all of our last remaining wetlands is the dire need of the hour," said Zaman Ali, counsel representing Vanashakti. The writ petition shall be heard along with other matters concerning wetlands pending since 2001, the SC said.  https://www.hindustantimes.com/mumbai-news/supreme-court-admits-petition-challenging-new-rules-for-wetlands/story-yvGpsU9y7weY0jX3zYJBAO.html  (21 Feb. 2020)
Maharashtra Show cause notice to undersecretary for giving incorrect data on wetlands While hearing Vanashakti PIL, Bombay High Court on Feb. 18 issued a show cause notice to Joy Thakur, an undersecretary in the State Environment Department, asking him why contempt proceedings shouldn't be initiated against him for putting forth incorrect information about wetlands in state. The PIL claimed that no action was taken against builders who indiscriminately reclaimed lands and dumped debris on wetlands and mangroves, which violated the rules of the Environment Protection Act.
– Mr. Thakur had filed an affidavit in which he had stated that there were 803 wetlands in the three districts of Nagpur, Nandurbar and Parbhani while the district collectors had said that there were no wetlands in their jurisdiction. Based on the affidavit, the HC had summoned the collectors. While appearing before the Bench last week, the three collectors said that there were no wetlands in the districts. Following this, the HC asked Mr. Thakur for an explanation on his false statement.
– On Feb. 18, Mr. Thakur filed another affidavit which stated that the numbers depicted in the early affidavit were only of the number of sites visited, and not the number of wetlands. The court found the explanation unacceptable and asked the government pleader, P.P. Kakade, to check if Mr. Thakur was willing to pay a fine of ₹1 lakh for wasting the court's time and also of the three responsible officers.
– Mr. Thakur's earlier affidavit had said that the wetland atlas published by the space application centre in January 2010 showed 44,714 wetlands in Maharashtra. However, after the change in definition of a wetland, the number had come down to 15,865. The Bench had earlier directed the State against any reclamation or construction on areas identified as wetland.  https://www.thehindu.com/news/cities/mumbai/show-cause-notice-to-undersecretary-for-giving-incorrect-data-on-wetlands/article30855345.ece  (19 Feb. 2020)
Kerala Rarely seen strawberry finch spotted at Akkulam Lake  The strawberry finch, a beautiful bird rarely seen in the State, especially south Kerala, has been spotted in the vicinity of Akkulam Lake. Locally known as Kumkumakuruvi, this sparrow-sized bird of the family Estrildidae was spotted by two bird watchers Anoop Palode and Suraj Choodal of the Swasthi Foundation.
– The spotting of the Strawberry Finch, also called Red Avadavat or Red Munia, highlights the urgent need for conservation and protection of Akkulam Lake. Uncontrolled urbanisation in the area and pollution have been posing a huge threat to the lake.
– A report on the aquatic biology of the lake says conversion of the shoreline into residential areas and restaurants has resulted in observance of very high abundance of invasive bird species such as house crows and common mynas. This could affect other species such as the little egret by predation and competition and lead to homogenisation of species diversity in the lake ecosystem. https://www.thehindu.com/news/cities/Thiruvananthapuram/rarely-seen-strawberry-finch-spotted-at-akkulam-lake/article30855102.ece  (19 Feb. 2020)
Greens weary of saline incursion in Ashtamudi lake The Ramsar wetlands facing severe threats from saltwater incursion, invasion of marine species and decline in fresh water flow from Kallada dam.
– With a considerable dip in the piscean population and its clam beds shrinking fast, the protected Ramsar site of Ashtamudi is already a matter of serious concern for environmentalists and authorities alike.
– Over the years, the salinity of the water has steadily increased, mainly owing to the blocked inflow of freshwater after the construction of the Kallada dam.
– Another major threat faced by Ashtamudi now is the presence of an invasive bivalve from South America. It started appearing in Vemband during early 2019 and currently it has colonised many creeks in Ashtamudi. The bivalves are around two centimetres long with very little meat, but they have been monopolising and altering the habitat.
– The variation in salinity level and the presence of invasive species can also affect the fish sanctuaries being set up in Ashtamudi and Vembanad by the Fisheries Department as part of a project to revive the inland fisheries sector. The department had identified a number of sites to conserve pearl spot and yellow clam, but the recent changes in the habitat may not be ideal for fish seed ranching and clam relaying. https://www.thehindu.com/news/national/kerala/greens-weary-of-saline-incursion/article30786037.ece  (10 Feb. 2020)
Rebirth of dying Vembanad in sight with new court orders The Maradu demolitions and the subsequent judicial scrutiny of the violations on Vembanad are giving hope of a possible rebirth of the lake.  https://www.thenewsminute.com/article/rebirth-dying-vembanad-lake-sight-new-court-orders-118436  (18 Feb. 2020)
A look at health of the ecosystem and conservation challenges faced by Ashtamudi, Sasthamcotta lakes and Vembanad-Kole wetlands, the three Ramsar sites of state. https://www.thehindu.com/news/national/kerala/withering/article30786059.ece  (10 Feb. 2020)
The situation was equally worse in 2015. https://www.thehindu.com/news/cities/Thiruvananthapuram/wetlands-are-being-gobbled-up/article6847075.ece  (02 Feb. 2015)
Irfan Rashid on FB post comment The wetlands are withering India wide, however, the scenario is much worse in J&K where even the wetland extents (Ramsar and otherwise) have not been demarcated. There are no ecozonation plans either which might have helped in checking the anthropogenic interference. The wetland catchments have recklessly been urbanized over the last 4 decades. The capital city of Srinagar has lost more than 50% of its wetlands over the century. This has not only increased the vulnerability of people to floods (like what was experienced during 2014 mega flood) but also earthquakes given the fact that concrete jungle has come up on areas that traditionally used to be wetlands. Even the master plan of Srinagar city permits infrastructure development in areas located towards the south Srinagar which are currently wetlands. This is compounded by the political conflict and land mafia.
Tamil Nadu Celebrating the Ennore-Pulicat wetland system "The Ennore-Pulicat wetland system can't be slotted into our usual divisional categories of ecosystems. There are coastal dunes, backwaters, salt pans, mudflats, mangrove forests, tropical dry evergreen forest and scrub jungle. The salinity in the Pulicat lagoon created by barrier islands is known to hit an incredibly low number during the monsoon due to freshwater inflows. And the diverse elements come together in a rare mix of land, water and vegetation," says naturalist M Yuvan, also a volunteer-guide.
He adds, "Kosasthalaiyar river breaks into various distributory streams, meeting the backwaters, and the gradient from freshwater to brackish water is gradual. Therefore, there is a continuum of ecologies and livelihoods based on them. Fishing is a broad term encompassing many local economies."
"Beyond the fishing in the Pulicat lagoon or in the sea, there are many others to be considered. There are people who catch only lugworms in mudflats. These are bought by fishermen to be used as bait. During low tide, there are 'fishermen' who walk under the tide line, and catch mole crabs, feeling their stir under their feet. In the backwaters and shallow tidal flats, some groups catch only oysters and clams," he continues.
– "The Pulicat lagoon is protected and it forms the heart of the eco-system, but to protect it more meaningfully is to also protect what lies before it, as it forms a buffer between the industrial section and the lagoon," says Naturalist Vikas Madhav, another volunteer-guide. https://www.thehindu.com/news/cities/chennai/in-the-ennore-pulicat-wetlands-livelihoods-depend-heavily-on-the-areas-biodiversity/article30851988.ece  (18 Feb. 2020)
Odisha Coastal erosion refugees keep returning to their old homes How man made, climate change induced coastal erosion have been displacing traditional fisherfolks, villagers and contaminating groundwater sources in Bhitarkanika National Park areas in Kendrapada district. Govt's rehabilitation work has not proved effective. https://scroll.in/article/905954/this-area-is-doomed-so-are-we-why-odishas-coastal-erosion-refugees-keep-returning-to-old-homes  (23 Dec. 2018)
Book "WETLANDS OF THE INDIAN DESERT: ECOLOGY AND BIODIVERSITY" is released as a testimony of four decades of research and findings on the ecology and biodiversity of the wetlands of the Indian desert. http://desertlimnology.wikifoundry.com/page/Wetlands+of+the+Indian+Desert
GROUNDWATER
West Bengal Drinking water in Bengal basin contains high amounts of toxins: Study Groundwater as well as river water in the western Bengal basin has high concentrations of pesticides and toxic polycyclic aromatic hydrocarbons (PAH), a study authored by a group of scientists from the IIT, Kharagpur has revealed.
– The researchers tested hundreds of samples, both of groundwater and river water, which is used for drinking water supply from the Farraka Barrage to the Sunderbans, and found these chemicals in significantly higher amounts than permissible limits.  https://www.thehindu.com/news/cities/kolkata/drinking-water-in-bengal-basin-contains-high-amounts-of-toxins-says-study/article30845490.ece   (18 Feb. 2020)
Punjab Just 60% Punjab groundwater fit for use Almost half of the groundwater in Punjab is unsafe and contaminated with hazardous chemicals, heavy metals and radioactive material. And in the absence of any remedial steps by the government, the remaining safe groundwater is depleting at a rapid pace. These facts have come to the fore in the first-ever audit report on Punjab's groundwater prepared by the Comptroller and Auditor General (CAG).
– According to sources in the Department of Water Resources, the 26-page report will be tabled in the upcoming Budget session of the Punjab Vidhan Sabha from Feb. 20.
– The CAG report says 40 per cent of the groundwater in the state is contaminated with chemicals and heavy metals beyond permissible limits. While 10 per cent of it is unsafe even for irrigation purposes, 30 per cent is marginally to moderately saline/alkaline, but can't be used by humans.- Not adhering to the Bureau of Indian Standards norms, it was found that in 16 districts, fluoride was above the permissible limit (which is 1.5 mg in 1 litre); in 19 districts, nitrate (was above 45 mg in one litre); in six districts, arsenic (was above 0.05 mg) and in nine districts, iron (was above 1.0 mg).
– The CAG noted that Punjab has the maximum percentage of wells showing depletion in groundwater and figures among the top 10 worst-affected Indian states (pre-monsoon data 2018).
– Punjab is extracting water from the ground at the highest speed in the country. The report has found that groundwater extraction has increased from 149% in 2013 to 165% 2018. Going into the reason, the CAG has noted that paddy sowing is the main culprit. https://www.tribuneindia.com/news/just-60-punjab-groundwater-fit-for-use-43185  (17 Feb. 2020)
Bihar Dip in water table The water table should be compared with the same period last year, which is not available in this report. The table is expected to dip between Aug and Feb, the quantum can only be compared the same last year, but these figures are not available.
– Kumar Arun Prakash, special secretary of the Minor Water Resources Department, said, "But we have initiated several measures under the Jal, Jeevan, Hariyali mission to improve the water table. An exercise to remove encroachment from water bodies and clear them of silt is being conducted on a mass scale and the results could start showing from next year." Under the mission, about 3,000 ponds are being cleaned and over 2,000 checkdams have been planned in small rivers. These are part of the mission due for completion in 2022.  https://indianexpress.com/article/india/report-shows-sharp-dip-in-water-table-across-bihar-6280413/  (22 Feb. 2020)
URBAN WATER
SANDRP Blog Open letter on Bengaluru's Bellandur & Varthur Lakes' Rejuvenation "We are very glad that Karnataka Government is working hard under the ambit of NGT to rejuvenate Bellandur and Varthur Lakes. While we wholeheartedly thank you, for all your efforts to save the lake, we would also like to join hands with you. We are putting forth some feedback on the process of rejuvenation. By doing that, we sincerely hope that the government will pause to assess the effectiveness of the actions taken so far and adjust future actions, in collaboration with citizens." https://sandrp.in/2020/02/24/open-letter-on-bengalurus-bellandur-varthur-lakes-rejuvenation/  (24 Jan. 2020)
Bengaluru Munirathana's wall brought down before construction "The court had brought a stay order when the BBMP had proposed to build a statue by creating an island in Begur lake. The officials should remember that the lake is not a tourism destination or a park. Lake is meant to recharge ground water and receive flood water," https://bangaloremirror.indiatimes.com/bangalore/others/munirathnas-wall-brought-down-before-construction/articleshow/74249589.cms  (22 Feb. 2020)
Proposal for toy train track around Bengaluru lakes draws ire The Karnataka High Court had recently stayed a proposal to install a 20-feet Shiva statue in the middle of Begur lake. The two-part N.K. Patil report on lakes, part of a 2012 High Court order, stipulates that even a walkway should not be built on the bund of a lake as concretisation affects the flow of water into and out of the lake. https://www.thehindu.com/news/cities/bangalore/proposal-for-toy-train-track-around-bengaluru-lakes-draws-ire/article30884486.ece  (22 Feb. 2020)
Chennai Residents of Madhavaram demand Thanikachalam Nagar drain be restored as a flood water carrier For five years now, residents living along Thanikachalam Nagar drain, Madhavaram, have not opened windows in their houses, because of a stench of sewage and the menace of mosquitoes. Residents complain that the surplus course from Retteri lake has turned into a sewage carrier over the past few years. The two-km long canal was formed about two decades ago to mitigate flooding in Kolathur, Thanikachalam Nagar and neighbouring areas. It carries excess water from Retteri, travels through United India Colony, Kolathur and 18 colonies in Thanikachalam Nagar, including Balaji Nagar and Kumaran Nagar before joining Captain Cotton Canal near Moolakadai.
– Members of the Federation of Thanikachalam Nagar Residents' Welfare Associations recalled that nearly 17 feet of space was acquired from the 40-ft road to form the canal two decades ago. Residents had signed for the project as it would reduce flooding. But now, the canal is more of a sewage carrier as raw sewage is being pumped into the canal from Anjugam Nagar, Kolathur. Residents complained that Chennai Metrowater released sewage into the canal twice a day citing insufficient capacity that caused bursts in pipelines. Direct discharge of sewage is evident in many locations of the canal, the residents said.
-M. Damodaran, former president of Swami Ramalinga Colony Residents' Welfare Association, said the canal runs along the compound wall of many houses. "We don't have space for parking vehicles and have to cross a small path to reach our house from the road. Relatives avoid visiting our houses fearing health hazards and stench. We agreed for the construction of the canal as it was to convey flood water during monsoon. Several complaints have been made to arrest sewage discharge into the canal," he said.
-Officials of the Water Resources Department said improvement works of Thanikachalam Nagar drain, which carries flood water from Retteri lake and Kolathur, have been included in the ₹3,000 crore proposal for permanent flood mitigation. Besides repairing retaining wall and desilting the canal, work would be taken up to arrest sewage. Metrowater has also started work to improve capacity of sewer network and the release into the canal would be stopped soon, officials said. https://www.thehindu.com/news/cities/chennai/residents-of-madhavaram-demand-thanikachalam-nagar-drain-be-restored-as-a-flood-water-carrier/article30828400.ece  (15 Feb. 2020)
Hyderabad Water board to seek 3K cr for new STPs After nearly a decade, the fund-starved Hyderabad Metropolitan Water Supply and Sewerage Board (HMWS&SB) has sought financial assistance of Rs 3,000 crore from the National River Conservation Directorate (NRCD), for the construction of 65 new STPs proposed under a comprehensive sewerage master plan (SMP) formulated a couple of years ago. Between 2005 and 2009, the water board had built four STPs at Amberpet, Nagole, Nallacheruvu and Attapur with a capacity of treating 592 MLD of sewage with the help of NRCD phase-I funds.
-Telangana government had directed the water board to prepare a detailed project report (DPR) for implementation of a master plan exclusively for the city's sewerage system, GHMC peripheral circles and Outer Ring Road (ORR) areas.
As per the DPR, which was sent to Municipal Administration & Urban Development (MA&UD) minister KT Rama Rao for approval, the cost of works under the proposed master plan is estimated to be around Rs 15,000 crore.
– The water board is also likely to urge the MA&UD department for allotment of funds in the next budget for other infrastructure works like laying of sewer inlet and outlet mains and construction of interception and diversion (I&D) structures under the sewerage master plan. "It will take atleast five years to complete the implementation of the master plan," said a water board official. https://timesofindia.indiatimes.com/city/hyderabad/water-board-seeks-rs-3k-cr-from-centre-for-new-stps/articleshow/74107446.cms  (13 Feb. 2020)
WATER
Jal Shakti Elets and Ministry of Jal Shakti to organize National Water Innovation Summit on March 27 Elets Technomedia Pvt Ltd, in association with the Ministry of Jal Shakti, Government of India is organising National Water Innovation Summit on March 27, 2020 in New Delhi. The key speakers are Naveen Mahajan, Secretary, Indira Gandhi Canal Agriculture Command Area, Development and Water Utility, Government of Rajasthan; Shalini Agrawal, Collector & District Magistrate, Vadodara, Government of Gujarat; Heera Lal, Collector & District Magistrate, Government of Uttar Pradesh; Mayur Dixit, Chief Development Officer, Udham Singh Nagar, Government of Uttarakhand and Anil Joshi, Founder, Himalayan Environmental Studies and Conservation Organization (HESCO) among others.   https://egov.eletsonline.com/2020/02/national-water-innovation-summit-2020/  (20 Feb. 2020)
Maharashtra Mission Jalyukta Shivar shelved Minister for Water Resources, Jayant Patil, cited 'substandard' work carried out under Jalyukta Shivar, the flagship water conservation project launched by previous Devendra Fadnavis-led BJP government. Five years hence, the project has been officially scrapped by the Maha Vikas Aghadi government.
– The NCP and Congress had alleged that work to the tune of Rs 200 crore was carried out inappropriately. Jayant Patil, too, reiterated that, along with improper fund allocation during the final leg of the scheme, substandard quality of work was carried out during the last three years. Soon after the Maha Vikas Aghadi came to power towards the end of 2019, steps to wind up the project were initiated. Chief Minister Uddhav Thackeray himself ceased the funds for the project in January.
– Geologists and hydrologists, who worked on implementing the project, shared similar views and hailed Jalyukta Shivar. This was mainly due to the interventions undertaken in the existing water reserves, planned de-silting activities, among many others. However, experts agreed that the scheme was not appropriately implemented. Now with Jalyukta Shivar no longer in existence, focused efforts of the past five years, in most likelihood, will go down the drain unless a similar scheme is introduced. https://indianexpress.com/article/explained/explained-jalyukta-shivar-maharashtra-villages-drought-free-scrapped-6282236/  (23 Feb. 2020)
Uttarakhand Road construction and widening work have adversely affected the watershed, springs, streams and traditional water sources. This is from Almora district where Panar Ghat-Pithoragharh road widening work is on full swing.  
https://epaper.livehindustan.com/imageview_56260_104875876_4_304_22-02-2020_4_i_1_sf.html  (22 Feb. 2020)
The villagers have protested against damaging of water sources by road construction debris. https://www.livehindustan.com/uttarakhand/almora/story-villagers-got-angry-after-cutting-the-road-and-throwing-debris-at-the-drinking-water-source-3044467.html  (23 Feb. 2020)
FLOOD
Karnataka Flood affected threaten protest against unkept promises Delay in distribution of flood relief in Belagavi and surrounding districts is riling up farmers and they have threatened a series of agitations across North Karnataka.
– Officers admit that while that the government has paid compensation fixed by the calamity relief fund norms to eligible farmers, the additional amount of ₹10,000 per acre promised by the Chief Minister has not been given. "There are no corresponding orders from the government on this. If the extra amount is to be paid, a separate account needs to be created and special orders need to be issued by the Finance and Revenue ministries. But that has not happened yet," a senior officer said. https://www.thehindu.com/news/national/karnataka/flood-affected-people-threaten-agitation-over-unkept-promises/article30824487.ece  (14 Feb. 2020)
ENERGY OPTIONS
India's 18K sqkm reservoir surface area has potential to generate 280 GW solar energy Reservoirs with cumulative (surface) area of 18,000 square kilometers in India (on the basis of 30 per cent of the water surface area of the country's medium and large reservoirs.) have the potential to generate 280 GW of solar energy through floating solar photovoltaic, a report has said. The report 'Floating Solar Photovoltaic (FSPV): A Third Pillar to Solar PV Sector?' has been produced by The Energy and Resources Institute (TERI) as part of Energy Transmission Commission (ETC) India. Currently, China is the leading international market followed by Japan and South Korea for floating solar.
– The report provides state-wise details of floating solar potential in the form of a web-based interactive tool called India Floating Solar PV-Tool, which has also been developed under this study. According to its findings, Maharashtra has the highest floating solar potential and can generate 57,891 MW of electricity on 3,173 sq km of water surface area in reservoirs.  https://energy.economictimes.indiatimes.com/news/renewable/indias-18k-sq-km-reservoir-surface-area-has-potential-to-generate-280-gw-solar-energy/74191037  (18 Feb. 2020)
ENVIRONMENT 
CLIMATE CHANGE
West Bengal Monsoon in Sunderbans likely to get longer, warn climate experts Fact sheet titled Sunderbans and Climate Change highlights the need for "long term coastal planning to ensure that these critically important intertidal habitats with their unique flora and fauna and local inhabitants have a space to retreat inland". The paper also points out that the habitat of the Bengal tiger (Panthera tigris tigris) in the Sunderbans is also affected by the storm due to a decline in the availability of prey.
– The fact sheet points out that the Sunderbans is also highly susceptible to flooding. "Due to this, any swelling of ocean water is going to dramatically affect the area. Alhough mangroves are somewhat resistant to submersion in water, they can die when tidal inundation occurs too frequently or lasts too long," the document stated.
– Apart from the frequent storms and the rise of sea level, another concern is the rise of salinity both in water and soil. "Excess levels of soil salinity can be incredibly damaging to ecosystems as salts can accumulate in the soil and hinder plant growth. It also threatens the health of freshwater aquatic life such as fish and giant prawns," the document adds.
– The fact sheet was made public during the ongoing Convention on the Conservation of Migratory Species of Wild Animals and discussions were also held on the Transboundary Conservation of Threatened Freshwater Fauna, including species like Indian River Terrapin (Batagur baska), Hilsa (Tenualosa ilisha) and Ganges River Dolphin (Platanista gangetica),. https://www.thehindu.com/news/national/monsoon-in-sunderbans-likely-to-get-longer-warn-climate-experts/article30890907.ece  (22 Feb. 2020)
SOUTH ASIA
Nepal Indigenous people object to ADB, European bank funding Indigenous communities affected by the Tanahu Hydropower Project in Nepal have filed complaints with independent watchdogs of the Asian Development Bank (ADB) and the European Investment Bank (EIB) — two co-financiers of the project — requesting an independent mediation process. The communities have alleged failure to uphold free, prior and informed consent and inadequate compensation for loss of lands and livelihoods.
At least 32 affected families or landowners organized under the Directly Inundation Affected Peoples Collective Rights Protection Committee have called for 'land for land' and 'house for house' compensation, re-survey of land left out during the Detailed Measurement Survey of the project, and free, prior and informed consent in the project process, among their ten demands, they have submitted to the ADB and the EIB. The ADB, the EIB and the Japan International Cooperation Agency (JICA) have provided funding to the project. https://www.counterview.net/2020/02/hydro-project-nepals-indigenous-people.html  (22 Feb. 2020)
Hydro companies cheating shareholders Common people in Nepal are losing huge sums investing in hydropower projects.  https://myrepublica.nagariknetwork.com/news/how-hydro-companies-are-cheating-shareholders/  (17 Feb. 2020)
Bhutan Hydropower potential increases to 37,000MW The country's hydropower potential and availability is now around 37 gigawatt (GW) or 37,000 megawatt (MW) from 155 identified sites, including the existing power plants. This is according to the Power System Master Plan 2040, a detailed master plan, which revised the PSMP-2004. The report identifies 90 sites having an installed capacity about 33GW or 33,000MW as techno-economically feasible. Drawing the attention of the House to the problems of sinking land in Kingarabten alleged to have caused by the Mangdechhu project, Dragteng-Langthel's member Gyem Dorji cautioned the Assembly about the risks associated with building mega projects. The member insisted on the importance of DPR (detailed project report). https://kuenselonline.com/hydropower-potential-increases-to-37000mw/   (20 Feb. 2020)
THE REST OF THE WORLD
Report World Small Hydropower Development The global installed SHP capacity for plants up to 10 MW is estimated at 78 GW according to the World Small Hydropower Development Report (WSHPDR) 2019, an increase of approximately 10 per cent compared to data from the WSHPDR 2013. Figures show that increase in Small Hydro makes only 1.1% of increase in all renewables and 4% of overall increase in hydropower capacity (Data from IRENA 2019). Thus the report makes obvious that small hydro is practically irrelevant to development of most national energy systems and hardly could be sold as "climate mitigation" measure. The report recognizes that "unregulated SHP development" can result in significant ecological impacts, including river loss of water, changed river ecology, reduced river connectivity and affected migratory fish and other aquatic species.
– The Report does not talk about the cost of construction for small hydro, which is typically very high compared with price for 1 kW of installed capacity in other renewable energy sources. Meanwhile social protest, high environmental impacts and very high construction costs for a unit of newly installed capacity makes small hydro less and less attractive investment target all over the world. Other RE sources are typically less controversial and more affordable for most local communities.  https://www.unido.org/our-focus-safeguarding-environment-clean-energy-access-productive-use-renewable-energy-focus-areas-small-hydro-power/world-small-hydropower-development-report 
US They both sued Army Corps after Harvey flooding in Houston only one wins Two veteran federal judges from the specialized U.S. Court of Federal Claims in Washington, D.C., issued polar opposite rulings in the past two months. First came a December 2019 (https://www.houstonchronicle.com/news/houston-texas/houston/article/In-victory-for-Harvey-victims-U-S-Army-Corps-14913223.php) victory for property owners upstream of the dams who had water backed up on their land, then a defeat on Feb 18, 2020 (https://www.houstonchronicle.com/news/houston-texas/houston/article/Federal-judge-dismisses-downstream-Hurricane-15065979.php) for landowners downstream of the two reservoirs who were flooded by controlled releases from the dams.
– U.S. Judge Charles F. Lettow found the Army Corps liable for knowingly and intentionally taking possession of thousands of upstream properties to contain the water in the reservoirs following the epic downpour. Using some of the same technical data Tuesday, U.S. Judge Loren A. Smith issued an unwavering ruling noting that while he had sympathy for downstream victims, Harvey had been an act of God. No one is guaranteed perfect flood control, Smith wrote, and any damage from accumulated floodwater released from the dams was not the government's fault.
– "It wasn't Hurricane Harvey floodwater that destroyed our homes, it was water that was detained and held by the federal government," Attorney Jack McGehee said.
– Richard Mithoff, another lawyer for downstream victims, said: "With all due respect, this was not an act of God. God did not open the flood gates, the government did. This was an act of man."
– Another lawyer on the team, Rand Nolen, said where Smith parted from his prior ruling, favoring flood victims on the Mississippi, was in concluding that the dams could fail if the gates weren't opened. "Where he goes wildly off course is he says is the water was uncontrollable," Nolen said. "It was completely controlled until they let it out." https://www.houstonchronicle.com/news/houston-texas/houston/article/Hurricane-Harvey-lawsuit-upstream-downstream-win-15071315.php  (20 Feb. 2020)
Judge: Harvey flood unmatched since 'life of Jesus'  A U.S. Court of Federal Claims judge ruled against Houston-area residents and businesses whose properties were flooded in August 2017 when the Army Corps released millions of gallons of water from two swollen reservoirs west of Houston as Harvey dumped record rainfall on the region. The agency built the reservoirs and adjacent dams in the 1940s to protect downtown Houston from flooding.
– "This storm, which overwhelmed the system's capacity was classified as a once in 2000-year event … which means the last such event occurred during the life of Jesus!" Senior Judge Loren Smith wrote.
– Lawyer Nolen, the lawyer, disputed that the Army Corps did the best it could. Documents show that the Army Corps knew that the receiving channel for the reservoirs could not handle the amount of water that was released during Hurricane Harvey, he said. "When you exceed the capacity of the channel, water spills out of the channel and into the homes," Nolen said. "They knew exactly which houses would flood when they did it. They knew since the 1980s exactly who would be flooded, the blocks and in most cases the addresses." https://www.eenews.net/stories/1062405701  (21 Feb. 2020)  
Mississippi Pearl River's third-highest crest on record causes flooding in Jackson The Pearl River in Jackson, Mississippi, reached its third-highest crest on record as flooding impacted homes and businesses. Hundreds of residents have fled Jackson ahead of potentially historic flooding of the Pearl River. Hundreds of homes have been damaged by the flood. The number may increase to at least 1,000 said Malary White with the Mississippi Emergency Management Agency. The river is currently (Feb 18) cresting at 36.7 feet. The river's highest level on record is 43.3 feet, set in April 1979. The next highest level was 39.6 feet, set in May 1983.
– On Saturday (Feb 15) night, officials released water from the nearby Barnett Reservoir to control its levels. They urged residents in northeastern Jackson who live in the flood zone downstream from the reservoir to leave immediately. By Sunday morning (Feb. 16), Reeves said the reservoir's inflow and outflow had equalized. February's rains have been "400 percent of normal, and we have more coming in this week. It's kind of a never-ending battle," Hopson added. https://countercurrents.org/2020/02/mississippi-pearl-rivers-third-highest-crest-on-record-causes-flooding-in-jackson  (18 Feb. 2020)
Trump Administration Cuts Back Federal Protections For Streams And Wetlands The Environmental Protection Agency is dramatically reducing the amount of U.S. waterways that get federal protection under the Clean Water Act — a move that is welcomed by many farmers, builders and mining companies but is opposed even by the agency's own science advisers.
– Since taking office, Trump has aggressively sought to roll back environmental regulations, particularly those seen as an obstacle to business. According to an analysis by The New York Times that was updated a month ago, the administration has revised or eliminated more than 90 environmental rules in the past three years, although several were reinstated following legal challenges and several others are still in the courts. https://www.npr.org/2020/01/23/798809951/trump-administration-is-rolling-back-obama-era-protections-for-smaller-waterways  (23 Jan. 2020)
Australia Dams victims have to wait two more years Thousands of victims of the devastating 2011 Wivenhoe Dam floods will be forced to wait longer for compensation after Queensland government-owned dam operator Seqwater appealed a class action victory. While the state of Queensland decided weeks later it would not appeal the judgment, dam operator Seqwater on Friday confirmed it would challenge the decision, potentially delaying any resolution to the case by two years. Another state-owned dam operator, Sunwater, must decide in the next fortnight whether it will appeal. https://www.theaustralian.com.au/nation/seqwater-to-appeal-wivenhoe-floods-class-action-victory/news-story/824ae9c82641721981cd24dd80a2123c  (21 Feb. 2020)
Also see, Pump storage hydropower projects in Australia facing set backs. https://energy.economictimes.indiatimes.com/news/renewable/australias-agl-energy-scraps-pumped-hydropower-project/74237991  (21 Feb. 2020)
UK Push for bathing water quality hailed as 'game changer' for rivers Movement to achieve bathing water quality in UK rivers and create a public pressure to achieve that.
– There are 15,700 combined sewerage overflows where the EA permits water companies to discharge untreated sewage into rivers in extreme weather conditions, according to WWF figures. But WWF analysis shows the overflows are discharging sewage far more often than they should be.
– The scale of the pollution that regularly occurs is shrouded in secrecy. Water companies are allowed to monitor their own discharges and do not release real-time data on how often, and for how long, combined sewerage overflows release sewage into any particular river. Campaigners say the permits to discharge are licences to pollute and want the rules changed.  https://www.theguardian.com/environment/2020/feb/06/push-for-bathing-water-quality-hailed-game-changer-uk-rivers  (06 Feb. 2020)
Meet the insects that are defying the plunge in biodiversity – new findings Perhaps the most intriguing findings were from freshwater species. This group initially declined between 1970 and the mid-1990s, but their distribution has bounced back to near 1970 levels in recent years. The freshwater insects include dragonflies, mayflies, stoneflies and caddisflies – groups of species that spend most of their lives in freshwater streams and rivers as larvae. All followed the same U-shaped pattern of decline and recovery.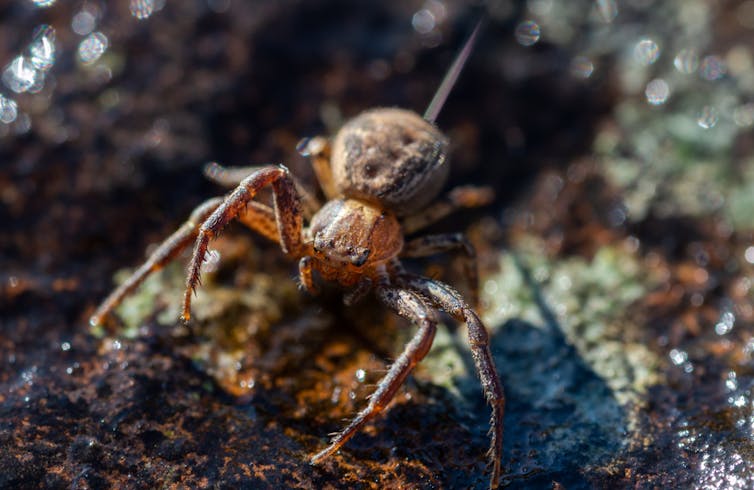 – This reversal seems to coincide with the implementation of the EU Urban Wastewater Treatment Directive, so it's possible that freshwater insects have benefited from efforts to clean up the UK's rivers. https://theconversation.com/meet-the-insects-that-are-defying-the-plunge-in-biodiversity-new-findings-131846  (18 Feb. 2020)
Steve Lockett on FB post comment A few comments based on this report & observations by a conservation body in the UK.
Freshwater molluscs still in decline: possible causes will include competition from invasive species & possibly over-abstraction, plus wild fluctuations between excessively clean & mildly polluted water.

Overall numbers of freshwater insects not studied here but other groups' studies show definite declines.

Air quality improvements possibly contributing to lichen improvements. However, air quality in urban areas seems to have declined in last decade.
We should applaud the impact of the improvement of water quality. However, my feeling is that over-engineering of natural river habitats & biodiversity (fish stocking from single genetic sources & without following IUCN guidelines!) is storing up future problems.
Opinion UK's flooding not act of God but of Govt's  Nearly 600 flood warnings are issued in England on a single day and the environment secretary, George Eustice, declares it impossible to "protect every single household". But he can protect the Met Office. It is to get another £1.2bn of public money for a "supercomputer", just six years after getting £97m for a previous one. There seems to be no headline-grabbing project for which this government is short of a billion.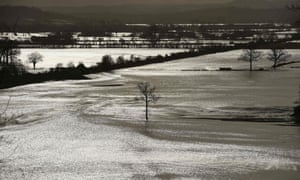 Except for coastal surges, floods are about rivers. These have flooded throughout history, and there is no mystery as to why. It is called gravity. Rivers drain catchment areas into flood plains, moving water from uplands to lowlands. Variations in their behaviour are the result of the past planning of those same rivers and flood plains. Whatever may be the role of the climate emergency, blaming it is of no help to victims of today's flooding.
When Cockermouth in Cumbria was submerged in 2009, it was clear that a prime cause was the expedited drainage from Lake District hill farms to promote grazing pasture. When the Somerset Levels were flooded in 2014, a prime cause was the change of use of surrounding hills to growing high-density maize, exposing soil to runoff. Likewise, subsidised conifer plantations have everywhere debased vegetation and produced irregular spate rivers.
As for building retaining walls to protect riverside communities, this merely shifts volume downstream. Here it meets the readiness of local planners to build houses in flood plains. The sprawl of housing estates is now urged on councils by a fanatically anti-planning government. As a drive across the aforementioned Somerset Levels will show, the result is acres of accidents waiting to happen. There is nothing a flood likes more than a good stretch of concrete.
Hence these floods are not acts of God, they are, in large measure, acts of government. For the most part, they are preventable by upland river management and lowland common sense. The National Trust responded to the Cockermouth disaster by slowing runoff from the hills, despite farmer opposition. The disaster has not been repeated. The rewilding movement seeks to promote variegated vegetation and retain water in peatland. Beaver reintroduction, now operating from Angus to Sussex to Devon, has shown remarkable results in damming streams and slowing flow. It can be done.
In other words the answer to flooding lies in a thousand frontline measures, aimed at correcting decades of foolish policies. The trouble is that a thousand measures lack the glamour of a £1.2bn computer. Flood victims can only look on in envy, and wonder how many lost sofas, beds and kitchens that money might have bought. https://www.theguardian.com/commentisfree/2020/feb/17/flooding-uk-george-eustice-met-office  (17 Feb. 2020)
Compiled by SANDRP (ht.sandrp@gmail.com)
Also see: DRP News Bulletin 17 Feb. 2020 & DRP News Bulletin 10 Feb. 2020  
Follow us on: www.facebook.com/sandrp.in; https://twitter.com/Indian_Rivers