Several streams of Ghaggar and Sutlej river basins originate from Shivalik foothills lying in Haryana, Punjab state and Chandigarh union territory.  These rivulets along with main rivers have been facing threat from ever increasing industrial effluents and sewage loads. Moreover the degradation of catchment has transformed them from perennial to seasonal rivers.
Here is a short pictorial report showing pathetic situation of Markanda, Tangri, Sukhna, Kaushalaya and Patiala Ki Rao streams feeding Ghaggar and Sirsa river (a tributary of Sutlej) which over past few decades are abused as dumping ground of untreated industrial and domestic waste. At the same time there are revival hopes, if sincere restoration efforts are made.
Ghaggar Basin: Markanda
Markanda River is one of the main tributaries of Ghaggar River. It originates in the Shivalik hills on the border of Haryana and Himachal Pradesh State. Along its 90 km long stretch, the stream winds through Ambala and Kurukshetra districts. Finally the stream joins River Ghaggar from right side near Ckeeka town in Kaithal district.The famous Markendashwar temple is also situated on its bank in Shahbad town. The stream has become seasonal and its bed is seen in totally dry condition on Nov. 10, 2019.
Tangri
The Tangri River rises between Ghaggar and Markanda in Morni hills of Shivalik range. The stream is also known as Dangri. After flowing for about 70 km, it joins Markanda river at Haryana-Punjab border near Sadhpur Viran in Kurukshetra district. The river is notorious for causing floods in the region. In 2010, it breached the embankment and caused unprecedented flooding in Ambala and Kurukshetra.
Balaiali stream, Amri rivulet which also known as Dadri or Shahzadpur Wali river are eastern bank tributary of Tangri river. Omla stream feds the Amri. Though Tangri has a good network of smaller and seasonal streams; it has become seasonal and carries untreated waste water.
Ghaggar River
The 320 km long Ghaggar River rises in Shivalik hills in Solan district of Himachal Pradesh. It enters Haryana in Panchkula district. Hereafter the river makes border between Punjab and Haryana for more than 100 Km. In Ambala and Kurukshetra, Sarsuti and Chautang also merge into Ghaggar river from eastern bank. After Sirsa district the river leaves Haryana State and reaches Sri Ganga Nagar district, Rajasthan where its course becomes untraceable.
Kaushalya River
Kaushalya river[i] rises in the Shivalik hills on the border of Haryana and Himachal Pradesh, and flows through Panchkula district where it joins Ghaggar river near Pinjore downstream of Kaushalya Dam. Once a perennial river, it is now seasonal at best. But during the monsoons, all its tributaries are found to be in flood.
Sukhna River
Sukhna stream locally known as Sukhna Choe also originates from Shivalik foothills lying in Mohali and Panchkula districts. The stream is formed and fed by a network of other smaller rivulets like Ghareri, Nepali, Nathewala and Kansal rising from Morni hills. It independently joins the Ghaggar river at Mirpur village in Panchkula district.
This slideshow requires JavaScript.
Sukhna Choe remains dry downstream Sukhna dam, but in later part carries industrial and domestic effluents. (Bhim Singh Rawat/SANDRP, Nov. 10, 2019) 
In 1958, the Choe was dammed to create Sukhna Lake[ii]. Downstream of Sukhna lake, the untreated effluents from Chandigarh city is dumped into the stream which then carries the pollution load to Ghaggar river.
Nepali Choe, Chandigarh
Nepali Choe flows through the Chandigarh city. The natural stream also known as N Choe was earlier carrying polluted water from the city which was later diverted towards Patiala Ki Rao and Faida Pina Nala. N Choe, in later part is named as Attawala Choe.
Faida Pind Nala, Chandigarh
Faida Pind Nala flows between N Choe and Sukhna Choe. Solid waste in huge amount is being directly dumped in the stream. It also carries domestic sewage of Chandigarh and is in severely polluted state. Locals say in olden times, the Nala used to flow with clean water. Faida Pind Nala joins Attawala Choe and then the pollution of these streams reaches the Ghaggar river.
This slideshow requires JavaScript.
Most of Chandigarh's solid and liquid waste end up reaching Faida Pind Nala.
Singh Nala, Panchkula
Another recent media report shows a disturbing trend in which Shivalik streams are being converted into lakes. Singh Nullah is next in line after Sukhna choe and Kuashyalaya river. Sukhna lake is already facing severe siltation and lack of water availability problems. Kuashlaya dam built costing over 200 crore to provide water to Panchkula city is useless post damage of pipeline last year. Meanwhile Panchkula is meeting all its 6 MGD demand via Kajauli Water Works which gets Sutlej river water from Bhakra dam.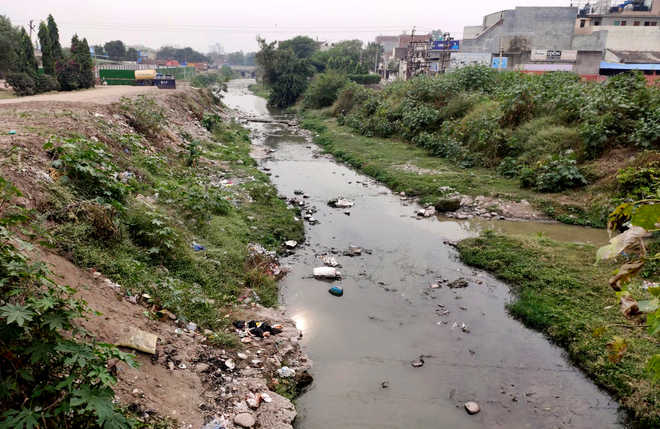 Singh Nullah passes through Panchkula city. To attract the tourists the choe will be turned into a lake by construction of a check dam. At present, the rainwater-fed nullah passes through Sector 1, 2, 4, 12, 12-A and the Industrial Area, Phase I, before going towards Zirakpur. The local MLA and Haryana Assembly Speaker Gian Chand Gupta has directed officials of the administration and the Haryana Tourism Department to prepare a detailed project report in this regard. Gupta also said some green spaces would be developed on both sides of the choe so that people could stand or rest near the future lake. Restaurants will be set up and tracks will be laid near the lake.
Satluj Baisn: Patiala ki Rao
The Patiala Ki Rao[iii] is another seasonal stream that originates in Shivalik hills, Punjab, enters Chandigarh then to Mohali and later (earlier) joins the Ghaggar River after crossing a distance of 30 km through Nayagaon, Kharar, Chapparchiri and Landran.  There are reports of domestic sewage from Chandigarh being dumped into the stream through N (Nepali) Choe.
As per Indian Express report, (Jan. 30, 2019) no private company had shown interest in Nayagaon Municipal Corporation's (MC) bids. According to the MC officials, the first bid was invited in Oct. 2018, second in Nov. 2018 and third in Dec 2018. An MC official told that the rates were not finalised by the MC which is creating problems and nobody is coming forward. He added that the rivulet had not been cleaned for the past 30 years.
The river was (earlier, but later it has been diverted towards Satluj river) the source of discharge of rainwater in Ghaggar from the areas of Kharar and Landran and around 26 villages, including Masol, Tanda, Tandi, Karoran, Nayagaon, Mullanpur Garibdas, Behlolpur, Balongi and Chapparchiri located around the banks of the rivulet. 
Sarsa River
Sarsa river flows through the same geographical region but is facing similar threats. The river has been reduced to a drain carrying toxic industrial effluents[iv] of the Baddi Barotiwala Nalgarh Industrial hub, over the past decade. Several villages along its bank are facing the brunt of untreated industrial effluents and toxic water being drained into it by more than 2000 industrial units in the region.
The Ghaggar, Sutlej and its tributaries have gone dry over the years for various reasons. Presently they flow and flood in monsoon and gradually shrink back through lean season. It is sad to see that these streams have been abused to carry out domestic and industrial filth from the emerging towns of Kurukshetra, Ambala, Panchkula, Mohali and Chandigarh. At the same time, they present a revival opportunity for the respective governments provided comprehensive catchment restoration efforts are initiated and pollution sources are restricted.  
Bhim Singh Rawat, SANDRP, (bhim.sandrp@gmail.com)
[i] https://sandrp.in/2016/11/25/haryana-rivers-profile-indus-basin-part-i/
[ii] https://sandrp.in/2018/01/24/chandigarh-wetlands-review-2017-sukhna-lake-facing-multiple-problems/ 
[iii] https://sandrp.in/2018/10/23/chandigarh-water-sources-streams-the-city-not-so-beautiful/
[iv] https://sandrp.in/2017/11/15/failing-cetp-in-himachals-pharma-hub-poisons-river-sirsa-villagers-lives-non-stop/