SANDRP has been preparing and presenting the annual overview of sand mining sector for past three years. The issue of illegal sand mining is growing significantly adversely impacting the rivers and dependent communities. The respective governments are also under pressure to regulate the riverbed mining. There is noticeable increase in court cases and judicial interventions.
This year, we are presenting the overview in a state wise format for some key states where the issues are more intense. We start with Punjab state.
RIVERBED MINING REPORTS
Illegal mining taking place even on govt land: Minister As per Tript Rajinder Singh Bajwa, Minister for Rural Development and Panchayats the mining mafia had not even spared land belonging to the Rural Development and Panchayats Department in Punjab and illegal sand mining was taking place on around 3,000 acres located on the banks of two rivers Sutlej and Ravi. As per the minister, the Department of Rural Development and Panchayats, was losing around Rs 100 crore every year. http://www.tribuneindia.com/news/punjab/illegal-mining-taking-place-even-on-govt-land-minister/526276.html (10 Jan. 2018)
Illegal mining rampant in Firozpur Illegal mining remained unchecked even as it was a one of the main poll planks of Captain Amarinder Singh before the assembly elections in 2017. Even after the change of guard in Punjab, scores of trucks and trailers loaded with sand were found on most of the main roads in the Firozpur district every night. https://timesofindia.indiatimes.com/city/chandigarh/illegal-mining-continues-unabated-in-ferozepur/articleshow/62561329.cms (19 Jan. 2018)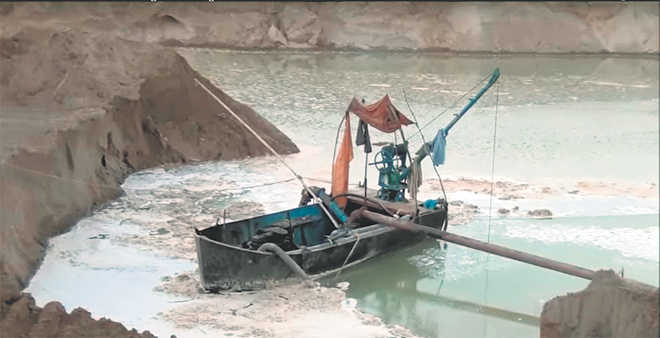 Water pumps take mining to new depths For mining sand from underground aquifers, the miners in Faridkot (and possibly other districts too) were taking out sand and water, and creating huge hazards, groundwater depletion. This was happening in collusion with mining and police officials, among others. http://www.tribuneindia.com/news/punjab/water-pumps-take-mining-to-new-depths/539543.html (6 Feb. 2018)
Loopholes in new sand and gravel policy The editorial mentions of short comings in new sand and gravel policy of Govt. Auction of mining blocks through 'progressive bidding' is a good idea to secure maximum revenue for the govt. It may, however, create problems at two levels — the consumer may suffer from a spike in the prices of building materials, and a winner may not be able to operationalize the mine because of overenthusiastic bidding rates.
– Hopefully, the govt will take a lesson from the saga of previous 'progressive auctions' of mines that had raised their value disproportionately due to exuberant, competitive bidding and the winning contractors failed to operationalize these mines. This had led to a supply crunch, and consequently, a surge in the prices of sand and gravel. There is still no guarantee that big businessmen or consortia would not default.
– The policy is ostensibly burdened with regulation without necessary checks that leaves tremendous scope for unscrupulous bureaucrats to extort money from the miners and perpetuate the existent mafia culture. Hopefully, the govt would be more insightful & amend the policy to make it simpler & environment friendly. https://www.tribuneindia.com/news/editorials/sand-and-gravel-policy/670107.html  (19 Oct. 2018)
Another editorial also mentions of illegal sand mining going on despite policies and laws. The many sand mining laws are in place; the NGT makes orders in various cases; mining is banned in riverbeds without clearance from a Central or state environment authority; competitive bidding is an established practice; licences are issued; the Punjab mines and minerals department exists; and yet brazenly, unauthorised mining goes on with impudence, in spite of raids across the state from time to time. https://www.tribuneindia.com/news/editorials/a-rope-of-sand/676255.html  (31 Oct. 2018)
Mounds of sand on Sutlej banks, mining mafia digs in The mining mafia dug around 40-foot-deep pits on the Sutlej bank near a bridge on the Garhshankar road. Three pathways were laid to ferry sand and stone from the digging site to various stone crushers. District authorities, including the police and officials of mining, drainage and revenue departments, seemed to have turned a blind eye to the large-scale illegal mining. Villagers said a large number of JCBs and tippers can be seen loading the material every night. https://www.tribuneindia.com/news/punjab/mounds-of-sand-on-sutlej-banks-mining-mafia-digs-in/676023.html (30 Oct. 2018)
Illegal mining poses threat to power supply Belying claims of the state government on strict action against illegal mining, the mafia has again dug deep into the Sutlej riverbed, endangering the power supply poles. Damage to these poles would plunge at least 150 villages into dark for nearly a month.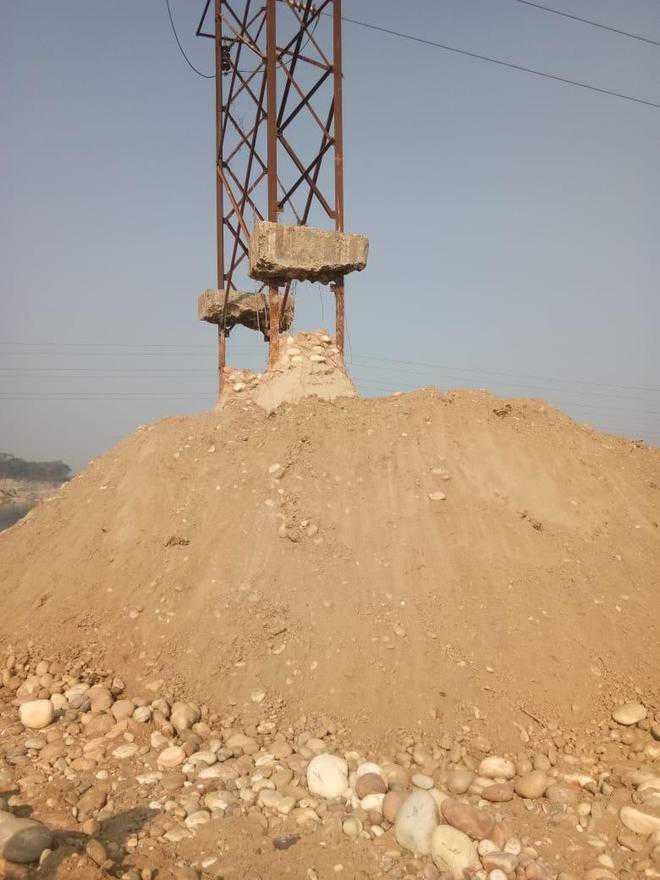 The Punjab State Power Corporation Limited (PSPCL) authorities said despite their repeated requests, the district police and administration officials have failed to stop illegal mining in the area. The pillars of a huge bridge near the spot at Agampur have already been exposed due to mining in the area. https://www.tribuneindia.com/news/punjab/illegal-mining-poses-threat-to-power-supply/705108.html (28 Dec. 2018)
Sand raiders of Ghaggar the unending threat According to an official, the mining mafia a supply chain including land owners, contractors, vendors, suppliers and transporters takes only 30 minutes to earn Rs 20,000. The ever-rising demand due to construction creates immense pressure on the supply of the sand resource and spurs legal and illegal mining activities.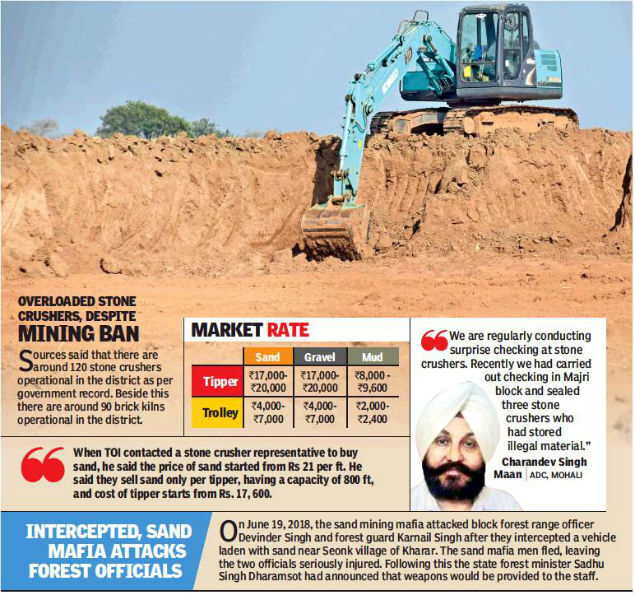 While land owners make money by leasing out their land to contractors, the latter carry on digging for sand, gravel and mud for selling to vendors who in turn supply it to locals. This leaves the landscape scarred with deep pits and the air choking with dust. https://timesofindia.indiatimes.com/city/chandigarh/sand-raiders-of-ghaggar-the-unending-threat/articleshow/67333016.cms (1 Jan. 2019)   
Illegal mining picks up in Derabassi block As per villagers, illegal sand mining was happening again at Kakrali village near Ghaggar river in Derabassi Sub-Division. They also alleged that the sand miners operated at night, digging up the sand until the early hours of the morning and had made temporary kutcha roads on the the river bed to ferry the sand. The villagers said that tipper trucks are used for ferrying the sand and no villager ventures toward the area due to the fear of mining mafia. https://indianexpress.com/article/cities/chandigarh/illegal-mining-picks-up-in-derabassi-block-5526060/ (7 Jan. 2019)
STATE GOVT EFFORTS
Fall out of irrigation cum sand mine scam Under fire ever since it emerged that a firm which bagged sand mine contracts in Nawanshahr had his former employee as a working partner, Punjab Power and Irrigation Minister Rana Gurjit Singh stepped down from his post, on Jan 16. http://indianexpress.com/article/india/punjab-minister-rana-gurjit-singh-at-centre-of-sand-mine-row-quits-5026253/ (16 Jan. 2018)
Over 30 MLAs involved in sand mining: Govt report According to an internal report submitted by the sand mining department to CM, over 30 MLAs of the ruling Congress party were engaged in sand mining directly or indirectly. http://indianexpress.com/article/cities/chandigarh/sand-mining-links-over-30-congres-mlas-under-cm-amarinder-singhs-lens/ (26 Jan. 2018)
Govt plans to come up with a conflict of interest act This is interesting and possibly the first one in India. Close on the heels of the exit of Power and Irrigation Minister Rana Gurjit Singh over the sand mining auction row, the state govt has revived its efforts to enact the Conflict of Interest Act. The govt was reportedly wary of any fresh controversy following the Rana episode and the irrigation scam, which was investigated by the Vigilance Bureau. http://www.tribuneindia.com/news/punjab/govt-readies-draft-of-conflict-of-interest-act/538798.html (5 Feb. 2018)
Minister raises illegal mining issue There may not be sufficient sincerity here, but it is still useful to note that a Punjab Local Bodies Minister Navjot Sidhu was questioning why the state was unable to curb illegal sand mining. http://www.tribuneindia.com/news/punjab/why-no-check-on-illegal-mining-asks-sidhu/538806.html (5 Feb. 2018)
CM directs officers to control illegal mining The CM has asked the officers to tame mining mafia, set up teams in all districts. http://www.tribuneindia.com/news/punjab/cm-tells-officers-to-tame-mining-mafia/539546.html (6 Feb. 2018)
Sand prices fell down With so much over supply of sand from legal and illegal mines, the sand prices fell down. The bidders also failed to pay the royalty instalments. http://www.tribuneindia.com/news/punjab/sand-prices-dip-mine-bidders-fail-to-pay-up/539523.html (6 Feb. 2018)
Only 16 of 51 sand mines auctioned in 3rd round The third round of Punjab govt auction for sand mines, which took place Feb. 19 evinced little interest, with bids only for 16 of a total of 51 mines. As many as 30 mines attracted no bids. Four mines got single bidders, who were disqualified for that reason.
In the first round, 89 mines were auctioned, but at least 39 high bidders who won their bid did not show up to make the security deposit. In the second round in July 2017, it auctioned 43 mines including several cancelled during the earlier May bids. In the fourth round, the govt will be auctioning 145 mines of sand (2.7 crore tonnes) and 18 mines of gravel (0.2 crore tonnes) on March 15, 2018. http://indianexpress.com/article/cities/chandigarh/only-16-of-51-sand-mines-auctioned-in-third-round-in-punjab-5070504/ (20 Feb. 2018)
25 out of 110 mines auctioned in 2017 lying idle At least 25 out of the 110 sand mines auctioned in May and July, 2017 by the Punjab govt under the new progressive bidding scheme were lying non-functional. There was either not enough material available in these mines, or, in some cases, the bidders who bagged the mines at exorbitant prices felt that they shall not be able to earn adequate profits. With a large number of bidders backing out or not coming to bid at all, the state govt that had expected to earn a revenue of over Rs 1,000 crore from the sand mine auctions was expecting much lower final amount. http://indianexpress.com/article/cities/chandigarh/no-more-gold-to-strike-in-sand-25-out-of-110-mines-auctioned-last-year-lying-idle-5071892/ (21 Feb. 2018)
CM tweet on illegal mining wakes up administration Waking up from deep slumber after CM Captain Amarinder Singh's tweet on illegal mining, Nawanshar district authorities on March 6 sprang into action and in a massive crackdown seized huge machinery and detained 23 people.
The move came after the CM, while on his way to Kartarpur in his official helicopter, spotted 'illegal mining' on the banks of Sutlej in Phillaur and Rahon. He tweeted pictures of JCB machines along the river. Despite the ban on using machines like JCBs, poclains and excavators for mining, contractors use the machinery to extract more sand than they are entitled to. https://www.hindustantimes.com/punjab/punjab-cm-capt-amarinder-spots-illegal-mining-from-chopper-orders-probe/story-MiiqBmRm9X5A9slLbBTxuK.html (6 March 2018)
Panel discusses ways to check sand mining  Lack of will and use of technology by the state govt in checking illegal sand mining, unscientific way of identification and subsequent auction of quarries, and shortage of staff to enforce rules were among the issues came to the fore at two back-to-back meetings of the Cabinet sub-committee on mining on April 6. Chaired by Local Bodies Minister Navjot Singh Sidhu, the meetings focused on how sand mining business worth crores was being run without a proper system in the state.
Sidhu, who committed that the sub-committee would give its report with suggestions for a new mining policy within 15 days, said 65 per cent of sand consumed in the state was used in govt projects. It also came to the fore that the department was auctioning the same sand mines again and again without using scientific methods to ascertain the amount of sand. It also came to light that the department was being run in an ad-hoc manner, claiming shortage of staff. The meeting decided to give a suggestion that they would be given enough staff. https://indianexpress.com/article/cities/chandigarh/panel-meets-discusses-ways-to-check-sand-mining-in-punjab-5126973/ (7 April 2018)
Cabinet panel suggests regulation of sand price In its second meeting, the cabinet sub-committee on illegal mining recommended that state govt-run corporation to regulate the supply and demand of sand and fix rates. It also decided to rope in IITs based at Kanpur, Roorkee, Delhi and Kharagpur for a detailed study on sand availability and replenishment of riverbeds. The sand coming from crushers would also be part of the study. The committee proposed to regulate transporters with the help of GPS and radio frequency IDs. Designated stockyards would be set up on the basis of demand. The committee also suggested to run a facility for online booking of sand by individuals, panchayats and local bodies departments and have feedback from them. https://www.tribuneindia.com/news/punjab/cabinet-panel-suggests-regulation-of-sand-price/572029.html (11 April 2018)
Govt delegation to visit Telangana, Andhra to study sand mining policy A delegation of Local Bodies Minister Navjot Singh Sidhu and officials of mining department planned to visit Telangana and Andhra Pradesh to study the sand mining policy of the two states from April 11 to 13. As per Sidhu after studying sand mining policy of 13 states, the sub-committee had decided to learn from the policies of Telangana and Andhra Pradesh as these were not just earning revenue, but also providing sand at economical prices to the consumers.
Sidhu was the chairman of a Cabinet sub-committee on mining with Finance Minister Manpreet Singh Badal and Rural and Panchayats Minister Tripat Rajinder Singh Bajwa. The Local Bodies Minister said the sub-committee was mulling recommending total control of sand trade by the state by setting up a corporation. The modalities were being worked out, he added. Sidhu said that to check illegal mining the department would have specific coloured trucks for carrying sand with radio frequency ID so that could be monitored from the headquarters by GPS. https://indianexpress.com/article/cities/chandigarh/punjab-delegation-to-visit-telangana-andhra-to-study-sand-mining-policy-5132343/ (11 April 2018) 
Sand mine auction: Narang Commission didn't call contractor who pumped in money The Justice J S Narang Commission of Inquiry, which began its investigation in June 2017, did not call Gurinder Singh, an irrigation contractor who had invested money for the bids, for questioning even as several persons who funded the bids were required to appear before the Commission. While the Commission's report states it recorded statements of all depositors and investors of Rajbir Enterprises, Gurinder Singh, who had loaned Rs 5 crore to one Jatin Garg for investment, and whose name figures in the report, was not called for making a statement.
Garg, however, was called to make a statement before the Commission along with relevant bank records. The report, which was tabled in the Vidhan Sabha during the budget session, however, included the name of Gurinder Singh along with Jatin Garg. While the Narang Commission concluded its inquiry on August 8, 2017, the contractor was booked a few days later on charges of having caused loss of crores to state exchequer through illegal means and was finally arrested in Dec 2017. https://indianexpress.com/article/cities/chandigarh/sand-mine-auction-narang-commission-didnt-call-contractor-who-pumped-in-money-5132309/ (11 April 2018)
Govt mulls to allow heavy machines to excavate sand The govt considered to allow the use of heavy machinery -JCB and poclain machines-  to excavate sand from riverbeds, quarries of which had already been allotted to contractors through bidding. There are 110 such quarries. In view of the prevailing shortage, the state govt invited suggestions from the district mining officers to amend the Mines and Minerals (Development and Regulation) Act and allow the use of heavy machinery for excavation of sand from riverbed quarries above 62.5 ha.
The Cabinet sub-committee was preparing a draft mining policy to regulate the industry, earn more revenue and curbing illegal mining by imposing penalties. https://www.tribuneindia.com/news/punjab/state-may-allow-use-of-heavy-machines-to-excavate-sand/580775.html (28 April 2018)  
Cabinet sub-committee submits report Very informative report. In May 2018, the Cabinet sub-committee constituted for the purpose of formulating a comprehensive policy on sand mining in the state submitted its report to the CM. The committee was formed by CM and was headed by Sidhu. In the meetings of the committee and after field visits, it was found that Punjab has sand for over 90 years and gravel for 170 years. The committee recommended fixation of prices of sand at Rs 1,000 per 100 cubic feet. The cabinet sub-committee had found that there was no price fixation for sand and there was a shortage of supply.
The minister said the committee had also found that the total length of rivers in Punjab was 1,150 km with an average width of 500 metre. The total area is 575 sqkm and 32 lakh tonnes of sand can be mined from a one sqkm area having 10-feet depth, according to Govt of India statistics. Similarly, in Punjab a total of 184 crore tonnes of sand can be mined from the 575 sq km. The demand in Punjab of sand is 2 crore tonnes per year.  http://www.newindianexpress.com/nation/2018/may/07/cabinet-sub-committee-submits-report-on-sand-mining-in-punjab-1811503.html (7 May 2018)
Mubarikpur illegal mining: VB finds contradictions in mining dept's report The Vigilance Bureau (VB) found contradictions in the report prepared by the Derabassi Block Level Officer (BLO) of the mining department in Mubarikpur. The VB found that the depth of digging the agricultural land where illegal mining was carried out to be much higher than that mentioned in the BLO inspection report.
The VB team led by Kapoor and district mining officials, including district mining officer Simarpreet Kaur Dhillon, visited Mubarikpur in Derabassi subdivision, one of the areas worst affected due to illegal mining on April 30. The team recorded the statements of the residents of Kakrali, Pandwala villages and Mubarikpur and also got the measurements of the craters done with the help of mining and revenue officials. https://indianexpress.com/article/cities/chandigarh/illegal-mining-in-mubarikpur-vigilance-bureau-finds-contradictions-in-mining-departments-report-5167730/ (8 May 2018)
Govt set to relax rules, to allow mechanised mining Two months after CM ordered registration of cases against contractors mining sand with use of machines in Nawanshahar, the state govt was preparing to allow use of machines for scooping sand from river beds. As per the CM, MoEF's mining guidelines were "draconian" as these did not allow the mining with machines. Punjab was already facing acute shortage of labour and engaging labourers for mining was not possible to handle huge operations.
The Minister of Mining Sukhbinder Singh Sarkaria also said following feedback from the contractors, they had decided to relax the rule so that mining could be mechanised. "We are in the process. We will not allow Poclain machines as they dig very deep. Digging with them could adversely impact the rivers. Hence, we will allow JCBs for the purpose." As most of the mines in Punjab were large in area, measuring five ha and above, it is claimed, there was no option but to use machines for the digging work. Otherwise the price of commodity would spiral due to engaging of expensive labour. ttps://indianexpress.com/article/cities/chandigarh/sand-mining-punjab-govt-set-to-relax-rules-to-allow-mechanised-mining-amarinder-5172014/ (11 May 2018)
Cops detect illegal sand mining, chase 5 trucks in Raipur Rani A month after more than 22 people were booked for illegal mining, Panchkula police in a raid on May 11, evening booked a person for carrying out illegal sand mining at the riverbed of Rampur village near Raipur Rani. Cops found five heavy vehicles stationed near the riverbed. All of them sped away. Cops, however, managed to catch one truck driver.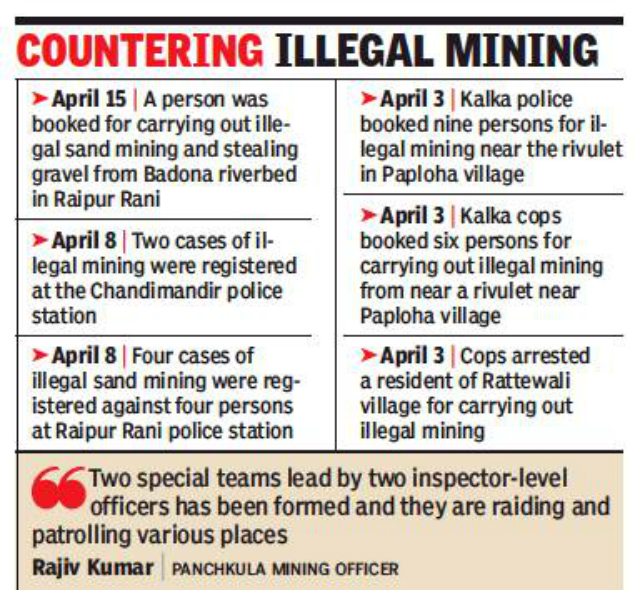 Police registered a case against Neeraj under Sections 188 (disobedience to order duly promulgated by public servant) and 379 (punishment for theft) of the IPC, Section 21 (4) of the Mines and Mineral Act in Raipur Rani police station. The maximum number of cases in 2018 was registered in April so far (7). https://timesofindia.indiatimes.com/city/chandigarh/cops-detect-illegal-sand-mining-chase-five-trucks-in-raipur-rani/articleshow/64141785.cms (13 May 2018)  
Govt to 'rework' Sidhu mining report Junking Local Bodies Minister Navjot Singh Sidhu's report on the new mining policy, the govt was likely to prepare a new mining policy. Though the basic preamble of the policy will remain the same as suggested in Sidhu's report (sand and gravel are to be sold at government controlled rates), his Cabinet colleagues were reportedly not in tandem with him on many of the suggestions, including the setting up of mineral development corpn and taking over the entire mining business by the government.
Rural Development Minister Tript Rajinder Singh Bajwa said the policy, presented by Sidhu, could not be adopted as such, as it was just Sidhu's personal input for framing the policy. As against what Sidhu proposal of taking over all mining operations, the government was likely to take over mining in just five quarries initially. The ministers were also questioning the veracity of financial predictions made in Sidhu's report. Sidhu has predicted that his policy, if adopted, would lead to the government earning Rs 5000 crore. However, this figure was trashed by other ministers. http://www.tribuneindia.com/news/punjab/govt-to-rework-sidhu-s-mining-report/589381.html (15 May 2018)
Govt nod to sand mines' auction through progressive bidding The cabinet on May 31 put its final stamp on the long-pending decision of granting sand mining contracts through progressive bidding rather than the ongoing practice of reverse bidding. The council of ministers, under the chairmanship of CM, decided to re-auction all sand mines as the SC had on May 10 given a green signal to the state govt's decision to replace reverse bidding. The SC had put brakes on mining activities across the state with directions to contractors to remove machinery from mining sites so that these could be re-auctioned on better commercial terms.
The cabinet had taken a similar decision in its April 19, 2017, meeting and was to convert contracts of mines allotted through reverse bidding as per average per tonne bid received for the mines auctioned through progressive bidding. But the contractors approached the Punjab and Haryana HC, which disposed of their petition on Jan. 12. Later, they filed 42 appeals in the SC, which on May 10 directed the state govt to carry out an assessment and pay advance profit to contractors by May 25. https://content.magicbricks.com/property-news/chandigarh-real-estate-news/punjab-nod-to-sand-mines-auction-through-progressive-bidding/99296.html (1 June. 2018)
Non co-operation among depts hampers action against illegal mining in Sutlej Laying bare tall claims of the Punjab govt of curbing illegal sand mining, two digging machines illegally being used on govt land and caught by the Ludhiana forest department officials a month ago in Goindwal village, Ladhowal, were still at the spot on the Sutlej riverbed.
While it took a week for the Ludhiana police to determine that the location was not in their jurisdiction and in fact falls under Jalandhar police area, the forest department officials were running from pillar to post all these days to get an FIR registered. https://www.hindustantimes.com/punjab/illegal-sand-mining-month-on-red-tape-holds-back-action/story-edKrt0sAaxwCD62oQPf6GJ.html (15 June 2018)
Illegal sand mining going on unabated: Khaira In June 2018, Leader of Opposition Sukhpal Singh Khaira accused the govt of protecting the sand mafia in the state, saying that illegal mining of sand was going on unabated. Khaira, the MLA from Bholath, also charged the district administration with submitting false report showing that no illegal mining was taking place in Harsa Bela, Beinhara and Sohara quarries. https://www.outlookindia.com/newsscroll/illegal-sand-mining-going-on-unabated-in-punjab-khaira/1337336 (25 June 2018)
Sidhu wants new policy, CM says no hurry Ignoring Punjab Local Bodies Minister Navjot Singh Sidhu's suggestion to set up a corporation to sell sand, CM in June 2018 asked the department to continue with the progressive bidding policy for the current fiscal. This was despite the fact that progressive bidding policy was being largely blamed for causing the prices of the commodity to skyrocket. The prices of sand were at an all-time high reportedly due to a fallout of the government's policy.
The direction came after the meeting during which Mining Minister and Rural and Urban development Minister opposed Sidhu's suggestion stating that the world was decentralising every trade. They contended that in Punjab also, corporations were not doing well. Hence, setting up of another Corporation should be avoided. https://indianexpress.com/article/india/sand-mining-in-punjab-navjot-singh-sidhu-wants-new-policy-cm-amarinder-singh-says-no-hurry-5234697/ (27 June 2018)
Govt considers auctioning sand mines in clusters The govt was preparing to auction mines in clusters, instead of separate mines. By auctioning mines in clusters, the Department of Mines hoped to sell sand at Rs 1,800 to Rs 2,000 per tractor-trolley to the end consumer, earn Rs 300 crore for the state exchequer and check illegal mining. Under the new policy, rivers would be divided in clusters. The large chunk of areas, having mineable sand, would be auctioned.
Earlier, the govt had demarcated each village alongside rivers as a separate mine. About 300 mines had been identified earlier. The department was giving final touches to the new policy to table it before the Cabinet. https://indianexpress.com/article/cities/chandigarh/punjab-considers-auctioning-sand-mines-in-clusters-5376118/  (27 Sept. 2018)
Govt approves new sand, gravel mining policy The Punjab govt on Oct. 17 approved policy changes to enable the govt to grant contracts by auction of mining blocks in strategically established clusters through progressive bidding instead of the earlier process of auction by individual mines. An official statement said it was also decided that the department of Mining would launch an online Punjab Sand Portal for sale of sand to all consumers, small or medium.
During 2017-18, four e-auctions of minor mineral mines were held. Due to speculative bidding in these auctions, it resulted in a significant number of mines being auctioned at very high prices. However, many of the contractors failed to operationalise these mines, which led to dearth of supply of sand and gravel, causing the market price of these commodities to remain high. https://www.thehindu.com/news/national/other-states/punjab-govt-approves-new-sand-gravel-mining-policy/article25252582.ece  (17 Oct. 2018)
Under the new policy, only registered companies, partnerships and societies, including cooperative societies, sole proprietorships and individuals and consortia of up to three such entities would be eligible for bidding, subject to fulfilment of certain conditions. All transactions/ payments will be captured by a real-time online monitoring system. The sale of sand will be controlled by electronic documentation linked to a central system, and the daily progress report would be uploaded on the portal. The new policy will come into effect two months after the cabinet approval to the amendment to the Punjab Minor Mineral Rules, 2013. https://www.hindustantimes.com/punjab/auctioning-of-sand-mines-in-clusters-gets-punjab-cabinet-s-nod/story-qMsqOKh47vMeb30zQVsMfK.html (18 Oct. 2018)
Govt plans to use drone to control illegal mining In Nov. 2018, the Punjab Mining and Geology Department has decided to deploy drones to curb illegal sand mining by borrowing the drones from the state police. The dept. also decided to keep surveillance on the illegal mining through satellite mapping. The weight slips for transportation of sand with features like barcodes, QR codes would be stamped with the date and time and vehicles would be tracked with the GPS or RFID tags. The policy also mandated geo-tagging of all mines while conducting physical inspections, and boundaries of mines would be checked using coordinates recorded by GPS device. https://www.business-standard.com/article/pti-stories/punjab-to-use-drones-to-keep-check-on-illegal-mining-118111401144_1.html (14 Nov. 2018)
Failure to reply to HC notice led to stay, govt to fix responsibility The failure of mines department officials to file a reply to the notice of motion led the HC to stay the auction scheduled for Dec. 27. The case was put for hearing on Jan. 16, 2019 delaying the auction. https://indianexpress.com/article/cities/chandigarh/sand-mine-auctions-failure-to-reply-to-hc-notice-led-to-stay-govt-to-fix-responsibility-5503471/ (21 Dec. 2018)
One arrested for illegal sand mining in Ravi river  The Ajnala police arrested Rajbir Singh, a resident of Dabbar village, on charge of illegal sand mining. Assistant mining officer Manjit Kumar arrested him from Sarandev village, where he intercepted the truck bearing registration No. PB-23-F-5324 carrying sand, which was illegally excavated from the Ravi river belt. The suspect failed to produce any documents when asked by the mining official regarding legal permission for the excavation of sand. https://www.tribuneindia.com/news/amritsar/one-arrested-for-illegal-sand-mining/703608.html  (25 Dec. 2018)
Meanwhile, opposition party in Punjab demanded an inquiry by a sitting high court judge to establish why no action was being taken against the sand mafia despite CM's instructions. https://timesofindia.indiatimes.com/city/chandigarh/sad-demands-judicial-probe-into-illegal-sand-mining-in-punjab/articleshow/67478832.cms (11 Jan. 2019)
No check on illegal mining, claim Majri villagers, mining officer says no complaints yet In Jan. 2019, the residents of Majri block claimed that they have brought the matter of illegal mining in their villages to the notice of the district administration, but no action is being taken against the miners. District mining officer Simarpreet Kaur Dhillon, however, said that they have not received any complaint from the villagers.
As per residents more than 50 crushers were running near the village leaving the link roads to village in shambles. Earlier the villagers used to lodge complaints but gave up that alleging no help from the administration. The villagers also feared for their safety as the miner were threatening them of dire consequences against complaints raised.  https://indianexpress.com/article/cities/chandigarh/no-check-on-illegal-mining-claim-majri-villagers-mining-officer-say-no-complaints-yet-5536914/ (14 Jan. 2019)
Despite repeated declarations by the district administration about the crackdown, illegal sand mining is going on unabated near Zirakpur area and Kakrali village, has emerged as a favourite hotspot. In the last 2 months, the district police registered 20 cases of illegal mining. But, Kakrali village, located on the banks of river Ghaggar near Mubarikpur, some 6 km from Zirakpur town, presents an interesting challenge to the state's losing battle against illegal mining — alleged involvement of local residents.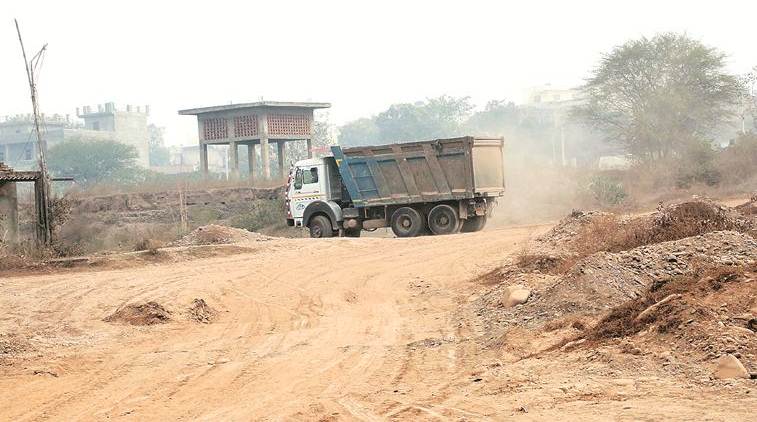 According to the witnesses, the illegal miners operate at night and that is when the bridge sees the most traffic as tippers go up and down ferrying the sand out. The illegally-mined sand is said to be sold in market for Rs 25,000 to 26,000 per tipper truck, while a tipper of illegally-mined gravel costs Rs 30,000. https://indianexpress.com/article/cities/chandigarh/mine-fields-5536949/ (14 Jan. 2019)   
COURT ORDERS
Sand mining probe: HC raps Govt for sparing big fish In April 2018, Punjab and Haryana High Court said that it has not come across any such instance where high-ups had been arrested for the illegal sand mining in Punjab. The court said that if the need arises it can attach the properties of the people behind the illegal excavation. The division bench of Justices Ajay Kumar Mittal and Anupinder Singh Grewal said it cannot remain "insensitive" to the issue of illegal excavation and that the HC will have to do something in the matter. The division bench adjourned the case till April 18 to consider the names for re-constitution of the SIT looking into the sand mining in the state. The division bench observed that the senior police officers to be made part of the SIT "should be able to withstand any political pressure". https://indianexpress.com/article/india/sand-mining-probe-high-court-raps-punjab-for-arresting-drivers-only-sparing-big-fish-5122343/ (4 April 2018) 
HC for SIT probe by Retd HC judges into illegal sand mining In May 2018, HC made it clear that it was not averse to have the matter probed under the supervision of retired HC judges. The Bench, during the course of hearing, was also told about the need to insulate the SIT members from political and other influences. In the process, the suggestion to have the case probed under the supervision of retired HC judges was mooted. The Bench then asked the counsel concerned to come out with names of retired judges on May 7.
The developments took place on a petition filed in 2012 by city resident Gurbir Singh Pannu through RS Bains. He was seeking action in a transparent and time-bound manner to curtail illegal mining. Directions were also sought to the Union of India to decide pending environmental clearance issues within three months. https://www.tribuneindia.com/news/punjab/illegal-mining-hc-for-sit-probe-under-retd-judges/582679.html (2 May 2018) 
Probe officials' role in illegal sand mining In July 2018, observing that "any illegal extraction of sand or any mineral cannot be done by any person except in connivance with the officers of the Mining Department", the HC directed the Punjab Police to investigate the "complicity" of the officials in a case of illegal sand mining at a site in Jalandhar's Mehatpur area. The illegal sand mining had allegedly taken place from 2016 until a case was registered in April 2018. The police was also directed to submit a status report in the case on August 29. https://indianexpress.com/article/india/probe-dept-officials-role-in-illegal-sand-mining-hc-to-punjab-police/  (13 July 2018)
HC puts state mining policy in abeyance Less than two months after the state govt came out with the Punjab State Sand and Gravel Mining Policy-2018, the HC on Dec. 20, 2018 stayed proceedings on the basis of the scheme and e-notice for auction of mines. The Division Bench of Chief Justice Krishna Murari and Justice Arun Palli made it clear that any proceedings in furtherance of auction notice dated Oct. 31 and the policy dated Oct. 26 would remain stayed.
The directions came on a petition filed in public interest by senior advocate Gagneshwar Singh Walia against the state govt and other respondents for quashing the policy. Directions were also sought for quashing e-auction notice dated Oct. 31. In the petition filed through counsel Ramanpreet Singh Bara and argued by senior advocate Gurminder Singh, Walia contended that the same would lead to "huge" environmental degradation and plundering of natural resources in the form of minor minerals for profiteering,
Walia submitted that the department was going to conduct the auction without carrying out replenishment study for quarries and the riverbeds; and without even identifying the stretches of the water bodies. This, he contended, was also against the SC judgment passed in Deepak Kumar's case. https://www.tribuneindia.com/news/punjab/hc-puts-state-mining-policy-in-abeyance/701880.html (21 Dec. 2018)
The failure of mines department officials to file a reply to the notice of motion led the HC to stay the auction scheduled for Dec. 27. The case was put for hearing on Jan. 16, delaying the auction by at least a month. As per the report, even if the court vacates the stay on Jan. 16, the govt will require time to conduct the online auction. https://indianexpress.com/article/cities/chandigarh/sand-mine-auctions-failure-to-reply-to-hc-notice-led-to-stay-govt-to-fix-responsibility-5503471/ (21 Dec. 2018)
End Note:- From the above media reports it is clear that illegal mining of riverbed sand was rampant in Punjab throughout 2018. The year also saw some violent incidents of threat to govt officials, attacks on reporters and farmers which will be detailed in a separate article.
All through the year, the state govt made various efforts to find solutions to the problem to non-availability sand, rising price, illegality in mining. The CM tweet exposing mining by heavy machines in Satluj river in March 2018 was appreciable. But later, he himself approved use of heavy machines for mining projects above than 65 hectare undoing his earlier move.
Govt itself accepts that 65 per cent of the mined sand is being used in govt projects and the demand of sand in the state is 2 crore tonne per year. On the other hand it is allowing big machines in riverbed saying that manual mining through labours would be expensive which will lead to price rise in sand and would affect consumers.
A sub-committee was formed headed by Local Body Minister Navjot Singh Sidhu. But most of his suggestions and recommendation of the committee were rejected.
The new policy essentially focuses more on revenue generation and appears more bothered about bidders and companies interests rather than of rivers and local people being affected by illegal sand mining. It is also surprising that mining department is short staffed and ill-equipped to deal with the issue of illegal sand mining. 
This tweet thread of Google Earth images by Siddharth Agarwal shows the impact of mechanized sand mining Satluj river. 
In the name of controlling illegal riverbed mining, the policy has shown faith in technologies like same old GPS, barcode, online monitoring tactics which so far has proven ineffective everywhere. Media reports also hint that in the Narang committee report probing 2015-16 sand mining scam has many grey areas. The HC also snubbed the govt for not taking actions against 'BIG FISH' involved in the scam and in Dec 2018 stayed the state's Oct policy.
Broadly it looks despite many gimmickry all the year, the state is back to where it was during sand mining scam in 2015-16. Meanwhile there is no respite for rivers and people still getting affectedly endlessly as we enter into 2019. THIS IS A VERY DISAPPOINTING SAGA. SO FAR, EVERY ONE CONCERNED SEEMS TO HAVE COMPLETELY FAILED TO ACHIEVE SUSTAINABLE SAND MINING IN PUNJAB.
Compiled by Bhim Singh Rawat (bhim.sandrp@gmail.com)
You may also like to see
Rajasthan: SC Banned Riverbed Mining through 2018: Centre & State Show No Concern
Gujarat Sand Mining 2018: Can Technology alone help Stop Illegal Sand Mining?
Uttar Pradesh Sand Mining 2018: Key NGT orders slap for MoEF
Madhya Pradesh Sand Mining 2018: Unprecedented Violence by Sand Mafia